The Pentagon finally admits it investigates UFOs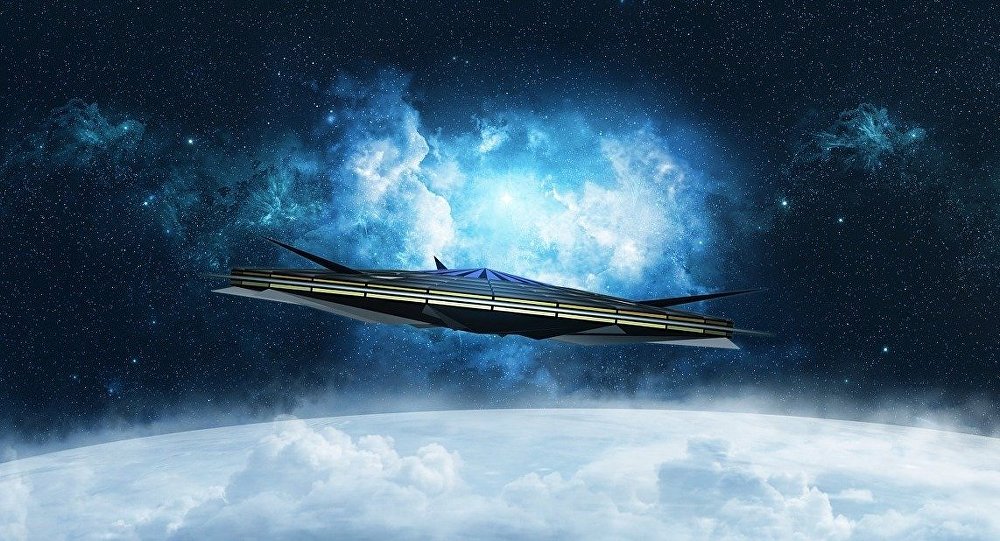 The Pentagon has finally uttered the words it always avoided when discussing the possible existence of UFOs — "unidentified aerial phenomena" — and admits that it still investigates reports of them.
In a statement provided exclusively to The Post, a Department of Defense spokesman said a secret government initiative called the Advanced Aerospace Threat Identification Program "did pursue research and investigation into unidentified aerial phenomena."
And while the DOD says it shut down the AATIP in 2012, spokesman Christopher Sherwood acknowledged that the department still investigates claimed sightings of alien spacecraft.
"The Department of Defense is always concerned about maintaining positive identification of all aircraft in our operating environment, as well as identifying any foreign capability that may be a threat to the homeland," Sherwood said.
"The department will continue to investigate, through normal procedures, reports of unidentified aircraft encountered by US military aviators in order to ensure defense of the homeland and protection against strategic surprise by our nation's adversaries."
Nick Pope, who secretly investigated UFOs for the British government during the 1990s, called the DOD's comments a "bombshell revelation."
Pope, a former UK defense official-turned-author, said, "Previous official statements were ambiguous and left the door open to the possibility that AATIP was simply concerned with next-generation aviation threats from aircraft, missiles and drones — as skeptics claimed.
"This new admission makes it clear that they really did study what the public would call 'UFOs,' " he said.
"It also shows the British influence, because UAP was the term we used in the Ministry of Defence to get away from the pop culture baggage that came with the term 'UFO.' "
John Greenewald Jr. — whose website The Black Vault archives declassified government documents on UFO reports, "Bigfoot" sightings and other subjects — also called the Pentagon's use of the term "unidentified aerial phenomena" unprecedented in its frankness.
"I'm shocked they said it that way, and the reason is, is they've seemingly worked very hard not to say that," he said.
"So I think that's a pretty powerful statement because now we have actual evidence — official evidence — that said, 'Yes, AATIP did deal with UAP cases, phenomena, videos, photos, whatever.'"
Greenewald said he hopes that the Pentagon will release more information about the AATIP, either by voluntary disclosure or through requests under the federal Freedom of Information Act.
"But at least we're one step closer to the truth," he said.
The existence of the AATIP was revealed in 2017, along with a 33-second DOD video that shows an airborne object being chased by two Navy jets off the coast of San Diego in 2004.
At the time, former Senate Majority Leader Harry Reid (D-Nev.) took credit for arranging $22 million in annual funding for the AATIP, telling the New York Times that it was "one of the good things I did in my congressional service."
Reid's home state of Nevada hosts the top-secret military installation known as "Area 51," long rumored to be the storehouse for an alien craft that crashed in Roswell, New Mexico, in 1947.
Reid, through a spokeswoman, declined to comment.
Additional reporting by Bruce Golding
Source nypost.com
'Discovery' Space Shuttle photographed an Alien Spaceship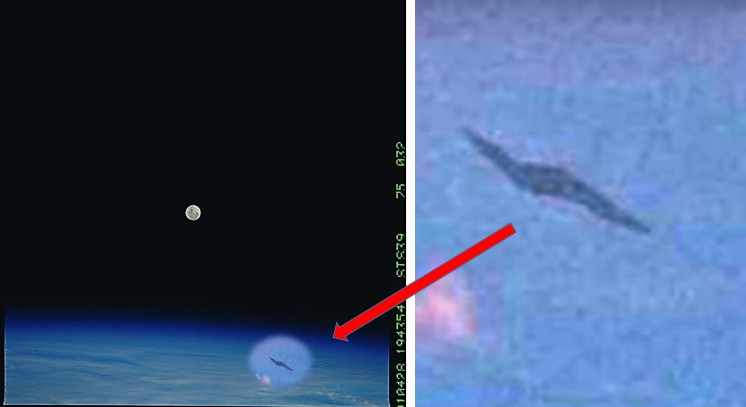 The UFO researcher and Alien hunter Scott Waring, has found photographic material from the NASA archive, coming from the 'Discovery' Space Shuttle, where mysterious presences can be observed in the space.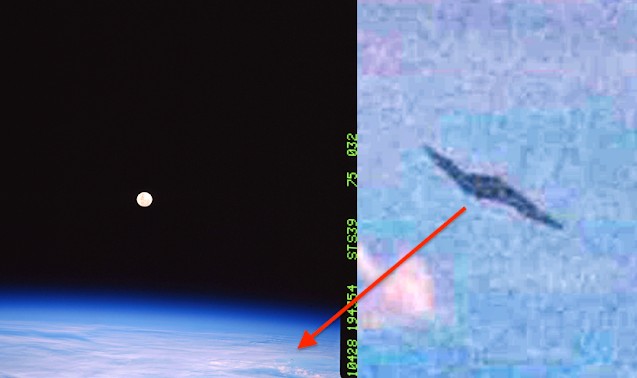 "I was looking through the NASA archive photos and saw this beautiful photo on the Moon taken from the Discovery Shuttle. I didn't think I would find anything at the time, I just thought it was a beautiful photo. I zoomed in and set it to auto focus and found something extraordinary"
"There was a huge object, a UFO, visible in the lower right corner of the photo. I have never reported a UFO of this form. It is very rare and unlike anything I expected. And yet, there it was, above the clouds of sunset in Earth's orbit, visible in a photograph at the NASA website. This is 100% proof of the existence of beings from other worlds who watch over the earth ". by Scott C. Waring
Former NASA Astronaut Admits To Seeing UFOs Aboard Space Station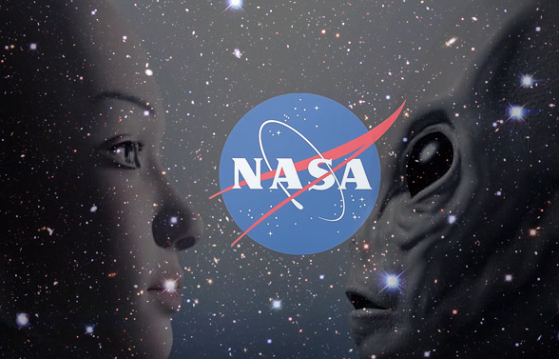 Jerry Linenger has revealed there were multiple instances that made the entire space crew aboard the International Space Station scratch their heads. Linenger, a former NASA astronaut, referred to the anomalies as unidentified flying objects while requested the media not to take him out of context.
Linenger admitted to seeing multiple bizarre objects or unexplained things during his five-month stay in space.  He recalled how he and colleagues could only guess and ask among themselves what they witnessed. He claimed to have seen stuff that made him call his crewmates over.
Linenger, who's also a former captain of the U.S. Navy Medical Corps, not only stayed at NASA's ISS but also did a stint at the Russian Space Station Mir, which operated from the mid-1980s to 2001.
Along with two Russian crewmates, he spent five months at the SS Mir, which was situated 50 million miles above Earth while orbiting the planet 2,000 miles. He was the first American astronaut to perform a spacewalk from a non-American space station while wearing a foreign space suit.
Linenger has made a disclaimer, though, that he made no mention of seeing aliens but only UFOs.
NASA admits that "Mysterious Objects" photographed in space are "unknown"
NASA has labeled the strange sightings that occurred during Shuttle space missions as "unknown objects" on an official website. Since then, the images have resurfaced after being published on YouTube.
The NASA cameras captured three strange objects in space – and the agency cannot explain what they are. The images on the Gateway to Astronaut Photography of Earth website from NASA resurfaced after being shared on YouTube by controversial conspiracy theorist Scott C. Waring. In a 1985 photo, a snake shaped object, like many seen from Earth, floats on the dark background of space.
A second photo of the same year shows a large object that bizarrely imitates a screw or a rivet. And a third object – photographed by the Space Shuttle astronauts in 1990 – shows an object similar to a grid suspended over the Atlantic Ocean, off the coast of Brazil.
Mysteriously, all the images were classified as "unknown objects" by the space agency – apparently contradicting the consensus that these structures are simply space junk.
Scott – who has earned a reputation in the past for his bizarre claims of having found mysterious life on Mars – found the photos disconcerting and shared them on his YouTube channel. He was more fascinated by the snake-like UFO, which suggested it could be "alive, organic".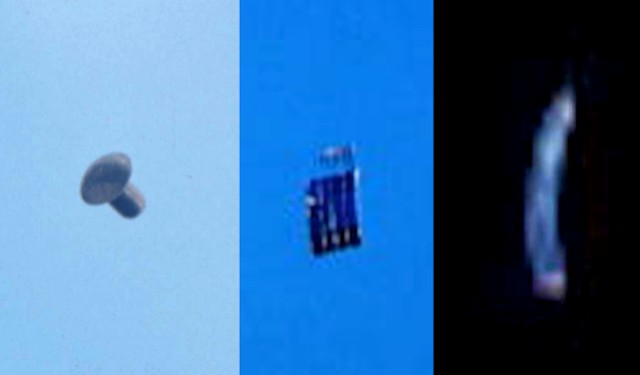 "It seems that it floats in space like a real animal," said Scott, mentioning a conversation he had with an astronaut earlier this year who said he saw something "that looked like a semi-transparent living creature" outside of the International Space Station.