The Orion Cube: An extraterrestrial device hidden by the US
Dan Burisch, a doctorate in microbiology and former worker of the secret military forces of the United States, details great puzzling information about extraterrestrials, the Orion Cube, time machines, secret government plans and human extinction.
Dan Burisch, born in California in 1964, studied microbiology and psychology at the University of Las Vegas, Nevada. He graduated in 1986 and did a Ph.D. in microbiology in 1989 in the state of New York. A sports fan since childhood, he played basketball. But his true passion was science and five years later he was given his first microscope, after which he later became the youngest member of the microbiology society of Los Angeles.
In 1986 he received an unexpected visit at the University of Las Vegas, the so-called "secret" government of the United States. Two of those men, in military uniform, offered to work on a top-secret project where they could put their talent to work at a maximum level. In 1987 he began working in a Nevada State Government office related to prison parole. In 1989 he began receiving tissue samples. Burisch examined them in another place and sent the report to the place of origin of the same. In 1989 he worked on a secret project and also on the so-called "Sharp Storm". But in 1994 he was taken to an underground place called "Century IV" which is part of Area 51, where he started working on the "Aquarium" project.
There he learned that the military were in possession of ships and extraterrestrial beings. In one department there was information about beings called Orions, beings from the star system Z Reticuli. Also a copy of the agreement made by President Eisenhower, beings called P-50 and the so-called Orions.
In a place called The Bay of Galileo, Burisch could see different types of spacecraft. One of them was the ship that Bob Lassar (a former Nasa worker who made Area 51 known in the eighties). Another of the ships he saw was the one that crashed in Roswell in 1947.
According to Burisch, we have a misguided concept of aliens. It clarifies that aliens and extraterrestrials are not the same. But aliens are beings that come from other planets, and that extraterrestrials are human in the future and that they travel in time to solve certain problems, but they are from the earth, because these are actually the evolution of the human being during thousands of years.
They are distinguished into four groups. They are classified with the letter P, which means present time and the years that lead us in the future. For example, Roswell's are P-24. That is, present time plus 24 thousand years in the future. The others are known as: J ROD P-45, J ROD P-52 and P-54. He says that these JROD suffer from a very painful illness and he participated in this project to try to find a cure. He claimed to have taken blood samples a female of these beings and that for two years worked on this project studying the being.
He assures that they came to establish a friendly relationship and that in one of the face-to-face meetings, this one skipped the protocol pouncing on him. He telepathically transmitted a large amount of information in which he could know that two thirds of humanity died in a nuclear catastrophe. A part of the people hid underground to survive and others did it on the surface. 24 thousand years later the most advanced beings on earth could travel in time, which is why they traveled to Roswell in 1947. Roswell's ship was really a time machine. They did not come from another planet but from Earth.
According to Colonel Philip J. Corso (1914 – 1997) who wrote the book "The day after Roswell", beings were made to travel in spacetime. They had two brains, one of them to control the ships. And they did not reproduce. He also affirmed that the ship was the key to technological progress.
Other groups "survivors" to the extinction, evolved in the Moon, Mars and finally in Orion, where the P-52 come from, or the Orions, which, in spite of being Terrestrials, also colonized these other places. The P-45 would be the most Machiavellian, thirsty for nuclear catharsis to pass in our future in order to justify its existence. These are responsible for the majority of abductions. They lack emotional empathy.
Eisenhower met with these extraterrestrial groups in order to avoid the obvious nuclear catastrophe. In this meeting diplomatic discussions between civilizations were made and an agreement was adopted to abduct human beings in order to study them, provided they did not suffer or remember anything of what happened. The Orions gave President Eisenhower a cube about eight centimeters wide by another eight centimeters long, capable of predicting the future. It was passed between rich and powerful to be able to choose well in their lives.
Burisch worked directly under the orders of "Majestic 12". One of his most important statements are those related to the "StarGates". They are devices made in the earth, but with extraterrestrial technology. According to him, the information on how to make them is in the Sumerias tables. They were used to communicate with other extra-planetary civilizations. With them you could access a wormhole. Next to this enormous apparatus, there was a platform that allowed to throw the object to the wormhole to travel to other stars, teleporting people or materials from one place to another instantly.
But Burisch says it is not very reliable and that he saw a person die during one of the experiments. This device is also known as "Looking Glass" and was used to see probabilities of future events. As they saw, the catastrophe would happen because of these Stargates. According to the doctor, there are fifty Stargates on earth. Although all the Stargates have apparently been dismantled, we are still in danger of extinction today. What do you think about the Orion Cube? Watch the following video and leave us your comment below!
Rover Curiosity photographs of "ancient structures" on Mars partly hidden by NASA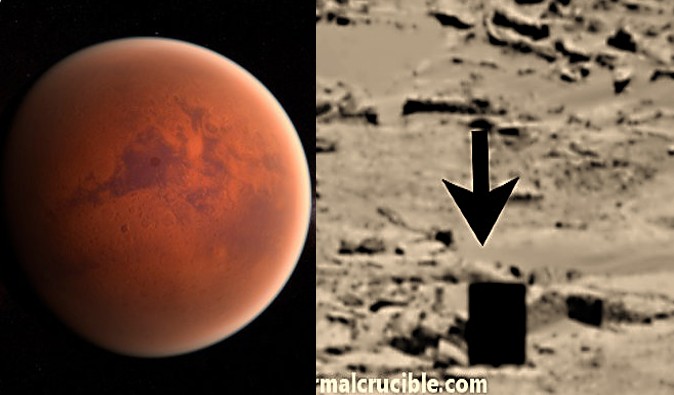 The images we show you represent one of the greatest discoveries so far made by the researcher and hunter of spatial anomalies Paranormal Crucible. According to the researcher, what was found on Mars, through photographs taken by the Rover Curiosity, are convincing proof that Mars had an intelligent life in its distant past.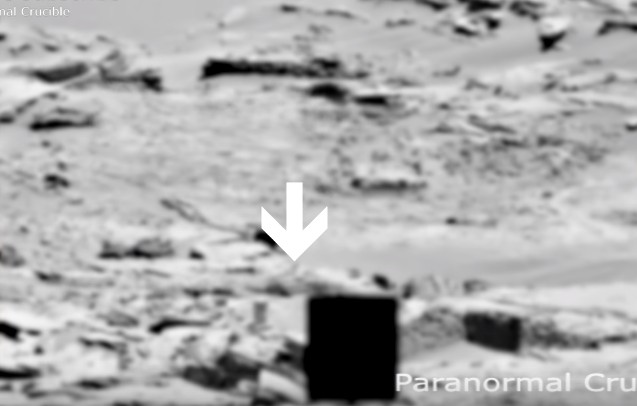 Here is what is stated by Paranormal Crucible in the analysis of the ancient ruins of Mars;
The raw image that was released by NASA appears to have been tampered with, we can see signs of blurring in places as well as two black squares, which NASA claim are dead pixels, but are they hiding something far more compelling, we may never find out, so lets concentrate on what we can see.

This particular image took quite allot of work, the processing alone took several hours and the enhancement work took a little longer, but the results were worth it.
The obvious geometric shapes in the enhanced image clearly indicate intelligent design, we can see a partially buried wall structure with a small pillar which leads down a small embankment, possibly a buried stairway, to a set of stairs, these stairs lead us onto an obvious courtyard which is covered in martian soil or sand.
"At the side of the courtyard is a large square plinth with a tall stone pillar which appears to have been broken off at the mid section, this is indicative of an ancient abode, as seen in the ancient Roman and Greek period.

I have highlighted nine points of interest in the enhanced image below, and they are very compelling in my opinion.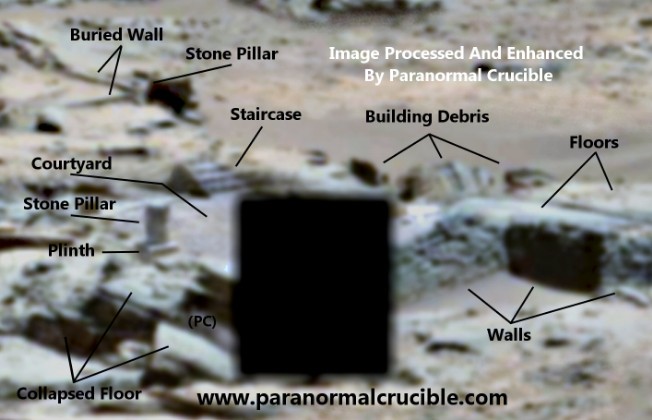 These possible ruins validate for me that an ancient martian civilization once existed on mars and were very similar to the ancient Romans, not only in customs but in architecture also.

From my standpoint they look like the remains of a domus or villa, a fairly large home usually single storey that had a large courtyard, stone pillars, a garden and numerous rooms, some even had a pool depending how wealthy the owners were.

Until an independent manned mission is sent to mars we may never know the full truth about past life on this mysterious planet, and i think its pretty clear that NASA is more interested in analyzing rock samples than exploring the clear artifacts that have been inadvertently discovered by the rovers.

But hopefully one day that attitude will change, and the real truth about mars and its history, will finally be revealed.
(images acquired by the Rover Curiosity- Mars rover)
NASA prohibits experiences of extraterrestrial life detection
Yes, there is life on Mars, and NASA has known this for four decades. Their own Viking experiment confirmed the presence of life on Mars, but instead of sharing this groundbreaking discovery with the world, NASA chose to bury the truth and hide its science for decades.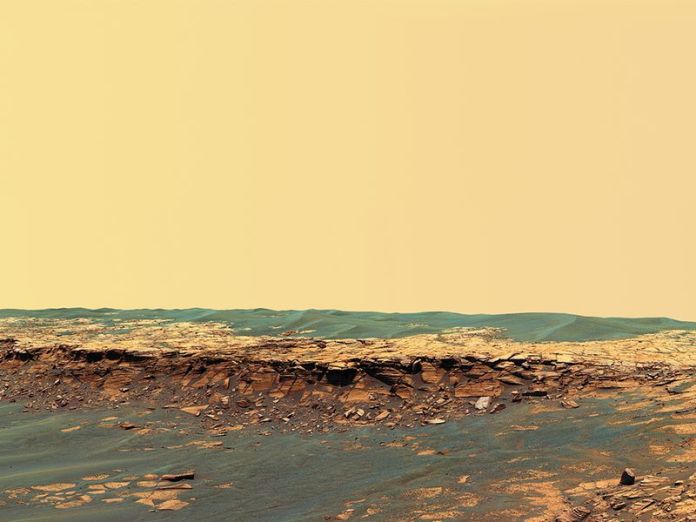 Now, the former NASA engineer who designed the experiment that confirmed the presence of life on Mars is speaking out. His name is Gilbert V. Levin, and in a new op-ed published in Scientific American, he lays out his belief that life was already confirmed on Mars in the 1970s.
"I was fortunate to have participated in that historic adventure as experimenter of the Labeled Release (LR) life detection experiment on NASA's spectacular Viking mission to Mars in 1976," writes Levin. "On July 30, 1976, the LR returned its initial results from Mars. Amazingly, they were positive. As the experiment progressed, a total of four positive results, supported by five varied controls, streamed down from the twin Viking spacecraft landed some 4,000 miles apart. The data curves signaled the detection of microbial respiration on the Red Planet. The curves from Mars were similar to those produced by LR tests of soils on Earth."
As word of the discovery spread, many other scientists around the world began to rejoice. Levin even received a personal phone call from Carl Sagan, congratulating him on the discovery.
But within hours, NASA buried the results and swept it all under the rug, claiming the mass spec instrument hadn't detected life at all.
NASA banned any experiment that could confirm life on Mars
From that day, NASA has banned life detection experiments on missions to Mars in order to continue scientific fraud.
Levin writes:
Inexplicably, over the 43 years since Viking, none of NASA's subsequent Mars landers has carried a life detection instrument to follow up on these exciting results
In truth, NASA is a fraudulent "science" organization that has, for four decades, pushed the false narrative that there is no life on Mars. The cover-up has been well coordinated and aggressively enforced. And since it's impossible for private citizens to visit Mars and see for themselves, it's difficult for anyone to prove that NASA has been lying all these years.
But now new evidence is surfacing that NASA has been blatantly lying all along… not just about microbial life on Mars but even about the existence of a Martian atmosphere that could support life.
NASA to send scout helicopter to Mars, proving there's an atmosphere
Earlier this year, the corporate media began reporting that NASA was sending a scout helicopter to Mars as part of the 2020 lander mission. This helicopter, touted by NASA administrator Bridenstine, is a dual rotor, solar-powered helicopter designed to map terrain for the lander rover. See this UPI story as an example of what's being reported by the scientifically illiterate media:
NASA engineers have installed the miniature helicopter on the space agency's Mars 2020 rover. The Mars Helicopter, nicknamed Scout, will be the first aircraft to fly on another planet. "For the first time, we are going to fly a helicopter on another world with the Mars Helicopter," Bridenstine said in March.
The problem with this story? According to NASA and the entire news media, Mars has virtually no atmosphere. Obviously, rotor-powered aircraft don't function without an atmosphere, since they can't produce lift in a vacuum.
According to NASA, the atmosphere on Mars is only 600 Pascals at ground level. Earth's atmosphere at sea level is 101,000 Pascals, and even with that "thickness" of air, it's still difficult to get a mechanical craft of the ground using spinning rotors.
Yet according to NASA, we're supposed to believe that a dual-rotor helicopter will fly in virtually no atmosphere, powered by on-board solar panels and batteries, somehow defying gravity that's 38% of Earth's gravity with an atmosphere that's only 0.6% as thick.
Any aeronautical engineer will tell you that's impossible. If rotors worked in a vacuum, then the space shuttle would have a giant propeller mounted on its nose, doing away with all the rocket thrusters.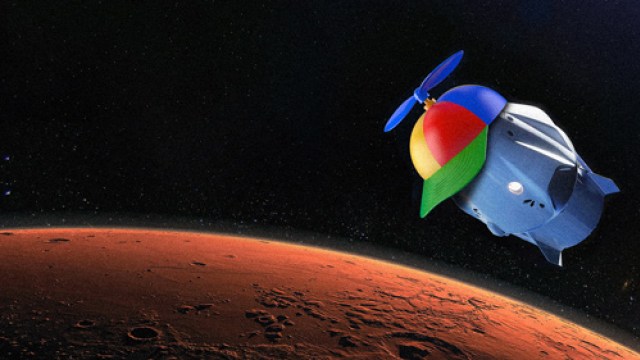 The only way a helicopter will fly on Mars is if there's an atmosphere to create lift when the rotors spin. This isn't rocket science. In fact, it doesn't involve rockets at all. Propellers don't work in a vacuum.
NASA is faking helicopter "research" with ridiculous videos
To try to convince us all that they have developed a helicopter that can fly in (nearly) a vacuum, NASA has released some of the most hilarious, laughable video footage we've ever seen.
As you can see from the following video snippet, NASA has developed a self-crashing helicopter that can only bounce and crash. The fact that NASA wants us to believe this is going to be loaded up with imaging and telemetry equipment — plus solar panels and batteries — is absurd. It's like a bad Saturday Night Live skit. Notice, too that this "helicopter" isn't even carrying batteries and appears to be receiving its power through a tether that's attached to the center of the floor.
Now, NASA seems to be in the business of faking its announcements, too. If we are to believe NASA, there's no life on Mars and helicopters fly in vacuums.
COMET 67P, the "Transmission of Extraterrestrial Sounds" comes from an unknown base visible on the Comet
As reported long ago by the famous British tabloid METRO, UFO conspiracy theorists are on the alert after hearing the bizarre "alien" sounds emanating from the organic Comet 67P organic  – made famous by the Rosetta mission. Some UFO researchers are convinced that it is not the Comet that emits these unknown sounds, but it is an Extraterrestrial Transmission sent by an alien base that is clearly visible on the celestial body, and the images taken by the Rosetta Probe confirm it.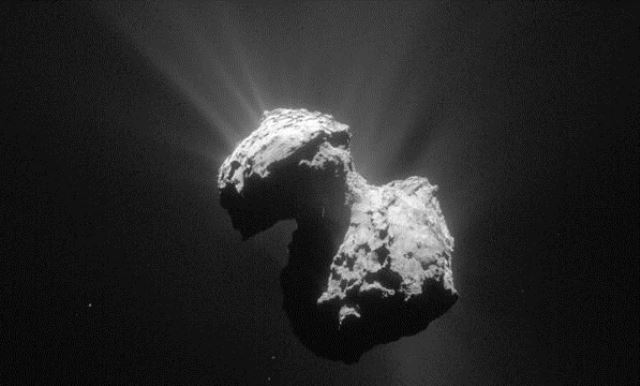 The 67P comet is one of the most famous and mysterious objects in the Kuiper belt, after the Rosetta mission collected samples from its icy surface in 2014. Rosetta's incredible discoveries showed that organic molecules and oxygen existed in the dust emitted by the Comet 67P. Now the comet is again at the center of the mystery, after an unknown audio source has been recorded by NASA thanks to Rosetta. For UFO researchers, this is proof that an unknown transmission was sent from an extraterrestrial structure visible in the images taken by the NASA space probe. This structure is quite large and has two antennas that are visible in the photographs below.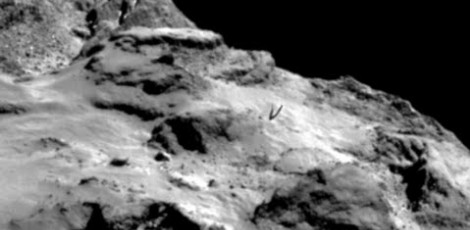 The otherworldly sound, composed of oscillating analogue noises, has been brought to light by UFO researcher Scott C Waring. "I listened to and recorded the sounds picked up by the 67P comet and slowed them down so I could listen to them better," Waring wrote. "I really feel it contains an alien message."
UFO hunters long ago identified a mysterious object on the surface of the comet 67P / Churyumov-Gerasimenko, which would be evidence of the existence of alien underground structures, or better, alien outposts. The UFO researchers are convinced that these structures or protuberances that protrude from the surface of the comet, could be similar to antennas that transmit on frequencies that are not perceived on Earth, that is, on frequency bands still not accessible to us. These sound frequencies are those recorded by the Rosetta probe, composed of oscillating analogue noises.
According to the Ufologists, this sound transmission recorded on the Comet 67P is the further proof (after the discovery of the alien base with three antennas) that the comet could have the function of an ALIEN RADIAL, which is used to define one or more routes of any spaceships coming from other star systems. Other ufologists speculate that this base could be an extraterrestrial mining structure.