The new prediction fulfilled by The Simpsons: episode 5 of the last season of Game of Thrones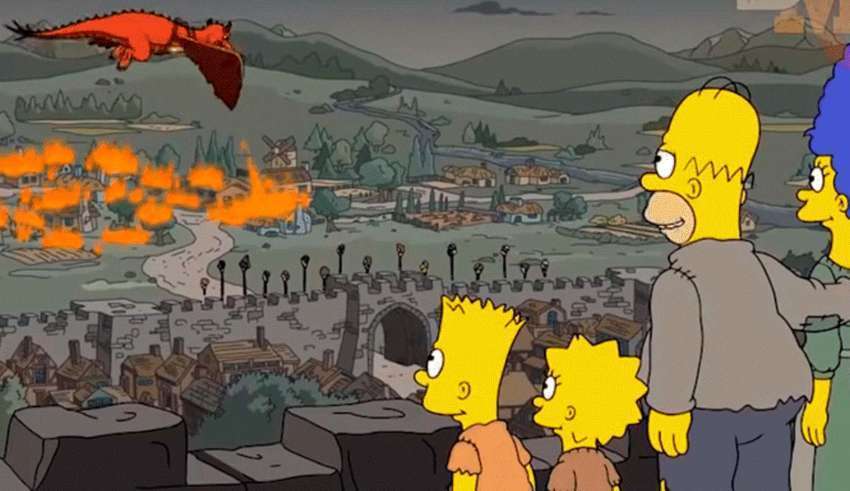 A few days after September 11, rumors began to rise that action movie star Jackie Chan was going to shoot a movie called "Nosebleed," which involved a terrorist plot to hit a plane at the Statue of Liberty or the World Trade Center. Interestingly, the project was confirmed, but the producers decided to cancel it. But the plot of the film was real and made people wonder: How did the writers know this could happen? Did they predict terrorist attacks? It turns out that there is a whole theory about the power of the media to predict and prepare for the future. It is called "predictive programming" and encompasses not only terrorist attacks, but also new technologies and the existence of extraterrestrials.
Coined by the conspirator Alan Watt, predictive programming is the theory that ideas, situations and new technologies are carefully written in movies, television programs and books for the general population to accept social changes. Examples include the pilot episode of "The Lone Gunmen" , where a hijacked plane crashes into the World Trade Center as a false flag attack ; "The dark knight: the legend is reborn", which shows a map of Gotham where one of the places marked is Sandy Hook, where the massacre of the Primary School occurred; and an episode of "Family Guy"in which Peter Griffin leads through the Boston marathon, broadcast only a few months before the Boston Marathon attack in 2013. But as popularly said, if it does not predict "The Simpsons" then it will not happen. And they have done it again, this time with "Game of Thrones".
The new prediction fulfilled
The fans of Game Of Thrones were shocked last Sunday night when Daenerys Targaryen and her dragon unexpectedly set King's Landing on fire, killing thousands of innocent men, women and children. But while viewers enjoyed the images, it seems that the scene was predicted two years ago , in a completely different series.
The followers of the animated series "The Simpsons" will remember their characters paying homage to Game of Thrones in a parody of 2017 entitled 'The Serfsons'. The episode moved the spectators to a completely different environment, to the medieval Springfield, where Homer, Marge, Bart, Lisa and Maggie were part of the universe of Games of Thrones. But after watching Daenerys incinerate King's Landing in their pursuit of the Iron Throne, fans were struck by the strange resemblance to a scene from The Serfsons , in which the family cheerfully watches as a marauding dragon reduces Springfield to ashes.
After this "coincidence" , there were many users on social networks who returned to show their surprise with the new prediction fulfilled. However, this is not the first time it is not the first time that The Simpsons predict the future in a really disturbing way. And they not only predicted the presidency of Donald Trump, the Ebola crisis and the winner of a Nobel Prize. In 2018 he also foreshadowed a cosmological link between physicists Stephen Hawking and Albert Einstein, almost two decades before Hawking died the day his German counterpart was born.
It happened in an episode aired in 1999, entitled "Saved the brain of Lisa (They Saved Lisa's Brain in the English version)", starring Stephen Hawking, as a tribute to his death. The Simpsons also predicted the Arab Spring, the FIFA soccer scandal, the Greek economic crisis and the discovery of the Higgs Boson particle. But without a doubt, the most surprising prediction was that Donald Trump would become president of the United States.
It is clear that at first this may seem simple coincidences, even funny, but the reality is quite another. Predictive programming demonstrates how the entire agenda of the elite is hidden by its references in the popular media before it happens. And when the event occurs, people accept it, without offering resistance or opposition.
What would happen if everything that happens daily was programmed years in advance? Is it possible that the games and movies you see hide information about our future?
Woman reels in weird fish with two mouths
Image Credit: Facebook / Debbie Geddes
Why does this fish have two mouths?
Debbie Geddes had been fishing in Lake Champlain with her husband when she caught this peculiar specimen.
The bizarre fish, which is believed to be a trout, has what looks like two separate mouths.
"When it bit, it felt like I had a nice fish on," said Geddes. "I actually commented, 'I hope it's as big as it feels'. When we got it in the boat I couldn't believe what I was seeing! Two mouths! And yet this fish was healthy and thriving! Pretty amazing! We quickly took a few pictures and released the fish."
Photographs of the unusual catch later went viral, leading to a great deal of speculation over the nature of the fish on social media.
Some have speculated that the fish could be a mutant that was born with two mouths, while others subscribe to the theory that the second 'mouth' developed due to an injury the fish sustained.
"I just can't believe all the attention this has received," said Geddes.
"The public's responses and theories are quite interesting. I personally believe it was caused by a previous injury, most likely from another angler."
Source: Independent
Too much karaoke gives man a collapsed lung
Image Credit: PD – Kane Reinholdtsen
Too much karaoke can be bad for your health. 
A man in China recently ended up in hospital after an evening of belting out songs caused his lung to collapse.
For most of us, the ordeal of singing pop songs in front of an audience is punishment enough, but for one man in China recently, singing karaoke almost had fatal consequences.
The 65-year-old, who has been identified only as Wang, sang at such intensity and for so long that he started to experience difficulty breathing as well as pains in his chest.
When he visited a hospital the next day, doctors discovered that his lung had literally collapsed "because of the high lung pressure caused by singing high notes."
The condition, which is known as pneumothorax, happens when air is rerouted into the area between the lung and the chest wall, putting pressure on the lung and causing it to collapse.
It is believed however that Wang must have had a pre-existing condition beforehand.
"Typically, a collapsed lung requires some degree of architectural abnormalities within the lung," said Dr. Enid Neptune at Johns Hopkins School of Medicine in Baltimore, Maryland. "An absolutely, totally normal lung usually doesn't suffer spontaneous pneumothorax in the absence of trauma."
Source: Live Science
Creepy Dolls Mysteriously Appearing in Missouri are Unexplained and Spreading
"All the dolls look similar. They are very realistic. People living in the community said it is not only the dolls that are creepy but where they are placed that is strange."
The crime reports out of Festus – a small town on the eastern border of central Missouri – usually look like those of any other small municipality … DUIs, break-ins, noise complaints, etc. Residents may be referring to those as "the good old days" now that the city is in the throws of a mysterious epidemic of creepy dolls appearing in odd places that is keeping people and their kids indoors and the police on alert.
"When we found this one, it was laying in front of our building. We picked it up and it was the doll, they've been hanging on top of stop signs, laying in front of the license office."
The worried residents of Festus told local media they're finding the dolls on the ground, on the tops of road sign, hanging from light poles, leaning up against a building and other strange spots. The locations aren't the only creepy part – the dolls are sometimes carefully placed to appear to be small children – sitting, leaning against a wall, on the ground as if they fell, etc. (Video here and photo here.) That causes concerned witnesses to stop and see what's going on, says police chief Tim Lewis.
"If you were to see it from behind it looks like a little girl. If you're out and about and you see that, it looks like a little girl crying, against a pole and someone is going to stop," he said. "In this town, people are good-hearted. People are going to stop to make sure that's not a child. They are going to get hit or they are going to get run over and then you're dealing with a catastrophe."
It's bad enough when they realize they stopped for a doll. What's worse is when they flip it over and find the doll has no face. Some have no heads at all. The doll leaning against the building had its hands sewn to its face. Many of the dolls appear at busy intersections, causing traffic jams. Others are in remote locations. No matter where they are, no one has seen (or admitted to seeing) who puts them out. Some have quickly disappeared and no one seems to have seen that either. Chief Lewis suspects the culprit or culprits are hiding, watching the commotion and laughing. While the number incidents have gone down, local station KSDK reports that at least one creepy doll has appeared in nearby Crystal City.
"Dolls are just creepy in general to me. I don't like them."
Resident Logan Galczynski probably speaks for many people who feel the same way about life-sized dolls as they do about clowns. Some think it's linked to the new Annabelle movie, but it could be something more sinister, like the so-called voodoo dolls found last year all over the Russian town of Zavetny. Those were the size of adult store mannequins but dressed like school girls. The voodoo part comes from the dolls being pierced by needles, some threaded. That thread finally help investigators determine that the dolls were once used in puppet theater, then donated to a museum, threw them out (too creepy?) but they were found and given to a school, which also threw them out (definitely too creepy for school) but someone found them in the trash and began placing them around town. That culprit was never caught.
Are the residents of Festus and now Crystal City doomed to deal with the dolls forever? Will they desert their towns, leaving them to the dolls like the island of haunted dolls in Mexico known as La Isla de las Munecas? Perhaps Logan Galczynski is right.
"Dolls are just creepy in general to me. I don't like them."
Source: Mysterious Universe