The Mysterious Prussian Army of Giants
Throughout recorded time there have been those rulers who have been eccentric to say the least. They have tried all manner of strange schemes, experiments, and pure off-the-wall oddness, adding some color to history, to say the least. The stories of these rulers run the gamut from genius to folly, and they never cease to entertain and enthrall. One such case is a great king of Prussia, who went about creating a bizarre army of super-sized giants the likes of which the world has never seen.
In 1713, Frederick William I of Prussia ascended to the throne to take the place of his father, Frederick I, and immediately made an impression with his sweeping changes and overall oddness. Under Frederick William there was much economic and military progress made, with mandatory military service eliminated in place of a tax, and the establishment of many public institutions such as schools and hospitals, and he was mostly seen as a competent and effective ruler, despite his notoriously short temper and hatred of the French. He was also certainly known to be quite eccentric, and in addition to his hair-trigger hot temper he was rather well-known as being a hopeless germaphobe, often bathing dozens of times per day and compulsively washing his hands, and this and his many other eccentricities have become the stuff of legend, cementing him as a very colorful historic character indeed, almost like something out of a comic book.
During his time as King, Frederick William I was perhaps most famous for his rather rapid expansion of the Prussian military, which despite his abolition of mandatory military service he nevertheless managed to blow up from around 30,000 men up to more than 80,000, many of them hired mercenaries. In addition to this filling of the ranks, the military minded king also stepped up training for his troops and improved their gear, transforming and molding them from a ragtag group of filthy, poorly equipped farmers into a well-oiled, disciplined and ferocious professional army. It was partly due to this complete overhaul of the Prussian military that Prussia's territories expanded and their standing as a major power in Europe was cemented, and Frederick William I became widely known as "The Soldier King."
Even in his military affairs Frederick William I's eccentricities came to the fore, as he became gradually more obsessed with tall soldiers, which may or may not have stemmed from the fact that he himself only stood 5'5". They at first merely caught his eye, but he grew more and more absorbed in the idea that these tall men could be gathered into a separate regiment, and he would once say, "The most beautiful girl or woman in the world would be a matter of indifference to me, but tall soldiers, they are my weakness." He went about forming what would go on to be called variously "The Potsdam Giants," "The Grand Grenadiers of Potsdam," and "The Long Guys," which no matter what you call them are every bit as bizarre as you might expect.
The requirements for inclusion into this exclusive regiment were simple. You didn't need any particular training or physical fitness, there was no real age standard or need for you to have any military experience whatsoever, you merely had to be over 6 feet tall, which in and of itself was exceptionally tall for the era. That was literally it. If you were tall enough, you were in, and in Frederick William I's opinion, the taller the better, with his tallest soldier reputed as being 7'2". They would have made a formidable site for sure, and were often paraded in front of visiting dignitaries in order to shock and impress. One Thomas Carlyle once said of the regiment upon seeing them in all of their glory:
A Potsdam Giant Regiment, such as the world never saw, before or since. Sublime enough, hugely perfect to the royal eye, such a mass of shining giants, in their long-drawn regularities and mathematical maneuverings—like some streak of Promethean lightning, realized here at last, in the vulgar dusk of things! Truly they are men supreme in discipline, in beauty of equipment; and the shortest man of them rises, I think, towards seven feet, some are nearly nine feet high. Men from all countries; a hundred and odd come annually, as we saw, from Russia. The rest have been collected, crimped, purchased out of every European country, at enormous expense, not to speak of other trouble to his majesty.
These giant soldiers were apparently recruited from all over, and decked out in the finest uniforms and hats that soared upwards to around 1 foot, further adding to the illusion of height, and they carried the best equipment. In addition, the giant regiment were treated somewhat akin to rock stars, enjoying the finest meals and higher salaries compared to their more vertically challenged brethren, with more pay dealt out the taller the soldier was. They were pampered and preened, and it seemed like a rather easy life, but they were actually not intended for actual combat, more of a collection of toy soldiers commandeered by their eccentric master, and mostly just for show.
These towering soldiers lived the good life, but they were far from free, more like the King's playthings. Frederick would often order several hundred of his giant regiment to march, along with "tall, turbaned Moors with cymbals and trumpets and the grenadiers mascot, an enormous bear," just to cheer him up, and they were often used in such humiliating displays such as dancing about and for posing for the King's portraits. In a more sinister twist, Frederick is said to have often experimenting with trying to make his soldiers even taller by splaying them out on racks and trying to stretch them out even more. One might be asking oneself right about now where the King got all of these super tall men, and that is interesting in and of itself.
Some of these soldiers volunteered willingly, with King Frederick putting out word of the kind of pay and benefits they would be getting, and with many thinking it would help to further their military careers. There were also rules put in place to tax farmers for not relinquishing their tall farmhands, and some Prussian allies were known to offer up tall men as well as gifts. Still others were tricked or cajoled into service. Even this was often not enough for the King, and in his growing obsession with tall soldiers he resorted to arranging actual abductions of any men or even children who were deemed to be taller than usual, and babies were often marked with red scarves if it was thought they were potentially taller than ordinary. Such was his relentless quest for tall soldiers to add to his regiment that Fredrick William I is said to have dabbled in controlled breeding experiments, a sort of precursor to eugenics, in which he sought to breed the tallest soldiers possible through pairing up tall men with tall women.
By the time the King died in 1740 he had amassed an impressive army of around between 2,500 and 3,200 extremely tall men for his legion of giants. Through all of this, the Potsdam Giants, despite all of their equipment and the massive amounts of money spent on them, they never were used for battle under the King's rule, mostly serving just as a showcase and as playthings for the off-the-rails Kind Frederick William I, who did not dare risk losing any of his precious tall men to war. When he died they were taken over by his son, Frederick the Great, split off to other regiments, and sent into battle during the War of the Austrian Succession at Hohenfriedberg in 1745, as well as at Rossbach, Leuthen, Hochkirch, Liegnitz, and Torgau throughout the Seven Years' War, but they proved to be woefully ineffective, and after many defeats were disbanded in 1806 shortly after the Prussian defeat at the Battle of Jena. The Potsdam Giants have since been credited with perhaps being the seed for Adolph Hitler's own selective breeding eugenics program, and this unconventional regiment has made its mark upon history.
SOURCE: Mysterious Universe
Tesla autopilot sensor recorded "ghost" in an empty cemetery
A Tesla electric car with an activated autopilot function recorded an invisible person who allegedly moved around the cemetery. Social network users jokingly noted in the comments that, most likely, this is some new function from Elon Musk, which allows you to see ghosts.
In the United States, a Tesla electric car with an activated autopilot function recorded an invisible person who allegedly moved through a cemetery.
The corresponding video was posted by Twitter user Ovidiu Maciuc.
The recording shows how a silhouette of a man appears on the monitor of an electric car, moving around the cemetery. After that, the driver raises the camera and starts filming the graveyard through the windshield, but there are no people there.
After some time, the "ghost" went in the opposite direction from Tesla and disappeared from the on-board computer screen.
Social network users jokingly noted in the comments that, most likely, this is some new function from Elon Musk, which allows you to see ghosts.
For many though, if you take into account the comments, the video seemed rather creepy. Some even tried to guess what the navigation system actually showed.
Some users thought the system could recognize ghosts. Others refuted this version and said that the reason for all this is an insufficiently accurate sensor, which was used for the equipment of the Tesla car.
Earlier it became known that Tesla electric cars in the near future may receive a new function with which they can talk with pedestrians. For this, American cars will be equipped with special external speakers.
In addition, Tesla cars in the future will receive the option to change the horn and sound of movement at low speeds to warn pedestrians. According to Elon Musk, among the sounds of movement there will be the sound of the clatter of a horse's hooves, and as a whistle – the bleating of a goat.
Mysterious energy source melts Tel Aviv sidewalks, leading to the evacuation of several buildings in Israel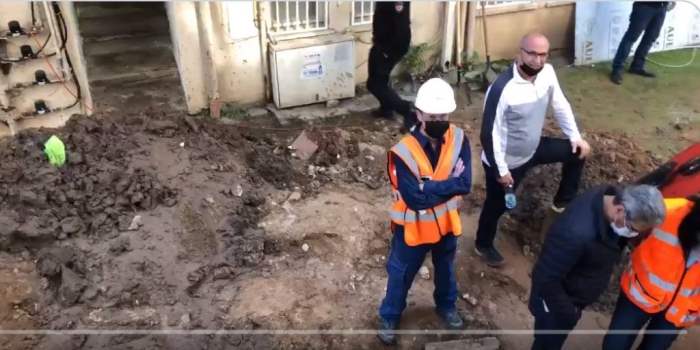 About two weeks ago, Tel Aviv residents noticed that the concrete surface outside their homes was heating up and steam was coming out of the ground. Tests showed that steam that reached 60 ° C (140 ° F) was water based.
The witness explains: "I was afraid that there was a power line in the area and asked a worker to dig out the ground with a shovel. Steam suddenly came out. I imagined it was probably a geyser. It seemed to me that this was a geological incident – also because there were no problems with electricity in the building. "
Although the experts did not find any hazardous substances or any risk to the stability of buildings at the site, residents as well as kindergartens in the area were evacuated.
Officials described the heat source as "trapped energy" of unknown origin.
Work continues, steam is still rising and the ground is still hot. It is currently unclear what is causing the warming. Note the hole dug in the area. The area is still blocked.
Mysterious origins
City officials said they will "continue to monitor the temperature of the earth, which is expected to cool down for a long time, and will continue to investigate the causes of the unusual event."
Israel Electric Corporation has not found a connection between heat and power in the area.
The Israel Geological Survey confirmed the rise in temperature after testing ground and water temperature levels, but said it has not yet found an explanation.
Despite their best efforts, municipal officials, the fire department, Israel Electric Corporation and the Ministry of the Environment have yet to find a source of heat.
Meanwhile, the Tel Aviv municipality has informed dozens of evacuees that they can return to their homes. However, residents are not going to return until they receive a detailed account of the source of the mysterious event.
"They evacuated us because they were concerned about our safety, and now they are urging us to return without any convincing explanation. How can you be sure that there is no more danger? "
The night sky in southern Taiwan shows a weird red moon alarming netizens: 2021 disaster year omen?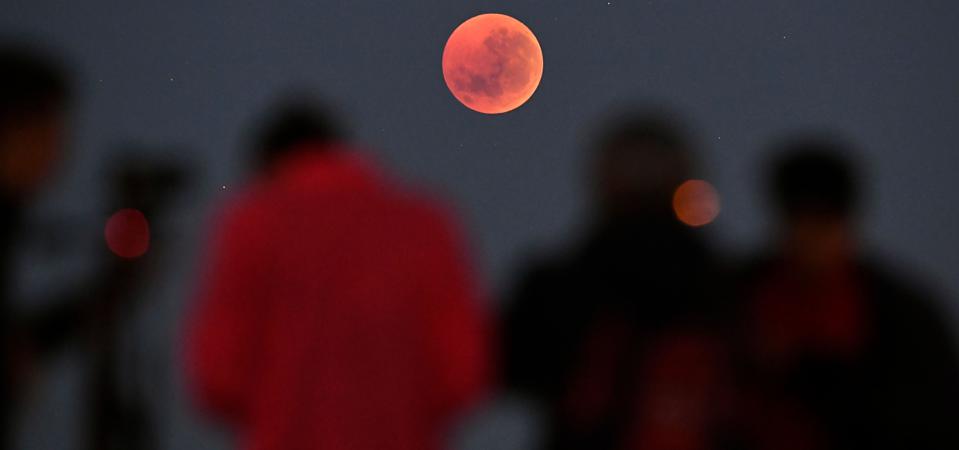 Some people in Chiayi, Taiwan took pictures of a large dark red moon hanging in the night sky on the first night of 2021 and uploaded them to Facebook. There are also people in Tainan who have photographed the rare "red moon". The weird scene has aroused heated discussions among netizens. Some people worry that an earthquake may occur, while others suspect that this is a precursor to the year of disaster in 2021?
Yesterday, on January 1 at about 8:00 in the evening, Chiayi residents shared a photo of "2021's first red moon" on Facebook. As you can see in the photo, the weather was quite good at that time. There was a clear big round moon in the night sky, but it was a dark red moon, which was very different from the usual moon.
Later, people in Kaohsiung and Tainan also posted photos of the red moon they had taken.
The weird and rare "big red moon" immediately attracted the attention of netizens. Some people think that such a sight is caused by air pollution, and some people think that the red moon is "extremely beautiful", but many people worry about whether it is a harbinger before the disaster ?
"Hope is not a harbinger of disaster~", "A harbinger of disaster in 2021???", "It looked uneasy", "After seeing the red moon, I hope everyone will be safe".
Some netizens worry that this is a pre- earthquake omen.
"Remember the red moon before the 921 earthquake (omen)", "earthquake precursors", "I feel that there will be an earthquake again recently", and "It seems that 2021 will be another year of bloody disaster."
The British clairvoyant Craig Hamilton-Parker published his prediction for 2021 on YouTube in December last year, stating that, as far as the world is concerned, 2021 will be a year full of social unrest, armed conflict and political changes. There will be difficult times right now until 2025.
He also predicted that the biggest worry is climate and earthquakes. A tsunami will occur near Japan. Large earthquakes will occur in the Himalayas, Iran and the Americas. There will also be problems such as floods, dams bursting, and huge icebergs obstructing shipping. Until 2025, the severity of environmental problems will gradually increase.