The Mysterious Prussian Army of Giants
Throughout recorded time there have been those rulers who have been eccentric to say the least. They have tried all manner of strange schemes, experiments, and pure off-the-wall oddness, adding some color to history, to say the least. The stories of these rulers run the gamut from genius to folly, and they never cease to entertain and enthrall. One such case is a great king of Prussia, who went about creating a bizarre army of super-sized giants the likes of which the world has never seen.
In 1713, Frederick William I of Prussia ascended to the throne to take the place of his father, Frederick I, and immediately made an impression with his sweeping changes and overall oddness. Under Frederick William there was much economic and military progress made, with mandatory military service eliminated in place of a tax, and the establishment of many public institutions such as schools and hospitals, and he was mostly seen as a competent and effective ruler, despite his notoriously short temper and hatred of the French. He was also certainly known to be quite eccentric, and in addition to his hair-trigger hot temper he was rather well-known as being a hopeless germaphobe, often bathing dozens of times per day and compulsively washing his hands, and this and his many other eccentricities have become the stuff of legend, cementing him as a very colorful historic character indeed, almost like something out of a comic book.
During his time as King, Frederick William I was perhaps most famous for his rather rapid expansion of the Prussian military, which despite his abolition of mandatory military service he nevertheless managed to blow up from around 30,000 men up to more than 80,000, many of them hired mercenaries. In addition to this filling of the ranks, the military minded king also stepped up training for his troops and improved their gear, transforming and molding them from a ragtag group of filthy, poorly equipped farmers into a well-oiled, disciplined and ferocious professional army. It was partly due to this complete overhaul of the Prussian military that Prussia's territories expanded and their standing as a major power in Europe was cemented, and Frederick William I became widely known as "The Soldier King."
Even in his military affairs Frederick William I's eccentricities came to the fore, as he became gradually more obsessed with tall soldiers, which may or may not have stemmed from the fact that he himself only stood 5'5". They at first merely caught his eye, but he grew more and more absorbed in the idea that these tall men could be gathered into a separate regiment, and he would once say, "The most beautiful girl or woman in the world would be a matter of indifference to me, but tall soldiers, they are my weakness." He went about forming what would go on to be called variously "The Potsdam Giants," "The Grand Grenadiers of Potsdam," and "The Long Guys," which no matter what you call them are every bit as bizarre as you might expect.
The requirements for inclusion into this exclusive regiment were simple. You didn't need any particular training or physical fitness, there was no real age standard or need for you to have any military experience whatsoever, you merely had to be over 6 feet tall, which in and of itself was exceptionally tall for the era. That was literally it. If you were tall enough, you were in, and in Frederick William I's opinion, the taller the better, with his tallest soldier reputed as being 7'2". They would have made a formidable site for sure, and were often paraded in front of visiting dignitaries in order to shock and impress. One Thomas Carlyle once said of the regiment upon seeing them in all of their glory:
A Potsdam Giant Regiment, such as the world never saw, before or since. Sublime enough, hugely perfect to the royal eye, such a mass of shining giants, in their long-drawn regularities and mathematical maneuverings—like some streak of Promethean lightning, realized here at last, in the vulgar dusk of things! Truly they are men supreme in discipline, in beauty of equipment; and the shortest man of them rises, I think, towards seven feet, some are nearly nine feet high. Men from all countries; a hundred and odd come annually, as we saw, from Russia. The rest have been collected, crimped, purchased out of every European country, at enormous expense, not to speak of other trouble to his majesty.
These giant soldiers were apparently recruited from all over, and decked out in the finest uniforms and hats that soared upwards to around 1 foot, further adding to the illusion of height, and they carried the best equipment. In addition, the giant regiment were treated somewhat akin to rock stars, enjoying the finest meals and higher salaries compared to their more vertically challenged brethren, with more pay dealt out the taller the soldier was. They were pampered and preened, and it seemed like a rather easy life, but they were actually not intended for actual combat, more of a collection of toy soldiers commandeered by their eccentric master, and mostly just for show.
These towering soldiers lived the good life, but they were far from free, more like the King's playthings. Frederick would often order several hundred of his giant regiment to march, along with "tall, turbaned Moors with cymbals and trumpets and the grenadiers mascot, an enormous bear," just to cheer him up, and they were often used in such humiliating displays such as dancing about and for posing for the King's portraits. In a more sinister twist, Frederick is said to have often experimenting with trying to make his soldiers even taller by splaying them out on racks and trying to stretch them out even more. One might be asking oneself right about now where the King got all of these super tall men, and that is interesting in and of itself.
Some of these soldiers volunteered willingly, with King Frederick putting out word of the kind of pay and benefits they would be getting, and with many thinking it would help to further their military careers. There were also rules put in place to tax farmers for not relinquishing their tall farmhands, and some Prussian allies were known to offer up tall men as well as gifts. Still others were tricked or cajoled into service. Even this was often not enough for the King, and in his growing obsession with tall soldiers he resorted to arranging actual abductions of any men or even children who were deemed to be taller than usual, and babies were often marked with red scarves if it was thought they were potentially taller than ordinary. Such was his relentless quest for tall soldiers to add to his regiment that Fredrick William I is said to have dabbled in controlled breeding experiments, a sort of precursor to eugenics, in which he sought to breed the tallest soldiers possible through pairing up tall men with tall women.
By the time the King died in 1740 he had amassed an impressive army of around between 2,500 and 3,200 extremely tall men for his legion of giants. Through all of this, the Potsdam Giants, despite all of their equipment and the massive amounts of money spent on them, they never were used for battle under the King's rule, mostly serving just as a showcase and as playthings for the off-the-rails Kind Frederick William I, who did not dare risk losing any of his precious tall men to war. When he died they were taken over by his son, Frederick the Great, split off to other regiments, and sent into battle during the War of the Austrian Succession at Hohenfriedberg in 1745, as well as at Rossbach, Leuthen, Hochkirch, Liegnitz, and Torgau throughout the Seven Years' War, but they proved to be woefully ineffective, and after many defeats were disbanded in 1806 shortly after the Prussian defeat at the Battle of Jena. The Potsdam Giants have since been credited with perhaps being the seed for Adolph Hitler's own selective breeding eugenics program, and this unconventional regiment has made its mark upon history.
SOURCE: Mysterious Universe
Vienna Cemetery Introduces Funeral LEGO Sets
Kids will have a blast assembling a LEGO crematorium, hearse, grave and more now available from the Vienna Funeral Museum.
Lego crematorium oven set available from the Vienna Funeral Museum
Build your own funeral piece by piece with these LEGO kits from Bestattungsmuseum, the Vienna Funeral Museum in Vienna's Central Cemetery. The museum's gift shop and online store recently unveiled custom Lego sets designed to help kids answer the big questions like "What happens to grandpa in a crematorium?"
"Taboos create fears and uncertainties," the Vienna Psychotherapy Association said. "The child feels that something is wrong, and then he is left alone with that."
So to teach kids about death, the museum partnered with a company to produce some gloriously morbid Legos.
"For the small and large undertaker of tomorrow," the description from the Historical Hearse set reads.
Other sets currently available include a WWI-era funeral tram, Lego graveyard with tombstone and excavator, a fourgon used to transport the deceased, a crematorium oven with a casket and urn, a horse-drawn "corpse carriage," a bereaved family with the skeleton of the deceased, and minifigures in mourning.
Lego bereaved family minifigures with the deceased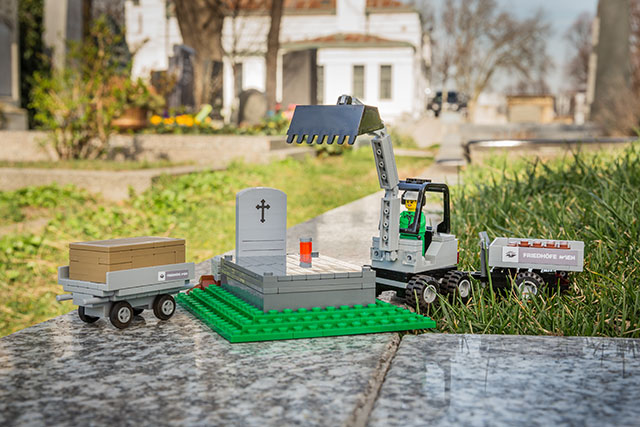 Lego cemetery with casket, gravestone, and excavator for digging your own graves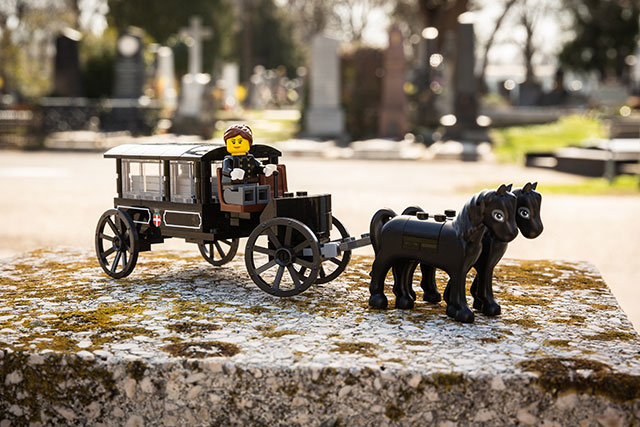 Lego horse-drawn corpse carriage with coffin
WWI-era Vienna funeral tram with 2 coffins and Lego undertaker
Lego hearse
These morbid LEGO sets are available now right here.
Thanks to Dead Sled Brand for putting this on my radar.
THE ROCKWOOD FILES: Read all about a world of weird news
It's not easy to closely follow the national news these days. It can be frustrating and depressing at times. But recently I've found a refreshing option that gives news junkies like me a good dose of information, minus the political circus. It's called strange news.
If you do an Internet search for weird or strange news, you'll find a few different sources. NBC has a collection of it, as does the Huffington Post. But my favorite stash of strange news is compiled by the National Public Radio's website. It's the kind of place where you can read about a rare sighting of the world's largest bee — an insect described as a "flying bulldog" with a tongue that measures more than an inch long. Or you can read about how a group of nearly 3,000 people dressed up like Smurfs and gathered in a town in Germany. They came in hopes of setting a record of the largest gathering of Smurfs. In order to be counted, participants could not show even a sliver of "non-blue skin."
But my favorite strange news topic is about animals because they never fail to entertain. For example, a story about a pigeon named Olive made me realize that all types of parenting — even pigeon parenting — comes with its share of challenges.
According to the story by reporter Vanessa Romo, Olive the pet pigeon went on an outing with her human mother, Marlette, in Phoenix, Arizona. Although she had never done it before, Olive suddenly flew away from home upon returning from the outing. The family was devastated.
But four days later, in a town 10 miles away, a ruffled, hungry Olive was found by a woman who must have known instantly that she was not a run-of-the-mill pigeon. Why? Because Olive was wearing a rhinestone-studded flight suit. (No, really. She was.)
The kind stranger took the bedazzled bird to a nearby bird rescue shelter. The shelter's owner, Jody, said she'd never seen a bird wearing bling before and knew she must be a pampered pet who didn't know how to be a bird in the wild. She also assumed that Olive was most likely a teenage bird. "They kind of rebel at that age," Jody said, "and that's probably why she decided to go off on her big adventure." (Apparently teenage pigeons are just as cocky as their human counterparts.)
With the help of a viral Facebook post, the shelter was able to locate Olive's human family, and mother and pigeon were joyfully reunited. Hopefully, they both learned a valuable lesson. The human learned never to trust a teenage pigeon who thinks she knows it all. And perhaps Olive the rhinestone-studded pigeon learned that the only people putting out a food bowl for her live at home.
Olive's mother replaced the missing rhinestones in Olive's vest with new, even shinier crystals, and she and Olive have done a few television appearances since the bird's homecoming.
Can you see the appeal now of strange news? No horrific natural disasters. No violent shootings. No poisonous politics. Just blingy birds, crazy-big bees and blue people trying to set records. It's Smurf-tastic!
And if Olive the rhinestone-studded rebellious bird isn't strange enough for you, this last one weighs in even weirder. According to a report by Sam Hoisington, a man in India flew to New York last year to have the fingernails on his left-hand cut. He started letting those fingernails grow when he was 14, and he didn't cut them until he was 82.
It took a small circular saw to cut through the nails. The 82-year-old now holds the record for the longest nails on one hand, with a thumbnail that measured 6 ½ feet. The combined length of his nails measured nearly 30 feet (or roughly the length of a London bus, according to Guinness.)
Those fingernails, which are as gnarly and gross as you might imagine, are now on display at a Ripley's Believe It or Not museum in New York City's Times Square. Welcome to the bizarre (but oddly refreshing) world of strange news. Read all about it.
Gwen Rockwood is a syndicated freelance columnist. Her book is available on Amazon.
Mashed potato mystery endures in Mississippi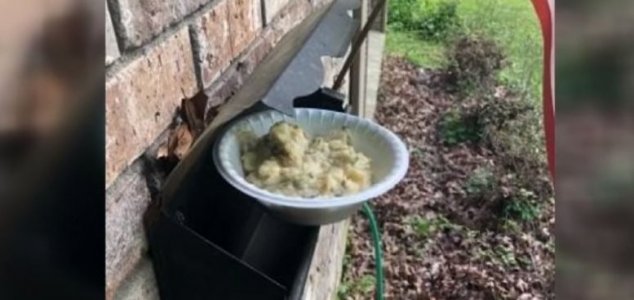 Image Credit: Michaela Lin / WJTV 12 News
Who is responsible for leaving this here ?
An unknown individual has taken to leaving bowls of mashed potatoes around a Jackson neighborhood.
The peculiar enigma has been reported by numerous residents of the city's Belhaven district where Styrofoam bowls of the mashed up tubers have been found on top of mailboxes, on garden walls, balancing on top of cars and in other strange places outside of people's homes.
"I walked outside yesterday morning at 7 a.m. and I got in my car and that's when I noticed a white bowl on my windshield," local resident Jordan Lewis told WLBT-TV.
"It was full of rainwater. I threw it away and I was grossed out by it."
Some residents believe that the stunt may have some connection to Belhaven University.
"So far I have realized some of the 'victims' of the mashed potatoes are actually staff or Belhaven students or alumni," said Michaela Lin. "I feel like there has to be a connection there!"
While the act of leaving mashed potatoes around the neighborhood may seem harmless enough, some locals have raised concerns over the potential for more sinister motives.
"Some people were thinking maybe the mashed potatoes were poisoned to kill animals," local resident Sebastian Bjernegard told WJTV. "I didn't taste it… but some people were worried."
A local news report covering the phenomenon can be viewed below.
Source: Fox News