The Mysterious Prussian Army of Giants
Throughout recorded time there have been those rulers who have been eccentric to say the least. They have tried all manner of strange schemes, experiments, and pure off-the-wall oddness, adding some color to history, to say the least. The stories of these rulers run the gamut from genius to folly, and they never cease to entertain and enthrall. One such case is a great king of Prussia, who went about creating a bizarre army of super-sized giants the likes of which the world has never seen.
In 1713, Frederick William I of Prussia ascended to the throne to take the place of his father, Frederick I, and immediately made an impression with his sweeping changes and overall oddness. Under Frederick William there was much economic and military progress made, with mandatory military service eliminated in place of a tax, and the establishment of many public institutions such as schools and hospitals, and he was mostly seen as a competent and effective ruler, despite his notoriously short temper and hatred of the French. He was also certainly known to be quite eccentric, and in addition to his hair-trigger hot temper he was rather well-known as being a hopeless germaphobe, often bathing dozens of times per day and compulsively washing his hands, and this and his many other eccentricities have become the stuff of legend, cementing him as a very colorful historic character indeed, almost like something out of a comic book.
During his time as King, Frederick William I was perhaps most famous for his rather rapid expansion of the Prussian military, which despite his abolition of mandatory military service he nevertheless managed to blow up from around 30,000 men up to more than 80,000, many of them hired mercenaries. In addition to this filling of the ranks, the military minded king also stepped up training for his troops and improved their gear, transforming and molding them from a ragtag group of filthy, poorly equipped farmers into a well-oiled, disciplined and ferocious professional army. It was partly due to this complete overhaul of the Prussian military that Prussia's territories expanded and their standing as a major power in Europe was cemented, and Frederick William I became widely known as "The Soldier King."
Even in his military affairs Frederick William I's eccentricities came to the fore, as he became gradually more obsessed with tall soldiers, which may or may not have stemmed from the fact that he himself only stood 5'5". They at first merely caught his eye, but he grew more and more absorbed in the idea that these tall men could be gathered into a separate regiment, and he would once say, "The most beautiful girl or woman in the world would be a matter of indifference to me, but tall soldiers, they are my weakness." He went about forming what would go on to be called variously "The Potsdam Giants," "The Grand Grenadiers of Potsdam," and "The Long Guys," which no matter what you call them are every bit as bizarre as you might expect.
The requirements for inclusion into this exclusive regiment were simple. You didn't need any particular training or physical fitness, there was no real age standard or need for you to have any military experience whatsoever, you merely had to be over 6 feet tall, which in and of itself was exceptionally tall for the era. That was literally it. If you were tall enough, you were in, and in Frederick William I's opinion, the taller the better, with his tallest soldier reputed as being 7'2". They would have made a formidable site for sure, and were often paraded in front of visiting dignitaries in order to shock and impress. One Thomas Carlyle once said of the regiment upon seeing them in all of their glory:
A Potsdam Giant Regiment, such as the world never saw, before or since. Sublime enough, hugely perfect to the royal eye, such a mass of shining giants, in their long-drawn regularities and mathematical maneuverings—like some streak of Promethean lightning, realized here at last, in the vulgar dusk of things! Truly they are men supreme in discipline, in beauty of equipment; and the shortest man of them rises, I think, towards seven feet, some are nearly nine feet high. Men from all countries; a hundred and odd come annually, as we saw, from Russia. The rest have been collected, crimped, purchased out of every European country, at enormous expense, not to speak of other trouble to his majesty.
These giant soldiers were apparently recruited from all over, and decked out in the finest uniforms and hats that soared upwards to around 1 foot, further adding to the illusion of height, and they carried the best equipment. In addition, the giant regiment were treated somewhat akin to rock stars, enjoying the finest meals and higher salaries compared to their more vertically challenged brethren, with more pay dealt out the taller the soldier was. They were pampered and preened, and it seemed like a rather easy life, but they were actually not intended for actual combat, more of a collection of toy soldiers commandeered by their eccentric master, and mostly just for show.
These towering soldiers lived the good life, but they were far from free, more like the King's playthings. Frederick would often order several hundred of his giant regiment to march, along with "tall, turbaned Moors with cymbals and trumpets and the grenadiers mascot, an enormous bear," just to cheer him up, and they were often used in such humiliating displays such as dancing about and for posing for the King's portraits. In a more sinister twist, Frederick is said to have often experimenting with trying to make his soldiers even taller by splaying them out on racks and trying to stretch them out even more. One might be asking oneself right about now where the King got all of these super tall men, and that is interesting in and of itself.
Some of these soldiers volunteered willingly, with King Frederick putting out word of the kind of pay and benefits they would be getting, and with many thinking it would help to further their military careers. There were also rules put in place to tax farmers for not relinquishing their tall farmhands, and some Prussian allies were known to offer up tall men as well as gifts. Still others were tricked or cajoled into service. Even this was often not enough for the King, and in his growing obsession with tall soldiers he resorted to arranging actual abductions of any men or even children who were deemed to be taller than usual, and babies were often marked with red scarves if it was thought they were potentially taller than ordinary. Such was his relentless quest for tall soldiers to add to his regiment that Fredrick William I is said to have dabbled in controlled breeding experiments, a sort of precursor to eugenics, in which he sought to breed the tallest soldiers possible through pairing up tall men with tall women.
By the time the King died in 1740 he had amassed an impressive army of around between 2,500 and 3,200 extremely tall men for his legion of giants. Through all of this, the Potsdam Giants, despite all of their equipment and the massive amounts of money spent on them, they never were used for battle under the King's rule, mostly serving just as a showcase and as playthings for the off-the-rails Kind Frederick William I, who did not dare risk losing any of his precious tall men to war. When he died they were taken over by his son, Frederick the Great, split off to other regiments, and sent into battle during the War of the Austrian Succession at Hohenfriedberg in 1745, as well as at Rossbach, Leuthen, Hochkirch, Liegnitz, and Torgau throughout the Seven Years' War, but they proved to be woefully ineffective, and after many defeats were disbanded in 1806 shortly after the Prussian defeat at the Battle of Jena. The Potsdam Giants have since been credited with perhaps being the seed for Adolph Hitler's own selective breeding eugenics program, and this unconventional regiment has made its mark upon history.
SOURCE: Mysterious Universe
Mystery surrounds tanker flight over Area 51
Image Credit: CC BY-SA 2.5 Cooper
Area 51 remains shrouded in secrecy.
A Boeing NKC-135R was tracked flying over the secretive facility multiple times back on September 20th.
There are few places on Earth as notoriously secretive as Area 51 – a remote facility in the Nevada desert that has become synonymous with stories of reverse-engineered alien technology and the development of highly advanced black projects that next to nobody knows anything about.
Despite the mystery surrounding the base however, it seems that not even Area 51 is beyond requesting the services of an air-to-air refuelling tanker now and again.
On September 20th, tracking data indicated that a Boeing NKC-135R tanker had spent much of the night flying repeated routes right over the top of the secretive facility.
It began at around 11pm and continued crisscrossing Groom Lake for over 4 hours before vanishing.
While it is unclear exactly what the tanker was doing over the area, it is not difficult to imagine that it could have been refuelling some sort of exotic new aircraft that is being worked on at the base.
Given the secrecy surrounding the place however, it is unlikely that we will ever know for sure.
Source: The Drive
33 Scientists Say Octopuses Are Aliens From Space That Arrived To Earth On Icy Bodies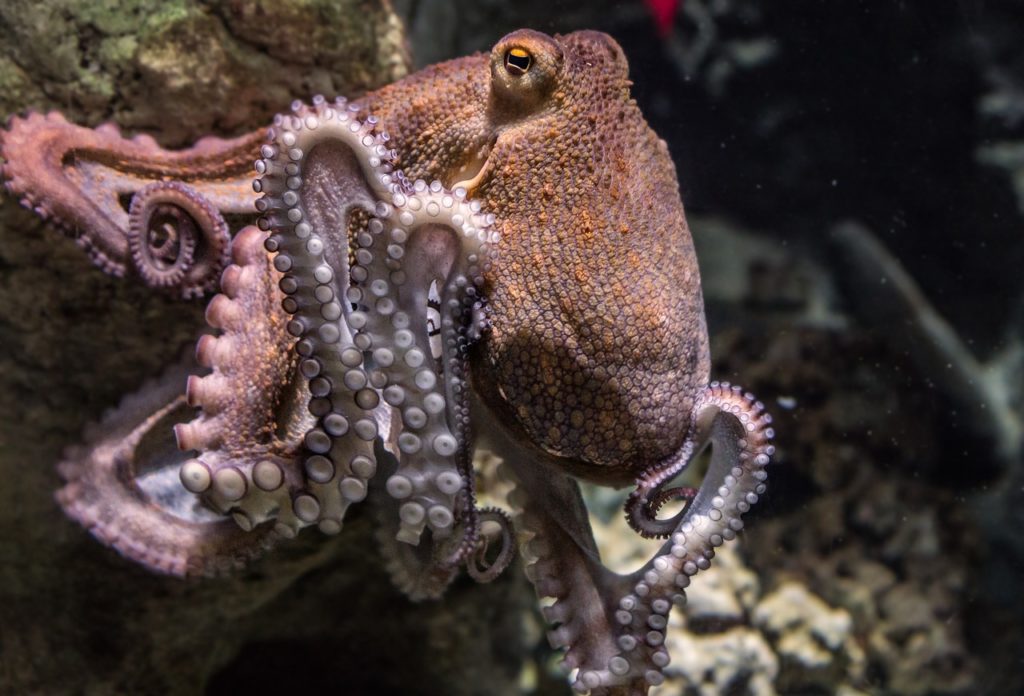 Why Do 33 Scientists Think That Octopuses Are Aliens?
The theory of octopuses being extraterrestrial beings was introduced by a group of 33 scientists from around the world. Citing the intelligence of the octopus, the scientists believe that the animal was one of many life-forms to come from alien material in outer space.
The study was published on March 13 in the journal Progress in Biophysics and Molecular Biology. It received attention from the media in May.
The scientists were specifically focused on the toolkit of genes that an octopus has.
"In our view, is that the new genes are likely new extraterrestrial imports to Earth — most plausibly as an already coherent group of functioning genes within (say) cryopreserved and matrix protected fertilized Octopus eggs," the scientists wrote in the study.
Source: Universe Inside You
The Sideshow Collection of Johnny Fox Hits the Auction Block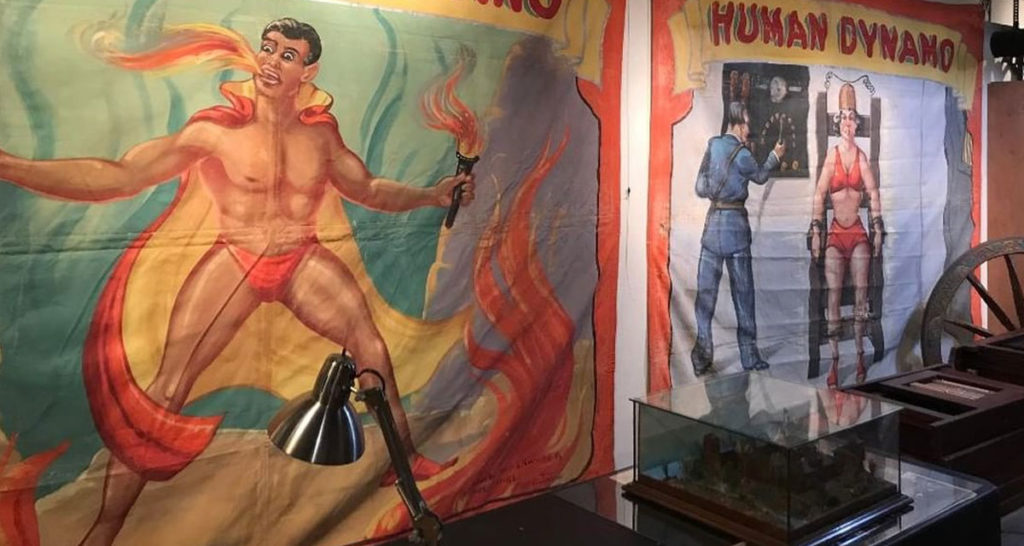 Own some amazing pieces of sideshow history from the collection of sword swallower Johnny Fox.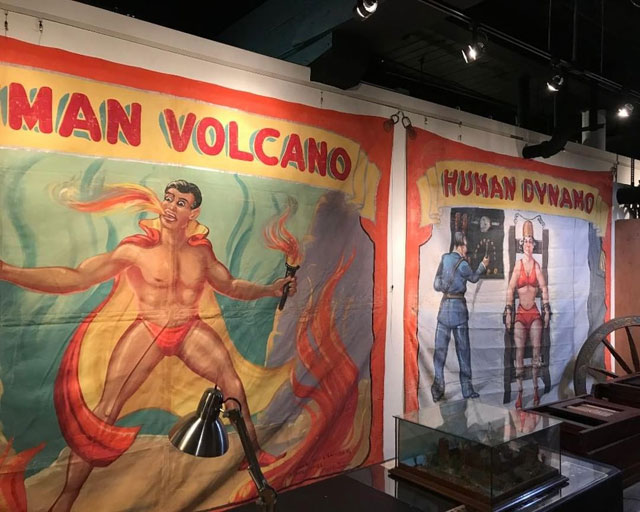 An amazing assemblage of circus sideshow artifacts and memorabilia is hitting the auction block this Saturday at Potter & Potter in Chicago. The collection belonged to sword swallower and magician Johnny Fox, known as the King of Swords, who died in 2017. The items range from cabinet cards, sideshow banners, circus posters, and gaffs like a Fiji Mermaid and furry trout to vintage taxidermy, skulls, and numerous other oddities. Fox displayed his curiosities in his Freakatorium, El Museum Loco, in Manhattan's Lower East Side from 1999 to 2005.
Everything from the museum will be up for auction except a glass eye that supposedly belonged to Sammy Davis Jr., which had been on loan.
Alive! On the Inside! Potter & Potter is pleased to present the over-the-top, one-of-a-kind Barnumesque collection of renowned sword swallower, comedian, magician, and curiosity seeker Johnny Fox.

Expect a sale like no other, populated with sideshow banners (Fred Johnson, Snap Wyatt, Siegler and Meah), tribal art and artifacts, furry mink fish (very rare), magic tricks, swords for swallowing, and oh, so much more!

Fox amassed an amazing assortment of natural and unnatural curiosities which he displayed at The Freakatorium, "El Museo Loco," a singular establishment he operated on the lower east side of Manhattan from 1999 – 2005. The entire contents of the collection will go on the block, from Johnny Eck memorabilia to circus posters, sideshow gaffs, Fiji mermaids, and even the disembodied wax head of Mao Zedong. This is one sale without comparison, filled with a thousand things you never knew existed – or that you wanted.
Here are some of the amazing and bizarre things from the catalog: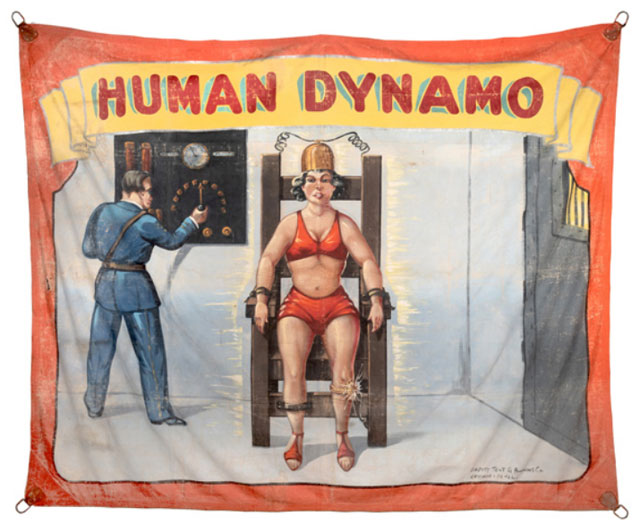 Sideshow banner by Fred Johnson depicting an electric chair illusion c.1950
Sideshow performer CDVs

Spidora sideshow banner by Mark Frierson

The Walter L. Main Circus train wreck in Tyrone, Penn., 1893

Clothing and other items owned by P.T. Barnum performers Tom Thumb and his wife Lavinia

Adelaide Herrmann's Electrocution Illusion c.1910

Life size plaster cast of Lobster Boy Grady Stiles' hand

CDV of Isaac Sprague, the Skeleton Man c.1870s

Mysterious devil fish, also known as Jenny Hanivers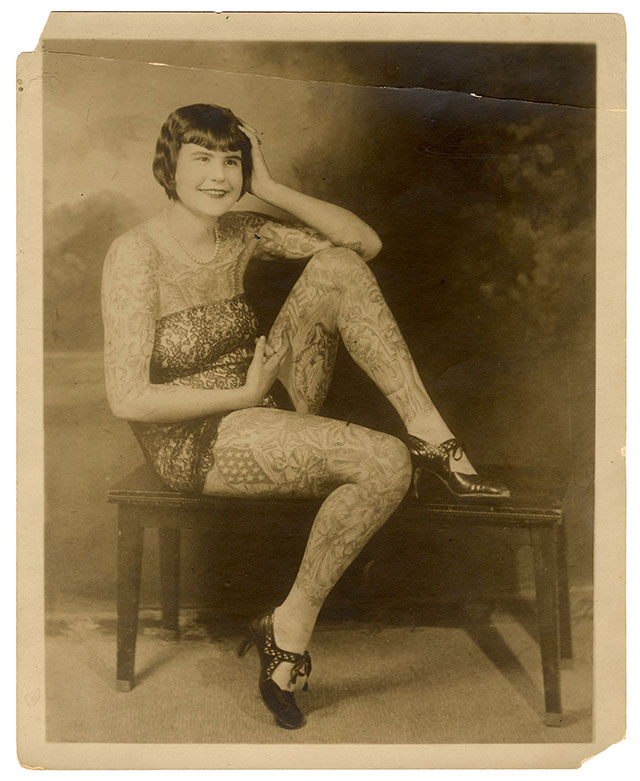 Betty Broadbent, Youngest Tattooed Lady, had 565 tattoos. Photo c.1928

Oil painting depicting Saint Agatha of Sicily having her breasts cut off

Mid-twentieth century painted silk Odd Fellows banner

French mourning hair grave display, 1888

The mummy of Ramses II photograph c.1880s

Chupacabra diorama made by Mark Frierson

Sideshow banners by Snap Wyatt c.1950

A brank scold bridle used to prevent women from gossiping and being a public nuisance

Sharpshooting/trick shot artists c.1900s

Life size sacrificial lamb prop, Valley of Milwaukee, Ancient Accepted Scottish Rite, Wisconsin

Vintage shrunken heads from South America

Kar-Mi buried alive lithograph, 1914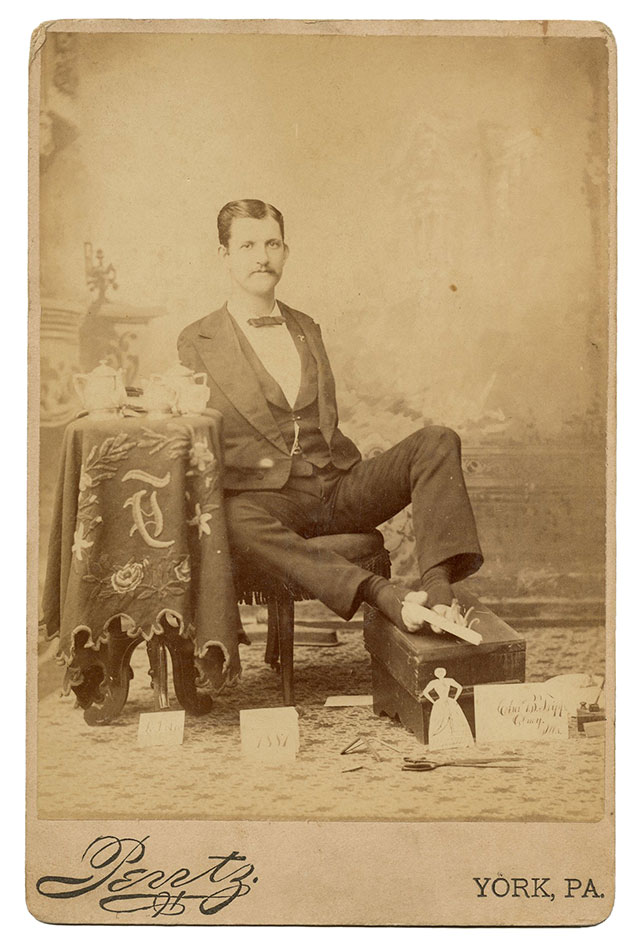 Charles B. Tripp Armless Wonder cabinet card c.1887

Vintage taxidermy

Sideshow performer Laloo and his parasitic twin c.1880s

Baculum (penis bone) of a cave bear

B.F. Gleason embalmer's cooling table c.1886

Bearded Lady Annie Jones c.1890

Furry trout

Four-pronged cannibal fork from Fiji

Atlantica banner for a Girl in Fishbowl sideshow illusion

Contortionist in a bizarre costume c.1940s

Early twentieth century felt-covered wood coffin, Valley of Milwaukee, Ancient Accepted Scottish Rite, Wisconsin

Chastity belt with vicious face to ward off potential sexual activity

Mummified "walled cat" named Fluffy, found in the wall of an old building in New York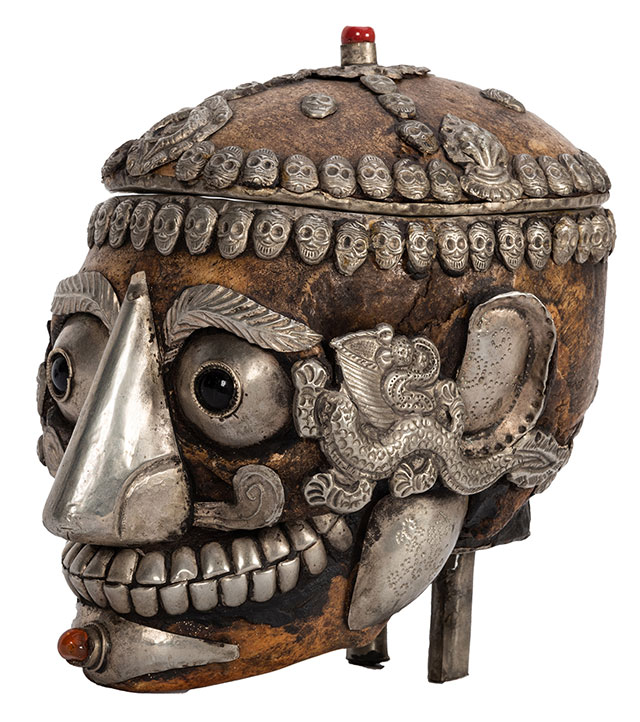 Tibetan kapala skull

Magic tricks and sideshow illusions

Bezoar stone extracted from the intestinal tract of Wexy, the war horse of Prince William of Orange, 1815

Tibetan llama bone necromancer hat

Miniature flintlock pistol with ivory grip, early twentieth century

Erotic optical illusion cabinet card c.1900s

Manfish sideshow gaff created by Mark Frierson

Jerry Pope naval tattoo art c.1940s

Adam and Eve vaudeville pamphlet c.1920s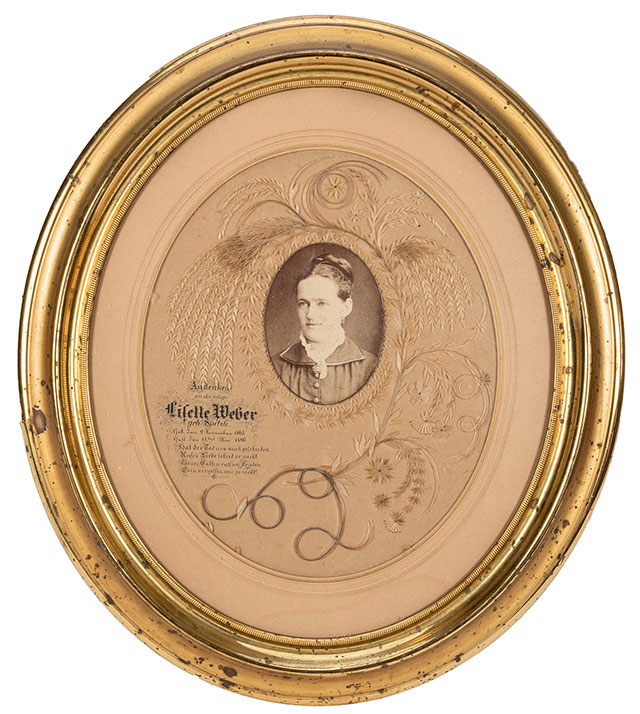 Mourning portrait of Lisette Weber with hair and straw, Germany, c.1886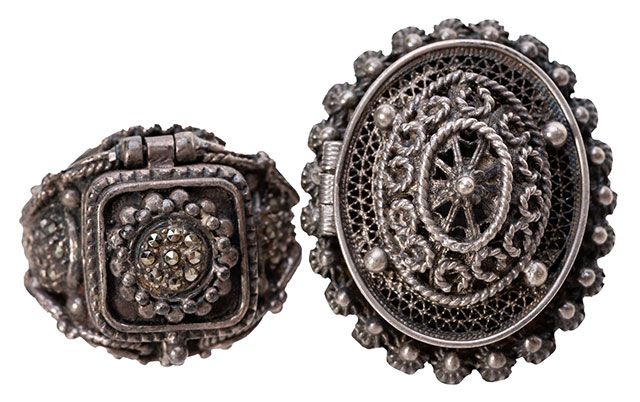 Antique silver poison rings, early 1900s

Pre-Columbian human skull with seashell discs covering eyes from Oaxaca, Mexico believed to be part of the Zapotech culture

Victorian taxidermy bird diorama

Reliquary from Genoa, Italy containing the bone fragment relics of 7 saints, 1763

Zoma the Cannibal sideshow banner c.1930
See more in the Freakatorium auction catalog.
The auction is happening Saturday, November 10th at 10am.
h/t Weird Historian