The mysterious encounter of some children with a "little blue man"
There are many strange reports that can be found when searching among the accounts of encounters with mysterious beings. Among these is the report of what can only be described as a "little blue man", who crawls out of some parallel and truly strange world.
One of the strangest stories is of a kind of little blue man that comes to us from Bedfordshire, in England, and was published on March 3, 1967 in the "Dunstable Gazette". According to this article, on January 28, 1967 a group of six young people played in the common on the way to school. The day was cloudy and rainy, however, the boys hit a blast when out of nowhere a thunderbolt fell crashingly close to them .., and if it had something to do with what happened next is not clear yet, but they would have a very surrealist with something beyond human understanding.
Just after the lightning, one of the witnesses, Alex Butler, 10 years old, looked over to see standing about 20 meters in front of some bushes a small blue man about 3 feet tall, with blue beard and wearing a Weird one-piece suit, a high-wing bowler hat and a black belt with a black box in front. In addition, the little man was also described as bathed in a faint glow that seemed to emanate from him. Alex called his friends and they ran to see the strange entity for themselves. Then everyone ran towards this strange little one, maybe to scare him away or maybe to try to catch him, after which the little man disappeared before his eyes in "a cloud of smoke".
When the group of children arrived at the place where the man had been standing a moment before, they could not find any sign of him, so they decided to look for him. Soon they found the little blue man, again standing about 20 meters away, and once again disappeared into the air when they approached. He did this more times, always appearing about 20 meters away. However, they continued hoping to find this enigmatic little man again, and they did, choosing to look at him from behind some bushes … but this time things would get a little stranger, and the original article of what happened then he describes it this way:
Looking at it through the small bushes, they noticed "voices" that describe a continuous and incomprehensible babbling, which comes from a point in the bushes closest to them .. A feeling that the little being had associates that communicated with he and who answered, although they could not detect any movement on his part. It induces a sense of caution that discourages them from rushing towards him. Instead, the boys continued to spin until they could look down, so they saw him for the fourth and last time still standing as always in the same place.
The students continued to tell their teacher, Mrs. Newcomb, about their strange experience, and even though she did not believe a word, she had them separately write down their own versions of what had happened. These accounts were then collected and pasted into a book called "The Little Blue Man On Studham Common." from RHB Winder, who met with some of the witnesses, who showed him where their meeting had taken place and delved into the story with some intriguing details. He would write later:
The blue color turned out to be a faint blue-gray glow that darkened the outline and details. However, they could distinguish a line that was a strip of hair or the bottom edge of the hat. Two round eyes, a small triangle apparently in place of a nose, and a one-piece dress that extends to a wide black belt with a black box at the front of approximately six square inches.
The arms seemed short and kept straight near the sides at all times. The legs and feet were indistinct. The "beard" is interesting: apparently it extended from the neighborhood of the mouth down to divide and ran on both sides of the chest. Although he agrees that it could have been a breathing device. the children could not see clearly enough to be sure and this thought had not occurred to them. The disappearances caused me some difficulties at first, but they became more understandable after the explanation of the "smoke" was apparently a spinning cloud of blue-yellow mist fired at the pursuers, possibly from the box in the belt.
They agreed that it could have entered the bushes before this camouflage cleared, although it dissipated quite quickly. They did not hear more sound than the voices and saw no movement at any time. They did not smell any smell or see anything strange in the vicinity, on the ground or in the air.
A very interesting detail about the case is the mention of lightning. Although there is no concrete connection between the beam and the report given by the boys, it does lead to speculation. In recent years there has been the idea that lightning could sometimes announce a kind of gap between dimensions, allowing us to look through another reality, or for the beings of that parallel world to enter into ours. Could it be that the Little Blue Man was an inhabitant of another universe that was lying against ours, a type of interdimensional traveler? Did he go through that tear in the veil between dimensions, either intentionally or by accident? Or was the beam perhaps an effect of some kind of ionization caused by a powerful device, perhaps from the box that the man wore on his belt or even from a UFO?
Is all this just tricks and stories, or is there something else for that? If so, what could these beings be? Whether they are ghosts, extraterrestrials, interdimensional travelers, or just stories, the cases of the little blue men are still intriguing anyway. What do you think? Leave your comment below!
The pilot who traveled in time to ancient Rome
Are trips possible in time? The answer is yes. At first glance, an affirmation of such caliber can sound fanciful if we take into account our parameters of reality.
Since always, in school, it has been explained that "time" is linear; that is to say: it has past, present and future. However, analyzing the testimony of many people who have suffered space-time anomalies, it could be said that time behaves in an incompressible way for our daily logic: "without any apparent reason, because a temporary vortex intervenes, we can find ourselves in an unexpected future or contemplating moments and places of the past ".
This, without a doubt, is what we might think when observing cases like that of a pilot, surnamed Davies, who in 1992 took off from a private airfield in Chester, England, piloting a simple Cessna plane. His goal was to get to Speke airport in Liverpool, but something was waiting for him on his flight …
All the indicators clearly marked the levels of the plane. The sky, calm. The sounds of the plane with its unique tones and that unique rattle when you fly in a small artifact. The clouds on the horizon. Davies passes by the Stamford Bridge area at this moment and realizes something strange.
He observed on the surface there were cars the size of ants traveling on roads M53 and M56, and it was a real surprise: those roads have disappeared. Can not be. Perhaps, as the protagonists of these events always think, they are the ones who are wrong. But Davies checks his scorecard and there is no error. It's in Stamford Bridge because of the coordinates and its geolocation, sure. But there is no sign of those roads.
Looking down, the pilot, totally intrigued, descends his plane to take a look at the area. He wants to see it better. What you see is unfamiliar. His heart at that moment almost jumps through the air. It looks like a military squadron. The binoculars! Where are they?
Davies looks for the binoculars of 10 x 50 increases in his small cabin to catch more details. There is nothing, it is all fields and low houses when there should be a city and roads. Just saw the lawn, an old road and that squadron. He focuses on them making a pass with his airplane. It seems that they are organized like the Roman militias. On his right, there were constructions similar to the villas of the empire of Julius Caesar.
A thick and low fog seems to envelop the whole environment little by little and begins to cover the visibility of the pilot, who can no longer see all that manners scene of the empire that came from Egypt to Great Britain. That strange vapor had formed very quickly, as artificially, and began to engulf the plane …
When Davies leaves the haze behind, he sees the A548 motorway, the gray buildings and the tiny cars. Everything had returned to normal after encountering a fold of space and time, with an amazing journey towards the era of the Breton-Roman battles. I could not believe it, so he decides to fly over the M56 road again and he does it in circles to see it better but he does not observe anything strange this time.
Nervous about what happened, he lands and quickly calls different prefectures of the Cheshire City Hall to find out if at that moment there is some kind of cinematographic filming of some roman peplum. But nothing. And that call was absurd in itself because the roads should have been there during his experience. And he could only see the field for hundreds of kilometers around.
The protagonist was convinced that he had flown over a British area occupied by the Roman Empire thousands of years ago and the truth is that it was not the first that something like this happened to him over the skies of Chesire.
A renowned helicopter pilot with military training assured in the same year that he lost communication with the control tower on another flight on the same route. The details were left for him, since he never specified what he saw. He was afraid that it would happen to him like the flight officer Brian Holding, who on March 7, 1922, took off from the same Chesire airport on a trip to Wales.
During his return, hundreds of witnesses observed his plane heading towards the airport of Chesire. He never arrived and the remains were never found. The communications were suddenly interrupted and never again received radar echo from the device. The black box was never located. Different UFO sightings were made a few weeks before this incident in the same area, but there was never anything conclusive. An airplane and an entire pilot swallowed by the earth or, in this case, by air.
The most interesting thing that we can see in these cases of Chesire is that, in the first, the pilot's vision is not complemented by that of the soldiers, who, without doubt, would have been surprised to see a unique "mechanical bird" flying over their heads , which did not happen, as if again we were facing a simulation, or, at least, the witness moved invisibly in the eyes of that Roman squadron.
It is the phenomenon of the vortices in its purest aspect: a single person in a controlled environment, a fog that begins and ends the event and, in between, a high definition vision of a physically impossible environment in 1992.
In the case of the missing flight of Brian Holding, we have a device that never lands, similar to what happened with the famous flight 19 that took off from the base of Fort Lauderdale, Florida, in 1945. The planes appeared again in the fiction in a great scene from the film "Encounters in the Third Phase" by Steven Spielberg (1977).
In reality, both the World War II squadron and Brian Holding's plane remain in the deepest and most disconcerting abyss of extreme disappearances in the world of aviation. In the case of flight 19, in the famous triangle of Bermuda. In that of Brian Holding, in the area of Chesire, where other pilots reported amazing anomalies.
Could it be possible that this pilot had found a gateway to another time, but not the exit one? The mysteries of the god Chronos, always keeping secrets for men who dare to travel through the heavens …
Text taken from the book 'Viajes en el Tiempo' , by Vicente Fuentes
Nazi Secret Space Program | "Die Glocke" or " Nazzi Bell"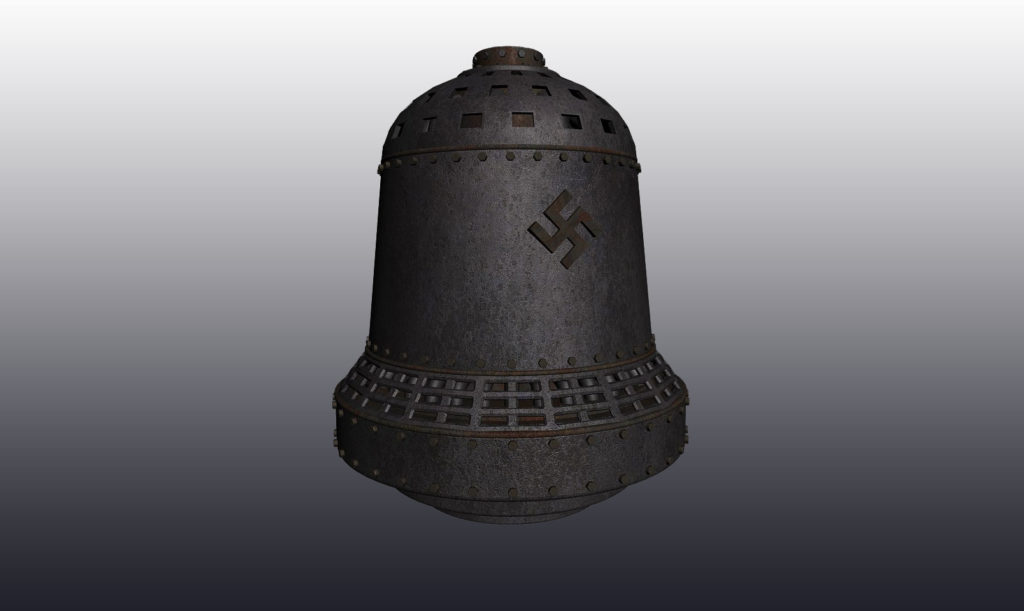 Die Glocke "The Bell"- was a purported top secret Nazi scientific technological device, secret weapon, or Wunderwaffe. Described by Polish journalist and author Igor Witkowski in Prawda o Wunderwaffe (2000), it was later popularized by military journalist and author Nick Cook as well as by writers such as Joseph P. Farrell and others who associate it with Nazi occultism and antigravity or free energy research.
Have you ever heard of "Die Glocke"?
I am talking about the powerful top-secret time machine that was purportedly created by the German Nazis towards the end of the Second World War. Few people echoed it since it remained a secret for many years.
It was an anti-gravity UFO-like saucer craft that many believe could travel across time.
This mysterious 'Nazi Bell' is reported for serving several purposes, including helping the Third Reich to go into space and visit the Moon, Mars, and most likely even distant star systems.
This is purportedly possible through the unexplainable, UFO-like gravity-defying propulsion system, a technology beyond the contemporary.
This technology was reported to have been particularly ordered by Adolf Hitler himself as an essential part of the secret space program bring run by Nazi.
When Hitler noticed that the walls are beginning to close on him, he pumped even more resources and manpower into his Wunderwaffe or Wonder Weapons to make the process faster.
This was all in an attempt to radically change the course of the war.
This weapon is the Die Glocke (The bell) and was part of the long list of Wunderwaffen (Wonder Weapons) that the Nazis developed towards the end of the war.
After more than 15 years of studying archives in different countries, Igor Witkowski, a Polish journalist and author specializing in the military technology and history of World War II, published Prawda o Wunderwaffe, a book that discussed Die Glocke at length.
Prawda o Wunderwaffe would later become a huge success after British military journalist and author Nick Cook quoted him in his own book, The Hunt for Zero Point: Inside the Classified World of Antigravity Technology. It has since been reviewed by lots of writers and researchers.
In fact, other writers like Joseph P. Farrell later associated it with Nazi occultism, antigravity, and free energy research. So, what did Igor Witkowski, Nick Cook, Joseph P. Farrell, and many other writers and researchers find out about the Nazi Bell, Die Glocke?
So, What Is Die Glocke/Nazi Bell, Really?
In Witkowski's book, he wrote about his discovery of Die Glocke through some transcripts he read from some Polish government documents. He wouldn't have been able to access this document, but for the help of Polish intelligence contact who was, of course, unnamed.
Even though he was not allowed to make copies of these documents, he was allowed to transcribe them. What he found in these transcripts shocked him. It was from an interrogation of a captured former Nazi SS Officer Jakob Sporrenberg.
Witkowski relates in his book the presence of a strange bell that measured four and a half meters in height by two and a half wide. Its shape is similar to that of a large bell. That is also where it got its name.
According to his description, it was carved in a very hard and heavy metal, covered with ceramic, and inside it housed two counter-rotating cylinders that contained a violet liquid with a consistency similar to that of mercury.
The journalist identified this liquid as Xerum 525 and it was also stored in a one-meter long thermos capsule coated in lead. Other researchers added components such as light metals (Leichtmetall), thorium and beryllium peroxides, elements commonly used as fuel in nuclear reactors.
From Cook's description, Die Glocke was revealed as a strong radiation-emitting craft. The radiation is released when it is activated. And the effect? A bell-shaped machine capable of potentially destroying everything and everyone close to it. Beyond life, it was built to be able to transcend time and space.
However, when it was tested, this effect led to the deaths of a lot of scientists, plants and various animal test subjects.
They scientists were reported to have suffered from a very terrible case of vertigo.
They would later die because the levels of radiation that the bell emitted when it was activated were just dangerously high.
There are some ruins of a metal framework close to the Wenceslas mine. Many have dismissed it as just a conventional industrial cooling tower.
However, Witkowski maintains that this structure is in fact used as a test rig for an anti-gravity propulsion experiment conducted, using Die Glocke. This location has been dubbed The Henge.
Near the Czech border in Ludwikowice was a mine in which the Nazis secretly used to build a revolutionary model with anti-gravitational properties.
The Bell was the first experiment of a prototype anti-gravity engine.
One of the most striking things was that this secret project had been developed with the names of Kronos (time) and Lanterntrager (light bearer), having references in the top-secret documents as "Gate of Time".
Adolf Hitler commissioned the device that was capable of traveling through time and had antigravity capabilities.
In command of this project was SS General Hans Kammler, a scientific engineer who had also participated in the development of multiple projects such as V-2 missiles, jet aircraft, wings, Nazi UFOs, and underground constructions.
By the time the Second World War ended, neither the Bell nor its team of scientists and developers resurfaced. They all simply disappeared. SS General Hans Klammer, who was the one in charge of the Third Reich's secret projects didn't resurface since.
But there is more to this.
When the Second World War ended, a lot of former Nazis were tried at war crime tribunals. Their crimes were a crime against humanity and violations of human rights.
Among the defendants was a former Nazi SS Obergruppenfuhrer, one of the highest commissioned Nazi SS ranks. His name was Jakob Sporrenberg.
While the Allied Army was arriving at the village of Ludwigsdorf, now called Ludwikowice, the officer of the Waffen SS, Karl Sporrenberg, by direct order of Hitler, had carried out the execution of 62 Nazi scientists, engineers, and technicians who worked on the project "Die Glocke ".
The idea was to keep everything about the technology a secret from the outside world. It was Sporrenberg's affidavit that would later give us the clue to how this highly advanced technology sounds.
Sporrenberg noted that the sound was what made his fellow Germans refer to The Bell as "beehive," a translation of the German word, "Der Bienenstock."
According to Sporrenberg's affidavit, the Bell was a highly advanced technology that produced a hissing, or buzzing sound when operational. He noted that because of the sound, his fellow Germans referred to the Bell as "Der Bienenstock," the German word for "beehive."
Paintings of Charles A. A. Dellschau, the late 19th-century artist, would later add additional evidence of the Bell's existence. These highly detailed images of the bell, as painted by Dellschau, indicate that there are German engineers who knew about The Bell before it was deployed during the Second World War.
Dellschau was a member of the "German Sonora Aero Club Collective," a cryptic group known for their construction of exploratory aircraft designs. This would later raise suspicions that Dellschau might have been in contact with some pro-Nazi hyper-intelligent extraterrestrials. How else could he have painted hundreds of craft all looking strikingly similar to The Bell?
The Nazi Anti-Gravity Campaign
But why did they create this contraption? In the book, Witkowski explains that the goal of the campaign was to generate antigravity propulsion, which is why they found it fastened to the ground with large chains. In addition, his theory maintains that this weapon was lethal for any living being that was within a radius of 200 meters after its start-up. In the writings he talks about his creation process, loaded with tragedy: five of the seven members of the team led by physicist Walther Gerlach died during the tests.
The data on which the journalist's investigation is based come from a military man and not from a scientist, so the information is somewhat confusing. The bell is activated when the tubes turn in the opposite direction to each other, this vortex would cause a separation of the magnetic fields of the superconductors used. These data are those recorded by the Polish secret agent (military) who provided the documents to the journalist, from whom he could only take a few notes. So there is no material evidence of the existence of this Nazi campaign.
If anything remains of all this, according to Witkowski, it is in the US, since the country was left with most of the inventions developed in the Nazi era after drawing up agreements between the allies and General SS Hans Kammler.
There are also those who believe that The Bell was moved to the Arctic Circle and/or South America after their top scientists were executed. Some also believed that work was continued on The Bell after the Second World War after the Nazi leaders developed UFO technologies that allowed them to communicate with pro-Nazi extraterrestrial beings.
Conspiracy theories about Nazi time and interdimensional travel have resurfaced before the release of the third season of the successful American television series created and produced by Amazon Studios, Man in the High Castle. Die Glocke has also appeared in video games such as Call of Duty, Wolfenstein and Assassin's Creed.
More and more reports are coming up as it continues to gain fresh awareness. Historians say that there is probably no weapon of time travel, such as Die Glocke, and this is due to unverified conspiracy theories. And, of course, scientists still believe that traveling through time is impossible. Yet, every day, we see signs that there are so many secret works being hidden from the public eyes.
This is a story not suitable for skeptics that undoubtedly brings us closer to a dark age, not only because of what happened but also because of all that remains to be discovered about what really happened.
Active Spirit Portal In A Texas Workshop
The workshop has had some paranormal activity for several years and now the owner of the premises is ready to show some of the bizarre footage he has capture since he has installed the surveillance cameras. The first clip we see slurry of "spirit orbs" just seemingly going about their business now this couldn't be dust as you can see they stop in mid movement and change direction so now you might want to say "oh well, they are bugs" but the objects have a transparent quality. The second clip only goes to back up this claim of spirit orbs as we can clearly see this entity manifest in front of the camera.
Source: The Hidden Underbelly 2.0