The MUFON World UFO Center receives a strange report from an "Extraterrestrial Entity"
A strange report was presented at MUFON, the world's largest UFO research organization. The report comes from a person who claims to be an alien to the Extraterrestrial Entity that would have stranded on Earth. The Mutual UFO Network, MUFON, a UFO research organization and Alien Contact, commonly regarded as the world's largest organization that investigates reports of aliens and UFO sightings may have recorded the first extraterrestrial contact to receive a strange relationship presented by someone who claims to be an extraterrestrial entity This report was sent on February 8, 2016. The case ID is 74362.
The relationship of this apparently afflicted "alien" and is identified as "Mogay" seems to ask for help, and according to MUFON, it is the first time that the organization has received a relationship of an "entity" that claims to represent a form of intelligent extraterrestrial life.
Mogay claims to have arrived on Earth because of an apocalyptic event on his planet and he needs urgent help, having arrived in September 2015 from a distant sector of the galaxy. Morgay at the moment says he is waiting for an answer from MUFON, Mogay resides in a human body, says that occupies the body of a human with his consent. Mogay has revealed that in its natural state it exists as an electromagnetic wave (or energy field) and is also able to take control and reside within the bodies of humans and other extraterrestrial species.
The strange being seems to have difficulty learning English in his new human body (which he supposedly borrowed). Al MUFON wrote: "I am an alien adopted by humanity. You can call me Mogay. " Explain that he and a group of his species were refugees from a distant world called Matif. They escaped to Earth after a catastrophic collision between their homeworld Matif and a celestial body that hit him. Mogay writes in characteristic English: "We remain like an electromagnetic wave, and normally we use replaceable bodies to work with.
A celestial body made the majority of our team unable to work, we tried to escape from Matif, but we failed and the celestial body (perhaps a comet or asteroid) hit our planet. Despite the adverse effects of the celestial body, we had time to take refuge using a transfer system. The disaster in Matif brought us to Earth. "
Mogay also reported that the group of Matif's alien refugees arrived on Earth in September 2015, but nobody was aware of their presence because they are like pure electromagnetic waves, and they do not look like little green men as Earthmen think. But Mogay apparently found a human being who was willing to "adopt" him.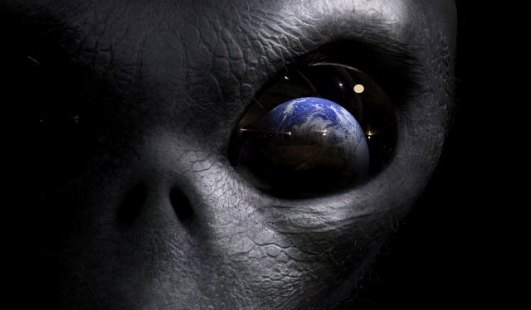 "We are extraterrestrial beings who do not have enough protection on Earth and we need your help. I live in a human body now, and this is also the reason why your people have adopted me. I learned their languages in this body, so I can talk to you, "writes Mogay. But despite having found a human body and the opportunity to learn about human culture and language, I have not been able to convince governments that I really am an alien from a distant galaxy that needs help. In the end, Mogay decided that the best way to get in touch with the government was through the largest organization in the world of UFO researchers, namely MUFON.
MUFON admits on its website that it often receives false reports. Therefore, MUFON officials say it is very likely that this SOS of Mogay is just another false alarm.
The MUFON verdict
MUFON on its reporting website UFO has cataloged this report as HOAX, or False. However, on 15 February (2016) the same supposed extraterrestrial entity that calls itself Mogay sent another report (with case ID: 74503), this time claims to be interested in getting in touch with UNOOSA ("Office of United Nations for space affairs. "Mogay also tells MUFON that if they help him, they will get a good reward and that if they wish, they can prove their identity, which is why a presumed letter (e-mail) provided by the Nations Unite, is attached to the report and is shown below:
The sender of the previous post (it has not yet been confirmed that it was really her) is Kerith McFadden, associate librarian of the Dag Hammarskjöld Library of the United Nations. Presumably, she would have replied to Mogay's emails, but nothing has been confirmed yet.
Mogay also claims to have a Twitter account, where he can receive private messages from MUFON officials if they wish. Although this story has all the clues of being a farce; the case to date is still under investigation. Above all, the authenticity of the email attached to the report should be validated, so MUFON experts consider authentic emails. Is all this true or false? Or is it just a joke at MUFON?
Mysterious floating White Orbs spotted in Kansas City sky
Two mysterious white orbs were spotted in the Kansas City sky Thursday night, prompting widespread speculation on their nature. 
"We honestly have no explanation for the floating objects over Kansas City," The National Weather Service tweeted Thursday.
​
While some speculated that the balloon-like objects flying near Kansas City International Airport might have been launched by Google or the Defense Advanced Research Projects Agency (DARPA), others had a slightly more creative explanation: aliens.
​However, KMBC reporter William Joy put most of the extraterrestrial theories to bed, tweeting that a spokesperson from DARPA confirmed that "given the position, it is likely one of their balloons in test flight."
On June 17, DARPA launched three balloons from Cumberland, Maryland, as part of its flight tests for its Adaptable Lighter Than Air (ALTA) program.
​According to DARPA's website, the goal of the ALTA program is to "develop and demonstrate a high altitude lighter-than-air vehicle capable of wind-borne navigation over extended ranges."
​"The balloons can fly at altitudes of more than 75,000 feet. While they do not have independent propulsion, the ALTA vehicle is designed to navigate by changing altitude and thus taking advantage of different wind profiles aloft," DARPA adds.
DARPA is an agency of the US Department of Defense that develops new technologies for use by the military.
Video: The Most Significant Leak About Extraterrestrial Craft Just Went Public
A quote I love to use in many of my articles comes from Apollo 14 astronaut Dr. Edgar Mitchell. He said, "yes there have been crashed craft, and bodies recovered." (source)
The thought that governments and/or rogue agencies around the world have been involved in taking down and even possibly revere engineering possible extraterrestrial craft is nothing new. Available to the public are statements from the highest ranking positions within government and the military, and there are also declassified documents that hint toward the same idea.
For example, former Canadian Defence Minister Paul Hellyer once told the public that the protocol with regards to UFOs was to "shoot first and ask questions after." Dr. David Clarke, an investigative journalist, reader and lecturer at Sheffield Hallam University in England who was also the curator for The National Archives UFO project from 2008–13 uncovered documents showing that the Royal Air Force was desperate to capture one of these UFOs and reverse engineer it. You can see those and read more about it here.
Most Significant Leak?
Check out our video segment on this new leak, or read more below.

More recently, what some are calling the most significant leak in UFO history has been made public – and it may be one of the strongest documents linking UFOs to extraterrestrials.
The document goes into detail about a meeting that was had between Dr. Eric Davis, and Vice Admiral Thomas Ray Wilson. Who is Eric Davis? He is a very well known scientist, and quite the legend. For many years he was a member of the National Institute for Discovery Sciences (NIDS)(Owned by Robert Bigelow), the Chief Science Officer of EarthTech Int'l, Inc. and the Institute for Advanced Studies at Austin in Austin, Texas; and he is the Owner/Chief Executive/Chief Scientist of Warp Drive Metrics who consults and contracts for the Department of Defense. He is also an Adjunct Professor in the Early Universe, Cosmology and Strings Group at the Center for Astrophysics, Space Physics & Engineering Research at Baylor University in Waco, TX.
Admiral Thomas Ray Wilson was the Director of the Defense Intelligence Agency from July 1999 to July 2002, prior to that he was the Director of Intelligence for the Joint Chiefs of Staff.
The document is in the form of notes that were written by Davis after their meeting that took place in 2002, regarding a series of events that took place during the spring of 1997, when Wilson was Deputy Director of Intelligence for the Joint Chiefs of Staff.
Since the leak of this document, there has been no denial publicly by Davis regarding the authenticity of these documents, and the focal point of the document is about a meeting (and what happened after that meeting) that took place in 1997 between UFO researcher Dr. Steven Greer, Admiral Wilson, Dr. Edgar Mitchell (Apollo 14 astronaut) and other high ranking individuals within the military. This meeting was spoken about by Dr. Greer and Dr. Mitchell nearly four years prior to the leak of these documents, so it's all very interesting. In the episode, we actually play footage of Mitchell confirming and talking about this meeting as well as Greer.
The documents point towards a program that involves the crash retrieval of extraterrestrial craft, that are "not made of this earth, not made by man."
You can view the entire document here.
if you missed the video embed above of myself and Joe Martino having a discussion about these documents in detail, you can watch it here.
The Takeaway
"There is a serious possibility that we are being visited and have been visited for many years by people from outer space, from other civilizations." – Lord Admiral Hill-Norton, Former Chief of Defence Staff, 5 Star Admiral of the Royal Navy, Chairman of the NATO Military Committee
The fact that we are not alone has huge implications from science to technology, to history and possible metaphysical/spiritual implications as well. It really opens up Pandora's Box, and it is one out of many examples that are allowing us to see how humanity has been conditioned to think a certain way, limit our reality, despite all of the evidence, that conflicts with long held belief systems.
At the end of the day, the idea that there are other highly advanced, intelligent lifeforms in the universe, or multiverse, and possibly other dimensions that are and have been visiting our planet, and others, for a very long time is most likely just the very tip of the ice-berg.
This is not a new discovery. We have had this type of knowledge of UFOs and ETs for a very long time, culture and elites have simply suppressed this knowing.
Source www.collective-evolution.com
More US Senators Receive Classified Briefing on UFO Sightings
Three more U.S. senators received a classified Pentagon briefing on Wednesday about a series of reported encounters by the Navy with unidentified aircraft, according to congressional and government officials – part of a growing number of requests from members of key oversight committees.
One of them was Sen. Mark Warner (D-Va.), the vice chairman of the Senate Intelligence Committee, whose office confirmed the briefing to POLITICO.
"If naval pilots are running into unexplained interference in the air, that's a safety concern Senator Warner believes we need to get to the bottom of," his spokesperson, Rachel Cohen, said in a statement.
The interest in "unidentified aerial phenomenon" has grown since revelations in late 2017 that the Pentagon had set up a program to study the issue at the request of then-Sen. Harry Reid (D-Nev.). Officials interviewed multiple current and former sailors and aviators who claim to have encountered highly advanced aircraft that appeared to defy the laws of aerodynamics when they intruded on protected military airspace – some of which were captured on video and made public.
The Navy has played a prominent role in light of the testimony of F/A-18 pilots and other personnel operating with the USS Nimitz aircraft carrier battle group off California in 2004 and the USS Theodore Roosevelt in the Atlantic in 2015 and 2016.
The growing congressional interest is credited for playing a major role in the service's recent decision to update the procedures for pilots and other personnel to report such unexplained sightings, which POLITICO first reported in April.
"In response to requests for information from Congressional members and staff, Navy officials have provided a series of briefings by senior Naval Intelligence officials as well as aviators who reported hazards to aviation safety," the service said in a statement to POLITICO at the time.
The Navy had no immediate comment on Wednesday, and few details of the latest secret sessions were available.
They come several days after President Donald Trump told ABC News that he, too, had been briefed on the reports. "I did have one very brief meeting on it," he said. "But people are saying they're seeing UFOs. Do I believe it? Not particularly."
But several current and former officials with direct knowledge describe the Capitol Hill briefing as the latest for members of Congress and their staff representing the Intelligence, Armed Services and Defense Appropriations panels.
"There are people coming out of the woodwork," said one former government official who has participated in some of the meetings.
A current intelligence official added: "More requests for briefings are coming in."
The sessions have been organized by the Navy but have also included staff from the under secretary of Defense for Intelligence, the sources said. Both were not authorized to talk publicly about the briefings.
Advocates for giving the mystery greater attention say they hope Congress will take more formal steps, such as requiring the Department of Defense to collect and complete a detailed analysis of data collected by satellites and other means of unidentified craft intruding into military airspace or operating under the sea.
Bryan Bender
Politico