The Medical Journals' Sell-Out—Getting Paid to Play
Note: This is Part IX in a series of articles adapted from the second Children's Health Defense eBook: Conflicts of Interest Undermine Children's Health. The first eBook, The Sickest Generation: The Facts Behind the Children's Health Crisis and Why It Needs to End, described how children's health began to worsen dramatically in the late 1980s following fateful changes in the childhood vaccine schedule.]
The vaccine industry and its government and scientific partners routinely block meaningful science and fabricate misleading studies about vaccines. They could not do so, however, without having enticed medical journals into a mutually beneficial bargain. Pharmaceutical companies supply journals with needed income, and in return, journals play a key role in suppressing studies that raise critical questions about vaccine risks—which would endanger profits.
Journals are willing to accept even the most highly misleading advertisements. The FDA has flagged numerous instances of advertising violations, including ads that overstated a drug's effectiveness or minimized its risks.
An exclusive and dependent relationship
Advertising is one of the most obviously beneficial ways that medical journals' "exclusive and dependent relationship" with the pharmaceutical industry plays out. According to a 2006 analysis in PLOS Medicine, drugs and medical devices are the only products for which medical journals accept advertisements. Studies show that journal advertising generates "the highest return on investment of all promotional strategies employed by pharmaceutical companies." The pharmaceutical industry puts a particularly "high value on advertising its products in print journals" because journals reach doctors—the "gatekeeper between drug companies and patients." Almost nine in ten drug advertising dollars are directed at physicians.
In the U.S. in 2012, drug companies spent $24 billion marketing to physicians, with only $3 billion spent on direct-to-consumer advertising. By 2015, however, consumer-targeted advertising had jumped to $5.2 billion, a 60% increase that has reaped bountiful rewards. In 2015, Pfizer's Prevnar-13 vaccine was the nation's eighth most heavily advertised drug; after the launch of the intensive advertising campaign, Prevnar "awareness" increased by over 1,500% in eight months, and "44% of targeted consumers were talking to their physicians about getting vaccinated specifically with Prevnar." Slick ad campaigns have also helped boost uptake of "unpopular" vaccines like Gardasil.
Advertising is such an established part of journals' modus operandi that high-end journals such as The New England Journal of Medicine (NEJM) boldly invite medical marketers to "make NEJM the cornerstone of their advertising programs," promising "no greater assurance that your ad will be seen, read, and acted upon." In addition, medical journals benefit from pharmaceutical companies' bulk purchases of thousands of journal reprints and industry's sponsorship of journal subscriptions and journal supplements.
In 2003, an editor at The BMJ wrote about the numerous ways in which drug company advertising can bias medical journals (and the practice of medicine)—all of which still hold true today. For example:
Advertising monies enable prestigious journals to get thousands of copies into doctors' hands for free, which "almost certainly" goes on to affect prescribing.
Journals are willing to accept even the most highly misleading advertisements. The FDA has flagged numerous instances of advertising violations, including ads that overstated a drug's effectiveness or minimized its risks.
Journals will guarantee favorable editorial mentions of a product in order to earn a company's advertising dollars.
Journals can earn substantial fees for publishing supplements even when they are written by "paid industry hacks"—and the more favorable the supplement content is to the company that is funding it, the bigger the profit for the journal.
Discussing clinical trials, the BMJ editor added: "Major trials are very good for journals in that doctors around the world want to see them and so are more likely to subscribe to journals that publish them. Such trials also create lots of publicity, and journals like publicity. Finally, companies purchase large numbers of reprints of these trials…and the profit margin to the publisher is huge. These reprints are then used to market the drugs to doctors, and the journal's name on the reprint is a vital part of that sell."
… however, even these poor-quality studies—when funded by the pharmaceutical industry—got far more attention than equivalent studies not funded by industry.
Industry-funded bias
According to the Journal of the American Medical Association (JAMA), nearly three-fourths of all funding for clinical trials in the U.S.—presumably including vaccine trials—came from corporate sponsors as of the early 2000s. The pharmaceutical industry's funding of studies (and investigators) is a factor that helps determine which studies get published, and where. As a Johns Hopkins University researcher has acknowledged, funding can lead to bias—and while the potential exists for governmental or departmental funding to produce bias, "the worst source of bias is industry-funded."
In 2009, researchers published a systematic review of several hundred influenza vaccine trials. Noting "growing doubts about the validity of the scientific evidence underpinning [influenza vaccine] policy recommendations," the authors showed that the vaccine-favorable studies were "of significantly lower methodological quality"; however, even these poor-quality studies—when funded by the pharmaceutical industry—got far more attention than equivalent studies not funded by industry. The authors commented:
[Studies] sponsored by industry had greater visibility as they were more likely to be published by high impact factor journals and were likely to be given higher prominence by the international scientific and lay media, despite their apparent equivalent methodological quality and size compared with studies with other funders.
In their discussion, the authors also described how the industry's vast resources enable lavish and strategic dissemination of favorable results. For example, companies often distribute "expensively bound" abstracts and reprints (translated into various languages) to "decision makers, their advisors, and local researchers," while also systematically plugging their studies at symposia and conferences.
The World Health Organization's standards describe reporting of clinical trial results as a "scientific, ethical, and moral responsibility." However, it appears that as many as half of all clinical trial results go unreported—particularly when their results are negative. A European official involved in drug assessment has described the problem as "widespread," citing as an example GSK's suppression of results from four clinical trials for an anti-anxiety drug when those results showed a possible increased risk of suicide in children and adolescents. Experts warn that "unreported studies leave an incomplete and potentially misleading picture of the risks and benefits of treatments."
Many vaccine studies flagrantly illustrate biases and selective reporting that produce skewed write-ups that are more marketing than science.
Debased and biased results
The "significant association between funding sources and pro-industry conclusions" can play out in many different ways, notably through methodological bias and debasement of study designs and analytic strategies. Bias may be present in the form of inadequate sample sizes, short follow-up periods, inappropriate placebos or comparisons, use of improper surrogate endpoints, unsuitable statistical analyses or "misleading presentation of data."
Occasionally, high-level journal insiders blow the whistle on the corruption of published science. In a widely circulated quote, Dr. Marcia Angell, former editor-in-chief of NEJM, acknowledged that "It is simply no longer possible to believe much of the clinical research that is published, or to rely on the judgment of trusted physicians or authoritative medical guidelines." Dr. Angell added that she "[took] no pleasure in this conclusion, which [she] reached slowly and reluctantly" over two decades at the prestigious journal.
Many vaccine studies flagrantly illustrate biases and selective reporting that produce skewed write-ups that are more marketing than science. In formulaic articles that medical journals are only too happy to publish, the conclusion is almost always the same, no matter the vaccine: "We did not identify any new or unexpected safety concerns." As an example of the use of inappropriate statistical techniques to exaggerate vaccine benefits, an influenza vaccine study reported a "69% efficacy rate" even though the vaccine failed "nearly all who [took] it." As explained by Dr. David Brownstein, the study's authors used a technique called relative risk analysis to derive their 69% statistic because it can make "a poorly performing drug or therapy look better than it actually is." However, the absolute risk difference between the vaccine and the placebo group was 2.27%, meaning that the vaccine "was nearly 98% ineffective in preventing the flu."
… the reviewers had done an incomplete job and had ignored important evidence of bias.
Trusted evidence?
In 2018, the Cochrane Collaboration—which bills its systematic reviews as the international gold standard for high-quality, "trusted" evidence—furnished conclusions about the human papillomavirus (HPV) vaccine that clearly signaled industry bias. In May of that year, Cochrane's highly favorable review improbably declared the vaccine to have no increased risk of serious adverse effects and judged deaths observed in HPV studies "not to be related to the vaccine." Cochrane claims to be free of conflicts of interest, but its roster of funders includes national governmental bodies and international organizations pushing for HPV vaccine mandates as well as the Bill & Melinda Gates Foundation and the Robert Wood Johnson Foundation—both of which are staunch funders and supporters of HPV vaccination. The Robert Wood Johnson Foundation's president is a former top CDC official who served as acting CDC director during the H1N1 "false pandemic" in 2009 that ensured millions in windfall profits for vaccine manufacturers.
Two months after publication of Cochrane's HPV review, researchers affiliated with the Nordic Cochrane Centre (one of Cochrane's member centers) published an exhaustive critique, declaring that the reviewers had done an incomplete job and had "ignored important evidence of bias." The critics itemized numerous methodological and ethical missteps on the part of the Cochrane reviewers, including failure to count nearly half of the eligible HPV vaccine trials, incomplete assessment of serious and systemic adverse events and failure to note that many of the reviewed studies were industry-funded. They also upbraided the Cochrane reviewers for not paying attention to key design flaws in the original clinical trials, including the failure to use true placebos and the use of surrogate outcomes for cervical cancer.
In response to the criticisms, the editor-in-chief of the Cochrane Library initially stated that a team of editors would investigate the claims "as a matter of urgency." Instead, however, Cochrane's Governing Board quickly expelled one of the critique's authors, Danish physician-researcher Peter Gøtzsche, who helped found Cochrane and was the head of the Nordic Cochrane Centre. Gøtzsche has been a vocal critic of Cochrane's "increasingly commercial business model," which he suggests is resulting in "stronger and stronger resistance to say anything that could bother pharmaceutical industry interests." Adding insult to injury, Gøtzsche's direct employer, the Rigshospitalet hospital in Denmark, then fired Gøtzsche. In response, Dr. Gøtzsche stated, "Firing me sends the unfortunate signal that if your research results are inconvenient and cause public turmoil, or threaten the pharmaceutical industry's earnings, …you will be sacked." In March 2019, Gøtzsche launched an independent Institute for Scientific Freedom.
In 2019, the editor-in-chief and research editor of BMJ Evidence Based Medicine—the journal that published the critique of Cochrane's biased review—jointly defended the critique as having "provoke[d] healthy debate and pose[d] important questions," affirming the value of publishing articles that "hold organisations to account." They added that "Academic freedom means communicating ideas, facts and criticism without being censored, targeted or reprimanded" and urged publishers not to "shrink from offering criticisms that may be considered inconvenient."
In recent years, a number of journals have invented bogus excuses to withdraw or retract articles critical of risky vaccine ingredients, even when written by top international scientists.
The censorship tsunami
Another favored tactic is to keep vaccine-critical studies out of medical journals altogether, either by refusing to publish them (even if peer reviewers recommend their publication) or by concocting excuses to pull articles after publication. In recent years, a number of journals have invented bogus excuses to withdraw or retract articles critical of risky vaccine ingredients, even when written by top international scientists. To cite just three examples:
The journal Vaccine withdrew a study that questioned the safety of the aluminum adjuvantused in Gardasil.
The journal Science and Engineering Ethics retracted an article that made a case for greater transparency regarding the link between mercury and autism.
Pharmacological Research withdrew a published veterinary article that implicated aluminum-containing vaccines in a mystery illness decimating sheep, citing "concerns" from an anonymous reader.
Elsevier, which publishes two of these journals, has a track record of setting up fake journals to market Merck's drugs, and Springer, which publishes the third journal as well as influential publications like Nature and Scientific American, has been only too willing to accommodate censorship requests. However, even these forms of censorship may soon seem quaint in comparison to the censorship of vaccine-critical information now being implemented across social media and other platforms. This concerted campaign to prevent dissemination of vaccine content that does not toe the party line will make it harder than ever for American families to do their due diligence with regard to vaccine risks and benefits.
Julian Assange, a life that slowly fades (Video)
Julian Assange's father says his son may not be released from prison after revealing criminal acts perpetrated by the US.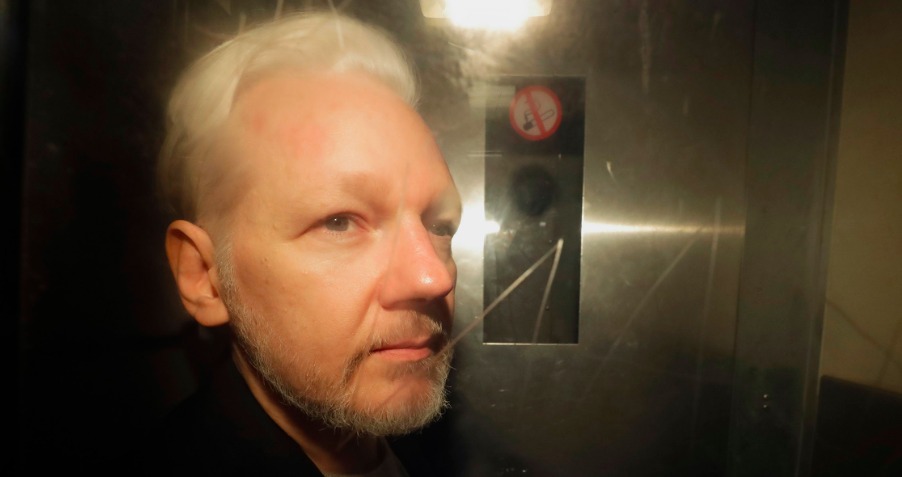 Australian journalist Julian Assange, founder of the WikiLeaks platform, which unveiled, among others, crimes committed by the United States (USA), is increasingly at risk of dying in jail, his father, John Shipton warned.
"Julian can die in jail after a 9-year persecution for revealing the truth of war crimes (in the US)," Shipton told reporters in London on Friday.
He said that this is the "bitter truth" after hearing the testimony of a United Nations (UN) rapporteur who visited Assange a few days ago in Belmarsh prison, southeast London, where he has been since last April, and who said that the life of the activist is in danger.
The UN special rapporteur on torture, Nils Melzer, said that Assange is suffering from an "inhuman situation" in Belmarsh, where he hopes the British justice will decide whether or not to request an extradition made by the United States, to respond to the alleged crime of conspiracy, among other charges.
On October 26, musician Roger Waters, founder of the progressive rock band Pink Floyd and known for his activism, said in an interview with RT that "they are clearly trying to kill Assange as much as they can."
"Julian Assange is becoming a warning to other journalists that if they tell the truth -particularly to power-' we will catch them, "Waters said.
On Monday, October 21, Assange appeared at a London court hearing, and seemed confused, as it was hard to remember his name and age, according to a report by Reuters.
According to that testimony, the judge asked the activist at the end of the hearing if he was aware of what was happening and replied: "not exactly."
Under normal circumstances, the Australian must have been released on bail after 50 weeks in prison and while his trial is taking place, but British justice chose to keep him in jail.
Judge Vanessa Baraitser, of the Court of Magistrates of the Westminster district of London, decided that Assange remains imprisoned due to his "history of evasion", as there are "substantial indications" to fear that he can again evade the action of justice.
The founder of WikiLeaks will face an extradition hearing to the United States on February 25 for 17 counts of espionage and one of conspiracy, which can lead to a sentence of up to 175 years in prison.
BBC film crew was held at gunpoint at Area 51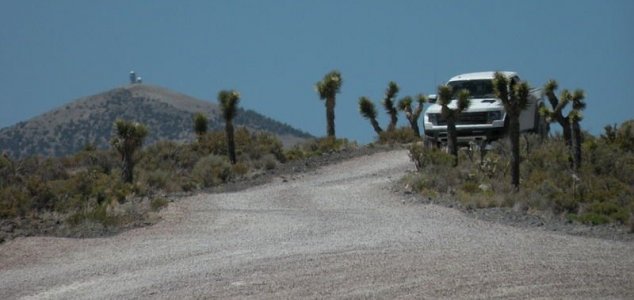 Image Credit: CC BY-SA 3.0 Jimderkaisser
Area 51 is well guarded. 
Comedian Andrew Maxwell and his crew once had their own harrowing experience near the secretive facility.
The incident, which occurred back in 2012 during filming of the BBC Three show 'Conspiracy Road Trip', began when the group, having arrived at the entrance to film a segment for the show, got a bit too enthusiastic and ended up venturing into the restricted zone beyond the gate.
"To me it seemed like an ordinary military facility," said Maxwell. "But my companions were convinced this was the gateway to the extraterrestrials."
"We got a little bit overexcited, and we strayed into the restricted zone to ask where the aliens were kept. But after knocking on the guard house door, we found ourselves lying on the ground, with gun barrels pointed at our heads."
The military guards confiscated the crew's camera equipment and recordings and detained them for a full four hours for trespassing before releasing them without charge.
Such incidents are not actually that unusual – several visitors to the secretive base have been arrested and detained over the years, a testament to the level of security guarding the facility.
Back in September of this year, two Dutch YouTubers – 20-year-old Ties Granzier and 21-year-old Govert Charles Wilhelmus Jacob Sweep – were picked up by guards 3 miles into the restricted zone surrounding the base. Unlike Maxwell's crew however, the pair did end up being charged.
Mass arrests were also expected during the infamous 'Storm Area 51' event, also during September, however in the end relatively few people showed up and the actual 'storming' never took place.
Suffice to say, if you do venture into the restricted zone, don't expect to get very far.

Source: The Mirror
Alt Media was Exposing Epstein Corruption as ABC was Covering it Up—Who's the Real Fake News?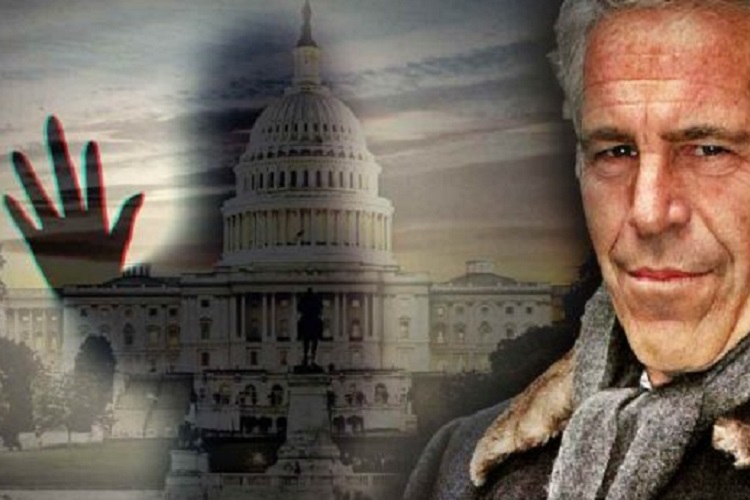 Matt Agorist, The Free Thought Project
Waking Times
One of the largest stories in the news this week was the ABC anchor who was recorded on a hot microphone ranting about how the network suppressed her story on Jeffrey Epstein and his ties to the elite — three years ago. While this admission was certainly noteworthy, it should come as no surprise. Over the past few years, the mainstream media, in general, has refused to report on any of Epstein's ties to current and past government officials, Hollywood insiders, and even royalty. Now, as the "Epstein didn't kill himself" memes storm the internet, it has all of the sudden become "cool" to finally talk about this insidious group of power elite predators. However, those of us in the alternative media have been talking about this stuff for years — before it was cool — and we were called conspiracy theorists for doing so.
In 2016, the Pizzagate conspiracy took the internet by storm and created a slew of unprovable theories that never materialized. While the mainstream media was shouting down the Pizzagate crowd, TFTP and others were reporting on the real child sex trafficking conspiracy involving Epstein and his friends like the Clintons. As we reported in 2016, flight logs showed that Bill Clinton allegedly took numerous flights on the "Lolita Express" (Epstein's private jet) to "orgy island" (Epstein's private island in the Caribbean) to engage in sex with underage girls.