The Little Known History of the Tarot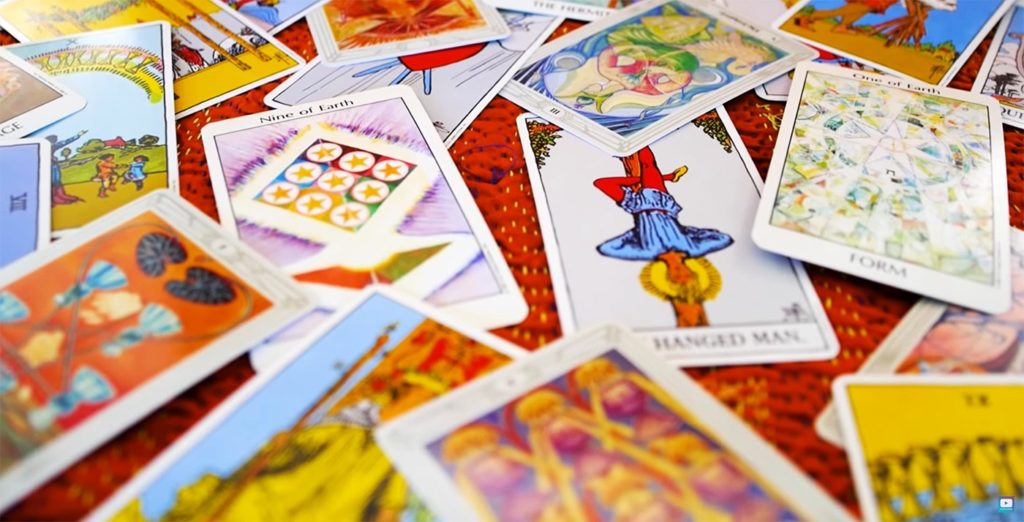 In recent years there's been a huge upswing of interest in the Tarot, the card-divination technique that is often claimed to have truly ancient roots, dating back to ancient Egypt (or, for some, even 'Atlantean' times). And with the surge of interest in the Tarot there's also been a massive expansion in the number of decks available – in recent years here on the Grail we've mentioned a Twin Peaks-themed deck as well the wonderful 'Ghetto Tarot'.
For those newcomers interested in the Tarot who are confused about its origins, and as to which of the many available decks is 'genuine', or at least which is the best to start with, Gaia have produced a fantastic short introductory video (embedded below).
The video consults with our good friend Mitch Horowitz, who has written on many occult traditions (including a piece on the Ouija in our Darklore anthology) and also has been involved in a separate video introduction to the Ouija board, so it's a good common sense view of an esoteric tradition that has certainly generated plenty of speculative theories over the years.
Throughout its history, tarot has has been associated with various ancient mystery schools and esoteric ideologies. However, evidence points to a deck of cards that wasn't used exclusively for fortune telling until centuries after its creation. Occult historian and author Mitch Horowitz sheds some light on how this powerful tool transitioned from an early version of bridge to a mystical divination tool.

SOURCE:
A Very Pagan Christmas Special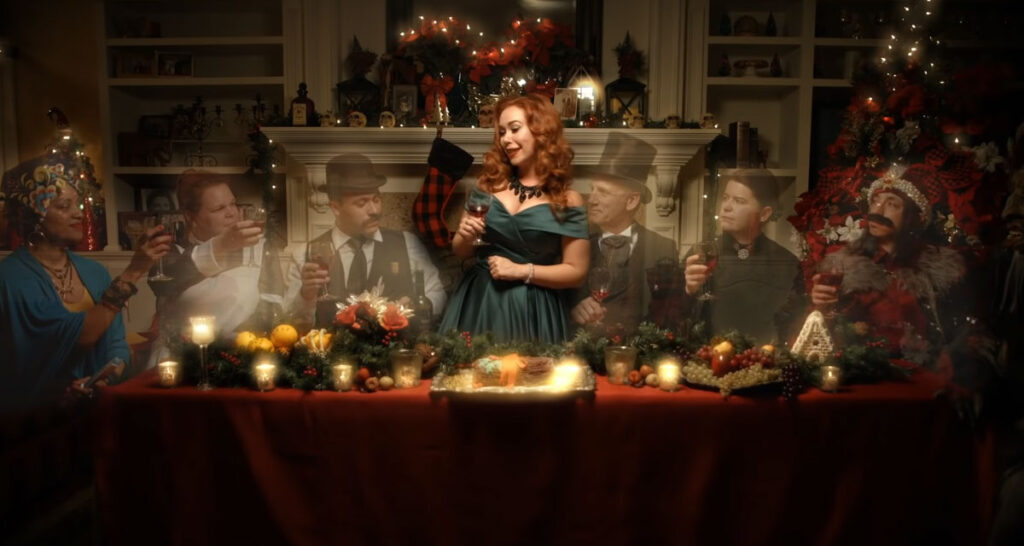 Explore the dark origins of Christmas with this pagan Christmas special from Macabre Mondays.
When you dig just under the surface of modern Christmas you begin to find the joyous holiday full of ghosts, monsters, and other darkness. For creeps like us it's basically a second Halloween. Colder, yes, but with equal amounts of macabre merriment.
Macabre Mondays host Malia Miglino invites you to join her festivities as she explores the holiday's pagan roots:
Human sacrifice, Yule logs, mistletoe…what do all 3 of these things have in common? Easy – Christmas AND Paganism. I'm breaking the door open on the origins of Christmas and Creeps, it's DARK.

From the ancient Romans who celebrated Saturnalia to the Vikings who poisoned human sacrifices with mistletoe to Charles Dickens ghost stories….the history of Christmas is long, varied, dark and stolen. So grab some wine, prepare a feast and settle in for a crazy night of lore and Yule while I celebrate with some of my favorite ghosts of Christmas's past.
For more Macabre Mondays subscribe on Youtube right here.
Satanic 'Snaketivity' on Display for Christmas in Illinois Capitol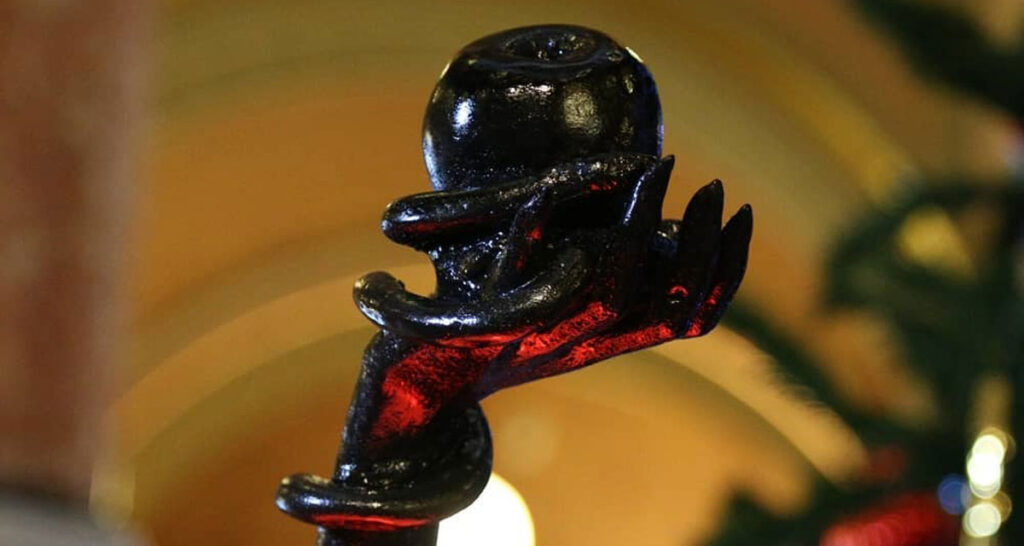 The Satanic Temple of Chicago installed a sculpture of a hand holding an apple with a snake wrapped around it for the holidays.

Snaketivity on display in Springfield, Il.
"Fill your eyes and ears with Satanic holiday cheer! The Snaketivity is here!" the Satanic Temple of Chicago posted on Instagram this week.
The "Snaketivity" is a black resin sculpture of a hand holding an apple with a snake wrapped around it. The base reads, "Knowledge is the greatest gift." It is currently on display for the holiday season in Springfield alongside a menorah, a Christmas tree, and a Nativity scene.
More weird holiday cheer:
When the Satanic Temple announced the plan in November, they wrote that the Snaketivity would be "bringing a message to the Illinois state capital that religious freedom means freedom of representation for ALL religions… not just the ones that don't offend Christians."
With a plea to "Please consider what you may do to help us bring Satan to Springfield!," the group raised $1,700 on GoFundMe for their Satanic holiday display.
"I suppose it is their free speech rights to do that, so I can't deny that. But do I agree with it? Absolutely not," one interviewee told WBMF News. "I can't disagree with the statement in itself but when it's coming from a satanic or a cult group, my response would be that everything about Satan is a lie."
"I think it's inappropriate because it's not something that should be displayed for a lot of people to be offended by," said another. "I would be offended by that myself."
The statue will remain on display in the Illinois State Capitol until Dec. 29.
Exquisite New Edition of 16th Century Occult Tome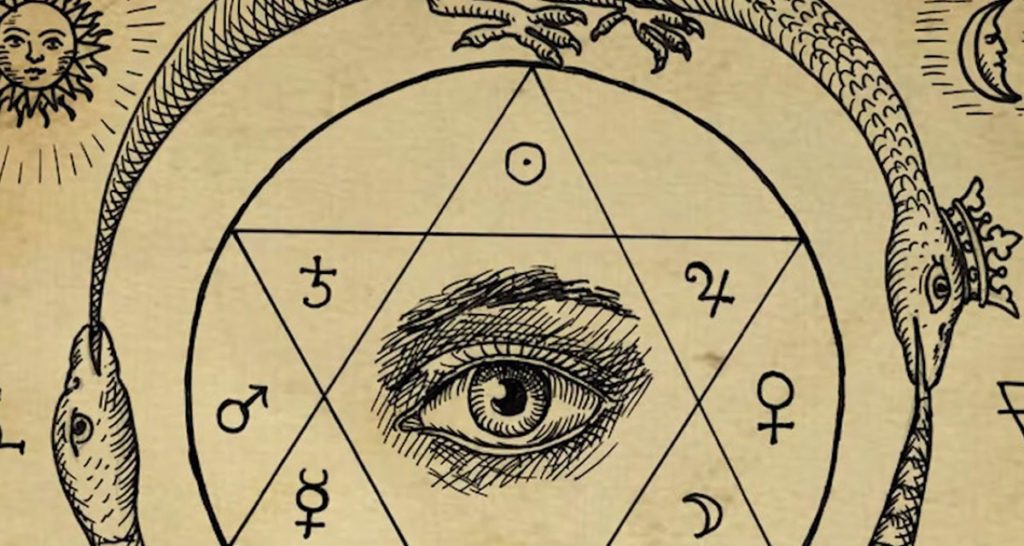 Bring this once banned book of science and the occult back to life with a beautiful new edition from Black Letter Press.

Black Letter Press is crowdfunding an exquisitely illustrated new edition of Natural Magick by Giambattista della Porta, the 1558 book about the occult that was listed in an idex of forbidden books.
From the IndieGoGo campaign:
Natural Magick was first published in 1558. Giambattista della Porta was a magus, or a natural magician, who searched nature for similarities that would serve to build a broad template of forced understanding of seeming likenesses, looking for the great connector in the exceptional and the unusual, the stuff outside of the formerly Aristotlean world.

Porta writes in the first chapter, defining the word "magic": "Magic took her name and original [sic] from Persia… In the Persian language, a Magician is nothing else but one that expounds and studies divine things; and it is the general name of wise-men in that country… Magic was begun in Persia by Zoroastres". Therefore it is not a book of ceremonial magic, spells or any religious topics but an encyclopedic work of natural wonders, a gold-mine of information and clever wishfulness written at a time when science was still in its infancy. Magic is described as a specific science of natural objects.

Natural Magic concerns itself with a variety of subjects della Porta had investigated such as magic, alchemy, optics, geometry, cryptography, magnetism, agriculture, the art of memory, munitions, and many other topics, all grouped together and refined, distilled, into a compendium of natural knowledge.

While some of della Portas described Experiments on living animals and Humans might seem curious and quite cruel to the modern reader, his researches in optics were visionary. He gave the world the first published description of the convex lens and the camera obscura. Though he did not invent these, his work is perfecting and describing them, and their inclusion in Natural Magick, contributed to the dissemination of this knowledge.

The first edition of Natural Magic (1558) ended up on the spanish Index of forbidden Books due to Porta's naturalistic approach to witchcraft and necromantic arts. A second version in 1589 was purged of the infamous – and one of the few passed on – recipes for a witches unguent. Della Porta speculates in this banned chapter, that the witches flight and orgiastic encounters with demons and the devil had a natural explanation. Hallucinogenic plants were used to create the flying ointment – a material substance with occult, but non-demonic properties.
A new edition of Natural Magick by Giambattista Dell Porta from Black Letter Press
Back this project on IndieGoGo right here.