The Idiot Box: How TV Is Turning Us All Into Zombies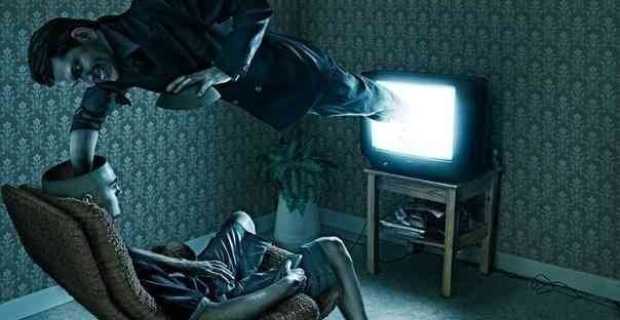 Television re-wires your mind and alters your consciousness; Studies find that children's brains are not developing properly
Steve Watson Infowars
TV turns you into a zombie.
While these words are more often than not used as a tiresome metaphor to highlight how much crap we are forced to endure on television today, they do in fact serve as a deadly accurate literal statement.
Two separate studies this month alone have found that excessive amounts of television, even if it is merely on in the background, can detrimentally effect the development of children's brains, to the point where they struggle to socially engage when they become older.
Add to this the already extensively documented impact that the television has on all of us, the power it has to literally alter our consciousness and shut down critical thinking, and it is no wonder that it was long ago dubbed the idiot box.
As reported by Reuters this month, researchers from the University of North Carolina Wilmington (UNCW), found that background noise emitted from television is so distracting and mesmerizing to children that it is impacting their ability to interact with other human beings and potentially slowing down cognitive thinking and language development.
The study, published in the journal Pediatrics, found that children in the US are now exposed to more than five hours a day of television. Matthew Lapierre, who led the study, explained that children who are subjected to the most TV spend less time interacting with other children and parents.
Lapierre also found that younger children are subjected to the most background television.
"This is a clear warning signal to parents that if they are not watching TV, they ought to turn it off," said Dr. Victor Strasburger, a pediatrician from the University of New Mexico in Albuquerque who has previously studied media exposure among children. "[It is also] a reminder that parents should be avoiding screen time in infants under two." he said.
"It's confusing for babies who are trying to get their language together to have indistinguishable voices in the background." Strasburger also noted, telling reporters that when parents bring their children to him, he can tell which toddlers are over exposed to TV.
"The babies that are being read to are just chattering away, and the babies that sit in front of a TV are silent," he said. "It means their language development is threatened – they may catch up, but it's a concern."
In a separate study, doctors at the Royal College of Paediatrics and Child Health in London found that children born today will have watched a full year of television by the time they are seven years old. The study also found that on average children now spend more time watching television than they do in school.
Dr Aric Sigman published the study in the Archives Of Disease In Childhood, a medical journey jointly own by the British Medical Journal group.
Sigman noted that such extensive exposure to television can lead to a void when it comes to social relationships, can lead to attention deficit problems, and can promote significant psychological difficulties.
Sigman also noted that over exposure to new technologies such as 3D televisions and consoles could seriously affect the development of depth perception in children.
The study recommends preventing children under three years old from watching television altogether, and says that all children should be limited to less than two hours of TV per day.
"As health risks are reported to occur beyond exposure of two hours of screen time per day, although the average child is exposed to three times this amount, a robust initiative to encourage a reduction in daily recreational screen time could lead to significant improvements in child health and development." Sigman noted.
In a report issued one year ago, the American Academy of Pediatrics pointed out that scores of previous studies have come to the same conclusions; that there is a direct link between increased TV time and developmental delays in children.
In 2010, another study published in Pediatrics, found that during analysis of over 1,000 children between the ages of ten and eleven, those who spend at least two hours a day in front of a television screen are 60 percent more likely to have psychological problems than children who spend less or no time. The study also noted that even children taking part in physical activities but still watching TV are still fifty percent more likely to suffer problems such as hyperactivity, difficulty with peers and friends, poor conduct and antisocial kinds of behavior.
Further studies published in the Archives of Pediatrics & Adolescent Medicine, found that children exposed to more TV are significantly more likely to exhibit aggressive behavior and perform poorly in school. In addition, the findings noted that children who watch more TV are more likely to eat more junk-food and suffer bullying at the hands of classmates – consequences that have their own brain re-wiring effects.
Other recent scientific studies have noted that many programs produced specifically for children may have even worse effects on their development because they are very fast moving, thus overtaxing the brain and promoting reduced attention span.
Owing to such proven effects of television and video games, children's minds are being numbed before they have even developed. By the time they reach adulthood, they act according to decisions made to a great extent unconsciously. They are effectively zombies; humans operating with an impulsive, reactionary mind set, at the expense of logical analysis and critical thought.
And kids are not the only ones who are susceptible to television's ability to create armies of the walking dead.
It is commonly known that television flicker rates induce alpha brain waves, lulling the brain into a more subconscious state that can be compared to sleep, literally inducing a type of hypnosis within the viewer that makes them more susceptible to suggestion.
This has been known since the 1960s, and was most notably proven in an experiment in 1969, by Herbert Krugman. The research, undertaken by Krugman as part of a larger project concerned with advertising, revealed that the brain's left hemisphere, which processes information logically and analytically, effectively tunes out almost completely when an individual watches television.
The radiant light and flicker rate of television screens cause brain activity to drop toward more of a theta state. Critical thinking reduces, leaving the parts of the brain that hold memories, sensations and emotions the most active. Whatever is coming from the TV therefore somewhat bypasses the logical mind and is embedded directly into the subconscious. In other words, TV appeals more to emotions than logic.
Numerous studies have also found that flicker rates in video games cause altered consciousness. Some have been shown to reduce brain activity to below Delta frequency.
Other studies have also flagged up a link between watching too much television and Alzheimer's disease. The semi conscious state induced by television is thought to directly contribute to the symptoms of memory, speech and perception problems.
Krugman also discovered that reading and listening to audio increases cognition and builds neuron paths because you have to think critically and envision the "theater of the mind".
In addition, the crossover from the left to the right brain induced by watching television, causes a release of the body's natural opiates, similar to a release of endorphins when exercising. This has the effect of making the viewer feel good. Consequently, withdrawal symptoms can kick in if viewers turn off the turn. As with any form of opiate-withdrawal, symptoms include increased anxiety, frustration, and depression.
Experiments conducted in the 1970s found that people who turn off their TVs for long periods after prolonged viewing suffer from depression, with some noting that they felt as though they had "lost a friend."
A combination of four studies, published in the Journal of Experimental Social Psychology, concluded that television shows can instill a sense of belonging in viewers with low self-esteem and a lack of social relationships. Referring to the notion as social surrogacy hypothesis, psychologists at the University at Buffalo and Miami University, Ohio, found that in order to fill the emotional void of social deprivation, some people forge relationships with fictional characters in TV shows.
TV really is the opiate of the masses.
Of course, what I describe here is only a snapshot. We are today bombarded from all angles with distractions, substances, and conditions created to transform the way we interpret our reality. We are being conditioned from birth to act increasingly without consciousness; the one thing that sets us apart from every other living thing in the known universe.
We are literally being programmed into a waking sleep, a zombie-like existence. We must act vigilantly and educate others if we are to break this programming and preserve our humanity.
In England, children are allowed to take hormones to change their sex
12-year-old Ashley Lamin was born a boy and by the age of 8, her name was Ashton. Ashley lives in Kent, England.
Recently, with the full approval of the doctors, the child begins to take hormonal pills – blockers of puberty.
These pills will not allow Ashley to become a man because she consciously considers herself a girl. He wants to "lie under the surgeon's knife" at the age of 18 so that he can transform his boy's body into a girl's body.
Ashley Lamin is one of the youngest UK teenagers to receive hormone medication. This immediately caused much controversy in the community.
Critics are sure that children of this age cannot even understand what they want, and that Ashton's desire to become a girl is simply a fad.
In justification, Ashley's mother, 43-year-old Terry Lamin, assures critics and reporters that her son was considered a girl from a young age. She also says that if the child is mistaken, then Ashley has up to 18 years to refuse surgery and medication.
Critics respond that the body will already be seriously damaged by hormonal drugs, whose effects on these young organisms have not yet been fully studied.
At the age of 5, Ashton doesn't like his genitals and he urges his mother to remove them. When he was told that this was not right, he asked why he needed them after all.
Ashton did not like to wear pants and other clothes for boys. He liked to dress in pink dresses and was "in love" with the princess dress he wore on his birthday.
By the age of 8, this discrepancy led to Ashton begging everyone to call him Ashley and assuring them he was born in the "wrong" body.
When doctors allowed Ashley to take blockers, it was her first major victory on her way to the "right" body.
Ashley considers herself a girl and wants to undergo a transplant surgery after a gender change surgery so she can become pregnant and have a baby later.
Such statements drive the critics crazy. They see only one child who is brainwashed with words such as "tolerance", etc., and who exhibits ridiculous "whims". According to them, the child should visit a psychologist instead of being allowed to prepare for a dangerous operation.
Ashley's mother says:
"At three, Ashley told me it was my fault she was a boy. I felt terrible. Then I just agreed with her. It's important to me that my child is happy. "
Terry Lamin has seven more children (!), So it is not difficult to understand why it is more convenient for a woman to agree with the child's words instead of continuing to confront him.
Ashley had no particular problems at home when she was wearing girls' clothes before school. But when she started going to school in girls 'clothes and using the girls' toilets, conflicts arose with the parents of other children. To them, it was all too strange and unusual. They even stopped inviting Ashley to children's parties.
At the age of 11, Ashley goes to high school, where she becomes a target for a group of children who offend her and throw away her things. Ashley had to undergo home schooling.
Because of all this, Ashley becomes very anxious and even thinks about suicide. She asked her mother why all this was happening to her and stated that she hated herself.
The woman began to guide the child to various doctors. After all, they ended up at the Clinic for Gender Dysphoria.
It is there that the child's hormones are prescribed, which Ashley will take at least until the age of 18.
Blind seer Baba Vanga made predictions for 2020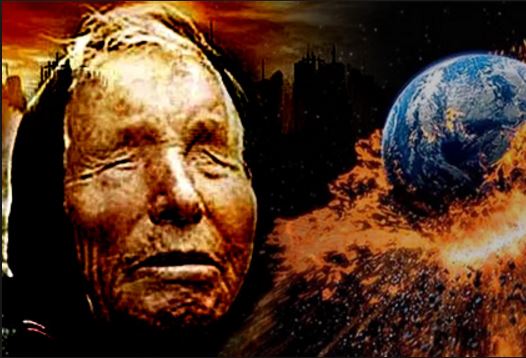 Baba Vanga, also known as the blind seer, is without a doubt one of the most well-known mediums in the world. Even though she died in 1996, the predictions she made are still coming true today.
Her real name was Vangelia Paneva and she was born in Bulgaria in 1911. When she was 12 years old, she lost her sight after she was lifted into the air by a tornado and thrown into a nearby field where she was found a few days later with her eyes covered in sand and dust.
She made her first predictions a few days after this traumatic event, and the legend states that she developed healing powers and clairvoyancy. One of her most significant and noteworthy predictions was the invasion of the Nazis.
Lots of the predictions that Baba Vanga made are expected to be fulfilled in 2020. All of them however are just based on theories from people who believe in clairvoyancy and powers like this and have no scientific foundation.
Drama in Asia
Baba Vanga also predicted the famous Boxing Day tsunami of 2004, and If her theories and predictions are to be believed, a much bigger tsunami will hit parts of Japan, China, Alaska and Pakistan in 2020. Nearly 400 deaths have already been recorded following an earthquake measuring 7.5 on the Richter scale that hit Indonesia in September.
Putin's life could be in danger
According to h ertheories, the Russian president Vladimir Putin will also be the victim of an assassination attempt and the assassin will be a member of his own security team. Putin admitted that at least four assassination attempts have occurred in the past, but all have failed and he is currently under the protection of a team of snipers.
Donald Trump will be sick
The president of the United States, Donald Trump, can also succumb to an unknown disease. Apparently he will suffer from tinnitus, severe nausea and hearing loss. The illness he would have contracted could be the same as some US diplomats contracted while in Cuba because of the similar symptoms they experienced.
What will happen after 2020?
And by 2023 we would suffer a drastic change on the planet, because the Earth's orbit will change. It will influence the weather, the waters and much of nature, causing great difficulty for humanity to adapt. As a result of this calamity, a change in the ideology of social policy would flourish in the main countries and by 2076 the whole world would be living under communism.
Shortly after this reorganization of politics and the world economy, by the year 2100 human technology could create an artificial sun that served both as a source of energy and to heat the planet cooled from the change of orbit. Even as a result of human technological advancement, Vanga said that by 2111 all people would have become robots after finding a way to transport consciousness to a body that would no longer have to suffer aging and die of disease. And with the planet almost destroyed and without resources, this robotic humanity, which would already inhabit Mars, would face an interplanetary war, which in 2183 will trigger the independence of the Earth.
Reaching immortality
A few centuries after these conflicts, in 2271 the Laws of Physics will be totally altered. This will open the possibility of time travel a few decades later. The race for temporary travel will cause many conflicts between inhabited human planets, and in 3005 there will be a world war on Mars.
The only good news among Baba Vanga's predictions is only for the year 4308. The seer says that evil will disappear from the face of the planet ; The human being will reach a stage of evolution that will promote the relationship through peace, love and ethics. Then, in 4599, we will achieve immortality. But again we have bad news: we will reach the edge of the universe in 5076 and the world would end three years later.
What does Vanga say about the future?
Baba Vanga's predictions are almost uncountable. The Bulgarian seer spoke about many prophecies, and many of them hope they will never come true. The future seen by Vanga is nothing pleasant and speaks of the end of the world. There are many predictions that have drawn attention, but if there is one that we have to highlight is about China, which says it will be the next world power.
The truth is that we do not know if these prophecies will be fulfilled, what we do know is that our world has entered into a catastrophic dynamic, where everything seems to fall apart, and the future does not seem to be better.
A computer game helped predict the likelihood of a breakdown of drug addicts after treatment
An assessment of the risk of patients who are treated for drug addiction will help to identify critical moments in which a breakdown is likely.
A research, published in the journal JAMA Psychiatrymay will be the basis for the development of a clinical tool to track and reduce the number of drug-dependent patients who again start using opiates after treatment. Scientists from New York University have created a game that helps assess the likelihood of a "breakdown" of a person who is undergoing or has completed treatment.
Drug treatment for drug addicts with methadone, buprenorphine and naloxone shows good efficacy. However, the positive effect of these drugs is largely offset by the lack of reliable tools for assessing the patient's response to therapy. The new development makes it possible to evaluate how high the probability of a person returning to the "needle", and allows you to adjust the treatment program.
Scientists have proposed using a computer application to simulate this probability, which simulates gambling with bets and cash rewards. To study the effectiveness of such a tool, the researchers selected 70 patients from the Bellview Hospital Center in New York who were treated for drug addiction. An additional 50 patients with approximately the same distribution by gender, age and race, but never suffering from opioid dependence, were selected as a control group in the same institution.
Subjects played weekly for seven months. The game was built in such a way that patients could receive a lower reward with a 50% probability or risk a large number of virtual "chips" to win a big reward with unclear chances. For all test participants, preparedness schedules for accepting risks were drawn up.
The results of the experiment were compared with the data of questionnaires, in which the subjects were interviewed for their desire to try drugs again or for the presence of recent "breakdowns" in their history records. Scientists have found that patients who are prone to take risks in the game are more likely to disrupt the process of anti-drug therapy using opioids.
"Our research shows that computer diagnostic tests may offer a new useful feature," says lead author of the study, Paul Glimcher. According to the scientist, in the process of treating addiction, patients can experience a kind of "ups and downs": at some points they show determination in the desire to get rid of addiction, but at times they are ready to risk the work done for a fleeting pleasure. The application, developed by Glimcher and his colleagues, will help to identify critical moments in the psychological state of patients and prevent breakdowns.
Previously, scientists created a test that will help to identify drug addicts by fingerprint, and developed an implant with an antidote which will save lives from drug overdose.