The Idiot Box: How TV Is Turning Us All Into Zombies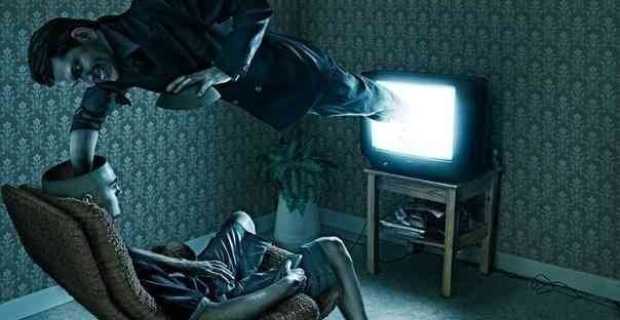 Television re-wires your mind and alters your consciousness; Studies find that children's brains are not developing properly
Steve Watson Infowars
TV turns you into a zombie.
While these words are more often than not used as a tiresome metaphor to highlight how much crap we are forced to endure on television today, they do in fact serve as a deadly accurate literal statement.
Two separate studies this month alone have found that excessive amounts of television, even if it is merely on in the background, can detrimentally effect the development of children's brains, to the point where they struggle to socially engage when they become older.
Add to this the already extensively documented impact that the television has on all of us, the power it has to literally alter our consciousness and shut down critical thinking, and it is no wonder that it was long ago dubbed the idiot box.
As reported by Reuters this month, researchers from the University of North Carolina Wilmington (UNCW), found that background noise emitted from television is so distracting and mesmerizing to children that it is impacting their ability to interact with other human beings and potentially slowing down cognitive thinking and language development.
The study, published in the journal Pediatrics, found that children in the US are now exposed to more than five hours a day of television. Matthew Lapierre, who led the study, explained that children who are subjected to the most TV spend less time interacting with other children and parents.
Lapierre also found that younger children are subjected to the most background television.
"This is a clear warning signal to parents that if they are not watching TV, they ought to turn it off," said Dr. Victor Strasburger, a pediatrician from the University of New Mexico in Albuquerque who has previously studied media exposure among children. "[It is also] a reminder that parents should be avoiding screen time in infants under two." he said.
"It's confusing for babies who are trying to get their language together to have indistinguishable voices in the background." Strasburger also noted, telling reporters that when parents bring their children to him, he can tell which toddlers are over exposed to TV.
"The babies that are being read to are just chattering away, and the babies that sit in front of a TV are silent," he said. "It means their language development is threatened – they may catch up, but it's a concern."
In a separate study, doctors at the Royal College of Paediatrics and Child Health in London found that children born today will have watched a full year of television by the time they are seven years old. The study also found that on average children now spend more time watching television than they do in school.
Dr Aric Sigman published the study in the Archives Of Disease In Childhood, a medical journey jointly own by the British Medical Journal group.
Sigman noted that such extensive exposure to television can lead to a void when it comes to social relationships, can lead to attention deficit problems, and can promote significant psychological difficulties.
Sigman also noted that over exposure to new technologies such as 3D televisions and consoles could seriously affect the development of depth perception in children.
The study recommends preventing children under three years old from watching television altogether, and says that all children should be limited to less than two hours of TV per day.
"As health risks are reported to occur beyond exposure of two hours of screen time per day, although the average child is exposed to three times this amount, a robust initiative to encourage a reduction in daily recreational screen time could lead to significant improvements in child health and development." Sigman noted.
In a report issued one year ago, the American Academy of Pediatrics pointed out that scores of previous studies have come to the same conclusions; that there is a direct link between increased TV time and developmental delays in children.
In 2010, another study published in Pediatrics, found that during analysis of over 1,000 children between the ages of ten and eleven, those who spend at least two hours a day in front of a television screen are 60 percent more likely to have psychological problems than children who spend less or no time. The study also noted that even children taking part in physical activities but still watching TV are still fifty percent more likely to suffer problems such as hyperactivity, difficulty with peers and friends, poor conduct and antisocial kinds of behavior.
Further studies published in the Archives of Pediatrics & Adolescent Medicine, found that children exposed to more TV are significantly more likely to exhibit aggressive behavior and perform poorly in school. In addition, the findings noted that children who watch more TV are more likely to eat more junk-food and suffer bullying at the hands of classmates – consequences that have their own brain re-wiring effects.
Other recent scientific studies have noted that many programs produced specifically for children may have even worse effects on their development because they are very fast moving, thus overtaxing the brain and promoting reduced attention span.
Owing to such proven effects of television and video games, children's minds are being numbed before they have even developed. By the time they reach adulthood, they act according to decisions made to a great extent unconsciously. They are effectively zombies; humans operating with an impulsive, reactionary mind set, at the expense of logical analysis and critical thought.
And kids are not the only ones who are susceptible to television's ability to create armies of the walking dead.
It is commonly known that television flicker rates induce alpha brain waves, lulling the brain into a more subconscious state that can be compared to sleep, literally inducing a type of hypnosis within the viewer that makes them more susceptible to suggestion.
This has been known since the 1960s, and was most notably proven in an experiment in 1969, by Herbert Krugman. The research, undertaken by Krugman as part of a larger project concerned with advertising, revealed that the brain's left hemisphere, which processes information logically and analytically, effectively tunes out almost completely when an individual watches television.
The radiant light and flicker rate of television screens cause brain activity to drop toward more of a theta state. Critical thinking reduces, leaving the parts of the brain that hold memories, sensations and emotions the most active. Whatever is coming from the TV therefore somewhat bypasses the logical mind and is embedded directly into the subconscious. In other words, TV appeals more to emotions than logic.
Numerous studies have also found that flicker rates in video games cause altered consciousness. Some have been shown to reduce brain activity to below Delta frequency.
Other studies have also flagged up a link between watching too much television and Alzheimer's disease. The semi conscious state induced by television is thought to directly contribute to the symptoms of memory, speech and perception problems.
Krugman also discovered that reading and listening to audio increases cognition and builds neuron paths because you have to think critically and envision the "theater of the mind".
In addition, the crossover from the left to the right brain induced by watching television, causes a release of the body's natural opiates, similar to a release of endorphins when exercising. This has the effect of making the viewer feel good. Consequently, withdrawal symptoms can kick in if viewers turn off the turn. As with any form of opiate-withdrawal, symptoms include increased anxiety, frustration, and depression.
Experiments conducted in the 1970s found that people who turn off their TVs for long periods after prolonged viewing suffer from depression, with some noting that they felt as though they had "lost a friend."
A combination of four studies, published in the Journal of Experimental Social Psychology, concluded that television shows can instill a sense of belonging in viewers with low self-esteem and a lack of social relationships. Referring to the notion as social surrogacy hypothesis, psychologists at the University at Buffalo and Miami University, Ohio, found that in order to fill the emotional void of social deprivation, some people forge relationships with fictional characters in TV shows.
TV really is the opiate of the masses.
Of course, what I describe here is only a snapshot. We are today bombarded from all angles with distractions, substances, and conditions created to transform the way we interpret our reality. We are being conditioned from birth to act increasingly without consciousness; the one thing that sets us apart from every other living thing in the known universe.
We are literally being programmed into a waking sleep, a zombie-like existence. We must act vigilantly and educate others if we are to break this programming and preserve our humanity.
Can the Universe consciously imitate its own existence?
According to the new hypothesis, the Universe imitates its own existence in a "strange loop". In an article published by scientists from the Institute for the Study of Quantum Gravity, it is argued that the basis of the hypothesis is the theory of panpsychism, according to which everything in nature is animated. 
The article was published in the journal Entropy and, as the authors of the work write, is designed to combine understanding of quantum mechanics with a non-materialist point of view. In other words, scientists want to understand how real we are and everything that surrounds us. Agree, this is at least an interesting question for modern science and our understanding of the Universe.
What is reality?
How real is reality? What if all that you are, all that you know, all the people in your life, as well as all events do not physically exist in reality, but are a very complex simulation? Like in the series of the animated series "Rick and Morty" when one of the characters got into a simulation and did not even notice it. Our regular readers know that the philosopher Nick Bostrom addressed this issue in the foundational article "Do we live in computer simulation?", Which suggests that our entire existence may be the product of very complex computer models (simulations) controlled by advanced creatures whose the true nature we may never know.
I am not a supporter of this idea, but despite all the seeming madness of Bostrom's assumption, we really don't know what reality is. Modern science is not yet able to cognize the quantum world and understand, for example, why at the atomic level particles change their behavior when they are watched. At a time when physicists are working on building a mission that can figure out if a parallel universe or universes exists, Bostrom's idea does not look extraordinary.
But the new theory takes a step forward – what if there are no advanced creatures, but everything in "reality" is self-imitation that generates itself from "pure thought?"
The Physical Universe is a "strange loop", writes Quantum Gravity Research, a Los Angeles-based Institute for Theoretical Physics, founded by scientist and entrepreneur Clay Irwin. The work is based on the Bostrom modeling hypothesis, according to which all reality is an extremely detailed computer program – and they ask: instead of relying on advanced life forms to create the technology necessary to create everything in our world, is it not better to assume that the Universe itself is a "mental imitation of oneself"? Scientists associate this idea with quantum mechanics, considering the universe as one of many possible models of quantum gravity.
One important aspect that distinguishes this point of view from others similar to it is related to the fact that the initial hypothesis of Bostrom is materialistic and considers the Universe as physical. For Bostrom, we could just be part of an ancestral simulation created by posthumans. Even the process of evolution itself can simply be a mechanism by which future beings experience countless processes, purposefully moving people through levels of biological and technological growth. In this way, they generate the alleged information or history of our world. Ultimately, we will not notice the difference.
But where does physical reality come from that would spawn a simulation? Their hypothesis takes a non-materialistic approach, arguing that everything in the universe is information expressed in the form of thought. Thus, the Universe "self-realizes" into its own existence, relying on the underlying algorithms and the rule that researchers call the "principle of an effective language". According to this proposal, the simulation of everything is only one "great thought".
How could a simulation have arisen on its own?
Surprisingly, the answer is simple: she was always there, researchers say, explaining the concept of "timeless emergentism". This idea says that there is no time at all. Instead, there is a comprehensive thought, which is our reality, offering a built-in semblance of a hierarchical order, full of "sub-thoughts" that extend down to the wormhole to basic mathematics and fundamental particles. The effective language rule also comes into force, which assumes that people themselves are such "emergent sub-thoughts" and experience and find meaning in the world through other sub-thoughts (called "code steps or actions") in the most economical way (well, then) .
In correspondence with Big Think, physicist David Chester said:
Although many scholars advocate the truth of materialism, we believe that quantum mechanics can give a hint that our reality is a mental construct. Recent advances in quantum gravity, such as the vision of spacetime arising from a hologram, are also a hint that spacetime is not fundamental. In a sense, the mental construction of reality creates space-time to effectively understand itself, creating a network of subconscious entities that can interact and explore the totality of their capabilities.
Scientists associate their hypothesis with panpsychism, which considers everything that exists as thought or consciousness, the purpose of which is to generate meaning or information. If all this is difficult to understand, the authors offer another interesting idea that can connect your everyday experience with these philosophical considerations. Think of your dreams as your own personal simulations, the team suggests. Although they are fairly primitive (by the superintelligent standards of the future AI), dreams tend to provide better resolution than modern computer modeling and are a great example of the evolution of the human mind.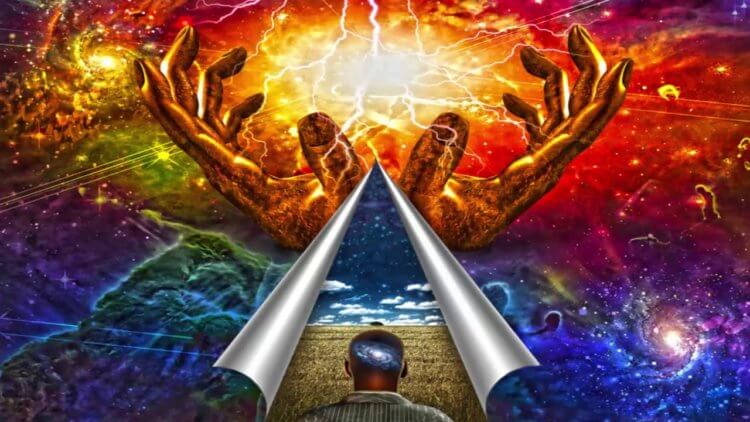 Most notable is the ultra-high resolution accuracy of these mind-based simulations and the accuracy of the physics in them. They point to lucid dreaming – when the dreamer realizes that he is in a dream – as examples of very accurate simulations created by your mind that at times cannot be distinguished from any other reality. So how do you know, while you are reading this article, that you are not in a dream? It turns out that it is not so difficult to imagine that the extremely powerful computer that we can create in the near future will be able to reproduce a similar level of detail.
Of course, some of the ideas of Clay and his team in the academic community are called controversial. But the authors of the work believe that "we should think critically about consciousness and some aspects of philosophy that are inconvenient for some scientists." We can not agree, because in science there are no or, should be no authorities. 
The journalist predicted a cancer-free future and was healed
ABC11 American journalist Michael Perchick predicted on his Twitter account that his future would not be related to cancer. The reporter later reported healing, and the post scored 1.8 million likes.
A 28-year-old North Carolina channel correspondent said in January that he was diagnosed with cancer. However, the journalist did not somehow comment on the current state, but wrote about the future. 
"In four months, I will be the 28-year-old who defeated cancer. To the battle! " – Perchik noted.
Many users supported his entry with comments with words of support. Some users remembered how they themselves fought with a similar diagnosis and they managed to prevail over a deadly disease. 
"I was diagnosed at the same age, two days after my 28th birthday. I'm 34 now. You will succeed, man. Kick your ass cancer," Humphrey03Pat wrote .
In April, Perchik announced that he had completed the necessary course of chemotherapy. 
On June 5, he retweeted his January post and wrote:
"New information about my life: I was right." 
This meant that the journalist was cured. In the comments, he met positive feedback from users. Some responded with a meme about dancing coffin carriers from Ghana, symbolizing a cancer funeral.
Death Angel Drummer talks about meeting with Satan during a coronavirus coma
Will Carroll, a member of the Philippine-American thrash metal band Death Angel, spoke about a meeting with Satan during a coronavirus coma. It is reported by the San Francisco Chronicle.
The 47-year-old drummer is sure he has been to hell. He fell ill with COVID-19 after a European tour of the band and was in critical condition for two weeks at a California medical center. Carroll was connected to a ventilator and was in a coma.
According to a member of the group, in nightmares, he appeared to have Satan in a female guise, who reproached him for being lazy and turned him into a monster resembling Jabba from Star Wars. After that, the drummer decided to abandon the use of strong alcohol and marijuana.
"I will still listen to satanic metal, and I still love Deicide and similar bands. As for my personal life and what I experienced, I don't think that Satan is so cool" Carroll said. 
He explained that he was close to death, but now he feels as if he was born again.