The House That Evil Built
Exposing secret societies will help people better understand who pulls the strings
"There is in Italy a power which we seldom mention in this House … I mean the secret societies … It is useless to deny, because it is impossible to conceal, that a great part of Europe – the whole of Italy and France and a great portion of Germany, to say nothing of other countries – is covered with a network of these secret societies, just as the superficies of the earth is now being covered with railroads." -Benjamin Disraeli, at British House of Commons, July 14, 1856. Benjamin Disraeli, 1st Earl of Beaconsfield, was the British Prime Minister from 1874 – 1880.
"The government of this country has not only to deal with governments, kings and ministers, but also with secret societies, elements which must be taken into account, which at the last moment can bring our plans to naught, which have everywhere their unscrupulous agents, who incite assassinations and can if necessary lead a massacre." -Benjamin Disraeli, at Aylesbury, Sept. 10, 1876
One of the most difficult things truth tellers encounter are Americans who have no education about the roots of the global masters and how they are destroying, not just America, but the world. I can tell you from experience, as can hundreds, if not thousands of writers like myself, as soon as you begin to give a history of the evil that built the house of horrors we are living in right now, the average American, due either to political party loyalty or denial, simply does not want to hear the truth. As the late, former Congressman from California, James B. Utt, said so long ago: "None are so blind as he who cannot see". Sadly, millions of Americans would rather willfully believe lies. They can't believe, having been sold a bill of goods, that Marxists like Barry Soetoro, aka Obama, is anything other than some brilliant problem solver who just loves all the poor folks.
I believe most refuse to see because they are afraid of the truth. Because tens of millions need to stay in denial, they will not make the time to read the history of the architects of our pain and who continue the work of the evil doers. I say house because if you can imagine a house, or perhaps a structure as big as a palace with each room representing one faction and study each one, you can come to no other conclusion as to who built the structure and how we are now being systematically destroyed by domestic and foreign enemies. Prominent politicians, dynasties as they're called, and traitors like Bill and Hillary Clinton. See my column: The Marxist Influence.
Each entity is like a room in a huge house. Over the centuries there have been tugs of war for power, but in the end, the goal is the same: forcing America into a one world government, one world religion, a one world banking system that is already collapsing under the weight of unpayable debt as the banking cartels loot this country to bare bones and a world government military.
The CIA is well aware of the UFO Discovery game
"Flying saucers" were reportedly tracked on radar at speeds up to 3,600 mph. Respected and influential members of the intelligence community joined a private UFO organization and declared the truth should be delivered to the people.
Literature was sent to each member of Congress. A plan was proposed to the Air Force Secretary to end public confusion over flying saucers. The press reported ongoing public statements issued.
If you think this sounds like the recent saga of To The Stars Academy "TSSA, you're right, but it's also true that the year was 1957 and the organization was the National Committee for Investigations on Air Phenomena (NICAP)." The CIA online reading room includes four pages of titles of files belonging to NICAP. Among them is an archived photo of a 1957 newspaper clipping, pictured below, describing UFO advocacy undertaken by IC movers and shakers.
The article states that California control tower operators tracked four flying saucers at speeds of up to 3,600 mph (5,800 km / h). Retired Rear Admiral Herbert B. Knowles of NICAP had seen the radar report.
In what may be considered part of the writing of the TTSA playbook, the admiral criticized a veil of secrecy around UFOs, declaring:
There is a real need to break through the official Washington brush-off and get the truth to the people.
The article continues to cite respected members who have joined NICAP, including the former DCI Roscoe Hillenkoetter. NICAP leaders also included Joseph Bryan III, a career intelligence officer now known for being a CIA propaganda specialist…
The case of California flying saucers was highlighted in the first issue of a NICAP magazine, UFO Investigator, which was distributed to its members. "Copies were also sent to all members of Congress," the article added.
In conclusion, it was reported:
NICAP also proposed to Air Force Secretary James H. Douglas an eight-point cooperation plan to end controversy and public confusion over flying saucers.
Guess it needed a little more work.
The Clementine space probe photographed "Alien Structures" and a "Dome" on the Moon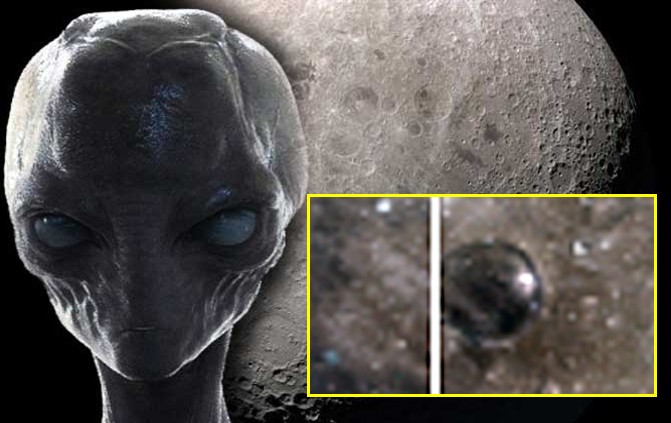 UFO researcher Scott Waring has found many alien structures on the moon, thanks to a map from NASA's Clementine Probe. This map was created in 1994 before any advanced editing software was available.
Here's what Scott Waring said:
"The photo taken by the Clementine space probe, (photo above) shows a giant domed city located in a crater. From a distance, it looks like just another crater, but up close, a dark shiny semi-transparent material made to leave only a fraction of the light inside is absolutely visible. There is an alien species that loves darkness so much that it has genetically changed from other breeds, only to have secondary eyelids that cover the eyes at will. The grays have clearly created this domed city. Obviously other more recent photos will not show this, because they have already been modified. But here is obvious what we see. "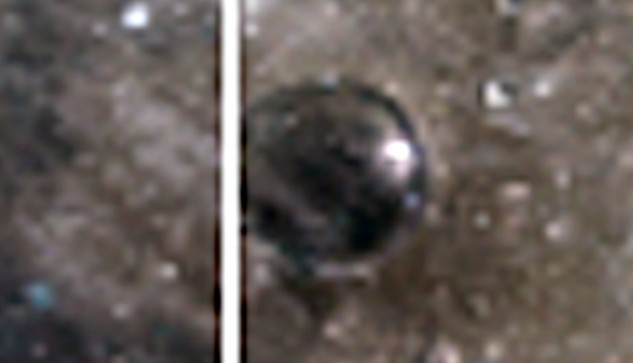 "I also found a black triangular structure with triangular walls … which is impossible for a meteor to have caused an impact leaving it imposing like that. Then there was another structure or structures scattered over a large crater (two photos below). The buildings are in a large L-shaped model and extend over 20 miles in length. Yes, there are two other smaller visible domes, one green and one black. "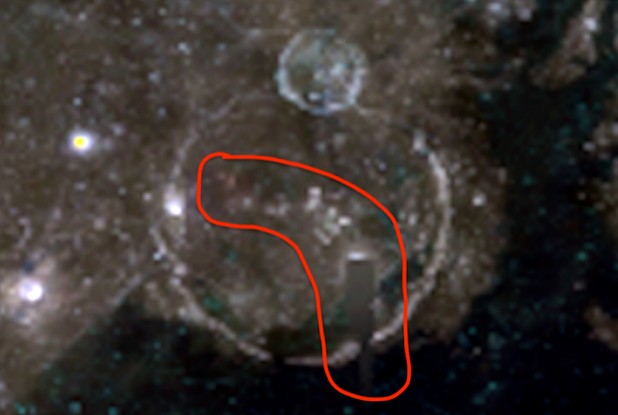 "But I just want to focus on the big one at the top of this post. I think if grays are in control of our moon, it should be easy to convince them to donate one of their dome structures to humanity if we offer something valuable to them. "
According to the Italian UFO researcher Massimo Fratini, there is a field of holographic energy that covers the Moon and other celestial bodies in the solar system. This holographic field covers alien structures on the Moon or, for example, on Mars. "There is evidence that on the Moon this holographic cover is adapted to modify the lunar surface so as not to make visible what really exists. "
"The reason? It is simple: censor and not show buildings, cities, spaceships, alien bases and in any case the extraterrestrial presence on our satellite. Often amateur astronomers photograph pyramidal structures or other buildings that later on are no longer visible, mysteriously disappear and then reappear days later. All this is hidden by this holographic field that is not known by whom it was created. I can only imagine …"Said Massimo Fratini in a recent interview on a private radio station.
Glenn Dennis' story about the UFO crash in Roswell (video)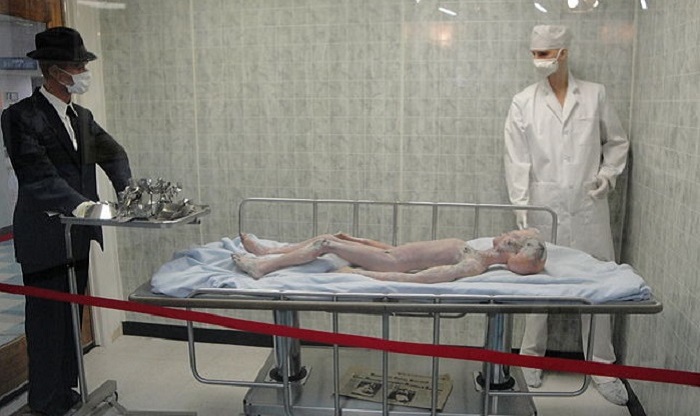 Glenn Dennis' story is considered to be one of the most important evidence that an alien ship fell in Roswell and the bodies of dead aliens fell into the hands of the US military.
When it comes to what happened in Roswell, New Mexico, in July 1947, almost all the evidence for this case is contradictory.
There are several theories about what happened there, including the official one. But there is almost no evidence for each of them except the stories of eyewitnesses.
The testimonies of these eyewitnesses are also different. Some detailed and curious and others strange and ridiculous. Many of them went through the "third or fourth hand" before reaching the ufologists, who later wrote numerous books about Roswell.
The official version says that a balloon from Mogul's secret program is falling in Roswell. Unofficial versions tell of the crash of an alien ship (or a secret aircraft of the US Air Force) and strange deformed bodies discovered at the scene of the crash.
It is alleged that the remains of this ship and the bodies of aliens were transported to military bases. They are still stored there in secret hangars, where they are studied and modern equipment are created on the basis of the material studied.
One of the most controversial (and at the same time intriguing) eyewitness accounts is the story of the famous Glen Dennis. In 1947, this man worked as a body embalmer at the Roseville branch of Ballard Funeral Home.
It all started when a couple of small coffins were ordered at the Air Force Bureau, as if for baby bodies. Dennis immediately suspected something unusual about all this.
Dennis knew a nurse who worked at a nearby military base, and a little later, she secretly told Dennis how several strange little bodies were brought to her hospital at the base, and that she had personally seen military doctors open these bodies.
Dennis shares:
"She had to bring the boxes to the room where two doctors had previously opened these bodies. And according to her, she immediately sensed the horrible smell in this room. She had never felt more disgusted in her life.
From this smell, the girl felt so bad that she was forced to leave the room for a while, as she was ill. In addition, she went with two other doctors who also started vomiting.
When she returned, she "saw something that no one had ever seen," and when she told me about it, I was worried about her condition. It seems she was in shock. "
Then, the nurse described to Dennis what the internal organs of one of the bodies looked like. She said they had four fingers on their hands, and at the end of each finger there were small jellies.
According to the nurse, the creature's head was disproportionately large compared to the weak body. The eyes were deep. The skull bones were not rigid but flexible. The nose was almost invisible, only in the form of two holes, and the mouth was just a thin slit in the skin.
These creatures had no teeth in their mouths, but had cartilaginous plates instead of teeth. Their ears were tiny. There was no hair on the body, and the skin of the creatures was very dark, almost black, probably due to fire burns.
After the nurse told him about it, Dennis promised never to reveal her name while he was alive. However, soon something happened to this woman, she disappeared.
When Dennis tried to question what had happened to her, someone told him that she had been transported to work in England and then "accidentally" died in the accident.
Dennis spoke of all this only in the early 1990s, when he was already an adult and not afraid for himself, but considered his girlfriend long dead.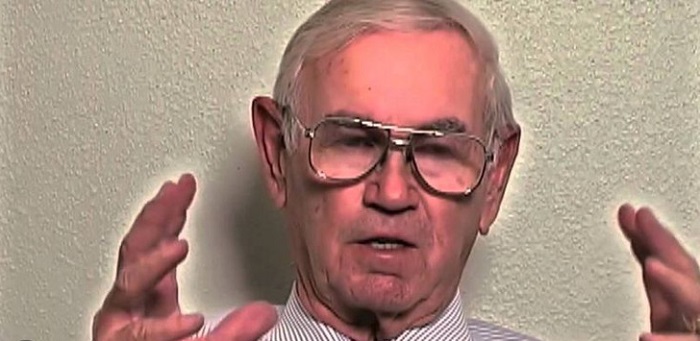 Ufologists tried to find the real name of this woman, but failed. Until her death, in 2015, Dennis kept his promise and never revealed her name.
Watch an interview with Glenn Dennis.