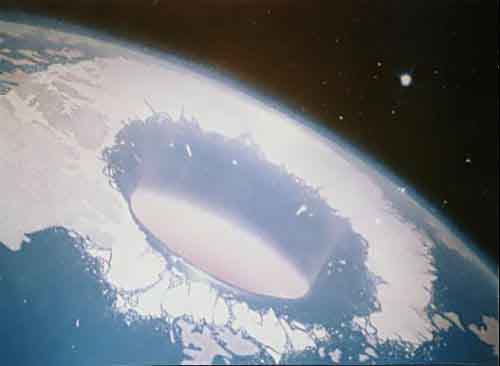 Perhaps some of the most bizarre scientific theories ever considered were those concerning the possibility that the Earth was hollow. One of the earliest of these was proposed in 1692 by Edmund Halley.
Edmund Halley was a brilliant English astronomer whose mathematical calculations pinpointed the return of the comet that bears his name. Halley was fascinated by the earth's magnetic field. He noticed the direction of the field varied slightly over time and the only way he could account for this was there existed not one, but several, magnetic fields. Halley came to believe that the Earth was hollow and within it was a second sphere with another field. In fact, to account for all the variations in the field, Halley finally proposed that the Earth was composed of some four spheres, each nestled inside another.
Halley also suggested that the interior of the Earth was populated with life and lit by a luminous atmosphere. He thought the aurora borealis, or northern lights, was caused by the escape of this gas through a thin crust at the poles.
Others picked up Halley's hollow-earth theory often adding their own twists. In the eighteen century Leonhard Euler, a Swiss mathematician, replaced the multiple spheres theory with a single hollow sphere which contained a sun 600 miles wide that provided heat and light for an advanced civilization that lived there. Later Scottish mathematician Sir John Leslie proposed there were two inside suns (which he named Pluto and Proserpine).
One of the most ardent supporters of hollow-earth was the American John Symmes. Symmes was an ex-army officer and a business man. Symmes believed that the Earth was hollow and at the north and south poles there were entrances, 4,000 and 6,000 miles wide, respectively, that led to the interior. Symmes dedicated much of his life to advancing his theory and raising money to support an expedition to the North Pole for the purpose of exploring the inner earth. He was never successful, but after his death one of his followers, a newspaper editor named Jeremiah Reynolds, helped influence the U.S. government to send an expedition to Antarctica in 1838. While the explorers found no hole there, they did bring back convincing evidence that Antarctica was not just a polar ice cap, but the Earth's seventh continent.
In 1846 the discovery of an extinct woolly mammoth frozen in ice in Siberia was used by Marshall Gardner as evidence of a hollow earth. Gardner subscribed to the single-sun-inside-the-earth theory and suggested that the mammoth was so well-preserved because it had died recently. Gardner thought that mammoths and other extinct creatures wandered freely in the interior of the earth. This one had wandered outside by using the hole at the North Pole, then was frozen and carried to Siberia on an ice flow.
That same decade a new theory about the hollow-earth appeared. It was the brainchild of Cyrus Read Teed. Teed proposed that the Earth was a hollow sphere and that people lived on the inside of it. In the center of the sphere was the sun, which was half dark and half light. As the sun turned it gave the appearance of a sunset and sunrise. The dense atmosphere in the center of the sphere prevented observers from looking up into the sky and seeing the other side of the world. Interestingly enough, Teed's theory was hard for 19th century mathematicians to disprove based on geometry alone, since the exterior of a sphere can be mapped onto the interior with little trouble.
Teed changed his name to Koresh and founded what might today be called a cult. After buying a 300 acre tract in Florida, Koresh declared himself the messiah of a new religion. He died in 1908 without proving his ideas.
Even after his death, though, some continued to subscribe to his theory. A story is told that during World War II Hitler sent an expedition to the Baltic Island of Rugen. There Dr. Heinz Fischer pointed a telescopic camera into the sky in an attempt to photograph the British fleet across the hollow interior of a concave earth. He was apparently unsuccessful and the British fleet remained safe.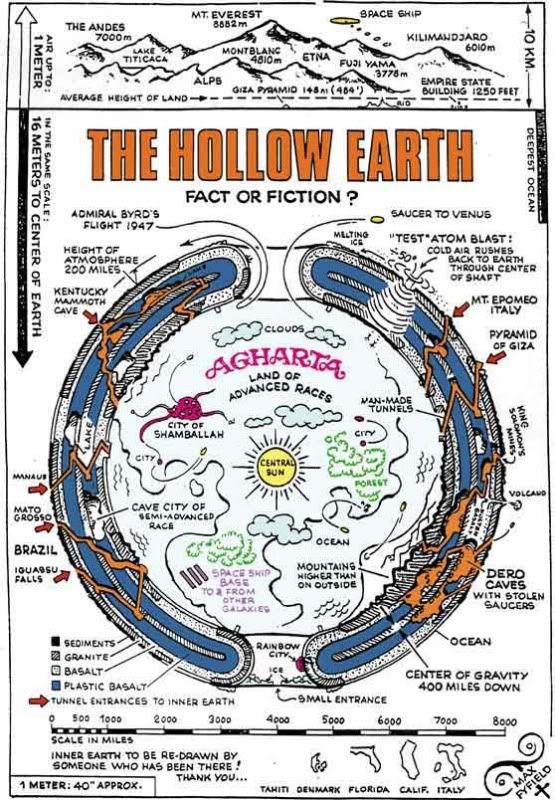 After World War II there seems to be a continuing connection between hollow-earth stories and Nazi Germany. One author, Ernst Zundel, wrote a book entitled UFOs – Nazi Secret Weapons? claiming that Hitler and his last battalion had boarded submarines at the end of the war, escaped to Argentina, and then established a base for flying saucers in the hole leading to the inside of the Earth at the South Pole. Zundel also suggested that the Nazis had originated as a separate race that had come from the inner-earth.
As time has gone on the idea of a hollow-earth has become less a theory of fringe science and more a subject of science fiction and fantasy. Perhaps this has happened because new discoveries continue to show there is no validity to most of the hollow-earth ideas. United States Navy Admiral Richard Byrd flew across the North Pole in 1926 and the South Pole in 1929 without seeing any holes leading to inner-earth. Photographs taken by astronauts in space show no entrances either. Modern geology indicates the Earth is mostly a solid mass.
One believer did seize on a NASA photograph showing a black hole at the North Pole and called it proof of an entrance to a hollow-earth. As it turned out the photo was actually a composite of several pictures taken over 24 hours so that all sections were seen in daylight and the black hole at the top was the portion of the arctic circle never illuminated during the day over winter months.
Perhaps one of the most well-known books about hollow-earth is Jules Verne's Journey to the Center of the Earth. The book illustrates a third theory of hollow-earth which is more plausible than the other two. This is that passages from the surface lead to caverns underground in which life thrives.
In the book three scientists climb down an inactive Iceland volcano in an attempt to find a path to the center of the Earth. They don't make it, but they do find an underground sea populated with prehistoric creatures including plesiosaurs.
Verne may have been closer to that mark than most expected. For years scientists scoffed at the idea of life thriving underground without light to provide energy. Now explorations have found rock-eating bacteria living as far as a mile below the ground. In Romania a whole ecosystem, including spiders, scorpions, leeches and millipedes has been found in a cave cut off from the surface 5.5 million years ago.
In addition to this kind of a hollow-earth there may be a "hollow Mars." A mars rock discovered in the antarctic suggests that bacteria may have, and might continue to, exist underground on the red planet.
Real UFO Crashes – Alive Aliens Recovered Filmed and Tell What Extraterrestrials Want
Real UFO Crashes Alive Aliens Recovered Filmed & Answer What Extraterrestrials Want. Ovnis.
We all know what happened on Nine Eleven. But Do you know what happened two days prior? On Nine-Nine? Aliens came here from the future to collect evidence lost in earth calamities.
You shall know everything after seeing this amazing UFO crashes videos that you never saw before because they were highly classified. And we only can show it because of former US President Jimmy Carter provided them to us last month. Of course, some of the crashes might be meteors, satellites or man-made objects but the majority of them are out of this world, literally.
Some crashes left not only thousands of witnesses baffled but physical evidence behind. There are not only giant smoking craters like these that appeared overnight but physical parts of UFOs spaceships made from unknown on earth metal alloys found by multiple witnesses. Usually, men in black come and confiscate any parts they could ever find, but even after their raids – dozens of those alien object remained in private possessions after witnesses found them at UFO crash or hard landings sites.
Some UFO crashes like this recent one in the Pacific Ocean near California shore, you just saw were very well documented and filmed from multiple angles with different cameras. Entire shore was locked down and searched by the military. These footages are highly classified and only saw a daylight today because former US president Jimmy Carter gave us access to these incredible video files.
Bodies of several humanoids they either fished out from the Pacific Ocean or found after searching the shore. After that, aliens were transferred to Sierra Nevada mountain research facility for further study.
Several UFO crashes like this one in Colorado were filmed from start to finish and produced alive Grey alien humanoids. Greys traveled from the future to observe their evolution and collect the historical evidence. In other words, grey aliens are future humans and they do travel through time.
While reptilian aliens travel not through time but through space only. Reptilians have very different agenda. They want humans to revert to their reptilian roots rather than becoming Greys. And they do not easily crash and burn, unlike Greys. But we will show Reptilians in our other video.
Many aliens survived the spaceship crashes and were forced to run and hide until they either deployed they rescue beacons and picked up by other Greys or captured by a man in black – special paramilitary unit. There is a secret agreement between Greys and US government to return any captured Greys and keep their presence in secret.
Video:
So a man in black would rather eliminate witnesses by wiping they memory rather than disclose Greys.
Grey Extraterrestrials are highly advanced compared to humans. So why do they crash and burn? The answer is: Those saucers you saw crashed are not designed to travel across the universe. They are mere cheap expendable time machines designed to make it through time. And dead aliens you saw – are not dead at all. They are just expendable bodies of the advanced alien race. They are just dolls – the same like our bodies. Movement devices that connected to global information field. Once one doll is expired they simply fill the other one. The same applies to humans, except we do not have the technology to manipulate the next doll exactly as we want to but we don't just disappear either. Death is a human made a concept. But don't take it from me, take it from aliens themselves.
Source: YouTube.com | Igor Kryan
Handwritten Draft of The Bible Discovered Proves Complete Work of Fiction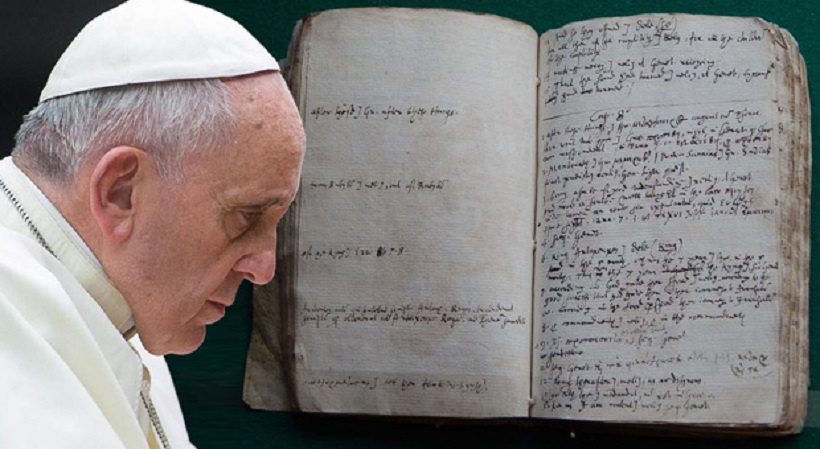 An early draft of the Bible has been discovered at the University of Cambridge in the UK that has been marked as one of the most significant discoveries in modern history.
The handwritten draft was found after it had been mislabeled inside an archive and had gone undetected for decades. The book has been confirmed by leading experts as an early working of The King James Bible which is one of the most influential and widely read books in the English language.

The discovery has been hailed as definitive proof that Bible is a work of fiction as it shows a process of revising, cutting, and then more rewriting, which contradicts popular belief that the book is the "divine word of God".
The King James Bible or simply the Authorized Version, is an English translation of the Christian Bible for the Church of England that combines books from the Old and New Testaments as well as other Christian scriptures.

The notes and commentary in the recently discovered draft of this book show how "best bits" were cherry-picked from the original books and were then embellished, exaggerated or rewritten to make for "better reading".
There are also indications that sections were written under orders from the King to that would conform to the idea that the Royal bloodline was a divine one, to instill a false belief in the "common" people that the hierarchy of the ruling Elites was justified.
The notebook containing the draft was found by an American scholar, Jeffrey Alan Miller, an assistant professor of English at Montclair State University in New Jersey, who announced his research in an article in The Times Literary Supplement.
Mr. Miller was researching an essay about Samuel Ward, one of the King James translators, and was hoping to find an unknown letter at the archives. While you can say he certainly accomplished that end, he definitely wasn't expecting to find the earliest draft of the King James Bible — which is now giving new insights into how the Bible was constructed.
He first came across the plain notebook not knowing what it was — it was incorrectly labeled. That's why no one has found it until now. It had been cataloged in the 1980s as a "verse-by-verse" Biblical commentary with "Greek word studies, and some Hebrew notes.
" When he tried in vain to figure out which passages of the Bible the commentary was referring to, he realized that it was no commentary at all — it was an early draft of part of the King James Version of the Bible. Professor Miller described what it felt like when he first knew what he had in his hands: "There was a kind of thunderstruck, leap-out-of-bathtub moment. But then comes the more laborious process of making sure you are 100 percent correct."
The material in the manuscript discovered by Miller covers the apocryphal books called Esdras and Wisdom and seems to show that the translation process at Cambridge worked completely different than what researchers had previously known. Until now, it had been assumed that six different teams, or companies of translators that is, had worked more collaboratively rather than individually.
Yet — this draft throws that idea out the window. Ward's draft seems to indicate the people were assigned individual sections of the Bible and then worked on them almost entirely by themselves — a massive undertaking with little guesswork. You would think this would cause people to become more error prone.
In fact, quite hilariously, Professor Miller noticed that the draft suggests that Ward was picking up the slack for another translator. This really shows how human the entire job was, according to him.
"Some of them, being typical academics, either fell down on the job or just decided not to do it. It really testifies to the human element of this kind of great undertaking."
While this finding certainly doesn't disprove God, it does show that the translators of the Bible didn't get a finalized product the first go around — it wasn't a walk in the park with an angel over their shoulder telling them what to write.
It does, however, offer definitive proof that the Bible isn't the "actual word of God" and that the words in the Bible shouldn't be taken literally. The finding clearly shows how people can be manipulated into submission by offering up stories of other human beings who have "divine powers" as a way of controlling them, in a way not too dissimilar from the way governments use the mainstream media to brainwash the public today.
This book took many different individuals, working separately — and they often suffered from man-made struggles, like meeting deadlines. You know, now that we think of it, doesn't sound that much different from the writers of today's workforce.
Alien hunters are convinced a mysterious object spotted on Google Earth on a remote island is a crash-landed spaceship
Unidentified mass was found on South Georgia Island in South Atlantic Ocean
Web theorists used satellite mapping to zoom in and examine the object closely
Footage of the mysterious 'spaceship' has been viewed more than 150,000 times
Alien hunters are convinced a mysterious object spotted on Google Earth is a crash-landed spaceship.
The unidentified mass was discovered near Antarctica on the remote South Georgia Island in the South Atlantic Ocean, where just 20 people live.
Web theorists at well-known alien site Secureteam10 used satellite mapping to zoom in and get a closer look at the alleged spaceship near the 10,000ft tall Mount Paget.
Bizarre tracks can be seen running up behind the object, suggesting it slid through the snow for some distance before coming to a halt.
Footage of the strange mass published on YouTube on Saturday has been viewed more than 150,000 times.
While some believe it is the work of extra-terrestrials, many say it is just a rock which has been pushed along from a nearby glacier.  
Other YouTubers didn't appear to take the sighting very seriously. 
'Umm thats when Superman crashed into that mountain in the 1st Snyder Superman movie,' wrote one.
'Its Santa's sleigh,' said another. 
Secureteam10 describe themselves as 'the fastest growing research outlet and source for data' on aliens and UFOs.
Their Facebook page is followed and liked by nearly 165,000 people.
The team say their mission is 'exposing the alien cover up, one leak at a time'.
Source www.dailymail.co.uk