The Hidden (And Not So Hidden) Messages in Stanley Kubrick's "Eyes Wide Shut"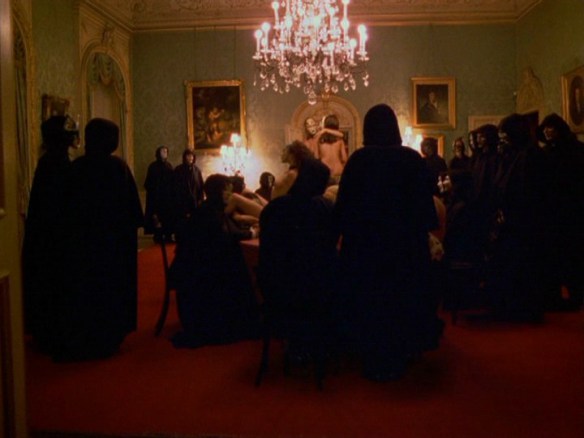 "Eyes Wide Shut" was promoted as a steamy, suspenseful movie starring the "It" couple of the day: Tom Cruise and Nicole Kidman. While the actors were prominently featured in the movie, it is everything around them that told the true story of "Eyes Wide Shut". Stanley Kubrick's attention to detail and symbolism gave the movie an entire other dimension – one that cannot be seen by those who have their eyes wide shut. This multiple-part series will look at the hidden symbolism of Kubrick's final film.
I remember when I first watched Eyes Wide Shut, back in 1999. Boy, did I hate it. I hated how slow everything was, I hated how Nicole Kidman tried to sound drunk or high and I hated seeing Tom Cruise walk around New York looking concerned. I guess I reacted the same way critics did at the time the movie came out and thought: "This movie is boring and there is nothing hot about it." More than a decade later, equipped with a little more knowledge and patience, I re-watched the movie … and it blew my mind. In fact, like most Stanley Kubrick films, an entire book could be written about the movie and the concepts it addresses. Eyes Wide Shut is indeed not simply about a relationship, it is about all of the outside forces and influences that define that relationship. It is about the eternal back-and-forth between the male and female principles in a confused and decadent modern world. Also, more importantly, it is about the group that rules this modern world – a secret elite that channels this struggle between the male and female principles in a specific and esoteric matter. The movie however does not spell out anything. Like all great art, messages are communicated through subtle symbols and mysterious riddles.
Stanley Kubrick unexpectedly died only five days after submitting the final cut of the movie to Warner Bros, making Eyes Wide Shut his swan song. Considering the fact that Eyes Wide Shut is about an occult secret society that eliminates those who cross its path, some theories arose about Kubrick's death and its suspicious nature. Did he reveal to the public too much, too soon? Maybe.
Let's look at the main themes of Kubrick's last creation.
The Modern Couple
The stars of Eyes Wide Shut were the "It" couple of 1999: Tom Cruise and Nicole Kidman. Those who were expecting the movie to be a sort of voyeuristic experience showing hot scenes of the couple were probably very disappointed. The audience rather got a cold, egoistic and profoundly unsatisfied couple, one that seems to be tied together not by pure love, but by other factors, like convenience and appearances. While the couple is very "modern" and "upper-class", the forces that keep it together are the result of basic, primal and almost animalistic behavior. If we look at the instinctive behavior of humans and animals, males primarily look for females that have good child-bearing qualities while females look for a strong provider. Remnants of this behavior still exist today as males tend to display wealth and power to attract females while females showcase their beauty to attract males. In Eyes Wide Shut, the couple perfectly follows that instinctive script.
Tom Cruise's character is called Dr. Bill … as in dollar bill. Several times during the movie, Dr. Bill either waves his money or his "doctor badge" at people to get them to do what he wants. Bill is part of the upper class and his dealings with people of the lower class are often resolved with money.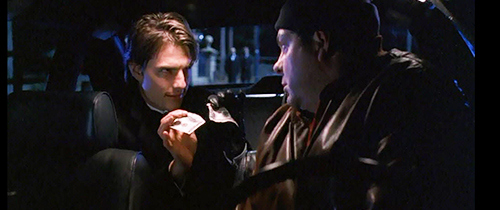 In order to get this taxi driver to wait for him in front of the elite mansion, Dr. Bill tears up a hundred dollar bill and promises him to give him the other half when he comes back. Dr. Bill's motto is probably "Everybody has a price". Does his own wife have a price?
Played by Nicole Kidman, Alice lost her job in the art world and is now fully supported by her husband's salary. While she lives very comfortably, Alice appears to be extremely bored with her life as a stay at home mother. The name Alice is most likely a reference to the main character of Alice in Wonderland – a fairy tale about a privileged girl who is bored with her life and who goes "through the looking glass" to end up in Wonderland. In Eyes Wide Shut, Alice is often shown staring at the looking glass – grooming herself or … maybe looking for something more to life.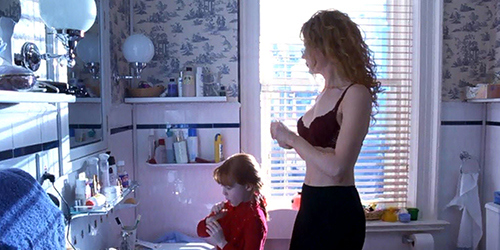 Alice is often shown in front of the mirror and making herself pretty. At the beginning of the movie, almost everyone who talk to her mention her appearance. Her daughter Helena (maybe named after Helena of Troy, the most beautiful woman in the world) follows in her footsteps.
Promotional images for the movie feature Alice kissing Bill but looking at herself in the mirror, almost as if she was seeing an alternate reality.
While the couple shows signs of fatigue, Bill and Alice put on their "happy masks" when it is time to attend social events. Like the elite people they socialize with, there is a big difference between the facade they put on and reality.
Brushing With the Elite
Bill and Alice go to a classy party given by Victor Ziegler, one of Bill's wealthy patients. Judging from Victor's house, he is not simply rich, he is part of the ultra-elite. While his party is very elegant and is attended by highly cultured people, it doesn't take long for the viewers to realize that this facade hides a disgusting dark side. Also, small details inserted by Kubrick hint to a link between the party and the occult ritual that occurs later in the movie.
When entering the party, the first thing we see is this peculiar Christmas decoration. This eight-pointed star is found throughout the house.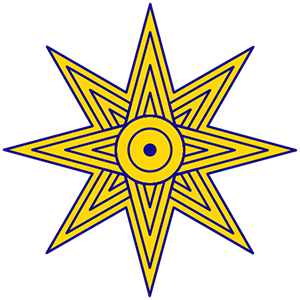 The star at Zeigler's house is nearly identical to the ancient symbol of the star of Ishtar.
Knowing Kubrick's attention to detail, the inclusion of the star of Ishtar in this party is not an accident. Ishtar is the Babylonian goddess of fertility, love, war and, mostly, sexuality. Her cult involved sacred prostitution and ritual acts – two elements we clearly see later in the movie.
"Babylonians gave Ishtar offerings of food and drink on Saturday. They then joined in ritual acts of lovemaking, which in turn invoked Ishtar's favor on the region and its people to promote continued health and fruitfulness." – Goddess Ishtar, Anita Revel
Ishtar herself was considered to be the "courtesan of the gods" and had many lovers. While inspired in bed, she was also cruel to the men that got attached to her. These concepts will constantly reappear in the movie, especially with Alice.
During the party, Bill and Alice go their separate ways and are both faced with temptation. Alice meets a man named Sandor Szavost who asks her about Ovid's Art of Love. This series of books, written during the times of Ancient Rome, was essentially a "How to Cheat on Your Partner" guide, and was popular with the elite of the time. The first book opens with an invocation to Venus – the planet esoterically associated with lust. Interestingly enough, Ishtar (and her equivalents in other Semetic cultures) was considered to be the personification of Venus.
Sandor drinks from Alice's glass. This trick is taken right out of  Ovid's The Art of Love. It sends Alice a message that is not very subliminal: "I want to exchange fluids with you".
Sandor's name might be a reference to the founder of the Church of Satan: Anton Szandor Lavey. Is this Kubrick's way of saying that this man, who urges Alice to cheat on her husband, is a part of the occult elite and its decadent ways? The Hungarian man is apparently skilled in neuro-linguistic programming (NLP) as he nearly hypnotizes Alice with well calculated phrases about the futility of married life and the necessity of pursuing pleasure.
Meanwhile, Bill is discussing with two flirtatious models who tell him that they want to take him to "where the rainbow ends". While the meaning of this enigmatic phrase is never explicitly explained in the movie, symbols talk for themselves.
Rainbows Everywhere
Rainbows and multicolored lights appear throughout the movie, from the beginning to the end.
The name of the store where Bill rents his costume is called "Rainbow". The name of the store under it: "Under the Rainbow". Kubrick is trying to tell us something…Something involving rainbows.
As if to emphasize the theme of multicolored rainbows, almost every scene in the movie contains multicolored Christmas lights, giving most sets a hazy, dreamy glow.
Almost every time Bill enters a room, the first things we see are multicolored Christmas lights.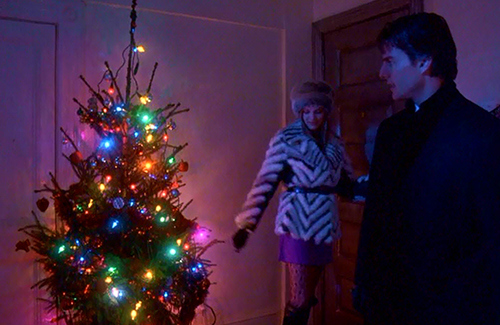 Sometimes Christmas lights are the focal point of attention.
These lights tie together most scenes of the movie, making them part of the same reality. There are however a few select scenes where there are absolutely no Christmas lights. The main one is Somerton palace – the place where the secret society ritual takes place.
Sharply contrasting with the rest of the movie, Sommerton  is completely devoid of multicolored lights. Everything about this place is in sharp opposition with the "outside world".
In Eyes Wide Shut, there are therefore two worlds: The Christmas lights-filled "rainbow world", where the masses wander around, trying to make ends meet and the other world… "where the rainbow ends"-  where the elite gathers and performs its rituals. The contrast between the two world give a sense of an almost insurmountable divide between them. Later, the movie will clearly show us how those from the "rainbow world" cannot enter the other world.
So, when the models ask Bill the go "where the rainbow ends", they probably refer to going "where the elite gathers and performs rituals". It might also be about them being dissociated Beta Programming slaves. There are several references to Monarch mind control (read this article for more information) in the movie. Women who take part in elite rituals are often products of Illuminati mind control. In MK Ultra vocabulary, "going over the rainbow" means dissociating from reality and entering another persona (more on this in the next article).
The models ask Bill to leave the "rainbow world" (there's a Christmas tree right behind them) to indulge in the debaucherous rituals of the occult elite.
Behind the Curtain
Bill's flirting with the models is interrupted when Ziegler calls him to his bathroom. There, we get a first glance of "where the rainbow ends" – the dark truth about the elite.
Bill meets Ziegler in his gigantic bathroom. The man is dressing up and is with a naked unconscious woman…who is not his wife.
If we rewind a little, when Bill and Alice first entered the party, they were welcomed by Ziegler and his wife in a room filled with Christmas lights. We saw two respectable couples talking about respectable things in room full of enchanting lights. But when Bill goes "where the rainbow ends" (notice there are no Christmas lights in the bathroom) we see reality: Ziegler with a Beta programming slave who overdosed on goofballs. When the woman gains consciousness, Ziegler talks to her in an odd, paternal matter, highlighting the fact that he's the master and she's the slave. The luxurious setting of this scene is Kubrick's way of saying that extreme wealth does not necessary equal high morals.
Ziegler then urges Bill to keep everything he just saw a secret. The world "where the rainbow ends" must never be revealed to the outside world. It operates in its own space, has its own rules and depends on the masses' ignorance.
Questioning Marriage
While Alice ultimately rejected Sandor's advances, she was nevertheless enticed by them. The next day, Alice tells Bill that she could have cheated on him at the party. When Bill tells his wife that he loves and trusts her, she completely loses it. She then proceeds to tell him a story about how she was once ready to cheat on him with a naval officer she met in a hotel. This cruel story highlights the "Ishtar" side of Alice as she brings up in her husband feelings of jealousy, insecurity, betrayal and even humiliation. In short, Alice purposely summoned everything that is negative in relationships to pop Bill's "love bubble". This wake-up call prompts Bill to embark in a strange journey around New-York city, one that has multiple level of meanings. That strange night will ultimately lead him to the exact opposite of a monogamous relationship: Anonymous, masked copulation with strangers in a ritual setting. Bill's journey will be further analyzed in the second part of this series of articles.
Conclusion of Part One
The first part of this series about Eyes Wide Shut took a broad look at Bill and Alice, a modern couple that has the "privilege" of brushing with the upper-echelon of New York. While everything appears great on the surface, Kubrick quickly tells the viewers to not be deceived by appearances and to not be impressed by exhibitions of wealth. Because, behind the "rainbow world", exists a dark and disturbing reality, one that Kubrick exposes in many subtle ways throughout the movie.
Hollywood studios are built on the blood of babies – Mel Gibson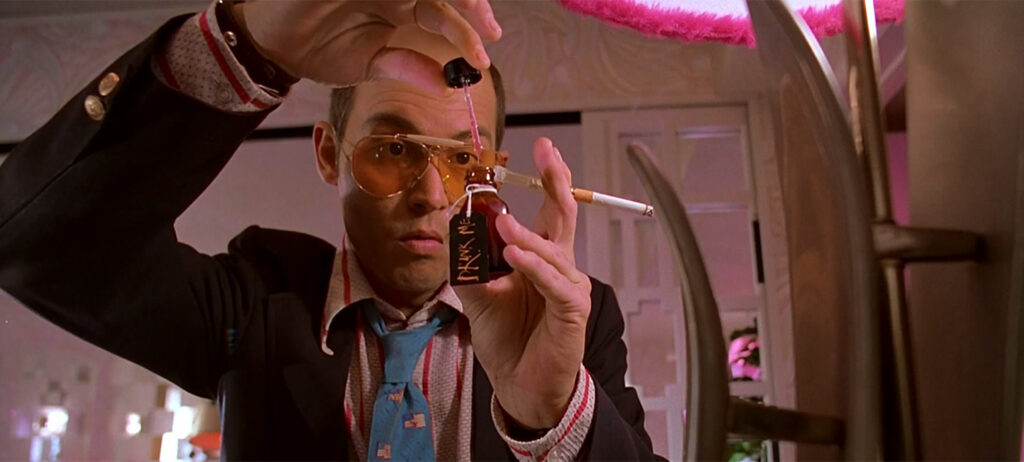 American film actor Mel Gibson criticizes both Hollywood and the morals of the American establishment – tough and unusual. Essentially, he blames a significant portion of the American elite for ritual Satanism. (before that, a similar terrible confession was made by another famous American actor Jim Carrey).
For this, he was blacklisted by the leadership of the US "creative world" in 2006. Since then, the actor has been working outside the system.
Gibson appeared in the prime time of the British BBC channel, in the Graham Norton show, on Friday January 19, where he answered guests' questions:
He said key players in the movie business "get their kicks from destroying the sanctuary of children" as they "thrive on breaking every God-given taboo known to man."
"These people follow their own religion and use it for moral guidance. It's not the sort of religious teachings you folks would ever hear about. They perform sacred rituals that are sick and totally at odds with the moral fabric that binds most patriotic Americans. The worst part: It's an open secret in Hollywood and everyone wants in on it."
He explained how he had been blacklisted by Hollywood's controlling oligarchs in 2006 for voicing his opinions about the industry that clashed with their liberal agenda.
He said that since then he has been "working outside of the system" which has given him a fresh perspective, saying:
"It's difficult to comprehend, I know, and I'm sorry that I am the one to break this to you, but Hollywood is an institutionalized pedophile ring. They use and abuse kids for their own sick 'spiritual beliefs,' if you can even call them that. I don't fully understand it myself, but they harvest these kids for their energy and feast on their blood. They don't do it mercifully either, they scare the sh*t out of them before they sacrifice them. The more innocent the child, the more terrified they are, the more they thrive on it," said the Braveheart star.
What does that mean? They aren't doing this as some form of artistic expression, they are harvesting the blood of children and eating their flesh because they think it gives them some sort of 'life force.'
"If the child was mentally and physically suffering when they died, then it gives them 'extra life force. I don't understand why they do that, but that's what they do. Most of us have a moral compass that guides us through life, right? These people don't have that, or if they do, it's pointing in the opposite direction."
Gibson, who has spent the last 30 years working inside and outside of the Hollywood regime, says that the industry's hierarchy "thrives on abuse, pain, torture, stress, and suffering.
According to Gibson, the desire to inflict such abuse isn't limited to just the elite, but only "those at the top of the food chain can afford such a 'luxury,'" although, it's a "goal for most people in the industry."
According to Gibson, this perversion isn't just the latest fad but has been a deep-threaded culture in Hollywood for generations, and is something popular among both men and women.
This happened "in the green room behind the curtains" immediately after the show:
📌Remember this? Mel Gibson: Hollywood Elites 'Kill Innocent Children & Drink Their Blood': https://t.co/xogpSCaDMp

— MxMarineMom (@MxMarineMom) March 25, 2020
Jennifer Lopez Desperately calls to Fellow SATANISTS as she Breaks Down Emotionally:
Can anyone believe him?
Most likely you can. In his revelation, Gibson publicly declared an epidemic of parasites that control Hollywood and personally participate in child sacrifices and pedophilia:
"every studio in Hollywood is bought and paid for with the blood of innocent children," he said, adding: "The most valuable currency in Hollywood is it's the blood of infants … key players in the movie business get adrenaline from this process and enjoy breaking the bans. "

"They have a blatant disregard for ordinary people. Destroying people's lives is just a game for them – the more they can hurt, the better the sensations. Children are just food for them. They revel in pain and fear, and the younger, the better. "
And then comes the phrase, which should be emphasized: "These people follow their religion and use it for moral guidance." What religion in human society justifies cannibalism and human sacrifice? This question should be asked by each of us.
– Satanism?
– Sure! But not only him. Let us recall the cases of ritual killings, which are widely known.
"They perform sacred rituals that ordinary people will cause bouts of nausea, and are completely in conflict with the morality that binds most patriotic Americans. The worst thing about all this is that it's an open secret in Hollywood and everyone wants to get involved. " (A very timely documentary was filmed on this very difficult topic. ]]>Galina Tsareva's film entitled Octopus ]]>– ed.)
"It's hard to understand, I know, and I'm sorry that I'm the one who opened your eyes, but Hollywood is the deadly legalized patrimony of pedophiles. They use kids to realize their scary sick fantasies. They take these children because of their energy and are saturated with their blood. They don't do it mercifully, they first put them in a state of horror before sacrificing them. "
"The more innocent a child, the better for them. What does it mean? They do not do this as some form of artistic expression: they simply drink the blood of children and eat their flesh, because they think that it gives them some kind of "vitality". "The more a child suffers mentally and physically when he dies, the more he gives them extra vitality." (These satanic rituals are designed to "feed" the demons with psychic energy, and those nonhumans who perform them drink blood that is saturated as a result of the child's inhuman suffering with ADRENOCHROME – a powerful drug that, in addition to "coming", also gives a powerful "rejuvenation" of the body – .)
"Hollywood is saturated with innocent children's blood. There have always been indications of pedophilia and cannibalism, but for many years they have been unprovable, mysterious, or symbolic. I have been familiar with this practice since the beginning of the 2000s, and I would be in serious danger if I ever talk about it. I do not mean only my career, I mean that my life will be in jeopardy, the life of my family will be in danger. I can talk about it only now, when these people, industry leaders, are already dead now. "
"Children are like" premium currency "and have a higher value than anything you can think of. They literally trade these children as currency for services, roles in films, kickbacks … "
According to Gibson, these terrible crimes (pedophilia, infanticide, cannibalism and ritual sacrifices) did not appear in recent years, they have ancient and not American roots. "If you investigate this phenomenon, you will find hidden facts in the shadow of any gloomy era in history. These dark, multidimensional occult practices have been used in secret societies for hundreds of years. Hollywood uses this for social programming and mind control, and their message is projected into the psyche of the American people … "
In what a famous American actor said, the rituals of a satanic human sacrifice are clearly described. It is also indicated that many people know about the existence of the secret structure of Satanists in Hollywood – but they are silent! Meanwhile, the occult powers of Hollywood are using their vast resources "for social programming and controlling the consciousness of the American people." I must say, very successfully used.
The key question is whether the Trump administration and the FBI will then initiate an investigation into the testimony of Hollywood ritual killings, or will the US authorities blame it on Gibson's creative extravagance?
We also note that on the sites that published material exposing Mel Gibson, there are many other creepy publications.
For example, Sylvester Stallone bluntly accuses Barack Obama of being a former U.S. secret homosexual, stating: "I have nothing against homosexuals, but I am against any lies" (Sylvester Stallone: ​​'Pathetic' Obama Is' Closet Homosexual Living A lie ')
]]>
Jim Carrey's article talks about the practice of ritual cannibalism in Hollywood for Christian Christmas (Jim Carrey: Hollywood Elites 'Eat Whole Babies' For Christmas). The author writes that criminal perverts are trying to distort and pervert the soul of the American people and change the whole world.
Adrenochrome: Evil Drug Of The Super Elite, Harvested From Terrorized Children:
Pizzagate, Spirit Cooking, Occult And Beyond:
Katy Perry's New Video Suggestive Of Cannibalism And Pedophile Lingo:
Pizzagate: Pedophilia, Child Sex Trafficking & Those Who Participate:
Materials about secret societies, humanoid mutants
About how the development of sex robots is being conducted so that perverts can conceive children with predefined properties (Sex Robots To 'Give Birth' After Sex With Humans Using Genetic Engineering).
Etc.
Rocket builder Jack Parsons tried to create a homunculus
Could the famous American rocket builder be so keen on occultism that he wanted to create a magical creature – a homunculus? Parsons's activities are known only by rumors from acquaintances, but there is no smoke without fire.
John "Jack" Parsons (1914-1952) was a legendary American rocket engineer. He was one of the founders of Aerojet Corporation, which today is one of the largest manufacturers of rocket engines and rocket boosters in the world.
It is also believed that he was involved in the NASA space program, including the landing of astronauts on the moon in 1969, although by that time he was already long dead. In honor of him a large crater was named on the moon. However, no less than an engineer, Parsons was known as an alchemist and occultist, and many very strange stories are connected with this side of his activity. It is often assumed that it was because of this that he died.
In 1939, Parsons, already a well-known rocket builder at that time, was fascinated by Marxism for a while, but then he suddenly joined the religious movement of the British occultist Alistair Crowley under the name Telema. Moreover, he headed the California branch of Telema.
Then Parsons made friends with another famous occultist, Ron Hubbard, and he even temporarily lived in his house. Parsons had no problem with the fact that Hubbard was sleeping with his wife, for him sex mattered primarily as a concentration of "magical energy." According to rumors, he even tried to use this energy to "call various Deities to Earth."
How this could happen in parallel with his serious scientific work and the work of a rocket builder is very difficult to understand, but it was a reality.
After World War II, the occult side of Parsons' life began to prevail over engineering so much that his activities led to an investigation by the FBI. Parsons was scared, and he soon told the FBI that he had "severed all relations with the dark world."
However, all this was only in words. Now we turn to the topic voiced in the title of this article. According to the memoirs of director and artist Renat Drux, published in The Occult Explosion, Jack Parsons worked on very strange experiments, trying to create what the ancient alchemists called the homunculus – a tiny artificial man with magical powers.
Medieval alchemists had several "recipes" for the like. One of them involved the roots of the mandrake, which grows on the ground, where the "life seed" of the hanged man fell. In order to create a homunculus with the help of such a root, one must find it with the help of a black dog, then wash it, pour honey and milk (or blood), and then store it in a flask, in which a homunculus will then arise.
Another method, which was published in an 18th century book by Dr. David Christian, recommended taking a black chicken egg, piercing it with a needle, and replacing a small piece of chicken protein with human sperm. Then close the hole and bury it in manure on the first day of the March lunar cycle.
Thirty days later, a tiny person should develop in this egg, which will have magical powers and will protect its "parent". It was supposed to feed him with lavender seeds and earthworms. It is not known which of the recipes for the creation of the homunculus was used by Parsons, however, according to rumors, this was what destroyed him.
On June 17, 1952, Jack Parsons worked in his laboratory and, according to official figures, tried to make explosives for his engineering project. Suddenly, something happened and an explosion rang out in the laboratory, which killed Parsons. When his body was found, half of his face was missing, his body bones were all broken, and his right forearm was completely torn off. Moreover, he was still alive for some time and died while in the hospital.
According to unofficial data, a strange explosion occurred precisely because of the experiment with the homunculus, because Parsons was a very experienced engineer, often worked at home with hazardous substances and would hardly have made a gross mistake when working in explosives.
According to his colleagues, Parsons assured that he was always very serious about his safety and suspected that the explosion was either rigged by someone in order to kill Parsons, or something else more incomprehensible happened here. The police finally concluded that his death was an accident, but Parsons' death is still shrouded in mystery and causes lively discussions.
Cthulhu Church created in the USA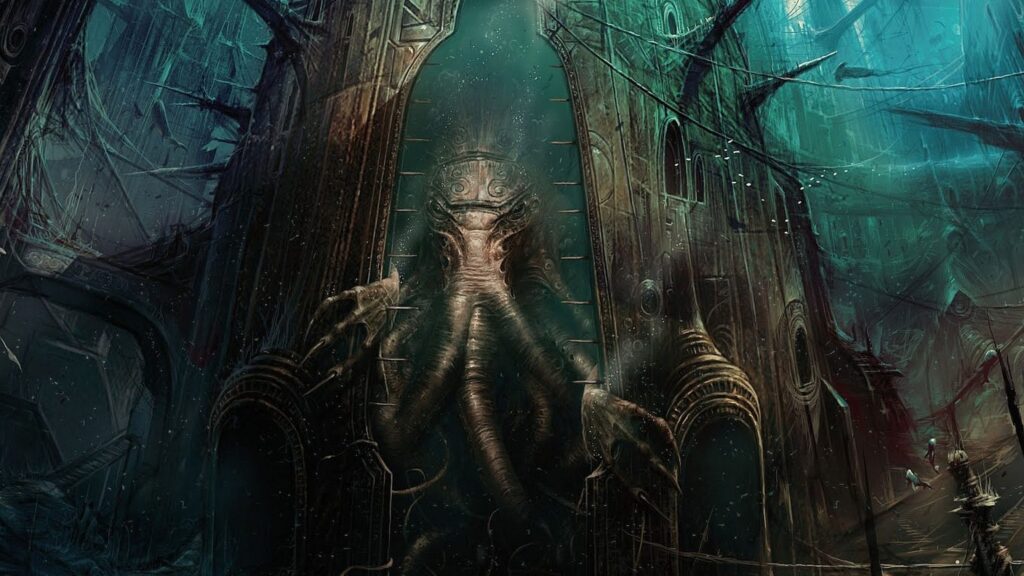 Anyone can become a priest of the church. In Phoenix, Arizona, the First United Church of Cthulhu appeared – a registered non-profit religious organization that, according to documents, "worships and glorifies our God Cthulhu." The founder of the church calls himself Khave Head.
The organization's website says that the Church of Cthulhu is a "gathering place for monsters, eccentrics and other dark souls." In addition to praising the character of Howard Lovecraft's short stories, the church has one more task – to circumvent American rules on holding wedding ceremonies.
According to the laws of most states, any official can conduct a marriage ceremony: judges, senators, congressmen, mayors, as well as clergymen, regardless of confession. Khave Head invites anyone to register as a priest of Cthulhu Church. To do this, you just need to insert your name and surname into a special form, mark the date of the ordination and download the certificate. For an additional $ 20, Khave Head can send a self-signed certificate, notarized.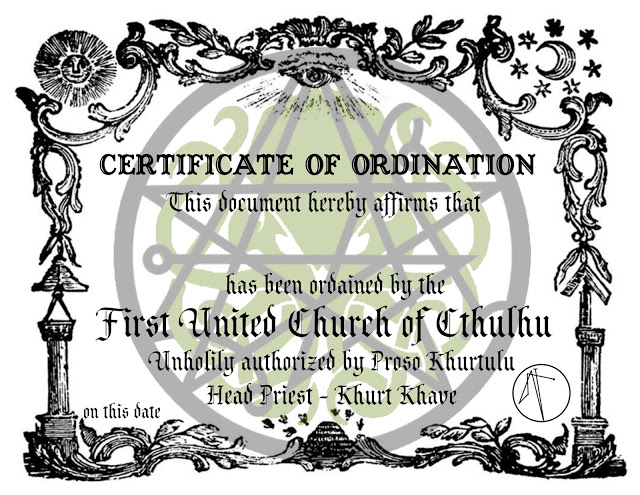 After this, the newly-made priest has the right not only to hold wedding ceremonies, but also to issue appropriate official letters. The church also offers several examples of marriage instructions to assist the priest in conducting the ceremony.
"Life is a disgusting thing, and against the background of what we know about it, we see indifferent demonic allusions to the truth, which sometimes make it a thousand times more disgusting. However, [name of bridegroom] and [name of bride] challenged such astronomical differences and found this truth in each other. And together, each of them makes the other's life 999 times less disgusting, "is an example of parting words of the newlyweds by the priest of the Cthulhu Church.
Cthulhu Church is by no means the first religious organization to assist in wedding ceremonies. So, the Church of American Marriage Ministries has nearly 700,000 official priests. The church professes only three postulates:
"All people, regardless of race, gender or sexual orientation, have the right to marry. "All people have the right to conduct a ceremony of marriage, and all people have the right to choose those who will marry them."