When Elena discovers a video online of a 1920s vaudeville dancer doing a curious dance called "The Rizzle," she soon regrets accepting the challenge to learn it. The Rizzle is a short horror film created by director Josh Tanner for the Huluween Film Fest.
"I have been infatuated by the 1920s for quite some time and a little haunted by the music, fashion and video and sound recording aesthetics," Tanner says, "that I couldn't help but be inspired when I had an opportunity to make a new short."
About the Huluween Film Fest:
Hulu's hosting our first ever Film Fest competition with 8 up-and-coming filmmakers making spooky shorts that you can watch right here! The short with the most views as well as a vote from a surprise celebrity judge will win 10k and will be featured on all Hulu social media on October 31st. Watch if you dare!
Tanner also created another favorite of mine: The Landing.
Haunted doll attacked man after becoming possessed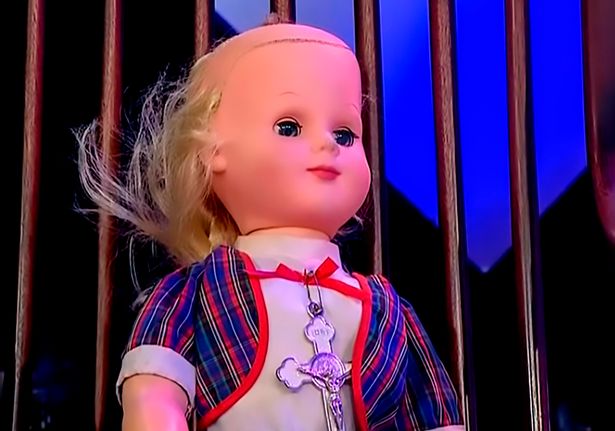 A woman claims that her creepy doll was so jealous of her boyfriend that it beat him up so badly that he left her.
Identified only be her first name Berliz, from Callao in Peru, she said the doll named 'Deisy' even slashed her face in a rage, making her scared to get rid of it.
Berliz said that the doll can move by itself and also gets up to mischief, making it seem as if other people are walking around the house.
She also claims it has poltergeist-like powers which it uses to knock things over.
Berliz told local media that her mother gave her the creepy doll as a Christmas present, but then it suddenly lost its hair one day after which she decided to put it in a plastic bag.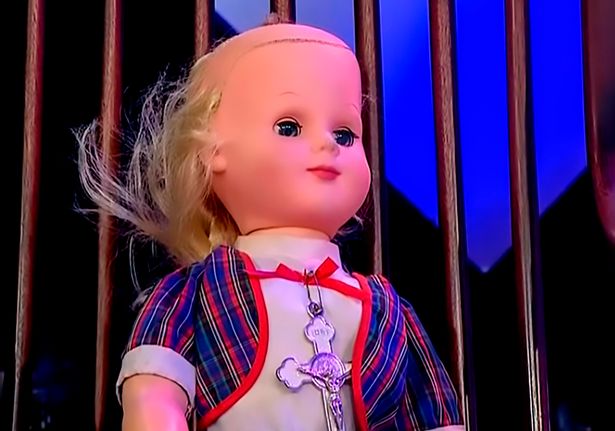 Berliz said she decided to place it facing the wall, however, when she woke up she saw that the doll had turned its head and was looking at her.
And there are apparently other bizarre occurrences as well.
She said: "One day, a bright light suddenly shone and my bible fell down from the TV. I started to cry and the light turned off and I saw shadows all around me.
"I was only 18, and my dad hugged me and when the light came on my face was covered with cuts."
She claims that the doll forced her boyfriend to leave her because it "grabbed and beat him" while he was sleeping.
Berliz said that the same thing happened to her cousin, who went to have a lie down in her room but also ran out after allegedly being attacked by the doll.
The young Peruvian, who is now a mother, has decided to keep the doll away from the house in case something bad happens to her baby.
She also decided to get a black cat to "balance" the negative energy left by the doll, but is too scared to throw it away.
According to the distressed woman, a clairvoyant told her that cats are very sensitive to energy as Berliz's feline tends to stay under the chair where the doll was kept rather than lying in front of it.
The chilling doll is reminiscent of the Charles Lee 'Chucky' Ray character who is the main villain of the 'Child's Play' slasher film series.
Source: https://www.mirror.co.uk/
Digging up weird history in Milwaukee's oldest cemeteries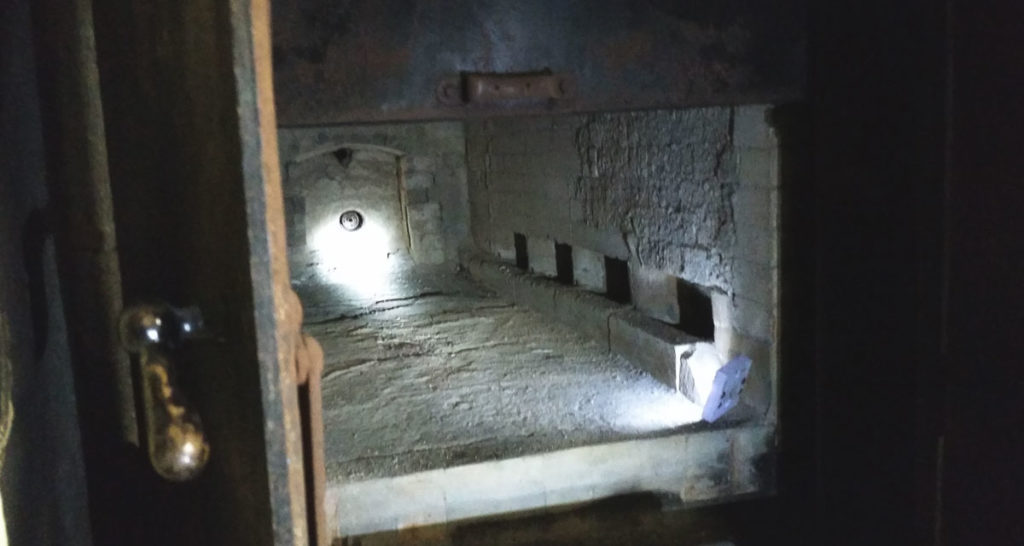 The "man they couldn't hang," a priest's lonely crypt, the Midwest's first crematorium, and other strange bits of history can be found in Milwaukee's historic cemeteries.


Obligatory mausoleum vault window selfie. That's a thing, right?
To celebrate the first day of fall, I embarked on an expedition to a couple of my favorite cemeteries for the annual Doors Open Milwaukee event. Thankfully, the equinox also brought with it the first hint of crisp autumn air, so I threw on my new Dead Sled hoodie and set off on a journey into Milwaukee's Great Beyond.
The destination?
The two oldest cemeteries, where the city's founders, early mayors, industrialists, and other prominent historical figures are interred. During Doors Open Milwaukee, both cemeteries allow visitors a glimpse into areas that are otherwise closed to the public. Among other things, that means an opportunity to peek into the Midwest's first crematorium, as well as a large underground crypt where only one priest was entombed before it was closed.
My first stop was:
Forest Home Cemetery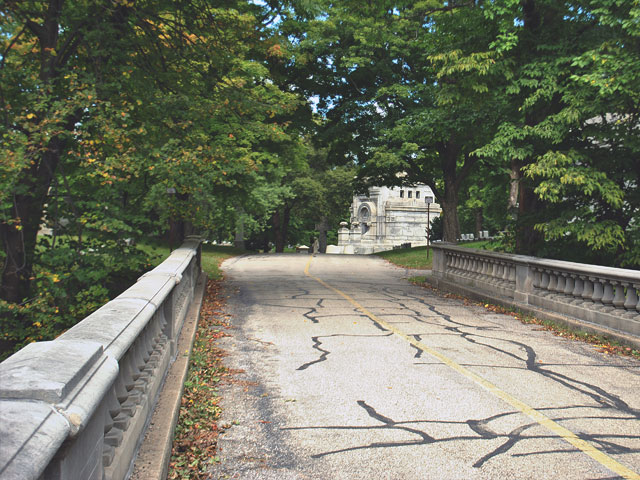 The mausoleum of Milwaukee beer baron Valentin Blatz
Milwaukee's early burials, one guide explained, took place either on private land in family graveyards or in fields among herds of cattle. When the first forested acres of land were bought for the city's first actual cemetery in 1850, many of those remains were moved to what would become Forest Home Cemetery.
Before the cemetery, the land was dotted with more than 60 Paleo-Indian burial and effigy mounds which were all catalogued by pioneer scientist Increase A. Lapham. None of those mounds remain today, but Lapham is now one of the cemetery's notable residents.
Others worth mentioning are the founders of Harley Davidson, Milwaukee Beer Barons Jacob Best, Frederick Pabst, and Valentin Blatz, as well as a cenotaph for Joseph Schlitz, who was lost at sea when the ship he was headed to Germany on sank in 1875 near Cornwall, England.
The Man They Couldn't Hang

The grave of John "Babbacombe" Lee
The one grave in particular I was hoping to find this visit was that of a man named John Henry George Lee who was born in Abbotskerswell, Devon, England in 1864. He is also known as John "Babbacombe" Lee, or "The Man They Couldn't Hang."
Lee was sentenced to death after being convicted of the brutal 1884 murder of an elderly woman named Emma Keyse at her home in England's Babbacombe Bay. On February 23, 1885, Lee was brought to the gallows to be hanged at Exeter Prison. He stood on the scaffold with the noose securely around his neck, but the trapdoor through which he was supposed to drop failed to open. Lee was brought down and the executioner examined it. He couldn't find anything wrong. The trapdoor was tested and seemed to work fine. So Lee was brought back up and the rope placed around his neck again. But again, the trapdoor failed. And again. After the third time the medical officer attending the execution refused to take part in the proceedings. The execution was halted, and Lee's sentence was commuted to life in prison.
Lee was released in 1907, but what happened to him after that was something of a mystery. It seemed as though he died in a workhouse in Tavistock and was buried there. He has a death certificate and a grave there in Plymouth Road cemetery. However, in 2009 two researchers discovered a trail of documents revealing Lee boarded a ship in Southhampton in 1911 bound for New York. He abandoned his pregnant wife with their other child, arriving in the US with a woman named Adeline Gibbs. Adeline, it seems, was fleeing her recent marriage to a man named William Jones, and was listed as Lee's wife Jessie Lee on the ship's manifest.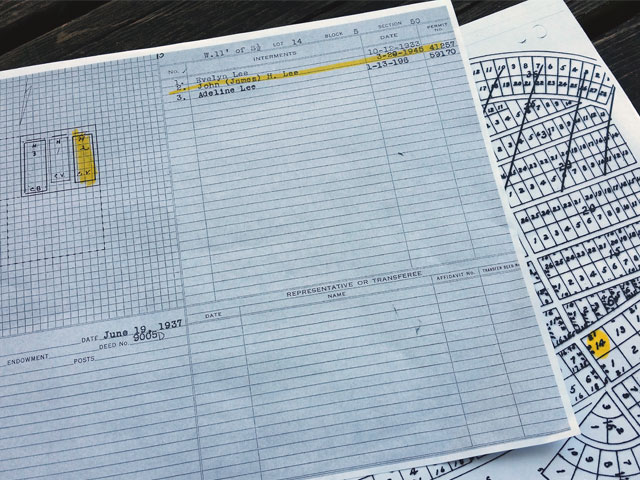 Burial card and plot map showing the graves of John Lee and his family
The convicted killer and his mistress came to Milwaukee, where they lived out their secret, anonymous lives. They had a daughter together named Evelyn Lee, who died at the age of 18 or 19. Evelyn was working as a maid for Dr. Arthur Kovak. On October 12, 1933 Kovak came home to find Evelyn dead, asphyxiated by the fumes from the naphtha she was using to clean the drapes in the bathroom.
John Lee died in 1945, followed by Adeline, listed as his window, in 1947. The three are buried together, Evelyn between her mother and father. Lee, the man who couldn't be hanged, who has two graves on two continents, rests in Milwaukee's Forest Home Cemetery.
The Midwest's First Crematorium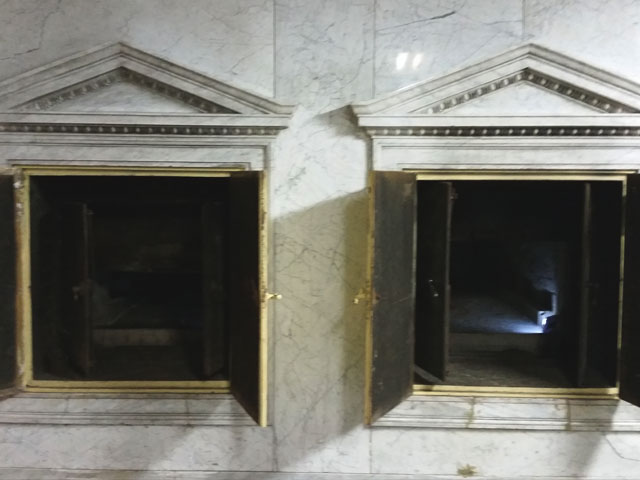 The Forest Home chapel is made of red Lake Superior sandstone from the Apostle Islands. It opened in 1892. Several years later the first crematorium in the Midwest was built below the chapel, and the first cremation took place in on July 7, 1896.
The crematorium is notable for using oil instead of coal, gas or whatever other crematorys used at the time, meaning the bodies were incinerated faster.
Also, the retorts were larger than normal. The reason for this, one of the cemetery volunteers told me, was to accommodate Milwaukee's barons.
After a funeral was held in the chapel, the casket would be lowered on coffin-sized elevator lift from the sanctuary down into the crematorium. Families would then push the deceased into the retort, and then spend the next several hours in a marble-covered room waiting for the process to be complete.
The remnants of their loved ones would be swept out of the retort and dumped into a grinder, or cremulator, that breaks up the large chunks of bone into tidy "ashes" so the cremains will fit in an urn.

The cremulator
The crematorium was in use until 1998 when a more modern facility was built elsewhere on the grounds.
Another interesting feature of the chapel's basement level is the receiving vault, where bodies were stored during the winter months until the ground thawed and graves could be dug. The guide mentioned that when Frederick Pabst died in January 1, 1904, armed guards stood at the entrance to the vault for months protecting his body until he could be buried.
The guide also noted that before the chapel was built, there was a different receiving vault where a fountain now stands that could store up to 400 coffins.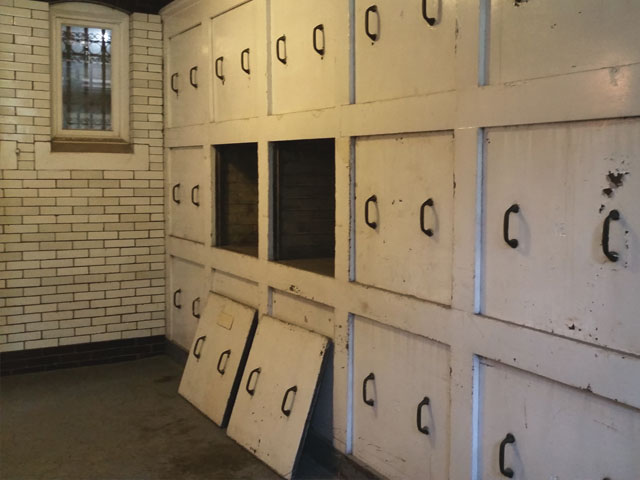 The receiving vault where bodies were stored during winter months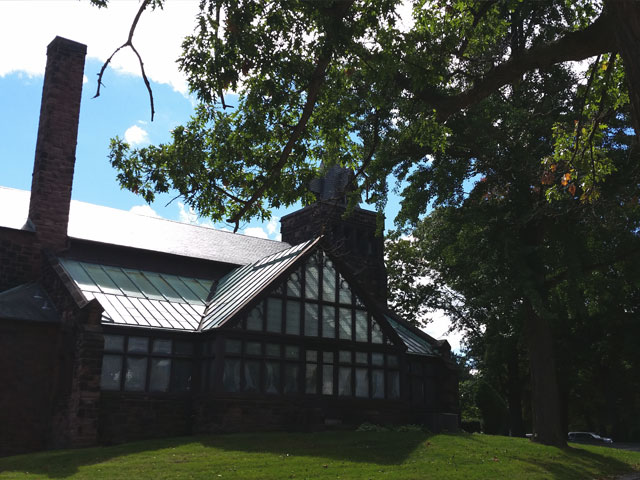 The Forest Home Cemetery chapel was built in 1892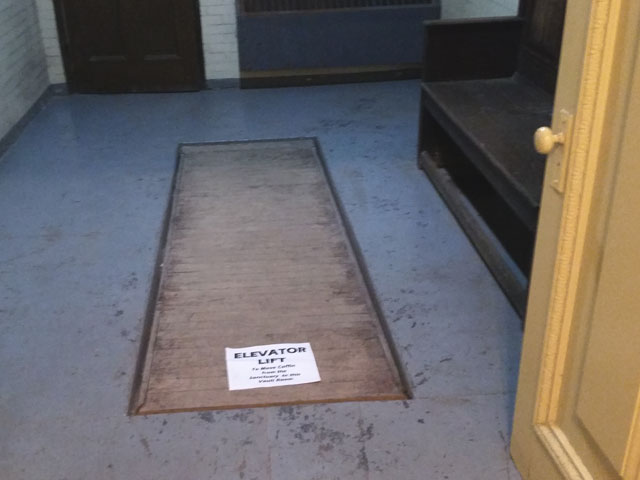 The coffin elevator was used to bring coffins down to the crematory from the chapel sanctuary above

The cenotaph of Milwaukee beer baron Joseph Schlitz

A sign points the way to the crematory during Doors Open Milwaukee

The 6-foot bronze angel that usually stand here was stolen a few weeks ago
It is difficult to leave Forest Home Cemetery, but after wandering aimlessly for a considerable amount of time before I found Lee's grave (even with the plot map in hand) there was only an hour left before Doors Open Milwaukee concluded for the day.
So I hurried to my second stop:
Calvary Cemetery

Calvary Cemetery chapel on Jesuit Hill
The oldest Catholic burial ground in Milwaukee, Calvary Cemetery is filled with the Catholic victims of the Newhall House fire that took 76 lives in 1883 (the non-Catholic victims were buried in Forest Home) and numerous victims of the Lady Elgin disaster that claimed some 300 lives when the steamer collided with a schooner and sank into Lake Michigan on September 8th, 1860.
Other notable interments include Patrick Cudahy of the Patrick Cudahy meat packing company and Frederick Miller, founder of the Miller Brewing Company.
Somewhere in Calvary is a memorial to the Lady Elgin victims, as well as at least one stone (that may or may not be the same as the memorial) which says "lost on the Lady Elgin." I've spent numerous hours on multiple occasions searching the cemetery to no avail, so I didn't even bother this time. I really just wanted to see the crypt beneath the chapel again.
Abandoned Crypt

Abandoned crypt beneath the Calvary Cemetery chapel
The Calvary chapel was built in 1899 from Cream City brick atop one of Milwaukee's highest points. Today it overlooks Miller Park. The hill is sits upon is called as Jesuit Hill, and is primarily the burial place of clergy and members of various religious orders. At the base of the hill is the grave of Father Walter Halloran, the Jesuit priest who assisted in the exorcism of Roland Doe in 1949.
That is one of two cases (the other also involved a Wisconsin priest who was known as the foremost exorcist in America during his life) that inspired William Peter Blatty's The Exorcist.

The grave of Father Walter Halloran
The chapel was in use for a long time, but with no climate control, the harsh Wisconsin weather eventually took a toll. It was closed in the 1950s.
The mystery lies in the crypt beneath the chapel.

Rev. Idziego Tarasiewicza is the crypt's only interment
The underground mausoleum contains 45 niches on two levels. Two sets of spiral stairs on either side of chapel altar wind down into the crypt. To bring in the dead, each level had it's own entrance. A tunnel through the hill lead into the lower level.
In 1903, Rev. Idziego Tarasiewicza died. He was the founder of St. Casimir's Parish. A procession of more than 2,000 mourners walked from the church in Milwaukee's Riverwest neighborhood to the Calvary crypt 6 miles away. Tarasiewicza was entombed in the vault directly beneath the altar. He was the first, as well as the last, interment in the crypt.
And no one knows why.

Rev. Tarasiewicza lies behind this marble marker

The entrance to the upper level of the crypt

Tunnel entrance into the lower level of the crypt
The guide in the crypt said the reason is probably due to poor ventilation, which could become hazardous. He cited another nearby crypt that was closed for that reason. But whether or not that is the case will remain a mystery. At some point, both outside entrances into the crypt were closed. The tunnel may have been covered up, or it may have collapsed. No one knows.
The crypt is open to the public on Memorial Day and during the Doors Open Milwaukee event every September.
Top 8 Of The Most Bizarre Cursed Lakes Worldwide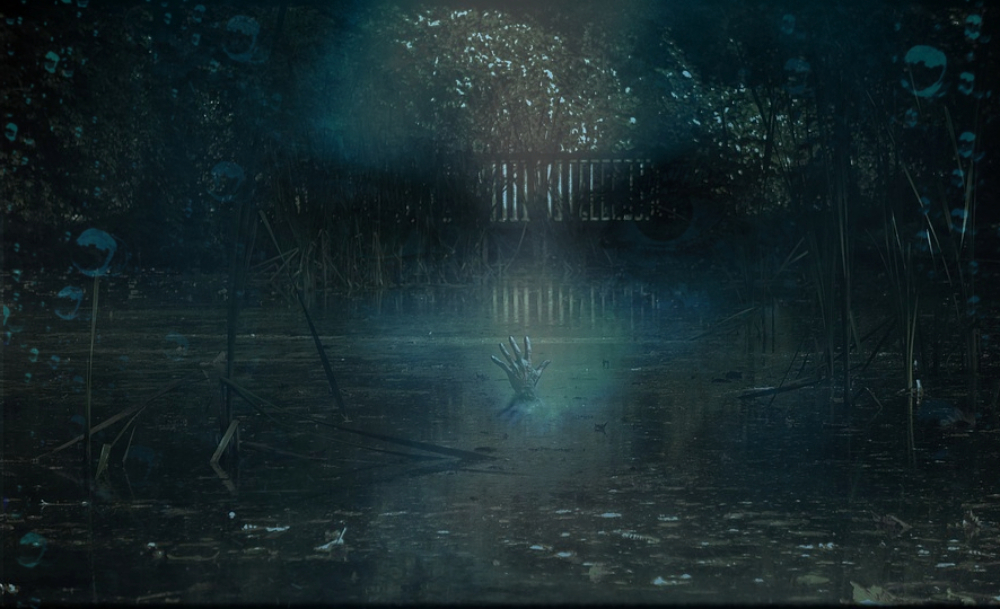 It sometimes seems the world is full of supernatural mysteries which may never be solved. Numerous tales of the strange and paranormal are often link to bodies of water, and especially lakes which by all accounts seem to be cursed, haunted or even both. Although scientists have been trying to unravel some of mysteries for years, no investigations have yielded any rational answers.
These bizarre eight lakes are actually cursed…or so the legends go.
1 – Llyn Idwal – The lake where no birds will fly, Wales, UK
Llyn Idwal, North Wales
A the head of Cwn Idwal is a dramatic gash in the cliffs that is known as Y Twll Du (Black Hoel). Alternatively it is called 'Cegin y Cythraul', but is more popularly know as the 'Devil's Kitchen'.
The place has a forbidding appearance and it is easy to understand how it was once regarded by local people as a demons' haunt. An ancient legend tells us that Cwn Idwal is named after Idwal, son of the Owen Gwynedd, Prince of North Wales. Young Idwal was untrsuted tio the care of Nefydd the Handsome of Nant Conwy, but Nefydd oredered his son Phun to murder the young prince.  His body is said to have been thrown into the lake and since that day no bird will fly over Llyn Idwal.
2 – Lake Sidney Lanier, USA
Lake Lanier, North Georgia, USA
Lake Lanier has a deadly reputation, and an examination at the statistics suggests it's warranted. Since 1994, northeast Georgia's favorite manmade lake — which touches parts of Gwinnett, Hall, Forsyth, Dawson and Lumpkin counties — has seen at least 160 people die under mysterious circumstances.
It is perhaps this tumultuous history that has led to the supposed curse of Lake Lanier, which has been fueled by an usually high rate of deaths by drowning, freak accidents, and unsolved crimes. Over the years, there have been an inordinate amount of deaths associated with the lake, ranging from boating accidents, drownings, and even a fair number of drivers who have lost control of their vehicles to go careening off of roads to crash into the water. Many of the drowning cases are somewhat odd in that they have happened very close to shore with strong swimmers and in calm conditions, which considering the history of the lake have given rise to rumors that Lake Lanier is somehow haunted or cursed. As with Round Valley Reservoir, there have been those who have described unseen hands pulling at them from below or even scarier the sensation of something covering their mouth to prevent them from breathing. There are various stories of boats hitting something in the water only for it to turn out there was nothing there, boats or other watercraft capsizing for no apparent reason, and sudden, dangerous rogue waves that seem to come from nowhere without warning to maraud across the surface before vanishing as suddenly as they formed.
3 – Fundudzi Africa, Limpopo Province, South Africa
Lake Fundudzi, South Africa
The lake is said to be protected by a python god who lives in the hills around the lake. After bathing in the lake he beats his drums – large stones near the shore, and resident say they can hear the sound. He is celebrated annually with the Domba, or Python Dance performed by young adolescent girls from the villages close by. The level and colour of the lake's water are said to reflect his mood. Although three rivers flow into Lake Fundudzi, it never overflows.
Adding to the lake's sacred status is the mystery of the water level, which rises and falls independently of rainfall. Locals can recount recent tales of a foreign developer who wanted to build a resort on the edge of Lake Fundudzi. After construction had begun, the lake's waters rose to submerge the building site. Not to be that easily put off, the developer simply moved further up the shore and began again. Once more, the level of Lake Fundudzi rose to submerge the site. Frustrated, the developer left and the waters receded.
Interestingly, the curse of Lake Fundudzi only seems to affect outsiders, with no locals known to have been subjected to its wrath. Indeed, the locals claim that although crocodiles inhabit these waters they will casually ignore any from the area, while attacking foreigners.
4 – "Smerdyachee"  – Stinking Lake, Russia
"Smerdyachee" ("Stinking Lake" in Russian)
The Smerdyachee Lake is located in the Moscow district in Shatura region, approximately 140 km east of Moscow city. Scientist suggest the lake was formed as a result of big meteorite impact, however it is one of the existing theories.
Local fishermen had reported strange pungent smell of hydrogen sulfide emanates from the lake. That is why the lake has got its name "Smerdyachee" ("Stinking Lake" in Russian). There are a lot of myths associated with this strange place as well as numerous reports of supernatural disturbances and other paranormal activities.
Local residents claim there was a church right on the place where lake is located. One day it has vanished without any trace along with the priest, and a smelly lake appeared instead. Since than  the reflection of sunk church is coming up to the surface.
There some claims Smerdyachee lake has a double bottom, which, rising and sinking alternately. At a depth of roughly 20 metres into the lake, there is a so-called thermocline – the water below this level has a very low oxygen content and a higher than normal hydrogen sulphide content. Any objects that have ended up in the hydrogen sulphide water over thousands of years may have been preserved virtually unchanged. Scientists hope one day some rare artifacts would be unearthed from the bottom of mysterious lake.
5 – Dallas's White Rock Lake, Texas, USA
White Rock Lake, Dallas Texas
White Rock Lake is a reservoir located in north-east Dallas, Texas (United States). The lake was formed by damming White Rock Creek, which today widens into the lake before continuing south out of the spillway and emptying into the Trinity River. This year it was named as one of the world's top 14 most haunted bodies of water.
They say Dallas's White Rock Lake is haunted by a young woman wearing a soaking-wet evening dress. "Apparently, the girl tells people she was involved in a boating accident and needs to get to an address on Gaston Avenue. When she gets into a car's back seat, she disappears," the Dallas News reports. These encounters have been reported off and on since 1964, although no one knows who the woman is or whether a woman in an evening dress actually drowned there. Don't miss these strange urban legends that turned out to be true.
 6 – Otjikoto  – Bottomless lake in Namibia, Africa
Otjikoto Lake, Region of Oshikoto, Namibia
Otjikoto Lake of Namibia, which is a small lake with a diameter of only 102 meters (335 ft) and an average depth of 45 meters (148 ft), and is only one of two permanent natural lakes in the entire country. Although it is mostly shallow, there are areas that drop off into dizzying depths that have yet to be determined, with possibly vast underwater cavern systems. Indeed, according to legend the lake is bottomless, and the home to all manner of supernatural creatures, which reportedly have the habit of grabbing anyone who enters to pull them down to their doom.
Lake Otjikoto has a colorful history as well. During World War I, the Germans used the lake as a dumping ground for all manner of discarded war materials including cannons, firearms, ammunition, and countless others, which was all unceremoniously thrown into the lake before their surrender in 1915, in order to keep the enemy from using them. While this is all true, and much of this World War I ordinance and equipment can still be seen rather well-preserved in these depths, if rumors are correct, the Germans also dumped other things they didn't want found as well, including a vast treasure of 6 million gold marks.
The stories of such a large treasure lying at the bottom of this relatively small lake has proven to be irresistible to numerous treasure hunters, which has also proven that perhaps the myths that the lake is a cursed place full of vengeful spirits as well. Many would-be treasure hunters are said to have met their fates in the lake, often very experienced and seasoned divers, further enforcing the idea that the lake claims those who would challenge it. So many people have died trying to get to the treasure that the lake has gained a reputation for being a cursed death trap, and it was the focus of an episode of the Travel Channel's Expedition Unknown, with Josh Gates. Whether the tales of this lake's cursed treasure are real are not is up or debate.
7 – Llangorse Lake – Drowned city beneath the waters, Wales, UK
Both Bala and Llangorse lakes are said to cover "drowned cities", the bells of their churches audible to the human ear whenever conditions are right. That may be mere legend but the waters of Kenfig Pool do cover the long-lost town of Kenfig, a habitation covered first by the sand, then by the water of the area.
Nowadays, all that remains is the seemingly-peaceful lake, though strange events here are not unknown. 12th-century travel writer Gerald of Wales recorded that the lake had "miraculous properties such that local inhabitants have witnessed it completely covered with buildings, that in winter when covered with ice it emits a loud groaning noise and that the lake sometimes turns green." Other local tales say that church bells can sometimes be heard ringing beneath the waves.
8 – Poyang Lake  – "The Waters of Death", China
Rains Swell Poyang Lake. Credit: NASA images courtesy LANCE MODIS Rapid Response Team at NASA GSFC. (Image Source)
From the early 1960s to the late 1980s, more than 200 ships sank in the mysterious waters of Poyang Lake, which is known as China's Bermuda Triangle. The incidents have resulted in numerous ships and more than 1,600 people gone missing, with over 30 survivors driven insane.
Poyang Lake is the largest freshwater lake in China, and is located in Jiangxi Province in the southeast of China. The lake's actual size fluctuates tremendously. According to the Encyclopædia Britannica, at its fullest in summer, "it is 1,385 square miles (3,585 square km), but precise measurement is impossible because the difference between flood level and low-water level is sometimes as much as 25 feet (8 meters)."
According to the department in charge of maritime affairs, large ships with payloads as heavy as 2,000 tons have sunk in Poyang Lake. On Aug. 3, 1985, 13 ships were lost on a single day, which is an extremely rare event in maritime history.
Scientists have been trying to unravel Poyang Lake's mysteries for years, but no investigations have yielded any concrete conclusions.