The Haunted 'Conjure' Chest – Conjure Man' Curse
150 years ago Jacob Cooley ordered his African American slave Hosea to build a chest for his first child. Hosea set to work, crafting a wooden chest of some remark. For some unknown reason his master was displeased with his efforts and beat his slave to a pulp, killing him. Cooley's other slaves vowed to avenge the death of their friend and sprinkled the dried blood of an owl in the chest and had a 'conjure man' curse the chest. As if by magic, Cooley's first born died in infancy and over the forthcoming years a total of seventeen deaths were attributed to the chest. Eventually the curse was lifted by a 'conjure woman'. The chest can be found in the Kentucky History Museum in Frankfort.
An elegant mahogany veneer chest of drawers, hand- carved by an African-American slave 150 years ago, resides in the Kentucky Historic Museum at Frankfort. Crafted in the Empire style, the chest has glass knobs on its four drawers. Nothing about its outward appearance gives any hint that tragedy has stalked its existence. That it's known to historians as the "conjured" chest. Two decades before the Civil War, the family of one Jacob Cooley lived a sumptuous life as wealthy Southern planters. Jacob owned many slaves and farmed thousand of acres.
He was also an evil, dispicable man who frequently beat his slaves for the slightest infraction of his stringent rules. Jacob Cooley ordered one of his slaves, an excellent furniture maker named Hosea, to construct a chest that would be used for his firstborn child. For some unknown reason, Jacob was angered at Hosea's finished product and beat him so savagely that he died a few days later. Cooley's slaves, led by an old "conjure man," placed a curse on the chest for all future generations. One drawer was sprinkled with dried owl's blood, and a "conjure" chant was sung.
All those associated with the chest would fall within the curse's evil power. Although Jacob Cooley himself evidently escaped the malevolence, his descendants were not as fortunate. The baby for whom the chest was built died soon after birth. The chest was in his nursery. His brother inherited the chest, and he was stabbed to death by his personal servant. Jacob Cooley had another son, John, who inherited one of his father's many plantations. The young man led a serene bachelor's life until a vivacious young woman, barely out of her teens came into his life.
Her name was Ellie and she soon married John, nearly three times her age. The couple inherited the conjured chest. Knowing of the tragedies that had befallen her husband's siblings, she put the chest in an attic. Meanwhile, Jacob Cooley's youngest daughter, Melinda, eloped with a waggish Irishman named Sean. With nowhere to live, Melinda turned to Ellie. John and Ellie had done well and had accumulated several farms in Tennessee. They turned over one of these to Sean and Melinda to work. While Melinda bore her young husband a brood of children and worked from sunrise to sunset, Sean came to loathe the dullness of farm life.
Ellie Cooley tried to help, but Sean's rebuffs made her presence unwelcome. To try to bring some beauty into Melinda's dreary existence, Ellie snet over her father-in-law's chest. It had been in her attic for a very long time and nothing had happened. She'd almost forgotten the chest's legacy. Perhaps the "curse" was only a lot of talk. Within days, Sean deserted his wife for the bright lights of New Orleans. Melinda was disconsolate. She took to her bed with an "ailment." There, Melinda soon died, an exhausted, grey-haired woman barely out of her thirties.
Shortly after his wife's death, Sean was struck in the head by a steamboat's gangplank and died. The conjure chest had claimed it's third and fourth victims. The couple left many orphaned children. John Cooley was given the job of traveling to Tennessee to assign the youngsters to other family members. The youngest, a baby named Evelyn ran up to him, her tiny arms outstretched. John took her to live with his own family in Kentucky. Little Evelyn grew into a beautiful and intelligent young woman. When she turned sixteen, Evelyn passed an examination that provided her with a teaching certificate with which she took over a one-room schoolhouse.
She met and married a Scotsman, Malcolm Johnson, barely two months after she began teaching. As a wedding present, Ellie presented her niece with Jacob Cooley's handsome chest. And the evil passed to a new generation. Evelyn Johnson had children and even adopted a young orphan, a girl named Arabella. The curse was all but forgotten. Evelyn had the chest but didn't find it necessary to use right away.
However, after Arabella married some years later, Evelyn put the girl's bridal gown in the chest. Shortly thereafter, Arabella's husband suddenly died. That was the beginning of a series of horrible events visited upon Evelyn and Ellie. Arabella's child died after her baby clothes had been put in the chest. Evelyn's daughter-in-law, Ester, married to her oldest son, put her wedding attire in the chest. She died. Evelyn's Aunt Sarah knitted a scarf and gloves to give her son for Christmas. While walking along a train trestle, he fell off and was killed a few days before Christmas.
Two other tragedies befell Evelyn's immediate family, a son-in-law deserted his wife and a child was crippled for life in a bizarre accident. Yet Evelyn's husband, Malcolm, was a success. A small man, always courteous to those around him, he parlayed a shrewed Scottish sense of thrift into a burgeoning business empire that at it's height, consisted of mills, houses, a coal yrad, wharf and dry goods store.
Malcolm was an extraordinarily wealthy man when he died. Despite her material comfort, his wife was haunted by the memories of those around her who were struck down or stricken in some other way by hardship. She took her own life. Eleven persons. The "conjure" chest was taking it's toll. As the twentieth century unfolded, the chest was inherited by Virginia Cary Hudson from her grandmother, Evelyn Johnson. Mrs. Hudson thought tales of the "curse" were heresay. She was wrong. Her first baby's clothes were put in the chest. She died. Another child's clothes were tucked in a drawer and she contracted infantile paralysis. Another daughter's wedding dress was stored there, and her first husband ran off. A son was stabbed in the hand. He had clothes in the chest.
A friend of the family put hunting clothes in it. He was shot in a hunting accident. And so it went. Sixteen victims, all of whom had one thing in common: some of their personal clothing had been put in the conjure chest. Mrs. Hudson wanted to put an end to the curse. She found what she had hoped would be the solution in the form of an old friend of hers, an African-American woman named Annie. Annie understood curses and conjures. The spell cast by Hosea's faithful companions would be broken only when three conditions were met. First, Mrs. Hudson would have to be given a dead owl without her having to ask for one. Secod, the green leaves of a willow tree had to be boiled from sunup to sundown. The dead owl had to remain in sight.
Third, the boiled liquid was then to be buried in a jug with it's handle facing east, toward the rising sun, below a flowering bush. A stuffed owl given to Mrs. Hudson's son by a friend accomplished the first requirement. Mrs. Hudson plucked leaves from a nearby willow tree and boiled them in a large, black pot. The owl kept watch from a kitchen counter. At dusk, old Annie and Mrs. Hudson took the jug and, with its handle pointed east, buried it beneath a flowering lilac bush outside the kitchen window. Annie said they would only know if the curse had been broken if one of them died before the first full days of fall. Annie died in early September. The seventeenth, and last known victim. The final private owner of the conjure chest was Mrs. Hudson's daughter, Virginia C. Mayne. Though she may have been skeptical of the curse, and knew fully the story of its "lifting" by Annie and her mother, she never stored anything in the chest and kept it hidden in her attic. The Kentucky History Museum has it now. Mrs. Mayne donated it to the museum in 1976. According to museum registrar Mike Hudson, "The chest is in storage in our vaults, awaiting the time when it fits into a new exhibit." Supposedly the curse has been removed. Has it? Tucked safely in the top chest drawer is an envelope… with a cluster of owl feathers inside. The museum isn't taking any chances.
Reality show to be filmed in medieval "haunted castle" in Wales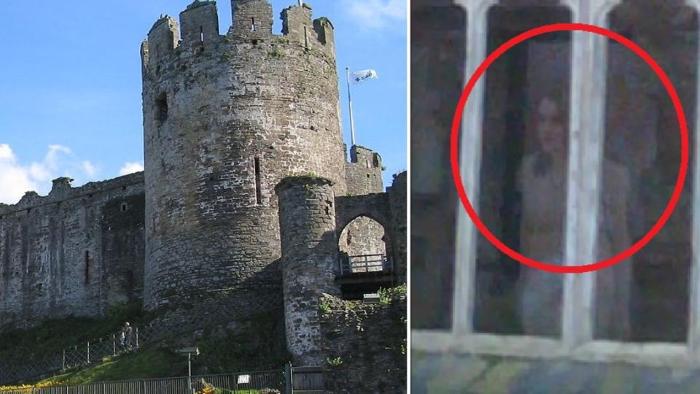 British celebrities will take part in a reality show at the medieval castle of Grich in the city-county of Conwy (Wales), which, according to legend, is full of ghosts. It is reported by The Sun.
According to data from open sources, the castle was built in 1283-1289 by order of Edward I of England. For four years one and a half thousand people erected the fortress and walls. The castle is surrounded by a stone wall with round towers and loopholes.
According to local residents, the ghost of the previous owner, Countess Dandonald, who died in 1924, wanders around the castle. According to legend, the woman's spirit is angry because her husband took the valuables out of here. 
About ten years ago, a mysterious silhouette appeared in the photo, which was noticed on the first floor of the castle in the former banquet hall. In addition, it is rumored that objects are moving mysteriously in the castle. Also, fans of everything mystical believe that there you can meet the ghosts of gamekeepers and a maid who died after falling from a horse.
The creators of the reality survival show I'm a Celebrity … Get Me Out of Here! Became interested in the legends of the ancient castle, in which celebrities perform creepy tasks. 
The producers are delighted with Greich Castle. It is planned to spend almost 1 million pounds and six weeks to prepare the location for filming.
Loftus Hall is the most famous haunted house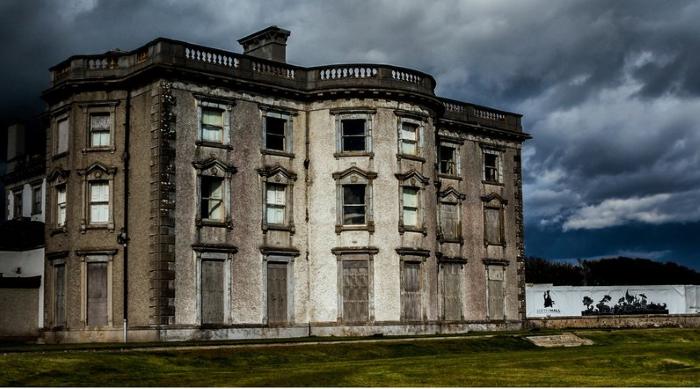 Almost any house built 150 years ago is tempting to think of ghosts. Of course, if it was not restored beyond recognition. But a special pleasure is to visit, or at least look at photographs of a house in which ghosts are definitely found. Well, exactly: in the opinion of its owners and those who live nearby.
Loftus Hall is one of those. Even if, in the opinion of the locals, ghosts were not found in it, they would be worth inventing again – this is how the atmosphere of this gloomy house located on the windswept and washed by waves of the Hook Peninsula in the Irish County of Wexford has to do this.
But, before we tell you what is so paranormal in this Loftus Hall, we suggest that you familiarize yourself with real historical events related to the house. Moreover, they are worthy of attention without any devilry.
We can say that the history of the house began in 1135, when the Norman knight, Raymond Le Gros, landed on the peninsula. To assimilate faster, the knight renamed himself the more familiar to the Irish ear by the name Redmond.
The castle, built by the knight, stood for two centuries, until in 1350 the descendants of Redmond built a new house in its place. It is interesting that they were building right during the Black Death – a plague pandemic that arrived in Ireland by ship from Bristol a year earlier. The new house, Redmond Hall, was named.
Three centuries later, in 1650, the house became the site of one of the fiercest sieges of the Irish Uprising. The owner of the house, 68-year-old Alexander Redmond, with his two sons, a couple of local activists and a tailor who happened to be in the house at an unfortunate time, barricaded himself and bravely repulsed the attack of almost 90 British for several days.
In all fairness, most of these Englishmen have crawled into neighboring villages, indulging in robbery and violence, instead of laying siege to an impregnable home.
The attack was repulsed with the help of the Irish forces arrived in time, which attacked the British under the cover of a thick fog, which in time fell on the Hoek Peninsula.
According to local chronicles, Alexander repelled several more attacks. When the British nevertheless conquered Ireland in general, and Redmond Hall in particular, Cromwell even let Alexander die in peace in his own house – for his courage.
Well, after the death of Redmond, his relatives were evicted from the house and soon the house was sold to a family of Englishmen named Loftus, who live nearby.
Subsequently, the Redmond repeatedly tried to sue Loftus Hall back, but to no avail. But as compensation, they were given land in the neighborhood.
The Loftuses moved rapidly up the court stairs. If in the 18th century the head of the family was called Baron Loftus of Loftus Hall, then already in 1800 the title of Marquis of Eli was created especially for the Loftus.
Actually, the 4th Marquess of Ely gave the modern look to Loftus Hall. A major renovation was undertaken by the Marquis in the second half of the 19th century: he very much hoped that Queen Victoria would come to visit. After all, the Marquis's mother was her maid of honor!
The Queen never came. But the 4th Marquis of Ely became the owner of a luxurious house with such unprecedented conveniences as flush toilets at that time. And, alas, the owner of huge debts. Soon the house had to be sold and its wanderings began among different owners.
In 1917, the house was sold to the monastery order of the Sisters of Providence. In 1983, the house was converted into a hotel. Well, in the early 2000s, it was acquired by the Quickly family. In 2020, it became known that the house was again put up for sale. Moreover, Quickly emphasize that they will not choose a new owner, but "the house will choose him." And that's why…
The story of how the devil sailed to Loftus Hall and what happened after his visit dates back to the 19th century. It sounds like this.
On a cold rainy night, a dark-robed rider rode up to Loftus Hall on a dark horse. He said that his ship was caught in a storm and had to dock in a nearby bay. The Loftuses were away, the family of their distant relatives, the Tottenham, lived in the house. They sheltered the rider and offered him shelter and bread.
Tottenham's daughter, young Anna, immediately fell in love with a mysterious stranger. A couple of days later, in the evening, everyone sat down to play cards. During the game, Anna dropped the map and, bending down to pick it up, saw that the stranger had cloven hooves instead of legs.
The stranger realized that he had been discovered. He immediately soared up, surrounded by devilish flames – and, as expected, made a huge hole in the roof.
It would seem that the devil is expelled, you can live on. But Anna, after the disappearance of the stranger, became not herself. She went crazy by leaps and bounds. The family, frightened by this development of affairs, locked the girl in her favorite sewing room.
There Anna sat, almost motionless, clasping her knees with her hands and soon died.
According to another version of the legend, before her death, she managed to give birth to a child – that is, the devil did not lose time during two days in the house.
Anna was not buried in an ordinary coffin: they could not straighten her and buried her in a sitting position, in which she spent the last months of her life.
Since then, according to numerous testimonies of guests and owners of the house, ghosts of a girl have been walking around the house. And the house itself has become a place of attraction for lovers of everything paranormal and creepy – excursions, especially popular on Halloween, are regularly conducted in Loftus Hall.
If you consider yourself a mystic, but do not have the opportunity to visit Loftus Hall yet, we recommend watching the gothic horror film The Lodgers 2017. It is filmed entirely in the luxe and eerie interiors of Loftus Hall, and has received excellent critical reviews. Here's the trailer:
The ghost of the Haycock Manor Hotel: a beautiful legend about a frequent visitor to an ancient building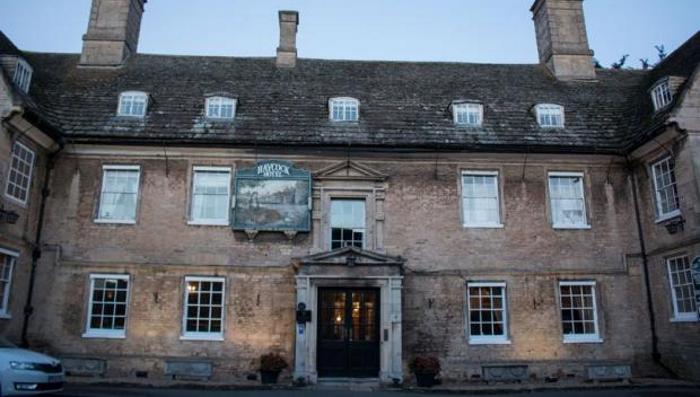 For decades, the Haycock Manor Hotel, located in the small English village of Wansford, has attracted tourists by claiming to be the home of the ghost of Queen Mary Stuart.
Mary of Scotland, aka Mary Stuart, according to legend, visited the Haycock Hotel on the way to Fotheringay Castle, where she was executed. Why, in this case, she chose a hotel in a small village as her last refuge , and not a stone castle, is anyone's guess. Nevertheless, visitors to the hotel claimed to have seen the ghost of Queen Mary, the Mirror writes.
The last resting place of Mary Stuart
Because of her intrigues against Queen Elizabeth I of England, Mary Stuart was put on trial and sentenced to death, which took place at Fotheringay Castle. On the way to the castle, Mary of Scotch stopped at the Haycock Hotel.
Despite the fact that the woman spent only one night in the hotel, this is the place she, for some reason, decided to choose as her last home. At least that's what those who encountered her ghost say.
Manifestations of supernatural powers
Many of the hotel guests, who ventured to spend the night in the last refuge of Mary Stuart, complained about strange things that happened to them.
Some guests claimed to have seen a ghost, which they identified as Mary of Scotland. Why they were so sure that the ghost was exactly Mary Stuart is not clear, because the history of England has a large number of women rulers, and it is simply impossible to remember them all.
Other hotel guests recall seeing an obscure ghostly cloud-like figure in the oldest part of the hotel. They also shared that they often encountered the feeling that there is someone else in the room – someone who cannot be seen, but can be felt.
Guests also reported that they heard quiet voices and footsteps, although there was no one else in the rooms.
Despite the fact that such stories can scare ordinary people, they are not of interest to real seekers of the paranormal, since they can easily be explained by the dilapidated state of the building.
Haycock Manor is currently closed for renovation, which means that if the phenomena of supernatural forces could be explained by the state of the hotel, then after the renovation they should disappear.