The Great Cancer Hoax: The Brilliant Cure the FDA Tried Their Best to Shut Down…
Burzynski, the Movie is the story of a medical doctor and Ph.D biochemist named Dr. Stanislaw Burzynski who won the largest, and possibly the most convoluted and intriguing legal battle against the Food and Drug Administration in American history.
In the 1970s, Dr. Burzynski made a remarkable discovery that threatened to change the face of cancer treatment forever. His non-toxic, gene-targeted cancer medicine could have helped save millions of lives over the last two decades had his discovery not been criminally suppressed by the US government, as his therapy, called "antineoplastons," have been shown to effectively help cure some of the most "incurable" forms of terminal cancer.
This documentary takes you through the treacherous 14-year journey Dr. Burzynski and his patients have had to endure in order to finally obtain FDA-approved clinical trials of antineoplastons.
His story is yet another testament that fact can be far stranger than fiction, as the film exposes the powerful, unscrupulous forces that work to maintain the status quo of the medical and pharmaceutical industry at any cost-including the lives of millions of people.
Dr. Burzynski's Story Is a Jaw-Dropper
Dr. Stanislaw Burzynski was born in the early 1940s in Poland, and was trained as both a biochemist and a physician. He's spent the last 35 years developing and successfully treating cancer patients suffering with some of the most lethal forms of cancer at his clinic in Houston, Texas.

I recently interviewed Dr. Burzynski about his cancer treatment—a gene-targeted approach using non-toxic peptides and amino acids, known as antineoplastons. Here, I will follow up with a review of his recently released documentary, Burzynski, The Movie.1

It's an absolute jaw-dropper…

For anyone who has ever been affected by cancer, either directly or indirectly, the facts presented in this film will hit you like a rude slap in the face.

You will learn that not only did the US Federal government spend 14 years actively suppressing a cancer treatment that had a FAR greater success rate than any other treatment available, but they also spent well over $60 million of US taxpayer dollars trying to put the inventor of the treatment in jail in order to steal his patents and either suppress or cash in on his discovery.

This film is an absolute MUST-SEE, as the summary I'm about to present below simply cannot do it justice. It's available for purchase at BurzynkiMovie.com, where you can view the first half-hour for free. The site also contains a large number of video clips,2 as well as a full transcript of the entire film,3 along with links to all the documentation presented.
What's so Special About Dr. Burzynski's Treatment?
The story begins back in the early 1970s when Dr. Burzynski discovered that people with cancer lacked a certain peptide, while those who were cancer-free had a plentiful supply of it.

This finding eventually led him to create a medical treatment referred to as antineoplastons. The drug contains a mixture of peptides and derivatives of amino acids. These were known to act as molecular switches, but as genome research blossomed and science progressed, Dr. Burzynski discovered they also work as genetic switches, and that is why antineoplastons work so well.

They're actually able to turn on cancer suppressing genes, while simultaneously turning oncogenes (cancer genes) off.
As explained in the film:4

"Our bodies contain two categories of genes that allow cancer to flourish: oncogenes and tumor suppressor genes. When someone has cancer, they have a higher level of oncogenes switched on, with a higher-level tumor suppressor genes switched off.

The goal is to tell the body to both switch back on the tumor suppressor genes, and turn off as many oncogenes as possible."

While other gene targeting cancer drugs now exist, they're only capable of targeting a small number of specific cancer genes. Antineoplastons, on the other hand, target a wide spectrum of cancer genes—about 100 of them at once. In a very simplistic way, antineoplastons are to cancer what a broad-spectrum antibiotic is to infectious disease.
Success Rates of Chemo and Radiation versus Antineoplastons
The film features several remarkable case stories of people who were successfully cured of cancer, but it's when the clinical trial data of conventional therapies versus antineoplastons are stacked against each other that the benefits of antineoplastons become really obvious:
| | |
| --- | --- |
| Radiation or Chemotherapy Only | Antineoplastons Only |
| 5 of 54 patients (9 percent) | 5 of 20 (25 percent) |
| were cancer-free at the end of treatment | were cancer-free at the end of treatment |
| Toxic side effects | No toxic side effects |
Tackling Childhood Brain Tumors
Dr. Burzynski was so confident in his antineoplastons that he even accepted the most difficult and "hopeless" cases, such as childhood brain tumors. Conventional medicine has little or nothing to offer in these cases, and the side effects can be as horrific as the disease itself, if not more. Furthermore, the best outcome conventional treatment can offer is to slow down the growth of the tumor.

Using antineoplastons, however, Dr. Burzynski has been able to successfully cure many of these otherwise hopeless cases, such as Jessica Ressel.5

She was 11 years old when she was diagnosed with brainstem glioma—an incurable brain tumor. After learning that she would die no matter what toxic drugs and radiation treatments she underwent, the family decided to not put her through it. When they found Dr. Burzynski, they literally had nothing to lose…

Twelve months later—after having initially been told she had but a few months to live, and given no chance of survival at all—MRIs confirmed she was cancer-free. Her brain tumor was completely resolved. Today, Jessica is a healthy 24-year old woman, pregnant with her second child

When comparing FDA-supervised studies of treatments for lethal childhood brainstem gliomas, antineoplastons again comes out as a clear winner:
| | |
| --- | --- |
| Chemotherapy Only | Antineoplastons Only |
| 1 of 107 patients (0.9 percent) | 11 of 40 patients (27.5 percent) |
| were cancer-free at the end of treatment | were cancer-free at the end of treatment |
| 0 of 107 patients (0 percent) | 11 of 40 patients (27.5 percent) |
| survived past five years | survived past five years |
Even more interesting, while some of Dr. Burzynski's patients did eventually die after the five-year mark, most who did NOT undergo chemotherapy prior to getting antineoplastons have gone on to live normal, healthy lives—yet another indication that in many cases, the conventional treatments are more lethal than the disease itself
Side Effects of Chemotherapy Drugs
Here's just a sampling of the side effects of three conventional chemotherapy drugs:

Doxorubicin (nickname: Red Death) – leukemia, heart failure, infertility, mouth sores
Etoposide – leukemia, nerve damage, inability to fight infections
Cisplatin – kidney damage, hearing damage, nerve damage, infertility

Another chemo drug, Mitotane, which is derived from DDT, is also used for pediatric patients even though no studies have ever been performed to ascertain its safety or effectiveness in children.
Dr. Burzynski's Troubles Begins…
The legal battle Dr. Burzynski found himself embroiled in over his invention is convoluted to say the least. There are many bizarre twists and turns, and I strongly urge you to watch the documentary to fully appreciate what happened.

Dr. Burzynski had tried to get the FDA to review and approve antineoplastons since 1977, to no avail. To make sure he would not get into trouble for using the experimental therapy in his practice, his legal team reviewed federal and Texas state laws, confirming that he was acting within the laws and could use antineoplastons in his own practice "to meet the immediate needs of patients," since he was a licensed physician, particularly if no other alternatives were available to the patient. He could not engage in interstate commerce, however, so he had to restrict the use of the drug to his home state of Texas.

But word spread, and patients started traveling to his office from out of state.

Suddenly, in 1984, he found out that agents from the Texas board of medical examiners were traveling to patients across the country trying to convince them to file charges against him.

What followed next truly challenges the rational mind.
Texas Board of Medical Examiners Try to Strip Away His Medical License
In 1988, despite not breaking any laws, and having produced more evidence than was required to show that his treatment was effective and that no harm was coming to his patients from it, the Texas medical board charged him with breaking a law that didn't exist, claiming it was grounds for revoking his medical license.

They didn't have a case, but kept the charges going by continuing to file slightly amended complaints, until finally, in 1993, the case went to trial. By then, 60 of Dr. Burzynski's patients had filed a petition for the medical board to stop harassing their doctor—a petition that the board successfully eliminated from the trial by filing a motion to strike it from the record.

Testifying on Dr. Burzynski's behalf, however, was a leading expert from none other than the National Cancer Institute (NCI), Dr. Nicholas Patronas, MD, a board certified radiologist since 1973, and the founder and chief of Neurology at the NCI. Even he recognized the absurdity of the board's case, and put his own career on the line to testify.

The judge ruled in Dr. Burzynski's favor, confirming that no laws had been broken.

You'd think that would be the end of it. But not so in this case. Instead of accepting defeat, the Texas medical board filed charges against Dr. Burzynski with the Texas Supreme Court.
The Method Behind the FDA's Madness
It eventually came to light that the US Food and Drug Administration (FDA) had pressured the Texas medical board to revoke Dr. Burzynski's medical license—despite the fact that no laws were broken, and his treatment was proven safe and effective.

But WHY?

It's been stated many times that a crime can be solved simply by following the money, and this case is no exception. The FDA and the pharmaceutical industry had realized that if Dr. Burzynski's discovery—which he owned the patent for—received a fair review, chemotherapy and radiation would rapidly dwindle into obscurity, effectively crippling the industry. Not only that, but if antineoplastons were approved, billions of dollars of cancer research funds would get funneled over to one single scientist who had exclusive patent rights…

Dr. Richard Crout, Director of the FDA Bureau of Drugs, once wrote in a 1982 newsletter:

"I never have and never will approve a new drug to an individual, but only to a large pharmaceutical firm with unlimited finances."

It became clear that ever since 1977, when Dr. Burzynski first tried to get antineoplastons approved, the FDA had begun scheming to eliminate the threat he and his discovery posed to the entire cancer industry…
The Harassment Continues Unabated
The FDA, under the direction of Commissioner Dr. David Kessler, called no fewer than FOUR different grand jury investigations into Dr. Burzynski's practice, despite the fact that none of the grand juries ever found him to be at fault, and no indictment ever came from any of the investigations.

But the FDA did not let up.

Finally, in 1995, just days after the final grand jury investigation, which also had found no fault, Dr. Burzynski was inexplicably indicted on charges of fraud, and 75 counts of violating federal law. If found guilty, he now faced 290 years in federal prison, and $18.5 million in fines.

A year later, in a bizarre twist brought about by congressional and public pressure, the FDA agreed to accept all of Dr. Burzynski's patients into a series of 72 FDA-supervised phase two clinical trials.

A 1996 article in The Washington Post noted:6

 "The prosecution marks the first time the FDA has tried to jail a scientist for using a drug on which he is conducting FDA authorized clinical trials."
Federal Government Spent $60 Million Trying to Bury Dr. Burzynski
This second trial cost American taxpayers a whopping $60 million just in legal fees alone—that's not counting the cost of continually harassing him (including several raids on his office) and his patients over the preceding 11 years. Dr. Burzynski spent $2.2 million on his own defense, $700,000 of which was raised by Dr. Julian Whitaker through requests for donations in his newsletter Health & Healing.

On March 4, 1997, the judge declared it a mistrial, due to a deadlocked jury. However, after stating the government had not presented sufficient evidence in its case, he ordered that Dr. Burzynski be acquitted of 42 of the 75 counts.7

But the FDA wasn't done yet. They took him to court AGAIN!
Third Time's the Charm…
At this point, many were becoming increasingly aware that something very bizarre and unusual was going on. Jurors from the first trial even joined patients in protests outside the courthouse. One clear-headed juror from the previous trial stated:

"Please don't waste my money abusing the system to make sure that you maintain your power!"

On May 28, 1997, after three hours of deliberation, the jury came back with their final verdict: Not Guilty.8 By now you're probably thinking that this victory surely must mark the end of the wrongful harassment of Dr. Burzynski.

But no. It gets worse.
Secret Dealings Hide True Intents
While this ongoing drama unfolded over the course of more than a decade, something even more sinister was taking place behind the scenes, unbeknownst to Dr. Burzynski and his legal counsel.

In 1989, Dr. Burzynski had retained Dr. Dvorit Samid as a research consultant, and she did a lot of work with the antineoplaston ingredients. At the time, Dr. Samid worked at the Uniformed Services Medical School in Baltimore. She later transferred to the National Cancer Institute.

By 1990—while the Texas medical board kept filing one amended complaint after the other against Dr. Burzynski, in an effort to revoke his license—he had decided that the easiest way to keep the government from putting him out of business or in prison, was to partner with a pharmaceutical company. As luck would have it, he'd treated the sister-in-law of the Chairman and CEO of Élan Pharmaceuticals, and Élan eagerly drafted a letter of intent stating they would aggressively pursue the filing of the necessary protocols with the FDA for approval and marketing of antineoplastons.

Dr. Samid began working closely with Élan on the project. But once the financing, licensing agreements and royalties had been negotiated and agreed upon, Élan suddenly changed its tune, stating they had significant doubt as to whether the active substances could be patented, which would render an agreement meaningless.

As it turns out, Élan had instead partnered with the National Cancer Institute (NCI), where Dr. Samid got the position of section chief. They then co-sponsored laboratory research and clinical trials on just one of the antineoplastons' ingredients—an ingredient that Dr. Burzynski had NOT been able to patent due to the fact that it was already known. However, he had also already determined it to be very limited in terms of effectiveness on its own, over a decade ago.

Élan and the NCI spent tens of millions of dollars testing this single ingredient… Not surprisingly, it failed. Dr. Burzynski had already established that the ingredients must be used in combination in order to be effective. After realizing they could not duplicate the effectiveness of Dr. Burzynski's antineoplastons, the NCI finally agreed to conduct his clinical trials under the direction of Dr. Michael Friedman.
Sabotaging Trials—Par the Course for the National Cancer Institute
How do you sabotage a clinical trial?

It's actually easier than you might think. You'll have to watch the film to get all the details, but in summary, the trials were closed prior to completion, and were written off with the statement "no conclusion can be made about the effectiveness or toxicity of antineoplastons." But it was clear, based on the study data, that seven of the nine patients enrolled received NO antineoplastons whatsoever! The others received dosages that were far lower than recommended.

Adding insult to injury, in 1999, about a year after Dr. Burzynski had been acquitted a third and final time, the NCI published these invalid trials in the medical literature, citing antineoplastons as a complete failure. So sure, Dr. Burzynski was a free man; cleared of all charges and free to practice medicine, but now the National Cancer Institute had effectively undermined the credibility and commercial viability of his medical discovery…

What the film reveals next truly boggles the mind.

"After the National Cancer Institute intentionally violated all protocols of their own antineoplaston trials, and after all state and federal agencies had failed in their 14-year campaign to remove Burzynski from society-after all of the dust settled-a profound truth began to emerge."
Theft and Patent Infringement—All in a Day's Work
In October 1991—while the Texas medical board kept filing amended complaints against him in an effort to revoke his license, due to pressure from the FDA—the National Cancer Institute (NCI) had conducted a site visit to Dr. Burzynski's clinic, and verified that "anti-tumor activity was documented by the use of antineoplastons."9

As it turns out, a mere 17 days after this visit, the United States of America, as represented by "The Department of Health and Human Services," filed a patent for antineoplastons AS2-1… one of the two antineoplastons Dr. Burzynski had already patented.

The inventor listed?

"Dr. Dvorit Samid," Dr. Burzynski's former research consultant. The patent states:

"The invention described herein may be manufactured, used and licensed by or for the government, for governmental purposes, without the payment to us of any royalties thereon."

Over the next four years, while the witch-hunt to put Dr. Burzynski behind bars was in full swing, the US Government filed 10 more patents for antineoplastons.

By the summer of 1995, around the time that Burzynski was indicted for fraud and 75 counts of violating federal law, Dr. Michael Friedman—who sabotaged the NCI antineoplastons trials—had left the NCI and become Deputy Commissioner of Operations for the FDA, working directly under FDA Commissioner Dr. David Kessler—the man responsible for dragging Dr. Burzynski in front of no less than four different grand juries a few years earlier.

In November of 1995, a month into Dr. Burzynski's trial, where he faced 290 years in prison, the US Patent office approved the first US Government patent for antineoplastons. Between 1995 and 2000, the US Patent office approved all 11 copycat patents on antineoplastons AS2-1…
Who Pays for Their Crimes?
By now your head is probably spinning, so let's recap.

Dr. Burzynski developed a cancer treatment that surpassed all other treatments on the market, and the FDA, the pharmaceutical industry, and the National Cancer Institute all knew it. They also knew he was the sole owner of the patents for this therapy, and these two facts combined, threatened the entire paradigm of the cancer industry.

The cancer paradigm is based on very expensive machines and toxic drugs. There's an enormous amount of money to be made in this paradigm, and Dr. Burzynski single-handedly threatened to overturn it.

So they tried to copy his invention using a single non-patented ingredient. It failed. The next step was to steal the whole thing right from under him. There was just one problem. They knew they couldn't use the stolen patents as long as Dr. Burzynski walked free and had the ability to defend his rights to them… So they concocted 75 fraudulent charges to tuck him away in jail for the rest of his life.

Fortunately for us, they failed in that too.

Dr. Whitaker sums it up nicely when he says:

"How can the US Patent office be corrupted to the point they issue patents for a medical treatment that's already been patented and issue them to someone who had nothing to do with their discovery or use? And how can the Patent office then assign these fraudulent patents to some of the most powerful institutions in the American government? And, imagine, all of this was done while these same agencies were spending millions of taxpayer dollars trying to put Dr. Burzynski in jail, so he could not fight the criminal theft of his discovery!"

As I said in the beginning, the facts of this case challenge the mind of any sane and rational person, but make no mistake about it: These things did happen, and Dr. Burzynski has all the documentation to back it up.

The US Government did harass and intimidate, and they did try to falsely imprison a brilliant scientist, simply because he'd discovered an effective cancer therapy, while simultaneously engaging in patent infringement.

Now, while this was an enormous personal hardship for Dr. Burzynski, the US Government also, through their enormous greed, in a very direct way prevented millions of cancer patients to receive a non-toxic therapy that could have saved their life. Remember, Dr. Burzynski has been trying to get antineoplastons reviewed and approved since 1977, to no avail. It's absolutely heartbreaking to consider the cost of this criminal behavior in terms of human life, including young children.
The Deadly, But Highly Profitable, Cancer Paradigm
While the stolen patents are filled with useful information about the benefits and efficacy of antineoplastons, one statement in particular sums up the problem with the current cancer paradigm:
"Current approaches to combat cancer rely primarily on the use of chemicals and radiation, which are themselves carcinogenic and may promote recurrences and the development of metastatic disease."
Dr. Burzynski's therapy, as you may recall, is non-toxic, giving patients the option to at least not suffer more grievous harm from the treatment itself, in addition to a significantly greater chance of being cured.
I'm sure that whenever someone donates their hard-earned money or participates in a pink-ribbon walkathon, they believe they're doing a good thing. They believe they're helping fund vital cancer research that will hopefully, someday, find a cure for cancer. Little do they know that much of this money goes toward perpetuating the status quo of cancer treatment, namely highly toxic drugs and expensive machines—the same old paradigm centered around profit.
As of 2010, the National Cancer Institute's annual budget is $5.2 billion. Dr. Burzynski cannot get a single dime of it. All of his research into antineoplastons over the past 35 years has been self-funded.
Think about that for a moment. Not one dime has been funneled toward developing one of the most promising cancer therapies to emerge in the past three decades… Are you still convinced they have your best interest at heart, and are diligently working to "find a cure for cancer"?
If you're NOT convinced, I'd urge you to take a look at the story of alternative cancer physician Dr. Nicholas Gonzalez, which has similarities to that of Dr. Burzynski. Gonzalez's treatments are so successful that conventional physicians felt the need to shut him down.
Shadow group in the U.S. government believe ETs are demons
The article below, by Anthony Bragalia, shows one of the reasons why the UFO research is being undermined: the fanaticism of some members of the US government.
A surprising new analysis and an overview of the available reports reveal that within the U.S. defense and intelligence agencies lies a shadow group that is influential, fanatically religious and that actively undermines UFO studies by the government and its associated program managers, believing that UFOs are demonic.
An ongoing investigation into this bizarre and unscientific situation seeks to call fundamentalists who want to dismantle such programs by name. In doing so, they destroy the professional reputation and advancement of science. Incredibly, these extreme evangelicals believe that these "aliens" are demons and that those who study them are playing with fire. They are working from within to put pressure on these military and intelligence programs and on the professionals involved in examining the phenomena.
It has been over two years since the New York Times revealed the existence of Advanced Aerospace Threat Identification Program (AATIP) of the US Pentagon. The program had a recognized budget of US $ 22 million and ran for 2007-2012. It produced military radar reports, weapon camera images and detailed UFO sighting reports (now officially referred to as Unidentified Aerial Phenomena or UAPs). Former AATIP program manager, intelligence officer Luis Elizondo, also confirmed the existence of a collection of foreign materials, similar to metals, recovered by civilians and military personnel, apparently as UFO waste or collision items. Federal contracts were assigned to Bigelow Aerospace for the modification of facilities near Las Vegas, NV, to house and test these items. The Bigelow Aerospace is owned by Robert Bigelow, a billionaire and a major financial contributor to UFO causes, close to the senator Harry Reid and other influential individuals.
But it goes far beyond that:
Luis Elizondo's predecessor (a PhD rocket scientist 'Beltway') endured efforts by religious fanatics to inflict professional ruin on him, because the data he was gathering was a threat to their belief system! It appears that a specific element of religious extremists has somehow placed itself in the main government military and intelligence agencies that have allowed them to do so. And that element did not like the discoveries of Elizondo's predecessor – and tried to destroy his career – because they think UFOs and their demonic occupants.
Elizondo himself, in managing the program, experienced obstacles similar to those that impose his strange ET-as-Devil belief.
Incredibly, former UK Ministry of Defense UFO research officer Nick Pope also came forward to say that he was also harmed in his work on the phenomenon by people who consider him satanic, running these unscientific campaigns across the world.
This author strives to track down and name the religious extremists who are preventing the study of government UFOs and the program managers who may be helping them.
This threat to science, rationality and free research is rampant. And, unfortunately, this set of beliefs is not limited to just one branch or agency. This superstitious and reactionary way of thinking is difficult to understand in 2020, but it spreads to senior US military and intelligence officers who, driven by the strange idea that ETs are demonic, continue to impede authorized study of UFOs.
Elizondo discloses interference by officials who claim ETs are demons
The blog of the To The Stars Academy (TTSA), on November 1, 2018, presented a brief article and little known or mentioned published by Luis Elizondo, where he writes in part:
Unidentified aerial phenomena (UAP) have been linked to demons and anti-Christian-Jewish beliefs. I experienced this first hand during my time working on the US Government's Advanced Aerospace Threat Identification Program (AATIP), where certain senior government officials thought our collection of facts about UAPs was dangerous to their philosophical beliefs. In fact, my predecessor's career at AATIP was ruined because of a mistaken fear by a few of the elite. Rather than accepting the data provided by a high-ranking rocket scientist, they decided that the data was a threat to their belief system and instead destroyed their career because of it.
These extraordinary admissions by Elizondo indicate that he and the person who held that position previously experienced the same madness that "aliens are the devil" and career impediment by employees when they were managers of the UAP program.
The Pentagon scientist whose career was destroyed by anti-UFO religious fanatics
Dr. James Lacatski is not a household name in the UFO world – but he should be. He was the program manager for the Pentagon's UFO study shortly before Luis Elizondo. Elizondo provided clues about Lacatski in his post. These clues and others led to the name of Lacatski, thanks to the brilliant work of Keith Basterfield, a long-time Australian UFO researcher and writer, and Roger Glassel, Swedish UFO researcher, specializing in archiving documents obtained under the Freedom of Information Act. They learned about an Advanced Aerospace Weapon Systems Application Program ( AAWSAP). Glessel says that "AAWSA, if not the same thing, seems to be closely related to AATIP". Support for this has now come from several sources:
Emmy and Peabody award-winning columnist Las Vegas George Knapp (investigative TV reporter), who personally knows Senator Harry Reid, D-NV, retired) Confirms that: "Senator Harry Reid and his colleagues obtained funding for an ongoing study, but it was not called AATIP. The original acronym was AAWSAP or Advanced Aerospace Weapon System Applications Program."
Senator Harry Reid himself (D-NV, retired) stated: "I received a communication from a man who worked for one of the defense agencies, a PhD. He said: 'I know everything about rockets, but I don't know what those things are'."Reid was certainly referring to Lacatski, who was a senior scientist at the Defense Intelligence Agency and an expert on subjects that include new methods of energy and propulsion. Senator Reid also told George Knapp that the Pentagon's UFO program has ended for reasons that include: "there were other authorities who had religious objections".
Nick Pope, a former UFO investigator at the UK Ministry of Defense, recently told the newspaper reporter Subway (UK), Jasper Hamill, that he found the same kind of attitude when working in the UK, and that he himself heard about religious fanatics in the USA versus flying saucers with AATIP: "I knew that the Pentagon's reaction to UFO research was partly due to the religious beliefs of some of those involved", he said. "It was a strange irony that UFO investigations were being hampered because some people who believe in God meant that they did not believe in the existence of extraterrestrial life or that they considered UFOs and extraterrestrials to be demonic. The fact that some people consider UFOs to be demonic seems to have their roots in the biblical description of Satan as being 'the prince of the power of the air'. Luis Elizondo says he encountered a religious reaction from the senior team when he ran the Pentagon's UFO Program, and I saw some evidence of that also at the Ministry of Defense (UK)". This suggests that this "aliens are demons" mentality is global and exists among powerful elements in nations other than the United States.
The Defense Intelligence Agency approved a study entitled 'Warp Drive, Dark Energy, and Manipulation of Extra Dimensions'(Space Warp Engine, Black Energy and Extra Dimension Manipulation), associated with AAWSAP. James Lacatski is named as the contact in this document, AAWSAP Program Manager. This study is part of a series of advanced reports on propulsion and navigation technology produced under the program.
How does this religious faction incorporated into military intelligence prevent the authorized study of UFOs? There are several possible ways: depreciation and verbal harassment, isolation, not answering questions, denying or delaying the necessary resources, issuing poor performance reports and limiting program staff.
Finding and losing Lacatski
This author located Dr. Lacatski, 68, and obtained his personal contact information and contacted him directly at his retirement home in Bowie, Maryland, in mid-December 2019. Dr. Lacatski, like many , apparently does not answer the phone from unknown numbers. After a few responses for a few days, I left a voice message asking him to call me back, indicating that I wanted to briefly count on his assistance in a "history of science" project. Not receiving his reply, a second and last voice message left by me was more direct and detailed. I asked Dr. Lacatski to consider telling his story because it is being told by others (mentioning Elizondo) and that we need to call this anti-scientific element now by name and prevent it from happening again, because, unfortunately, it is still for other people.
I didn't get an answer from him. Later, I contacted his wife, Wisal, 61, employed by NASA, via a work email there. Again, no answer. And it's no surprise: I suspect they want peace and federal pensions. Who can blame them? Lacatski has been through enough Luciferian madness and probably does not want to relive it. He's a silent hero. All he tried to do was serve science and our country in search of the unknown and was instead attacked by religious fanatics.
Lacatski's interest in paranormal things
I discovered that Lacatski was raised in a family where Catholic school education was valued. Even his mother was a Catholic school girl. But Lacatski also has a very strong interest in paranormal and extra-dimensional things. This probably contributed to the reason that the ultra-conservative religious element wanted to expel him.
Lacatski wanted to visit a famous 550-acre farm in Utah, where for more than half a century, paranormal phenomena and UFOs have a reputation for having occurred. For years, until recently, the farm was owned by Robert Bigelow (mentioned earlier) and is known as the 'Skinwalker Ranch'. Activities and entities include sightings of orbs and UFOs, cryptid animals, poltergeists and disturbing magnetic fields. One telling thing was mentioned in The New York Times on December 17, 2017: "Mr. Reid said that his interest in UFOs came from Mr. Bigelow. In 2007, Mr. Reid said in the interview that Mr. Bigelow told him that a Defense Intelligence Agency employee approached him, wanting to visit Utah's Bigelow farm, where he conducted research. Reid said he met with agency officials shortly after his meeting with Bigelow and found that they wanted to start a UFO research program.". After this meeting with Reid and Lacatski, the program (AAWSAP, later AATIP) started with Lacatski, and later Elizondo. This is supported by the research and is considered to be the opinion of Keith Basterfield (UFO researcher mentioned above).
Lacatski is also closely associated with Dr. Eric Davis, a Baylor professor who received military contracts for technical documents on new and hyper-technical concepts of space travel. Davis is also known to be involved with UFOs. See Davis's 2002 email to Admiral Tom Wilson, director of the Defense Intelligence Agency (DIA, 1999-2002), discussing the reality of visiting ET[[link]. Davis also claims that in Skinwalker Ranch he witnessed the presence of a large dark-haired entity and other anomalous phenomena. Dr. Lacatski is clearly listed as having read and approved Davis's publication for the DIA mentioned above (Warp Drive, Dark Energy and Manipulation of Extra Dimensions).
Lacatski's contacts extend to Reid, Davis, Bigelow and Elizondo. He is well connected to this paranormal / UFO circle and probably similar ones.
Robertson, Falwell, Huckabee provide information about the mental state of those who think "aliens are demons".
The group that wished the expulsion of Elizondo's predecessor shares the same views on ET as religious evangelical extremists, as the former US presidential candidate, Reverend Pat Robertson, (TV program 'The 700 Club') And the late Reverend Jerry Falwell, extreme right and "Moral Majority Leader", political influencer and co-founder of the evangelical Liberty University, and Mike Huckabee, minister, ex-governor, candidate for republican presidency and commentator of Fox News.
Pat Robertson has stated on numerous occasions that ETs are, in reality, "demons" and that they are trying to lead people away from Christ. He says that even studying ETs is a serious offense. He says: "The Bible says that the earth belongs to man, but the heavens belong to the Lord. He gave us the Earth ". Robertson warned of ETs: "These things are, at best, nothing lifeless, intelligent and demonic. They are not a host of heaven, they are fallen angels "…
In the late 1970s, Jerry Falwell made his followers aware of his thinking on the subject. In an interview in Virginia Beach, he warned that UFOs are a "satanic tool of deception to confuse humanity". In a televised sermon in the same city, he said that UFOs were "transports of demons from hell".
In 2008, on his campaign trail, Mike Huckabee was asked about the UFO and ET subject, to which he replied by spelling out "G-O-D not U-F-O." He is well-known for expounding about the Devil, and disparaging talk of the extraterrestrial.
Reports on the anti-flying saucer fundamentalist faction: "Final Events" by Nick Redfern
Renowned writer Nick Redfern authored the groundbreaking book Final Events (Final Events- Anomalist Books) in 2010. It contains the first real examination of organized factions within the government that promote the belief that ETs are really deceitful, demonic and fallen angels. By calling part of that element 'the Elite Collins', its sources and reports are reliable and spanning a period of years.
And now, a decade later, in 2020, this faction has grown and its efforts have intensified. This is a clear reflection of today's culture and political climate. We demonize those who are different from us.
Newsweek claims Christian extremists have infiltrated the Department of Defense
Newsweek correspondent Nina Burleigh, in her 5/22/2017 article 'Trump Effect Inspires Radical Christians in Military', insightfully points out the perils of intersecting radical Christianity and the military. Note that the Department of Defense is the ultimate oversight agency for the UFO program AATIP:
The mix of radical Christianity and the US war fighter has been going on for some time. In 2007, the Department of Defense inspector general published a report on a group of Defense Department officers and officials who 'abused their authority', promoting a video for 'Christian Embassy', a high-level evangelizing equipment based in Washington and a website designed to make it look like an arm of the US government. Fundamentalist views are decidedly in the minority in the general population, but they have adherents in some of the most powerful positions in the US armed forces, especially in and around Washington DC, and in the city of Colorado Springs, home to the US Air Force Academy. and the eating of the country's nuclear power plant.
Giving the names of the authorities that hinder the government in its research on UFOs, why is this "wicked"
We can begin to understand who these extremists are by going back to Huckabee, Robertson and Falwell. All three had political aspirations and a strong influence on the government, with the three evangelicals being extremists. The influence that politicians and reverends similar to Huckabee, Robertson and Falwell have on millions of people about ETs, clearly extends to military and intelligence leaders.
A profiler would point to the characteristics of these culprits as being of the extreme right's political inclination; South or West; Married and with children; White; Man; 40 to 50 years; strict Christian / evangelical / born-again persuasion; and in a position high enough to be able to exert such influence.
Conservative Christian Bible studies, ministries, church organizations and scholarships exist across the country (such as the Christian Embassy, ​​mentioned above), whose members consist exclusively of US military officers (including generals) and US intelligence agents. They meet regionally and nationally in Christian colleges, evangelical churches and military bases, inclusive in Wright-Patterson military base. And at least one of those military / intelligence groups (Christian Fellowship) meets at the Pentagon (Room 2C453) and at Jerry Falwell's Liberty University in West Virginia. If these officers and agents believe in this demonic-alien dogma and exercise the influence of their beliefs while serving the country, this is very dangerous for the very foundations of science and free research.
Using the profile and information above in this article – as well as a clue provided by someone familiar with all of these subjects who prefer to remain anonymous at this point – I am beginning to make a short list of potential people, crossing them with those who may have made religious statements on the subject and identified those that are 'in jail' for affected UFO program managers.
I hope to succeed in this task, because once I find them, I will publish their names and expose them to shame.
– Anthony Bragalia
Military files show an Alien Base was discovered by a CIA analyst under Mount Hayes, Alaska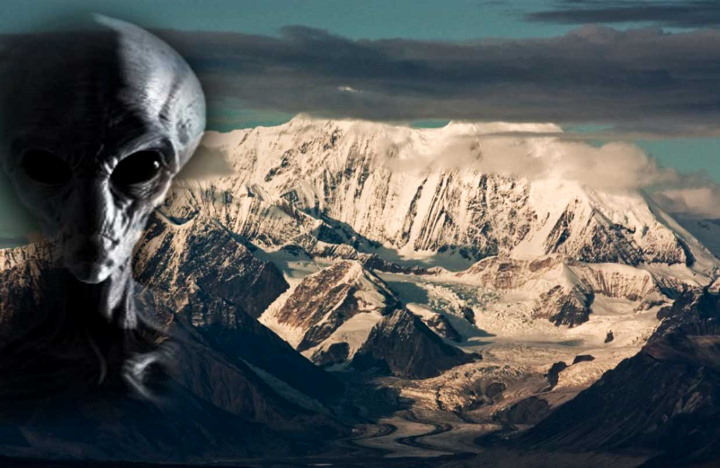 By the late 1980s, the Stargate Project was in full swing. Declassified files show that the United States government has used remote viewing, the ability to psychically see places from a distance, for over a decade.
While browsing the CIA archives, we found something that made us double-interpret: the apparent discovery of three extraterrestrial bases by an intelligence analyst. The obscure handwritten document, de-classified and named "Sun Streak", was under the supervision of the DoD's Defense Intelligence Agency, describes secret underground structures of extraterrestrial origin. One of these structures would be located under . Despite its highest mountain status in the eastern range of the state, Hayes is rarely climbed due to its remoteness and inaccessibility.
It is also the epicenter of what the locals call the Alaskan Triangle … a hot spot for news of inexplicable lights, hikers fading away and even tiny beings living in the desert. So what exactly did the United States government find out? And could an underground facility have anything to do with strange relationships in the area dating back decades?
In his book written in 1997, Remote Viewers: The Secret History of America's Psychic Spies, the author Jim Schnabel describes in detail the involvement of US Intelligence in the controversial issue of "psychic espionage" that began in the 1970s. In the section dedicated to Pat Price, we learn that the extraordinary "psychic spy", in one of his visions, would have said that "… in Alaska, the interior of Mount Hayes, the jewel of the northeast of Anchorage, hosted ( and still houses) one of the largest secret bases of aliens. "
According to Pat Price, the aliens who lived inside the mountain were very similar to humans in appearance, differing only in the internal anatomy, such as heart, lungs, blood and eyes. In addition, Price states that the aliens were able to take control of our mind and that "the Alaska site was also responsible for the malfunction of some American and Soviet space objects."
Of course, Pat Price's claims have never been officially confirmed. However, despite the controversial nature of the story, in some recently publicized FBI files, we read about surprising encounters with UFOs in the period between 1947 and 1950 in Alaska.
Drones in Colorado could be secret military ships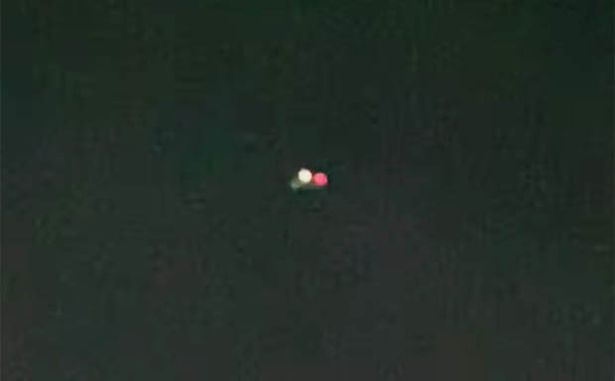 A former United States Air Force (USAF) intelligence specialist believes that the mysterious swarm of drones discovered in recent weeks in the state of Colorado may not be a drone – but a new cutting edge military technology.
US state officials were inundated with reports of "car-sized" drones being seen almost every night.
So big is the frenzy about what could be happening, that a task force involving 10 to 15 law enforcement agencies, including the FBI, was created to "get to the bottom of this".
But, despite claiming that there is nothing "criminal" about these ships, no one has yet managed to explain them.
And now, an intelligence specialist, who has worked in all branches of the armed forces, believes they may not be drones.
Mike Turber told the Daily Star Online that the ship may actually be exhibiting TIC Tac 'technology' erom the USAF.
Mike Turber told the Daily Star Online that the spacecraft may actually be displaying USAF 'tic-tac' technology.
Speaking to that site after an explosive participation at the The Hidden Truth Show with Jim Breslo, he said:
I think it's related to the Navy.

I've seen several videos that caught my attention.

I'm a debunker and I've never jumped on the UFO bandwagon.

But as I'm watching these videos, I'm seeing some objects that look a lot like a tic-tac would be.

There's one where an aircraft is zooming by at a ridiculous speed.

As far as I know, they very well could be these tic-tacs but I have no inside knowledge of what these are and can't really confirm anything.
Mike believes that these tic tac spaceships are the same objects seen by US Navy fighter pilots from USS Nimitz in November 2004.
While the Navy labeled those ships as Unidentified Aerial Phenomena, the intelligence expert is convinced that they are actually being built by the U.S. military.
Conspiracies as to what the mysterious drones in the states of Colorado and Nebraska could be have continued to emerge since they were first reported on December 23.
Aviation attorney and drone enthusiast Loretta Alkalay told Motherboard that drones may not exist, suggesting the media frenzy over them have turned the stories from fact to fiction.