The God of Freemasonry Exposed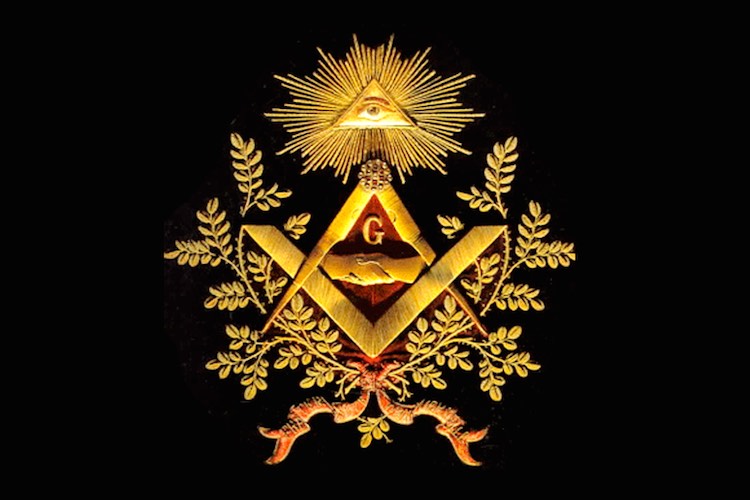 Makia Freeman, Contributor
Waking Times 
The God of Freemasonry is an important thing to know if you are interested in zooming in on the source of evil in this world. Centuries of leaked documents, former insider accounts and scholarly research has shown that Freemasonry has become the most pervasive, influential and powerful of all the Secret Societies on Earth. Many US Founding Fathers were masons. Many leading figures of the French Revolution were masons. Many US presidents have been masons. Freemasonry inspired Mormonism and was a central theme behind the occult assassination of JFK. People in high positions of power place their oath to Freemasonry above their oath to serve the people who elected them; some such policemen and judges make decisions not based on truth and justice but rather based on protecting the masonic network, the Lodge and their masonic brethren. Many lower level masons are deliberately kept in the dark, not told what they are getting into, but what are the higher levels initiates really worshipping? Who or what is the god of Freemasonry?
The Great Architect of the Universe
In trying to decipher the god of Freemasonry, there are many clues that point towards a dark force that is the engineer or creator of this world, especially the dystopian aspects of this world which some people have dubbed The Establishment, The System or The Matrix. It is no coincidence that in The Matrixmovie series themselves, Neo finally meets his maker, i.e. the being who created the entire system. He is called "the architect" and is represented by a bearded old man. Saturn, god of time, harvest, law and death, is also represented this way. Masons typically refer to their god as the "Great Architect of the Universe" while Gnostics also used the same term in reference to the tyrant they claimed had created a fake, inferior copy of the original perfect world (they also called this force "Demiurge" and "Yaldabaoth"). The primary masonic logo of the letter G is enclosed inside a square and compass, which are tools of an engineer, draftsman or architect who designs and draws with them to create things.
It's easy to get lost in names here, but the point is to see the connections. There are many names but one underlying force beneath all the names. The Architect/Demiurge is the cruel god who is basically the same force as Satan or the Devil, and goes by many other names, as we shall see.
The Mysterious Masonic Letter "G"
Speaking of the masonic G, what does it stand for? Official masonic lore claims that it stands both for "God" and "Geometry". Is G a clue for the God of Freemasonry?:
""By letters four and science five, this "G" aright doth stand, in due Art and Proportion; you have your answer, friend."

What are the "letters four"?  It is believed that they stand for "YHWH", the name of the Great Architect of the Universe (pronounced "Yahway", (sometimes pronounced Jehovah) in the ancient Hebrew language, from which the Bible was translated: Which is the 5th science? Geometry. The Letter G stands for "Geometry", which is the mathematical science upon which Architecture and Masonry were founded."
However there are others who quote famous grand masons Eliphas Levi and Albert Pike to claim that the masonic G really stand for gnosis and generation. Gnosis is the Greek word for knowledge, and this fits in precisely with the masonic ideology of worshiping the light (more on this below) to become enlightened or illuminated (think Illuminati). This is from the website GnosticWarrior.com:
"In the Mysteries of Magic by Eliphas Levi and interpreted by Arthur Edward Waite, it is written; "All these magical theorems, based on the unique dogma of Hermes, and on the analogical inductions of science, have been invariably confirmed by the visions of ecstatics and by the convulsions of cataleptics under the supposed possession of spirits. The G which Freemasons place in the centre of the Burning Star signifies Gnosis and Generation, the two sacred words of the ancient Kabbalah. It also signifies Grand Architect, for the Pentagram, from whatever side it may be looked at, always represents an A. (Also See Eliphas Levi, Dogme et Rituel de la Haute Magie, vol. II, p. 97.)

Albert Pike had reconfirmed this fact by quoting Levi in his book, Liturgy of the Ancient and Accepted Scottish Rite of Freemasonry: IV to XIV; "In the centre of this Blazing Star Freemasons place the letter G. It signifies Gnosis and Generation, the two sacred words of the ancient Kabala; and also the Grand Architect; for the Pentagram, whichever way we view it, presents the letter A."
Jahbulon, Baal and Nimrod
Is the God of Freemasonry Jahbulon? Historian Jasper Ridley claims in his book The Freemasons that before joining a lodge all Masons must accept that the God of Freemasonry is Jahbulon and that they learn this once they get to the Royal Arch Degree. Interestingly, Jahbulon is a composite word made up of 3 parts: Jah is the Hebrew name for God (Jahovah is very similar to Jehovah) and is also used by certain Rastafarian religions to mean God; Bul refers to the Babylonian deity Baal; and On refers to the Egytpian deity Osiris.
Baal is mentioned in the bible as a god who demanded and required human sacrifice. Baal is another name for the Babylonian god Nimrod. The ancient Mystery Schools which spawned the world's current Secret Societies, of which Freemasonry became the dominant strain, trace their roots back to Egypt and Babylon. Hence Nimrod may be yet another name for the God of Freemasonry. This article on MediaMonarchy.com states:
"Masonic writings … dwell heavily on a descendant of Ham as one of the founders of Masonry—Nimrod. In the Encyclopedia of Freemasonry (Mackey-McClenachan), under the heading "Nimrod," we find:

"The legend of the Craft in the Old Constitutions refers to Nimrod as one of the founders of Masonry. Thus in the York MS., No. 1, we read: "At ye making of ye toure of Babell there was a Masonrie first much esteemed of, and the King of Babilon yt called Nimrod was a Mason himself and loved well Masons"."
…

As Nimrod had so many things attributed to him, it was only reasonable for peoples, now in segregation, to adopt the portion of belief best interpreted by each group. Thus, diverse religious attributes and beliefs, yet peoples remaining reverent to their god. We find such names for this revered god (Nimrod) in scripture as Chemosh, Molock, Merodach, Remphan, Tamuz, and Baal, to mention only a few of the some thirty-eight Biblical titles plus numerous representatives of these "gods"."
Baphomet, Mendes, Horny Goats, Pan, Capricorn and Saturn
Baphomet is another god associated with Freemasonry, even though some Freemasons officially deny it. You can see master mason George Washington doing his baphomet pose above. Baphomet was a hermaphroditic god (having both male and female genitalia) which will begin to take on more significance in the future, as we head into a transhumanistic world where the NWO transgender agenda (part of the synthetic agenda) is to make all humans more robotic – non-binary, genderless and sexless. Baphomet's head is an inverted 5-pointed star/pentagram (more Satanic inversion), and being a goat he is linked to Mendes, Pan (god of the wild, often linked to horniness and sexual excess), Capricorn (the zodiac sign symbolized by goat horns) and of course Saturn (housed in Capricorn in the night sky).
The Seething Energies of Lucifer
Albert Pike and Manly Hall are former masons whose work is widely quoted by those seeking to understand what exactly Freemasonry is. Both of these men referred explicitly to Lucifer as the God of Freemasonry. Pike spoke of the pure doctrine of Lucifer while Hall wrote about the seething energies of Lucifer which can be awakened by master masons:
"Lucifer, the Light-bearer! Strange and mysterious name to give to the Spirit of darkness! Lucifer, the Son of the Morning! It is he who bears the Light, and with its splendors intolerable, blinds feeble, sensual or selfish souls? Doubt it not!"

– Albert Pike (33º Freemason), Morals and Dogma of the ancient and Accepted Scottish Rite of Freemasonry, pg. 321

"When the Mason learns that the key to the warrior on the block is the proper application of the dynamo of living power, he has learned the mystery of his craft. The seething energies of Lucifer are in his hands and before he may step onwards and upwards he must prove his ability to properly apply (this) energy."

– Manly Hall (33º Freemason), Lost Keys of Freemasonry, pg. 48
Freemasonry, like other strands of Satanism, inverts everything and takes the opposite as the truth. Grand Commander and sovereign pontiff of universal freemasonry Albert Pike was quoted as giving instructions to the 23 supreme councils of the world:
"That which we must say to the crowd is, we worship a god, but it is the god one adores without superstition. To you sovereign grand inspector general, we say this and you may repeat it to the brethren of the 32nd, 31st and 30th degrees – the Masonic religion should be by all of us initiates of the high degrees, maintained in the purity of the luciferian doctrine. 

If lucifer were not god, would Adonay (the God of the Christians) whose deeds prove cruelty, perfidy and hatred of man, barbarism and repulsion for science, would Adonay and His priests, calumniate Him? 

Yes, lucifer is god, and unfortunately Adonay is also God, for the eternal law is that there is no light without shade, no beauty without ugliness, no white without black, for the absolute can only exist as two gods. darkness being necessary for light to serve as its foil, as the pedestal is necessary to the statue, and the brake to the locomotive. 

Thus, the doctrine of Satanism is heresy, and the true and pure philosophical religion is the belief in lucifer, the equal of Adonay, but lucifer, god of light and god of good, is struggling for humanity against Adonay, the god of darkness and evil." – Recorded by A.C. De La Rive, La Femme et L'enfant dans La Franc-Maconnerie Universelle, pg. 588. Cited from 'The question of freemasonry" (2nd edition 1986 by Edward Decker pp12-14)
This is the very same Albert Pike whom I have quote elsewhere as predicting a World War 3 scenario, where the NWO controllers pit Zionism against Islam (same source as above):
"We shall unleash the nihilists and the atheists and we shall provoke a great social cataclysm which in all its horror will show clearly to all nations the effect of absolute atheism; the origins of savagery and of most bloody turmoil. Then everywhere, the people will be forced to defend themselves against the world minority of the world revolutionaries and will exterminate those destroyers of civilization and the multitudes disillusioned with Christianity whose spirits will be from that moment without direction and leadership and anxious for an ideal, but without knowledge where to send its adoration, will receive the true light through the universal manifestation of the pure doctrine of Lucifer brought finally out into public view. A manifestation which will result from a general reactionary movement which will follow the destruction of Christianity and Atheism; both conquered and exterminated at the same time."
Worship of the "Light" … But What Light?
"Masonry, like all the Religions, all the Mysteries, Hermeticism and Alchemy, conceals its secrets from all except the Adepts and Sages, or the Elect, and uses false explanations and misinterpretations of its symbols to mislead those who deserve only to be misled; to conceal the Truth, which it calls Light from them and to draw them away from it." ~Albert Pike, Morals and Dogma of the Ancient and Accepted Scottish Rite of Freemasonry, p.104-5
Which it calls "light" – indeed. The open admission by esteemed masons that the God of Freemasonry is Lucifer (and concomitantly that the ideology of Freemasonry is Luciferian, that the goal of Freemasonry is to become enlightened) is itself another inversion. The light is not what you think it is. In this context, light is not synonymous with good, pure, moral or love. Remember, Freemasonry extolls the virtue of intellect and knowledge represented by the light. They worship Prometheus, the mythological figure who stole fire from the gods and gave it to mankind (a statue of Prometheus can be found outside the Rockefeller building in New York). Not coincidentally, in another of his myths, Prometheus establishes a form of animal sacrifice that was practiced in ancient Greece.
The evidence that Freemasonry is a negative force is overwhelming. The Illuminati are a group of cold-hearted psychopaths, eager for power and control at any cost, and are the furthest thing from enlightened or illuminated in the normal and common sense of the world. To be truly enlightened or illuminated would be to realize that we are all one, we are all connected, that whatever you do to another you do to yourself, and that therefore empathy for others is a natural extension of love for yourself. The attitude of high-level manipulative Secret Society initiates is just the opposite of this.
The light of Freemasonry is a fake light, which has given birth to a fake reality. The light is the start of the Matrix. "Let there be light …" can be interpreted as the story of creation of the inverted, dystopian world in which we live, designed and created by the same negative force with many names that I am exposing throughout this article. The light has been weaponized.
This is, of course, intimately connected to the widespread idea that we live on a prison planet, trapped through karma (ruled by Saturn, god of time), where (unless we elevate our consciousness) we may not be able to escape a soul netor reincarnation cycle – which works by introducing a fake light at the point of death to entice our souls to rinse and repeat ad infinitum. Read Soul-Catching Net: Are We "Recycled" at Death to Remain in the Matrix? for a deeper explanation.
And the God of Freemasonry Is …
What is most important is to see the deeper unity of reality, to connect the dots among seemingly disparate names, terms, ideas and cultures. Whether you call this dark force the Great Architect of the Universe, the Demiurge, Yaldabaoth, Satan, Devil, Yahweh, Jehovah, Saturn, Jahbulon, Baal, Nimrod or Lucifer, it's the same basic force. Rich and powerful people are worshipping something – and they're not just doing it for fun. They're getting something out of it. They are literally selling their souls – handing them over for possession – in exchange for (what they perceive as) power, but which in reality is a diminishment of their power.
With consciousness rising, more of this horrible truth will be brought to light – the true light, not the fake light that fuels the synthetic Matrix – and hopefully sooner rather than later.
About the Author
Makia Freeman is the editor of The Freedom Articles and senior researcher at ToolsForFreedom.com (FaceBook here), writing on many aspects of truth and freedom, from exposing aspects of the worldwide conspiracy to suggesting solutions for how humanity can create a new system of peace and abundance
**Sources embedded throughout article.
This article (The God of Freemasonry Exposed) was originally created and published by The Freedom Articles and is re-posted here with permission. 
9/11 Entire Pentagon With Missile Impact
Now, since I've been researching into September 11th, 2001, I've noticed peculiar things about the Pentagon that are very interesting like the Pentagon confiscating the video from the gas station across the street, and the video from a hotel had their video confiscated as well. That was the rumors online anyway.
The gas station ended up suing to retrieve their video. Now, the Pentagon has many videos outside focused in on the parking lot and other aspects surrounding the building. Supposedly, there are 86 outside cameras. Only one 5 frame video was released to the public, and it barely showed a plane.
The gas station ended up suing to retrieve their video. Now, the Pentagon has many videos outside focused in on the parking lot and other aspects surrounding the building. Supposedly, there are 86 outside cameras.
Only one 5 frame video was released to the public, and it barely showed a plane. Many people wanted the Pentagon to release the other security tapes that was shot outside of the Pentagon. Well, that never happened.
Now, why would they confiscate video from the Gas Station from across the street on 09/11/01? Of course, they also confiscated video from the Sheritan National Hotel as well from what people have reported online. Why confiscate their surveillance videos?
Don't they have enough cameras at the Pentagon. Was the confiscation of these videos to cover up their tracks? I guess we may never know now. "Cover Ups" seem to become an every day occurrence these days.
Eric Griffiths via quro reports:
Eyewitness accounts are contradictory; it must be up to you to decide which to believe. The most credible seems to be that of Samuel Danner (TOTAL 911 INFO):
When he was in front of the Pentagon, traffic began to slow down. Danner noticed an airplane in the distance. He knew about the attack on the WTC, and he pulled over and got out of his car. He noticed a small aircraft in the distance coming towards him […] A couple seconds later the […] aircraft passes in front of him. He describes it as a white aircraft about the size of Gulfstream 300. The front was like a humpback whale. It was flying very low to the ground […] There was only one engine, and it was in the tail.
He is describing a military UAV, the Global Hawk: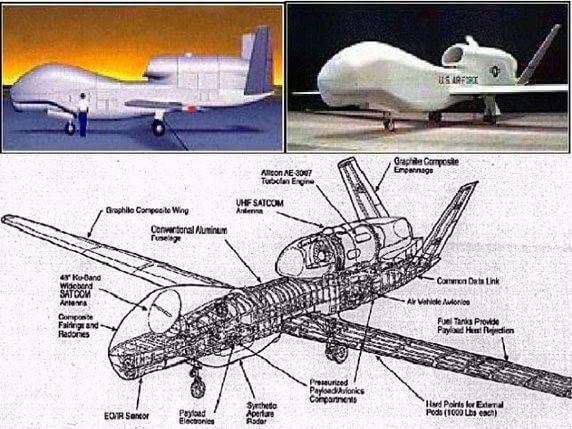 Furthermore:
He describes it as a white aircraft about the size of Gulfstream 300. The front was like a humpback whale. It was flying very low to the ground… There was only one engine, and it was in the tail… As other witnesses have said, the airplane seemed to be under perfect control. He did not notice any windows on the plane… He felt the air move as the aircraft flew by, but the aircraft was amazingly quiet… He saw some of the light poles that had been hit by the aircraft, but they seem to have fallen in the wrong direction, as if explosives knocked them down… Danner walked onto the Pentagon property to help the survivors, but he didn't find any bodies or luggage… He joined the people who picked up scraps (see the photo at the top of this page)… One of the other people assumed they were picking up scraps only to make it appear as if they were doing something useful; ie, in order to impress somebody important… All they found were bits of shredded aluminum and some type of polymer material with fibers… He saw tiny bits of aluminum, a few large pieces, and only one engine… (9/11 Pentagon Eyewitness Describes Having Seen Global Hawk *PIC*)
Insofar as video etc. is concerned, this is the most interesting I have found:
The damage to the Pentagon was also inconsistent with a 757 hitting it:
You might also want to ask yourself why there is no wreckage at the site of UA Flight 93 in Pennsylvania:
Or why Flight 175 can visually be identified as a military version of the 767 (New York Magazine) Or the dismissed, multiple, credible reports of multiple explosions being heard at the WTC before the planes struck. Or how jet fuel doesn't burn hot enough to melt steel, yet the Twin Towers collapsed at a rate approaching free fall.
Or whatever happened to WTC 7, which, like the Twin Towers, appeared to collapse as though by controlled demolition, hours after the Twin Towers went down, without being struck by anything (BTW, the official 9/11 Commission report doesn't even mention WTC 7.)
— And so on and so forth.
Disclaimer
The opinions expressed in this publication are those of the authors. They do not purport to reflect the opinions or views of the Anonymous or its members.
Faking The Moon Landing Isn't The Conspiracy, It's What Really Happened When We Got There
Did we really go to the moon? Yes, we definitely did. However, our research shows that many of the photos and video footage were faked.
"There are great ideas undiscovered, breakthroughs available to those who can remove one of truth's protective layers. There are places to go beyond belief."
– Neil Armstrong (source)
It wasn't long ago that the Russian government called for an international investigation into the U.S. moon landings regarding missing samples and photos not released to the public. This created a new wave of interest into what really happened when the U.S. went up there, and led some to question if they even went there at all. The topic is filled with a number of interesting facts and statements from credible people that make one thing abundantly clear: Something fishy is happening on the moon, and we're not being told about it.
This uncertainty has been made apparent by various sources, which include multiple Apollo astronauts, academics, and high-ranking military whistleblowers, not to mention official photos taken by NASA. According to Bob Dean, a United States Army Command Sergeant Major who also served at the Supreme Headquarters Allied Powers Europe (SHAPE) of NATO as an intelligence analyst, more footage exists, erased and hidden all these years, which we have never been told about:
Ladies and gentlemen, my government, NASA, which many of us in the United States say stands for Never A Straight Answer, proceeded to erase 40 rolls of film of the Apollo Program — the flight to the Moon, the flight around the Moon, the landings on the Moon, the walking guys here and there. They erased, for Christ's sake, 40 rolls of film of those events. Now we're talking about several thousand individual frames that were taken that the so-called authorities determined that you did not have a right to see. Oh, they were 'disruptive,' 'socially unacceptable,' 'politically unacceptable.' I've become furious. I'm a retired Command Sergeant Major. I was never famous for having a lot of patience.
We will get into more intriguing facts later in the article. More points will be made about why so many people are starting to wonder if there is, or was, an alien presence on the moon. These points make it easier to consider the lore that surrounds the moon landing. Perhaps one of the most interesting points is what Neil Armstrong communicated to Houston when we landed on the moon.
According to multiple sources, after landing, the Apollo astronauts transmitted that they were being watched by enormous extraterrestrial vehicles.
Where Does This Claim Come From?
One source is Dr. Steven Greer, founder of The Disclosure Project and The Center for the Study of Extraterrestrial Intelligence (CSETI). Greer was responsible for bringing forth high level military whistleblowers from all ranks to testify about the UFO/extraterrestrial phenomenon. He's also had high level meetings within the Pentagon about this issue, which was verified by Apollo 14 astronaut and 6th man to walk on the moon, Dr. Edgar Mitchell, in Greer's film Sirius Disclosure.
Edgar is one of multiple NASA astronauts who have made some eye-opening comments about the extraterrestrial presence.
According to Greer, from a blog post a couple years ago (and if this link doesn't work, you can check out a video of him speaking about the experience here):
Close friends and very close family members of both Neil Armstrong and Buzz Aldrin have separately told me that indeed there were numerous, large UFOs around the crater where the Lunar Module landed and that these were seen by both Armstrong and Aldrin. I have also spoken to military officers that have seen the footage of this event- but it has never been made public. One close family member of Buzz Aldrin told me "It is not my place to out Buzz on this- someday if he can speak about it, he will…

Neil Armstrong became somewhat of a recluse after the moon landing, and rarely spoke of the historic event. His friends and family have told me that this is because he was a man of such integrity that he simply did not want to be put in a position to lie to the public about such a momentous encounter. How tragic that our heroes have been placed in this untenable situation!
When we were organizing The Disclosure Project a few years ago, I asked one of Neil Armstrong's friends if Armstrong would come to Washington to brief members of Congress at the 1997 Congressional briefing we organized in April of that year. I was told that Armstrong wished he could –but that if he spoke about what really happened during the moon landing, that Neil Armstrong, his wife, and children would all be killed. It was put to me this bluntly.
Another source is former NASA employee Ken Johnston. Johnston was a Boeing engineer and a former fighter-jock and test pilot for Grumman Aerospace. He was also a marine and an F-4 pilot, as well as a NASA employee, working as the chief Lunar Module test pilot at the Manned Spacecraft Center in Houston. According to James Oberg, a U.S. space journalist, UFO skeptic, and space historian, "Johnston seems to be a sweet human being who did honorable service to his country in the military and in the Apollo program."
Above is a picture of him wearing his gear, taken from a documentary in which he appeared that also featured Buzz Aldrin and other notable NASA colleagues. In the documentary, he reveals: "While Neil and Buzz were on the Lunar surface, Neil switched to the medical channel, and spoke directly with the chief medical officer saying, they're here, they're parked on the side of the crater, they're watching us." (Source: 34 second mark)
Johnston is referring to a story put out by former NASA employee Otto Bender. According to Dr. Michael Salla, PhD., on a post written on his website, Bender confirmed that HAM radio operators had intercepted these VHF signals that were transmitted from Apollo 11, the ones that were kept from the public.
Apparently, this is how it went:
Mission Control: What's there ? Mission Control calling Apollo 11.
Apollo 11:  These babies are huge, sir … enormous….Oh, God, you wouldn't believe it! I'm telling you there are other space craft out there… lined up on the far side of the crater edge… they're on the moon watching us.
To the right you will see a picture of William Tompkins and Admiral Larry Marsh. As a teenager Tompkins had an
 eye for detail and loved to create Navy ship and submarine models. The Navy took interest in his capabilities and recruited him to do work on advanced technology projects. Recently, he has come forward with claims, as many others have, about clandestine Black Budget operation programs.
The Landing Module (LEM) actually impacted the Moon surface in the Sea of Tranquility Crater, which had tremendous size vehicles parked around part of its rim. When astronaut Neil Armstrong made that First Step for Man on the Moon he looked up to the edge of the crater and said to mission control: "There are other ships here, they are enormous. The public did not hear that statement or see the massive alien starships. Armstrong panned his camera in a 360 degree motional all around the crater and the CIA then classified the information as way above top secret.
Another source for this story comes from Timothy Good, one of the world's leading UFO researchers, who has lectured at universities, schools, and many organizations, including the Institute of Medical Laboratory Sciences, the Royal Canadian Military Institute, the Royal Geographical Society, the Royal Naval Air Reserve Branch, the House of Lords All-Party UFO Study Group, and the Oxford and Cambridge Union societies.
He says that a former member of MI6 revealed her conversation with Neil Armstrong at a NASA conference, when he confirmed there were "other" spacecraft on the Moon when Apollo 11 landed in 1969. Armstrong also confirmed the CIA was behind the coverup. He also goes into more detail about it in this 2013 lecture.
So you see, this story has many different sides to it, and given all of the information that's now available in the public domain regarding UFOs and extraterrestrial life, it's really not hard to believe, especially when we already have some compelling information about the moon.
Why the Above Story Could Very Well Be True
Maurice Chatelain, whose expertise allowed him to invent radio equipment used to go to the moon (here is an example of one of his twelve patents), has revealed that "at no time when the astronauts were in space were they alone. They were under constant surveillance by UFOs."
This statement has been packed up by several astronauts, one of them being Dr. Edgar Mitchell, the 6th man to walk on the moon: "Yes there have been crashed craft, and bodies recovered. . . . We are not alone in the universe, they have been coming here for a long time. I happen to be privileged enough to be in on the fact that we have been visited on this planet, and the UFO phenomenon is real." (source) (source) (source)
It's not only agency astronauts, but agency insiders as well. For example, Dr. John Brandenburg, the Deputy Manager of the Clementine Mission to the Moon, which was part of a joint space project between the Ballistic Missile Defence Organization (BMDO) and NASA, has also made some fascinating revelations. The mission discovered water at the Moon's poles in 1994 (Source: page 16 of 18)(source)(source). But, according to Brandenburg, the Clementine Mission had an ulterior agenda:
[The Clementine Mission was] a photo reconnaissance mission basically to check out if someone was building bases on the moon that we didn't know about. Were they expanding they expanding them? . . . Of all the pictures I've seen from the moon that show possible structures, the most impressive is a picture of a miles wide recto-linear structure. This looked unmistakably artificial, and it shouldn't be there. As somebody in the space defence community, I look on any such structure on the moon with great concern because it isn't ours, there's no way we could have built such a thing. It means someone else is up there.
George Leonard, a NASA scientist and photo analyst, has obtained a number of official NASA photographs of the Moon, which he published in his book Somebody Else Is On The Moon. Although the photos are small and their resolution poor, they show details of original, massive prints. Far more compelling than these photos, then, are his verified NASA credentials and his statements about what was found on the Moon. And he's not the only one with a credible background trying to tell the world the truth about the Moon and the photos that were taken from the Apollo missions.
Dr. Norman Bergrun, a mechanical engineer who worked for Ames Research Laboratory, NACA (National Advisory Committee for Aeronautics), and Lockheed Missiles and Space Company, now known as Lockheed Martin, has accused the agency of "garbling" photos the agency does not want the public to see. He has also stated there are a number of large UFOs out there. You can view some of his publications for NASA, where he worked for more than a decade, here, and watch that interview here.
There are also studies to consider. Members of the Society For Planetary SETI Research (SPSR) have recently published a paper in the Journal of Space Exploration about certain features on the far side of the moon that appear in the crater Paracelsus C. Titled "Image Analysis of Unusual Structures on the Far Side of the Moon in the Crater Paracelsus C," it argues that these features might be artificial in origin, meaning someone other than a human being built them and put them there. You can read more about that here.
"Shortly after I retired from the Air-Force, and I still was maintaining contacts with friends and associates at the various bases and one Col Parker in the Air Defence Command, the Space Command . . . mentioned an incident which I later confirmed. A spacecraft went to the rescue of Apollo 13, and they accompanied Apollo 13 on their voyage around the moon and back to Earth, and on two occasions they thought they might have to transfer the crew to their spacecraft. But they saw them safely back to the Earth."
The quote above comes from Colonel Ross Dedrickson, who, in the 1950s, was responsible for maintaining the inventory of the nuclear weapon stockpile for the AEC and accompanying security teams checking out the security of the weapons, among many other duties throughout his career. It was taken from the interview below.
He is one of hundreds of military whistleblowers to give some very interesting testimony.

Contrary to popular belief, reports of artificial structures on the moon are both common and persistent. Among the first were from George Leonard's 1976 book, Somebody Else is on the Moon, and Fred Steckling's 1981 book, We Discovered Alien Bases on The Moon.
Watch This Secret Video Before NASA Deletes It…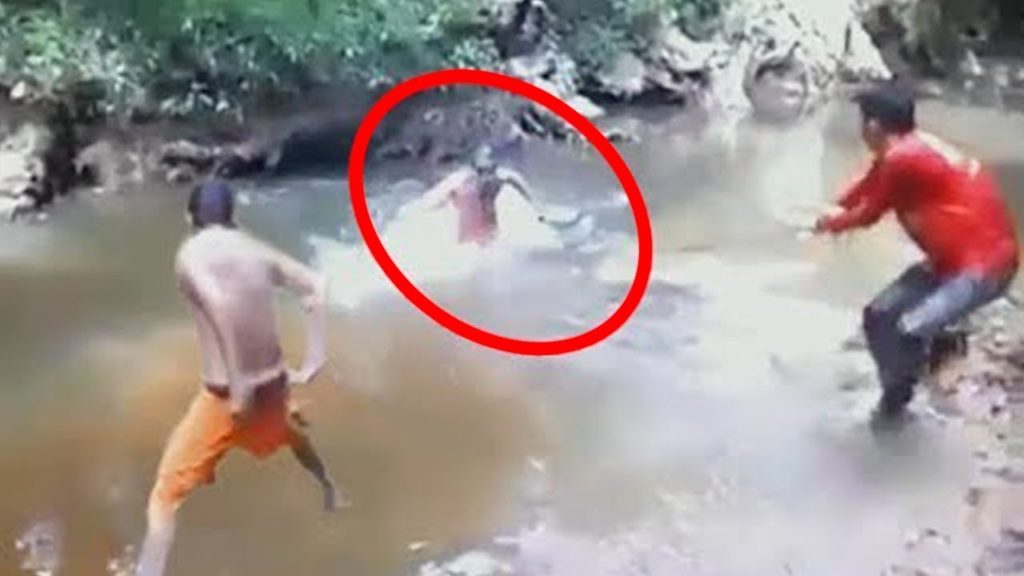 How much do you know about outer space? Whatever the answer to that may be, unless you work for NASA we're gonna go ahead and guess that you may not have all the answers about what's really out there. But that's ok! Because today, we got you covered. So, without further a do Top 5 Supreme is bringing you Watch This Secret Video Before NASA Deletes it! Be sure to watch this video to the end, because number 1 on this list will definitely surprise you. Before we begin with today's video, don't forget to click the bell to get notified every single day with the best Tops you'll ever see! Also, don't forget to subscribe to this channel! So without waiting for anything else, let's get rolling!
#5 Apollo 11 Missing Tapes
Neil Armstrong and Buzz Aldren were the first men to land on the moon, and they did it on July 20 1969. The people of America were ecstatic because it appeared as if the United States had won the space race, and were the first country to land on the moon. The event was broadcast live on television, until one day the tapes just went missing. That's right, in the early 2000s this important piece of history just disappeared. Some people thought that the tapes had ended up just shipped to another facility, while others suggest that these specific tapes were just a couple out of over 700 NASA tapes that were inadvertently erased. We'll let you be the judge of what you think happened.
#4 No Life Insurance
Continuing with the Apollo 11 astronauts. . . some would be sad to hear that these brave and fearless pilots were denied a basic, working right – life insurance. These people had families. Kids. Wives. So with that understanding these government employees had to come up with something quick – and they did. Signing autographs. By the time the mission to the moon was announced to the public, the pilots were already famous. So they started signing autographs and sending them home, so that in the event that the pilots didn't return then they're families could sell the signatures. Fortunately the pilots made it home safe, but if you're lucky enough to have one of those autographs you can likely sell it for close to $30,000.
#3 Whale Oil Powers Telescope
Another rumor that NASA has dealt with over the years is the fact that most people believe they used whale oil to power the hubble space telescope. The reason NASA may have used the whale oil is simple; it can stand below freezing temperatures and can tolerate the harsh space conditions better than anything else, however, NASA never said whether or not those rumors are true. And for good reason, as who would be happy about that?
#2 James Webb Space Telescope
What takes over 20 years to make and billions of dollars to construct? A space telescope. A very, very large space telescope. The James Webb Space Telescope – which still isn't finished – has come under a lot of scrutiny. It has a mirror on it that is 7 times larger that the one that came before it, but supposedly will be powerful enough to extend the viewing power of the previous largest telescope, the Hubble. Many question whether or not the time and money spend to erect such a large piece of equipment is worth it. Like I said, this thing has cost billions of dollars to make, and won't be ready until October of 2018. No word on how they plan on actually launching this thing, but I think it's safe to say that we'll all have our eyes to the sk the day the James Webb Space Telescope is launched.
#1 Being an Astronaut is Very Hard
You may recall your mom or dad telling you that you can be whatever you want when you grow up – but I think that statement should be amended to say 'except for an astronaut'. According to reports the highest qualified candidates have just a zero point 8 percent chance of actually becoming an astronaut. And then if you are selected, you have a high chance of contracting depression once you return home, as that unfortunately is a likely side effect after returning home. And that is today's list! Thanks for watching today's video. If you like this list, leave a thumbs up and share with all of your friends! And don't forget to subscribe to this channel so you never have to miss out on any of our interesting video sever again!
Video:
Source: Top 5s Supreme ~ YouTube