The Gift Of Unsoothable Pain: Darkness Can Lead to Light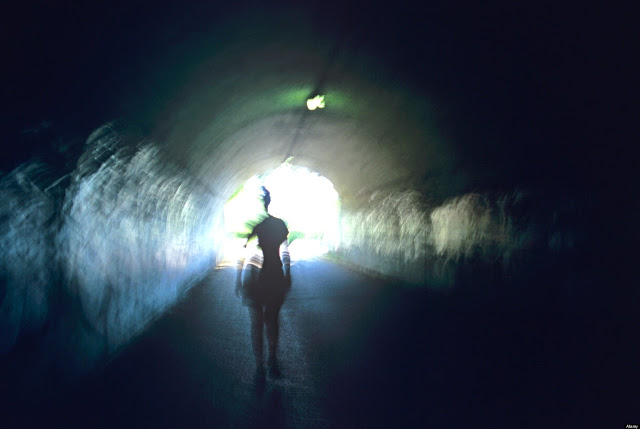 by Jill Gross tiny buddha
"Blessed are the cracked for they shall let in the light." ~Groucho Marx
In 2008, after ten years of marriage, my former husband and I decided to divorce.
It came as a shock to those who knew us. We were living what most would consider the American dream: two healthy children, beautiful home, great friends, strong careers, two incomes—the works.
Though my ex-husband and I got along well, the marriage was missing an intimate, heartfelt connection.
Loneliness and longing grew with each passing year until I could no longer ignore them. I knew the kind of intimacy for which I yearned was not possible in my marriage, so I asked for a divorce.
Because my ex-husband and I led mostly separate lives, I assumed the transition through divorce would be fairly smooth. Boy, was I in for a rude awakening!

Divorce, like most significant losses, takes the safe and familiar contour of our lives and blows it to smithereens, leaving us vulnerable and unprotected until the new shape forms. It is easy to underestimate the comfort we draw from what is known; I sure did.
Shortly after the separation, much like a Ficus tree seems to all but die when moved from its familiar spot, I went into a state of shock.
It was as if my nerve endings were relocated outside my skin, perturbed at even the slightest agitation. Once-routine tasks, like getting out of bed or going to the grocery store, seemed barely doable.
I spent the days toggling between two modes: "about to cry" and "full-on blubbering."
I told myself it was not okay to feel the pain because it was a consequence of my own choices. My emotional suitcases were so heavy with fear, shame, and self-doubt, I thought these feelings defined me.
One night, the struggle reached a crescendo. Sadness and dread filled my entire body, from the inside out, until I was heaving with sobs and howling like a trapped animal. I was convinced the pain would either not stop or that it would kill me. I secretly wished for the latter.
It was in this moment I realized that some pain is, quite literally, unsoothable: there is no one, no place, and nothing in that moment that can make it better.
The only way out of unsoothable pain is to go straight through it. Even with this awareness, however, I still wanted to run.
At first, I tried to numb the pain with limerence. The new relationship went about like any would go between two wounded people lacking awareness; like a train wreck. What's more, I convinced myself I needed that train wreck to work to prove I wasn't a failure.
When we tell ourselves that we need something, we inadvertently look for it in places we are guaranteed not find it.
This is life's clever way of showing us, again and again, what needs our own loving attention. If I kept numbing the pain of loss with romantic love, I would keep choosing unsustainable relationships.
At the base of every true heart connection is acceptance. We cannot offer acceptance to others until we can accept ourselves, wrenched heart and all.
Three years and two failed relationships later, I decided it was time to stop trying to soothe the unsoothable, to face grief, and to build a solid life on my own.
I eschewed romantic relationships for well over a year, devoting that time to friendships and long-neglected passions, like skiing and music. I felt lonely and frequently got scared, but fear was outmatched by a deeply held conviction to stay the course.
Though I once hoped it would, I am happy to report unsoothable pain did not kill me. In fact, the willingness to push through its contractions has increased my confidence to handle life's loss and uncertainty. The same can be true for anyone willing to face his/her own darkness.
If you are experiencing unsoothable pain, you may be tempted to reach for something or someone to numb yourself.
Avoidance is a way of inviting into your life more of the very thing you are attempting to banish; resistance is futile. Your feelings are intense because something important is happening, so keep going!
Sometimes unsoothable pain presents itself as fear, telling us the struggle won't end.
Sometimes it assumes the voice of self-doubt, convincing us we can't do it.
Sometimes pain is accompanied by shame, which cajoles us into believing there is something fundamentally wrong with us because we are hurting.
Fear, self-doubt, and shame are the normal, temporary emotional byproducts of significant change. Do not believe their stories; they are untrue. Unsoothable pain is the threshold over which we must cross to access more love and more light within ourselves.
While masking its symptoms won't cure the disease, taking good emotional, spiritual, and physical care of yourself goes a long way. Here are a few things to consider:
1. Slow down and breathe.
It may feel like you are dying when you pause for a bit, but I encourage you to do it anyway. When we slow down and sit with hard feelings, we are taking a brave step toward showing ourselves that we are stronger than pain.
2. Create small goals.
During the darkest times, the idea of getting through an entire day felt like a lot, so I broke the day into small chunks to make it more manageable. My goal list looked like "Shower and put on makeup" or "Make it to lunch time."
3. Celebrate achievements.
When I reached each milestone, I would sometimes say, out loud and in my goofiest cheerleader voice, "Woot! You made it to bedtime! Another day is history!" (Sidebar: always laugh at yourself—the alternative is too unpleasant to consider).
It may feel silly to celebrate events that seem otherwise unremarkable but, when your nerves are inside out, even the simplest of tasks can feel like a big deal.
4. Trust more and confide often.
Make a short list of the people in your life you feel safe falling apart with and let yourself fall apart with them.
There is nothing shameful about unsoothable pain—it is our vulnerability that allows us to create meaningful bonds with other humans. Sometimes a supportive comment or gesture from a trusted friend can be the encouragement you need to keep going.
5. Move around.
You don't have to qualify for the Boston Marathon, but please do move your body at least once per day.
Whether your preferred movement is yoga, walking, running, dancing, hiking, or biking, remember that emotions are physical events—we can literally move through them sometimes. If this idea seems like too much, start with your mailbox and work your way out from there (see #2).
6. Do something that scares you.
Keeping health and safety in mind, figure out two or three small things you can do that are outside of your comfort zone.
I wanted to reconnect with my musical side, so I joined a group of singers and songwriters. It wasn't easy (I cried in the car all the way to the first gathering), but it eventually got easier and the strangers in that group eventually became friends.
7. Speak kindly to yourself.
We are more likely to advocate for people we like so, when you are in pain, speak to yourself as if you are a valued friend. It is when we are hurting that we are most deserving of tenderness. Gently remind yourself that you are doing your best to take care of you.
8. Be patient.
Building a new life shape takes time, so give it the time it deserves. Acting hastily merely increases your chances of having to start over later.
Building a friendlier relationship with discomfort can eventually diminish its strength and frequency.
In the meantime, it may help to remember that unsoothable pain is often the sign of a well-lived life—it proves you were courageous enough to risk, to love, and to be affected by loss. After all, it is when the shapes of our lives are wide open that the most light can get in.
Miracle in Colombia – A saint statue rescues city dwellers from landslide
Residents of the city of Jericó, in the Colombian department of Antioquia, are sure that it is the statue of St. Montoya which rescued them from a heavy landslide a week ago because of heavy rains.
The altar with the statue was located on the slope of the mountain from which the landslide descended. Muddy streams flooded the streets and destroyed more than 10 houses. However, none of the locals died or even seriously injured, and the statue itself was not damaged at all.
However, more than a thousand people lost access to their homes and were evacuated.
Local priest Jesus Herrera told reporters:
"We consider it a true sacred miracle that nobody was killed, and Los Aguacates did not collapse."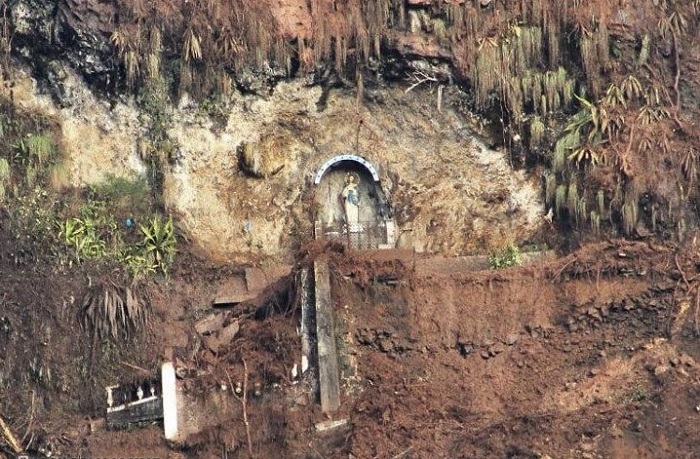 Only two people were slightly injured – an elderly woman and a small child. This muddy landslide floods the entire surrounding area, including the city streets.
According to locals, at such a level of disaster, there would have been many more casualties had it not been for the protection of St. Montoya.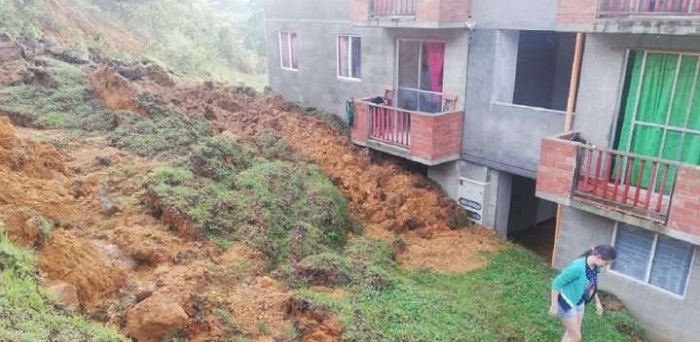 The statue of the patron saint of the city of St. Laura Montoya (Saint Laura Montoya), was installed here in 1919, in honor of a true Catholic nun.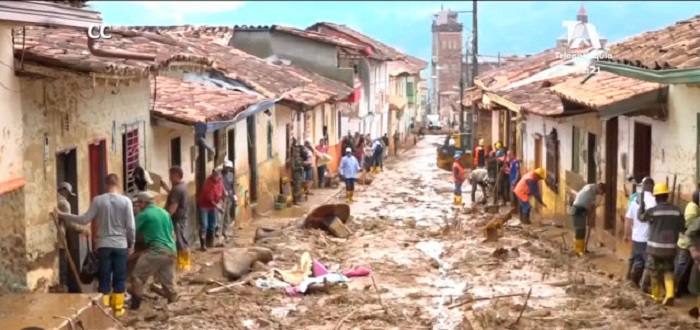 She was Colombia's first saint. Immediately after the statue was erected, worshipers began to visit it, finding it miraculous.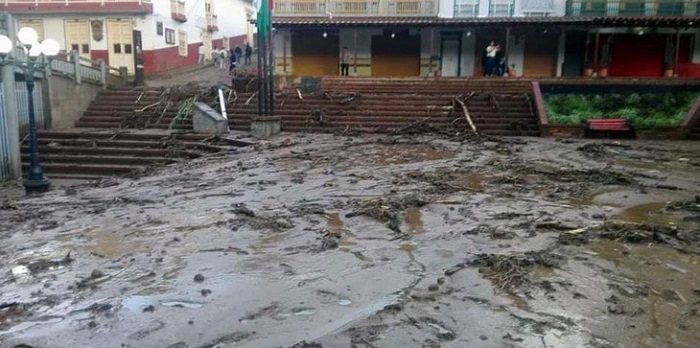 One of the locals says:
"Apart from material damage, we have no reason to cry. I'm sure we were all saved from the miracle the saint gave us. "
Mariana Garces, another resident says:
"Just look at all this horror that is now on our streets. No one can help us, but I think, nevertheless, someone or something intervenes. I already believe that there are spiritual powers in these places, and I am not the most religious person. "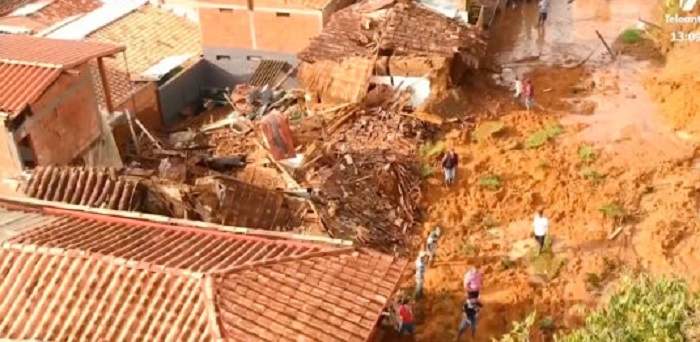 In addition to Heriko, heavy rainfall caused flooding and landslides in six other Antioquia regions, but there the effects were smaller and only 3 houses were completely destroyed.
Among the saints of the Catholic Church there are those whose bodies are still preserved incorrupt. This phenomenon has not yet been explained in the scientific community. For access to the pilgrims "imperishable" placed in special glazed sarcophagi.
Below are the top 10 most famous incorruptible saints of the Roman Church.
1. Saint Bernadette of Lourdes (January 7, 1844 – April 16, 1879)
She lived in the town of Lourdes in southern France. Bernadette was the Virgin Mary, there were only 18 appearances. Despite the fact that the Catholic Church was skeptical at first, subsequently, after a thorough canonical investigation, these phenomena were officially recognized. After death, Bernadette's body remained incorrupt and Lourdes (and after the city of Nevers, to which the body was transported) soon became one of the main places of pilgrimage, attracting millions of Catholics every year. On December 8, 1933, Bernadette was canonized.
2. St. John Vianney (May 8, 1786 – August 4, 1859)
He was a French parish priest. He is known for his active work, which contributed to the spiritual transformation of society. After death, he is called the "patron saint of priests."
3. Saint Theresa Margarita of the Sacred Heart (1747-1770)
On March 19, 1934, Pope Pius XI ranked Teresa Margarita as a saint. Before that, she was practically unknown to anyone. She led a quiet and modest life in the monastery of Carmelites. Died March 7, 1770 at the age of 22 years. Two days after the death of St. Theresa Margarita in 1770, a nun of the Order of the Sacred Heart, there were no signs on the body of the deceased, which during her life turned him into a swollen purple mass.
4. Saint Vincent de Paul (April 24, 1581 – September 27, 1660)
Vincent was born in 1581 in a village near Dax in a poor peasant family, studied theology in Toulouse. In 1600 he was ordained a priest. During one of the trips to the south, he was captured by the Berbers and taken to Tunisia, into slavery. In 1607, he was released and was able to return to his homeland. In 1612 he was appointed rector of a parish near Paris. One of the main merits of St. Vincent is the creation of a harmonious system for the training of priests: a pre-seminary and seminaries. Saint Vincent died in 1660 in Paris. Pope Benedict XIII proclaimed him blessed on August 12, 1729, and Pope Clement XII canonized July 16, 1737. The relics of St. Vincent are stored in the chapel, named after him, on Sevres Street in Paris.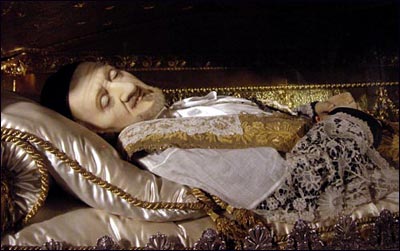 5. Saint Sylvanas
Little is known about this saint, except that he was a martyr for his faith. Given its 1,600-year-old age, it has been perfectly preserved.
6. Saint Veronica Giuliani (December 27, 1660 – July 9, 1727)
According to legend, she spoke at the age of 18 months, beginning to reproach the seller-deceiver with the words: "Show yourself from the best side, God sees you!". In 1677, at the age of seventeen, she entered the Capuchin Sisters Monastery. The monastery went through all the steps of the monastic hierarchy from the cook to the abbess. In 1694, she experienced mystical revelations. Three years later, on April 5, 1697 during Good Friday, she showed stigmata. After this event, at the request of the confessors, she began to keep a spiritual diary, which after her death amounted to more than twenty-two thousand pages. In this diary, she described her mystical experience of absolute union with Jesus Christ. July 9, 1727 died after a long illness.
7. Saint Zita (p. 1212 – 27 April 1272)
At the age of 12, she began to serve at the Fatinelli family home. For a long time, employers overloaded the girl with work, despised her simple origin, and often beat her. The constant piety and patience of Zita brought the Fatinelli family to Christian conversion. Zita considered her work a calling from God and an element of personal repentance. Zita died at the age of 60, having served 48 years to the Fatinelli family. After her death, members of this family began to revere Zita as a saint. In 1580, her body was exhumed and it turned out that the relics of St. Zita were incorrupt. They were transferred to the Basilica of St. Frediano in the city of Lucca, where they are currently stored.
8. Saint Don Bosco (August 16, 1815 – January 31, 1888)
He was an Italian priest, educator and teacher. To realize his intentions of working with youth, Bosco founded the monastic society of St. Francis Salsky (now known as the Salesians of Don Bosco).
9. Blessed Pope Pius IX (May 13, 1792 – February 7, 1878)
It went down in history as the Pope, who proclaimed the dogma of the Immaculate Conception of the Blessed Virgin Mary and convened the First Vatican Council, which approved dogmatically the doctrine of the infallibility of the Roman high priest. Pontificate Pius IX – the longest in the history of the Roman Catholic Church, after the Apostle Peter. It lasted 31 years, 7 months and 22 days.
10. Blessed Pope John XXIII (November 25, 1881 – June 3, 1963)
The 261st Pope, convened the Second Vatican Council, but did not live to see it end. Actually, it's not completely imperishable, because after death it was embalmed.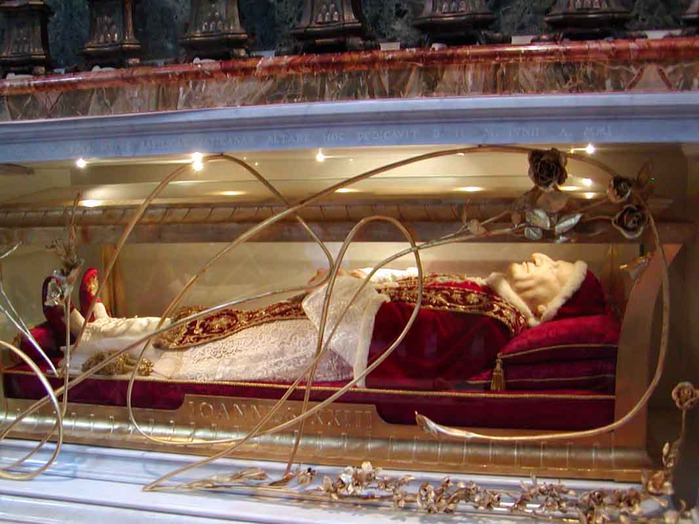 Global Mind Energy Report: Impact of Mass Meditations HIGH
The following report details the current state of geomagnetic activity and resulting effects on human consciousness. This can be used to guide one's activities in meditation, mass meditation, personal energy work, and self-mastery practices.
Report: The impact of individual and coordinated mass meditations will be HIGH.
Geomagnetic activity is stabilizing, ranging from 1 to 2 of the Kp Index. The speed of the solar wind is trending down while density is picking up. Calm conditions are expected for the next few days as the solar wind stream normalizes.
Personal Effects: High synchronicities, precognition, deja vu, energetic downloads, and connectivity to cosmic energy systems.
Social Effects: High capacity for telepathic exchanges in small or large groups.
Universal Effects: High energy and information streaming in from the celestial bodies, like surrounding planets, as well as stars, the galactic sun, and other galaxies.
Forecast: Meditations for the collective via outer work should have a high impact for 72 hours.

Inner Work: Develop gratitude for the cosmic lessons received in the form of mirroring of oneself, like stubbing a toe, a friend being upset with us, or the genuine reactions of others and ourselves to life events. All is information that reveals the nature of self and reality. If one does not consciously invoke acceptance of circumstances and emboldens themselves to overcome those obstacles via inner growth, it is likely one will feel emotional upset and angst. But with purpose and dedication to self-mastery, all challenges can be overcome so as to develop wisdom, personal growth, and a spiritual character. Strive to know thyself and this will help one know the world and others.
Outer Work: During quiet geomagnetic conditions, focus your meditations on forgiveness, social harmony, relaxation of tensions, and collective healing. Strive to be honest and transparent with your desires that affect others. See the other self an extension of your own being, developing unconditional love balanced by honest communication and clear agreements. When personal expectations are not met and communication with others isn't clear, this is an opportunity to reflect on the methods of how we manifest our desires (with honesty and explicit communication or cowardice, fear, and blind faith others know what we want). Social harmony is the constant building of trust with oneself and others, which creates inner and outer peace, harmony, and abundance.
Note: The recommendation and impact of meditations report only analyze the electromagnetic (material) aspect of consciousness, operating within the subluminal electromagnetic spectrum. Other, super-material, energetic, or spiritual mediums of informational transference (telepathic and energetic effects of meditation) will likely still have a profound effect, even if the geomagnetic conditions are chaotic that day. Please do not assume this report is suggesting you avoid meditating on days when the impact is forecasted to be low.
Scientific Basis of Telepathy, Mass Meditation, and Global Field Effects:
The human organism is energetically linked to the earth via electromagnetic interactions in the extremely low-frequency range (ELF). These frequencies interact with the global system via the Schumann Resonances, ranging from 7.83hz up to 39hz. The human body, particularly the heart and brain, resonate at the same frequency range, measured by an EKG and EEG.
The heart is a piezoelectric liquid crystal oscillator that produces strong electromagnetic pulses, which are governed or attenuated by the brain, radiating outwardly up to 30 feet from the body. By way of inducing coherent states of mind (usually through meditation and/or chanting, sounding, yoga, or qi gong), the mind can focus the energies of the heart into a coherent field that is able to interact or "link up" with the global field.
Dr. Michael Persinger conducted research on the global mind, postulating that the geomagnetic field, due to the Schumann frequency ranges, has the potential to link up with the human mind, allowing information to be "stored" in the earth's field. He was able to historically demonstrate that during times of low geomagnetic activity, individuals experienced greater spontaneous cognition or received telepathic downloads. Conversely, during times of high geomagnetic activity, telepathic downloads decreased.
Dr. Persinger also worked with Ingo Swann, an exemplary remote viewer who was involved in the DIA's Star Gate Program. Experiments were conducted that involved placing Swann in a coherent magnetic field with a second participant who was asked to look at a photograph. Swann then entered a meditative state and "viewed" the drawing via the coherent field and the other person's mind. This enabled him to draw statistically significant depictions of what the second participant was viewing. Dr. Persinger was able to prove that a coherent magnetic field provides an energetic medium for the exchange of information between minds.
The geomagnetic field is the largest field on earth, immersing all living things and human beings within a coherent magnetic field. Via the principle of entrainment or synchronization, governed by electromagnetic sympathetic resonance, information within a human mind can be "uploaded" to the geomagnetic field, which can then be "downloaded" to other people and have stabilizing effects on any electric body. The greater the coherence of the individual, the more likely they are to inform the geomagnetic field. The greater the coherence of the geomagnetic field, the more likely the information can be shared between individuals.
During times of low geomagnetic activity, the human organism's electromagnetic field embeds within the geomagnetic field (phase conjugation), allowing information to be exchanged between each system coherently (without degradation).
During times of high geomagnetic activity, the human organism's electromagnetic field disconnects from the geomagnetic field, which has the effect of isolating each system from other systems.
Effects
When people take the time to make themselves mentally and energetically coherent, by way of meditation techniques, while also visualizing or praying for peace, various types of stabilization effects can occur. The Maharishi effect stabilized social systems, reducing crime and overall suffering of people on earth.
In 1960, Maharishi Mahesh Yogi predicted that one percent of a population practicing the Transcendental Meditation technique would produce measurable improvements in the quality of life for the whole population. This phenomenon was first noticed in 1974 and reported in a paper published in 1976. Here, the finding was that when 1% of a community practiced the Transcendental Meditation® program, then the crime rate was reduced by 16% on average. At this time, the phenomenon was named Maharishi Effect. The meaning of this term was later extended to cover the influence generated by the group practice of the TM-Sidhi® program. Generally, the Maharishi Effect may be defined as the influence of coherence and positivity in the social and natural environment generated by the practice of the TM and TM-Sidhi programs. (source)
Dan Winter postulates that the effects of a coherent mind can be used to "steer a tornado" via a phase conjugate dielectric bioplasma produced by a shaman or person who has developed abilities in meditation and energy practices. In other words, an individual can produce a bioelectric field that allows them to merge with another field, influencing the second to some degree.
This can be simply described by having genuine empathy (care) and compassion for living energy systems, which could be people, places, weather systems, countries, and even the entire planet. Non-living "empathy"—electromagnetic connection between humans and dead buildings made out of steel and aluminum—reduce the coherence of the person, and are to be avoided.
Meditating in nature or being surrounded by natural materials, like a wooden house or a cave, increases bioelectric coherence, strengthening an individual's ability to affect other systems. Conversely, attempting to link up with the earth's field from within an artificial "dead" structure, will reduce energetic embedding effects. You can't connect to the global field in a steel building as well as you can in a natural setting.
Meditating in close proximity with other people, particularly after hugging each person for a least 20 seconds, will increase the individual's brain-heart coherence. This effect also transfers to groups, a kind of energetic tuning that increases the energy embedding effects mentioned above. Group meditation, after tuning, have a greater impact than individual meditations.
These effects suggest that depending on an individual's ability to develop coherence as well as what they visualize, they can have a profound impact on stabilizing weather and seismology.
Additional Resources:
Effects of Geomagnetic, Solar and Other Factors on Humans
https://welovemassmeditation.blogspot.com