The gargoyle on the wall of the 12th century abbey is similar to Alien. How did it happen?
At the turn of the 6th-7th centuries, an Irish monk, known today as Saint Mirin (Mirren in another version) preached in Scotland. He founded a religious community, which in the XII century turned into a paisley abbey.
The temple of this saint has become a pilgrimage center. But today he is known not only thanks to the activities of St. Mirin.
The gargoyle, carved high under the roof of the abbey, sparked a wave of discussions on social networks. The fact is that she suspiciously looks like a xenomorphic creature from the legendary fantastic thriller Ridley Scott's "Alien" 1979.
Gargoyles in Gothic architecture were figures that illustrated evil through the form of superficially repulsive fantasy creatures. From a practical point of view, they were designed to drain water and prevent the masonry from raining. Often the gargoyles were unnaturally elongated to divert water from the walls as far as possible.
"'Alien' gargoyle on ancient Paisley Abbey – BBC News" https://t.co/D0L5TJyp3x

— saebou (@Cristoforou) November 25, 2019
In the Middle Ages, it was believed that gargoyles scare away evil spirits and protect parishioners of the church. However, the gargoyle-xenomorph has a slightly different story. Rev. Alan Beers said that restoration work took place in the abbey in the early 1990s. In particular, 12 medieval gargoyles were replaced, which adorned the abbey for hundreds of years, but eventually collapsed almost completely.
Beers said the abbey signed a contract with a bricklayer from Edinburgh when a series of science fiction films combined by the Alien film universe was at its peak. However, the reverend believes that the mason was not going to copy a specific xenomorph, but used the general concept of the appearance of an alien.
Paisley Abbey plays a big role in the history of Scotland: the future king Robert II was born here, he spent his childhood here and received his schooling knight William Wallace, whose story is told in another Hollywood film – "Braveheart".
53-year-old looking 25 reveals the secret of "eternal youth"
Edson Brandao from the Netherlands told Unilad how at 53 he manages to look several decades younger."People are always shocked when they find out that I'm 53 years old. They all think I'm 25," he admits.
Brandao claims that he never resorted to the help of plastic surgeons, and his appearance is the result of a healthy lifestyle.
He adheres to a special diet: he does not eat fried and canned food, and also avoids sugar.
The man combines all this with strength training. He prefers mineral water from drinks, drinking about two liters daily.
Brandao also stresses that he has never smoked or used drugs in his life.
"Now I feel no worse than when I was not even 30," he says. – I feel the same energy as before. To be honest, I've never felt so good." he says.
A creepy video with a skeleton girl running on all fours leaked on the web
A video appeared on the Internet, which should be a fragment of some horror movie, definitely not something that you would like to face on a dark night, but no, this is an ordinary video filmed with a street surveillance camera. At night, the camera recorded a skinny girl running around her house on all fours.
The video was published a few weeks ago. It was named "Dog Girl from Tamaulispas". As the title suggests, the video was recorded in Mexico. In a couple of weeks, the video managed to spread throughout the Internet.
The video shows a pale and emaciated creature. If you look even closer, you can see a girl moving on all fours. A mentally unhealthy resident of Mexico is moving very dexterously and at high speed.
Some people wrote in the comments that the impression was that the cameras were recording a humanoid. Other citizens noted that the girl actually has Uner Tan syndrome. With this disease, a person is not able to walk on two legs.
It is worth noting that this girl was spotted back in 2009. Then the not indifferent found out that the girl-dog lives with her mother in the Ampliación Unidad Nacional area. A woman hides her daughter from neighbors and even more so from the media. This behavior is quite understandable: the mother does not want her daughter to be mocked and become a victim of cruel ridicule.
The syndrome doesn't explain why the girl is so skinny and completely naked in the video. It is also worth noting that no one with a similar disease moves on four limbs skillfully frighteningly, as if it were not a person. Today the girl is 25 years old, there is no information about her for obvious reasons. It is only known that cameras are specially placed in case the girl escapes.
Most people were shocked by the footage, they compared it to a horror movie, only a real one.
Many commentators point out that for humans, the creature in the video moves so unnatural and frightening that it all looks more like a high-quality fake.
"It's like shots from a horror movie," writes one commentator bluntly. 
"I can't even imagine how scared I would be if I walked there at night and saw her," writes another. 
The strange phenomenon of the "wire woman"
In 2008, an amazing and mysterious incident attracted the attention of the whole world. A woman named Noor Saida, 40, who was born in Sangatta, East Kalimantan, Indonesia, went to doctors complaining that she had metallic hair growing on her chest and abdomen.
It is very painful when the stubble is about to come out of the pores, "Nursyaida said in his medical examination.
The kindergarten teacher explained that her first symptoms began to appear in 1991. Painful metal wires emerged from the skin, fell out in the first week, and after a month the wires began to grow again, and from that moment on the wires did not fall out again. They kept growing!
One of her sisters said she tried to help by cutting the wire. Unfortunately, whenever she trimmed the metal bristles, the remnants of the iron hair would go inward and then reappear on another part of Nursayda's body.
A metal wire 10 to 20 cm long growing from inside a woman's body is still a mystery! During a medical examination, doctors discovered that wires were also present inside the woman's abdomen.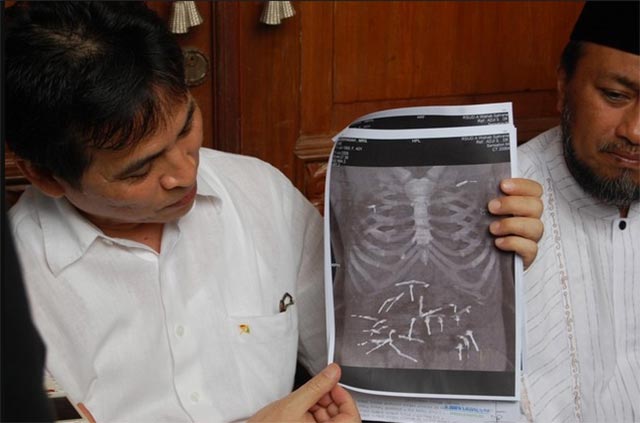 On X-rays, doctors found that there were more than 40 metal wires inside, and some were coming out of her skin.
It looks like a living phenomenon, the wires were able to move and therefore, they can change their location at will, the doctors said.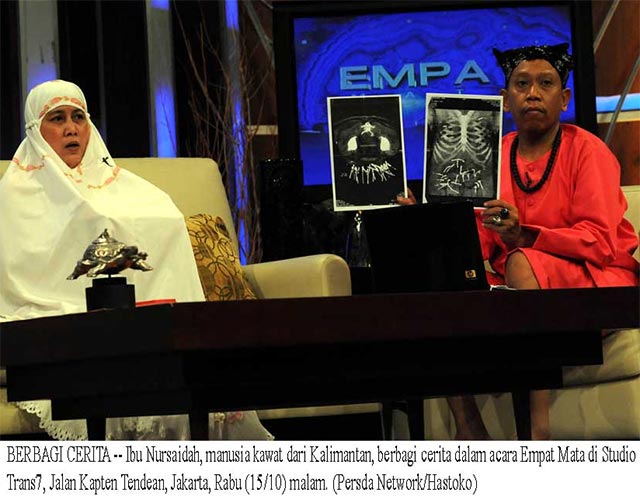 Doctors believed it could be a very rare genetic or mental illness.
As a result, this case remained a mystery and the doctors did not find a logical explanation for it, none of the presented symptoms is known in the medical literature.