The Flying Saucer Woman Who Changed UFO Research Forever
Coral Lorenzen's interest in UFOs began at just 9 years old, when she witnessed a mysterious object in the sky over Barron, Wisconsin over a decade before Roswell.
In an unprecedented move, the Pentagon has recently admitted to an active interest in UFOs. A secret study that began in 2007, known as the Advanced Aerospace Threat Identification Program (AATIP), "did pursue research and investigation into unidentified aerial phenomena" until the program closed in 2012, according to the Department of Defense.
In May the Rolling Stone wrote about a "New York Times report confirming that between 2014 and 2015, Navy pilots reported 'almost daily' sightings of unidentified flying objects lurking in the air, including one that resembled a 'spinning top moving against the wind.'"
In April the Navy reported they were developing guidelines for reporting UFO sightings following "a surge in what the Navy called a series of intrusions by advanced aircraft on Navy carrier strike groups," according to the Navy Times.
A May headline from the Washington Post declares "UFOs exist and everyone needs to adjust to that fact."

A recently declassified image of Navy pilots encountering a UFO in 2015
Of course, the government publicly acknowledging the existence of unidentified flying objects doesn't automatically mean we are being visited by extraterrestrials. It's probably just weather balloons and swamp gas. But whatever we've been seeing in the skies, it's been going on a long time, and the government has been paying attention. Other notable studies predating the AATIP, sparked by the high profile 1947 Roswell incident, include Project Sign in 1948, Project Grudge in 1949, and Project Blue Book throughout the 1950s and 60s.
"I had scarcely heard of UFOs in 1948 and, like every other scientist I knew, assumed that they were nonsense," Dr. J. Allen Hynek said about his early involvement in the studies.
Hynek agreed to participate in the investigations in hopes of debunking the sightings. But as unexplainable cases piled up, Hynek's perspective began to change.
"The witnesses I interviewed could have been lying, could have been insane or could have been hallucinating collectively—but I do not think so," he wrote in 1977. "Their standing in the community, their lack of motive for perpetration of a hoax, their own puzzlement at the turn of events they believe they witnessed, and often their great reluctance to speak of the experience—all lend a subjective reality to their UFO experience."
But the Air Force didn't seem to be taking reports seriously, or making any real effort to identify what people were seeing. Hynek became disenchanted, as did the general public. Critics of Project Blue Book, Hynek wrote, called the program "The Society for the Explanation of the Uninvestigated."
It was during this time that Coral Lorenzen, a young reporter for a small press in Sturgeon Bay, Wisconsin decided it was up to the public to conduct a proper investigation of UFO phenomena.
The General Mills UFO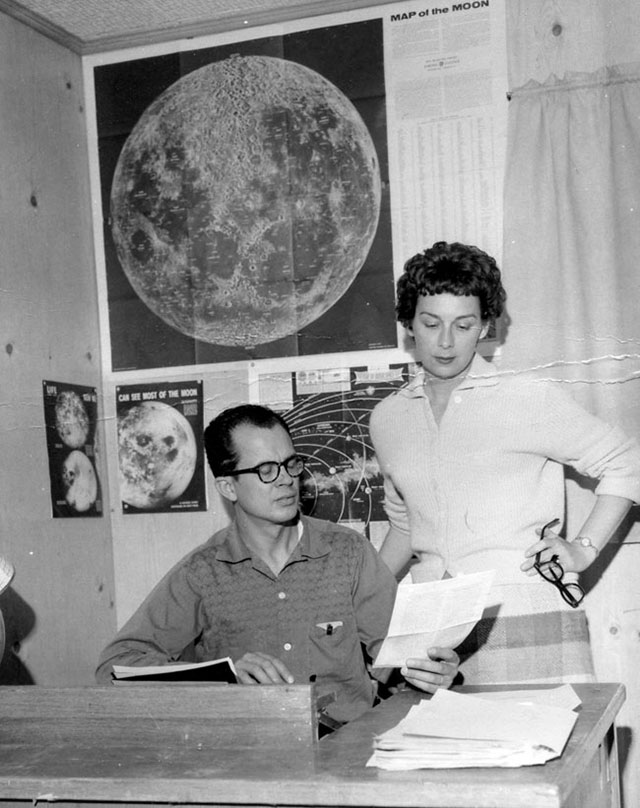 UFO researchers and APRO founders Kim and Coral Lorenzen, 1955
"I turned the corner at Third and Michigan and walked toward the drugstore," Coral Lorenzen wrote in her 1966 book Flying Saucers: The Startling Evidence of the Invasion from Outer Space. "Suddenly someone called, 'There's the 'flying-saucer woman'-ask her what it is!' Third Avenue, the main street in Sturgeon Bay, Wisconsin, was literally full of people watching the sky to the northeast. I looked up and saw it too-a silver, ellipsoid object."
On May 21, 1952, Lorenzen, along with countless other residents of Door County, witnessed the Sturgeon Bay Flying Saucer. Coral was a writer for the Green Bay Press-Gazette at the time, using it as a platform to research decades of UFO sightings in the area.
The object in the skies over Sturgeon Bay appeared to be metallic with a bright red glow at the bottom, according to Coral's description in her 1966 book Flying Saucers: The Startling Evidence of the Invasion from Outer Space. It was moving very slowly toward the northeast, and was visible in the area for about 50 minutes. Based on calculations from observations made in Sturgeon Bay, as well as Fish Creek 30 minutes to the north, Coral and Jim estimated the object to be 780 feet in diameter at an altitude of about 40 miles.
Many attempts to explain the sighting were made over the next few days until the General Mills Company of Minneapolis, known today for their cereal brands, took credit for the UFO. They were testing balloons designed to transport equipment in the upper atmosphere for a secret government program called Project Skyhook.

"Where our balloons now float will be man's highway of tomorrow," Project Skyhook engineer Otto C. Winzen told Popular Science in 1948.
"Not explained was the bright light on the bottom of the object," Coral wrote of General Mills' claim. "It wasn't even mentioned in the press release. The reliability of the observers wasn't mentioned either. I had had a good deal of experience with estimating degrees of arc in the sky, and both policemen who had observed the object in Fish Creek were World War II veterans and capable observers. The General Mills statement did not attempt to discredit Mr. Lorenzen's triangulation, nor did it mention the facts that the big balloons were considerably less than four hundred feet in diameter and were not equipped with huge riding lights."
The General Mills website mentions the balloons, and the stir one caused in 1947 when something "glowing an angry red" was witnessed over Minneapolis. Many residents called the University of Minnesota, jamming their phone lines for an hour, asking if there was a flying saucer in the sky or if it was "the beginning of the end of the world."
UFO Over Barron
Something crashed in Roswell, New Mexico in 1947. Whether it was an alien spacecraft as many UFO researchers believe, or merely a weather balloon, it sparked a new public awareness of seemingly extraterrestrial objects in our skies, and reports flooded in for years after.
But UFO reports didn't begin with the Roswell incident.
In the decades preceding the notorious crash in New Mexico, there were many documented UFO sightings that defied explanation. Mysterious things were flying over our heads long before top secret government aircraft began causing a stir in the 1940s and 50s. And, since Wisconsin ranks as the second highest state where you're most likely to have a close encounter, it makes sense that the future of UFO research would begin here.

A binder full of UFO photos at Benson's Hide-a-Way, Wisconsin's "UFO Capital of the World"
"The beginning of the mystery of UFOs was, for me at least, on a sunny summer day in Barron, Wisconsin, in 1934," Coral wrote. She was just nine years old when she and two friends watched an object she described looking like "an open umbrella without the ribs or spurs" glide silently through the sky and vanish over the horizon.
"Barron in 1934 was a small town of about 1500 population. Airliners were rarely if ever seen, it would be safe to say weather balloons were never seen and, indeed, even a small monoplane was an event in that area. The 'thing' was in the west-southwest when I first noticed it. I called it to the attention of my two playmates, and one said she thought it was a parachute. Its color was a glowing white. The object was about as large as a dime held at arm's length, there were no ropes or lines suspended from it—and, therefore, no parachutist.
"It made no sound as it wobbled in a northwest direction across the clear, cloudless sky. It wasn't going fast—rather, it was poking along at a leisurely rate of speed and with a rather strange motion, that has been described in recent reports as 'undulating.'
"We watched the object for perhaps twenty seconds. Then it appeared to go over the horizon, or perhaps it came to rest north of Barron in the vicinity of a body of water referred to locally as the 'Upper Dam.' I went home and told my father, who made inquiries, and the matter was dropped. No one had seen the object we three children had watched, and there was no news of a parachutist landing north of the dam."
Coral's sighting predated the 1947 Roswell crash and the resulting UFO flap by 13 years.
"There was only one explanation for the thing I had seen," Coral wrote. "There might be intelligent life on other worlds, and their ships were the strange things people had reported in the heavens from time to time through the years."
Arial Phenomena Research Organization
1952, the year Coral and many others witnessed the massive silver object float silently over Lake Michigan, was a busy year for UFO sightings. And as quickly as the reports were coming in, the government was dismissing them with what many believed to be poor investigations and worse explanations. Coral, still haunted by what she saw years earlier, realized there needed to be an organized way that amateur researchers could investigate UFO sightings and exchange information.
Coral and Jim founded the Arial Phenomena Research Organization (APRO) that year. It was the first group of it's kind.
In his book The UFO Experience: A Scientific Inquiry, Hynek wrote that while APRO had among its number members who were "overenthusiastic and uncritical persons enamored of the idea of UFOs," he stated that it was not a "crackpot" organization. APRO had "many serious members, many of whom have considerable technical and scientific training."
Already known as the "flying saucer lady," Coral soon found herself in the perfect position to track down information on local sightings.
"In the fall of 1952 I started doing news correspondent work and feature writing for the Green Bay Press-Gazette," Coral wrote, "and consequently I met a lot of people who were of great assistance to me in tracking down early, unpublished sightings in Wis­consin."
Coral recorded numerous strange occurrences, including a number of brightly lit objects moving in formation over a minister's farm in 1910, and a silver globe-shaped object with light emanating from within over Lake Michigan.
Coral dedicated her life to researching the UFO phenomenon. Her enthusiasm for the truth forever changed the way UFO reports were investigated, as today's modern UFO research groups owe their existence to APRO.
In 1969, APRO members started the Midwest UFO Network, now known as the Mutual UFO Network, or MUFON. Among them was Allen Utke, Associate Professor of Chemistry at Wisconsin State University, who became the first director of MUFON. The group is still active today, with chapters in every state, some 3,000 members, and more than 390 field investigators actively investigating reports of unidentified flying objects.
UK UFO case to be kept secret until 2072
The UK Department of Defense has blocked the planned release of a dossier detailing the famous UFO incident.
Back in August 1990, two tourists walking in the Scottish Highlands near Calvine, Pitlochry, witnessed a strange rhombic object hovering over the nearby landscape.
They managed to take pictures of the UFO before it flew away at significant speed.
Eager to share what they saw, the couple contacted the Scottish Daily Record and shared both their story and the photos they took.
Then the journalists shared the pictures with the UK Department of Defense.
It turned out that the tourists weren't the only ones who saw the object – the pilot of the RAF Harrier jet also witnessed the phenomenon – again near Calvine – after being forced to investigate this UFO.
Military intelligence officers sent these images to JARIC, which is the Joint Air Intelligence and Reconnaissance Center.
It is the UK's military center of excellence when it comes to image analysis. These intelligence officers concluded that these photographs were real and that no one had the slightest idea what they were.
Thirty years later, the dossier of the Ministry of Defense, including photographs, was scheduled for declassification and publication, which is typical of such documents.
However, the release has now been postponed for another 50 years for unknown reasons.
According to the 30-year rule, the file was supposed to be released on January 1, 2021, but if the ministry gets it, it won't be released until January 1, 2072 – an 82-year closure.
"By the time the world gets to see the file, the two witnesses will be dead. It is crazy. What are the authorities trying to hide?"
A complaint lodged under the Freedom of Information Act about the National Archives withholding the documents is now under investigation by the UK information watchdog, the Information Commissioner's Office.
The National Archives refused to comment further. The MOD refused to comment at all.
What are the authorities trying to hide?
FBI decrypted documents confirm that there are giant aliens
The topic of aliens has always attracted attention. Recently, foreign media disclosed that a declassified document released by the Federal Bureau of Investigation (FBI) once again confirmed the existence of UFOs and aliens.
FBI Declassified Document: Describes UFO and Aliens
The British "Daily Star" reported that earlier this year, the FBI released the decrypted documents in 1947. The 70-page decrypted report contained a "Memorandum 6751". The person who wrote the report was an anonymous university professor.
"Memorandum 6751″ mentioned that there were flying saucers, unidentified creatures, and " giant aliens resembling humans ".
The report stated that these aliens are like humans, "but larger in size. They are not from any planet known to people, but from the etheric." "Ether" is a term used in ancient Greece, generally referring to the atmosphere or sky.
There is also a description of the flying saucer in the decryption report, which refers to the fact that most of the flying saucers are loaded with alien creatures. The flying saucers have powerful radiation, are very fast, and have powerful attack capabilities.
"These flying saucers have a kind of radiant energy or light that can easily disintegrate any spacecraft that launches an attack. They can re-enter (earth) from the ether at will, or they can simply disappear from our sight without leaving a trace."
The report states, "If one of these (flying saucers) is attacked, the attacking aircraft will almost certainly be destroyed. As far as the general public is concerned, this may lead to proximity panic and international suspicion."
Tesla is a " Venusian "
In recent years, due to the expiration of the confidentiality period, the FBI has published many decrypted documents on its official website, including one about the famous inventor Nicholas. Tesla (Nikola Tesla) declassified documents, caused a public heat. The document mentioned that Tesla came from "Venus" and was an "alien".
The decrypted document is called "Nikola Tesla Part03 of03". It is the third document about Nikola Tesla decrypted by the FBI. It has 64 pages of content, some of which are blacked out and cannot be distinguished.
The remaining content that is not blacked out contains the following passage: "The people of the universe have contacted Nikola Tesla many times and told the FBI that Tesla was from Venus. Tesla was brought to the earth in 1856 to a Yugoslav couple to raise."
The publication of this document shocked the world. Faced with a wave of discussions and doubts from netizens, the FBI did not make any response or explanation, which is even more curious.
F-18 fighters chase UFO
"The Wall Street Journal" recently reported that the non-profit organization "National UFO Reporting Center" data shows that so far this year, UFO sightings have increased by 51% over the same period last year. The center has received approximately 5,000 sightings reported.
On September 8, the United States retired Lieutenant Colonel David. David Fravor accepted the Massachusetts Institute of Technology scientist Rex. In a live webcast interview with Lex Fridman, he talked about the bizarre experience of driving an F-18 fighter jet to chase UFOs 16 years ago.
On November 14, 2004, a UFO was found in the waters of San Diego, California, and Frevo piloted an F-18 fighter to investigate. Both he and the pilot of the other fighter saw a white Tic Tac mint-shaped flying object.
Subsequently, the pilot Chad Underwood flew an F-18 fighter jet, caught UFO on the radar, and successfully filmed UFO video with an infrared camera.
In April this year, the Pentagon released three videos of UFOs, one of which was taken by Underwood during this operation.
12 U.S. soldiers live on alien planets
Former Minister of Defense of Canada Paul. Paul T. Hellyer once disclosed that there are aliens living on the earth and working for the US government. Many US presidents have also admitted the existence of aliens on different occasions.
In addition, some U.S. military personnel disclosed that a top-secret exchange between the U.S. military and aliens was named "Operation Zeta," and an alien envoy came to the United States. In July 1965, 12 American soldiers secretly boarded an alien spacecraft to the planet Zeta.
Of these 12 people, 4 never returned to Earth. Of these 4 people, 2 died, 2 chose to stay on Zeta, and the remaining 8 returned to Earth 13 years later.
How many extraterrestrial civilizations can exist nearby?
In the 12th episode of the series " Space", Which aired on December 14, 1980, co-author and host of the program Carl Sagan introduced viewers to the eponymous equation of astronomer Frank Drake.
Using it, he calculated the potential number of advanced civilizations in the Milky Way that could communicate with us using the extraterrestrial equivalent of our current radio communication technology.
Sagan's estimate ranged from a "paltry few" to millions. If civilizations don't always destroy themselves shortly after the discovery of radio astronomy, then the sky can literally buzz with messages from the stars," Sagan said in his inimitable manner. And yet Sagan was pessimistic about the fact that civilizations are able to survive their own technological "Youth" – a transitional period when the development of culture, say, nuclear energy,
If aliens exist, then why don't we "hear" them?
Life in the universe
Sagan and other scientists suggested that the emergence of life on planets should be a cosmic inevitability, since according to geological data, it arose on earth amazingly quickly: more than four billion years ago, almost immediately after our planet cooled down enough. And if, as in our world, life on other planets arose quickly and evolved, becoming more complex over time, perhaps intelligence and technology could also be ubiquitous throughout the universe.
However, in recent years, some skeptical astronomers have tried to lend more empirical weight to such claims, using a sophisticated form of analysis called Bayesian statistics. The researchers focused on two unknowns: the likelihood of life on Earth-like planets from abiotic conditions – a process called abiogenesis – and therefore the likelihood of intelligent life. But even with such estimates, astronomers disagree about what they mean for life in other parts of the cosmos.
Drake's equation, introduced by an astronomer in 1961, calculates the number of civilizations in our galaxy that can transmit or receive interstellar messages using radio waves. It is based on the multiplication of a number of factors, each of which quantifies some aspect of our knowledge of the galaxy, planets, life, and intelligence.
These factors include: stars with exoplanets; the number of inhabited planets in the exoplanetary system; the number of inhabited planets on which life originates, and so on.
Today we know that worlds around stars are the norm, and that Earth-like worlds are common in the universe. However, one of the biggest uncertainties in the entire chain of factors is the likelihood that life, which originated in other worlds, makes the leap from chemistry to life. Ignoring this uncertainty could lead astronomers to make some pretty bold claims.
For example, astronomers from the University of Nottingham in England recently made headlines when they calculated that our galaxy must have at least 36 intelligent civilizations capable of communicating with us. This estimate was based on the assumption that intelligent life appears on other habitable terrestrial planets approximately 4.5-5.5 billion years after their formation. 
However, it is difficult to answer questions about the probability of abiogenesis and the emergence of intelligent life, because scientists have only one information: life on Earth.
Another problem with assumptions based on what we observe locally is the so-called selection bias. Imagine buying lottery tickets and winning on your 100th try. In this case, it would be reasonable to designate the probability of winning the lottery as 1%. 
This misleading conclusion is, of course, a selection bias that occurs if you only survey the winners and none of the losers (i.e. tens of millions of people who bought tickets but never won the lottery). When it comes to calculating the probability of abiogenesis, exactly the same thing happens, since scientists simply do not have information about all the worlds where life did not appear.
Abiogenesis probability
If you apply Bayes' theorem to calculate the probability that an event, such as abiogenesis, will occur, astronomers first come up with a probability distribution for that event — a better guess, if you will. For example, it can be assumed that abiogenesis is as likely between 100 and 200 million years after the formation of the Earth, as it is between 200 and 300 million years after that time or any other 100-million segment of our planet's history. These assumptions are called Bayesian a priori . Statisticians then collect data or evidence and combine the previous and actual data to calculate the posterior probability.
In 2012, astronomers at the Institute for Advanced Study in Princeton were the first to apply Bayesian analysis to abiogenesis. According to their approach, life on a planet like Earth orbiting a star like the Sun does not arise until a certain minimum number of years (tmin) after the formation of this world. If life does not arise before a certain maximum time (tmax), then, as its star ages (and eventually dies), conditions on the planet become too hostile for abiogenesis.
However, this study is not without its drawbacks. For example, some researchers have questioned the assumption that intelligence emerged at a specific time after abiogenesis. This prior could be another example of selection bias, a concept influenced by the evolutionary path that our own intelligence has taken.