The First & Only No-Kill State For Shelter Animals In The US Has Been Declared
The Facts:America has finally announced its first no-kill state: Delaware. All brick-and-mortar shelters in the First State have at least a 90% save rate which qualifies it as the very first full state working to lead a no-kill movement.
Reflect On:The no-kill movement is a beautiful one. It shows that the human-animal bond is not only seen and felt, but important enough to us as a collective to take action. Do you believe the goal of having all of America being no-kill by 2025 is attainable?
Sound the alarm! Happy news to share with you all today… Amid all of the perceived chaos that is taking over our screens and mainstream media, it's always important to touch base on the good news that occurs. This week, Delaware has become the first official no-kill state for shelter animals, and I couldn't be happier to hear and share this.
As not only a pet lover myself, but a cat-mom of 3 amazing shelter animals as well, I know and have seen the various traumas that can result from either life before being placed into a shelter or during their time there due to anxiety, etc. — and it doesn't stop there. We've all heard the stories, and though I had yet to dive into the details myself personally due to not having the heart for it, it is a fact that some shelters rid themselves of 'unwanted pets' every cycle as the shelter seeks more room for new-coming potentials.
With that said, this is very BIG news — not only has Delaware taken on the task to reevaluate how its shelters are run and deal with overcrowding, but Delaware has also taken initiative in the 'no-kill' movement.
The nonprofit Best Friends Animal Society, which is working with shelters, animal welfare organizations and government agencies across the country to make America a no-kill country by 2025, announced the news at their annual conference in Dallas, Texas.

Linda Torelli, director of marketing for the Brandywine Valley SPCA, which has three locations in Delaware and cares for more than 14,000 animals each year, credited a multipronged approach with helping the First State achieve no-kill status — and its citizens.

"The community in Delaware is very oriented to pet advocacy, so we had their support," she told TODAY.

Brandywine Valley SPCA implemented numerous programs so that 95% of animals that enter the open-admission shelter find homes. Torelli said because cats are euthanized at twice the rate of dogs, the nonprofit instituted the practice called trap, neuter and return, aka TNR, to save the lives of feral or "community" cats that would otherwise be euthanized. In TNR, advocates humanely trap the felines, and veterinarians spay or neuter them before they are released back into the community.

Open adoptions — which don't require time-intensive applications that involve things like home inspections but instead focus on matching a pet with a potential adopter's lifestyle — help move animals more quickly through the shelters. – As reported by TODAY
The Takeaway
We all either know someone or are that someone who has gone to a shelter and adopted their best friend at some point. And while we all aim to do our part, it's a HUGE step to know that shelters themselves are now also taking initiative so that there is 'no pet left behind' if you will.
So many wonderful pets, companions, and memories are birthed thanks to adoption and it is beautiful to see that more intention is being set on creating a community that is aware of a movement to aid in eliminating the need to kill for the lack of insufficient adoptees. As a personal thank you to all of you who have or will adopt and welcome a new friend into your lives & homes – a reminder to remember you are saving a life when doing so. So, THANK YOU! And thank you, Delaware, for being the shift!
A strange phenomenon in the Arctic, the cause of which is unknown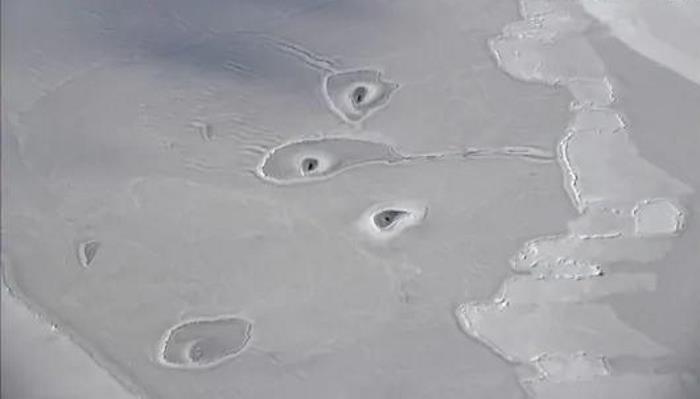 In 2018, a plane flying over the Greenland glaciers noticed strange holes in the ice. NASA scientists cannot yet find the reason for their appearance.
The Arctic is a mysterious place, and as the Earth's climate changes, it changes faster than scientists can record. So, according to NASA, strange holes began to appear in the ice, and so far no one can understand what causes them.
The photo was taken by John Sonntag, a scientist working for NASA's IceBridge operation, an ambitious mission to capture as much detail as possible of the North and South Poles in hopes of figuring out what is happening right now in these remote parts of the planet.
Unfortunately, this photo raises more questions than answers, at least for now. But even though scientists from IceBridge do not have an exact answer to what these holes are, they make assumptions. / These holes may be caused by ice melting due to the water warming under the ice, or they may be air pockets caused by whales or seals. However, for the latter variant the holes are somehow too big.
NASA even asked its readers on the Internet for advice on what it might be. There were many assumptions, but it is not yet possible to say exactly why these holes formed.
Rich people from all over the world are buying submarines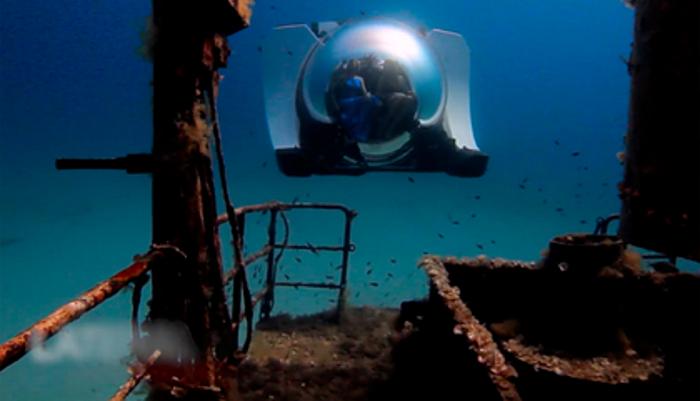 The wealthy around the world will spend millions of dollars on private submarines, following Russian billionaire Roman Abramovich, The Times reports.
According to the publication, in the period from 2019 to 2020, it was about the sale of 15 to 25 submarines, however, this number is expected to double in 2021. According to representatives of the three leading submarine manufacturing companies, next year the market will be estimated at 75 million pounds.
Among the first buyers of deep-sea vessels were the owner of Chelsea Football Club Roman Abramovich, the late Microsoft founder Paul Allen and the Emir of Abu Dhabi, Sheikh Khalifa Al Nahyan.
Roy Heijdra of the Dutch company U-Boat Worx noted that wealthy people increasingly want their yachts to be specially equipped for exploration, not just luxury holidays. According to him, ten vessels were sold in 2020 worth up to £ 2.2 million each. Among them was the Nemo model, which is estimated at 875 thousand pounds, has a height of 2.8 meters and can dive to a depth of more than 90 meters with two people on board.
In turn, the executive director of the Florida company Triton, Bruce Jones, said that compared with the previous year sales of submarines this year rose by almost a third, despite the pandemic coronavirus. At the moment, he has about five orders that need to be completed by the beginning of 2021.
A prehistoric forest that grew on earth a million years ago was found on the slope of Kilimanjaro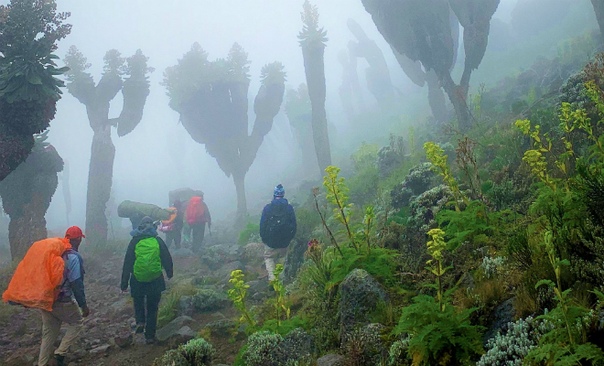 Just 300 kilometers south of the equator is the highest point in Africa, the potentially active stratovolcano Kilimanjaro, which covers an area of ​​more than 390 hectares. But as a free-standing mountain, the climatic zones of which become less and less like a terrestrial landscape as it rises, Kilimanjaro is especially notable as an incubator for isolated, mutated or rare species that are almost never found anywhere else.
Recently, on one of the slopes, scientists discovered plants of a prehistoric forest. They grew on Earth a million years ago.
Senecio kilimanjari is a giant plant. It has practically not changed over the past million years, dinosaurs once roamed in the same forests. The territory of the giant groundwort begins at an altitude of 3000 meters. There is less rainfall and therefore the prehistoric forest is not so dense. This only further emphasizes the monumentality of the giant plants standing separately from each other, capable of growing up to 5-7 meters.
To survive in such a harsh environment – high in the mountains, temperatures regularly drop below zero during the night – the plants have developed water accumulation in the core of the stem, the movement of nyctinous leaves (which means that the leaves close when the temperature drops too much), natural 'antifreeze "And self-isolation due to wilted and dead foliage (one of the reasons terrestrial plants look so strange).
The prehistoric forest rises to about 4,300 meters. Above the slopes of Kilimanjaro, only a barren alpine desert begins, ending in a colossal glacier at the very top of the stratovolcano.