The First & Only No-Kill State For Shelter Animals In The US Has Been Declared
The Facts:America has finally announced its first no-kill state: Delaware. All brick-and-mortar shelters in the First State have at least a 90% save rate which qualifies it as the very first full state working to lead a no-kill movement.
Reflect On:The no-kill movement is a beautiful one. It shows that the human-animal bond is not only seen and felt, but important enough to us as a collective to take action. Do you believe the goal of having all of America being no-kill by 2025 is attainable?
Sound the alarm! Happy news to share with you all today… Amid all of the perceived chaos that is taking over our screens and mainstream media, it's always important to touch base on the good news that occurs. This week, Delaware has become the first official no-kill state for shelter animals, and I couldn't be happier to hear and share this.
As not only a pet lover myself, but a cat-mom of 3 amazing shelter animals as well, I know and have seen the various traumas that can result from either life before being placed into a shelter or during their time there due to anxiety, etc. — and it doesn't stop there. We've all heard the stories, and though I had yet to dive into the details myself personally due to not having the heart for it, it is a fact that some shelters rid themselves of 'unwanted pets' every cycle as the shelter seeks more room for new-coming potentials.
With that said, this is very BIG news — not only has Delaware taken on the task to reevaluate how its shelters are run and deal with overcrowding, but Delaware has also taken initiative in the 'no-kill' movement.
The nonprofit Best Friends Animal Society, which is working with shelters, animal welfare organizations and government agencies across the country to make America a no-kill country by 2025, announced the news at their annual conference in Dallas, Texas.

Linda Torelli, director of marketing for the Brandywine Valley SPCA, which has three locations in Delaware and cares for more than 14,000 animals each year, credited a multipronged approach with helping the First State achieve no-kill status — and its citizens.

"The community in Delaware is very oriented to pet advocacy, so we had their support," she told TODAY.

Brandywine Valley SPCA implemented numerous programs so that 95% of animals that enter the open-admission shelter find homes. Torelli said because cats are euthanized at twice the rate of dogs, the nonprofit instituted the practice called trap, neuter and return, aka TNR, to save the lives of feral or "community" cats that would otherwise be euthanized. In TNR, advocates humanely trap the felines, and veterinarians spay or neuter them before they are released back into the community.

Open adoptions — which don't require time-intensive applications that involve things like home inspections but instead focus on matching a pet with a potential adopter's lifestyle — help move animals more quickly through the shelters. – As reported by TODAY
The Takeaway
We all either know someone or are that someone who has gone to a shelter and adopted their best friend at some point. And while we all aim to do our part, it's a HUGE step to know that shelters themselves are now also taking initiative so that there is 'no pet left behind' if you will.
So many wonderful pets, companions, and memories are birthed thanks to adoption and it is beautiful to see that more intention is being set on creating a community that is aware of a movement to aid in eliminating the need to kill for the lack of insufficient adoptees. As a personal thank you to all of you who have or will adopt and welcome a new friend into your lives & homes – a reminder to remember you are saving a life when doing so. So, THANK YOU! And thank you, Delaware, for being the shift!
A tourist fell into a fire trap: published a creepy video from California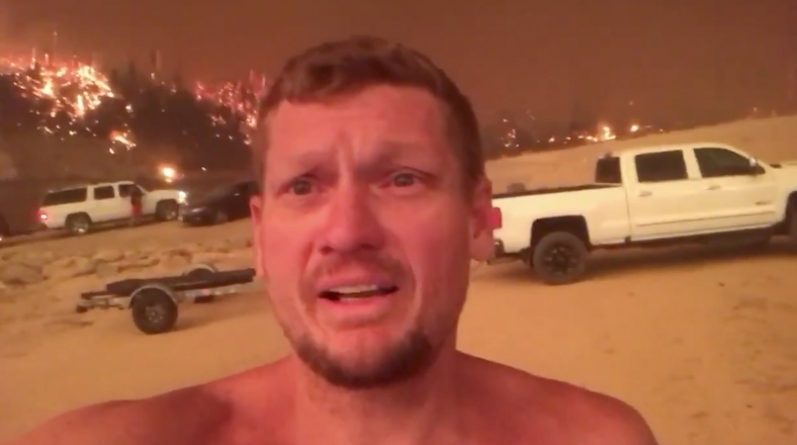 The video, which was filmed in the Sierra National Forest, located in California, shows how one of the holidaymakers was in the heart of a fire trap.
This vacationer turned out to be just one person out of 207 who were also captured in the fire and were saved in the very last moments. The rescue service came to their aid, which took people to a safe place. 
In the video, which was made by a man on the estate of Jeremy Remington, you can clearly see how cars burn, and the flame is getting closer to tourists and its speed is noticeably increasing.
People were in a real trap. Fire surrounded them on all sides, and the roads that could be driven were destroyed. According to the information provided by the Emergency Situations Department, work to rescue tourists began on Saturday evening and continued until Sunday morning. 
More than 20 people had to be transported to hospitals. Two of the victims were in critical condition and required immediate medical attention. At the same time, two people who were vacationing in the National Forest refused the proposed evacuation.
The scale of the wildfire that started on Friday is not too large. But at the same time, the fire managed to destroy more than 71 square miles of forest. By the middle of Saturday, due to the increase in the rate of spread of fire, a 7 times larger area was destroyed. 
On Sunday morning, it was possible to stop the fire by no more than 5%, so the work continued actively and further.
Great solar minimum and the onset of the Little Ice Age
Niels-Axel Mörner is the former head of the Department of Paleogeophysics and Geodynamics at Stockholm University. He retired in 2005 and has since dedicated his days to refuting the global warming bullshit as well as warning of an impending Great Solar Minimum.
From 1997 to 2003, Moerner led the INTAS project on geomagnetism and climate. The project concluded that in the middle of the 21st century we should return to a new solar minimum with climatic conditions of the Little Ice Age.
In 2015, Moerner's study "Approaching New Great Solar Minimum and Climatic Conditions of the Little Ice Age" was published.
The conclusions are that by 2030–2040 the Sun will experience a new large solar minimum.
During the previous large solar minima – the Sperer Minimum (1440-1460), the Maunder Minimum (1687-1703), and the Dalton Minimum (1809-1821) – climatic conditions worsened and the Little Ice Age began.
During the last three large solar minimums – the Sperer, Maunder and Dalton minimums – the global climate has experienced Little Ice Age conditions. Arctic waters penetrated south as far as Central Portugal and Europe experienced harsh climatic conditions. The ice cover of the Arctic has expanded significantly.
We now have data indicating that by 2030-2040. A New Great Solar Minimum will come, which, by analogy with past minimums, will lead to a significant deterioration of the climate with the expansion of ice in the Arctic and global cooling.
All this excludes the theory of global warming, instead of warming, we will face a new Little Ice Age .
California wildfires create giant "volcanic" clouds
California is now burning like hell and fires are creating huge pyrocumulus clouds as a result of intense heating of the air from the surface.
The heat from the fires spreads so much that it creates its own pyrocumulus cloud systems, each up to 9 km high. These clouds make fire fighting very difficult.
The intense heat causes convection, which causes the air mass to rise very high, causing apocalyptic clouds.
Common clouds form when the sun heats up the earth's surface, causing water to evaporate and rise into the atmosphere, where it cools and condenses into a cloud.
This is a relatively slow process compared to the formation of a pyrocumulus cloud, when the intense heat of a huge forest fire burns moisture from vegetation. Then this moisture accumulates on the smoke particles and quickly condenses, rising up.
Pyrocumulus clouds are more commonly seen over volcanic eruptions, which produce a lot of steam. If you've ever seen an ominous cloud creating dry lightning over a volcano, then this is a pyrocumulus cloud. They are black or dark brown due to volcanic ash, and those from wildfires are usually dark gray due to smoke and ash.
The rate at which pyrocumulus clouds form and change, combined with the heat from the fire, can lead to rapid and severe temperature fluctuations in the atmosphere, causing unpredictable and high winds.
They can exacerbate the intensity of forest fires and cause them to move or otherwise behave in unpredictable ways. And all this can endanger the lives of firefighters and people. 
However, if the fire is large enough, the cloud can continue to grow and turn into a cumulonimbus cloud, which can cause powerful thunderstorm activity, and lightning in turn can trigger another fire.