The F.B.I. Once Helped in the Hunt for Bigfoot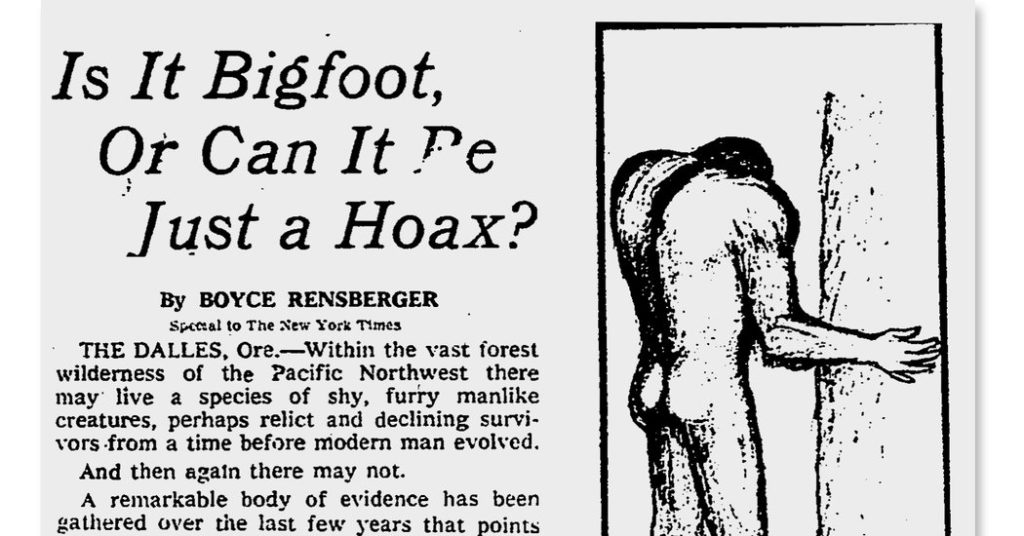 Bigfoot.That is all the F.B.I. said (well,
tweeted
) Wednesday when it released 22 pages of eyebrow-raising documents related to a 1970s hair analysis it conducted at the request of a well-known Bigfoot researcher.
The researcher, Peter Byrne, then the director of the Bigfoot Information Center and Exhibition in The Dalles, Ore., had a simple question for Jay Cochran Jr., the assistant director of the F.B.I. laboratory division: Have you been testing possible Bigfoot hair samples? And if not, would you like to start?
The 1970s were something of a heyday for Bigfoot researchers — the grainy Patterson-Gimlin film, which claimed to show one of the creatures strolling through a California streambed, was shot in 1967. Mr. Cochran did not seem terribly surprised by the question.
The F.B.I. had been asked several times in the past year whether it had been testing hair samples for possible Bigfoots, Mr. Cochran replied. "However, we have been unable to locate any references to such examinations in our files," he wrote.
Mr. Byrne had a sample he wanted the F.B.I. to examine. It was 15 strands of hair attached to a small piece of skin that was "the first that we have obtained in six years which we feel may be of importance," he wrote.
The F.B.I. laboratory was not normally in the business of examining tufts of hair for their potentially fantastical origins — it was more focused on criminal investigations, Mr. Cochran said — but for a reason that may be lost to history, he agreed.
"Occasionally, on a case-by-case basis, in the interest of research and scientific inquiry, we make exceptions to this general policy," he wrote. "With this understanding, we will examine the hairs and tissue mentioned in your letter."
Today, the idea of an earnest search for Bigfoot has become the province of reality TV shows like "MonsterQuest" and "Finding Bigfoot." Not very many people take it seriously. But the 1970s were a different time.
The documents released by the F.B.I. on Wednesday included a long New York Times feature from June 1976 that described Mr. Byrne's work, including "a handful" of Bigfoot sightings that "hold up and are given high credibility."
The article, which Mr. Byrne sent to the F.B.I. to illustrate the seriousness of his endeavor, also bemoaned the paltry state of Bigfoot studies in the United States.
The Times said interest in "America's own 'monster'" could not hold a candle to the "increasing sums of money" that were "being spent by reputable scientists to investigate Loch Ness."
In this one instance, at least, it appears that the F.B.I. tried to do its part in the hunt for Bigfoot.
According to the documents released Wednesday, the hairs sent by Mr. Byrne were subjected to a battery of tests, including examinations of root structure, medullary structure and cuticle thickness.
But when the results came back, they were bad news for Bigfoot hunters.
"It was concluded as a result of those examinations that the hairs are of deer family origin," Mr. Cochran wrote in February 1977. "The hair sample you submitted is being returned as an enclosure to this letter."
Melissa Hovey-Larsen, the president and founder of the American Bigfoot Society, said she was not surprised that the hair turned out to be from a deer.
"What we hear a lot when we get back hair samples is horse or deer or cow or bear," she said. "We hear everything. But every so often you get one that comes back and it says 'unknown source,' and then nothing ever comes of it from there."
What was more noteworthy, Ms. Hovey-Larsen said, was that Mr. Byrne turned to the federal government in his search for the truth.
"As researchers go, Peter Byrne blazed more trails to get respect for this field than anyone else in that time period, so I am not shocked he went to the F.B.I. but I am surprised," she said.
She said most Bigfoot researchers eschew that path.
"As I always say to people, 'What are they going to tell you?' First of all, we have no proof that this exists," she said. "We can't even get a clear picture. Most of us think we'll just be laughed right out of the room."
The documents, which an F.B.I. spokeswoman described as "newly released information," appeared to be the first time that federal law enforcement had acknowledged conducting any Bigfoot-related inquiry.
The spokeswoman said the release of the documents on Twitter was not intended to be an "X-Files"-style big reveal.
The account that published them, @FBIRecordsVault, automatically tweets documents that have been entered into the agency's Freedom of Information Act library after a successful FOIA request, she said.
Some at the agency were amused at the public interest sparked by the documents and the cryptic tweet that announced their arrival.
"Oh, my God," a receptionist at the F.B.I. press office said to a reporter who called to ask about Bigfoot. "I cannot believe that is why you are calling."
A Briton captured on camera a creature similar to the Loch Ness monster
A resident of British Southampton Steve Challis, during a vacation in Scotland last year, photographed a creature in a lake that looks similar to the famous Loch Ness monster, reports the Daily Record.
Photos were taken during a trip to an excursion to Arkart Castle on the shores of the famous lake. A man photographed the opposite shore when he noticed a ripple in the water. He took some pictures, and then the creature itself appeared out of the water for a moment. 
After that, it disappeared and did not appear again. As a result, the camera recorded the animal in only one frame, which Challis discovered a few months later, when he looked at the quarantine pictures taken during the trip because of the coronavirus.
After the Briton shared a strange picture on the Internet, users suggested that it was the famous Loch Ness monster. However, the photographer does not share this opinion. He does not believe in the monster and believes that the creature he shot was simply a big fish or seal.
Interest in the photograph was expressed by blogger and expert on Nessie Roland Watson, but he suggests that the picture taken by Challis was edited in Photoshop. Challis claims that the photograph is genuine. He drew attention to the fact that the shot he made was completely different from those snapshots of monsters that the network abounds in. At the same time, he is still convinced that he shot just a big fish.
The story of the Nessie creature from the Scottish Loch Ness attracts many tourists who want to see it with their own eyes. According to eyewitnesses, the mythical monster from the urban legend has a long neck and a huge torso. Nessie's existence is not proven.
A video of the second "confirmed" appearance of Nessie appeared on the internet
A Nessie fan recorded a second meeting with her this year. O'Faodhagen, a 55-year-old employee of the Irish hospital, claimed to have seen Loch Ness floating in Urquhart Bay.
He managed to film this meeting. He is delighted with the video. O'Faodhagen sent his results to the Official Loch Ness Monster Observation Register, and they confirmed the footage as an official second observation in 2020.
The video shows a dark figure rising from the water.
She splashes, creating waves and a white foamy substance. Then it goes under water and reappears. Despite the fact that he saw about 1.2 m of the creature emerging from the water, O'Faudhagein estimated that it probably had a length of at least 3 m. The frames that show this creature last 1 minute 38 seconds. O'Faudhagain said that Nessie had not appeared for the past three months. He decided that Nessie went to quarantine.
Her appearance surprised him. He believes that Nessie has stepped out of the depths to say hello. O'Faodhagen noticed that during her appearance on the lake there is no activity. On January 18 of this year, he observed her appearance from the water. Gary Campbell, keeper of the Official Loch Ness Monster Observation Register, confirmed this observation.
According to O'Faodhagen, it is very exciting to get a new observation, especially when it happened almost immediately after the first. And he seems to know what he is looking for.
Last year, he managed to capture 4 encounters. 2019 was a record year for people who saw the Loch Ness Monster. A total of 18 observations were confirmed. This is the biggest since 1983.
Some believe in the existence of Nessie, others are critical. Perhaps it is not worth denying that a strange creature unknown to science lives in the dark waters of the lake. If you have not seen any phenomenon, this does not mean at all that it is not.
A creature assembling a Mermaid discovered in Antarctica: Google Earth user provides evidence
A Google Earth user spoke about the incredible discovery that he managed to make in Antarctica. Thanks to the rather rapid melting of the ice, he managed to consider a strange creature in one of the images received.
He claims to have found a frozen mermaid in the ice, or a "sea creature resembling a mermaid." YouTube user Florida Maquis claims that the mermaid is by no means a natural geological formation.
The man believes that either a mermaid or some obscure sea creature froze in the ice, which very much resembles a popular mythical creature. At the same time, the user is trying to prove that his find has absolutely nothing to do with natural formations of a geological nature. The user is sure that this is some unusual creature from mythical stories. He says:
"I found in Antarctica many different things that seem to be sea creatures. I think that due to the melting of snow and ice, the mermaid became visible, its shape simply cannot be explained by ice crumbs or snow." The coordinates of the mermaid-like object are 76 ° 52'51.92 "S 145 ° 42'4.27" W.
The video above was posted online with confirmation of the man's words. It was watched by several thousand people who commented on what they saw. Most users are sure that the video does not contain a mermaid, but, for example, a walrus. Some believe that this may turn out to be a dolphin of a sufficiently large size. Some say it could be a Ningen. The author also found support from some users who have no doubt that the mermaid is depicted in the frames.