The Dreaded House of Boleskine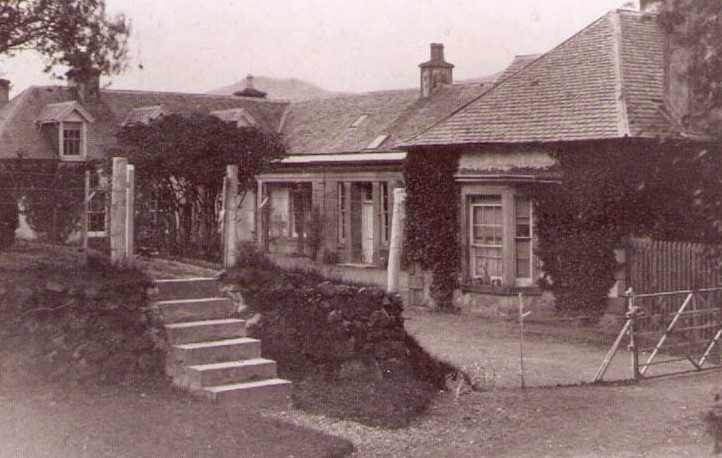 Near Loch Ness stands the dreaded Boleskine House of infamous Occultists and Rock Stars alike. Within lies a harrowing history of demonic madness.
One thing is for sure. The old country is a spooky place. Something that will always separate Europe from America is the difference of having thousands of years of relatively well-known and documented history.
Not all of it may sit well with the faint of heart either. Through bloodshed and misery the castles and streets have become havens for ghostly apparitions of the restless undead.
However, it is the mystery of the countryside, especially the cryptic and beautifully bleak countryside of Great Britain that can share histories of unparalleled horror. With its old names and enigmatic backgrounds these haunts are breeding places for untold terrors.
The southern bank of Loch Ness in Scotland is no different. In fact, it has a tale to fill the stoutest heart with ice that is less than one hundred years old.
The House of Demons and Sorcery
It is like any other Scottish country mansion. Beautiful and old, a mysteriously majestic quality the same of which cannot truly be found anywhere else in the world. Yet inside the salmon stucco walls of Boleskine House a horrible secret is kept.
For starters across the courtyard on the other side of a rural road rests a graveyard that is over a century old. It was built in the late nineteenth century by a man named Archibald Fraser. Its neighbor, macabre resting place, predates the house by decades. This is because before there was a house at Boleskine there was an old church. One that burnt to the ground– with everyone inside it.
Not a happy place to put up a lot. Rumor has it that a tunnel was built to connect the graveyard to the house, but that is only the beginning of the tragedies that would soon fill this place with dread.
In 1899, the house was acquired by the infamous magician Aleistor Crowley for a very specific purpose. It was Crowley's intention to use the house's remote location to summon the hordes of demonic spirits as listed in the grimoire The Book of the Sacred Magick of Abra-Melin the Mage.
This sort of hocus pocus may sound like nothing more than a standard game of Dungeons and Dragons, but Crowley was more than deadly serious. To quote him:
"The first essential is a house in a more or less secluded situation. There should be a door opening to the North from the room of which you make your oratory. Outside this door, you construct a terrace covered in fine river sand. This ends in a 'lodge' where the spirits may congregate."
With the proper house obtained Crowley set about the task of completing a complex six-month ritual that would end in disaster.
Aleister Crowley
Throughout his life, Crowley mentions a continuous personal goal to make contact with his holy guardian angel. To do this he would first have to summon the forces of darkness. Strange occurrences began happening in the area, hushed whispers of it being bad luck to go near the house began to circulate. The terrified locals stayed as far away from Crowley and his house as they could. Some even stated that the impression of the cloven goat hoofs of Lucifer himself could be seen on Crowley's river sand terrace. A couple people even went mad.
Then it happened. The crumbling leadership of the Occult order of the Golden Dawn requested the help of Crowley to bring stability to their lodge. Despite his qualms of what was surely going to happen, Crowley left Boleskine house with the ritual unfinished.
By the time he would return a canopy of perpetually dark clouds hung over the house. The man Crowley had left in charge of the house had fled and no one in the local village dared come within sight. Crowley himself soon fled too.
Madness at the Lake of Loch Ness
It has been pointed out by a few that the early sightings of the fabled Loch Ness Monster ironically coincide with the fleeing of Crowley from the house. Yet what would happen inside the house near its southern bank in the subsequent years to come would, shall it be said, blow the odd little creature out of the water.
It is recorded knowledge that most who took up residence at Boleskine either went insane or left quickly. Like the house in Amityville, there were many who could only take the oppressive and frightening strangeness for a month.
A young man left his blind wife calling out and groping through the halls as he wandered out into the hills. A military officer with no determined history of mental illness committed suicide.
The bad vibes and bad luck of the place would continue until it came into the hands of the perfect owner. The guitar god and life long Occult practitioner, Jimmy Page of the band Led Zepellin.
The Nightmarish Account of Malcolm Dent
In the early 1970s, Boleskine house came into the possession of Jimmy Page the rock star whose life is quite chronicled. What some don't know about Page is that he really was and still is into the practice of Crowleyen magick.
Any fan of the music need not look too far to discover that throughout his life Page has spent countless hours and dime in the search of Occult relics primarily having to do with Crowley. Accompanying this hobby, despite his admittance to it, is the absolute silence Page has kept over the years regarding the matter or anything similar in nature.
Though Page admitted to encountering the spirits within Boleskine himself, it is not he who the stories come from. These events were handed down by his childhood friend, Malcolm Dent, who Page made caretaker of the property.
Dent was the perfect choice for the job. He was not to be found in the rock music scene or any scene for that matter. A down to earth man with no vice for substance Jimmy placed him in charge of the grounds while he was away.
While the master of the house was gone Dent spent most of his time trying to ignore the bumps in the night as well as fight off the not-so-peace loving Crowley hippies who would stalk the house grounds.
Did Dent know what he was getting himself into when he first came to the house and found a Pentagram, sword, and ritual room floor covered in river sand? Probably not too the extent that he would soon find out. One night he woke up to the sound of rolling crashes outside in the hall.
A thumping, thudding sound that went back and forth down the hallway. He expected the cats, but later found out he was not the first to hear these sounds. They dated back to a beheading that had taken place there some time ago. The rolling sound was the man's head scuttling about on the floor.
Another time Dent woke up in the clutches of fear. A thing sat outside his bedroom door. It sniffed and scratched, pulling at the lock. Dent sat upright with his pocketknife and did not venture out of his room until noon the next day.
He later stated that it was the most horrifying experience of his life and that he knew beyond the shadow of a doubt that whatever hunted him that night was pure evil.
Dent would go on to marry and raise a family in Boleskine house till 1991 when Jimmy Page sold the property. This brave soul passed away just last year.
Boleskine House Today
The house still stands and is open for visitation by all. For a while it was a reputable bed and breakfast where according to the new owners nothing out of the ordinary seemed to happen. It is a peaceful place now surrounded by the beautiful Scottish countryside.
Ever so often throughout the years the house does come back on the market. Keep an ear open for its listing.
Hollywood studios are built on the blood of babies – Mel Gibson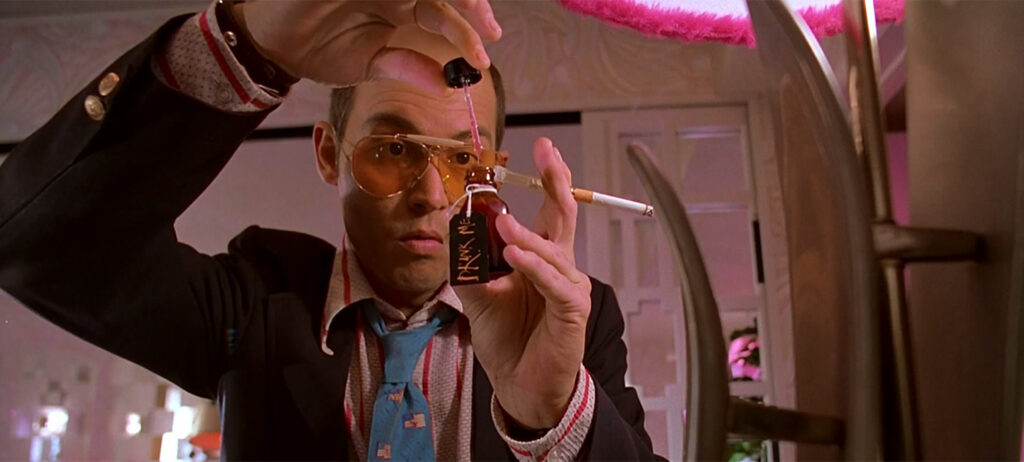 American film actor Mel Gibson criticizes both Hollywood and the morals of the American establishment – tough and unusual. Essentially, he blames a significant portion of the American elite for ritual Satanism. (before that, a similar terrible confession was made by another famous American actor Jim Carrey).
For this, he was blacklisted by the leadership of the US "creative world" in 2006. Since then, the actor has been working outside the system.
Gibson appeared in the prime time of the British BBC channel, in the Graham Norton show, on Friday January 19, where he answered guests' questions: ]]>http: //www.wuc-news.com/2018/01/mel-gibson-hollywo …
This happened "in the green room behind the curtains" immediately after the show:]]> http://www.exposinggovernment.com/2017/12/22/mel-gibson-hollywood-elites-kill-innocent-children-drink-their-blood/]]>
Can anyone believe him?
Most likely you can. In his revelation, Gibson publicly declared an epidemic of parasites that control Hollywood and personally participate in child sacrifices and pedophilia:
"every studio in Hollywood is bought and paid for with the blood of innocent children," he said, adding: "The most valuable currency in Hollywood is it's the blood of infants … key players in the movie business get adrenaline from this process and enjoy breaking the bans. "

"They have a blatant disregard for ordinary people. Destroying people's lives is just a game for them – the more they can hurt, the better the sensations. Children are just food for them. They revel in pain and fear, and the younger, the better. "
And then comes the phrase, which should be emphasized: "These people follow their religion and use it for moral guidance." What religion in human society justifies cannibalism and human sacrifice? This question should be asked by each of us.
– Satanism?
– Sure! But not only him. Let us recall the cases of ritual killings, which are widely known.
"They perform sacred rituals that ordinary people will cause bouts of nausea, and are completely in conflict with the morality that binds most patriotic Americans. The worst thing about all this is that it's an open secret in Hollywood and everyone wants to get involved. " (A very timely documentary was filmed on this very difficult topic. ]]>Galina Tsareva's film entitled Octopus ]]>– ed.)
"It's hard to understand, I know, and I'm sorry that I'm the one who opened your eyes, but Hollywood is the deadly legalized patrimony of pedophiles. They use kids to realize their scary sick fantasies. They take these children because of their energy and are saturated with their blood. They don't do it mercifully, they first put them in a state of horror before sacrificing them. "
"The more innocent a child, the better for them. What does it mean? They do not do this as some form of artistic expression: they simply drink the blood of children and eat their flesh, because they think that it gives them some kind of "vitality". "The more a child suffers mentally and physically when he dies, the more he gives them extra vitality." (These satanic rituals are designed to "feed" the demons with psychic energy, and those nonhumans who perform them drink blood that is saturated as a result of the child's inhuman suffering with ADRENOCHROME – a powerful drug that, in addition to "coming", also gives a powerful "rejuvenation" of the body – .)
"Hollywood is saturated with innocent children's blood. There have always been indications of pedophilia and cannibalism, but for many years they have been unprovable, mysterious, or symbolic. I have been familiar with this practice since the beginning of the 2000s, and I would be in serious danger if I ever talk about it. I do not mean only my career, I mean that my life will be in jeopardy, the life of my family will be in danger. I can talk about it only now, when these people, industry leaders, are already dead now. "
"Children are like" premium currency "and have a higher value than anything you can think of. They literally trade these children as currency for services, roles in films, kickbacks … "
According to Gibson, these terrible crimes (pedophilia, infanticide, cannibalism and ritual sacrifices) did not appear in recent years, they have ancient and not American roots. "If you investigate this phenomenon, you will find hidden facts in the shadow of any gloomy era in history. These dark, multidimensional occult practices have been used in secret societies for hundreds of years. Hollywood uses this for social programming and mind control, and their message is projected into the psyche of the American people … "
In what a famous American actor said, the rituals of a satanic human sacrifice are clearly described. It is also indicated that many people know about the existence of the secret structure of Satanists in Hollywood – but they are silent! Meanwhile, the occult powers of Hollywood are using their vast resources "for social programming and controlling the consciousness of the American people." I must say, very successfully used.
The key question is whether the Trump administration and the FBI will then initiate an investigation into the testimony of Hollywood ritual killings, or will the US authorities blame it on Gibson's creative extravagance?
We also note that on the sites that published material exposing Mel Gibson, there are many other creepy publications.
For example, Sylvester Stallone bluntly accuses Barack Obama of being a former U.S. secret homosexual, stating: "I have nothing against homosexuals, but I am against any lies" (Sylvester Stallone: ​​'Pathetic' Obama Is' Closet Homosexual Living A lie ')
]]>http://www.wuc-news.com/2018/01/sylvester-stallone-pathetic-obama-is.html?m=0]]>
Jim Carrey's article talks about the practice of ritual cannibalism in Hollywood for Christian Christmas (Jim Carrey: Hollywood Elites 'Eat Whole Babies' For Christmas). The author writes that criminal perverts are trying to distort and pervert the soul of the American people and change the whole world.
]]>http://www.wuc-news.com/2017/12/jim-carrey-hollywood-elites-eat-whole.html?m=0]]>
Materials about secret societies, humanoid mutants:
]]>http://www.wuc-news.com/search/label/Secret%20Societies]]>
]]>http://www.wuc-news.com/2018/01/the-era-of-human-animal-hybrid-chimeras.html]]>
About how the development of sex robots is being conducted so that perverts can conceive children with predefined properties (Sex Robots To 'Give Birth' After Sex With Humans Using Genetic Engineering).
]]>http://www.wuc-news.com/2018/01/sex-robots-to-give-birth-after-sex-with.html
Etc.]]>
Rocket builder Jack Parsons tried to create a homunculus
Could the famous American rocket builder be so keen on occultism that he wanted to create a magical creature – a homunculus? Parsons's activities are known only by rumors from acquaintances, but there is no smoke without fire.
John "Jack" Parsons (1914-1952) was a legendary American rocket engineer. He was one of the founders of Aerojet Corporation, which today is one of the largest manufacturers of rocket engines and rocket boosters in the world.
It is also believed that he was involved in the NASA space program, including the landing of astronauts on the moon in 1969, although by that time he was already long dead. In honor of him a large crater was named on the moon. However, no less than an engineer, Parsons was known as an alchemist and occultist, and many very strange stories are connected with this side of his activity. It is often assumed that it was because of this that he died.
In 1939, Parsons, already a well-known rocket builder at that time, was fascinated by Marxism for a while, but then he suddenly joined the religious movement of the British occultist Alistair Crowley under the name Telema. Moreover, he headed the California branch of Telema.
Then Parsons made friends with another famous occultist, Ron Hubbard, and he even temporarily lived in his house. Parsons had no problem with the fact that Hubbard was sleeping with his wife, for him sex mattered primarily as a concentration of "magical energy." According to rumors, he even tried to use this energy to "call various Deities to Earth."
How this could happen in parallel with his serious scientific work and the work of a rocket builder is very difficult to understand, but it was a reality.
After World War II, the occult side of Parsons' life began to prevail over engineering so much that his activities led to an investigation by the FBI. Parsons was scared, and he soon told the FBI that he had "severed all relations with the dark world."
However, all this was only in words. Now we turn to the topic voiced in the title of this article. According to the memoirs of director and artist Renat Drux, published in The Occult Explosion, Jack Parsons worked on very strange experiments, trying to create what the ancient alchemists called the homunculus – a tiny artificial man with magical powers.
Medieval alchemists had several "recipes" for the like. One of them involved the roots of the mandrake, which grows on the ground, where the "life seed" of the hanged man fell. In order to create a homunculus with the help of such a root, one must find it with the help of a black dog, then wash it, pour honey and milk (or blood), and then store it in a flask, in which a homunculus will then arise.
Another method, which was published in an 18th century book by Dr. David Christian, recommended taking a black chicken egg, piercing it with a needle, and replacing a small piece of chicken protein with human sperm. Then close the hole and bury it in manure on the first day of the March lunar cycle.
Thirty days later, a tiny person should develop in this egg, which will have magical powers and will protect its "parent". It was supposed to feed him with lavender seeds and earthworms. It is not known which of the recipes for the creation of the homunculus was used by Parsons, however, according to rumors, this was what destroyed him.
On June 17, 1952, Jack Parsons worked in his laboratory and, according to official figures, tried to make explosives for his engineering project. Suddenly, something happened and an explosion rang out in the laboratory, which killed Parsons. When his body was found, half of his face was missing, his body bones were all broken, and his right forearm was completely torn off. Moreover, he was still alive for some time and died while in the hospital.
According to unofficial data, a strange explosion occurred precisely because of the experiment with the homunculus, because Parsons was a very experienced engineer, often worked at home with hazardous substances and would hardly have made a gross mistake when working in explosives.
According to his colleagues, Parsons assured that he was always very serious about his safety and suspected that the explosion was either rigged by someone in order to kill Parsons, or something else more incomprehensible happened here. The police finally concluded that his death was an accident, but Parsons' death is still shrouded in mystery and causes lively discussions.
Cthulhu Church created in the USA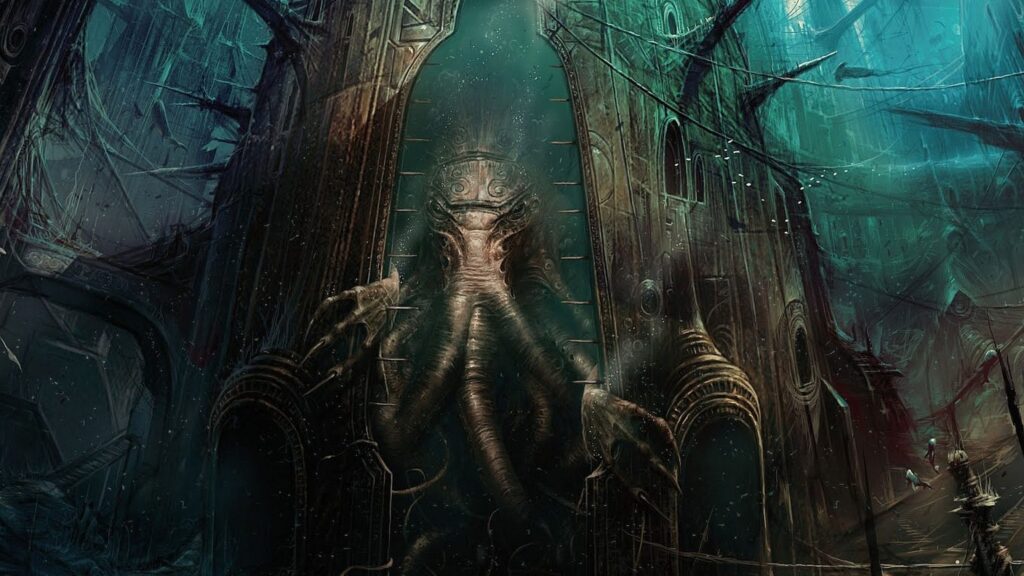 Anyone can become a priest of the church. In Phoenix, Arizona, the First United Church of Cthulhu appeared – a registered non-profit religious organization that, according to documents, "worships and glorifies our God Cthulhu." The founder of the church calls himself Khave Head.
The organization's website says that the Church of Cthulhu is a "gathering place for monsters, eccentrics and other dark souls." In addition to praising the character of Howard Lovecraft's short stories, the church has one more task – to circumvent American rules on holding wedding ceremonies.
According to the laws of most states, any official can conduct a marriage ceremony: judges, senators, congressmen, mayors, as well as clergymen, regardless of confession. Khave Head invites anyone to register as a priest of Cthulhu Church. To do this, you just need to insert your name and surname into a special form, mark the date of the ordination and download the certificate. For an additional $ 20, Khave Head can send a self-signed certificate, notarized.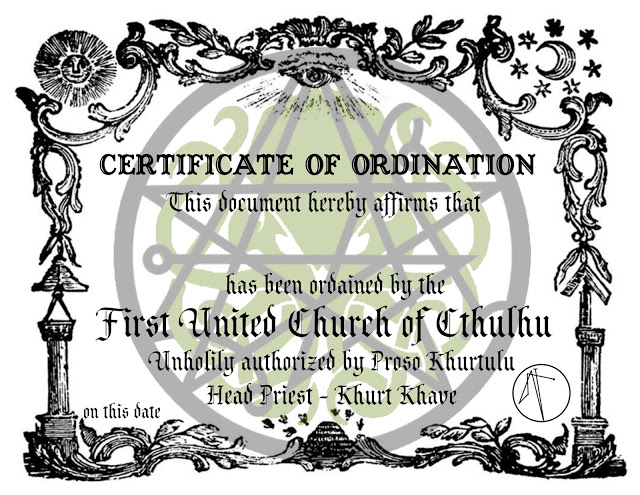 After this, the newly-made priest has the right not only to hold wedding ceremonies, but also to issue appropriate official letters. The church also offers several examples of marriage instructions to assist the priest in conducting the ceremony.
"Life is a disgusting thing, and against the background of what we know about it, we see indifferent demonic allusions to the truth, which sometimes make it a thousand times more disgusting. However, [name of bridegroom] and [name of bride] challenged such astronomical differences and found this truth in each other. And together, each of them makes the other's life 999 times less disgusting, "is an example of parting words of the newlyweds by the priest of the Cthulhu Church.
Cthulhu Church is by no means the first religious organization to assist in wedding ceremonies. So, the Church of American Marriage Ministries has nearly 700,000 official priests. The church professes only three postulates:
"All people, regardless of race, gender or sexual orientation, have the right to marry. "All people have the right to conduct a ceremony of marriage, and all people have the right to choose those who will marry them."