The Deros & Richard Shaver
The Deros are a proposed race, a species dwelling in underground caverns that house fantastic cities. According to the primary source and authority on their existence and habits, they are cruel, violent, and destructive. They possess advanced technology to which they are merely the heirs, having no real understanding of the proper use of the mechanisms and implements they have inherited. The Deros are the descendants of superior beings that once inhabited our world, including giants and enlightened races capable of interstellar travel. These Deros are far inferior to their ancestors, ruled by base passions and delighting in savagery and torment. They are either the invention, or the discovery, of one Richard Shaver.
This whole matter falls immediately into one of the Vicar's favorite categories – the realm of things we cannot deny because they are by definition unknown – and it is well worth learning about if one has no prior exposure to the topic. This is not only because the Deros and the various tales of Richard Shaver (known collectively as "the Shaver Mystery") have been proposed as influential with respect to modern science fiction and ufology. It is also because the possibility really does exist that Richard Shaver was not nearly so crazy as his detractors insist.
The existence of beings that cohabitate with our type of humanity is the subject of extensive debate, and has been throughout history. This was once the common wisdom, that we are not alone on the earth, in it, or beyond it. In science, that which has no direct evidence in support of it is considered unproven, and is generally described to the lay population as "bullshit". But this is not an honest rendering, as many of us are well aware. In fact, it is extremely dishonest to present a thing for which one has no evidence as being unworthy of research because it is labelled as "fantasy" or else, "science fiction". This was Richard Shaver's struggle. In essence, what he asserted made him a prime target for identification with the diagnosis known as paranoid schizophrenia. This neat little disorder makes one deeply wary and likely to invent all manner of bizarre forces and beings responsible for various delusions and hallucinations and related weird beliefs. In fact, it is very often the case that one's whole thesis will be received by psychiatric and therapeutic professionals with immediate doubt and rejection – at least internally, if not also in therapeutic sessions. This gives rise to a bit of a paradox, to which the Vicar has decided to put his name.
Here then is the statement of the "Vicar's Paradox": The unbelievable will be rejected even when it is absolutely true.
The Vicar's argument can be summed up by the statement that when information produces dissonance with respect to an accepted context, the information will be ruled "untrue", "inadmissible", or "fraudulent", no matter how compelling. This is why we may expect that even if an alien body were delivered to a major research organization, it would be either rejected as a hoax or else concealed entirely from the public. In essence, the accepted contexts by which we judge reality cannot stand up to fundamental challenges. For this precise reason, Galileo Galilei was persecuted by the Inquisition. More significantly, offers by Galileo to his accusers to view evidence of heliocentrism through a telescope were rejected out of hand… no doubt because any evidence contrary to accepted contexts is inevitably the Devil's work.
This guy is the Lord of Night and Shadow, the Master of Deceit, and the Infernal Archaeologist…
As we all know, fossils were placed in the ground by Satan in order to lead the faithful astray.
Those who have experienced the truly Fortean will understand at once that this paradox is a very real concern. It can ultimately be life-threatening, and perhaps even species-threatening. Our capacity for survival in this universe is linked on a long enough timescale to our ability to recognize veracity in the absence of validation. No matter how great a level of technical refinement is achieved, an absence of imagination and spiritual awakening yields a depraved and decadent existence.
For Richard Shaver, the infernal apotheosis of this condition were the Deros. He identified the term with a phrase that runs something like, "Destructive Robots," or else, "Detrimental Robots". But the term was really an effort on the part of its inventor to describe what he identified as a powerful and relatively evil species that directly manipulates and preys upon humankind. To Shaver, the Deros were responsible for disappearances, some natural disasters, unexplained objects in the skies, and a host of what his contemporaries and moderns would classify as delusions and hallucinatory flights of fancy. Shaver's Deros were supposedly possessed of devices capable of manipulating human thought and inserting ideas directly into human minds. In short, the Deros caused some individuals to be seen as mad – particularly when what the individuals were reporting or describing ran dangerously close to revealing the whole and awful truth. Also, the Deros were said to eat people after engaging in sexual sadomasochistic torture of their victims.
Things beyond common human understanding &/or human perception may well exist; the Vicar would argue plainly that they are absolutely in existence or at least likely to have been so, or that such things will exist in the future. Given a sufficiently long periodicity, the future will give rise to those who can alter or otherwise transit in time, meaning that beings from the future frequent this and all other periods in cosmic reality. That said, in a sufficiently bifurcated system (here, a system in which there is a clear divide between the accepted "probable" and the unaccepted "improbable"), the mainstream view will periodically be upset by unacceptable evidence. When this evidence is physical, it will be lost or destroyed. When this evidence is experiential or phenomenological (as in, many witnesses see a bigfoot, or a UFO sighting report involving a landing leaves bizarre and otherwise inexplicable physical evidence in a farmer's field) it will be labelled an anomaly and all further investigatory activity will be cancelled or otherwise interdicted. When the evidence is compelling – regardless of its form – it will be marginalized and subjected to commentary which confuses the issues and obfuscates the value of the data. Mere "reports" of weird activity will be labelled hoaxes, nonsense, imagination, the result of chemical entertainment, or else insanity.
All of this occurs for a simple root reason: we do not accept as a collective intelligence any information that fundamentally contradicts the perceptions of the age. If the ancients believed in fairies, then odd goings on were the work of fairies, and little more needed to be known. But in modern times, we believe in biochemistry and physics and hard mathematically-based sciences. Odd goings on must either be readily explainable as mundane within these contexts, or else they are immediately rejected. The outlier cannot be integrated into the current composition of human collective consciousness, whatever the era. The witch-hunters of old would not have accepted arguments founded upon the DSM-IV-TR for example; this would have been nonsense and very likely the work of the devil, since it would have interdicted the collective mandate to resolve such matters with torture and immolation. The coming future society in which the wealthy elite are able to confer upon their children the grossly disproportionate benefits of genetic manipulation technology will regard spiritual objections – and the inevitable spiritual revelations or visitations – to such conditions as manipulative terrorism. Our own age is marked in much the same way: no cause is ever just when it employs violence, except "our own" causes, since our view is right and all contrary perceptions are wrong.
The CEO of the future will bring new meaning to the phrase, "The boss is gonna rip my head off!"
Richard Shaver may well have possessed a unique gift, not for hoax or legend-spinning, but rather for perceiving that our conception of reality is fundamentally flawed. We really do not understand the underlying "why" behind any phenomena. We certainly cannot begin to know if there are intelligences or complex sapient agencies behind mundane or bizarre events, because we do not accept in the mainstream anything other than mechanistic causes. We exist on a planet in space, but the majority view is that we are either alone in this universe or have never been visited by extraterrestrial species – although this is changing. From a statistical and logical standpoint, this fading but still powerful opinion is actually and literally idiotic: it presumes that what we do not know does not exist. Were this ever a valid platform for reasoning, then most modern technology and understanding would never have developed. Advancement would be impossible, since our imaginations and plans would always be folly.
Sans the agency of the Gods, we'd have had a difficult time explaining to a Sumerian of Ur that men would one day build machines with which to fly. By reverse "engineering", we must wonder at Daedalus and Icarus: is this a myth, or a recollection of a man and his son developing hang gliding technology in the misty ancient past?
Shaver's Deros are an example of the same psychological and existential construct: he argued that he had been in the presence of these things, seen one of their underground cities, and been subjected to their "mind rays". According to Shaver, the Deros broke him out of jail one night, sending a holographic woman to assert mind control over his captors and guide him to one of their underground facilities. In the absence of evidence, this kind of reasoning is simply paranoia, delusion, and ultimately just schizophrenia. But what if the reality of the situation is precisely as Shaver explains it? His tales blend the Lemurian-Atlantean mythos – the notion of a lost civilization of high sophistication, whatever the name – and phenomena like unexplained disappearances and strange craft-like sightings in the sky. In short, Shaver is one of the first Fortean writers to attempt to create a kind of unified field theory of weird shit. He is in essence the granddaddy of some of the ideas advanced by John Keel and Jacques Vallee.
Richard Shaver – writer, artist, madman, witness
More importantly, what if the best evidence for certain phenomena is those who have experienced these phenomena first hand? If there are situations that defy conventional logic because they operate according to rules and conditions we have not yet begun to theorize about, much less describe or research, then it naturally follows that the only reliable rendering of the same would be found in anecdote, myth, legend, and the forever vilified "eyewitness account".
Tools and implements lack the essential human quality of possessing a soul; moreover, they lack active intellect, emotion, and volition. There are a vast number of differences between the human understanding of the world and raw data absorbed or otherwise captured by a mechanism. The oddity in scientific inquiry turns upon this; the fact that we would trust data captured remotely or in the absence of human experience over the direct evidence we access with our own senses tells us that the fundamental guiding principle of evidence gathering is that we cannot trust human beings. We cannot trust ourselves. We cannot hope to imbue any of what we experience directly with any validity. In psychology, we often argue that what an individual perceives is very different from the reality around them. There is an assumption that an objective reality exists, and that subjective reality is innately flawed.
Richard Shaver said he went underground to see a city run by the Deros; his detractors point out that Shaver spent time in the care of psychiatrists. Which is true? In 1971, Shaver's editor and publisher, Ray Palmer (an equally interesting fellow whose influence is still felt in science fiction today) stated that he believer Richard Shaver spent 8 years in a mental institution.
The world is still greatly unknown to our species, so the possibility that we share it with another race of technically advanced, evolutionarily sophisticated entities is open. But the undercurrent in Shaver's discussion of the Deros is not dissimilar to the metaphorical coding of the Secret Language. It appears to reference existing in a controlled state, where thoughts are the result of inserted programming. And the Deros themselves delight in torture and cruelty as well as in destroying independence.
One must wonder, was Shaver talking about a race of advanced beings living under the earth? Or was he talking about the psychiatric industry as it existed in his day and which he had directly experienced? Did Richard Shaver undergo electroconvulsive therapy? Was he subjected to the brutality of psychiatric treatment and its sacred role of enforcing conformity and obedience?
Sure, because this is reasonable…
If Shaver was not entirely mad or merely a brilliant writer engaged in some sort of in vivo fiction experiment, his stories seem to serve as powerful metaphorical communications making full use of the Secret Language. And interestingly enough, the enigmatic man also is responsible for either the invention or the discovery of Mantong, a supposedly ancient language upon which all human tongues are based. While the actual function and form of Mantong essentially renders this proposition unlikely at best and absurd at worst, the Vicar would immediately propose that it is a form of code that may do far more than allow us to play word games. Richard Shaver's Mantong identifies letters as thought forms more sophisticated and complex than pictograms.
An excellent write up on Mantong exists
here
, and
here
 is a link describing the connection between Shaver's Mantong and another writer's inventive, "Protong". On the surface, things like this read as ridiculous, but Shaver's own creation – or discovery, of course – actually sort of works within its own context. Application of Mantong to simple words yields embedded thought forms that run consistently across many phrases. The deeper question turns upon what – if any – messages Richard Shaver may have embedded in his own stories, correspondences, and communications. His language could readily be used to send information in unexpected ways. At the very least, it is interesting that his own name would not translate very nicely in Mantong – a thing thoroughly worth considering. Mantong is definitely not the sort of language likely to catch on, but it has cohesion and purpose and was therefore convincing to a great many of Shaver's devotees.
Beyond the tales, he was also intensely interested in things he called, "rock books" which he apparently believed contained lost records of the distant past. Some skeptics immediately discard the idea of information hidden within crystalline structures of various rocks, but perhaps they are overlooking the fact that the "
silicon revolution
" is a precise rendering of this exact concept in the real world. Sand is silica, and grains of sand are tiny rocks. To be sure, Shaver's versions are not at all the same, but the underlying slip-coded notion is obvious. It's almost as though the man had received information he was totally unable to understand or apply.
The drawing Kenneth Arnold produced to describe his sighting.
There is a strange link we should consider by way of conclusion: the Kenneth Arnold sighting in 1947 was later picked up on by the aforementioned Ray Palmer and this publicity helped catapult the idea of "flying saucers" as spaceships into the collective consciousness. Thus, Shaver, who reported that the Deros had flying ships and "rockets" launchable from their underground bases, was published by the same man who later promoted the "saucer mystery". But the UFOs seen by Arnold are not necessarily anything out of the ordinary – they could readily have been secret military craft seen from an angle that confused the viewer. As unlikely as this may seem to the true believer, none of us were actually there, so we do not know.
What's odd is that Palmer helped to immediately shift the search for UFO truth off-world. One wonders, why? Couldn't such things come from within the earth, or out of the oceans, seas, and lakes as is sometimes reported in some fairly compelling
USO accounts
? After all, humanity actually only continuously occupies a small percentage of the earth's surface. There are many places where particularly technically able species could conceal themselves. Was Palmer intentionally misdirecting us? Did he know something? Or was he totally unaware of the manipulation occurring, caused by rays from deep within the earth that subtly reprogrammed his head?
Was the publisher of the Shaver Mystery a victim – or even a servant – of the Deros?
Paranoia is contagious.
The cast of Ghost Hunters to host panel at AlienCon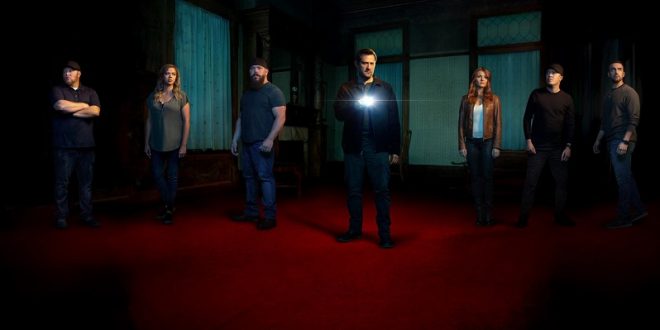 AlienCon the world's first convention dedicated to seeking the truth about extraterrestrial existence and solving the mysteries of the universe, has announced new program details for the October 4-6 event in Dallas, Texas. A+E Networks previously announced celebrity guests at AlienCon Dallas will include HISTORY's "Ancient Aliens" contributors Giorgio A. Tsoukalos, David Childress, Nick Pope, Caroline Cory, Jason Martell, John Brandenburg, Travis Taylor, and Jonathan Young.
The entire cast of A&E's "Ghost Hunters," one of the most successful paranormal series of all time, joins AlienCon Dallas for a panel discussion, Inside the World of A&E's "Ghost Hunters," on Saturday, October 5 at 2:20pm.
Have you ever wondered what it takes to investigate the paranormal? Hear from paranormal expert Grant Wilson and his new team of investigators. For the first time ever, this team of seven paranormal investigators – Wilson, Daryl Marston, Kristen Luman, Brandon Alvis, Mustafa Gatollari, Brian Murray and Richel Stratton – are sharing their approach to investigations, the cutting-edge technology they use, and how they research and prepare to go into a hunt.
Panel:  Inside the World of A&E's "Ghost Hunters"
Saturday, 10/5 at 2:20PM 
Grant Wilson, team leader/executive producer, and panel moderator
Daryl Marston, co-lead investigator
Kristen Luman, co-lead investigator
Mustafa Gatollari, site analyst/researcher/paranormal investigator
Brandon Alvis, tech manager/paranormal investigator
Richel Stratton, paranormal investigator
Brian Murray, paranormal investigator
There will also be two panel discussions regarding the Skinwalker Ranch
Panel: The Secret of Skinwalker Ranch
Friday 10/4 at 1:40PM
Panel: The Future of Skinwalker Ranch
Saturday, 10/5 at 11:00AM
Fans can learn more about ticket packages, special celebrity guests, and up-to-the-minute AlienCon Dallas programming information by visiting TheAlienCon.com.

AlienCon, owned by A+E Networks® in partnership with Prometheus Entertainment and produced by Mischief Management, LLC, is a three-day fan event inspired by HISTORY®'s hit series, Ancient Aliens®. AlienCon offers the opportunity for like-minded people to come together to challenge existing beliefs and seek disclosure of all kinds in an environment that inspires discovery and discussion.  The event will feature over 150 hours of original programming, sneak peeks and exclusive panels. Attendees can meet and mingle with their favorite celebrity guests.
More information can be found on the AlienCon website: TheAlienCon
A Taos Close Encounter of the Hunters and Aliens Kind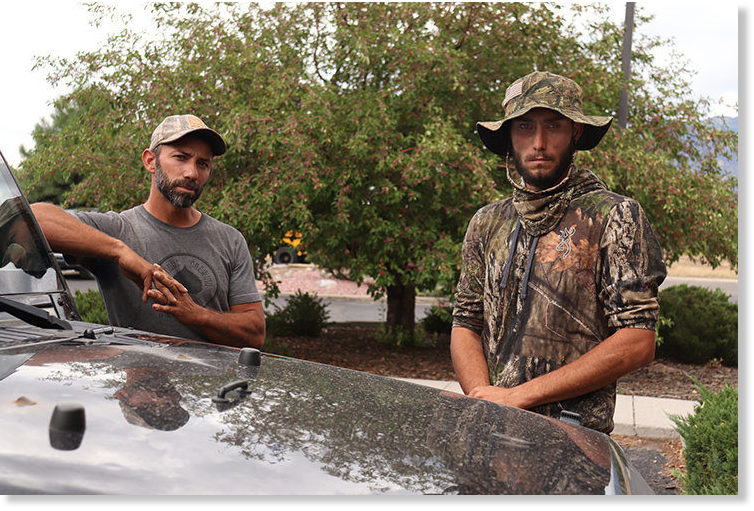 © Jesse Moya/Taos News
Staci Matlock
Taos News
From left, Josh Brinkley and Daniel Lucero were out bow hunting for elk near Cerro de la Olla Monday (Sept. 2) northwest of Taos when they had a strange encounter with a gigantic white structure that then disappeared. A day earlier, Brinkley saw what he thought were two hunters, but later described as oddly clothed "very tall figures with oversized heads." The two men are still trying to figure out what they saw.
Bow hunters Josh Brinkley and Daniel Lucero, dressed in camouflage gear, looked a little uncomfortable sitting in chairs at a local newspaper.
The Santa Fe County residents had just come into Taos after several days in rugged terrain near Cerro de la Olla, also called Pot Mountain, northwest of town near Ute Mountain.
They had a strange tale to tell and they weren't sure of their reception.
"We're a couple of guys that don't believe in much, but we believe now," Brinkley said.
They went hunting for elk.
They encountered aliens or something else so strange they don't know what to call it.
Brinkley, 41, said he's been going to the Pot Mountain area hunting for 15 years. He had never seen anything particularly odd.
He said he works construction and on movie sets. He's a family guy who doesn't want anyone to think he's crazy.
He and Lucero have worked together for eight years.
They say they aren't prone to seeing things and didn't particularly believe in aliens.
Odd Figures
Opening morning of bow hunting season was Sunday (Sept. 1). The two men had gone a couple of days early to scout the area for elk. Lucero, 26, had never been there.
They set up along the tree line on different sides of a field and waited. After three hours and no elk, Brinkley became restless. It was about 9:30 a.m.
"I take off walking, creeping around through the woods, looking for elk," Brinkley said.
He reached the top of the mountain where there's a caldera, a kind of wide bowl left behind by a collapsed volcano. He went to the edge on the southwest side. As he walked to the edge he noticed two figures on his side of the caldera. He thought at first they were hunters. But, they were "very tall shapes of these beings, standing side by side, staring right at me," he said.
He walked toward them across the brushy field. He estimates they were about 35 yards away. As a bow hunter, where measuring distance is critical to hitting a target, he said he's pretty adept at it. He went around the bush and looked again. The figures were gone.
He looked around and didn't see them. "Figured I would talk to them. They were gone, just gone," Brinkley said.
He thought more about what he had seen: With their lower half concealed by bushes in the caldera, he had only seen them from the waist up. "The shape that would be like their heads, it looked like they had huge hoods on. It looked like two ribbons coming off either side to a point at the top and bottom (like a banana). The right side was black, left side was white and a little shiny. Torsos were kind of black, I couldn't see many details. It definitely looked like clothes. In middle of the oval was just gray."
He thought maybe it was the back of hunters' heads. "But it looked too strange, too crazy."
Later, he drew what he could remember of them in a leather bound sketchbook he carries with him. And he drew what he saw next.
Weirded Out
Brinkley hurried back to where Lucero was still waiting. Still no elk. "I was a little weirded out," he told his friend.
He told Lucero he had seen a couple of hunters and that's probably what had scared off the elk. He couldn't bring himself at first to say what he might have just imagined.
They went back to camp. "I couldn't take it any more," Brinkley said. "I told him what I saw was weird. They were too tall, their heads were too big to be hunters."
"Anyone who knows me knows I don't tell these weird stories."
Lucero said he had known something was up when Brinkley had walked quickly and noisily up to his position at the field. Normally his friend is quiet, a hunter's slower, more measured speed through the bushes.
After Brinkley told him, Lucero felt a little weird, too. "I didn't know what to believe," Lucero said.
Brinkley kind of wrote off what he saw.
A Strange Structure
On Labor Day (Sept. 2), they headed out again to hunt early in the morning and hiked all around the area. No elk. They got back to their Jeep at about 2:30 p.m.
"We couldn't figure out why there was no elk," Brinkley said.
They decided to drive to the other side of the mountain and see if there were other hunters or four-wheelers scaring off the elk. As they drove, the men saw no signs of any wildlife at all, they said.
They drove about 10 minutes, when they saw it. They both work with movie sets. At first they thought it was a movie base camp. "It's this big tent structure, like a circus tent, 50-60 feet tall. Coming off the left of it was this long building, almost like what you would build for an archery lane for target practice. It was a third the height, but really long, maybe a couple hundred feet."
They were about a quarter mile away and couldn't see the bottom of the structure.
They watched it for about a minute as they drove.
"What is it," he asked Lucero, "a base camp for a movie? Or are they building an alien ship set?"
They drove down a little hill, lost sight of the structure for at most five seconds, Brinkley said.
"When we topped the hill, it was gone. Just gone."
Lucero said he was watching it the whole time while Brinkley drove except for those few seconds. "There was no dust, there was nothing," Lucero said.
They drove around the area searching for what they had seen until dark.
Nothing.
"I just know it was real," Brinkley said. "It was huge and white and then gone."
'Profoundly Unsettling'
When the two men reached a place with cell signal, they told a few friends what they had seen. They thought about calling the Air Force. A friend put them in touch with Peter Davenport, longtime executive director of the National UFO Reporting Center in Washington state.
Davenport confirmed they had called him. "It was a dramatic story," he said. "If it is true, it is profoundly unsettling."
He said out of the thousands of calls he gets every year about supposed alien sightings, they rarely describe seeing aliens on the ground.
They aren't the first hunters to see something they can't explain. Four hunters in Challis, Idaho, in 2000 described having a large triangular craft hover a couple of hundred feet above them before moving off over the mountains.
After listening to some 350,000 phone calls over 25 years, Davenport thinks he can tell those that are credible.
This was one of them, he said.
Brinkley and Lucero said they weren't drinking and weren't on drugs.
The hardest thing is telling their story. "People probably think we are insane," Brinkley said
He said he didn't believe in UFOs. "I sure do now," he said.
Lucero said he doesn't know about aliens. "I just know I've never seen anything that big just disappear."
"The two aliens, you can say I imagined that. But you cannot explain something that big just — gone," Brinkley said.
After telling their strange tale, the hunters did what they came to do – go try one more time to find elk.
New Mexico Hunters Have ET Encounter on Pot Mountain
Let's answer a few of the obvious questions right away. Yes, there really is a Pot Mountain in New Mexico. No, it has nothing to do with marijuana. Yes, that may absolve the two ET-spotting hunters from accusations that they were high when they claim to have seen two tall big-headed, half-black/half-white aliens on Pot Mountain. No, they weren't trying to be politically correct with that description. Yes, one saw the creatures and both saw something that was either their tent or their means of transportation. And no, they didn't take any pictures. However, it's an interesting story and UFO expert believes their sincerity in telling it.
"We're a couple of guys that don't believe in much, but we believe now."
Josh Brinkley and Daniel Lucero were still in their bow-hunting camouflage clothing when they told their story to the Taos News. The friends and co-workers have been hunting together for elk for years, but this was Lucero's first time on Cerro de la Olla – an inactive volcanic mountain northwest of Taos named Mountain of the Pot or Pot Mountain because of its pot shape. Brinkley brought him there a few days before the September 1 opening day of elk season to scout for some good spots. However, he was alone and wondering why there were no elk around when he had his first close encounter.
"[I noticed the] very tall shapes of these beings, standing side by side, staring right at me. The shape that would be like their heads, it looked like they had huge hoods on. It looked like two ribbons coming off either side to a point at the top and bottom (like a banana). The right side was black, left side was white and a little shiny. Torsos were kind of black, I couldn't see many details. It definitely looked like clothes. In middle of the oval was just gray."
Brinkley estimated the creatures were 35 feet from him. As he walked around a bush to get a better look, they disappeared. He told the Taos News that he returned to Lucero but hesitated before telling him about the unbelievable encounter with the two tall beings. They returned to the same area the next day and still saw no elk. That's when both hunters had a close encounter of the tent kind.
"It's this big tent structure, like a circus tent, 50-60 feet tall. Coming off the left of it was this long building, almost like what you would build for an archery lane for target practice. It was a third the height, but really long, maybe a couple hundred feet."
As they drove around to get closer, they lost sight of the structure for less than five seconds. When they had a view again of where it was … it wasn't.
"When we topped the hill, it was gone. Just gone. There was no dust, there was nothing, I just know it was real. It was huge and white and then gone."
They had no further encounters. In addition to the Taos News, they told their story to Peter Davenport, the executive director of the National UFO Reporting Center, who was intrigued by the witnesses claiming to see actual alien creatures and added this comment to the report of the call.
"NUFORC was impressed with what we perceived to be the apparent sincerity of the caller during the telephone conversation with him."
One discrepancy between the two accounts – NUFORC says there were three witnesses while the Taos News says there were only Brinkley and Lucero. That might be cleared up with an official written account to NUFORC by the witnesses, but that hasn't happened yet.
What did Josh Brinkley and Daniel Lucero see? Taos is well-known as a center for New Age beliefs, but it and New Mexico in general have had their share of strange incidents and alien encounters, ranging from the mysterious Taos hum to the Roswell UFO crash to extraterrestrials living in caverns near Dulce to the alleged 1948 'flying saucer' crash in Hart Canyon near Aztec with 14 to 16 small humanoid corpses found in the wreckage.
Is the incident on Pot Mountain just a good title for a major motion picture or a real close encounter? It would have helped their case to have photos instead of drawings and another witness who is not also a friend and co-worker. It would have also helped if there were footprints of the ETs and imprints or other evidence of the mysterious tent.
Keep looking up … unless hunting season has started.
Source: Mysterious Universe