The Date Palm Found to Increase Sperm Count and Motility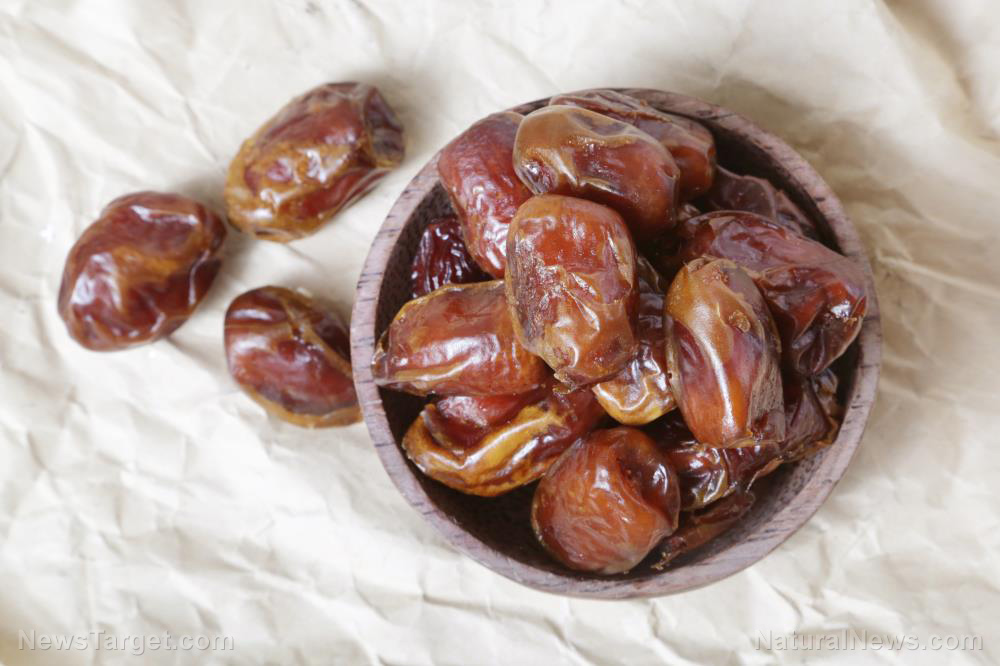 Men may enhance their fertility by taking date palm (Phoenix dactylifera L.) pollen. A review published in the Journal of Evidence-Based Complementary & Alternative Medicine found that date palm pollen may help increase sperm count and motility. Date palm pollen is the male reproductive cells of palm flowers.
During ancient times, men and women used date palm pollen as a dietary supplement, particularly as an aphrodisiac and fertility enhancer. In Iran and Arabic countries, date palm pollen has been used to enhance male infertility. (Related: The history and constituents of the date palm, a favorite since ancient times.)
In the review, a team of researchers at Tehran University of Medical Sciences in Tehran, Iran looked at the phytochemistry and pharmacological activities of date palm pollen and its effect on fertility disorders. The research team collected clinical trials evaluating the beneficial effects of date palm pollen in humans, as well as experimental studies assessing the reproductive effects of date palm pollen.
Date palm pollen contains compounds such as amino acids, fatty acids, flavonoids, saponins, and estroles. Experimental studies also demonstrated that date palm pollen increases sperm count and motility. In addition, it could improve sperm quality and reduce chemical-induced toxicity on the male reproductive system. Some studies also suggested that date palm pollen has beneficial effects on the female reproductive system as well. Phytochemical studies reported that date palm pollen contains sterol derivatives, flavonoids, and different amino acids, which may be responsible for these pharmacological activities.
While date palm pollen may have some beneficial effects on reproductive health, more studies are needed to confirm these benefits. Based on these findings, the researchers concluded that date palm pollen may help enhance fertility, especially in men.
Other benefits of date palm
The fruit of the date palm tree also offers many health benefits. Here are some of them:
Dates are packed with nutrients: Dates contain vitamins and minerals, such as protein, potassium, magnesium, copper, manganese, iron, and vitamin B6. However, since they are mostly dried, they are high in calories like other dried fruits such as raisins and figs.
Dates are rich in fiber: In addition to the vitamins and minerals mentioned, dates also contain high amounts of fiber. Consuming fiber-rich foods is good for digestive health as fiber prevents constipation and promotes regular bowel movements. The fiber in dates can also help regulate blood sugar levels. Fiber slows digestion, preventing blood sugar spikes after eating.
Dates are rich in antioxidants: Dates also contain high amounts of antioxidants, such as flavonoids, carotenoids, and phenolic acid. Antioxidants protect the cells from harmful free radicals that cause diseases, such as Alzheimer's disease, cancer, diabetes, and heart disease.
Dates may improve brain health: Eating dates may promote brain health by reducing inflammation and preventing plaques from forming in the brain, which is essential for Alzheimer's disease prevention.
Dates may promote and ease natural labor: Eating dates during the last few weeks of pregnancy may promote and ease natural labor for pregnant women, according to studies.
Date palm fruit can be easily added to your diet as they are versatile and delicious. There are many varieties of dates, but they are typically small in size and range in color from bright red to bright yellow. Dates are chewy and have a sweet taste. Dried dates have a wrinkled skin, while fresh dates have a smooth skin. They are often consumed with other foods like almonds, nut butter, or soft cheese.
Read more news stories and studies on natural medicines like date palm pollen by going to NaturalMedicine.news.
Quantum Physicists Have Successfully Teleported A Qutrit For The Very First Time
Quantum teleportation has been a term related to qubits for the longest time and recently, researchers have successfully teleported 'qutrits'. The research published on American Physical Society is a major breakthrough that will propel the quantum computation prowess to incredibly faster speeds.
Scientists have been able to teleport qubits, Quantum Bits of information that have binary states – 0 or 1 – but qutrits have three possible states – 0, 1 and 2. Qubits and qutrits have the property of being able to exist in multiple states at the same time, i.e. superposition which allows for amazing applications in quantum computing.
Quantum Teleportation is based on quantum entanglement, through which the properties of a quantum particle can be transferred to a distant particle without physical movement of the particle itself. It is nothing like the 'Warp Speed' or 'Warp Drive' that has been popularized in sci-fi but rather, it is just two interlinked particles revealing the properties of the other particle. Quantum teleportation is possible by using photons which carry the quantum information about the two possible states in case of qubits or three possible states as in qutrits.
Splitting the photon into three beams through the use of an intricate contraption consisting of calibrated setup of lasers, beam splitters and barium boratecrystals, the researcher created their qutrits. They also said that it could be possible to use ququarts in the future. With 0.75 fidelity over 12 states of entanglement, the researchers were able to prove that qutrit teleportation is possible.
The research will surely propel the quantum technology to the next level as quantum teleportation is an integral part of quantum computing applications.
Source mashable.com

"Thousands of Solar Reflector Satellites" Could Warm Up Mars
Space Retreat
Since 2015, SpaceX CEO Elon Musk has made it abundantly clear that he really wants to nuke Mars in order to terraform it — and, presumably, turn it into a habitable space retreat for billionaires.
But he might have a plan B up his sleeve that wouldn't risk turning the Red Planet into a gigantic planet-sized Chernobyl.
"Might make sense to have thousands of solar reflector satellites to warm Mars versus artificial suns," Musk tweeted on Tuesday. Then he added, cautiously: "TBD."
Martian Mirrors
That idea might not be as crazy as it sounds: using orbital mirrors to terraform Mars was suggested by University of Arizona undergrad Rigel Woida back in 2006 — a suggestion that won him a NASA fellowship at the time.
According to Woida's paper from 2007, the idea was to have a "network of two to three hundred, 150 meter diameter reflectors in monolith form or a series of small clustered groups" to warm the Martian surface.
Artificial Suns
Musk also elaborated on his Plan A — "nuke Mars" — on Twitter: drop a "continuous stream of very low fallout nuclear fusion explosions above the atmosphere to create artificial suns." After all, the Sun is technically an "immense thermonuclear explosion" itself, as he explained last week.
But for that to ever happen, NASA would have to change its stance on the matter. Just over a year ago, NASA research found that nuking Mars wouldn't be enough to turn it into an Earth-like holiday destination.
READ MORE: Elon Musk ponders solar reflectors instead of nuking Mars to warm it up [CNET]
We Have a Cure for the Deadliest Form of Tuberculosis
The Food and Drug Administration just approved the third and final part of a new drug regimen shown to cure the deadliest strain of tuberculosis.
The regimen involves taking five pills every day for six months straight, but that's nothing compared to the existing treatment, which requires 40 daily pills for two years, according to The New York Times. And in a small clinical trial, the new treatment was shown to cure the rare, deadly XDR strain of tuberculosis in 90 percent of people, suggesting that the disease could soon become much more manageable.
Tuberculosis is still a major problem in a large chunk of the world. The disease is the most common infectious cause of death on Earth, the NYT writes, and the XDR strain had already built up a resistance to all four types of antibiotics that doctors currently use to treat it.
Ten million people catch XDR tuberculosis every year. Three-quarters of those people die before they get any treatment, per the NYT, and existing cures only worked on just over a third of the remainders.
The new treatment requires three separate drugs, the newest of which just got FDA approval. Gerald Friedland, one of the scientists who discovered the XDR strain told the NYT that he thought the recent experiment was "a wonderful trial."
"If this works as well as it seems to," he said, "we need to do this now."