The Date Palm Found to Increase Sperm Count and Motility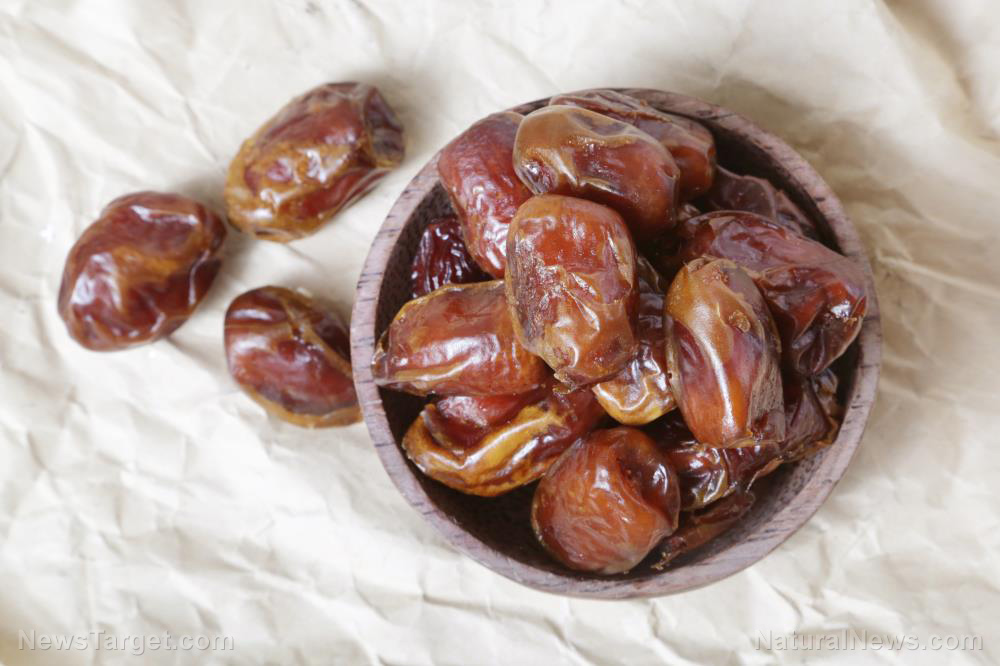 Men may enhance their fertility by taking date palm (Phoenix dactylifera L.) pollen. A review published in the Journal of Evidence-Based Complementary & Alternative Medicine found that date palm pollen may help increase sperm count and motility. Date palm pollen is the male reproductive cells of palm flowers.
During ancient times, men and women used date palm pollen as a dietary supplement, particularly as an aphrodisiac and fertility enhancer. In Iran and Arabic countries, date palm pollen has been used to enhance male infertility. (Related: The history and constituents of the date palm, a favorite since ancient times.)
In the review, a team of researchers at Tehran University of Medical Sciences in Tehran, Iran looked at the phytochemistry and pharmacological activities of date palm pollen and its effect on fertility disorders. The research team collected clinical trials evaluating the beneficial effects of date palm pollen in humans, as well as experimental studies assessing the reproductive effects of date palm pollen.
Date palm pollen contains compounds such as amino acids, fatty acids, flavonoids, saponins, and estroles. Experimental studies also demonstrated that date palm pollen increases sperm count and motility. In addition, it could improve sperm quality and reduce chemical-induced toxicity on the male reproductive system. Some studies also suggested that date palm pollen has beneficial effects on the female reproductive system as well. Phytochemical studies reported that date palm pollen contains sterol derivatives, flavonoids, and different amino acids, which may be responsible for these pharmacological activities.
While date palm pollen may have some beneficial effects on reproductive health, more studies are needed to confirm these benefits. Based on these findings, the researchers concluded that date palm pollen may help enhance fertility, especially in men.
Other benefits of date palm
The fruit of the date palm tree also offers many health benefits. Here are some of them:
Dates are packed with nutrients: Dates contain vitamins and minerals, such as protein, potassium, magnesium, copper, manganese, iron, and vitamin B6. However, since they are mostly dried, they are high in calories like other dried fruits such as raisins and figs.
Dates are rich in fiber: In addition to the vitamins and minerals mentioned, dates also contain high amounts of fiber. Consuming fiber-rich foods is good for digestive health as fiber prevents constipation and promotes regular bowel movements. The fiber in dates can also help regulate blood sugar levels. Fiber slows digestion, preventing blood sugar spikes after eating.
Dates are rich in antioxidants: Dates also contain high amounts of antioxidants, such as flavonoids, carotenoids, and phenolic acid. Antioxidants protect the cells from harmful free radicals that cause diseases, such as Alzheimer's disease, cancer, diabetes, and heart disease.
Dates may improve brain health: Eating dates may promote brain health by reducing inflammation and preventing plaques from forming in the brain, which is essential for Alzheimer's disease prevention.
Dates may promote and ease natural labor: Eating dates during the last few weeks of pregnancy may promote and ease natural labor for pregnant women, according to studies.
Date palm fruit can be easily added to your diet as they are versatile and delicious. There are many varieties of dates, but they are typically small in size and range in color from bright red to bright yellow. Dates are chewy and have a sweet taste. Dried dates have a wrinkled skin, while fresh dates have a smooth skin. They are often consumed with other foods like almonds, nut butter, or soft cheese.
Read more news stories and studies on natural medicines like date palm pollen by going to NaturalMedicine.news.
My 400 Days Without Candy & What I Learned About Sugar Addiction
At the end of 2017 I decided to temporarily say goodbye to my dietary Achilles heel.
While I'm certainly not suggesting that I am some beacon of ideal healthy eating, I have always been someone who, for the most part, makes what I've found to be healthy choices. Except for my one glaring weakness… candy.
In particular, the really sour and heavily sugar coated kind, but you'd be hard pressed to find me turning down even those better classified as sweet, with all of their sugar fused within the confines of the chew. Cherry Blasters, Sour Patch Kids, Fuzzy Peaches, Sour Punch Straws, you name it, I ate it, and usually with a big smile on my face.
But no matter how much my tastebuds loved this stuff, I've always known that it's not good for me (I can't imagine that there is anyone out there who actually thinks it is), so I decided to listen to my body, just as I had already done with a number of my other dietary changes. I opted to no longer ignore the stomach and headaches that would often come shortly after my sugary indulgences and give it up.
What started as a one month challenge quickly evolved into a three month challenge, followed by a one year challenge, and then a 400 day challenge simply because I liked the sound of the number. Here's some of what I learned from this journey:
The First Days Are Undeniably The Hardest
The old adage that it takes approximately 21 days to break a bad habit or make a new one in this case certainly held true. It was right around the 3 week point that I started to find myself far less tempted and far less frequently on the search for something to satisfy my sweet tooth. And believe it or not, the longer I went on, the less appealing the idea of eating candy became. It almost felt as if the memory in my tastebuds that had controlled so many of my past decisions had gradually faded away.
Mindset Is Everything
While I will fully admit that my quest to 400 was helped by it naturally feeding into another one of my "addictions" (a great joy in setting records and tracking analytics), I found that so much of the temptation to consume these sugary, salty and greasy foods really was incredibly temporary. Challenge yourself to at least not let it win once and you'll likely see just how quickly its strength can fade.
It Paid Dividends
While I didn't completely cut sugar out of my diet, as many people have so admirably done and documented about, I can say that cutting back even as much as I did felt really good for me. Some may be quick to chalk it up to the placebo effect, and understandably so, but I can honestly say that the above mentioned stomach and head aches occurred far less often over the 400 day span.
Real-Time Analysis: After The First Bite
Having now officially consumed my first piece of candy since 2017, believe it or not, it tastes different. Is it still tasty and did it satisfy me at some level? Absolutely. But it also tastes way more sugary and foreign to my body than it once did. It's as if my body really wanted to make it clear by saying, "are you sure you want to bring this stuff back into the picture?"
Side Note: For those that are curious, since it's the most common question I've been asked since embarking on this journey, the candy I chose to eat as my first piece was a Vegan Wild Cherry Belt by Squish Candies. (And no I'm not getting paid to brand-drop, and no I don't make any commission should you choose to buy any at that link… unfortunately LOL).
Where I Go From Here
While I don't see myself going completely cold turkey on candy again, I also cannot see myself consuming it nearly as much as I once did. And I do so happily, not out of punishment. While I'm also certainly not qualified to be giving out dietary advice, I am comfortable challenging all of you to give up something you know to not be good for you. See how your body feels both without it and after you re-introduce it.
Machine Learning Is Causing A "Crisis in Science"
Crisis In Science
Rice University statistician Genevera Allen issued a grave warning at a prominent scientific conference this week: that scientists are leaning on machine learning algorithms to find patterns in data even when the algorithms are just fixating on noise that won't be reproduced by another experiment.
"There is general recognition of a reproducibility crisis in science right now," she told the BBC. "I would venture to argue that a huge part of that does come from the use of machine learning techniques in science."
Reproducibility
The problem, according to Allen, can arise when scientists collect a large amount of genome data and then use poorly-understood machine learning algorithms to find clusters of similar genomic profiles.
"Often these studies are not found out to be inaccurate until there's another real big dataset that someone applies these techniques to and says 'oh my goodness, the results of these two studies don't overlap,'" she told the BBC.
Noise Project
The problem with machine learning, according to Allen, is that it's trained to look for patterns even where none exist. The solution, she suspects, will be in next-generation algorithms that are better able to evaluate how reliable the predictions they make are.
"The question is, 'Can we really trust the discoveries that are currently being made using machine-learning techniques applied to large data sets?'" Allen said in a press release. "The answer in many situations is probably, 'Not without checking,' but work is underway on next-generation machine-learning systems that will assess the uncertainty and reproducibility of their predictions."
Ride out Climate Change in This $5.5 Million Self-Sustaining Yacht
Luxury Living
In 2017 we wrote about Arkup, a company designing "hurricane-proof" livable yachts powered by solar energy and capable of operating completely off the grid.
Now, the company has finally debuted a real-life version of one of its designs, and it could to let you ride out the worst that climate change might throw at the Earth in the near future — assuming you have $5.5 million to spend on it.
Cost of Climate Change
Visitors to the Miami Yacht Show, which runs through Feb. 18, can catch a glimpse of the Arkup #1, a 75-foot livable yacht its creators claim is entirely self-sustaining.
The yacht has a rainwater-harvesting system, a 2,300-square-foot roof covered in solar panels, and would be as "stable as a home on land" if pummeled with Category 4 winds, according to an Arkup press release.
Based on the tweeted photos of the yacht, it's incredibly luxurious. But given that most of us don't have $5.5 million to spend on a floating home, we might want to consider cheaper ways to prepare for climate change, like urging our legislators to back climate-friendly legislation.
75′ Livable yacht by Arkup pic.twitter.com/xbLxbm8P4i

— Arkup LLC (@Arkup_LLC) February 14, 2019