The Dark Side Of The Moon: What Is It? What's On It?
Have you ever heard about the "dark side" of the Moon? It's the portion of the Moon that is permanently turned away from the Earth. Obviously it still receives sunlight, the name is not meant to imply that it doesn't. The reason why we can never view this side of the Moon from Earth is because the time it takes for the Moon to rotate once is the same amount of time it takes for it to orbit around the Earth, approximately 27 days(5). The Moons rotation and revolution speeds are exactly synchronized, so from Earth's point of view we always see the same side of our rotating Moon. Coincidence? Maybe not. It's also reasonable to note that the theories about  the Moon's existence are highly questionable, given the physics alone it's impossible to know how it came to be. Theories regarding the creation of the Moon have very little evidence to back them. Theories of planetary collisions giving birth to objects with such characteristics and perfect placements are highly unlikely given what we know about physics. Many scientists have pointed this out over the years and many of them agree that how the Moon came to be is a complete mystery. Members of the Soviet Academy of Sciences (Vasin and Shcherbakov, 1970), run by the Russian Government, published an article titled "Is the Moon the Creation of Alien Intelligence?" This article offered another explanation for how the moon may have been created. This seems to be a better hypothesis, because there is actually a considerable amount of evidence that points towards something suspicious happening on the Moon.
We cannot help but come to the conclusion that the Moon, by rights, ought not to be there. The fact that it is, is one of those strokes of luck almost to good to accept – Isaac Asimov, Russian Professor of Biochemistry It's easier to explain the non existence for the Moon, than its existence – NASA scientist Robin Brett The best explanation for the Moon is observational error – the Moon doesn't exist – Irwin Shapiro, Harvard Astrophysicist
Is there something on the dark side of the Moon? When more people started to ask questions about some sort of presence on the Moon, the most common response was the fact that it would be impossible. That amateur astronomers, given the technology today, would be able to identify such claims with ease. This response is only half valid, given the fact that they would only be able to observe one side of the Moon!  A lot of information is available to suggest that there are some sort of structures on the moon and also some type of operation occurring that's unknown to the majority of people on planet Earth. They could be human operations, extraterrestrial operations, or joint human and extraterrestrial operations. If you are going to hide something from the eyes of astronomers, the "dark side" of the Moon is the perfect place to do it.  Let's take a look at some of the evidence that suggests something is going on up there. Research conducted by Stanford university was successfully able to identify the rings around Jupiter before science could confirm them. Before the NASA pioneer 10 was about to flyby Jupiter, remote viewer Ingo Swann was able to describe the same characteristics illustrated by NASA's pioneer 10 by remote viewing the planet (2). Remote viewing is the ability of individuals to describe a remote geographical location of up to several hundred thousand kilometres (even more) away. It's like projecting your consciousness to another place outside of your body.  This phenomenon has been confirmed by multiple studies(1)(0). The interesting thing about remote viewing is that it gained a high level of interest from the intelligence community and the programs have been wrapped with secrecy in the classified world within the department of defence for years. (0)(1)(2).
It's one thing to read about UFOs and stuff in the papers or in books. It is another to hear rumors which say they have captured extraterrestrials and downed alien space craft. But it's quite another matter to find oneself in a situation which confirms everything. I found towers, machinery, lights, buildings, humanoids busy at work on something I couldn't figure out – Ingo Swann  (3)
Ingo wrote plenty about the Moon and his findings on it, the fact that this man was closely connected and often used by the intelligence community (2)(3) should sound some alarms in realizing the importance of his work. Also, the fact that he successfully remote viewed Jupiter before modern science could is astonishing. These findings were published by Stanford University (2). You can find out more about Ingo's findings on the Moon in his book, Penetration. He describes large structures, lights, buildings and some type of humanoid presence. Ingo's case isn't the only one that holds a great deal of credibility. Not to long ago, Gary McKinnon performed the greatest military computer hack of all time. In 2002, he was charged and arrested for hacking US Army, Navy, Air Force as well as 16 NASA computers.
What did Gary find? He found a list on "non-terrestrial off world officers" that had a rank. He was unable to tell if they represent the Air Force, Navy, Army, or neither. He also found multiple pictures of UFOs and lists of "fleet to fleet" transfers of materials from "ship to ship." To watch a full interview with Gary McKinnon and Kerry Cassidy from Project Camelot, right before he started making headlines, you can click here. This interview became extremely popular and it led to Gary's appearance on major mainstream news networks. Could they have been trying to divert attention away from this interview? I am glad to report that Gary has been recently cleared of all charges. Not many people know that the United States Air Force has a space command(4), they are responsible for conducting "cyber operations" that the general public knows nothing about. Could Gary McKinnon have shed some light on these operations? How are we to ever know about these operations? All of them remain classified for the sake of "national security."
The dangers of excessive and unwarranted concealment of pertinent facts, far outweigh the dangers that are cited to justify them. There is a very grave danger, that an announced need for an increased need for security, will be seized upon by those anxious to expand its meaning to the very limits of censorship and official secrecy. This is not what I intend to permit, to the extent that it is in my control – JFK
Given that the above information is highly credible and verifiable, meaning that there actually was a remote viewing experiment conducted by Stanford University (and many others) involving Ingo Swann (2), and that Gary McKinnon did indeed perform one of the greatest military computer hacks of all time, it made sense to continuing exploring this topic. Here is testimony given in 2001 at the National Press Club. As part of the disclosure project created by Dr. Steven Greer, hundreds of high ranking military personnel came forward to share their stories. Below are a couple of whistle-blowers that speak about the Moon. I urge you to check out  Dr Greer's and Amardeep Kaleka's recent film, the The Sirius Documentary. It touches upon some very important information.
So what do you think rests on the dark side of the Moon? For some to say that we never went to the Moon is ridiculous. Sure, some of the Moon landings that were televised could have been faked, but the fact remains, we have been to the Moon and the real thing probably wasn't televised. Thanks for reading, hopefully I've presented enough information for you to further your interest if interested. It's a very fascinating subject with a lot more information on it than what is presented in this article. I don't know if this is real, but it fits in perfectly with the article. Regardless, it engages the imagination, especially for skeptics, which isn't a bad thing.
Sources: (0)http://www.princeton.edu/~pear/pdfs/1979-precognitive-remote-viewing-stanford.pdf (1)http://www.lfr.org/lfr/csl/library/AirReport.pdf (2) http://www.scientificexploration.org/journal/jse_10_1_puthoff.pdf  (3http://ia600605.us.archive.org/30/items/PenetrationTheQuestionOfExtraterrestrialAndHumanTelepathy/Penetration_Ingo_Swann.pdf (4) http://www.afspc.af.mil (5)http://lro.gsfc.nasa.gov/moonfacts.html Source
Full Disclosure: Navy Commander Details His Bizarre UFO Encounter
A retired Navy Commander released his official statement about that one time he had a UFO encounter, witnessing a bizarre craft rising out of the ocean and flying past his plane.
On February 10, 1951, Navy pilot and officer Graham Bethune, along with his crew, was flying in a mission from Iceland to Newfoundland.
While finishing the mission, they experienced something rather inexplicable. This event marked the whole life of the ex-Navy commander and the rest of the crew as well.
Namely, the members of the mission noticed a bizarre light on the ocean's watery surface around 300 miles from Newfoundland.
These lights were so eminent and scattered throughout a large area hence the men felt like they were flying over a city.
During the Disclosure Project Conference in Washington DC in 2001, ex-commander Bethune explained his weird  UFO encounter.
"As we approached this glow it turned to a monstrous circle of white lights on the water. Then we saw a yellow halo, small, much smaller than whatever it was launched from, about fifteen miles away."
In only a matter of seconds, the gleaming UFO equaled their altitude. Thus, Bethune had to free the autopilot and draw the plane's nose down in order to dodge a crash. But soon, the object shifted going towards them.
"As the UFO approached my plane and flew alongside it, we could see the domed craft which had a corona discharge," he said.
At the same time, certain plane instruments started failing due to the powerful electromagnetic disruptions the UFO generated.
The plane had 31 passengers, a psychiatrist and of course, the crew aboard. All of them watched as the event was unrolling.
As soon as the plane landed, the witnesses were questioned and pressured on signing a non-disclosure form. Their testimonies, however, were upheld by radar data from an Air Force station in Goose Bay, Labrador.
Do you believe Mr. Bethune and his crew really experienced a true UFO encounter? Tell us your opinion.
Will Vladimir Putin Disclose Alien Presence?
A couple of major news outlets today tossed up headlines saying Vladimir Putin is about to disclose the reality of alien presence on earth. A potential Putin UFO disclosure statement would be world-changing.
The claim comes from the Paradigm Research Group founder, Stephen Bassett. Bassett is a US lobbyist on the issue of alien disclosure (he's the only one).
If I had two minutes with Putin, my only question would be why do you not tell people about the ET presence. I believe Vladimir Putin is well aware of the ET presence. ~Stephen Bassett in a Russian Network TV interview.
Essentially, Bassett believes a global gag order keeps world leaders from disclosing the truth about aliens and UFOs.
Where's the Evidence?
I went over all the news articles I could find regarding this revelation and there's not as much interesting to it as I'd hoped.
Bassett traveled to Russia hoping to convince Putin to disclose what he knows, if anything, about aliens. He never actually got to speak to Putin though. He only had an interview with a Russian television network where he explained his beliefs.
Unfortunately, regardless of what Vladimir Putin knows, there's nothing in Bassett's interview to suggest he might be considering any type of UFO disclosure.
Putin UFO Disclosure?
So what might Putin know about UFOs?
Well, he sure as hell knows more about what's going on than I do. The Russian interest in possible extraterrestrial technology is unquestioned. If there was anything going on, Putin would be one of the first to be grabbing the intel.
I believe Vladimir Putin is well aware of the ET presence. ~Bassett
Whether it happens or not, once one leader spills the beans it's likely that more will follow. I'd love for Putin or Trump to come out and say, "yes aliens are visiting us and here's proof." It's highly unlikely though. There's always the possibility that our world leaders don't even have proof.

Perhaps one day this will be the image with the headline: "Vladimir Putin provides proof of alien involvement on Earth"
Conclusion
The articles I found touting the Putin UFO disclosure seem to really be reporting the beliefs of a specific researcher. But it turns out, he doesn't have any real information about Putin's intentions.
I would still be cool though if he said something. It's fun to think about. I'll keep hoping that one day it happens.
Mysterious underwater object link to 'Tic Tac' UFO sighting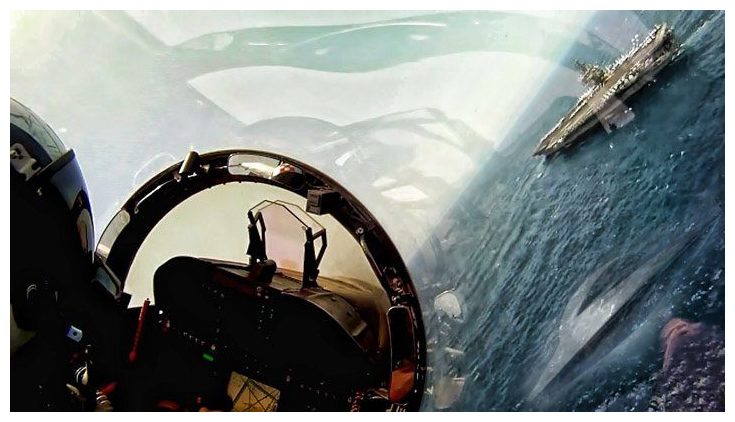 Remember that undated report on the Nimitz UFO incident discovered by a news team in Las Vegas?
Not only did it detail the capabilities of the supposed alien craft, it also hinted at another mysterious object encountered by a different pilot during the training exercises: Something huge and submerged beneath the waves encountered by a Navy fighter pilot.
The details are vague, but they certainly deepen the mystery of what happened off the coast of San Diego.
According to the report (turn to page 6), a Lt. Col. was doing a Function Test Flight (a test to see if the plane was fully functional after being repaired) when he was asked to go check out an "unidentified airborne contact," along with two other pilots.
He was asked if he had any ordnance (weapons) on board, to which he replied no.
Officials say this was a strange question; no air controller had ever asked him that when dealing with an unknown contact situation.
Soon after, he came close to the coordinates of the unknown object and was told to "skip it" and head back by the controller.
Instead, the Lt. Col. decided to go check it out.
What he found was a "disturbance" in the water between 50 and 100 meters in diameter that was close to a round shape.
It created a large area of frothing white water, and reminded the pilot of "something rapidly submerging from the surface like a submarine or a ship sinking."
Soon after, he looked toward the area again and found no trace of the disturbance or any craft near the spot.
According to the report, the disturbance may have been caused by an AAV that was 'cloaked' or 'invisible to the human eye.'
The report came to light roughly a month ago when it was published by I-Team, a Las Vegas investigative news team that covers everything from crime to local events.
It's still unclear whether the document is authentic, but if it is, it's one of the most persuasive pieces of evidence for modern UFOs.