The Scottish Play and the The Bard's Play are euphemisms for William Shakespeare's Macbeth. The first is a reference to the play's Scottish setting, the second a reference to Shakespeare's popular nickname. According to a theatrical superstition, called the Scottish curse, speaking the name Macbeth inside a theatre will cause disaster. A variation of the superstition forbids direct quotation of the play (except during rehearsals) while inside a theater.
Because of this superstition, the lead character is most often referred to as the Scottish King or Scottish Lord. Sometimes Mackers is used to avoid saying the name, mostly in North America.
As success or failure in the theater can be influenced by so many intangible and unpredictable factors, it's not surprising that actors and other theater types maintain a variety of long-standing superstitions, which often are taken very seriously. (The most famous is the insistence on saying "break a leg" rather than "good luck.")
Two such superstitions float around Macbeth. The first is that it's bad luck to even say "Macbeth" except during rehearsal or performance. When referring to the work one instead uses circumlocutions, such as "the Scottish play" or "Mackers" or "the Scottish business" or "the Glamis comedy" or just "that play." Some say this rule applies only when inside a theater; it's OK, therefore, to use the dread name in other settings – like classrooms, for instance.
The remedy, if someone does happen to utter the unutterable, is to leave the room, close the door, turn around three times, say a dirty word (or spit, some say), then knock on the door and ask to be let back in. If you can't do all that, you simply quote from Hamlet, act 1, scene 4: "Angels and ministers of grace defend us!"
The second superstition is that the play itself brings ill luck to cast and crew, and many productions of Macbeth have, in fact, encountered unfortunate circumstances. The supposed origin story for this is that Shakespeare used "authentic" witches' chants in the play; as punishment, real witches cast a curse on the play, condemning it for all time.
Those who believe in the curse claim that real spells are cast in the three witches scene. Some believers claim that including the character Hecate, frequently cut from productions of the play due to questions about her part's authorship, intensifies the curse.
Actors who do not believe the superstition will sometimes abstain out of politeness to those that do.
Productions of Macbeth are said to have been plagued with accidents, many ending in death. According to legend, this dates back to the premiere of the play: an actor died because a real dagger was mistakenly used instead of the prop. The play does include more fight scenes and other such opportunities for accidents than does the average play, and the atmosphere in the backstage area of old-fashioned theatres was a prime setting for disasters, especially when dealing with potentially dangerous equipment. This would explain the accidents without invoking magic.
The popularity of the superstition might also be related to its mild hazing aspect. Veteran actors might relate some tale of woe that they witnessed personally due to someone invoking the curse, lending credibility and immediacy to the tale.
One hypothesis for the origin of this superstition is that Macbeth, being a popular play, was commonly put on by theatres in financial trouble, or that the high production costs of Macbeth put theatres in financial trouble, and hence an association was made between a production of Macbeth and theatres going out of business.
According to the superstition, Shakespeare got a few of the lines from an actual coven of witches and when they saw the play they were greatly offended and cursed the play. Another tradition tells that the original propmaster could not find a suitable pot for a cauldron and stole one from a coven, who then cursed the play in revenge for the theft. It is believed that breaking the taboo calls the ghosts of the three witches to the show and it is they who cause all the mishaps. The last, and probably most spectacular view of the curse is that Shakespeare used the curse in the play to actually curse the play himself, guaranteeing that no one other than himself would be able to direct the play. It is also reported that when Shakespeare learned that James I, whose Scottish heritage he was trying to celebrate with the play, had not particularly enjoyed it, he became bitterly disappointed and would only refer to the play as "that Scottish play" for the rest of his life.
If legends are to be believed, bad fortune for productions of Macbeth seems to have started fairly early on: one story (which I have not been able to verify), is that King James I banned the play for about five years after he first saw it, in 1606. Some say he found the witches' curses too realistic – having authored a work on demonology, he considered himself an expert.
Among the incidents cited as examples of the curse at work (and we don't guarantee the veracity of some of the earlier stories):
• In the first production of Macbeth, on August 7, 1606, Hal Berridge, the boy playing Lady Macbeth, became feverish and died backstage. This story is likely mythical, and further tradition says that Shakespeare had to take over the part. (One version holds that Shakespeare played the role badly, and later chewed out his fellow actors for mentioning "that play," thus beginning the tradition of not referring to it by name.)
• In a 1672 production in Amsterdam, the actor playing Macbeth substituted a real dagger for the blunted stage dagger and killed the actor playing Duncan, in full view of the audience.
• On the opening day of a London run in 1703, England was hit with one of the most violent storms in its history.
• At a 1721 performance a nobleman in the audience got up in the middle of a scene and walked across the stage to talk with a friend. The actors chased him from the premises; he returned with militiamen, who burned the theater down.
• Female Lady Macbeths haven't been immune. In 1775, Sarah Siddons was nearly attacked by a disapproving audience. In 1926, Sybil Thorndike was almost strangled by a fellow actor. And in 1948, Diana Wynyard decided to play the sleepwalking scene with her eyes closed and sleepwalked right off the stage, falling 15 feet. In the best show-must-go-on tradition, she finished the performance.
• In the mid-1800s, two rival actors (William Charles Macready of England and Edwin Forrest of the U.S.) staged competing productions, so that on May 10, 1849, they were both playing Macbeth in New York. An audience of Forrest fans threw fruit and chairs at Macready during his performance at the Astor Place Opera House, disrupting the show and starting a riot. The militia was called in and fired on the crowd; more than 20 died and another 30-plus were wounded.
• On April 9, 1865, Abraham Lincoln was reading passages from Macbeth – those following Duncan's assassination – aloud to some friends. Within a week Lincoln was himself assassinated.
• During the first modern-dress production, at the Royal Court Theatre in London in 1928, a large set collapsed, seriously injuring some cast members.
• In a 1937 production a heavy counterweight crashed to the stage, missing Laurence Olivier, playing Macbeth, by only inches.
• In a 1942 staging, with John Gielgud as Macbeth, three actors (two witches and Duncan) died and the set designer committed suicide.
• In a Thursday-night performance in 1947 actor Harold Norman was stabbed during the final sword fight in act 5 and died of his wounds. On Thursdays his ghost is now said to haunt the Coliseum Theatre in Oldham, where the fatal scene was played.
• In a 1953 outdoor production in Bermuda, during the realistically staged attack on Macbeth's castle, a gust of wind blew smoke and flames into the audience, who fled. Charlton Heston, playing Macbeth, suffered severe burns on his groin and leg because his tights had accidentally been soaked in kerosene.
• Rip Torn's 1970 production in New York City was halted by an actors' strike.
• David Leary's 1971 run was plagued with two fires and seven robberies.
• In 1971 Roman Polanski (who may himself have seemed cursed at the time, as his wife Sharon Tate had been murdered by followers of Charles Manson just two years earlier) made a film version; a camera operator was almost killed in an accident on the first day of shooting.
• J. Kenneth Campbell, playing Macduff, was mugged soon after the play's opening in 1981 at Lincoln Center.
• In a 2001 production by the Cambridge Shakespeare Company, Macduff injured his back, Lady Macbeth bumped her head, Ross broke a toe, and two cedar trees from Birnam Wood topped over, destroying the set.
There are several explanations for why Macbeth seems so accident-prone. During much of the play lighting is low – the bulk of the scenes take place at night or in the dark or fog – thus increasing opportunities for accidents. There are several fight scenes, more than in most plays; in a long run, it's almost inevitable something will go amiss. Macbeth is also Shakespeare's shortest tragedy, and thus somewhat cheaper to put on; one theory suggests that when finances get tight, companies will slap together a production of Macbeth, and during the general cutting of corners safety gets compromised.
But more than anything, the whole curse business benefits from a self-fulfilling circularity. Every play production involves some things going wrong – considering all the people, costumes, scenery, and equipment involved, there are bound to be problems. And if a play is popular enough to get staged and restaged for 400 years or so, some of those problems are bound to be pretty serious on occasion. If we could compile a list of accidents and near accidents for performances of, say, Hamlet, would it be equally long and dramatic? Almost certainly. But no one remembers or records these accidents, because there's no curse on Hamlet.
When accidents happen around Macbeth, though, the superstitious nod wisely and mutter about the curse. The play itself is soaked in blood, violence, and disorder – it's got gory ghosts, deceit, manipulation, assassination, malevolence, brutal murders of children, etc – and so provides fertile ground for dark musings. When cast and crew are expecting accidents, watching for them, any mishaps are uniquely bound to remembered. Every old actor has his or her own Macbeth story that gets reverently passed on to the younger ones. And so the curse persists, feeding upon its own reputation.
Lilith was Adam's first wife, not Eve, but the Bible Kept It Secret
The Bible tells the story of how Earth was created and the start of humanity. In the text, it says that man was created in the image of God, and then after finding that man was lonely, he took a rib from Adam and created Eve. However, it has been suggested that there is a part of the story that was not told in the Bible and this is that the first woman was Lilith, not Eve.
Lilith Was Banished By God For Being More Willful
Lilith is said to have been the first woman in the world and was created by God at the same time as he created Adam. It is said that Lilith was then banished and rejected by God after it was found that she was stronger and more intelligent that Adam and she would not obey the commands of Adam. The character was not mentioned in the Bible to understand the origin of humanity as Lilith was said to go against the tradition of the church in that women must obey a man and women were in a lower position than men.
The traditional Bible has gone through many religious filters to ensure that it loses some of the important sections and pieces. However, there is a part that has been left in it that suggests God created not only a man but a woman at the same time instead of later as it has been suggested in the Bible when the rib was taken from Adam.
Lilith – Demon and first wife of Adam
Proof Man And Women Were Created At Same Time
The original text from the King James Bible of Genesis 1: 27 says "And God created man in his own image, in the image of God he created him; male and female he created them."
This leads us to believe that God created both man and woman at the same time. It is said to be the clearest proof that both were created at the same time and could be proof of the existence of Lilith. Lilith had been created equal to Adam. While she would have had different organs inside, the reproductive organs, in general terms they both had the same strength and character.
But Where Did Lilith Go?
Catholic churches censored the apocryphal texts. Lilith had been a woman who had a character that was firm, and she was intelligent and seemed to be superior to Adam. However, Adam was more dominant in character and had a carnal appetite. In intimacy, Lilith demanded that Adam be on her, and she could be on him, but Adam refused.
This was said to have caused conflict and so there was a separation of the two and Lilith was banned by God when Adam asked. The apocryphal book of Genesis states "Why should I lie beneath you? He asked: I was also made with dust, and therefore I am your equal … As Adam tried to force her to obey, Lilith, angry, pronounced the name of God, and left."
But if Lilith went, the big question is where did she go? There was only supposed to be two people at that time. It was suggested that she ran straight into the arms of the devil. It was said that all creatures lived in the Garden of Eden and there were demons. These were beings that had specific functions, and they were not allowed to be in any contact with any other creature. Lilith left Adam and went to Samael, one of the demons, and she bore his offspring.
It was said that she then pronounced the name of God and so God cursed her with the generation that procreated with Samael. The text says "She liked the man's reproductive liquid very much, and she always walks to the point of seeing where she has fallen. All the liquid of man that does not end in the matrix of the wife is hers: all the seminal liquid that man finds wasted throughout his life, whether by adultery, by vice or in sleep."
Lilith was made into a demon with God cursing her and all of her offspring. When Lilith was cursed God realized that Adam was all alone again and chose to make him a companion. This time in order to ensure that is companion would be obedient he took one of Adams own ribs and created Eve.
Eve was the second wife of Adam and in the Bible was said to be the one behind the sin of the forbidden fruit. Adam was said to have lived with Eve without issue until they both got expelled from paradise and this was when humanity in permanent sin started.
It seems that what caused trouble with the old hierarchy of the church was the fact of the relationship with seduction along with pleasure and equality. Through history, the religions that have been established there have not been equality between the female and the male religious figures. This saw the accounts of Lilith being censored from the Bible as it gave ideas of empowerment to women.
Lilith was the first woman, before Eve, to exist but she was more intelligent and rebellious and had a better character than man, so she was punished and censured.
Source: https://www.disclose.tv
New Evidence: Secret Past of Antarctica and Buried City Is True After All
The mysteries surrounding the Antarctic are many, answers are few, but theories abound which connect Operations Paperclip and High-Jump, to secret hidden facilities and ancient technologies, human experimentation and discovered hidden entrances, in a region that may hold the true secrets to mankind's past and present, and which could determine our future.
While the mainstream news recently reported on further explorations in the Antarctica which they claim "holds the key" to mankind's future", what they do not do is connect the many dots which build a picture that appears to blur the lines between conspiracy and reality.
GERMAN NAZIS ANTARCTICA CONNECTION
There are claims that as early as the 1930's the German Nazis built self-sufficient underground research factories in the Antarctic, with some believing those "bases" were already built, found by the Nazis, who then utilized the ancient technologies to experiment with UFOs and other scientific experiments using advanced tech that mankind simply wasn't capable of creating at the time.
More can be seen on that in the documentary below, but first it is imperative to know about Operation Paperclip, where 1,500 German scientists, technicians, and engineers from Nazi Germany and other foreign countries were brought to the United States for employment in the aftermath of World War II and integrated into the US military. Many of who it is believed by some, continued their work with those ancient technologies for the US government.
Below the documentary we will explore Operation High-Jump and it's connection to those secret facilities, Admiral Richard B. Byrd's explorations and secret diary, and the Hollow Earth theory.
OPERATION HIGH-JUMP – Via Steve Quayle's "High-Jump – Mysteries of the Antarctic portion of his website:
In 1947 Secretary of the Navy James Forrestal sent a naval task force to Antarctic including Admiral Nimitz, Admiral Krusen and Admiral Byrd, called "Operation Highjump". It was touted to be an expedition to find "coal deposits" and other valuable resources, but in actuality they were trying to find the underground base of the nazis (aryans) in Neuschwabenlandt. The nazis had done a very detailed study of Antarctic and were alleged to have built an underground base there.
In this regard however, the aryans have had an underground habitation in Antarctic for more than a million years.
The task force of OVER 40 SHIPS, included the flagship "Mount Olympus", the aircraft carrier "Philipine Sea", the seaplane tender "Pine Sea", the submarine "Senate", the destroyer "Bronson", the ice breaker "Northwind", and other tanker and supply ships. An armed contingent of 1400 sailors, and three dog sled teams were also on board.
Other resources – Wiki and http://www.thule.org/highjump.html
ADMIRAL RICHARD E. BYRD AND HOLLOW EARTH
Before delving into what is claimed to be the secret diary of Admiral Byrd, it is noteworthy that this was not some crackpot but was a medal of honor recipient which is the highest honor for heroism given by the United States.
In a log entry titled "Flight Log: Base Camp Artic – 2/19/1947 (Full entry found here) the following portion was made at 1130 HOURS – 1145 HOURS:
1130 HOURS– Countryside below is more level and normal (if I may use that word). Ahead we spot what seems to be a city! This is impossible! Aircraft seems light and oddly buoyant. The controls refuse to respond! My GOD! Off our port and star board wings are a strange type of aircraft. They are closing rapidly alongside! They are disc-shaped and have a radiant quality to them. They are close enough now to see the markings on them. It is a type of Swastika!!! This is fantastic. Where are we! What has happened. I tug at the controls again. They will not respond! We are caught in an invisible vice grip of some type!
1135 HOURS– Our radio crackles and a voice comes through in English with what perhaps is a slight Nordic or Germanic accent! The message is: "Welcome, Admiral, to our domain. We shall land you in exactly seven minutes! Relax, Admiral, you are in good hands." I note the engines of our plane have stopped running! The aircraft is under some strange control and is now turning itself. The controls are useless.
1140 HOURS– Another radio message received. We begin the landing process now, and in moments the plane shudders slightly, and begins a descent as though caught in some great unseen elevator! The downward motion is negligible, and we touch down with only a slight jolt!
1145 HOURS– I am making a hasty last entry in the flight log. Several men are approaching on foot toward our aircraft. They are tall with blond hair. In the distance is a large shimmering city pulsating with rainbow hues of color. I do not know what is going to happen now, but I see no signs of weapons on those approaching. I hear now a voice ordering me by name to open the cargo door. I comply. END LOG
Admiral Byrd's description of what he experienced between 1145 HOURS and when the official flight log started again at 220 HOURS is described in his diary entry as defying "the imagination and would seem all but madness if it had not happened," as he goes on to explain his visit to "the domain of the Arianni, the Inner World of the Earth."
Below are a number of videos, including Admiral Byrd's Hollow Earth video interview and Hollow Earth – The Biggest Cover Up- Full Documentary.
Before watching them it is also noteworthy to mention the reports of a discovery made in 2013, using Google Earth, which purports to show and previously undiscovered hidden entrance to a secret underground base in the Antarctica.
After clicking through to all of the links provided above and watching the videos, interviews and documentaries, it is easy to understand why the Antarctica is perhaps the largest missing piece of history and how it could affect everything we have been taught about history and determine our very future should the hidden secrets of the Antarctica ever truly be revealed.
We will end with what is purported to be Admiral Byrd's final entry into his diary, dated 30/12/56, which states the following:
These last few years elapsed since 1947 have not been kind…I now make my final entry in this singular diary. In closing, I must state that I have faithfully kept this matter secret as directed all these years. It has been completely against my values of moral right. Now, I seem to sense the long night coming on and this secret will not die with me, but as all truth shall, it will triumph and so it shall.
This can be the only hope for mankind. I have seen the truth and it has quickened my spirit and has set me free! I have done my duty toward the monstrous military industrial complex. Now, the long night begins to approach, but there shall be no end. Just as the long night of the Arctic ends, the brilliant sunshine of Truth shall come again….and those who are of darkness shall fall in it's Light. FOR I HAVE SEEN THAT LAND BEYOND THE POLE, THAT CENTER OF THE GREAT UNKNOWN.
ADMIRAL RICHARD E. BYRD
United States Navy
Byrd died on March 11, 1957, he was 68 years old.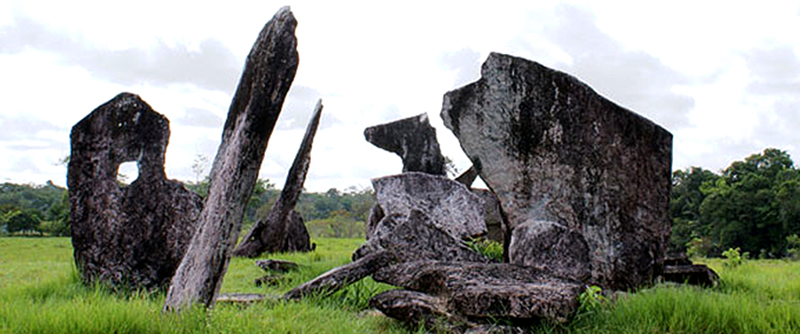 By Leonard Farra
Brazil, the largest country in South America, borders all South American countries, other than Chile and Ecuador, and it's the largest Portuguese speaking country in the world.
It has a huge tropical forest in its Amazon Basin which is home to a diverse wildlife population. When the Europeans arrived in Central America, and Peru, they encountered advanced civilisations but in Brazil they only saw native people living close to nature. Over recent years, however, researchers have found that this huge country had a fascinating past.
The Amazon jungle is very dense but, in cleared areas, on the border with northern Bolivia, there are traces of a lost civilisation. Only part of it has so far been uncovered but its population has been estimated at 60,000. In this region there were structures formed by a network of trenches, about 36ft wide and several feet deep, lined by low banks. Some were surrounded by low mounds that contained ceramics and stone tools. More than two hundred geometric structures have so far been discovered and some date back 1700 years. The geometric shapes are in the form of huge circles and squares. In the upper Xingu region of southern Brazil, a community, of thousands of people, previously lived in large villages, in an organised grid-like pattern, linked by a network of roads. The villages were enclosed within huge ditches and there were bridges and moats in wetland areas.
According to Professor Homet :
' there is a whole chain of burial urns which reaches from the Mediterranean via Brazil and Argentina, these ceramic coffins are often decorated with human faces and are therefore called portrait burial urns'.
Homet concludes that:
'When one considers the chain of places where they are found and which connects the continents we are obliged to that this custom could only have been spread by a single civilisation'. (1)
On the coastal island of Santa Caterina, in the Brazilian province of the same name, there are rock drawings consisting of double ring concentric circles, wavy lines, and diamond shapes all of which appeared in Stone Age art on the other side of the Atlantic.
There were stone circles in many parts of the world with the highest concentration in the British Isles. Some have been found in North America, Peru, and on Easter Island. Many early sites were aligned to the solstices when religious rituals appear to have been enacted. Stonehenge, England's 5,000 year old famous circle, for example is aligned to the summer and winter solstices. On a hilltop, in the Brazilian state of Amapa, there's a stone circle, made up of 127 rough stones, which is aligned to the winter solstice. It's believed to be at least 2,000 years old.
Brazilian archaeologists have found a well-defined ancient stone structure on a hill top in the Amazon. Specifically, this amazing discovery is located in the state of Amapá in the northern reaches of the Brazilian Amazon. Could primitive Indians living in the jungles of the Amazon have constructed this site?   Source >>
Dolmens, huge blocks of rock, usually supported by three or more upright stones, have also been found in many parts of the world including in New England in North America.
In the Brazilian state of Rio Grande de Sul, there are dolmens which are similar to those of early Europe.
Dolmens near Rio Grande de Sul, Brazil
Trilith of Río Grande do Sul of Southern Brazil.
Homet, says that the ones that he saw in Brazil are comparable to the thousands in Algeria. (2)
Various travellers, in Brazil's jungle area, have reported sightings of red-haired white Indians. Harold T. Wilkins , renowned for his research on South America, reported that in 1929, the American traveller Lawrence Griswold was captured by Shuara Indians who took him up the Rio Juara, When the hunting party arrived at the ruins of an ancient city, where  built by tall, 'red-haired', people who were changed into his tribe 'because of their wicked behaviour before the Flood'. (3) There are also traces of red-haired, white, people in Peru and of others of this description were also living in other parts of the world. Tall, white, red-heads formed part of the pre-Spanish Guanche population in the Canary Islands who claimed to be survivors of the Flood. Various early legends say that people of this description were involved in a violent conflict in the pre-deluge era. This is also suggested in a famous, misinterpreted, allegorical, Ancient Egyptian legend. (4)
The Guarani Indians, in Brazil, Uruguay, and Paraguay, claim that their ancestors came from a distant country and that they crossed an ocean before they arrived in their present lands. There were hundreds of allegorical flood legends around the world, including among Native Americans, and a typical one, which is popular among the native Brazilians, tells of a great flood in which only two brothers and their wives survived. There is evidence to suggest that the Great Flood happened 5,000 years ago when there was climate change, and substantial flooding, in different parts of the world. In that era, several civilisations arose 'fully developed' and the indications are that this was the rebirth of civilisation after the destruction of the previous age. Along Brazil's southern coast, mainly in the state of Catarina, archaeologists have discovered as many as 1,000 square pyramids, built from sea shells, and the earliest ones date back to the critical era around 5,000 years ago. In some of these pyramid mounds there were human burials and amazing grave goods including shell breast plates depicting various animals and birds. Nobody knows who these people were or where they came from.
The Sumerian scribes said that the Annunaki caused the Flood because of the evil behaviour of man. Many Early World legends were based on the story of the Annunaki leaders. Adapted to local culture, this trend has continued in many parts of the world right through to present times (5) including among the Guarani in Brazil. Did the Guarani adopt it from an earlier people and could it be that this widespread legend, stone circles, dolmens, and the red-haired white race on both sides of the Atlantic, are evidence of early contact between the Old and New Worlds as many alternative scholars believe?
2015 by Leonard Farra
References:
Marcel.F. Homet : 'Sons of the Sun. (p162)
Do (p12 )
Harold.T.Wilkins,

Mysteries

of South America.(p44)
Leonard Farra, The Pleiades Legacy (The Old World) (p92)
Leonard Farra, The Pleiades Legacy (The Old World) and The Pleiades legacy (The New World)
About the author
Leonard Farra – is the author of the books The Pleiades Legacy and The Pleiades Legacy (The Stone Age) – The Return of the Gods and The Pleiades Legacy ( The New World). All his books can be purchased Online from Blurb.Com. His E-books can be viewed on Apple Ipad, Iphone and Ipad touch.
Leonard Farra has researched the Ancient Astronaut theory for 35 years and written four books on the subject.