The Scottish Play and the The Bard's Play are euphemisms for William Shakespeare's Macbeth. The first is a reference to the play's Scottish setting, the second a reference to Shakespeare's popular nickname. According to a theatrical superstition, called the Scottish curse, speaking the name Macbeth inside a theatre will cause disaster. A variation of the superstition forbids direct quotation of the play (except during rehearsals) while inside a theater.
Because of this superstition, the lead character is most often referred to as the Scottish King or Scottish Lord. Sometimes Mackers is used to avoid saying the name, mostly in North America.
As success or failure in the theater can be influenced by so many intangible and unpredictable factors, it's not surprising that actors and other theater types maintain a variety of long-standing superstitions, which often are taken very seriously. (The most famous is the insistence on saying "break a leg" rather than "good luck.")
Two such superstitions float around Macbeth. The first is that it's bad luck to even say "Macbeth" except during rehearsal or performance. When referring to the work one instead uses circumlocutions, such as "the Scottish play" or "Mackers" or "the Scottish business" or "the Glamis comedy" or just "that play." Some say this rule applies only when inside a theater; it's OK, therefore, to use the dread name in other settings – like classrooms, for instance.
The remedy, if someone does happen to utter the unutterable, is to leave the room, close the door, turn around three times, say a dirty word (or spit, some say), then knock on the door and ask to be let back in. If you can't do all that, you simply quote from Hamlet, act 1, scene 4: "Angels and ministers of grace defend us!"
The second superstition is that the play itself brings ill luck to cast and crew, and many productions of Macbeth have, in fact, encountered unfortunate circumstances. The supposed origin story for this is that Shakespeare used "authentic" witches' chants in the play; as punishment, real witches cast a curse on the play, condemning it for all time.
Those who believe in the curse claim that real spells are cast in the three witches scene. Some believers claim that including the character Hecate, frequently cut from productions of the play due to questions about her part's authorship, intensifies the curse.
Actors who do not believe the superstition will sometimes abstain out of politeness to those that do.
Productions of Macbeth are said to have been plagued with accidents, many ending in death. According to legend, this dates back to the premiere of the play: an actor died because a real dagger was mistakenly used instead of the prop. The play does include more fight scenes and other such opportunities for accidents than does the average play, and the atmosphere in the backstage area of old-fashioned theatres was a prime setting for disasters, especially when dealing with potentially dangerous equipment. This would explain the accidents without invoking magic.
The popularity of the superstition might also be related to its mild hazing aspect. Veteran actors might relate some tale of woe that they witnessed personally due to someone invoking the curse, lending credibility and immediacy to the tale.
One hypothesis for the origin of this superstition is that Macbeth, being a popular play, was commonly put on by theatres in financial trouble, or that the high production costs of Macbeth put theatres in financial trouble, and hence an association was made between a production of Macbeth and theatres going out of business.
According to the superstition, Shakespeare got a few of the lines from an actual coven of witches and when they saw the play they were greatly offended and cursed the play. Another tradition tells that the original propmaster could not find a suitable pot for a cauldron and stole one from a coven, who then cursed the play in revenge for the theft. It is believed that breaking the taboo calls the ghosts of the three witches to the show and it is they who cause all the mishaps. The last, and probably most spectacular view of the curse is that Shakespeare used the curse in the play to actually curse the play himself, guaranteeing that no one other than himself would be able to direct the play. It is also reported that when Shakespeare learned that James I, whose Scottish heritage he was trying to celebrate with the play, had not particularly enjoyed it, he became bitterly disappointed and would only refer to the play as "that Scottish play" for the rest of his life.
If legends are to be believed, bad fortune for productions of Macbeth seems to have started fairly early on: one story (which I have not been able to verify), is that King James I banned the play for about five years after he first saw it, in 1606. Some say he found the witches' curses too realistic – having authored a work on demonology, he considered himself an expert.
Among the incidents cited as examples of the curse at work (and we don't guarantee the veracity of some of the earlier stories):
• In the first production of Macbeth, on August 7, 1606, Hal Berridge, the boy playing Lady Macbeth, became feverish and died backstage. This story is likely mythical, and further tradition says that Shakespeare had to take over the part. (One version holds that Shakespeare played the role badly, and later chewed out his fellow actors for mentioning "that play," thus beginning the tradition of not referring to it by name.)
• In a 1672 production in Amsterdam, the actor playing Macbeth substituted a real dagger for the blunted stage dagger and killed the actor playing Duncan, in full view of the audience.
• On the opening day of a London run in 1703, England was hit with one of the most violent storms in its history.
• At a 1721 performance a nobleman in the audience got up in the middle of a scene and walked across the stage to talk with a friend. The actors chased him from the premises; he returned with militiamen, who burned the theater down.
• Female Lady Macbeths haven't been immune. In 1775, Sarah Siddons was nearly attacked by a disapproving audience. In 1926, Sybil Thorndike was almost strangled by a fellow actor. And in 1948, Diana Wynyard decided to play the sleepwalking scene with her eyes closed and sleepwalked right off the stage, falling 15 feet. In the best show-must-go-on tradition, she finished the performance.
• In the mid-1800s, two rival actors (William Charles Macready of England and Edwin Forrest of the U.S.) staged competing productions, so that on May 10, 1849, they were both playing Macbeth in New York. An audience of Forrest fans threw fruit and chairs at Macready during his performance at the Astor Place Opera House, disrupting the show and starting a riot. The militia was called in and fired on the crowd; more than 20 died and another 30-plus were wounded.
• On April 9, 1865, Abraham Lincoln was reading passages from Macbeth – those following Duncan's assassination – aloud to some friends. Within a week Lincoln was himself assassinated.
• During the first modern-dress production, at the Royal Court Theatre in London in 1928, a large set collapsed, seriously injuring some cast members.
• In a 1937 production a heavy counterweight crashed to the stage, missing Laurence Olivier, playing Macbeth, by only inches.
• In a 1942 staging, with John Gielgud as Macbeth, three actors (two witches and Duncan) died and the set designer committed suicide.
• In a Thursday-night performance in 1947 actor Harold Norman was stabbed during the final sword fight in act 5 and died of his wounds. On Thursdays his ghost is now said to haunt the Coliseum Theatre in Oldham, where the fatal scene was played.
• In a 1953 outdoor production in Bermuda, during the realistically staged attack on Macbeth's castle, a gust of wind blew smoke and flames into the audience, who fled. Charlton Heston, playing Macbeth, suffered severe burns on his groin and leg because his tights had accidentally been soaked in kerosene.
• Rip Torn's 1970 production in New York City was halted by an actors' strike.
• David Leary's 1971 run was plagued with two fires and seven robberies.
• In 1971 Roman Polanski (who may himself have seemed cursed at the time, as his wife Sharon Tate had been murdered by followers of Charles Manson just two years earlier) made a film version; a camera operator was almost killed in an accident on the first day of shooting.
• J. Kenneth Campbell, playing Macduff, was mugged soon after the play's opening in 1981 at Lincoln Center.
• In a 2001 production by the Cambridge Shakespeare Company, Macduff injured his back, Lady Macbeth bumped her head, Ross broke a toe, and two cedar trees from Birnam Wood topped over, destroying the set.
There are several explanations for why Macbeth seems so accident-prone. During much of the play lighting is low – the bulk of the scenes take place at night or in the dark or fog – thus increasing opportunities for accidents. There are several fight scenes, more than in most plays; in a long run, it's almost inevitable something will go amiss. Macbeth is also Shakespeare's shortest tragedy, and thus somewhat cheaper to put on; one theory suggests that when finances get tight, companies will slap together a production of Macbeth, and during the general cutting of corners safety gets compromised.
But more than anything, the whole curse business benefits from a self-fulfilling circularity. Every play production involves some things going wrong – considering all the people, costumes, scenery, and equipment involved, there are bound to be problems. And if a play is popular enough to get staged and restaged for 400 years or so, some of those problems are bound to be pretty serious on occasion. If we could compile a list of accidents and near accidents for performances of, say, Hamlet, would it be equally long and dramatic? Almost certainly. But no one remembers or records these accidents, because there's no curse on Hamlet.
When accidents happen around Macbeth, though, the superstitious nod wisely and mutter about the curse. The play itself is soaked in blood, violence, and disorder – it's got gory ghosts, deceit, manipulation, assassination, malevolence, brutal murders of children, etc – and so provides fertile ground for dark musings. When cast and crew are expecting accidents, watching for them, any mishaps are uniquely bound to remembered. Every old actor has his or her own Macbeth story that gets reverently passed on to the younger ones. And so the curse persists, feeding upon its own reputation.
Mysterious lights in the sky scare Arizona city dwellers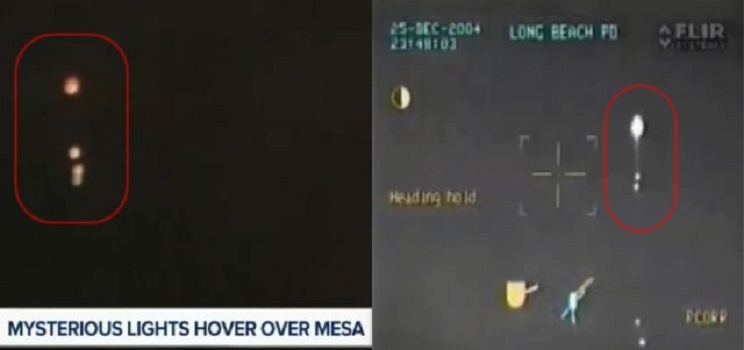 Mysterious lights hovering over the valley east of Mesa, Arizona, make residents wonder if they had a close encounter.
D.J. Maier and Kerri Burnett describe what they saw:
It started moving kind of diagonal across, I was trying to figure out which way it was heading, and that's when we noticed it started dropping things from it.
The couple say they saw the phenomenon outside their home in Mesa on Sunday around 9 pm.
They say the object seemed to come from the southeast.
Burnett said:
Began to move diagonally, I was trying to figure out where it was going, and that's when we realized that it started dropping things from it.
The object captured on two cell phones looks like a bright orb hovering silently in the sky. Every few moments, the object appears to drop what looks to be flares towards the ground
Maier said:
And it wasn't just us, our neighbors next door they were out, they weren't even filming. They were more in amazement, like statues, just watching it.
And it wasn't just us, our neighbors next door they were out, they weren't even filming. They were more in amazement, like statues, just watching it.
Maier said:
Some said it may be an aircraft, others said aliens or a comet.
The whole event dates back to 1997 and the mysterious phenomenon known as The Phoenix Lights – a mystery that remains debated today.
The ABC15 channel team contacted several aviation experts who theorized that the lights seen on Sunday could be from parachute flares used by the military or even helicopters or other aircraft dropping flares during training.
In fact, the Outlaw Military Operations Area sits not far from where the video was shot. But video found online of those types of exercises just doesn't seem to match.
Meier said:
There were no navigation lights. Even the military has to have navigation lights on. That's an FAA rule.
ABC15 contacted the Federal Aviation Administration, Luke Air Force Base, and the Army National Guard, but no one knew for sure what it was.
This leaves the answer to what was captured on camera for anyone.
Maier also said:
I know what I saw, and I don't think it was from here, and I think it was definitely something else.
NASA has photographed a UFO in Antarctica
This new discovery is undoubtedly of great global impact for those who believe in the existence of UFOs and Extraterrestrials on our planet. The image of NASA depicting a UFO on the Antarctic continent was published on Google Earth. Antarctica has constantly aroused many mysteries, from the entrance to the Hollow Earth to the discovery of alien bases and the discovery of pyramid structures.
Even so, today all its secrets are hidden, although it begins to reveal some clues that amaze geologists, archaeologists, scientists, popularizers and even great personalities of the world. Whatever the mysteries of Antarctica, they will have to be discovered little by little. Who is not fascinated by the secrets of the most arid, windy and cold continent in the world? What is the truth about this unexplored and frozen continent? In the images provided by Google Earth we can see a silver circular object that has nothing to do with the rest of the surface.
It is clearly an artificial object and very similar to the classic flying saucer. This discovery was made by Argentine researcher Marcelo Irazusta and published by Sandra Andrade on her YouTube channel. This new discovery is undoubtedly of great global impact for those who maintain the existence of UFOs on our planet. The image is from NASA published on Google Earth. With this new discovery no doubt, it is of great global impact for those of us who believe in UFOs and extraterrestrials on our planet. We know that they discovered internal structures similar to the ruins of a technologically advanced ancient civilization, and it was also leaked that some frozen bodies of non-human beings appeared.
The Mystery of the Taman Shud Case
The mystery of the Taman Shud case has puzzled law enforcement and intelligence agencies all over the world for more than half a century now.
Also referred to as "The Mystery of the Somerton Man", this unsolved case refers to an incident that took place on December 1, 1948 where and unidentified male body was found dead at 6:30 a.m. on the shore of Somerton Beach in Adelaide, Australia.
Police found his body after a handful of various witnesses reported what they suspected was a man who was either drunk or asleep, reclining on the sand with his head resting against the seawall.
He was clothed in fine European attire, but all of the labels had been deliberately torn off from his clothing, indicating a possible attempt to conceal his identity. His dental records did not match any known individual in Australia.
Police searched his pockets in an attempt to find some type of identification, but to no avail; their search only produced a redeemed bus ticket, an unused second-class railway ticket, a half-empty pack of Juicy Fruit gum, some cigarettes, and a partially empty box of matches.
After several unsuccessful attempts to confirm the man's identity and potential cause of death, police turned to an autopsy.
According to Sir John Burton Cleland, a noted University of Adelaide pathologist, the man's body had all of the signs of a death by poisoning, including severe congestion in the liver, kidneys and brain.
The man's spleen was enlarged about three times the normal size, and a significant amount of blood was located in his stomach as well.
Interestingly enough, several toxicology experts attempted to determine what type of poison was used, but it was completely undetectable in his body.
Authorities ruled the death a suicide by an unknown poisonous substance, but after a careful re-examination of the body by Sir Cleland, a small rolled-up piece of paper was discovered deep within a small fob pocket inside of the deceased man's trouser pocket.
The paper contained the words "Taman Shud" (meaning "ending", "finished" or "the end" in Persian) printed on it, and the reverse side was blank.
Public library officials were able to determine that the phrase came from the text of a collection of poems known as The Rubaiyat by Persian philosopher Omar Khayyam.
Police conducted a widespread campaign to find the book that the text was torn from, circulating images of the piece of paper in the press all over Australia.
A man whose identity has been kept anonymous by the police came forward and revealed that he had discovered a very rare copy of The Rubaiyat in the backseat of his parked, unlocked car on Jetty Road in Genelg about two weeks prior to the discovery of the body.
The man said that he had no idea that the book had any connection to the case until he read about it in the newspaper.
The book was missing the phrase "Taman Shud" on the very last page, and microscopic tests confirmed that the small piece of paper found in the Somerton man's trouser pocket was indeed torn from the final page of the book.
Five lines of all-capital letters were scrawled in pencil in the very back of the book, delineating what authorities have ruled as some type of code.
Investigators first conjectured that the lines represented a foreign language, but that was later ruled out in favor of some type of cipher or cryptographic message. The five lines are as follows:
WRGOABABD
MLIAOI (this second line was struck through in the original message, indicating a possible mistake due to its similarity to line 4)
WTBIMPANETP
MLIABOAIAQC
ITTMTSAMSTGAB
A phone number was also written in the back of the book, which police later discovered belonged to a woman who resided on Moseley Street in Glenelg, only about a quarter of a mile from the location where the body was discovered. (Side note: Glenelg was also the destination listed on the bus ticket found in the Somerton man's pocket.)
After being questioned by police, she stated that she did own a copy of The Rubaiyat during the time when she worked as a nurse at the Royal North Shore Hospital (in Sidney) during the second World War, but that she had given her copy to an Australian Army lieutenant named Alfred Boxall in 1945.
Police were now certain that the dead man could be identified as Alfred Boxall, until the real Alfred Boxall surfaced later with a different copy of The Rubaiyat (a 1942 edition), with the last page containing the phase "Taman Shud" intact!
The woman and did not claim to have any connection to the dead man discovered at Somerton beach. She asked to remain anonymous since she was newly married with a toddler, and did not want to be associated with a murder mystery or Boxall.
Amazingly, the police agreed to grant her anonymity, although she was considered to be the best lead in the case.
To this day, the identity of the Somerton man has not yet been confirmed, and the meaning of the cipher (if any) has not been determined.
Many have speculated that the mysterious man may have been some type of spy since his death occurred during a particularly intense period of the Cold War.
Several intelligence specialists, cryptanalysts, mathematicians and astrologers have attempted to decipher the code, but no one has been successful as of yet.
Perhaps the enigma of the Taman Shud case will never be solved, but it still carries an air of mystery and intrigue that fascinates people all over the world.