The Ctones: The tribe that lives in the depths of the Earth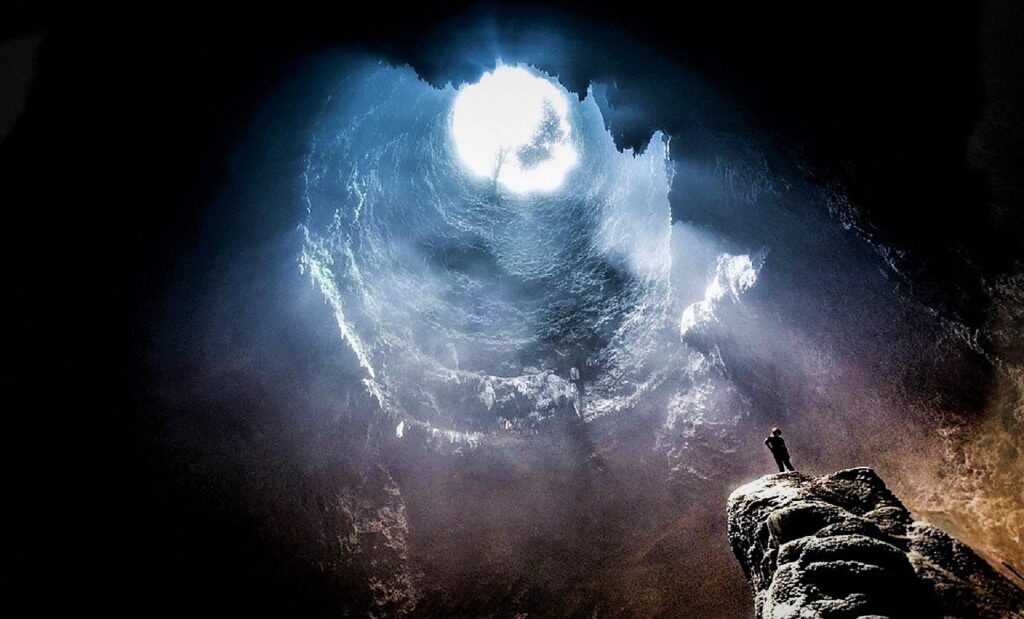 On February 28, 2003, a mine collapsed near the Chinese city of Jixi, Heilongjiang Province. 14 miners did not return with their families. But this story became famous 5 years later when there was an unexpected turn of events .
The rescue teams recovered the bodies of only 12 of the 14 missing miners. Two of the workers, Lao Pen, and Wan Hu, were not found anywhere in the mine. Mysteriously, after five years, in 2008, Wan Hu returned home, but his wife had remarried and his children had left.
Wan Hu bought a new house and devoted his time to gardening. But shortly after, the authorities learned of the strange case, and it turned out that his family had received compensations that they should not have received, because Wan Hu was alive.
When Wan Hu was asked, if he and his family had taken advantage of the situation, Wan Hu said no, and he paid all the expenses to the government.
Then they asked him where he had been all this time, and he said that during the time of his absence, he lived with the powerful clandestine civilization of the Ctones. And that he was not able to send a message from there notifying that he had survived.
His unusual statement baffled the authorities and they thought he was crazy. Wan Hu was tested, but the doctors concluded that he was physically and mentally healthy. They attributed their questionable history to their imagination.
But the doctors could not explain why the former worker at the mine showed no sign of anthracosis, which is the deposition of carbon dust inside the lungs by inhaling air with soot.
According to his medical records, before the accident, Wan Hu already showed signs of anthracosis and would retire soon. But after his alleged stay in an underground city, the mine worker had no trace of any lung pathology at all.
Moreover, he had all 32 teeth, despite the fact that, according to his medical records, he should have had only 25. Although he was 39 years old, his health seemed to be that of a young man from 26 to 28 years old.
On top of that, Wan Hu had 40000 yuan in his bank account. An authorized search determined that he had 10,000 yuan more in cash and uncut diamonds worth 300,000 yuan. The authorities suspected that the man was not really Wan Hu, but a secret agent of a foreign country.
Later, it turned out that he got the money after selling uncut diamonds to a jeweler in Shanghai. Wan Hu told the authorities that he received the Ctones' diamonds.
In summary, here is your story. After the collapse of the mine, Wan Hu and Lao Pen, they were separated not only from the surface but also from the other miners. They waited for three days with enough water, but practically without food and there were no signs of rescue operations.
They decided to explore ancient tunnels, which lead to the deepest part of the mine, hoping to find their way to the surface.
Unfortunately, that was not the case and they went further into the labyrinth of the tunnels. And there, they were attacked by strange human beings, the Ctones. Although they were low, the Ctones managed to capture the two miners. But they fed them well and drove them even deeper into their kingdom.
The Ctones had created a system of lenses that illuminated the tunnels, to the point that you could even read a book there. At the end of the tunnels, there were large caves in which thousands of Ctones lived. Wan Hu was sure they were human, although they were very low.
The two miners lived among the Ctones for five years. Their language was very different from Chinese, but it was easy to learn, and soon they were able to communicate with them. When they started talking to the underground civilization, they realized that they were not captives.
The Ctones believed that life on the surface was a terrible burden, and that is why they thought that Wan Hu and Lao Pen were trying to escape to a better world. And in truth, there was no hunger or disease among the underground civilization.
Its only source of food was the fungus that abounded in these caves. According to Wan Hu, the fungus had a specific flavor, something fresh, but more importantly, it was incredibly healthy. That's why his teeth changed, that was common in the Ctones, whose teeth changed every 20-25 years during its lifetime, which was rarely less than 200 years.
The Ctones even had a developed writing system. And also the paper, which was made of different types of molds. The underground civilization was familiar with metallurgy, but rarely used iron, instead, it used bronze, silver and gold. They did not live in luxury and were content with the most necessary things.
As the two miners were not considered captives, they lived as equals among the Ctones, who even had families. This was not a bad way of life, but Wan Hu wanted to see the Sun again.
The Ctones tried to dissuade him, but he was determined in his decision. He was led to a cave where there was a hole that led to the surface.
This is only a small part of the whole story of Wan Hu. After that, he was declared insane, he was even sent to a military base instead of the local psychiatric asylum. So far, he has not heard from him. What do you think? Leave your comment below.
Richard Branson's Surprising Take on UFOs and Extraterrestrials
Sir Richard Branson — the billionaire business magnate, airline executive, space plane pioneer, possible space traveler and avowed thrill seeker – weighed in recently on the possibility that UFOs seen my military pilots are crafts from another planet, and his answer may surprise many who admire his accomplishments, particularly in private space travel.
"There's no question that there are millions of other civilizations out there, but none of them are within reach of Earth and therefore, my instinct is: extremely unlikely."
Is he saying that there are millions of other Richard Bransons out there, but none of them – including him – have figured out how to leave their planet's gravity and travel to another world? Actually, Branson HAS figured out how to pilot a UFO (more on that later), but he's of the opinion that distance defeats brainpower and technology in the quest to cross the galaxy. In an interview with The Hollywood Reporter, Branson also expressed his doubts that governments or militaries are hiding evidence of it from the public.
"I can't understand why these UFO discussions are always behind closed doors and done in secrecy. It just creates even more suspicion. If people had really discovered a UFO, you can't keep things secret in this day and age, it would be everywhere."
Take that, Area 51 Stormers! In fact, it's already well-known what Branson thinks of those who believe UFOs are spaceships from other planets. At 4 am on the morning of April 1, 1989 (note the date), Branson took off in London in a custom hot air balloon shaped like a flying saucer, complete with strobe lights that blinked every ten seconds. (Great photos of the balloon here.) The balloon flew over London's M25 highway as the morning rush hour was commencing, bringing traffic to a halt and causing TV and radio stations and local police departments to be flooded with calls reporting a UFO. Branson was loving every minute of it.
"We could see every single vehicle grinding to a halt and hundreds of people looking up at the UFO flying over them. It was great fun watching their reactions."
His original plan was to make a dramatic landing in historic Hyde Park but the craft was blown off target, so the skilled balloonist brought it down in Surrey Field instead, which was quickly surrounded by police. Just like in a bad sci-fi movie, the cops sent a lone officer out to meet the 'spaceship'. Branson was ready for him.
"The UFOs door opened very slowly, with tonnes of dry ice billowing from it. A dwarf that we had carried on board, dressed in an ET outfit, walked down the platform towards the bobby. He promptly turned and ran in the opposite direction! The police initially didn't see the funny side of it and threatened to arrest us for wasting their time. But they soon joined in the general merriment of it."
So Sir Richard Branson doesn't believe that recent UFO sightings are extraterrestrial ships, doesn't believe any have ever visited Earth and are being hidden from the public, and doesn't think much of those who get excited about UFO sightings in general. However, being the good entrepreneur that he is, Branson tries to save face and not 'alienate' his customer base.
"And so I don't think there's any credible sightings yet. It would be wonderful if it were true."
Before you report your next UFO sighting, check to see if Richard Branson is in town.
Source: Mysterious Universe
'Storm Area 51' spawns copycat campaigns
Image Credit: CC BY-SA 2.0 Ross
Anyone for a trip to the Bermuda Triangle ?
Inspired by the recent social media phenomenon, other people have started setting up their own 'storm' events.
Keen to ride the momentum of Matty Roberts' wildly successful (yet squarely tongue-in-cheek) campaign to see thousands of people storm the Area 51 facility in Nevada, Facebook user Anthony Carnovale has launched his own effort to solve another of the world's most enduring mysteries.
Entitled "Storm The Bermuda Triangle, It Can't Swallow All Of Us", the new endeavour seeks to send as many people in to the infamous 270,000-square-mile stretch of ocean as possible.
Carnovale has even set up a fundraiser to book live music performances for the event.
"I'm legit trying to throw a party for everyone so they'll come to my thing," he wrote. "This is the time for assembly to show this country we can organize. Let's go have a good time."
"Let's still clap these sea monster cheeks. Ok. Let's all just have fun."
The event is just one of several dozen to have cropped up in the wake of the success of the original 'Storm Area 51' campaign with others targeting everywhere from SeaWorld to the White House.
As things stand, a whopping 2.5 million have signed up to go to Area 51 on September 20th.
Exactly how many people will actually turn up on the day however remains unclear.
Source: Independent
Strange "Black Hole" Wave Clouds Form Over London During Trump Visit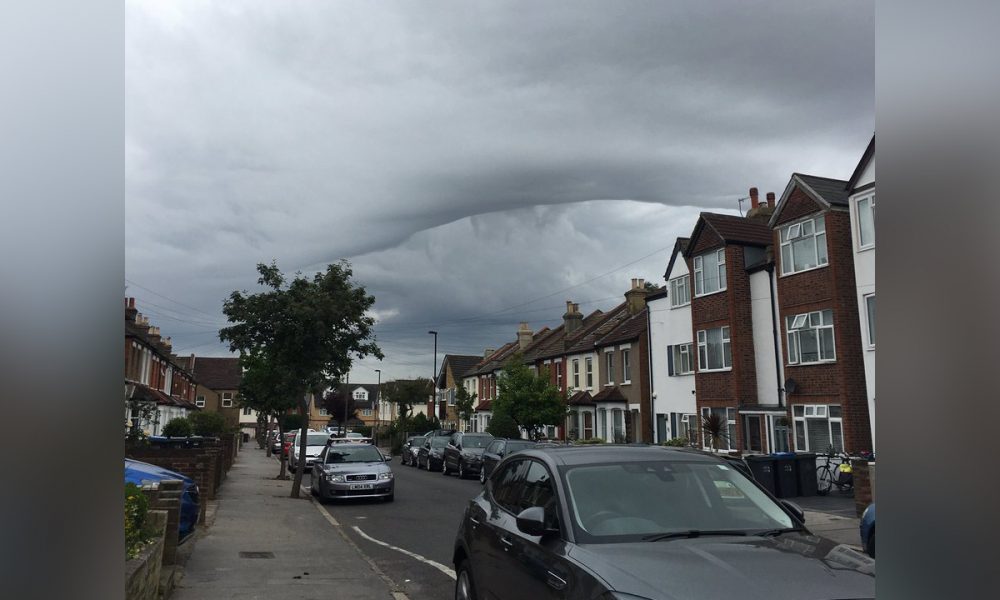 United States President Donald Trump visited the Royal Family in London in June for a scheduled diplomatic appearance. President Trump's family also joined him on his trip, as many of them are members or contributors of his administration.
The London meeting was highly publicized throughout the world, and especially in the UK where protesters clashed in response to the US President's visit.
If you are superstitious, you may have looked into the sky during Trump's visit and felt that perhaps nature was having a reaction to all of the tension that was in the air. The sky looked very ominous over the city of London for the President's arrival.
Anyone else see this creepy cloud this morning? #blackhole #london pic.twitter.com/G7F8k3CROi

— sammie (@xxxsammiexxxxx) June 4, 2019
Tourists and residents alike reported seeing a strange cloud formation hovering over the Houses of Parliament.
Photos of the strange formations began popping up online throughout the day. Various pictures showed different areas throughout the city that were covered by clouds that looked like strange waves.
That cloud formation over London… pic.twitter.com/ozlMGKQi5L

— Debbie – The Snappy Artist (@TheSnappyArtist) June 4, 2019
IFL Science pointed out that while these cloud formations may look ominous, they are an entirely natural phenomenon, just one that researchers don't know very much about yet.
Experts believe that these formations are caused by Asperitas clouds, which is a rare cloud formation that resembles rippling ocean waves in the sky.
According to the MET office, "Asperitas (formerly referred to as Undulatus Asperitas) is a distinctive, but relatively rare cloud formation that takes the appearance of rippling waves. These wave-like structures form on the underside of the cloud to makes it look like a rough sea surface when viewed from below."
Any cloud experts around? What the hell is this floating over south London?! pic.twitter.com/oRT2iJkrii

— Alexa Brown (@alexabrown) June 4, 2019
Asperitas clouds are still a bit of a mystery to scientists, who are currently unsure of how these clouds are even formed. Most experts agree with the theory that these clouds are formed in the aftermath of thunderstorms, but they have also been spotted in calmer environments, so that may not be a determining factor.
Another theory suggests that they are formed when mammatus clouds descend into areas of the sky where wind direction changes with height causing the wave-like movement. Researchers believe that this would also cause the wave-like effect seen in asperitas clouds.
The below time-lapse video shows how the clouds move through the sky like waves.
Oddly enough, Asperitas clouds were undocumented until 2008, when the cloud society proposed they be listed in the World Meteorological Organisation's International Cloud Atlas.
That proposal was not actually accepted until 2015, when enough data was collected to show that the clouds deserved their own classification.
However, it is important to note that some sources say that the official classification finally came in 2017.
Despite the strange weather, the visit of US President Donald Trump continued as scheduled. His appearance sparked clashes between protesters who were in support or opposition to his policies.
I kept hearing that there would be "massive" rallies against me in the UK, but it was quite the opposite. The big crowds, which the Corrupt Media hates to show, were those that gathered in support of the USA and me. They were big & enthusiastic as opposed to the organized flops!

— Donald J. Trump (@realDonaldTrump) June 5, 2019
In a later speech, the President called the protests "fake news," and said that there were only a small number of demonstrators on the streets.
Jeremy Corbyn, leader of Britain's opposition Labour Party, addressed protesters who gathered in central London on Tuesday.
Speaking of the president, Corbyn said, "In welcoming visitors from the U.S, I hope there can be a conversation. I am not, absolutely not refusing to meet anybody. I want to be able to have that dialogue to bring about the better and more peaceful world that we all want to live in."
However, Corbyn also expressed his "disappointment" with the harsh words that the president had for the Mayor of London recently.
"I am very disappointed, particularly today on their wonderful festival of Eid, that our mayor has been attacked the way that he has. I am proud that our city has a Muslim mayor, that we can chase down Islamophobia, racism of any kind, within our society. Racism divides. Exploitation of minorities divides," Corbyn said.
Police move handful of protesters with pro-Trump hats inside after brief scuffles break out between them and anti-Trump protesters @CBSNews pic.twitter.com/skW3KlGH9o

— Haley Ott (@haleyjoelleott) June 4, 2019
While in London, President Trump praised the outgoing Prime Minister Theresa May for her handling of the Brexit situation. Trump held a private meeting, and an extensive public press conference with May.
Boris Johnson, the current favorite to replace May, declined a meeting with Trump, but did hold a brief phone call with the president. Some political commenters believe that Johnson turned down a meeting with Trump as a sort of election time publicity stunt.