The Coming of the Comet ISON and the Female Christ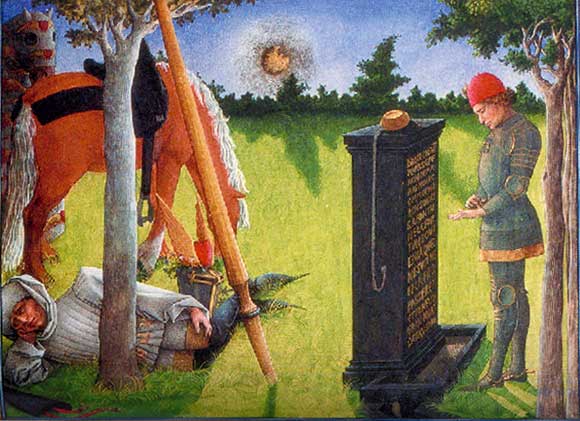 Now that we are on the threshold of replacing the term 'paranormal' with an explanation of the phenomenon by way of the term 'Quantum Entanglement,' it makes life a little easier to share one's experiences with the actuality. Quantum Entanglement, used in physics to describe inseparable relationships between quantum systems which, when reduced to layman's terms explains how information can be shared no matter how far apart they exist – communication taking place outside of space-time to confirm the Buddhist teaching that all things are linked and that separation is an illusion. An externalization of this entanglement can be likened to Google Search on our computers, any single topic immediately linked to an unlimited source. In 2009, I unexpectedly entangled with author Graham Hancock when out of the blue he contacted me asking if he could have permission to use one of my poster names on his forum for the hero tribe in the novel he was writing. The book went on to be titled 'Entangled'…!

Ancient Tibet as once seen on world maps
On this basis, it appears I have been quantum entangled with Tibet since childhood and that almost every seventeen years a biorhythm in my DNA Blueprint erupts to bring about an externalised connection. As a teenager I had shown an interest in the bestselling books by Lobsang Rampa, a writer who claimed that he had been a  lama in Tibet before entering the body of a British man. 'Rampa' was born in Devon as Cyril Hoskin. Later down the time line I entangled with the work of Henry Lincoln and his Rennes-le-Chateau best seller, intriguing when he randomly chose the very surname that is the city where his mystery has led me, and that his actual surname is Soskin.  A Hoskin and a Soskin! One of the scripts Henry Lincoln wrote for the sci-fi hit series 'Dr Who' was based in Tibet.
My first interaction with 'The Forbidden Land' was back in 1977 when I stayed at the Karma Samye-Ling retreat in Dumfries, Scotland amongst Tibetan refugees and Lama Akong Rinpoche, all in exile from Chinese oppression. In 1994 I found myself revisiting Samye when the Dalai Lama arrived on a visit there, and now, in 2012 I find myself entangling with Lamaism once more. This time it was brought about when Nick Gray, Producer of the 1995 acclaimed UK Yorkshire TV documentary 'Escape From Tibet' (and now author of the same titled book) was given a special screening of his film in Lincoln in August, one of the two escapees featured in the film, now aged 28, present.
Tibetan Lama Lhakpa Yeshe
Until Tibet connected us, when Nick and I met up we were both amazed to find that we had been living up the same street for eight years, a matter of only a hundred yards apart, unaware of each other and having both arrived at our homes at the same time! Lama Lhakpa Yeshe whose origins are Kham in eastern Tibet, attended the screening too, temporarily resident and teaching in Lincoln before returning to Liverpool and onto retreat at Dharamsala, India, to receive instruction from the Dalai Lama. I invited the lama to my home on two occasions and this is when synchronicities with world events started afresh. My first invite was on 22nd October and amongst many subjects discussed I had intuitively meant to show him one of my meteorite collection, having had the thought to do so the previous evening. However, this didn't happen but the following  weekend 29th, I did give him such an item to keep. On Friday 28th an interesting news story broke here in the UK and it was how a priceless Tibetan Buddhist statue that had been looted by Nazis from Tibet in 1932 was carved from a meteorite which crashed to the earth 15,000 years ago. New research announced that day told how the 1,000 year old carving 24cm high and weighing 10g depicts the god Vaisravana, the Buddhist Guardian and King of the North, stolen by Hitler's SS who were searching for the origins of the Aryan race, eventually making its home that of a private collector and stashed away until being auctioned in 2007.
At the request of it new owner researchers dated it to a specific in the history of astronomy when the Chinga meteorite fell in the borders of eastern Siberia and Mongolia between10-20,000 years ago, declaring the icon to be made of a rare ataxite class, the rarest meteorite type that has ever fallen to earth, carved by the pre-Tibetan Bon culture in the 11thC.
The Buddhist statue carved from a meteorite
Quite a synchronicity by anyone terms…you invite a Tibetan lama around to your home, present him with a meteorite and then an ancient Buddhist statue that was stolen from Tibet is announced as having been carved from a rare meteorite! My lama friend insisted that I called him simply by the title 'lama' as some people have problems with Tibetan name pronunciations, and so onto the next synchronicity. On 2nd October a world news story told how the worst maritime accident in Hong Kong since 1971 had occurred involving the pleasure boat Lamma IV off Lamma Island, the entanglement being that it was taking the crew to watch a firework display in  celebration of China's National Day. Suddenly a 'lama' was in world news. This is the type of synchronicity I have now became familiar with in my life….a something or someone that I am involved with somehow finds a connection with world news event.
There was more to come. On Saturday September 29th, the same day that I gave lama his meteorite, yet another world news story announced how on September 21st, the very day that I had had the thought to present the lama with a meteorite, two Russian astronomers at the ISON Kislovodsk Observatory had discovered an incoming comet currently located beyond the orbit of Jupiter, pointing out that it  will pass just 1.16 million miles from the sun and then immediately after reaching this solar near point heading in a direction favourable for our viewing; North, passing relatively close to the earth, blooming in the weeks approaching Christmas 2013, potentially growing as bright as the full moon and may cast shadows, to put on a spectacular sky show. Dubbed Comet ISON (C/2012/S1), it was soon discovered that there is a curious similarity – it appears to be following the same orbit of that of the Great Comet of 1680, provoking the thought that they may have been two halves of the same entity. There had also been another synchronicity for at the same time as the release of the news about ISON a 7.1 magnitude earthquake in Columbia happened, close to ISNOS.
Comet ISON discovered in September 2012
All this may sound reasonably interesting to the casual viewer but for me it took on a greater and personal significance which I will now explain. Since 2005 I have been entangled in an unfolding mystery concerning Lincoln Cathedral, having earlier been assisted to the deductions from key elements in the enigmatic affair of Rennes-le-Chateau, a related significance being in the title of the Merovingian rulers of the Franks who were known as 'The long haired monarchs', the word 'comet' coming from the Greek 'Kometos' meaning 'long haired' in reference to its tail. A clue in my Lincoln mystery came from the alleged Grand Master of the Priory of Sion, Grail intrepid  Rene d'Anjou and his 'La Fountaine de Fortune' (The Fountain of Fortune) in which a fallen knight has a pair of wings upon his helmet, with a heart between. Naturally we are given to thinking that the hazy orb in the sky is a diffused sun, but if we were to think of an approaching celestial body then what we could actually be seeing is the fuzzy, temporary atmosphere of a comet face on. That it is moving would explain the noted anomaly in the illustration of the shadows not being in the same direction, whereby we would expect them to be if cast by a fixed sun. The nucleus of a comet may also be referred to as its 'heart', and the wings it sits between in the illustration appear to duplicate the 'wings' or discharge of a comet.
'
La Fountaine de Fortune' – Comet ISON approaching?
Hidden away in the Choristers, the Cathedral has its own representation of  a falling knight, the 'Falling Knight' can be found carved under one of the seats of the Misericords in the Choir Stalls, and here we take note that another meaning for 'misericords' is 'a narrow bladed dagger used for killing wounded foe'. Lincoln Cathedral as seen from the air is in the shape of the Templar's Cross of Lorraine, otherwise known as the 'double dagger' or 'double cross'. Author David Wood with whom I entangled during 1985, in his 1994 book 'Geneset – Target Earth' announced through intricate geometry and numerology that he had decoded the famous inscription  ET IN ARCADIA EGO that had baffled Rennes investigators for so long, and that it reduced to 'ICE GOD' in reference to a  destined comet. The culmination of my Rennes-Lincoln and consequent deductions indicated that the biblical figure of Jesus had been a concoction of the Council of Nicaea in 325 AD in order to guarantee male as the predominant icon and to usurp Mother Goddess status and that this god-like male figure had been borrowed from an actual and powerful female figure recorded as Mary Magdalene. Furthermore the secret of Rennes-le-Chateau that terminates in Lincoln, England, is that 'Jesus' was therefore a female who met with a demise by dagger after being 'double-crossed'. In the more orthodox story about a male Jesus, his death is by crucifixion with the added torment of the 'Spear of Destiny' – a relic of Nazi interest – piercing his side. The hanging arms of Christ being symbolic of the Fallopian Tubes.
'Jesus' a Female?
Now, we refer back to the Comet IS ON, for the letters are an anagram of SION, the alleged Priory that watches over the Grail secret. Also, from the Rennes-le-Chateau Parchments that decode at Lincoln Cathedral is the enigmatic reference to 681. At the Cathedral, the numerals hide themselves equally spaced within the East Sun Dial. Recalling d'Anjou's anomalous illustration of a sun that is actually a comet, we learn that Comet 2012 ISON is heading our way in along the same orbit as The Great Comet of 1680…. this year containing the key number 681, and so we have the two component parts, SION and 681. This giant piece of ice and rock's scheduled appearance is on December 26th 2013 when it will be closest to earth and one cannot help but bring to mind the so-called star of Bethlehem the story of which led to the birth of the Jesus at a date almost identical. To return to and conclude with the dagger, a small sword that I have announced terminated the life of a pregnant Magdalene, if we take a look at the types of cometary forms, the second and third from the top are in the form of……. a dagger.
Comets, seen as a dagger
Will comet 2012 passing by the earth fulfil the prophecy in Matthew 10:34 attributed to Jesus, 'I come not to bring peace, but to bring a sword'? It may also fulfil the 2012 Mayan prophecy, taken out of all proportion by Doomsday merchants, announcing a New Cycle and the return of a 'Great King'. Likewise, the prophecy of the mysterious hidden Tibetan kingdom of Shamballah, is that the preordained Maitreya accompanied by Gesar, mythic war hero of the Tibetans and storming on a white horse, will yield 'a comet-like fiery sword ' in his hand. The Chintamani Stone, referred to as the very first Holy Grail on earth and of which part is allegedly kept in a monastery in Tibet at the entrance of Shamballah, may actually be a species of meteorite known as the dark green Moldavite. This green stone appears to be the one that fell from Lucifer's crown in the Germanic Grail legend, and which entangles with my Lincoln Cathedral mystery whereby the final location of a 'something' to be retrieved, veiled in Magdalene imagery, is arrived at by the place name of 'Greestone Steps'. Maybe the heralding of the SION 681 comet will pave the way for further entanglement to unearth, finally, the mystery that appears to await us there.
The Great Comet of 1680
Copyright 2012 by Dan Green
Dan Green is the author of 'The Lincoln Da Vinci Code' and 'The Lincoln Da Vinci Code and the Mystery of Rennes-le-Chateau'
Sprites: Mysterious inhabitants of the Earth's ionosphere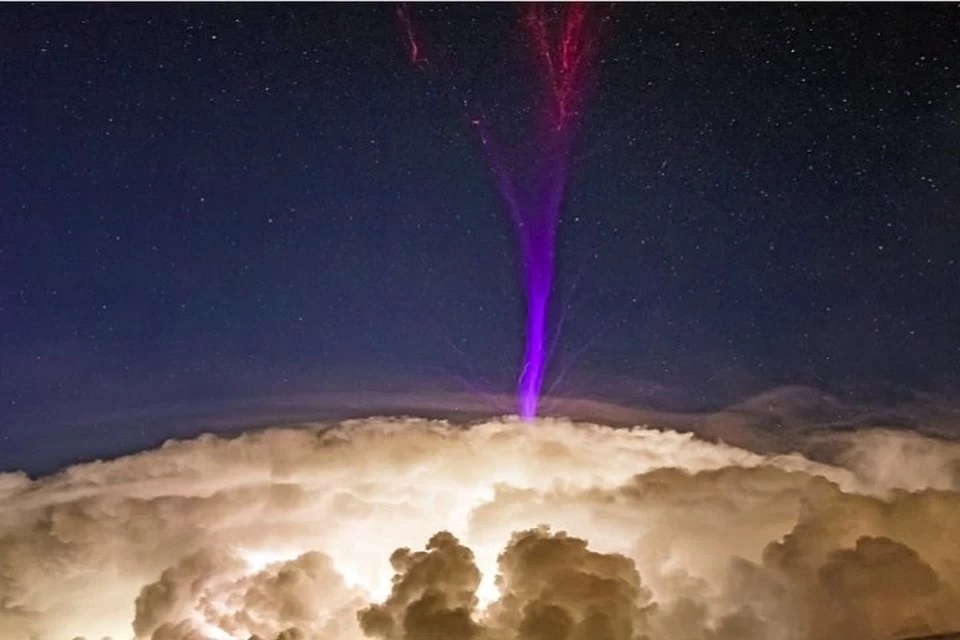 Sprite, "The mysterious inhabitant of the earth's ionosphere," as cryptozoologists respectfully call it, is a ball of fire, a flash, a spot of light that sometimes, successful observers succeed in capturing when observing the sky.
The spot makes strange chaotic movements, dances, draws strange geometric shapes in the sky, and then disappears as instantly as it appears.
Ufologists consider sprites, of course, alien ships, and cryptozoologists, an amazing creature whose body consists of some energy that can exist in both three and four dimensions. Sprites are also called "tigers," "elves," and "blue jets."
They belong to the spirits of the elements, who care about human affairs. Therefore, from the point of view of the most mystically minded cryptozoologists, the appearance of a sprite is a signal that something extraordinary can happen to the observer in the near future – both bad and good. Here and in ancient sources it is said:
"There is a tree named Tsalifa, on which bird eggs grow instead of fruits.
Birds that only fly in the sky and cannot touch the earth hatch out of it, they cut the air of the earth and people's air with their wings, because it is too rough for them, and when such a bird flies, the air becomes thin, and only when such a bird flies and the air becomes thin, the person can hear the voice of God, otherwise the person does not hear the voice of God, since the air at his ears is too dense" (Midrash Talpiot – section of the Oral Torah).
Some cryptozoologists believe that sprites are an alternative form of existence of matter, the primary amoeba of the nascent world of "pure energies", which in the future, will subsequently become the dominant form of life in the Universe.
Official science believes that cryptozoologists see all kinds of nonsense and for their sprites they take the signal lights of aircraft, the rays of searchlights, the glare of car headlights on the clouds and ball lightning.
A strange story about an ominous Japanese TV commercial
Urban legends of a terrible TV commercial of 1985 with a girl and a demon child in Japan are becoming more and more popular every year. This advertisement really causes strange sensations, but is it really so scary?
If you lived in Japan in 1985 and watched TV, sooner or later you would see one of the strangest commercials created for Kleenex cleaning wipes.
There are two characters in the commercials: a pretty girl in a long white dress and a 2-3-year-old child in the make-up of the red-skinned one-horned cannibal demon from Japanese mythology.
Both of them are sitting on the hay, the little "eater" looks angry, while the girl gently throws up napkins or tries to stroke the "eater". They don't pronounce a single word in 30 seconds of each video and all this happens under the melancholy slow song "It's a Fine Day" by Edward Burton and Jane.
As soon as these commercials began to appear on TV, many people began to feel that the commercials scared them and that they had an incomprehensible effect on the psyche. The reaction of the audience was so negative that the videos were soon removed from the show. But the story did not end there, soon various scary stories and stories associated with this advertisement began to disperse throughout the country, which in our days have turned into urban legends.
First of all, it was stated that the song "It's a Fine Day" in the original performance in German was not at all romantic, but contained the refrain "Die, die, everyone will be cursed and killed." It was even said that repeated listening to this song imposes on people a peculiar "mental attitude" to death. Then, unverified but persistent rumors began to appear that many people who took part in the filming of these videos began to die a strange and sudden death. Including it was reported that the boy who played the cannibal demon suddenly lost consciousness and soon died from the failure of the internal organs.
It was said that the director, cameramen and both producers of this advertisement also died. And many other crew members suffered from accidents or various unpleasant things happened to them. The actress who played the girl in a white dress allegedly went crazy and was sent to a psychiatric clinic shortly after filming in commercials.
According to other versions, she committed suicide after giving birth to a terribly mutilated child. Ordinary viewers who saw this ad several times, allegedly, either went crazy, tried to commit suicide or simply disappeared without a trace.
In 2006, the official television version of these commercials was completely destroyed, but soon amateur videos of this advertisement appeared on YouTube. And soon, many people began to say that from watching this advertisement they had cramps, headaches, or even loss of consciousness. Several deaths have even been reported.
Some users noticed another oddity: if you watch this ad at night, then the small details of the video change by themselves. Sometimes a cannibal boy becomes colored blue, and the color of the girl's dress also changes, or interference bars begin to run across the video screen. Some viewers wrote that these commercials do not just feel like something ominous, they allegedly encoded some information aimed at destroying the human psyche or taking it under control.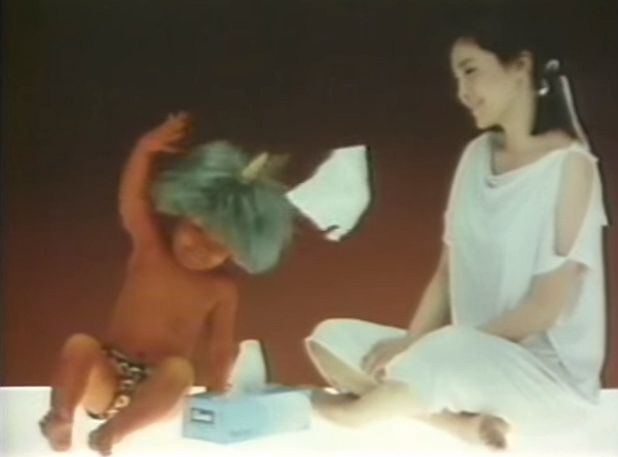 All this is quite frightening, like a plot from a horror movie, but most likely all this is completely (or partially) fiction. The fact is that at least one striking "fact" has not been completely confirmed – the girl in white is the actress Keiko Matsuzaka, who is still alive and healthy and has never been in a mental hospital. At the same time, it was neither possible to confirm nor deny the death of the demon boy or accidents with the film crew. No information was available on them.
The Woman who fell in love with an alien from Venus and gave birth to a hybrid child
While climbing a hill near Johannesburg, a woman saw a low-hanging silver disk there, and then she had a telepathic connection with one of the aliens. He was very similar to a man, they began to love, which led to the birth of a child. The story of Elizabeth Klarer is one of the most bizarre and unusual in ufology. So much so that many suspected Elizabeth of fiction for the sake of self-interest or simply of an excessively rich imagination.
At the same time, the woman herself assured that everything she told was true. Even if there appears a love for an alien, the birth of a child from him and a journey through the colorful star worlds. Some directly accused Elizabeth of being crazy, eccentric, or suffering from some kind of mental problem. At the same time, Elizabeth Klarer was quite smart, competent and educated. She was born in 1910 in South Africa, her parents were of noble birth and a girl from a young age was fond of music and sciences.
Elizabeth was especially interested in meteorology, and when the Second World War began, she worked in the intelligence of the South African Air Force and decrypted secret German radio programs. After the war, she also did not do anything "eccentric or unabashed". But in 1950, a book about UFOs accidentally fell into her hands and she immediately remembered something that had long ago gone somewhere in the very depths of her memory. She remembered that when she was 7 years old, she and her sister saw in the sky a flying silver disk that glowed and soared very low right above their farm.
And this was not a solitary event, but only the first of a whole series when little Elizabeth watched flying disks. These memories and the read book about UFOs turned Elizabeth into a big fan of ufology, however, the strangest events in her life began in 1954. Elizabeth found out that over a hill in a rural area near Johannesburg people often saw UFOs and she decided to go there and explore everything. When Elizabeth arrived there and spoke with the local Zulus, they told her that there was a "lightning bird" on the hill and that their legends had been telling about her for many years.
When Elizabeth herself climbed this hill, she immediately ran into a low-hanging disk-shaped object. He made a humming noise, and in the windows of the ship Elizabeth saw humanoid creatures. She wanted to come closer, but she was suddenly pushed away by a wave of hot air, but at the same time she immediately got a telepathic connection with the creature from the UFO, which said that his name was Akon.
Elizabeth talked with him for a while and every minute realized that she wanted to learn more about these creatures. When the contact ended and the UFO flew away, Elizabeth came to the hill several more times over the next two years in the hope of talking to Akon again. In 1956, she was given a second chance. When Elizabeth came to the hill again, she saw a flying disk coming down, sits on top of the hill, and then Akon stepped out and invited Elizabeth inside. Next to him was his friend, whom Akon introduced as a botanist and astrophysicist, and then they both began to lead Elizabeth around the ship and talk about him.
They said that their disk is a reconnaissance ship and that in the orbit of the planet is a mother ship, which is much larger than this. They flew there and Elizabeth saw a huge cigar-shaped object, the length of which was 8 miles (!), So she was told. Inside this ship everything resembled a huge beautiful city, there were houses, parks with trees, clearings with flowers and even artificial lakes. And of course there were a lot of humanoids. Elizabeth described them as very similar to people, but taller, more beautiful, more polite, gentle, completely not aggressive and not cruel.
Akon and others told Elizabeth that they were actually from Venus and that they lived on her before she turned into a cold piece of stone. When Venus died, they flew to a planet called Meton and now live there. They described that when Venus was a normal planet. there were many plants and it was very similar to Earth. They said that Venus died due to the fact that its orbit has changed and it has come too close to the Sun. And that when they realized that the irreparable would happen, they began to fly away from Venus in search of other worlds, and they used the Earth and the Moon for temporary stops.
Elizabeth found out that Venusians still have their bases on Earth, the Moon, and also on Mars and they regularly visit them because they feel responsible for the fate of earthlings and want to make them more developed. After this detailed excursion, Elizabeth was returned to Earth, on the same hill, but even then she realized that Akon very much attracted her as a man. Akon also had feelings for Elizabeth. In the following months, they met several times and Akon gave her a special ring, with which Elizabeth could telepathically communicate with him at any time.
There were intimate contacts between them, after which Elizabeth once realized that she was pregnant. It was 1958, and when Elizabeth told Akon about the baby, he suggested that she fly to their planet Meton so that Elizabeth could give birth there. So they did.
Planet Meton was very developed and was one of the seven planets inhabited by the Venusians. Elizabeth then described in detail what civilization looks like on this planet and her words painted a perfect society as in utopia. There were no wars, crime, poverty, everyone had equal rights and everyone had equal access to food.
There was no monetary system, and all the houses and enterprises were powered by renewable and unlimited energy. People wore luxurious silk clothes and lived mostly in vast park areas. There were no high-rise buildings in their cities, no factories, and the air was very clean. Children were trained with the help of telepathy and therefore they had neither textbooks nor schools. In an interview with ufologist Stuart Bush, Elizabeth told for example this:
"Meton is similar in size to the Earth, but it's a bit larger and it's covered almost entirely by the oceans. The land there is part of the island, not the mainland. The climate is very good and they keep it under control. They have almost everything you can want, that's true utopia. Not only are they technically more advanced for thousands of years than we are, but they are spiritually very developed. They have no politicians, no laws, no money. Medicine there is a science that is not even considered mandatory for health, they are all healthy anyway. Their way of thinking is different from ours, they are very loving, gentle and creative people.

Everyone does the work that he loves the most. There is no need for law, no crime and no police. Everyone's behavior is controlled only by a code of ethics. They constantly create beauty around them, there is complete harmony with it. Their houses are beautiful and made of transparent walls. They do not have books, but they make up for this by frequent travels throughout the galaxy, and always take their children, even the smallest, with them to learn from their own experience.

They have technologies to look into the past at any moment in history. For example, they can see our planet during the time of the dinosaurs. They paint beautiful paintings and write wonderful harmonic music. They have no problems in learning languages, because communication through telepathy does not require this."
In general, Elizabeth was in a wonderful place and of course she really wanted to stay there forever. However, it turned out that this was impossible, she was explained that Meton's vibrations were completely different than on Earth, and if Elizabeth stays there too long, her heart will weaken. "Elizabeth was forced to say goodbye to Akon with tears in her eyes and leaving her son Isling to return to Earth.
In the following years, Akon and Isling visited Elizabeth many times on Earth, and then Akon and his son went on a long journey through the galaxy. In the mid-1970s, Elizabeth told the whole story to ufologists and became very popular in their community. She was interested in journalists, she attended various conferences about UFOs. Unfortunately, elsewhere, Elizabeth was mostly ridiculed for "fantasy writing".
In 1980, Elizabeth Klarer released a book about herself, "Beyond the Light Barrier", but after it began to insult her even more and even pursue her. Threats were sent to her. intimidated, so soon Elizabeth decided to "go underground." She stopped communicating with ufologists and journalists. In the 1990s, she worked on her second book, The File of Gravity, but did not have time to finish it, having passed away in 1994. The story of Elizabeth Klarer still causes a skeptical smile for many and is read like a fairy tale, but Elizabeth herself, in the words of her entourage, was in her mind until she was old, did not at all resemble an insane dreamer and always said that her words were true.