The Boy Who Cried Wolf: 2012, Fenrir and Asteroid DA 14
Via SacredGeometryInternational.com
We all remember the well known fable told by the ancient Greek slave and storyteller, Aesop, about the shepherd boy drafted to keep watch over a flock of sheep, and who, out of boredom, decided it would be great fun to fool the nearby villagers by pretending that a wolf was attacking the sheep. After the villagers rushed out to save the sheep a number of times based upon the boys fabrications they refused to believe him when the wolf actually did show up and began to consume the sheep. The obvious declared moral of the story is generally expressed as "There is no believing a liar, even when he is telling the truth." However, there is, I submit, a second, unstated moral to the story as well. In spite of the shepherd boys prevarications the wolf was real. And the wolf did, in the end, show up to devour the poor sheep.

Which brings us to the point of this article. For centuries various predictions have been made about the end of the world on certain dates by assorted means and on quite a number of occasions these predictions have been believed by a significant number of people. Obviously the world did not perish in late December of 2012, the most recent date proffered in a long tradition of doomsday predictions that failed to materialize.

There have been countless dozens of other such failed predictions stretching back through the centuries. I think we could say that the batting average of those prognosticators of world destruction has so far been about zero. All of which, however, raises an interesting question. Why are so many people so fearful of and ready to believe in an impending doomsday? I think the answer to that question brings us to the unstated moral of Aesops fable. In spite of all the false alarms the wolf turned out to be very real. And eventually the wolf showed up.
Read more at SacredGeometryInternational.com
Debunking the Persistent Myth that Trump Opposes War
Caitlin Johnstone, Contributor
Waking Times
Whenever I criticize the foreign policy of the current US administration, I always get some pushback from Trump supporters who insist that this president is doing more good than harm by "fighting the Deep State" and, even more commonly, by "keeping us out of wars".
This notion that Donald Trump is some kind of peace president, or even the notion that he puts any more inertia on the US war machine than his predecessor did, is contradicted by all facts and evidence we have available to us. Trump has not ended a single one of the wars his predecessors started, and has added dangerous escalations against Venezuela, Iran, and nuclear-armed Russia.
France prepares a Space Force: it will launch satellites equipped with machine guns and laser weapons
Months after President Donald Trump signed a directive to create the United States Space Force, France has begun to prepare the ground for the creation of its own version.
French President Emmanuel Macron announced that the Air Force will establish a space command for the purpose of national defense; particularly the protection of French satellites, according to Le Point .
First, France will launch the next generation of Syracuse satellites equipped with cameras to identify space threats, such as anti-satellite weapons.
Currently, the French army operates a constellation of three Syracuse satellites, mainly used for communications between the country and troops dispatched abroad. But after the new cameras are tested, France will launch another generation of satellites that will also be able to destroy enemy satellites.
"If our satellites are threatened, we are considering blinding those of our opponents," said French Defense Minister Florence Parly on July 25 at 942 Lyon Mont-Verdun Air Base. "This could be done by using lasers from our satellites or from our patrol nano-satellites."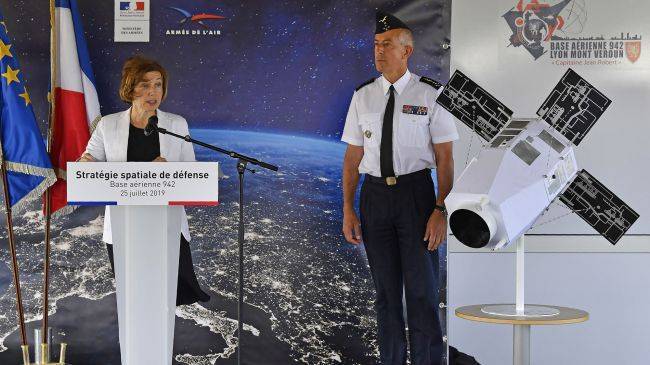 The minister also mentioned "machine guns capable of breaking the solar panels of a hostile space aircraft."
And while the Outer Space Treaty does not allow the testing of weapons of mass destruction or nuclear weapons in orbit, and other United Nations treaties also prohibit the weaponization of space, France does not intend to violate these treaties or initiate space battles. With your satellites
«An active defense is not an offensive strategy; it's self defense, "Parly argued. "It is what happens when a hostile act has been identified as such, and it is acceptable within the limits of international law to be able to respond in an appropriate and proportionate manner. The law prohibits neither legitimate defense nor militarization.
«We don't want to embark on a space arms race. We will only carry out a reasonable arsenalization, "he added.
The project will reallocate an additional $ 780 million to the current space budget of $ 4 billion from 2021 to 2025 and involve 220 soldiers from several French military space agencies. The plan is for this entire operation to start from a new airfield built in Toulouse in 2025, and Parly argues that the project "will not be a fantasy, but that it is an incredible ambition."
Source: Space.com
A video shows a piece of raw zombie meat crawling out of a plate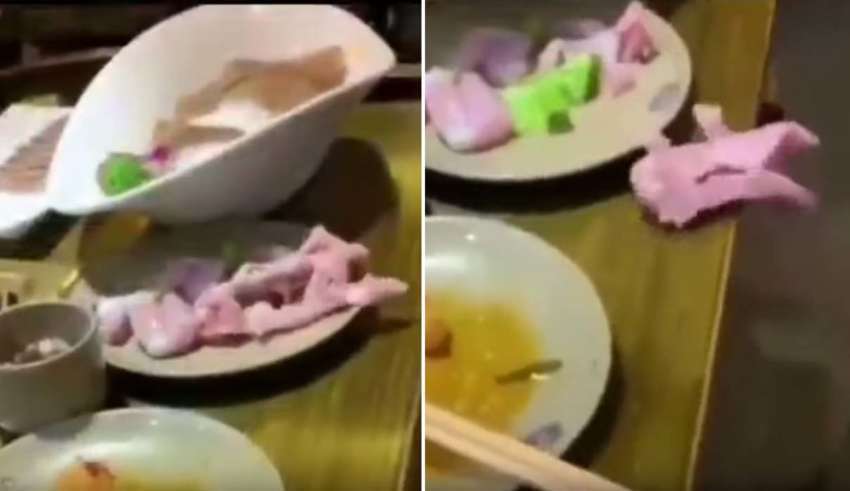 People are fascinated with the possibility of a zombie apocalypse occurring at any time. Friends and loved ones who turn against you, an enemy that refuses to stop, and they all want your flesh. A world in which the dead do not remain dead. However, we are told that zombies are fictional creations, and have little or no scientific basis. But this does not prevent several government organizations from revealing themselves to be preparing for a zombie apocalypse over the years. For example, the website of the Centers for Disease Control and Prevention (CDC) provides information on zombie preparedness.
The posts on their page include links to a zombie preparation blog and strategies to prepare against the undead. In addition, it provides a brief history of zombies with a list of items for an emergency kit. But the CDC is not the only organization that prepares for the zombie apocalypse. In 2011 (coincidentally, the same year the CDC began its zombie preparation campaign), the US Department of Defense launched a strategy to combat a zombie apocalypse:  CONPLAN 8888-11. The plan consisted of combat strategies for what could be the last battle against humanity. Be that as it may, it seems that the zombie apocalypse is more real than we think. Or at least that is what many Internet users believe after seeing how a piece of raw meat moving by itself on a table.
Zombie meat
This is the strange moment when a piece of raw 'zombie' meat seems to creep out of a restaurant's food plate before falling to the ground. The video was posted on Facebook by Rie Phillips, from Florida, two weeks ago and since then it has become a viral phenomenon, with more than four million views.
The video shows a piece of raw meat on the plate in an unidentified restaurant. Suddenly, a part of skinless meat moves forward, crawling out of the plate. When he falls on the table, he turns and the woman he is recording screams. The meat again has jerky movements, which causes it to fall off the table before the woman screams again. And how could it be otherwise, Internet users have come up with a lot of theories about how the meat moved, some suggested it was false and others suggested that the nerve endings in the meat could have allowed it to move.
However, most skeptical believe that someone put a piece of thread to the meat to move it. But there were also people who assured that this video shows that the zombie apocalypse and that it can happen at any time. Moreover, they recalled a study conducted in 2015 and published in the prestigious British Medical Journal, in which researchers from Kent State University in Ohio used a zombie virus to demonstrate exactly how such a pandemic could be spread by the world and the devastating effects on humanity.
The study entitled  "The Zombie Infections: Epidemiology, Treatment, and Prevention"  used as examples the Solanum virus, the rabies virus, and the spread of the Trixie virus. The researchers discovered by surprise that certain infections could cause a true zombie apocalypse, such as black plague or mad cow disease, and that the spread of Yersinia pestis (bubonic plague) and cordyceps fungus (mad cow disease) they are viruses that could be transmitted more easily through bites.
But this is not the only study on the subject. In 2003 the "Zombie Survival Guide" was published, where they offered recommendations to prepare for a large-scale infection of bacteria or viruses with the ability to transform people into true living dead. The guide was developed to help governments around the world cope with the reality of zombies.
Who knows if this piece of meat moving could be infected with some kind of zombie virus. It's a possibility.
What is your opinion about the zombie meat of the video?