The BBC cuts an interview after an astrophysicist assures that the space radio signals are of extraterrestrial origin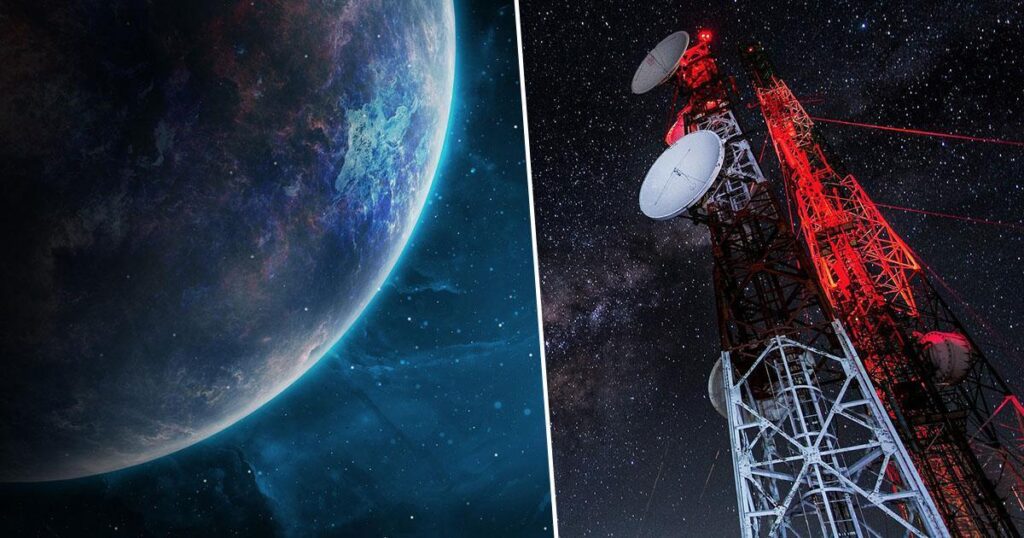 It seems that the mysterious repetitive radio signals sent from a distant galaxy are giving a lot to talk about. As we already published in the Esoteric and Paranormal World, a team of Canadian scientists detected 13 new rapid radio bursts (FRBs) from deep space, in a discovery that could change our understanding of the universe.
Astronomers detected repetitive FRBs for the second time in history, which experts believe could be a breakthrough by offering scientific evidence of advanced extraterrestrial life. The researchers detailed their latest finding in the journal Nature last Wednesday. Rapid radio bursts are short pulses of radio waves that are supposed to originate from beyond our galaxy, probably billions of light years away from the Milky Way. In radio astronomy, an FRB is what is known as a high-energy astrophysical phenomenon of unknown origin, which manifests itself as a transient radio pulse, which usually lasts a few milliseconds.
But what makes these FRBs so important is that they were first discovered in 2007 when a signal was detected in radio astronomy data collected in 2001. Last summer, for three weeks, the team found another 13 signals using the Experiment radio telescope Canadian Mapping for Hydrogen Intensity (CHIME, for its acronym in English). Dr. Ingrid Stairs, Chime astrophysicist, and professor at the University of British Columbia said that, until now, only one FRB was known that was repeated so knowing that there are others suggests there could be more and could be used to understand these cosmic enigmas, where they are from and what causes them.
And it is this last point that has caused controversy in the scientific community, with some suggesting that they are of natural origin and others claiming that they are clear evidence of the existence of intelligent extraterrestrial life in the universe. But it seems that you do not want to give voice or vote to scientists who point to this last possibility. And it has been demonstrated during a BBC interview when the presenter interrupted her at the moment when an astrophysicist assured that the rapid bursts of radio detected from deep space could be signs of an advanced extraterrestrial civilization.
Hiding the truth
A BBC interview with astrophysicist Elizabeth Pearson was interrupted after she suggested that the radio signals detected beyond the Milky Way are of extraterrestrial origin.
"Then, with these rapid bursts of radio, particularly this one that is repeated, is the second time we've found it, we hope we can understand a little better what these things are, " Dr. Pearson told the BBC.
Astrophysics added that currently, all we know is that it is something that can produce a large amount of energy, such as the combination of black holes or neutron stars.
"Hopefully, when looking at the new rapid bursts of radio, we could establish if it is one of these phenomena. One of the slightly clearer theories is that it could be an advanced extraterrestrial civilization, but it is more a case that we can not rule out what we think it is. "
And at that moment, the news anchor played down the last comment of astrophysics.
"Well, you know, obviously, you say that's one of the most outstanding theories, that's the one that's in everyone's ears, that's the headline, thank you," Joanna Gosling said.
Astrophysics seemed to want to add something to the presenter's comment and said before being interrupted: "Yes, it's …"
And mysteriously the audio was cut and removed the image of astrophysics, to the surprise of the viewers.
"Oh, we lost her. But anyway that's fine, maybe, this is evidence of aliens. We'll see, " Gosling added.
And this curious incident has caused all kinds of reactions on social networks. Conspiracy theorists have publicly denounced that the BBC is part of the media manipulated to hide the truth and in this case, they did not expect astrophysics to comment so freely on the theory that the strange fast radio bursts are of extraterrestrial origin.
Also, that astrophysicist Elizabeth Pearson is not the only one to believe that its origin is artificial. Professor Avid Loeb, from the Harvard-Smithsonian Center for Astrophysics in the United States, has been assuring for some time that it is extraterrestrial technology. Although there would be two possibilities, which is really a signal sent intentionally, and the other that suggests that these signals are repetitions of extraterrestrial technology, as energy sails to propel huge ships. However, for some reason that we do not know, it does not matter if the extraterrestrial theory is spread, much less that it is the scientists who do it.
Are the media covering up the truth? Maybe the aliens are among us, infiltrated in society?
They visit an extraterrestrial base in Spain and record two UFOs (Video)
 a few weeks ago, some images recorded with a drone in La Rioja (Spain) shocked the world of mystery. A UFO burst into the camera suddenly … and soon it went viral in the networks.
The Youtube channel "Hidden Truth" speculated that there was an extraterrestrial base in the vicinity of the town of Ribafrecha.
So they approached the scene and, accompanied by the authors of the original recording, investigated the field.
For this, they were equipped with two infrared cameras for what could happen. And it happened.
Beyond the "crack" from which the UFO allegedly took off at the end of January, a large grotto that opened on the ground, and the most interesting thing of the recording happens at night.
It was 7:15 p.m. when the infrared cameras captured "something that nobody was prepared to see". "We did not give credit; It was not just a UFO, but two, and they crossed in the sky. "
Thus, two luminous points break with a constant movement in a firmament full of stars. "They are anomalies that shine like stars in a linear way, but they are not airplanes", concludes the researcher of "Hidden Truth".
In addition, he advances that "this is the first video-program of all the material we have and, believe me, the best is yet to come."
In his farewell, he says that "many questions the veracity of the recordings and many believe that there is no extraterrestrial base, but our research suggests that this place is really extraordinary."
What's your opinion about it? Do we have an extraterrestrial base in Spain? Watch the mentioned video below, and leave us your comment below.
Finally: Lie Detector Test Proves Buzz Aldrin Saw Alien UFOs In Space
A glance at some of the world's most-read news websites will have left many readers under the impression Buzz Aldrin had confirmed he saw an alien craft. But he has almost certainly not.
The institution behind the claim will not reveal how the claim has been proven, Aldrin himself has denied it, and at least some of the astronauts named didn't actually take part in the study, since two of them are dead.
The claim, originally published in the Daily Star, has now been repeated by many of the world's biggest websites and across the world. The reports – many of which cast little doubt on the initial claims – have been shared thousands of times.
The report trades on the idea that Nasa is secretly keeping evidence of aliens under wraps.
While some Apollo astronauts have claimed to have seen UFOs during their missions, Mr Aldrin, the second man on the moon, has not – repeatedly denying reports suggesting he spotted an alien craft during the historic 1969 mission.
The original report said Apollo 11 astronaut Mr Aldrin had "passed lie detector tests over claims they experienced alien encounters". It said experts had examined astronauts'accounts of "strange space sightings", using the "latest technology" and that they had proven the astronauts were convinced about what they saw.
It claimed that the experts came from the Institute of BioAcoustic Biology and Sound Health, a non-profit in Albany, Ohio. The organisation had used "top-secret" technology, it said, which scans people's voices to understand them.
As well as Mr Aldrin, the report claims that four Nasa astronauts have been studied and found to be telling the truth about their claims. It appears that the group did that with recordings, since two of the astronauts being studied are now dead.
But there's no proof that the wild claims of that organisation have been tested or proven. While "bioacoustics" is a legitimate scientific exercise – it explores how living things make and are changed by sound – that is not what the organisation is doing.
A website that appears to belong to the institute claims that it "quietly goes about changing the future". "This tiny non-profit research institute has provided supporting evidence for the ancient claims that the sounds of the voice can act as a holographic representation of health and wellness," the website claims.
It goes on to suggest that the institute can not only tell whether people are lying, but also can be used to "reverse diseases and traumas previously thought to be incurable, to reveal the secrets of our true nature, to enhance our lives, to predict what may be our fate through the frequencies of our voice".
None of those claims have been tested and many of them appear to be impossible according to modern science. It is theoretically possible that it could be possible to understand whether someone is lying by listening to their voice, but previous examples have been unreliable and the institute reported on by the Daily Star did not make its working available to the public or to other scientists.
Mr Aldrin has repeatedly dismissed suggestions he has seen a UFO. He has spoken about seeing a light out of the window as he was heading towards the Moon – but has always said he is sure that what he saw was either the rocket the crew had separated from, or panels that had come off when the lander and the rocket were detached.
"It was not an alien," he wrote in an Ask Me Anything session on Reddit three years ago. He explained that he had told Nasa about what he had seen and presumed that information had been sent out into the world – until he mentioned what he had seen in a TV interview, which many now point to as proof that Mr Aldrin had seen an alien craft.
The Daily Star repeated this claim in its report, writing that "Aldrin has always maintained he spotted a UFO on the way to the moon". While it is true that what he said is in some sense unidentified – in that it's not clear what part of the spacecraft it was – the suggestion that he thinks it might be alien was false and he has repeatedly denied it.
But the institute and the Daily Star suggested that Mr Aldrin had seen a UFO and that its tests had shown that he knew it, even if he wasn't aware of it. He continues to believe otherwise because his logical mind "cannot explain it", the Daily Star reported.
Mainstream Records Bizarre UFO Traveling Like it is Alive over Volcano
Something strange is going on this year, and last year: the mainstream media, mainstream weather monitoring organizations, and all of them are suddenly willing to talk about UFO's, and we are spotting them with undeniably accurate technology. The question is, are the UFO's from human beings or something we don't understand.
Above the Colima Volcano in Colima, Mexico, a UFO was recorded and published in an article by AccuWeather, which is a mainstream source of weather information.
Also known as the Volcán de Colima, it is one of the most active members historically of the active volcanoes in the Western Volcanic Belt.
It looks like some type of red light, slowly moving across the scene of the volcano. Or perhaps the footage is slowed down. It begins in a line type shape, and then you can see it go closer to the base of the volcano and it is shaped like a slightly red dot.
Then, it strangely shoots out of the scene to the left. It looks like this thing is alive or being controlled by something that is alive.
This is actually an incredibly compelling piece of footage, but people should also be weary of the fact that mainstream media is so eager to report it. Why are they so eager to report this type of thing now?