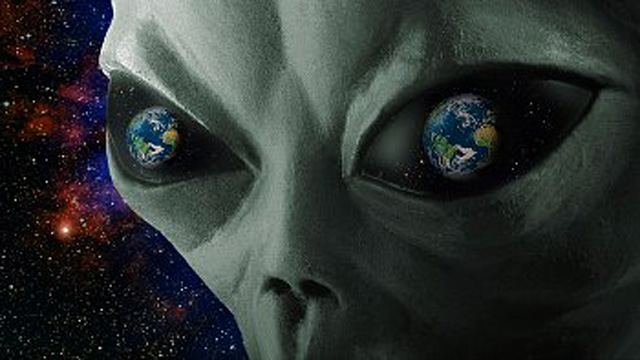 Late in the afternoon of Friday April 24, 1964 New Mexico police officer Lonnie Zamora was in pursuit of a speeding car just south of Socorro, when a loud roar and flash of light off to the right caught his attention and he broke off pursuit to investigate, thinking perhaps a dynamite shack had exploded.  Being as the hilly landscape obscured his view, Zamora drove his cruiser as close as possible, then climbed a small hillock in search of the source.  Cresting the hill the experienced police officer saw he was a hundred fifty yards from a car sized, egg shaped UFO on the ground with two occupants outside, apparently making repairs. I have a vivid memory of that day, back when I was just fifteen years old; listening to my transistor radio & shooting hoops in the backyard when the announcer read the story of Zamora's encounter in the nearby desert.  As I listened intently my skin became rippled with truth chills.  Everyone else calls them goose bumps which is just nonsense.  I call them truth chills because it is how your soul lets you know you are in the presence of some core truth…and I had a major outbreak that day!  I was already quite interested in the subject of UFO's to begin with before the story broke and hearing of this close encounter so close to home was like pouring gasoline on a smoldering camp fire.  That was it, I was hooked for life on the subject, and anything remotely connected to it.
During the ensuing years the pursuit of this subject has been the carrier frequency for my research and education about the real world behind all the lies we're constantly fed. As a general rule of thumb, the amount and complexity of official denials is usually pointing to exactly what is being hidden in the first place.  It certainly didn't take too long for me to understand that this particular rabbit hole goes way, way down there where the darkest and dirtiest truths are concealed from view.  When I finally found that core truth, it reared up and bit me right in the subconscious.  I was more than prepared to believe my government was lying thru their teeth about UFO's, but it backed me up for a moment of pause when I realized the government wasn't only lying about alien presence on Earth but was indeed being totally controlled by that alien presence.
I saw my first alien spacecraft in the skies above the southeastern Oklahoma town of Hartshorne in the summer of 1966.  I had traveled there with two friends from high school because the town was in the news as a hot bed of UFO activity.  As it was, the residents of this tiny rural town were logging daily low level daylight sightings of flying saucers for a period of many consecutive months.  I would have walked there if need be.  My friends and I stayed there for several days, camping out under the stars at night watching the skies.  To be sure, we had seen several strange lights far off in the distance or at high altitude, but nothing more, and we were feeling a bit gypped.  The daylight sightings seemed to have stopped during our visit, which made me somewhat suspicious.  The things we saw at night just weren't close enough, and we feared we might end up returning home with little more than mosquito bites. It was July 26, and our last night in Hartshorne, and we were depressed at striking out on the close encounter sighting we'd hoped for.  That evening there was a community sky watch in a huge open field on the edge of town.  The visibility was excellent and the weather perfect, nary a cloud in sight.  Because we were 200 miles from the nearest large city, the night sky was spectacular without all the washout from artificial lighting.  There were maybe 25 or 30 people present for the event, including the town's leading UFO enthusiasts, Mrs. Alta Claire Morgan, & Mrs. Bob Bookout, who owned the land we were on.  My friends and I were determined that if there was any activity we'd see and photograph it.  This was our last chance.  Some of the folks trailed off home after a couple of hours, and eventually it was just about a dozen of us true believers left.  Aboutmidnight or so Mrs. Morgan asked me if I thought 'they' were just sitting up there watching us and laughing.  I didn't share her degree of humor.  After so many hours of watching the night sky over this town it somehow looked brand new each time you looked up.  Suddenly someone yells out, "Hey look, there's two of them flying in formation!"  When we looked up sure enough there were two tiny white lights slowly moving together directly over the field we were in.  After a few seconds, we could tell the lights were getting closer, because they were getting bigger and brighter…when I looked thru my 10×50 binoculars I could clearly see both lights, one at each end of a massive cigar shaped "mother ship" type craft!!  Each light was illuminating a small area of the hull around it, and it looked like seamless pounded aluminum.
By this time everyone else had also realized this was one huge craft because there was not a human sound being made, and no one moved a muscle.  We watched as this huge ship floated silently down closer still to our position. Now we could see the whole thing clearly with the naked eye.  There was no thought of getting a picture, no thought at all as I just watched this thing come within 50 feet of the ground and fly slowly toward the distant tree line some 300 yards away.  As it headed away from us we had a stern view, with just the aft light visible.  When the ship arrived at the tree line, it pivoted 90 degrees to the west, and just hovered there above the trees for a period of five minutes giving us a wonderful side view profile of the craft.  Thinking back on it I suppose the twelve of us must have resembled the people on "Close Encounters" just standing there in silent awe in the presence of this otherworldly craft.  When it decided to leave, it again pivoted, back to the original heading, and just vanished!  It took less than 2 seconds for it to escape eyesight flying at treetop level. When you see something like that it instantly changes your entire world view.  You can never un-see the thing, so you have to make friends with it or it will drive you insane with cognitive dissonance.  Mind you this event took place several years before I discovered the truth and learned that the alien species controlling events on Earth are known as Archons.  We might not know of these Archons were it not for the Gnostic writings which originally described them in the Nag Hammadi.*  These 13 ancient codices somehow managed to survive totally intact despite repeated purges of information and knowledge down thru the ages.  You see, these Archons are masters of deception and manipulation, having created the artificial reality we currently live in; not entirely unlike the Matrix movie trilogy…in fact there are many who believe that those movies were made specifically to reveal this artificial matrix like reality.  As with any takeover, whether it be bold or surreptitious, there is always an agenda in place leading to the ultimate desired goal.  The reason the Archons have gone to such monumental lengths to conceal their presence &agenda, is because it's decidedly nasty, as in the permanently extreme.
Just like Chinese nesting dolls, the Archon agenda has concealed the truth of things by shrouding it with layer after layer of lies, deceits and obfuscations.  The Archons have captured the human race.  Let that sink in.  They captured the entire population of this planet.  It was done so gradually, with suc expert nuances as to be considered a masterpiece; that's how good their creeping assimilation is.  Researchers like John Lamb Lash believe that the Archons were present in this part of the galaxy even before the Earth was fully formed, and that seems to coincide with other lines of research that lead us into the part of our history that is the darkest and best kept secret.  That secret is that back when mankind was very, very young visitors from other worlds decided to 'uplift' our species, to accelerate our development by genetic intervention; they mixed their own DNA with that of early humans.  This was not done for the purpose of lifting us up to their level, but rather to create an entire race of slaves, to further their unholy agenda.  Now, all of this did not just happen in a vacuum so to speak; as there exists a kind ofconfederation of sentient, space-faring races in this galaxy.  Just as in star trek these various races sometimes are at cross purposes, and conflict ensues.  The ancient Indian text the Mahabharata relates the story of a massive war fought in the skies by star beings in flying ships called Vimanas. There were descriptions of terrifying  weapons sounding exactly like nuclear explosions…in ancient India
Some of the accompanying artwork leaves very little to the imagination as to what the story was referring to.  The point is I guess that some of these races seek to do whatever they wish at all times, and other races resist them when possible.  Turf is carved out, boundaries established and rules of engagement agreed to.  In the beginning this confederation of races decreed that Earth should be left alone to develop however it would, but the Archons had different ideas, and pushed the issue.  We of course have all come to know of races such as the Pleiadeans and Arcturians who seem to be peaceful, advanced and benign, and yes, they also operate upon this planet on this plane of existence, mostly as allies to us beleaguered earth folk.  Unlike the Archons, these other races tend to play by the 'rules' and are thus unable to just step in, although I cannot for the life of me see how doing so could possibly make things worse than they are now.                                                                         The reason the Pleiadeans and Arcturians don't come rolling in to kick some Archon ass is because of the universal law of non-infringement which demands non-involvement unless certain conditions exist.  I am fairly certain that one of those provisos is that we humans stand up for ourselves, and begin the fight.  How can we realistically expect these older, more advanced races to come to our aid when we won't do so ourselves? Kind of a good question, huh?  Makes sense too!  Maybe in the silence at the heart of things, if we don't rise up in defense of ourselves and our home world we don't deserve to keep it??  Let us not overlook what I think is a very key issue, a single question; why have the Archons worked so tirelessly to fool, deceive and hoodwink us?  To my mind it would have just been way easier to show up seventy or a hundred years ago and just take the place by sheer force, wouldn't you think?  So why all the bullshit matrix holographic reality crap, why all the tricks & mind games?   What if this is the only way they could take us over, by manipulating our emotions, brains and reality?  What would the Archons do if everyone suddenly saw them for what they are and began kicking some ass?  Is it conceivable that is something they cannot deal with?  I think it may be possible.  I think the Archons have pulled a galactic "Fonzie" maneuver on us, and we bought it just like Ritchie Cunningham.   What is the Archon agenda?  To answer that question you have only to take stock of everything you see going on around you in the world today.  As Jeff Rense concluded in a recent video, "We are being attacked from all sides."**  This presentation really sums it all up in one rather nasty eye opener, and is a must see in my humble opinion.  The Archon agenda can still be stopped because what they fear the most is exposure &disclosure…they can only win if we do nothing and give them what they want.  When you look at it realistically we really have no other option but to stand up and fight like only humans can because we already know what the Archons have in store for us if we don't. So what do we have to lose by picking a fight?  What's the worst that can happen?  I don't know about the rest of you out there but I would rather fight like hell and lose than just roll over & play dead.
Maybe the genes needed for that kind of courage have been bred out of us by our Archon overlords over the generations, leaving us with just enough to be efficient at killing each other over resources and treasure.  Perhaps we cannot exceed the limits of the genetic engineering which originally spawned our particular race of beings to be slaves, maybe it's expecting too much; they tell me I do that a lot.  I am not about to lower my expectations of humanity to comfort its deafening silence over these issues.  You see, we are made of sterner stuff than we think, and the Archons know that, and keep it from us at each turn of the screw.  Look around you…wouldn't you say humanity as a whole is behaving with a slave mentality…just like the elephant thinks he cannot roam free when tied to a lawn chair!  We have been conditioned and programmed to be passive, and submissive to authority for generations, and it's a hard thing to break free from, but not impossible.  We must try.
I know this does not paint a pretty picture to match with humanities residual self imagebut remember, "I only said it would be the truth."  Of course we don't want to believe that we were genetically engineered to be a slave race.  It revolts us to think that we have been slaves for generations, and will continue to be until the moment of our final breath. Our ego resists such thoughts and immediately dismisses them, and that might be OK until you pause to remember who it was that created and fed that ego…who conditioned it to think a certain way?
The truth is that we are stronger than that.  Humans have a strength these Archon parasites lack, its why they are here doing all this crap in the first place, it's their plantation and they're harvesting what they need from all of us.  Trouble is, the game has been running for so long parts are breaking down, revealing the darkly sinister machinations behind the facade of the illusionary world pulled over our eyes.  The slaves are waking up right on schedule at the end of the Kali Yuga, awakening to find that while humanity slept; parasites invaded, trying to steal our world away, and our very souls along with it, a package deal.  If the Archons had the wisdom of the Maya or the faith of Quan Yin then they would just know that you cannot hijack the eternal order of procession.  They would understand that as humans we are merely a physical manifestation, a vehicle as it were for a timeless, ageless, undying spark of Christ consciousness, and as such can never be enslaved, without our consent.
Once fully awakened and aware of the dire straits we are now navigating, the children of the fifth sun will unite with a single voice, a single purpose; and rise up in a furious rage against those who would be our masters for eternity.  Those who cannot abide the light of day exposing their agenda cannot stand against us once we are ONE, which of course is an anagram for NEO, because in this matrix, each of us has to be Neo.  Every one of us who knows the truth of this matter needs to pick up our light and join the fight.  Others have been fighting for us for decades, and when those warriors fall, it diminishes us all. The world seems a colder, more distant place without them…as it seems this night. The truth lays bare before us, we are out of time, and we can see what needs to be done. Yes, it's a decidedly nasty job that will throw lives into upheaval and chaos.  This struggle for the future of humanity will ravage us to the core and shatter most of our strongest held beliefs, let it!  Most of those beliefs are either backwards, or lies anyway so have done with them and rise up!  You can bet your paycheck that the Archons won't just pack up and leave without a fight, and they have avoided that fight because they know they can't win it!  Does that give you any ideas??
The only way the Archon agenda can prevail is if we fail to rise up to our highest potential, and aren't you tired of all the help the Archons give us in that regard?  These guys are cheap bullies because they use advanced mental abilities to accomplish mind control.  If you should ever encounter an Archon, he may well try to 'hypnotize' you by getting close and gazing directly into your eye.  The way to defeat that tactic is to stand your ground, and project all the love you can muster as you gaze directly into the Archon's left eye!  By doing this, you prevent him from taking control of your mind.  I know what you are thinking, and you are right…it takes a certain kind of courage to stay that cool in a face to face encounter, if it helps, just remember he fears you!  That is the key!! I don't go off chasing UFO's any more as I did in my earlier years for the same reason folks give up chasing tornadoes.  You get the same exact thrill every time you see one, but sooner or later your luck might just run out.  When you know that what is flying the craft you are seeing is dark and sinister, it takes a bite out of the thrill and replaces it with foreboding.  I can do without that feeling, don't much care for it.  Still, when you least expect it you catch a glimpse of another ship every so often.  For me the thrill of seeing them has been replaced by the constant reminder of who really controls events, and lives on this planet.  A real buzz kill to be sure.
 So, follow the bread crumbs, perform your due diligence, and decide for yourself which reality is real, and whether you will have the red, or blue pill.
[youtube https://www.youtube.com/watch?v=KfIALkA8tAU]
[youtube https://www.youtube.com/watch?v=U-RUEuHzdo4]
[youtube https://www.youtube.com/watch?v=su4lKL-uX_Q]
[youtube https://www.youtube.com/watch?v=loCoTx99yAg]
The Man Who "Hacked" NASA & The AFSPC Gives A New Interview Describing What He Found
The Facts:Nearly two decades ago, Gary Mckinnon of the UK accesses nearly 100 NASA and Department of Defence, including the US Air Force Space command. He faced extradition for 10 years after finding a picture of a UFO and a list of "non terrestrial officers."
Reflect On:How sheltered are we from certain information? Has 'national security' simply become an excuse to keep information concealed from the public to protect corporate and government interests?
The field of UFOlogy has long been muddled with disinformation campaigns and bad journalism, and sometimes this journalism includes infiltration efforts by intelligence agencies themselves. This is clear given the fact that intelligence agencies have a direct relationship with journalists and mainstream media outlets, as there are declassified documents showing so. Operation mockingbird is a great example, not to mention all of the mainstream media journalists who have come out and said that mainstream media is directly influenced by intelligence agencies, governments and corporations. You can find some of these documents and see examples of these whistleblowers in two previous articles I've published that go into more detail here, and here. When it comes to UFOs, we know that they're real, but we also know that along with that reality there has been "an official campaign of ridicule and secrecy." (Ex-CIA Director Roscoe Hillenkoetter) Perhaps this ridicule campaign carries on today through some rather ghastly, unbelievable claims, but let's not let that mask the fact that this phenomenon is indeed real, and there are a plethora of credible sources including documents, data, physical evidence, and more suggesting we're not alone, and that we probably are being visited and have been visited by intelligent extraterrestrial beings from other worlds and possibly other dimensions.
A lot of this evidence has come from UFOlogist Richard Dolan, who has always been a key resource for me with regards to accessing credible information about the UFO phenomenon. I find that it's important to seek out proper researchers who share information in a credible and verifiable way, especially about a subject that can so easily be ridiculed when you are trying to reach the masses who don't have much knowledge about it, but are genuinely curious. I also feel that my generation of UFO researchers lack proper research and investigative skills, are easily influenced and swayed, and in the age of social media are simply trying to share whatever they can, no matter how credible, to simply 'stay relevant,' instead of doing it for the love and genuine desire to share important, truthful information.
Like I said, there are some rather 'outside the box claims' out there that have absolutely no credibility behind them, and to share those actually does more disservice to the movement, in my opinion. On the other hand, there are some very outside the box claims and information that do indeed have tremendous amounts of credibility behind them, and these are the ones we should be paying attention to.
One example comes from the case of Garry McKinnon, who for 10 years was in great danger of extradition to the United States for accessing nearly 100 NASA and military computers including the United States Space Command. This was the real deal, and HERE is a clip of Obama and the UK Prime Minister at the time fielding a question about Garry, this breach made headlines new.
Gary was able to access these computers in real time and view files on them. He found some startling pictures, one in particular was of a large cylindrical shaped UFO hovering in space, in addition to a strange spreadsheet document with a list of "non-terrestrial officers," presumably belonging to a publicly unacknowledged branch of the United States military operating in space, as well as "fleet to fleet" transfers of materials, whatever that means.
I'll let you listen to the interview below for more details straight from Garry McKinnon's mouth, via Dolan's Youtube Channel, where he also describes a high-resolution photograph, taken from space, of a smooth, cigar-shaped craft.
The Real Secret Space Program
Is there a secret space program, and have clandestine groups been reverse engineering ET technology?
Dr. David Clarke is an investigative journalist, reader and lecturer at Sheffield Hallam University in England. He was also the curator for The National Archives UFO project from 2008–2013, and regularly comments in national and international media on UFOs.
These documents reveal how the RAF expressed great interest in finding UFOs.
Dr. Clarke told The Daily Mail,
Even though they have been partly censored they can't conceal the fact the UK military were interested in capturing UFO technology or what they coyly refer to as 'novel weapon technology'… And the files reveal they were desperate to capture this technology – wherever it came from – before the Russians or the Chinese got hold of it first…. Although this was 1997, Russia was still regarded as an undefeated enemy with a weapons programme regarded as a threat to the West.
The question is: Did they get one? More on that later…
The military personnel who are encountering these phenomena tell remarkable stories. In one example, over the course of two weeks in November 2004, the USS Princeton, a guided-missile cruiser operating advanced naval radar, repeatedly detected unidentified aircraft operating in and around the Nimitz carrier battle group, which it was guarding off the coast of San Diego. In some cases, according to incident reports and interviews with military personnel, these vehicles descended from altitudes higher than 60,000 feet at supersonic speeds, only to suddenly stop and hover as low as 50 feet above the ocean. – Christopher Mellon, former Assistant Secretary of Defence
We don't know the answer to these questions, but we do know that the United States has a history of government agencies existing in secrecy for years. The National Security Agency (NSA) was founded in 1952, and its existence was hidden until the mid 1960s. Even more secretive is the National Reconnaissance Office, which was founded in 1960 but remained a secret for 30 years.
We are talking about Special Access Programs (SAP). From these we have unacknowledged and waived SAPs. These programs do not exist publicly, but they do indeed exist. They are better known as 'deep black programs.' A 1997 US Senate report described them as "so sensitive that they are exempt from standard reporting requirements to the Congress."  (source)
We also know that there is a black budget to fund these programs.
HERE is another great discussion with Dolan titled "Secret Space Program, Real Evidence."
Are These Objects Extraterrestrial?
There are literally hundreds of people with extensive academic, political and military backgrounds, all the way to astronauts, who have been blowing the whistle for a very long time.  Many scientific publications have also been made throughout the years describing strange and radar confirmed military sightings by military pilots. You can see some evidence and documentation from this article I wrote regarding the Chilean Air Force.
According to Herman Oberth, one of the founding fathers of rocketry and astronautics, "flying saucers are real and . . . they are space ships from another solar system. I think that they possibly are manned by intelligent observers who are members of a race that may have been investigating our Earth for centuries." (Oberth, Hermann: "Flying Saucers Come from a Distant World," The American Weekly, October 24, 1954)  (source 1)(source 2)
""We have, indeed, been contacted — perhaps even visited — by extraterrestrial beings, and the US government, in collusion with the other national powers of the Earth, is determined to keep this information from the general public."
–Victor Marchetti (Second Look, Volume 1, No 7, Washington, DC, May, 1979)
Another great quote:
"There are objects in our atmosphere which are technically miles in advance of anything we can deploy… we have no means of stopping them from coming here… there is a serious possibility that we are being visited and have been visited for many years by people from outer space, from other civilizations… This should be the subject of rigorous scientific investigation and not the subject of 'rubbishing' by tabloid newspapers."
– Lord Admiral Hill-Norton, former Chief of Defence Staff, 5 Star Admiral of the Royal Navy, Chairman of the NATO Military Committee
The point is, if you believe some of these objects are indeed extraterrestrial, you are not alone. Couple these statements with the claims of thousands of individuals who have had contactee and abduction experiences who've shared remarkably consistent stories, it's definitely a plausible hypothesis for the UFO phenomenon.
The Takeaway
What are the implications of extraterrestrial contact? Humanity will always go through paradigm shifting realizations that will jolt human consciousness. Right now, we have a lot of work to do here on Earth, and we should be focusing on cleaning up our planet and ridding it of greed, destruction, war, etc. I feel that the ET reality is somehow connected to that realization, and the need and urgency that many of us feel regarding the planet and service to others.
What about you?
Stephen Bassett explains why NASA hides the truth
Explaining why NASA is allegedly forced to cover up the existence of space aliens, Stephen Bassett argued that ending the "truth embargo" on this issue would greatly benefit the space agency.
Explaining why NASA is allegedly forced to cover up the existence of space aliens, Stephen Bassett argued that ending the "truth embargo" on this issue would greatly benefit the space agency.
Stephen Bassett, the man who has long campaigned for the government to end its alleged embargo on the truth about extraterrestrial life, has recently claimed that NASA essentially has its "hands tied" when it comes to concealing UFO appearances, the Daily Star reports.
Commenting on the instances of the International Space Station live feed being cut, which a number of conspiracy theorists attribute to alien spacecraft allegedly popping up in the frame, Bassett argued that the US space agency is not actually a "bad guy" here.
"It's them essentially obeying the law, which is what the National Security Act is, and simply not doing anything which would, quote, endanger the truth embargo because under the act of national security it has to remain", he explained during a chat with the media outlet."
Bassett went on to elaborate that by the time NASA was established in 1958 via the Space Act, the US government was allegedly well aware of the existence of "extraterrestrial presence" and thus knew that these phenomena might be encountered by the civilian space program.
"And so what the government did, what congress did, was to put a clause in the Space Act right there up the front that says anything which involves national security, deemed to be national security matters, that NASA encounters will be completely turned over and deferred to the Department of Defence and NASA will say and do nothing", he said, adding that therefore, "NASA has been between a rock and a hard place" since 1958.
Therefore, Bassett argued, ending the alleged "truth embargo" on the truth about the existence of aliens "will be a massive boom for NASA."
"First of all, the burden of having to maintain this posture, essentially a blind posture, will be gone and the interest in space and space research will expand and explode and NASA will be the recipient of that. And so they will be throwing some serious parties at various NASA facilities around the country the day after the head of state finally confirms the ET presence," he surmised.
(Source)
Russian astrophysicist states: "Extraterrestrial beings are using self-replicating probes to explore the Earth and the whole galaxy"
One of the questions that scientists usually ask is where all the aliens are in a galaxy full of planets; why hasn't another civilization contacted us yet?
An astrophysicist has a revolutionary answer to this question: extraterrestrials are already here. Zaza Osmanov, of the Free University of Tbilisi in Georgia, suggested in a new study that a race of extraterrestrial beings is using self-replicating probes to explore our galaxy, including the Earth.
He says that a civilization that has reached stage 2 of the Kardashev scale, a level above us, would be fully capable of producing a fleet of Von Neumann probes. Von Neumann's probes, small self-replicating robots that collect resources from planets and asteroids to build new copies of themselves, would quickly saturate the galaxy. And the probes would make a bee line for an obvious candidate like the Earth.
"All the results indicate that if a foreign object with extremely high values ​​of higher brightness is detected, it could be a good signal to place the object in the list of candidates for Von Neumann's extraterrestrial probes," Russian astrophysicist wrote in a new scientific article.

"We have considered the scenario in which type II civilization must" invade "interstellar clouds through self-reproducing robots," he continued. "And it has been shown that this process will inevitably lead to the consequences of observation."
But when it comes to explaining why we haven't seen this fleet of probes, Osmanov has a new and totally plausible theory: the probes are much smaller than the eye can see. Or they are equipped with Stealth shielding, invisible to the human eye and military radar.

He says that nanotechnology is the obvious choice for building a probe that moves quickly, builds itself quickly and adapts to a wide range of possible landing sites: "We analyzed the efficiency of Von-Neumann probes in the microscale compared to macro robots and found that the former could (reproduce) efficiently in interstellar media, while large-scale automata can only be replicated on rocky planets, this requires further maneuvers ".
Even if there were billions of these little machines sneaking into the solar system, we couldn't detect them with our current equipment. Each would have a size of about one nanometer, or only a billionth of a meter.
But although micro machines are almost invisible because of their size, Osmanov says there may still be a way to detect them. If by chance these probes work with light, they could emit small amounts of light as they travel through space. If you observe using infrared telescopes, these luminous currents would appear as the "trails" left by comets.