The Ancient Origins of the Control System Explained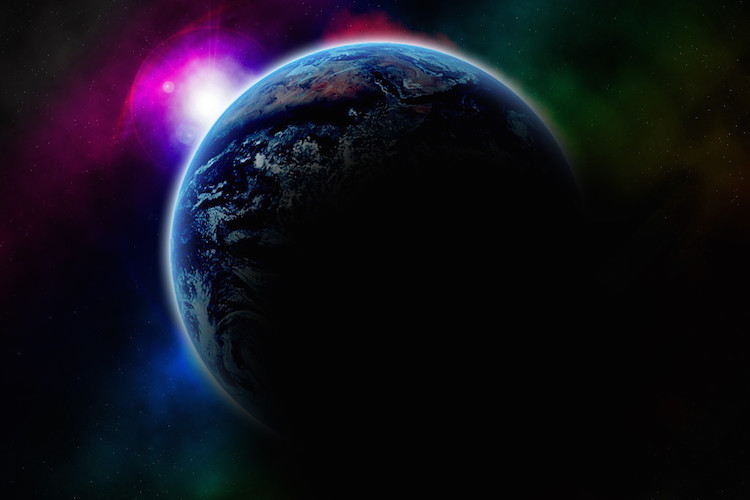 "We are infinite awareness, capable of multiple realities, and perceiving multiple realities." ~David Icke
Very few are willing to talk openly about the true nature of the control system sinking its teeth into planet earth. The story goes far beyond just some greedy executives turning profits by raping the planet and waging endless wars. There is something much darker happening here, and your awareness and personal transformation has never been more important than right now.
It's not the puppet presidents, or the here-today-gone-today members of congress and parliament, and it's not the big shots who sit around at the United Nations. There is something else out there and when you look at deep field images from NASA, it's hard to image that we're alone in this universe.
In an excerpt from one os his all-day talks, David Icke asks, 'who or what is ultimately behind all this?' Icke has been speaking of these forces for many years, unafraid to discuss the ancient origins of the Archon and Reptilian forces influencing humans on earth.
"The idea that we just operate in isolation of everything else is, for me, crazy. This reality that we are experiencing has been hijacked by a force that some ancient people called Archons, but, there's different names right across the ancient world, for the same force, the same entities." ~David Icke
Watch this excerpt here:
About the Author
Vic Bishop is a staff writer for WakingTimes.com and OffgridOutpost.com Survival Tips blog. He is an observer of people, animals, nature, and he loves to ponder the connection and relationship between them all. A believer in always striving to becoming self-sufficient and free from the matrix, please track him down on Facebook.
This article (WATCH – The Ancient Origins of the Control System Explained) was originally created and published by Waking Times and is published here under a Creative Commons license with attribution to Vic Bishop and WakingTimes.com. It may be re-posted freely with proper attribution, author bio and internal links. 
9/11 Entire Pentagon With Missile Impact
Now, since I've been researching into September 11th, 2001, I've noticed peculiar things about the Pentagon that are very interesting like the Pentagon confiscating the video from the gas station across the street, and the video from a hotel had their video confiscated as well. That was the rumors online anyway.
The gas station ended up suing to retrieve their video. Now, the Pentagon has many videos outside focused in on the parking lot and other aspects surrounding the building. Supposedly, there are 86 outside cameras. Only one 5 frame video was released to the public, and it barely showed a plane.
The gas station ended up suing to retrieve their video. Now, the Pentagon has many videos outside focused in on the parking lot and other aspects surrounding the building. Supposedly, there are 86 outside cameras.
Only one 5 frame video was released to the public, and it barely showed a plane. Many people wanted the Pentagon to release the other security tapes that was shot outside of the Pentagon. Well, that never happened.
Now, why would they confiscate video from the Gas Station from across the street on 09/11/01? Of course, they also confiscated video from the Sheritan National Hotel as well from what people have reported online. Why confiscate their surveillance videos?
Don't they have enough cameras at the Pentagon. Was the confiscation of these videos to cover up their tracks? I guess we may never know now. "Cover Ups" seem to become an every day occurrence these days.
Eric Griffiths via quro reports:
Eyewitness accounts are contradictory; it must be up to you to decide which to believe. The most credible seems to be that of Samuel Danner (TOTAL 911 INFO):
When he was in front of the Pentagon, traffic began to slow down. Danner noticed an airplane in the distance. He knew about the attack on the WTC, and he pulled over and got out of his car. He noticed a small aircraft in the distance coming towards him […] A couple seconds later the […] aircraft passes in front of him. He describes it as a white aircraft about the size of Gulfstream 300. The front was like a humpback whale. It was flying very low to the ground […] There was only one engine, and it was in the tail.
He is describing a military UAV, the Global Hawk: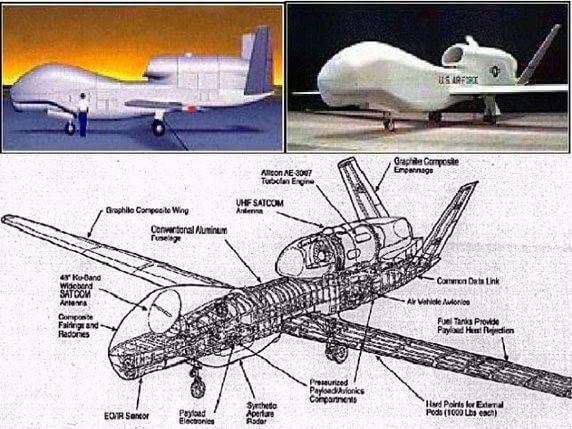 Furthermore:
He describes it as a white aircraft about the size of Gulfstream 300. The front was like a humpback whale. It was flying very low to the ground… There was only one engine, and it was in the tail… As other witnesses have said, the airplane seemed to be under perfect control. He did not notice any windows on the plane… He felt the air move as the aircraft flew by, but the aircraft was amazingly quiet… He saw some of the light poles that had been hit by the aircraft, but they seem to have fallen in the wrong direction, as if explosives knocked them down… Danner walked onto the Pentagon property to help the survivors, but he didn't find any bodies or luggage… He joined the people who picked up scraps (see the photo at the top of this page)… One of the other people assumed they were picking up scraps only to make it appear as if they were doing something useful; ie, in order to impress somebody important… All they found were bits of shredded aluminum and some type of polymer material with fibers… He saw tiny bits of aluminum, a few large pieces, and only one engine… (9/11 Pentagon Eyewitness Describes Having Seen Global Hawk *PIC*)
Insofar as video etc. is concerned, this is the most interesting I have found:
The damage to the Pentagon was also inconsistent with a 757 hitting it:
You might also want to ask yourself why there is no wreckage at the site of UA Flight 93 in Pennsylvania:
Or why Flight 175 can visually be identified as a military version of the 767 (New York Magazine) Or the dismissed, multiple, credible reports of multiple explosions being heard at the WTC before the planes struck. Or how jet fuel doesn't burn hot enough to melt steel, yet the Twin Towers collapsed at a rate approaching free fall.
Or whatever happened to WTC 7, which, like the Twin Towers, appeared to collapse as though by controlled demolition, hours after the Twin Towers went down, without being struck by anything (BTW, the official 9/11 Commission report doesn't even mention WTC 7.)
— And so on and so forth.
Disclaimer
The opinions expressed in this publication are those of the authors. They do not purport to reflect the opinions or views of the Anonymous or its members.
Faking The Moon Landing Isn't The Conspiracy, It's What Really Happened When We Got There
Did we really go to the moon? Yes, we definitely did. However, our research shows that many of the photos and video footage were faked.
"There are great ideas undiscovered, breakthroughs available to those who can remove one of truth's protective layers. There are places to go beyond belief."
– Neil Armstrong (source)
It wasn't long ago that the Russian government called for an international investigation into the U.S. moon landings regarding missing samples and photos not released to the public. This created a new wave of interest into what really happened when the U.S. went up there, and led some to question if they even went there at all. The topic is filled with a number of interesting facts and statements from credible people that make one thing abundantly clear: Something fishy is happening on the moon, and we're not being told about it.
This uncertainty has been made apparent by various sources, which include multiple Apollo astronauts, academics, and high-ranking military whistleblowers, not to mention official photos taken by NASA. According to Bob Dean, a United States Army Command Sergeant Major who also served at the Supreme Headquarters Allied Powers Europe (SHAPE) of NATO as an intelligence analyst, more footage exists, erased and hidden all these years, which we have never been told about:
Ladies and gentlemen, my government, NASA, which many of us in the United States say stands for Never A Straight Answer, proceeded to erase 40 rolls of film of the Apollo Program — the flight to the Moon, the flight around the Moon, the landings on the Moon, the walking guys here and there. They erased, for Christ's sake, 40 rolls of film of those events. Now we're talking about several thousand individual frames that were taken that the so-called authorities determined that you did not have a right to see. Oh, they were 'disruptive,' 'socially unacceptable,' 'politically unacceptable.' I've become furious. I'm a retired Command Sergeant Major. I was never famous for having a lot of patience.
We will get into more intriguing facts later in the article. More points will be made about why so many people are starting to wonder if there is, or was, an alien presence on the moon. These points make it easier to consider the lore that surrounds the moon landing. Perhaps one of the most interesting points is what Neil Armstrong communicated to Houston when we landed on the moon.
According to multiple sources, after landing, the Apollo astronauts transmitted that they were being watched by enormous extraterrestrial vehicles.
Where Does This Claim Come From?
One source is Dr. Steven Greer, founder of The Disclosure Project and The Center for the Study of Extraterrestrial Intelligence (CSETI). Greer was responsible for bringing forth high level military whistleblowers from all ranks to testify about the UFO/extraterrestrial phenomenon. He's also had high level meetings within the Pentagon about this issue, which was verified by Apollo 14 astronaut and 6th man to walk on the moon, Dr. Edgar Mitchell, in Greer's film Sirius Disclosure.
Edgar is one of multiple NASA astronauts who have made some eye-opening comments about the extraterrestrial presence.
According to Greer, from a blog post a couple years ago (and if this link doesn't work, you can check out a video of him speaking about the experience here):
Close friends and very close family members of both Neil Armstrong and Buzz Aldrin have separately told me that indeed there were numerous, large UFOs around the crater where the Lunar Module landed and that these were seen by both Armstrong and Aldrin. I have also spoken to military officers that have seen the footage of this event- but it has never been made public. One close family member of Buzz Aldrin told me "It is not my place to out Buzz on this- someday if he can speak about it, he will…

Neil Armstrong became somewhat of a recluse after the moon landing, and rarely spoke of the historic event. His friends and family have told me that this is because he was a man of such integrity that he simply did not want to be put in a position to lie to the public about such a momentous encounter. How tragic that our heroes have been placed in this untenable situation!
When we were organizing The Disclosure Project a few years ago, I asked one of Neil Armstrong's friends if Armstrong would come to Washington to brief members of Congress at the 1997 Congressional briefing we organized in April of that year. I was told that Armstrong wished he could –but that if he spoke about what really happened during the moon landing, that Neil Armstrong, his wife, and children would all be killed. It was put to me this bluntly.
Another source is former NASA employee Ken Johnston. Johnston was a Boeing engineer and a former fighter-jock and test pilot for Grumman Aerospace. He was also a marine and an F-4 pilot, as well as a NASA employee, working as the chief Lunar Module test pilot at the Manned Spacecraft Center in Houston. According to James Oberg, a U.S. space journalist, UFO skeptic, and space historian, "Johnston seems to be a sweet human being who did honorable service to his country in the military and in the Apollo program."
Above is a picture of him wearing his gear, taken from a documentary in which he appeared that also featured Buzz Aldrin and other notable NASA colleagues. In the documentary, he reveals: "While Neil and Buzz were on the Lunar surface, Neil switched to the medical channel, and spoke directly with the chief medical officer saying, they're here, they're parked on the side of the crater, they're watching us." (Source: 34 second mark)
Johnston is referring to a story put out by former NASA employee Otto Bender. According to Dr. Michael Salla, PhD., on a post written on his website, Bender confirmed that HAM radio operators had intercepted these VHF signals that were transmitted from Apollo 11, the ones that were kept from the public.
Apparently, this is how it went:
Mission Control: What's there ? Mission Control calling Apollo 11.
Apollo 11:  These babies are huge, sir … enormous….Oh, God, you wouldn't believe it! I'm telling you there are other space craft out there… lined up on the far side of the crater edge… they're on the moon watching us.
To the right you will see a picture of William Tompkins and Admiral Larry Marsh. As a teenager Tompkins had an
 eye for detail and loved to create Navy ship and submarine models. The Navy took interest in his capabilities and recruited him to do work on advanced technology projects. Recently, he has come forward with claims, as many others have, about clandestine Black Budget operation programs.
The Landing Module (LEM) actually impacted the Moon surface in the Sea of Tranquility Crater, which had tremendous size vehicles parked around part of its rim. When astronaut Neil Armstrong made that First Step for Man on the Moon he looked up to the edge of the crater and said to mission control: "There are other ships here, they are enormous. The public did not hear that statement or see the massive alien starships. Armstrong panned his camera in a 360 degree motional all around the crater and the CIA then classified the information as way above top secret.
Another source for this story comes from Timothy Good, one of the world's leading UFO researchers, who has lectured at universities, schools, and many organizations, including the Institute of Medical Laboratory Sciences, the Royal Canadian Military Institute, the Royal Geographical Society, the Royal Naval Air Reserve Branch, the House of Lords All-Party UFO Study Group, and the Oxford and Cambridge Union societies.
He says that a former member of MI6 revealed her conversation with Neil Armstrong at a NASA conference, when he confirmed there were "other" spacecraft on the Moon when Apollo 11 landed in 1969. Armstrong also confirmed the CIA was behind the coverup. He also goes into more detail about it in this 2013 lecture.
So you see, this story has many different sides to it, and given all of the information that's now available in the public domain regarding UFOs and extraterrestrial life, it's really not hard to believe, especially when we already have some compelling information about the moon.
Why the Above Story Could Very Well Be True
Maurice Chatelain, whose expertise allowed him to invent radio equipment used to go to the moon (here is an example of one of his twelve patents), has revealed that "at no time when the astronauts were in space were they alone. They were under constant surveillance by UFOs."
This statement has been packed up by several astronauts, one of them being Dr. Edgar Mitchell, the 6th man to walk on the moon: "Yes there have been crashed craft, and bodies recovered. . . . We are not alone in the universe, they have been coming here for a long time. I happen to be privileged enough to be in on the fact that we have been visited on this planet, and the UFO phenomenon is real." (source) (source) (source)
It's not only agency astronauts, but agency insiders as well. For example, Dr. John Brandenburg, the Deputy Manager of the Clementine Mission to the Moon, which was part of a joint space project between the Ballistic Missile Defence Organization (BMDO) and NASA, has also made some fascinating revelations. The mission discovered water at the Moon's poles in 1994 (Source: page 16 of 18)(source)(source). But, according to Brandenburg, the Clementine Mission had an ulterior agenda:
[The Clementine Mission was] a photo reconnaissance mission basically to check out if someone was building bases on the moon that we didn't know about. Were they expanding they expanding them? . . . Of all the pictures I've seen from the moon that show possible structures, the most impressive is a picture of a miles wide recto-linear structure. This looked unmistakably artificial, and it shouldn't be there. As somebody in the space defence community, I look on any such structure on the moon with great concern because it isn't ours, there's no way we could have built such a thing. It means someone else is up there.
George Leonard, a NASA scientist and photo analyst, has obtained a number of official NASA photographs of the Moon, which he published in his book Somebody Else Is On The Moon. Although the photos are small and their resolution poor, they show details of original, massive prints. Far more compelling than these photos, then, are his verified NASA credentials and his statements about what was found on the Moon. And he's not the only one with a credible background trying to tell the world the truth about the Moon and the photos that were taken from the Apollo missions.
Dr. Norman Bergrun, a mechanical engineer who worked for Ames Research Laboratory, NACA (National Advisory Committee for Aeronautics), and Lockheed Missiles and Space Company, now known as Lockheed Martin, has accused the agency of "garbling" photos the agency does not want the public to see. He has also stated there are a number of large UFOs out there. You can view some of his publications for NASA, where he worked for more than a decade, here, and watch that interview here.
There are also studies to consider. Members of the Society For Planetary SETI Research (SPSR) have recently published a paper in the Journal of Space Exploration about certain features on the far side of the moon that appear in the crater Paracelsus C. Titled "Image Analysis of Unusual Structures on the Far Side of the Moon in the Crater Paracelsus C," it argues that these features might be artificial in origin, meaning someone other than a human being built them and put them there. You can read more about that here.
"Shortly after I retired from the Air-Force, and I still was maintaining contacts with friends and associates at the various bases and one Col Parker in the Air Defence Command, the Space Command . . . mentioned an incident which I later confirmed. A spacecraft went to the rescue of Apollo 13, and they accompanied Apollo 13 on their voyage around the moon and back to Earth, and on two occasions they thought they might have to transfer the crew to their spacecraft. But they saw them safely back to the Earth."
The quote above comes from Colonel Ross Dedrickson, who, in the 1950s, was responsible for maintaining the inventory of the nuclear weapon stockpile for the AEC and accompanying security teams checking out the security of the weapons, among many other duties throughout his career. It was taken from the interview below.
He is one of hundreds of military whistleblowers to give some very interesting testimony.

Contrary to popular belief, reports of artificial structures on the moon are both common and persistent. Among the first were from George Leonard's 1976 book, Somebody Else is on the Moon, and Fred Steckling's 1981 book, We Discovered Alien Bases on The Moon.
Watch This Secret Video Before NASA Deletes It…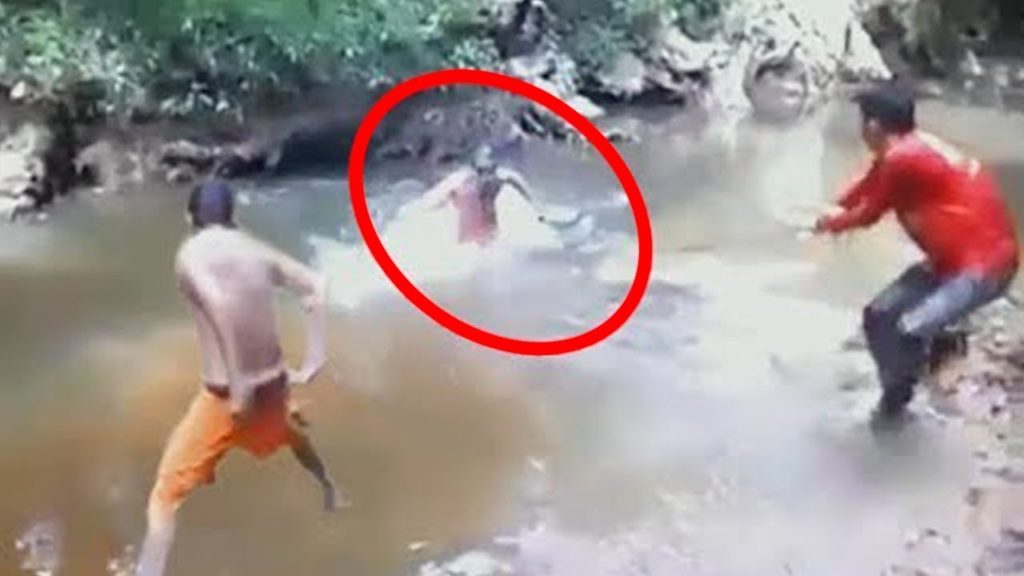 How much do you know about outer space? Whatever the answer to that may be, unless you work for NASA we're gonna go ahead and guess that you may not have all the answers about what's really out there. But that's ok! Because today, we got you covered. So, without further a do Top 5 Supreme is bringing you Watch This Secret Video Before NASA Deletes it! Be sure to watch this video to the end, because number 1 on this list will definitely surprise you. Before we begin with today's video, don't forget to click the bell to get notified every single day with the best Tops you'll ever see! Also, don't forget to subscribe to this channel! So without waiting for anything else, let's get rolling!
#5 Apollo 11 Missing Tapes
Neil Armstrong and Buzz Aldren were the first men to land on the moon, and they did it on July 20 1969. The people of America were ecstatic because it appeared as if the United States had won the space race, and were the first country to land on the moon. The event was broadcast live on television, until one day the tapes just went missing. That's right, in the early 2000s this important piece of history just disappeared. Some people thought that the tapes had ended up just shipped to another facility, while others suggest that these specific tapes were just a couple out of over 700 NASA tapes that were inadvertently erased. We'll let you be the judge of what you think happened.
#4 No Life Insurance
Continuing with the Apollo 11 astronauts. . . some would be sad to hear that these brave and fearless pilots were denied a basic, working right – life insurance. These people had families. Kids. Wives. So with that understanding these government employees had to come up with something quick – and they did. Signing autographs. By the time the mission to the moon was announced to the public, the pilots were already famous. So they started signing autographs and sending them home, so that in the event that the pilots didn't return then they're families could sell the signatures. Fortunately the pilots made it home safe, but if you're lucky enough to have one of those autographs you can likely sell it for close to $30,000.
#3 Whale Oil Powers Telescope
Another rumor that NASA has dealt with over the years is the fact that most people believe they used whale oil to power the hubble space telescope. The reason NASA may have used the whale oil is simple; it can stand below freezing temperatures and can tolerate the harsh space conditions better than anything else, however, NASA never said whether or not those rumors are true. And for good reason, as who would be happy about that?
#2 James Webb Space Telescope
What takes over 20 years to make and billions of dollars to construct? A space telescope. A very, very large space telescope. The James Webb Space Telescope – which still isn't finished – has come under a lot of scrutiny. It has a mirror on it that is 7 times larger that the one that came before it, but supposedly will be powerful enough to extend the viewing power of the previous largest telescope, the Hubble. Many question whether or not the time and money spend to erect such a large piece of equipment is worth it. Like I said, this thing has cost billions of dollars to make, and won't be ready until October of 2018. No word on how they plan on actually launching this thing, but I think it's safe to say that we'll all have our eyes to the sk the day the James Webb Space Telescope is launched.
#1 Being an Astronaut is Very Hard
You may recall your mom or dad telling you that you can be whatever you want when you grow up – but I think that statement should be amended to say 'except for an astronaut'. According to reports the highest qualified candidates have just a zero point 8 percent chance of actually becoming an astronaut. And then if you are selected, you have a high chance of contracting depression once you return home, as that unfortunately is a likely side effect after returning home. And that is today's list! Thanks for watching today's video. If you like this list, leave a thumbs up and share with all of your friends! And don't forget to subscribe to this channel so you never have to miss out on any of our interesting video sever again!
Video:
Source: Top 5s Supreme ~ YouTube