The Amazon Rainforest Fires Turned Day Into Night in Brazil's Largest City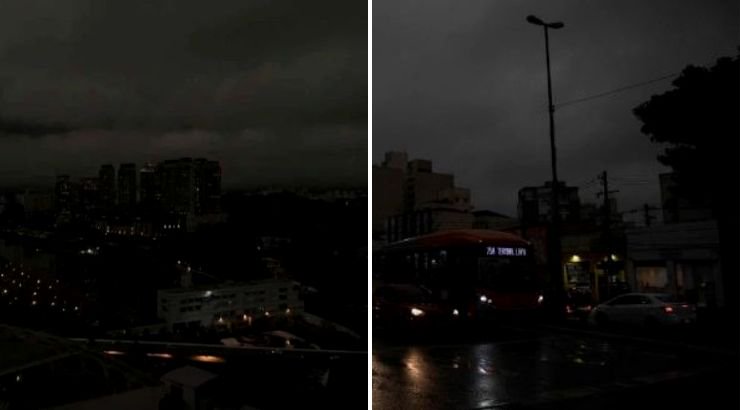 Elias Marat, The Mind Unleashed
Waking Times
Brazil's largest city was plunged into darkness earlier this week in the middle of the afternoon thanks to the massive fires that continue to wreak devastation on the Amazon rainforest as the country struggles with a record number of fires.
São Paulo's skies were blackened for roughly an hour at around 3 p.m. Monday due to raging fires throughout the region and weather conditions that pushed particulate matter over the city, setting off intense speculation on social networks about the reason why the day was seemingly transformed into night.
Videos and images posted by local residents depicted disturbing scenes of pedestrians walking under black skies and cars driving in the mid-afternoon with their headlights on as the continued fires throughout the Amazon rainforest drove the hashtags #PrayforAmazonia and #PrayforAmazonas to worldwide viral status.
#PrayforAmazonas
Smoke from Burning Amazon Turns São Paulo Afternoon into Midnight.
This is getting worse. pic.twitter.com/QWX2vPHzMx

— abhishekb (@abhishekb22) August 21, 2019
Local newspaper Folha de S.Paulo reported that some meteorologists say that strong winds from the east of the city brought the thick plumes of smoke from nearly 2,000 miles away which, combined with cold and humid coastal conditions, blackened the skies.
By Wednesday, the Geneva-based World Meteorological Organization released data showing that the smoke had drifted thousands of miles from the northwest of the Brazilian Amazon across the country over Rio de Janeiro to the country's Atlantic coast.
A record-setting wave of forest fires have swept across the Amazon throughout the year, authorities confirmed on Tuesday, heightening global concerns about the fast-degrading state of the "lungs of the world."
A beautiful picture of São Paulo Nightlife.

No. It isn't.

This is São Paulo at 3pm!
Smoke from the Amazon fire blocked out the sun.

The planets lung has been burning for 3 weeks and I found out today.

Please raise awareness.#PrayforAmazonia #ARMYHelpThePlanet pic.twitter.com/07fnleosEw

— M A Z (@ch1minssi) August 20, 2019
This year there have already been 72,843 fires in the Amazon, marking an increase of 83 percent over the same period in 2018—the highest number since records began in 2013, according to Brazil's National Institute for Space Research (INPE).
The agency said that since last Thursday, about 9,500 forest fires have erupted in the region.
Fire is typically employed by loggers, farmers and miners as a technique to clear land for agricultural use, especially during the current dry season in the region. The scope of the fires shows that they are a result of human activities according to the INPE.
People are deliberately starting fires in the #AmazonRainforest to illegally deforest indigenous land for cattle ranching

Pataxó woman:
"These assholes came in and burned down [our reservation]… I want all of the media here to see this" pic.twitter.com/uGFp7RItHK

— Sunrise Movement 🌅 (@sunrisemvmt) August 21, 2019
Alberto Setzer from INPE told Reuters:
There is nothing abnormal about the climate this year or the rainfall in the Amazon region, which is just a little below average … The dry season creates the favorable conditions for the use and spread of fire, but starting a fire is the work of humans, either deliberately or by accident."
The Amazon rainforest has been resistant to fire throughout its history due to its natural moisture and humidity, but according to NASA it has become susceptible to fires due to drought and human activity – primarily logging and "slash and burn" agriculture.
In a statement last Tuesday that accompanied satellite photos of the Brazil fires, the U.S. space agency said:
"Wildfires there today are caused by a combination of droughts and human activity; the intensity and frequency of droughts in turn, have been linked with increases in regional deforestation and anthropogenic [human-caused] climate change."
Civil society groups and conservationists have blasted radically far-right Brazilian President Jair Bolsonaro, whose cabinet has encouraged the illegal deforestation of the Amazon with his hostile attitude toward the environment and genocidal rhetoric toward indigenous groups whose ancestral land lies in the rainforests.
Report Shows Corporations and Bolsonaro Teaming Up to Destroy the Amazon

-> https://t.co/PePTBCEF8l pic.twitter.com/2GsUNozJiI

— MintPress News (@MintPressNews) July 2, 2019
Bolsonaro and his officials regularly blame environmental laws, activist groups, non-governmental organizations and indigenous peoples for allegedly hindering Brazil's economic potential.
The president recently lashed out at world leaders regarding what he calls their "environmental psychosis" in relation to the Amazon.
Last month, Bolsonaro accused the INPE of fabricating "lies" about the skyrocketing deforestation rate in hopes of sabotaging the country's trade talks before sacking the agency's chief and replacing him with a handpicked official from the military.
Philip Fearnside, a professor at Brazil's National Institute of Amazonian Research, explained to Newsweek:
"The explosion of deforestation can be attributed both to changes in government actions, such as essentially ending inspections for illegal deforestation and fining those who are caught, and from the rhetoric from President Bolsonaro and his ministers, especially the minister of environment.

This has created a climate of impunity under the assumption that there will be no consequences for ignoring environmental regulations."
Bolsonaro's clear lack of concern for the burning Amazon was underscored at a press conference when he joked, "I used to be called Captain Chainsaw. Now I am Nero, setting the Amazon aflame. But it is the season of the queimada," using the Portuguese term for the time of year when farmers clear the land with fire.
Wildfires raging in the Amazon rainforest have hit a record number this year, with 72,843 fires detected so far by Brazil's space research center INPE, as concerns grow over right-wing President Jair Bolsonaro's environmental policy. #PrayforAmazonas pic.twitter.com/BN8ApPKFCv

— The Philippine Star (@PhilippineStar) August 21, 2019
Strokes, Heart Attacks Spike on Days With Poor Air Quality
Hold Your Breath
Researchers already knew that chronic exposure to air pollution could wreak havoc on a person's longterm health, causing serious ailments ranging from lung cancer to respiratory infection.
But now, new data out of the United Kingdom shows that air pollution can seemingly trigger heart attacks and stokes, too — bringing into focus the more immediate impacts of poor air quality.
Health Emergency
For this study, researchers from King's College London gathered data on daily air pollution levels in nine cities in the U.K. and divided the data into "high pollution days" and "low pollution days."
The researchers then looked at daily data on heart attacks and strokes in each city, and found that emergency services treated an average of 124 more people for heart attacks and 231 more people for strokes on high pollution days than on low.
Air Quote
King's College plans to release its full report on the study in November, but according to Simon Stevens, National Health Service England's chief executive, the preliminary data shows there's no time to waste in addressing air pollution in England and beyond.
"These new figures show air pollution is now causing thousands of strokes, cardiac arrests, and asthma attacks, so it's clear that the climate emergency is in fact also a health emergency," he told The Guardian. "Since these avoidable deaths are happening now, not in 2025 or 2050, together we need to act now."
READ MORE: Scores more heart attacks and strokes on high pollution days, figures show [The Guardian]
What Would Avicenna Want You To Eat?
Who is Avicenna?
Born in the 10th century, Ibn Sina, also known as Avicenna, was a physician, the most famous and influential of the philosopher-scientists of the Islamic world during its golden age. He was particularly noted for his contributions in the fields of Aristotelian philosophy and medicine and of the 450 works he is believed to have written, around 240 of which have survived, including 150 on philosophy and 40 on medicine.
Avicenna Portrait on Silver Vase – Museum at BuAli Sina (Avicenna) Mausoleum – Hamadan – Western Iran (Image Source)
The Canon of Medicine
His most famous work was probably "The Canon of Medicine," which is an encyclopedia of medicine in five books. Apart from establishing the foundation for modern medicine, this book also features recipes for those who are suffering from certain illnesses. In his Book 5, Avicenna lists 650 compound drugs, attributing them to various Arabic, Indian and Greek sources. He also added his own comments, giving remedies to those who need it with simple foods and plants they can find.
Here are some of the foods that Avicenna advises you to consume:
Sesame:
Sesame is a good source of calcium which makes your hair and nails grow stronger
This tiny seed is rich in oil and vitamin E. It is a good source of calcium which makes your hair and nails grow stronger. Avicenna also says that it is good for the brain and nerve cells as it contains lecithin.
Zucchini water:
Zucchini is good for regulating blood pressure
Detox lovers are familiar with zucchini. It is said to improve eye health and is the number one source of anti-aging products. But according to Avicenna, it is also good for regulating blood pressure. He advises you to squeeze out zucchini water and consume it a few times a week.
Cauliflower:
Cauliflower aids with liver health
Avicenna says that cauliflower is the best way to clean up your liver. When you consume this vegetable your liver produces a detoxifying enzyme. And thanks to the sulfur compounds it contains, cauliflower aids with liver health. This vegetable is naturally high in fiber and B-vitamins. It provides antioxidants and phytonutrients that can protect against cancer.
Almond:
Almond may help prevent respiratory diseases
If you are suffering from respiratory diseases, Avicenna's recipe for you is to eat more almonds. Almonds contain lots of healthy fats, fiber, protein, magnesium and vitamin E. Avicenna says that if you consume almonds and drink honey sherbet afterwards, you will feel much better.
Some Storms Are so Strong They Shake the Ocean Floor, Says Study
Seismic Mystery
It's easy to see the impact an off-coast storm has on the water's surface. But according to a new study, severe storms can actually shake the ocean floor as well, causing "stormquakes" — a previously unknown phenomena that solves a seismic mystery.
Scientists already knew prior to this study that the ocean produces seismic signals. But while some of those signals could be explained by the ocean's waves, there was a band of signals that occurred at a frequency between 0.02 and 0.05 hertz that were seemingly inexplicable.
Weather Connection
It was those signals that the U.S.-based researchers behind this new study, which was published in the journal Geophysical Research Letters on Monday, sought to explain — and after analyzing nearly 10 years' worth of seismic data, they noticed a strange pattern emerging.
"[The signals] were seasonal," researcher Wenyuan Fan told Science News. "Earthquakes do not have seasonality. But weather does."
That led the team to the discovery that the shaking of the ocean floor coincided with the raging of a storm above it.
Perfect Storm
However, a storm alone isn't enough to cause a stormquake — the seafloor below the storm has to be just the right shape, too.
"It's something about the shape — or the bathymetry — of the seafloor interacting with these big ocean waves that are produced during storms," researcher Wendy Bohon told Motherboard. "You're getting some kind of energy relief that's beating on the seafloor in a particular way, and those waves are moving out in all directions as coherent packages which we're then able to detect using seismometers."
READ MORE: Scientists Discover a New Phenomena Called 'Stormquakes' [Motherboard]