The Amazon Rainforest Fires Turned Day Into Night in Brazil's Largest City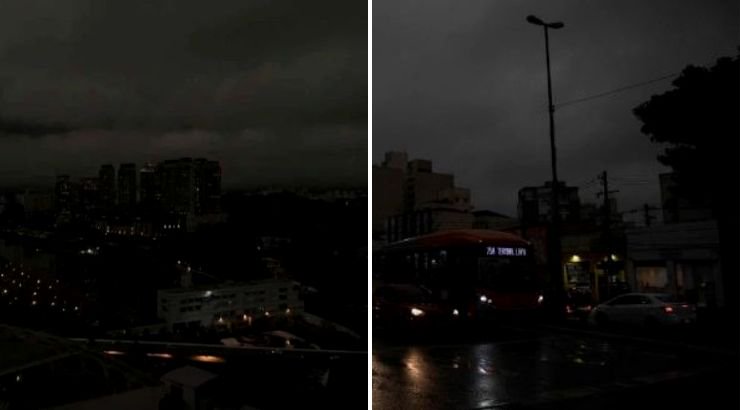 Elias Marat, The Mind Unleashed
Waking Times
Brazil's largest city was plunged into darkness earlier this week in the middle of the afternoon thanks to the massive fires that continue to wreak devastation on the Amazon rainforest as the country struggles with a record number of fires.
São Paulo's skies were blackened for roughly an hour at around 3 p.m. Monday due to raging fires throughout the region and weather conditions that pushed particulate matter over the city, setting off intense speculation on social networks about the reason why the day was seemingly transformed into night.
Videos and images posted by local residents depicted disturbing scenes of pedestrians walking under black skies and cars driving in the mid-afternoon with their headlights on as the continued fires throughout the Amazon rainforest drove the hashtags #PrayforAmazonia and #PrayforAmazonas to worldwide viral status.
#PrayforAmazonas
Smoke from Burning Amazon Turns São Paulo Afternoon into Midnight.
This is getting worse. pic.twitter.com/QWX2vPHzMx

— abhishekb (@abhishekb22) August 21, 2019
Local newspaper Folha de S.Paulo reported that some meteorologists say that strong winds from the east of the city brought the thick plumes of smoke from nearly 2,000 miles away which, combined with cold and humid coastal conditions, blackened the skies.
By Wednesday, the Geneva-based World Meteorological Organization released data showing that the smoke had drifted thousands of miles from the northwest of the Brazilian Amazon across the country over Rio de Janeiro to the country's Atlantic coast.
A record-setting wave of forest fires have swept across the Amazon throughout the year, authorities confirmed on Tuesday, heightening global concerns about the fast-degrading state of the "lungs of the world."
A beautiful picture of São Paulo Nightlife.

No. It isn't.

This is São Paulo at 3pm!
Smoke from the Amazon fire blocked out the sun.

The planets lung has been burning for 3 weeks and I found out today.

Please raise awareness.#PrayforAmazonia #ARMYHelpThePlanet pic.twitter.com/07fnleosEw

— M A Z (@ch1minssi) August 20, 2019
This year there have already been 72,843 fires in the Amazon, marking an increase of 83 percent over the same period in 2018—the highest number since records began in 2013, according to Brazil's National Institute for Space Research (INPE).
The agency said that since last Thursday, about 9,500 forest fires have erupted in the region.
Fire is typically employed by loggers, farmers and miners as a technique to clear land for agricultural use, especially during the current dry season in the region. The scope of the fires shows that they are a result of human activities according to the INPE.
People are deliberately starting fires in the #AmazonRainforest to illegally deforest indigenous land for cattle ranching

Pataxó woman:
"These assholes came in and burned down [our reservation]… I want all of the media here to see this" pic.twitter.com/uGFp7RItHK

— Sunrise Movement 🌅 (@sunrisemvmt) August 21, 2019
Alberto Setzer from INPE told Reuters:
There is nothing abnormal about the climate this year or the rainfall in the Amazon region, which is just a little below average … The dry season creates the favorable conditions for the use and spread of fire, but starting a fire is the work of humans, either deliberately or by accident."
The Amazon rainforest has been resistant to fire throughout its history due to its natural moisture and humidity, but according to NASA it has become susceptible to fires due to drought and human activity – primarily logging and "slash and burn" agriculture.
In a statement last Tuesday that accompanied satellite photos of the Brazil fires, the U.S. space agency said:
"Wildfires there today are caused by a combination of droughts and human activity; the intensity and frequency of droughts in turn, have been linked with increases in regional deforestation and anthropogenic [human-caused] climate change."
Civil society groups and conservationists have blasted radically far-right Brazilian President Jair Bolsonaro, whose cabinet has encouraged the illegal deforestation of the Amazon with his hostile attitude toward the environment and genocidal rhetoric toward indigenous groups whose ancestral land lies in the rainforests.
Report Shows Corporations and Bolsonaro Teaming Up to Destroy the Amazon

-> https://t.co/PePTBCEF8l pic.twitter.com/2GsUNozJiI

— MintPress News (@MintPressNews) July 2, 2019
Bolsonaro and his officials regularly blame environmental laws, activist groups, non-governmental organizations and indigenous peoples for allegedly hindering Brazil's economic potential.
The president recently lashed out at world leaders regarding what he calls their "environmental psychosis" in relation to the Amazon.
Last month, Bolsonaro accused the INPE of fabricating "lies" about the skyrocketing deforestation rate in hopes of sabotaging the country's trade talks before sacking the agency's chief and replacing him with a handpicked official from the military.
Philip Fearnside, a professor at Brazil's National Institute of Amazonian Research, explained to Newsweek:
"The explosion of deforestation can be attributed both to changes in government actions, such as essentially ending inspections for illegal deforestation and fining those who are caught, and from the rhetoric from President Bolsonaro and his ministers, especially the minister of environment.

This has created a climate of impunity under the assumption that there will be no consequences for ignoring environmental regulations."
Bolsonaro's clear lack of concern for the burning Amazon was underscored at a press conference when he joked, "I used to be called Captain Chainsaw. Now I am Nero, setting the Amazon aflame. But it is the season of the queimada," using the Portuguese term for the time of year when farmers clear the land with fire.
Wildfires raging in the Amazon rainforest have hit a record number this year, with 72,843 fires detected so far by Brazil's space research center INPE, as concerns grow over right-wing President Jair Bolsonaro's environmental policy. #PrayforAmazonas pic.twitter.com/BN8ApPKFCv

— The Philippine Star (@PhilippineStar) August 21, 2019
Greenland is losing ice seven times faster than expected
Greenland is ceasing to be that vast white territory because it is losing ice at a speed seven times faster than in 1990.
The fatal scenario goes according to the context of global warming of Intergovernmental Panel on Climate Change (IPCC), which would expose 400 million people to coastal flooding in the year 2100.
A joint work of 96 scientists from 50 international organizations has generated the most detailed image so far of the ice loss from Greenland.
The team called Ice Sheet Mass Balance Inter-comparison Exercise (IMBIE) used 26 surveys to calculate changes in the Greenland ice sheet mass between 1992 and 2018.
The worst case scenario
The research results show that Greenland has lost so far 3.8 billion tons of ice, since 1992. This thaw is enough to raise the sea level by 10.6 millimeters.
The figures are alarming as they show a seven-fold increase in ice loss in just three decades.
In 2013, the IPCC predicted that worldwide sea level would rise 60 centimeters by 2100, leaving 360 million people at risk due to coastal flooding. However, the new study shows that the ice loss is increasing faster than expected, which would generate an increase of even 7 centimeters more at sea level.
Andrew Shepherd in the University of Leeds, lead author of the research, he said in a statement:
As a general rule, for every one-centimeter increase in global sea level, another six million people are exposed to coastal flooding across the planet.

According to current trends, the melting of ice in Greenland will cause 100 million people to flood each year at the end of the century, which adds up to 400 million in total due to all the sea level rise. These are not unlikely events or small impacts; they are happening and will be devastating for coastal communities. "
Caused by warming
The climate models regionals used by the team of researchers showed that half of the ice loss was due to rising air temperatures. The other half was caused by the rising ocean temperature.
The doctor. Erik Ivins of the Jet Propulsion Laboratory NASA and lead author of the study said in a statement:
Polar ice satellite observations are essential to monitor and predict how the climate change could affect ice losses and sea level rise. While computer simulation allows us to make projections from climate change scenarios, satellite measurements provide irrefutable evidence. "
The team expects to continue monitoring the ice reduction in Greenland to determine the possible sea surge each year.
The research findings have been published in the journal. Nature.
Source: Leeds University / Phys.org
Bright Meteor Fireball Streaks over Phoenix, Arizona
Does it seem like these are on the rise?
via AZ Central:
By now, we all know, it didn't really happen unless it's confirmed via social media.
And that's what was happening Friday night, as numerous Twitter posts surfaced from people who said they saw a bright light streak across the nighttime sky over Phoenix sometime around 9:30 p.m.
The posts described the sight as a green streak or light, possibly a large meteor or "shooting star," but definitely more than a quick flash that such a phenomenon usually produces.
The Arizona Republic could not immediately confirm the source of the bright light, but several other Twitter posts reported seeing it from vantage points such as 32nd Street and Thomas Road, near the Phoenix Art Museum, or in north Phoenix.
Fireball last night near Phoenix seen from Tucson in this video acquired by my rooftop camera☄️💫 #shootingstar #Tucson #Phoenix pic.twitter.com/QRI0D7YbKt

— Lucille Le Corre (@Callichore) December 7, 2019
Chris Coppola
AZ Central
Life on Earth can be explained by asteroid-eating bacteria
A new study suggests that asteroids can be a food source for living things, more specifically a microorganism called  Metallosphaera sedula , a metal-eating species.
Metallosphaera sedula  is a species of bacteria-like microbes, originally isolated from a volcanic field in Italy. The first part of the name can roughly be translated as a "metal mobilizing sphere," while the word "sedulus" means busy. This describes the efficiency of these organisms in mobilizing metals, including those found in asteroids.
According to research led by University of Vienna astrobiologist Tetyana Milojevic, these microbes derive their energy from inorganic substances through oxidation, and can collect energy sources faster from extraterrestrial rocks than from simple ancient terrestrial minerals. Milojevic explains that the study was conducted to find "microbial fingerprints" left in meteorites. "This should be useful for tracking life-seeking biosignatures in other parts of the universe," she concludes.
This kind of research, according to the astrobiologist, can provide her colleagues with "little tips" on what they can look for in their search for alien life. "If there was ever life on another planet, similar microbial fingerprints may still be preserved in the geological record," she said.
The team examined how Metallosphaera sedula  interacts with NWA 1172, a rocky meteorite found in northwest Africa that contains about 30 different metals. Using various spectroscopy techniques and an electron microscope, the researchers documented the signatures left by the organism. Thus, they found that M. sedula  is able to consume extraterrestrial material much faster than it does with terrestrial minerals, resulting in healthier cells.
While terrestrial minerals provide only a few nutrients for the microorganism, "NWA 1172 iron is used as an energy source to meet M. sedula's bioenergetic needs  as microbes breathe due to iron oxidation," Milojevic explained. The wide range of metals in NWA 1172 can also be used for other metabolic processes, such as accelerating vital chemical reactions within cells. And because the meteorite is so porous, it can promote M. sedula's improved growth rate.
That means iron meteorites could have brought more metal elements and phosphorus to Earth, making life's evolution easier, according to Milojevic. In addition, research may also support the panspermia hypothesis, an idea that cannot yet be substantiated, but it is not ruled out either, as scientists have not yet completely unraveled the origin of life on our planet. And Milojevic is interested in exploring this possibility: To do so, her team plans to "test the survival of  M. sedula  under simulated and real environmental conditions from outer space," the astrobiologist said. The plan, however, will have to find the funding needed to send the microorganisms into space.