The Akashic Records: What Are They & Do They Actually Exist?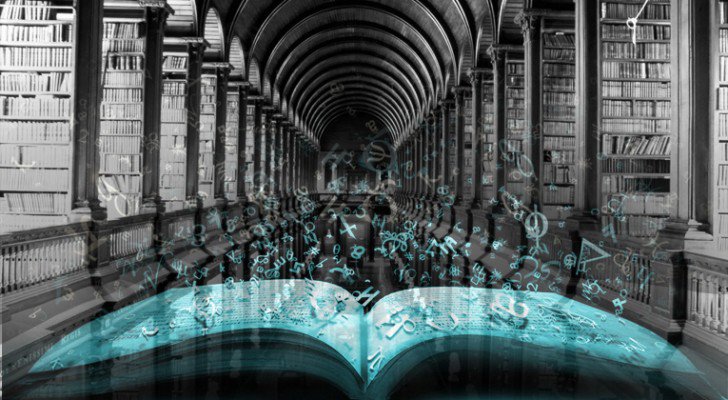 "All perceptible matter comes from a primary substance, or tenuity beyond conception, filling all space, the Akasha or luminiferous ether, which is acted upon by the life giving Prana or creative force, calling into existence, in never ending cycles, all things and phenomena."– Nikola Tesla, Man's Greatest Achievement, 1907
Depending on the philosophy or religion cited, "Akasha" generally has the same core meaning.  It's Sanskrit (primary sacred language of Hinduism) for "aether," in both the elemental and metaphysical sense. The existence of this 'substance,' for lack of a better term, has been postulated by scientists and philosophers from ancient cultures, traditions, and faiths which date back thousands of years. The theme has been present from Eastern mysticism/philosophy all the way into the West and esoteric philosophy.
Keep in mind we are talking about Akasha here and not the Akashic Records.
"And they allowed Apollonius to ask questions; and he asked them of what they thought the cosmos was composed; but they replied; "Of elements." "Are there then four?" he asked. "Not four,"said Larchas,  "but five." "And how can there be a fifth," said Apollonius, "alongside of water and air and earth and fire?" "There is the ether," replied the other, "which we must regard as the stuff of which gods are made; for just as all mortal creatures inhale the wire, so do immortal and divine natures inhale the ether." "Am I," said Appollonius, "to regard the universe as a living creature?" "Yes," said the other. – The Life of Apollonius of Tyana, Philostratus, 220AD (source)
It's basically the basis of all things in the material world, and in various philosophies it's considered to be the invisible driving force behind the creation of matter. According to many it's the source of energy for material manifestation. This is intriguing, because quantum physics has been showing that human thoughts, intentions, emotions and more could have some sort of direct effect on our physical material world.  Modern day scientific theories do not recognize the real existence of Akasha, but the fact that quantum physics has shown us that space is not empty is certainly lending more credibility to this ancient concept, in my opinion.
"The aakaash is not destructible, it is the primordial absolute substratum that creates cosmic matter and hence the properties of aakaash are not found in the material properties that are in a sense relative. The aakaash is the eternally existent, superfluid reality, for which creation and destruction are inapplicable….Our eyes are blind to the reality of spirit, scientific experiments cannot detect it directly, since our experiments can detect only the material properties which are not the attributes of Akasha." – (Idham thadhakshare parame vyoman. Parame vyoman) – Paramahamsa Tewari, Engineer, Physicist, and Inventor, "Spiritual Foundations," www.tewari.org
The Akashic Records
What are the Akashic Records? According to various scholars in the realm of theosophy (esoteric philosophy), the Akashic Records are a kind of database which contain a record of the soul's journey. According to Alice A. Bailey, an author of more than two dozen books on theosophical subjects:
The akashic record is like an immense photographic film, registering all the desires and earth experiences of our planet. Those who perceive it will see pictured thereon: The life experiences of every human being since time began, the reactions to experience of the entire animal kingdom, the aggregation of the thought-forms of a karmic nature (based on desire) of every human unit throughout time. Herein lies the great deception of the records. Only a trained occultist can distinguish between actual experience and those astral pictures created by imagination and keen desire.
— From Light of the Soul, "The Yoga Sutras of Patanjali – Book 3," multiple sources on  Google
According to the late Edgar Cayce, the Akashic Records can be seen as the universe's supercomputer, a central storage facility of all information for every individual who has ever lived throughout the cosmos. Apart from recording the events that occur in your life, they record every act, deed, word, thought, feeling, emotion, intent, and motive. Apparently, the records contain the entire history of every soul since the dawn of creation. (source)
They are records kept of a soul from the time it leaves its point of origin.
"The Edgar Cayce readings suggest that each of us writes the story of our lives through our thoughts, our deeds, and our interactions with the rest of creation. This information has an effect upon us in the here and now. In fact, the Akashic Records have such an impact upon our lives and the potentials and probabilities we draw toward us that any exploration of them cannot help but provide us with insights into the nature of ourselves and our relationship to the universe. There is much more to our lives, our histories, and our individual influence upon our tomorrows than we have perhaps dared to imagine. "(source)
Charles Webster Leadbeater, an influential member of the Theosophical Society and an author on occult subjects, has made similar claims, stating that the records hold the history of Atlantis and various other civilizations, including Lumeria.
H.P. Blavatsky (1831-1891), a Russian immigrant, mystic, and founder of the Theosophical Society, writes that the Akasha is "one of the cosmic principles and is a plastic matter, creative in its physical nature, immutable in its higher principles. It is the quintessence of all possible forms of energy, material, psychic, or spiritual; and contains within itself the germs of universal creation, which sprout forth under the impulse of the Divine Spirit." (source)
Philosopher, educator, and founder of the Anthroposophical Society, Rudolf Steiner believed that humans (and himself) have the ability to perceive information beyond the material world. Please keep in mind that this isn't a 'pseudoscientific' idea; for a selected list of downloadable peer-reviewed journal articles reporting studies of psychic phenomena, mostly published in the 21st century, you can click HERE.
Steiner writes:
Man can penetrate to the eternal origins of the things which vanish with time. A man broadens his power of cognition in this way if he is no longer limited to external evidence where knowledge of the past is concerned. Then he can see in events what is not perceptible to the senses, that part which time cannot destroy. He penetrates from transitory to non-transitory history. It is a fact that this history is written in other characters than is ordinary history. In gnosis and in theosophy it is called the "Akasha Chronicle." . . . The one who has acquired the ability to perceive in the spiritual world comes to know past events in their eternal character. They do not stand before him like the dead testimony of history, but appear in full life. In a certain sense, what has happened takes place before him. (source)
Are The Akashic Records Real?
With the information above, I just wanted to provide a very basic and brief description of the Akashic Records. I still have a lot of research to do to further my understanding, but the essential idea has always been pretty clear to me.
So, is there any 'proof" for the existence of the Akashic Records? Well, we are limited by modern day understandings of what qualifies as proof. Anything that cannot be perceived by our physical senses, or something that is (for most) impossible to perceive, it's hard to validate its existence. The truth is, there is really no way to 'prove,' in the material way that we currently define proof, the existence of the Akashic Records, because it cannot be seen, touched, heard, or otherwise measured. But this doesn't mean we can't theorize, and as Albert Einstein once said, "everything you can imagine is real."
"The day science begins to study non-physical phenomena, it will make more progress in one decade than in all the previous centuries of its existence." – Nikola Tesla
The same can be said for consciousness, or factors that we commonly associate with consciousness; thoughts, feelings, emotions, perception, and more are directly correlated with our physical material world, and this is backed by science. This is most demostrated by the quantum double slit experiment, and the parapsychological studies that are linked in this article above. (source) You can read more about thishere.
As for the nature of consciousness itself, that's a topic for another article.
So, we do know that just because something can't be seen, touched, heard, or measured, does not mean it can't still have a direct effect on our physical material world. And we do know that (some) ancient philosophies and esoteric teachings have been validated by modern day science. As far as proving the existence of the Akashic Records, it doesn't seem to be possible.
Again, one great argument for its existence is the fact that it is an ancient concept, and occult (occult means the quest for truth, unfortunately this word carries a negative connotation) authors have been writing about for years. We've seen other concepts, like the atom, or the energy that exists all around us, or near death experiences (NDE's) and out of body experiences, written about in ancient times, as well as studied by modern day science, with some promising results. Ancient peoples may not have understood the 'science' behind the phenomena they observed, at least in the way way understand science, but their theories often prove to be correct nevertheless. Perhaps they had better methods for gaining wisdom? There are countless examples where ancient societies are concidered much more 'advanced' than us, but we live in a different time.
I personally do believe that there is some sort of 'database' out there that we are all connected to, and everything about us (physical and non physical) can be found there. But I cannot say it exists for certain, nor can I provide any proof for its existence. All I can say is that in my heart I believe it to be true. I would also like to include that I do not feel that these "records" are used for judgement in any way.
"The nature of energy is to be understood. The properties of space have to be intuitively derived from the available scientific data. We have to pick out a single elementary material particle to construct the material universe and to establish the unity of the material worlds. We need to know the attributes of the single Substance, the nonmaterial Akasha to establish the Unity behind the diverse scientific and spiritual phenomena. We need to realize the agency of Consciousness, the principle of life and death, and the intelligence of the Universe. We can certainly know these phenomena through a scientific approach but the science that shall answer the above questions shall not be the current science. It shall be a new science inclusive of a spiritual base. And that shall set the stage for a merger of science and spirituality." — Paramahamsa Tewari, Engineer, Physicist, and Inventor, "Spiritual Foundations," www.tewari.org
The Twelve Apostles and the Gruesome Manner of their Deaths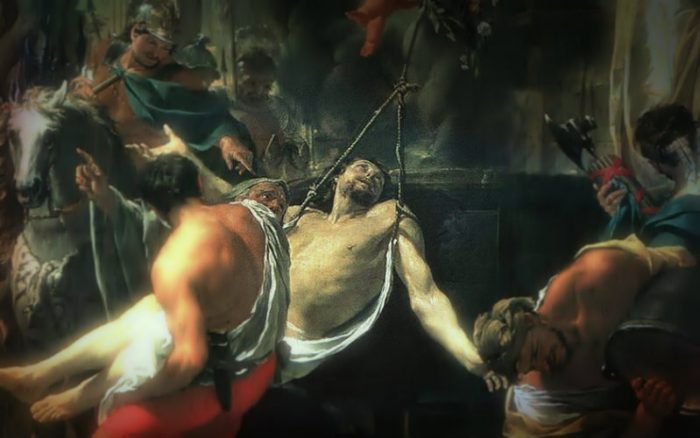 Paul said that the Household of God was built on the foundation of Apostles and Prophets, with Jesus Christ as the cornerstone. During his ministry, Jesus commissioned twelve special messengers, or Apostles, to assist in spreading the Gospel. All twelve were Judean Hebrews.
The word apostle comes from the Greek apostolos which means one who is sent away, an emissary. It thus means a messenger sent to convey the "good news of the Gospel of Jesus Christ." See Matthew 10:1-7.
Twelve Men for Twelve Tribes
Twelve men were selected, which symbolized the twelve tribes of Israel as found in the Old Testament. Jesus set apart the Twelve Apostles, sending them out in pairs to preach the Gospel. Additionally, the Apostles were given the power to heal the sick, cast out demons, and raise the dead as part of their ministry.
Each of the Twelve Apostles gave up their livelihoods and all else to follow Jesus when called. Ten of these men were Galilean Jews who had Aramaic names. Peter and Andrew had Greek names. Other Apostles mentioned in the New Testament were Matthias, Barnabas, Adronicus, Junia, Silas, Timothy, and Apollos.
The Twelve Apostles are identified below, along with the traditional manner of their deaths.
1. Simon Peter: Also known as Simon bar Jonah, Simon bar Jochanan (Aramaic) and Cephas. Jesus called him Peter (meaning rock or foundation of the Church). He was a fisherman from Bethsaida of Galilee. About to be martyred in Rome in C.E. 64, he asked to be crucified upside-down as he felt unworthy to die in the same manner as Jesus.
2. Andrew: A former disciple of John the Baptist, he was the brother of Simon Peter and a fisherman in Bethsaida of Galilee. Crucified upon an X-shaped cross.
3. James, son of Zebedee: The brother of John. The first of the Apostles to be put to death, by Herod Agrippa I, 11 years after the death of Christ (C.E. 44).
4. John, son of Zebedee: The brother of James, both named by Jesus the sons of thunder. Death unknown. Members of The Church of Jesus Christ of Latter-day Saints believe that John still walks the earth and will see the Second Coming of Christ in the flesh.
5. Philip: From Bethsaida of Galilee. Crucified in C.E. 64.
6. Bartholomew; usually identified with Nathanael. Thought by some to have been skinned alive, then beheaded.
7. Matthew: The tax collector Matthew may have also been identified as Levi. He was killed by axe.
8. Thomas: Judas Thomas Didymus. Also known as Doubting Thomas. Killed by a spear in India in C.E. 72.
9. James, son of Alphaeus: Generally identified with "James the Less", brother of Jesus, leader of the Jerusalem Church. Also identified by Roman Catholics with "James the Just". Stoned at age 90, then clubbed to death.
10. Thaddeus: Traditionally identified with Jude. Crucified.
11. Simon the Zealot: or Simon the Cananite. Some have identified him with Simeon of Jerusalem. Believed by some to have been crucified in C.E. 74.
12. Judas Iscariot: The Apostle who betrayed Jesus. Also referred to as "Judas, the son of Simon." He committed suicide.
13. Matthias was selected by the surviviing Eleven to replace Judas Iscariot. Matthias was stoned, then beheaded.
Instead of Arresting the Homeless Population, City Paying Them to Pickup Trash
(Jack Burns) With the problem of homelessness in some cities becoming an epidemic, one Arkansas city appears to have a common sense approach to tackling the problem head on. They're taking taxpayer dollars and paying the homeless to pick up trash.
The Bridge to Work program started in April in Little Rock, Arkansas and pays homeless individuals $9.25 an hour to tidy up the metropolis and capitol city of the state.
Canvas Community Church runs the program which was only slated to last 6 months. But Mayor Frank Scott Jr. told reporters he is going to extend the program for another year.
The church and state partnership is welcomed by both the public entity as well as the religious one. Associate Pastor Paul Atkins addressed the program's Board of Directors saying:
We're super excited about what has gone on, and we hope to be able to keep the momentum going…We want to work with them on their next step. There are a lot of barriers that our people experience to go from homelessness and panhandling to full-time work. There's a lot of steps in between.
So far, 380 people have joined the work crews with most signing up through the church. But space is left on each crew to allow more homeless people a spot on the clean-up crew.
According to Little Rock's 12 News:
After a total of 130 sites cleaned, 1,821 hours worked, and 2,056 bags of trash—all within five months— hearts and minds have been changed.
Team Leader Felicia Cooks spoke about both the concerns she had before the program started as well as its success after she became a team leader.
This is just a dream come true for the entire community…When I first started, from day one, I couldn't catch the vision, nor could I travel the journey…But, you know, we've taken out over 400-and-something persons. And let me tell you, that has been the most exciting thing that I've done in my life. The energy, just the positive (energy), the vision that Canvas Community Church has. You know, it's just wonderful.
The City of Little Rock has infused $80,000 into the program's first six months. Pastor Atkins says there's still more work to do. They need more help.
"To make the program bigger and better, we do need folks to walk with our friends on a one-on-one basis…I hesitate to call it a mentor thing, cause you'll probably learn as much as you teach," he said.
Atkins says the homeless have lost the support of their faith-based communities and schools and have fallen through society's cracks. They just need to be lifted up and supported once again.
"You know, that's the kind of thing that you and I probably had from our families, and churches and synagogues and schools," he said. "You know, we had it all around us, and that kept holding us up and pushing us forward. Our people have lost that, either because they did something to burn a bridge, or the bridge just fell in behind them, and they just need that extra support."
Each clean-up crew is paid in cash and is given a meal for their work.
Mayor Scott has promised to continue the program for another year but the city must vote on his verbal commitment. Without funding, the program would likely have to look to the private sector for financial support. While this situation would be better if it were privately funded, spending the money creating jobs for the homeless is a far better solution than relying on the police state to solve the homeless crisis.
California is one of the highest taxed states in the union, yet its cities have yet to create a model program to assist the homeless by placing them in good paying jobs. Instead of paying the homeless to fulfill a needed service like Arkansas is doing, California authorities are destroying their tent cities, arresting the homeless, and throwing away all of their belongings, just to remove what many critics consider an eye sore.
Source:
https://thefreethoughtproject.com/instead-of-arresting-the-homeless-population-city-paying-them-to-pickup-trash/
How To Connect To Your Guardian Angel And Ask For Help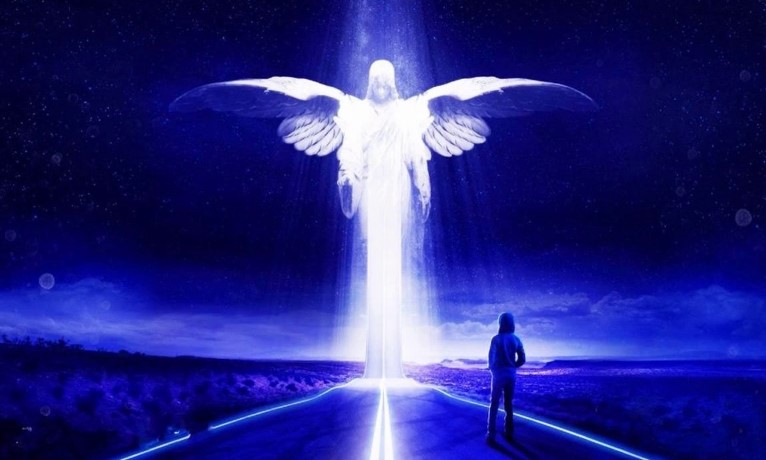 People often think that you have to be very holy or psychic in order to make connection with their Guardian Angel. This is not true. We are all born with our own Guardian Angels and they never stop surrounding us with love and guidance.
Angels help us stay connected with the Source, while ancestral guides support family members or spirit guides help us find the way back home. As we raise our vibration, we can more easily connect and communicate with wiser energies in the spirit realms.
Here are some tips that will help you connect with your guardian angel.
1. ASK FOR HELP
Asking an Angel for help is one of our most power spiritual practices. Angels can do nothing for us unless we ask. If you need help, just ask! We can ask the Angels for immediate help at any time and in any place.
Don't worry about asking for too much. Angels exist beyond our experience of time and space. They respond to everyone with complete unconditional love. Create your own invocations, or prayers, that specifically call for the help you need.
2. ATTUNE YOURSELF TO YOUR GUARDIAN ANGEL
Communication with your angel will probably be subtle at first, but become more obvious with practice. Set up a regular time to meditate and attune yourself to your guides.
If you raise your awareness through meditation, you will feel the invisible presence of your spirit guides. Most people find this connection an exciting experience, but in fact it is a normal part of your spiritual enlightenment.
You can try and identify your spirit guides and when you feel comfortable recognizing them, you can ask for their names. During this clairvoyant vision, you may have a glimpse of someone who was close to you and loved you, like a wife, husband or a parent. These experiences will make you feel happy and inspired. Not everybody perceives the spirit guides.
3. ACT AS IF YOUR PRAYER HAS BEEN ANSWERED
Every prayer is answered and grace is always given. If you fear that your prayer will not be answered, then ask for help in understanding and seeing more clearly. Trust that you will see the love in every answered prayer. Have patience with this and let go of any expectation of how the love may be revealed to you.
4. ACT FAST ON THE GUIDANCE YOU RECEIVE
Pay close attention to everything you experience as you are being given guidance from intelligent spirit guides. Be patient and don't ask too any questions at once. You will get the answers when you are ready to receive them.
Watch for their sign and act upon it immediately. Angelic help is infinite and unlimited – you cannot use it up or run out of it. You cannot ask for 'too much'. The faster you act, the faster you receive more assistance!
5. TRANSLATE THEIR ANSWERS
The answers coming from the spirit guides will take many forms. Sometimes you may hear their thoughts channeled in your head. At first, you should ask them simple Yes or No questions and observe the sensations you have in your body.
With time and practice, you will understand which sensations mean yes and which mean no. Your answer may also come during meditation, or after a prolonged period of reflection. In other cases, you may receive it coincidentally, like an overheard conversation or something you read in a book.
These answers, in the form of signs, will help you overcome your negative traits, like fear or selfishness, inspire you in times of crisis and help you become a better person.
After asking your angel for assistance, watch for repetition of words you see, hear or think. Notice patterns like repeatedly hearing a song, seeing a bumper sticker or having a friend unknowingly repeat the very same message your angel gave you. Keep asking until you feel you completely understand the answer.
Thank yourself and the Angels for deepening and the relationship between you.