The Akashic Records: What Are They & Do They Actually Exist?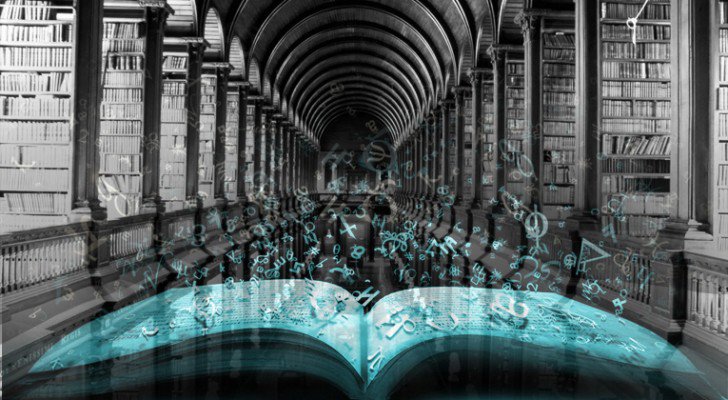 "All perceptible matter comes from a primary substance, or tenuity beyond conception, filling all space, the Akasha or luminiferous ether, which is acted upon by the life giving Prana or creative force, calling into existence, in never ending cycles, all things and phenomena."– Nikola Tesla, Man's Greatest Achievement, 1907
Depending on the philosophy or religion cited, "Akasha" generally has the same core meaning.  It's Sanskrit (primary sacred language of Hinduism) for "aether," in both the elemental and metaphysical sense. The existence of this 'substance,' for lack of a better term, has been postulated by scientists and philosophers from ancient cultures, traditions, and faiths which date back thousands of years. The theme has been present from Eastern mysticism/philosophy all the way into the West and esoteric philosophy.
Keep in mind we are talking about Akasha here and not the Akashic Records.
"And they allowed Apollonius to ask questions; and he asked them of what they thought the cosmos was composed; but they replied; "Of elements." "Are there then four?" he asked. "Not four,"said Larchas,  "but five." "And how can there be a fifth," said Apollonius, "alongside of water and air and earth and fire?" "There is the ether," replied the other, "which we must regard as the stuff of which gods are made; for just as all mortal creatures inhale the wire, so do immortal and divine natures inhale the ether." "Am I," said Appollonius, "to regard the universe as a living creature?" "Yes," said the other. – The Life of Apollonius of Tyana, Philostratus, 220AD (source)
It's basically the basis of all things in the material world, and in various philosophies it's considered to be the invisible driving force behind the creation of matter. According to many it's the source of energy for material manifestation. This is intriguing, because quantum physics has been showing that human thoughts, intentions, emotions and more could have some sort of direct effect on our physical material world.  Modern day scientific theories do not recognize the real existence of Akasha, but the fact that quantum physics has shown us that space is not empty is certainly lending more credibility to this ancient concept, in my opinion.
"The aakaash is not destructible, it is the primordial absolute substratum that creates cosmic matter and hence the properties of aakaash are not found in the material properties that are in a sense relative. The aakaash is the eternally existent, superfluid reality, for which creation and destruction are inapplicable….Our eyes are blind to the reality of spirit, scientific experiments cannot detect it directly, since our experiments can detect only the material properties which are not the attributes of Akasha." – (Idham thadhakshare parame vyoman. Parame vyoman) – Paramahamsa Tewari, Engineer, Physicist, and Inventor, "Spiritual Foundations," www.tewari.org
The Akashic Records
What are the Akashic Records? According to various scholars in the realm of theosophy (esoteric philosophy), the Akashic Records are a kind of database which contain a record of the soul's journey. According to Alice A. Bailey, an author of more than two dozen books on theosophical subjects:
The akashic record is like an immense photographic film, registering all the desires and earth experiences of our planet. Those who perceive it will see pictured thereon: The life experiences of every human being since time began, the reactions to experience of the entire animal kingdom, the aggregation of the thought-forms of a karmic nature (based on desire) of every human unit throughout time. Herein lies the great deception of the records. Only a trained occultist can distinguish between actual experience and those astral pictures created by imagination and keen desire.
— From Light of the Soul, "The Yoga Sutras of Patanjali – Book 3," multiple sources on  Google
According to the late Edgar Cayce, the Akashic Records can be seen as the universe's supercomputer, a central storage facility of all information for every individual who has ever lived throughout the cosmos. Apart from recording the events that occur in your life, they record every act, deed, word, thought, feeling, emotion, intent, and motive. Apparently, the records contain the entire history of every soul since the dawn of creation. (source)
They are records kept of a soul from the time it leaves its point of origin.
"The Edgar Cayce readings suggest that each of us writes the story of our lives through our thoughts, our deeds, and our interactions with the rest of creation. This information has an effect upon us in the here and now. In fact, the Akashic Records have such an impact upon our lives and the potentials and probabilities we draw toward us that any exploration of them cannot help but provide us with insights into the nature of ourselves and our relationship to the universe. There is much more to our lives, our histories, and our individual influence upon our tomorrows than we have perhaps dared to imagine. "(source)
Charles Webster Leadbeater, an influential member of the Theosophical Society and an author on occult subjects, has made similar claims, stating that the records hold the history of Atlantis and various other civilizations, including Lumeria.
H.P. Blavatsky (1831-1891), a Russian immigrant, mystic, and founder of the Theosophical Society, writes that the Akasha is "one of the cosmic principles and is a plastic matter, creative in its physical nature, immutable in its higher principles. It is the quintessence of all possible forms of energy, material, psychic, or spiritual; and contains within itself the germs of universal creation, which sprout forth under the impulse of the Divine Spirit." (source)
Philosopher, educator, and founder of the Anthroposophical Society, Rudolf Steiner believed that humans (and himself) have the ability to perceive information beyond the material world. Please keep in mind that this isn't a 'pseudoscientific' idea; for a selected list of downloadable peer-reviewed journal articles reporting studies of psychic phenomena, mostly published in the 21st century, you can click HERE.
Steiner writes:
Man can penetrate to the eternal origins of the things which vanish with time. A man broadens his power of cognition in this way if he is no longer limited to external evidence where knowledge of the past is concerned. Then he can see in events what is not perceptible to the senses, that part which time cannot destroy. He penetrates from transitory to non-transitory history. It is a fact that this history is written in other characters than is ordinary history. In gnosis and in theosophy it is called the "Akasha Chronicle." . . . The one who has acquired the ability to perceive in the spiritual world comes to know past events in their eternal character. They do not stand before him like the dead testimony of history, but appear in full life. In a certain sense, what has happened takes place before him. (source)
Are The Akashic Records Real?
With the information above, I just wanted to provide a very basic and brief description of the Akashic Records. I still have a lot of research to do to further my understanding, but the essential idea has always been pretty clear to me.
So, is there any 'proof" for the existence of the Akashic Records? Well, we are limited by modern day understandings of what qualifies as proof. Anything that cannot be perceived by our physical senses, or something that is (for most) impossible to perceive, it's hard to validate its existence. The truth is, there is really no way to 'prove,' in the material way that we currently define proof, the existence of the Akashic Records, because it cannot be seen, touched, heard, or otherwise measured. But this doesn't mean we can't theorize, and as Albert Einstein once said, "everything you can imagine is real."
"The day science begins to study non-physical phenomena, it will make more progress in one decade than in all the previous centuries of its existence." – Nikola Tesla
The same can be said for consciousness, or factors that we commonly associate with consciousness; thoughts, feelings, emotions, perception, and more are directly correlated with our physical material world, and this is backed by science. This is most demostrated by the quantum double slit experiment, and the parapsychological studies that are linked in this article above. (source) You can read more about thishere.
As for the nature of consciousness itself, that's a topic for another article.
So, we do know that just because something can't be seen, touched, heard, or measured, does not mean it can't still have a direct effect on our physical material world. And we do know that (some) ancient philosophies and esoteric teachings have been validated by modern day science. As far as proving the existence of the Akashic Records, it doesn't seem to be possible.
Again, one great argument for its existence is the fact that it is an ancient concept, and occult (occult means the quest for truth, unfortunately this word carries a negative connotation) authors have been writing about for years. We've seen other concepts, like the atom, or the energy that exists all around us, or near death experiences (NDE's) and out of body experiences, written about in ancient times, as well as studied by modern day science, with some promising results. Ancient peoples may not have understood the 'science' behind the phenomena they observed, at least in the way way understand science, but their theories often prove to be correct nevertheless. Perhaps they had better methods for gaining wisdom? There are countless examples where ancient societies are concidered much more 'advanced' than us, but we live in a different time.
I personally do believe that there is some sort of 'database' out there that we are all connected to, and everything about us (physical and non physical) can be found there. But I cannot say it exists for certain, nor can I provide any proof for its existence. All I can say is that in my heart I believe it to be true. I would also like to include that I do not feel that these "records" are used for judgement in any way.
"The nature of energy is to be understood. The properties of space have to be intuitively derived from the available scientific data. We have to pick out a single elementary material particle to construct the material universe and to establish the unity of the material worlds. We need to know the attributes of the single Substance, the nonmaterial Akasha to establish the Unity behind the diverse scientific and spiritual phenomena. We need to realize the agency of Consciousness, the principle of life and death, and the intelligence of the Universe. We can certainly know these phenomena through a scientific approach but the science that shall answer the above questions shall not be the current science. It shall be a new science inclusive of a spiritual base. And that shall set the stage for a merger of science and spirituality." — Paramahamsa Tewari, Engineer, Physicist, and Inventor, "Spiritual Foundations," www.tewari.org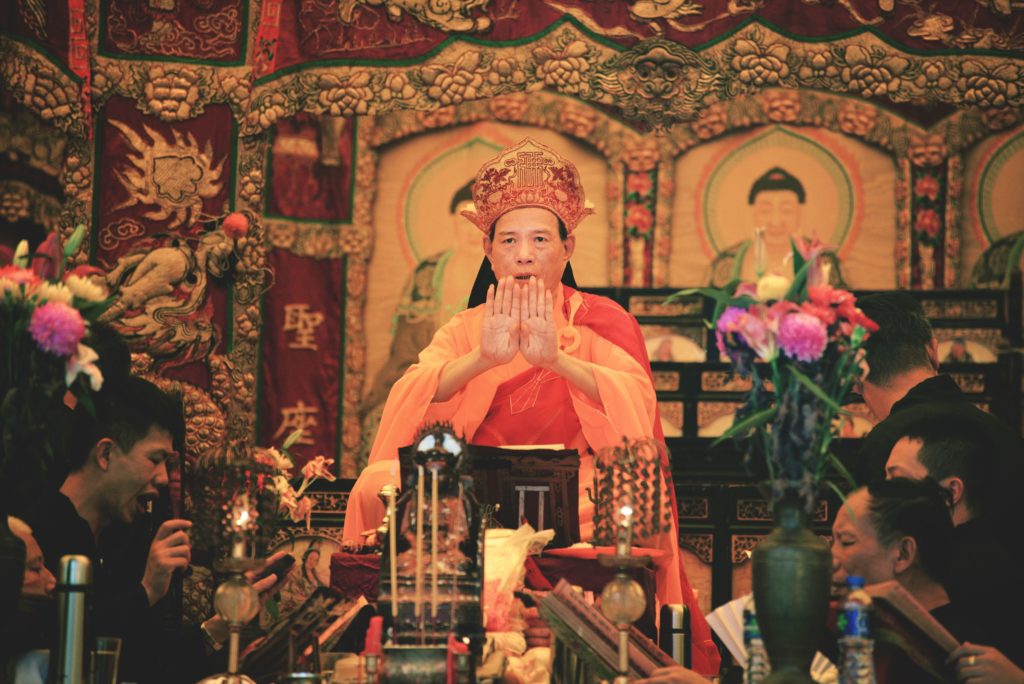 Last month, Shanghai's City God Temple played host to a solemn congregation assembled in celebration of the birth of Laozi, an ancient philosopher broadly called the founder of Chinese Taoism. The service has been held on the 15th day of the next month in the Chinese lunar calendar, an auspicious day which Taoists consider to be the birthday of the Highest Lord Lao, one of Taoism's three greatest gods.
Lord Lao is the deified form of the same Laozi who apparently wrote the Tao Te Ching, a classic work of Chinese philosophy written around the sixth century B.C.. During the Eastern Han Dynasty, Lord Lao allegedly reappeared before the Taoist celestial master Zhang Daoling, bestowing upon him the teachings which afterwards came to shape the orthodox beliefs of the Zhengyi sect, one of the significant Taoist denominations in China now.
For followers of Taoism, the Highest Lord Lao is the embodiment of the Tao, or"Way," and the Tao Te Ching is among the most important Taoist scriptures. During the Tang Dynasty, the emperor gave Laozi the venerable title of"Highest Emperor of Mysterious Origin," and from 840 A.D. onward, his birthday was rigorously observed by the royal court, when the nation's larger Taoist temples held burial ceremonies for followers to fast and preach scripture. Lord Lao's birthday is, in nature, as close as Taoism gets to Christmas in the West. Nevertheless regardless of the current resurgence of religion in China, Lord Lao had not enjoyed a birthday celebration on this scale for quite a while.
Last month's celebrations in Shanghai were so important for two reasons. For starters, it had been the first time in many years the City God Temple hosted a large scale Taoist festival. Although Taoism is China's only indigenous religion, its sway now pales compared with its previous status. A lot of people know the City God Temple as a tourist milestone and business center, but few understand it as a significant Taoist religious site.
Secondly, the ceremony itself revealed Taoism is adapting its image to attract new converts. Within the course of the afternoon , organizers deftly mixed tradition, commerce, and technologies to create a welcoming atmosphere for new and lapsed Taoists alike.
During morning , the temple abbot started with a ritual preaching of the Tao. Afterwards, he conducted the tradition of natural audiences with Laozi, an extremely ritualized ceremony where followers proceed in slow procession around an altar, repenting of the sins and praying for blessings from heaven. In the day, two additional ceremonies were held which were significant for more pious followers who, after committing to longterm study and self-cultivation, want to eventually become"lay Taoists" — spiritual adepts who dedicate themselves to following the Tao, but aren't members of the clergy.
The party was meant to expand the influence of Taoist culture, notably by bringing more young people to watch and take part in this traditional festival. Because of this, the thoroughly planned event was filled with fresh interpretations.
Among the most surprising innovations lay in the organizers' repurposing of traditional iconography. In contrast to traditional images of Laozi — which tend to depict him as an elderly, ethereal, sage-like figure — the predominant image at the City God Temple was an anime-style illustration of Laozi as a baby, his hair drawn back into a bun, naked as the day he was born.
The icon's artist, the Taoist priest Wang Minyuan, told me that the infant Laozi is, in fact, a very important part of Taoist iconography. It has its origins in the Eighty-One Transformations of Lord Lao — an illustrated religious text — in which it represents the beginning of the universe. In addition, the image of a child reflects the Tao Te Ching's veneration of newborns, who symbolize the purity and sincerity of ancient times. Returning to a state of primordial communication with the Tao is the ultimate aim of those who practice Taoist self-cultivation — but that's not to say representations of this ideal cannot also be updated for modern followers.
The event compellingly mixed modern-style iconography with much more traditional paraphernalia. Organizers erected a shrine to the Holy Infant and a further altar in honor of the Sovereign of the Void, a Taoist celestial worthy. The former harkened back to the tradition of sacrificing to Laozi during the Han Dynasty. The shrine was draped in a purple coverlet that joined together like curtains in the front, with a statue of the infant Laozi housed within.
The latter followed the ancient style of the Tang and Song dynasties, featuring outer, middle, and inner altars. Believers gathered to pay their respects at the outer alter, with a view of the religious accoutrements laid out on the middle altar. Finally, the inner altar was dedicated to spaces for the high priest, the abbot of the temple, and the other religious masters to perform Taoist rituals.
The planners' intentions behind committing and constructing to these special altars were clarified by Taoist priest Tao Guanjing. The altars' reappearance reflected the ongoing revival of the Taoist belief in spontaneity, he said. Taoist priests and adherents were invited to interact with one another during the ceremony, as a means of restoring the long-lapsed connection between the temple clergy and the congregation. Together, they gave free reign to the concept of universal salvation through communing with the Tao.
Interestingly, the entire event was broadcast live on internet giant Tencent's Taoism channel, an online TV station that, alongside Buddhist and Confucian sister channels, aims to popularize Chinese traditional religion via the web. This was a historic first for a Shanghai-based Taoist ceremony. On the ground, three camera operators filmed the event in real time, beaming full, detailed coverage of the ceremony to audiences at home and abroad. Statistics showed that 630,000 viewers tuned in to watch the morning mass, a number that grew to 740,000 by the end of the day.
Throughout the broadcast, a senior Taoist of the Shanghai City God Temple, Li Daqian, offered commentary on the ceremonial happenings, explaining in exhaustive detail each stage of the event as it proceeded. The effect was to give audiences at home insight into the rituals playing out on their screens, challenging the idea that Taoism is impenetrable, irrelevant, or irreconcilable with modern life.
Outside of the specialized Taoist ceremonies, pilgrims and tourists to the City God Temple could hang talismans bearing their personal wishes for the future, as well as eat local pastries purportedly infused with the energy of the Tao. These activities reflected a deep-seated commercial aspect of Taoist festivals, many of which historically developed into temple fairs with distinct regional customs. The Laozi Fair at Chengdu's Qingyang Palace, located in southwestern China's Sichuan province, takes place alongside a local flower market; in the same vein, the treats on offer at the Shanghai temple fair added to the sense of community participation.
Combining the traditional with the modern has long been a challenge at the heart of Chinese Taoism; indeed, it is a difficulty that confronts practitioners of all forms of Chinese traditional culture. For me, the mass was largely successful: The organizers captured much of Taoism's basic spirit through their adaptation of ancient classics, and revitalized the ceremonies of the Tang Dynasty — a golden age of Chinese culture — for a contemporary audience. They promoted orthodox Taoist culture while utilizing modern online media, keeping their eyes trained on the preferences of today's young people and working hard to create a "Taoist Christmas" that everyone could enjoy.
The Shamanic View of Mental Health
Jonathan Davis, Uplift
Waking Times
In November 2014 the peak psychology body in the UK, the British Psychological Association, released their new flagship report Understanding Psychosis and Schizophrenia. It was a watershed moment in the mainstream treatment of mental illness, containing statements such as this:
Hearing voices or feeling paranoid are common experiences which can often be a reaction to trauma, abuse or deprivation. Calling them symptoms of mental illness, psychosis or schizophrenia is only one way of thinking about them, with advantages and disadvantages. ~The British Psychological Association: Understanding Psychosis and Schizophrenia
With mental health problems reaching epidemic proportions in the UK and throughout the western world, this document reads as no less than an admission that the current model of mental health treatment has failed; and a cry for help to anyone with an approach that may be useful. There are indeed a great many cultures who have had, and still carry, a deeper understanding of mental illness. While these perspectives don't fit within the boundaries of rationalist reductionism, this has little relevance to their efficacy.
From American Indian shamanism* to esoteric judaism, this concept has dominated for millennia. As it has now become clear, western civilisation is unique in history in it's failure to recognise each human being as a subtle energy system in constant relationship to a vast sea of energies in the surrounding cosmos.
– Dr Edward Mann, Sociologist
What Is The Shamanic View Of Mental Health?
Broadly speaking any form of awareness around mental health that includes spiritual, mystic and/or mythic considerations could be included in a shamanic view of mental health. This ranges from ancient indigenous shamanic practices to yogic methods involving kundalini awakening, through to Jungian and transpersonal psychology (which draw heavily from ancient cultures). Jung, for example, characterised schizophrenia and psychosis as a natural healing process.
When conscious life is characterised by one-sidedness and false attitudes, primordial healing images are activated – one might say instinctively – and come to light in the dreams of individuals and the visions of artists… Schizophrenia is a condition in which the dream takes the place of reality. – Carl Jung
Another foundation stone of this perspective is the phrase made famous by Joseph Campbell: 'The schizophrenic is drowning in the same waters in which the mystic swims with delight' (an idea borrowed from Jungian psychiatrist RD Laing).  There has been a long history throughout human culture of people having mystical experiences, and then becoming 'weller than well' as Dr John Weir Perry put it.  The key here is that in these instances the person completed a process that western medicine would have labelled as sickness and then medicated. They instead passed through it and went on to lead lives without relapse into 'psychosis', instead living a more fulfilled existence than if they had never gone though their temporary break with consensus reality. Throughout history there have been examples of people who have gone on to use their visionary insights, newly found drive and focus to create great social reform for the benefit of all.
Psychospiritual Crisis / Spiritual Emergence
Proponents of transpersonal psychotherapy, like one of its founders Prof. Stanislav Grof suggest that 'spiritual emergence' experiences are often misdiagnosed as psychosis and medicated unnecessarily. Grof sites 11 different types of spiritual emergencies, including the classic initiatory experience of the shaman, unitive experiences of oceanic oneness, kundalini awakening, the crisis of psychic opening, and the messianic experience common within what John Weir Perry called the 'renewal process'.
Interpreted from this point of view, a schizophrenic breakdown is an inward and backward journey to recover something missed or lost, and to restore, thereby, a vital balance. So let the voyager go. He has tipped over and is sinking, perhaps drowning; yet, as in the old legend of Gilgamesh and his long, deep dive to the bottom of the cosmic sea to pluck the watercress of immortality, there is the one green value of his life down there. Don't cut him off from it: help him through. – Joseph Campbell, Schizophrenia: The Inward Journey
John Weir Perry, who put these ideas into practice in a medication free facility called Diabasis, suggests these experiences are a dramatic re-ordering of the person's psyche from a distorted state to an more ordered one.  To me this is like cleaning a messy house, sometimes it needs to get messier in order to sort everything out. Perry also said that 'it is justifiable to regard the term "sickness" as pertaining not to the acute turmoil but to the prepsychotic personality…  the renewal process occuring in the acute episode may be considered nature's way of setting things right.' This is echoed by Jiddu Krishnamurti's statement that 'it is no measure of health to be well adjusted to a profoundly sick society.'
The Problems Of Pathology, Symptom Suppression, Stigma and Trauma
Pathology: A fundamental difference between the approach of calling these experiences mental illness, psychosis or schizophrenia and 'other ways of thinking about them', is the very act of pathologising them. The labelling of something as a sickness, when working in the realms of the psychospiritual can have a dramatically negative effect on what happens next. Like a person experiencing an overwhelming psychedelic experience, a person in this kind of state is highly influenced by their surroundings including what they are told, for good or for ill. A suggestion that the experience is a sickness can become a self fulfilling prophecy.
Having been encouraged to see the voice, not as an experience, but as a symptom – my fear and resistance towards it intensified. Now essentially this represented taking an aggressive stance towards my own mind – a kind of psychic civil war, and in turn this caused the number of voices to increase and grow progressively hostile and menacing. – Eleanor Longden
Symptom Suppression: The next big challenge is symptom suppression. Critics of the current model of care (who now seem to include the British Psychological Association) argue that psychiatric medication merely suppresses symptoms.
Many people find that 'antipsychotic' medication helps to make the experiences less frequent, intense or distressing. However, there is no evidence that it corrects an underlying biological abnormality. Recent evidence also suggests that it carries significant risks, particularly if taken long term. – The British Psychological Association: Understanding Psychosis and Schizophrenia
Those of the shamanic or transpersonal persuasion go further in suggesting that medication tends to ultimately prevent the person from completing a natural experience such as the 'process of renewal' John Weir Perry describes. Instead this process keeps trying to complete itself and symptoms keep reappearing, and then drugs suppress it again in an endless cycle.  It's unsurprising that the phrase 'you have a mental illness, and you will have it for the rest of your life' is so often heard by people experiencing psychosis.
Stigma:
They [shamanic cultures] have a cultural context. The physiological crisis, although it's difficult, it's believed to be… they put it in a positive light.  It's something the person's going to come out of and be stronger in the end, and have more abilities in the end.  The other thing that's a big advantage is – it's not stigmatized. – Phil Borges, maker of upcoming film CrazyWise
Trauma: Thankfully, even in the western model there is a strong surge of recognition occurring around the fact that trauma and neglect in childhood (and in adulthood) can lead to serious mental health crisis.
We had a lot of trouble with western mental health workers who came here immediately after the genocide and we had to ask some of them to leave. They came and their practice did not involve being outside in the sun where you begin to feel better. There was no music or drumming to get your blood flowing again. There was no sense that everyone had taken the day off so that the entire community could come together to try to lift you up and bring you back to joy. There was no acknowledgement of the depression as something invasive and external that could actually be cast out again.Instead they would take people one at a time into these dingy little rooms and have them sit around for an hour or so and talk about bad things that had happened to them. We had to ask them to leave. – A Rwandan talking to writer, Andrew Solomon
The Bridge Between Two Worlds – Sickness or Acute Sensitivity?
Dr Joseph Polimeni states that 'In most traditional societies those persons who were overcome by hallucinations in young adulthood were more often than not destined to become shamans'. If someone presented with symptoms we would call psychosis, the people of their tribe or village would send them for training with someone who had learned a level of mastery over the sensitivity that once overwhelmed them. Phil Borges states that 'they have a mentor; they have somebody who has been through this process that can take and hold their hand and say listen, I know what this is all about and this is how you manage it'. In cultures around the world, before western civilisation the idea of schizophrenia as a disease was, quite simply, non-existent.  The assumption was that a person experiencing the challenges known in modern times as psychosis was in fact experiencing things that were actually real, but only able to perceived by those who were gifted.
They have a community that buys into what they've gone through, and not only that, they have an outlet for their talents – and many of these people have specific talents that the normal person doesn't have. – Phil Borges, maker of upcoming film CrazyWise
To me it is clear that we live in a culture that immediately labels these moments of crisis as sickness, and our culture has almost no level of acceptance for the people that go through it.  When face to face with a person experiencing involuntary states of non-ordinary consciousness, most of us – to put it bluntly – just want them away from us.  It's almost as if we fear that 'crazy' is contagious and we want it quarantined.  It's unfortunate that this approach may be compounding the problem, however another way forward is re-awakening.  When I look at a person in such a crisis, I see a future potential mentor for others.  The more we can assist people in passing through their dark night of the soul, the more guides we will have with lived experience to help others come through in the future. In an upcoming article I'll be writing about how shamanic training can assist people going through 'spiritual emergency'.
For peer support and further information of this kind you can join The Shamanic View Of Mental Illness on Facebook.
About the Author
Jonathan Davis is an Australian writer focusing on shamanism and alternate modes of healing.
This article (The Shamanic View of Mental Health) was originally posted at Uplift Connect, and is reposted here with permission.
Healing With Crystals – Treatment With Therapeutic Crystals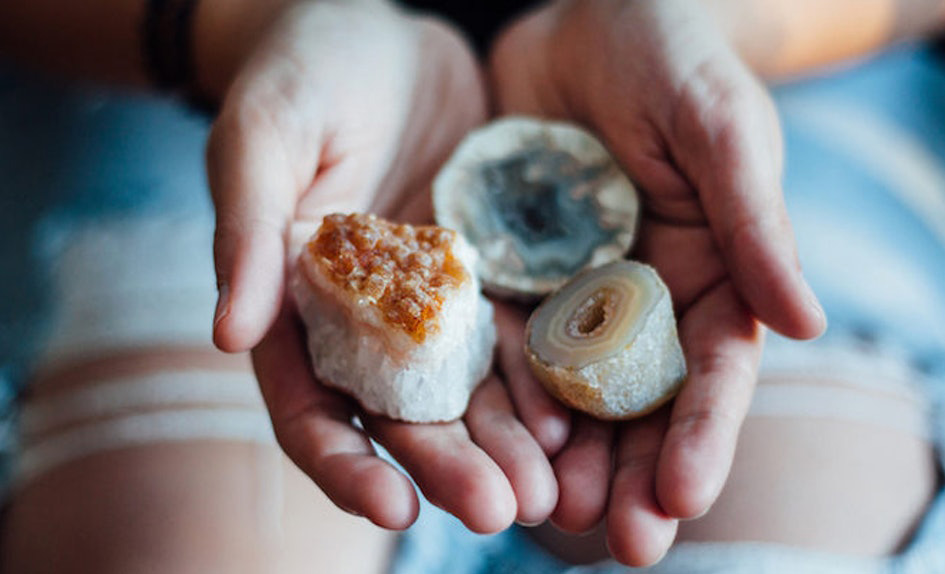 Scientists say at least 33% of the Earth's surface is made up of crystals. Crystal therapies are now known and people are becoming more and more curious and interested.
In this article, you can find some important aspects of healing crystals and semiprecious stones.
You can read about the pink quartz that attracts love, crystals that heal dizziness, insomnia and other sleep disorders, about crystals that have a beneficial effect on the physical and mental health of the body.
Healing Crystals have been used over time not only as accessories but also as "medicines".
The powers of these precious stones have been demonstrated since ancient times, and they have acted on both the mind and the physical.
Brilliant crystals have been shown to conceal unpredictable powers that people can benefit from if they know how and when to use them.
It's not enough to wear a pair of earrings, a chain, or a crystal bracelet to be protected or to fight certain illnesses.
Just like any healing therapy, and this is governed by rules to be followed.
Therefore, when you are determined, it is advisable to turn to a specialist's advice, or, why not, to attend several courses of initiation.
Obelisk for the 7 chakras
The use of crystals in a particular healing process should be done with caution.
Some crystals are extremely energizing, while others offer feelings of tranquility.
Used mistakenly, stones can amplify certain aspects that are in fact desired to be removed or can diminish elements that are desired to develop.
The power of healing crystals actually comes from their vibration that produces the balance of the human biomagnetic field, improving many states of physical and psychological harm.
In Romania, crystals are found mainly in the metallic mountains.
Crystals love to stay in the sun, to reflect the light.
Therefore, it is advisable not to keep them in the dark places.
Healing Crystal therapy specialists say crystals need to be treated with love and attention.
Healing With Crystals
During the trips, the crystals are transported wrapped in a clean cloth.
Any crystal must be purified before it is used to remove the vibrations and negative energies that exist in it
Depending on your needs, the conditions you suffer from, there are also some crystals that can improve or even heal.
It is good to know that neither the size nor the brightness of the crystal matters, the strength of which is important.
Over time, the healing power of crystals has managed to convince even the most skeptical and disbelieving, turning this therapy into a highly sought after and used one.
We also need to know that not all crystals are suitable for healing.
Cleaning the Healing Crystals Before Use
Cleaning the Healing Crystals
Although most of the crystals with curative effects are known and fairly accessible, to give them these powers, you need to know how to wear them, when to wear them most importantly, how to give them the necessary purity.
Before using any crystal for therapeutic purposes, it needs to be cleaned energetically.
The most famous crystal clearing agent is sea salt. The salt may be mixed with water or used as such.
Mix a spoonful of sea salt with cold water in a glass or ceramic cup.
Never use a plastic or metal container. Put the stones in the solution and leave to soak overnight.
If you use pure salt in a pure state, you need to "bury" the crystals with the tip down into it, leaving them overnight.
If a stone requires more time to purify it, it can be left two to three days in the sea salt.
Another cleaning agent is the moonlight.
Put the crystals out in the moonlight, preferably hanging somewhere above, so the light can penetrate them.
The earth is also an excellent purifier, especially when you feel that deep cleansing is needed.
Outside, dig a hole of crystal size, and put the crystal upside down and cover it with earth.
A quick way to clean stones is to smoke them with sage or burned cedar.
Smoking is an excellent way to make sure the stones are purified.
Crystal Care and Cleansing Mode
The crystal is held for 6 days in sea salt.
The amount of salt must be sufficient to completely cover the crystal.
A marine salt solution of approx. 25% concentration.
The crystal is kept in this solution for 3 days.
The temperature of this solution (based on sea salt and water) should be close to that of the crystal.
Finally, the crystal is washed with spring water, water from a river or cascade, and then allowed to stand in the sun.
This washing and drying process should take at least half an hour.
Thus the quartz will be charged with beneficial energies from water and the sun.
Sea salt has the ability to erase negative programs from the crystal, so it remains clean, pure.
What Not to Do: Do not place crystals in chemical detergents or ultrasonic cleaners, will damage the stones. Also, commercial salt is not recommended with different chemical compounds (anti-agglomeration, etc.). If the crystals also contain silver accessories, use a special cloth to clean the silver that does not destroy the crystal.
Moon's light:
All the crystals adore the moonlight, especially during the full moon period.
The powerful energy of the full moon actually lasts for 3 days, thus giving enough time to clean all the desired crystals, the day before the full moon, during the full moon and the day after the full moon.
Crystals will capture the energy they need even if it's raining outside or cloudy. If it still rains, be careful not to be touched by water. (Crystals that need to avoid water here).
Sunlight:
Many crystals like to bathe in the sunlight, especially red, orange or yellow (like Carneal and Stone of the Sun).
Crystals can be left in the sun for a few hours for cleaning and energizing.
Take great care with crystals placed in the sun, some crystals turn off their color or even change them.
Usually, there are crystals that are pigmented, such as the Amethyst or Florina.
Preferably do sunbathe only when it is certain that the crystal is compatible with sunlight.
Avoid sunlight:
These crystals should avoid exposure to sunlight for long periods of time.
The list includes many of the common crystals; is not complete but provides a good start in understanding which crystals should avoid sunlight for long-lasting exposures.
Aquamarine, Amethyst, Ametrine, Green Apophilite, Celestite, Citrine, Smoky Quartz, Pink Quartz, Florin, Hidenite, Kunzit, Opal (Dry), Prasiolit, Topaz, Turquoise.
In water:
A bathing in cold water is very refreshing for most crystals.
It can be running water or non-running water.
It is important to remember that the water is cold, crystals do not like hot water.
It is an easy, quick way and can be done anytime and anywhere.
While the crystals are immersed in water, they see how the water cleans them from all negative energies.
The water will clean them both physically and energetically. Water cleaning is the handiest method when it comes to cleaning the crystals in a bracelet, for example.
Keep in mind that there are certain crystals that are not cleaned in water.
As a general rule, it is advisable not to submerge the crystals with a Mohs hardness equal to or less than 5.
Also, if it is desired to keep a crystal for a longer period, it is good to make sure that the crystals do not contain iron because they can oxidize (crystals such as the Hematite, Magnetite, etc.).
Saltwater:
It's another way to clean the crystals but require extra care.
Many crystals can be damaged by salt. Crystals with a Mohs hardness of 7 or more can be washed in salt water.
It is preferable to use intuition and to the least doubt not clean with salt water.
Avoid water:
These crystals should completely avoid exposure to water.
Water may damage the crystal or even disintegrate and dissolve it.
The list is not complete but it provides a good start in understanding which crystals should avoid contact with water of any kind. Halit, Malachite, Himalayan Salt, Selenite, Desert Rose.
How to use the healing crystals
Healing Crystals helps to remove negative energy at work.
Put a quartz crystal on the work table and leave the whole day.
It can be programmed in advance to obtain optimum results in action and to give a good intellectual performance.
The crystal can function as an air ionizer. It is recommended for eliminating negative vibrations in a room where there were stressful moments or situations.
By placing crystals in the dwelling (in its corners), electromagnetic radiation can be countered.
Large crystals of about 5 cm are indicated, which have a sure tip, which should be oriented upwards.
These crystals have to be cleaned every 14 days so they can be reused.
Today people appreciate jewelry made of precious metals and stones, but also jewellery made of quartz and different semiprecious stones.
Quartz jewels have different purposes, of which we mention some therapeutics:
Purifying the aura and activating the chakras.
Balancing energy fields.
Spiritual development.
Improving the inner state and health.
Eliminating negative energy, fighting stress.
Quartz can help purify the aura from negative energies after an exhausting day. After this procedure, they must be purified and therefore kept in seawater.
Quartz can act as a talisman, providing protection to the wearer.
Such a jewel must be maintained, washed a few days with salt water and allowed to dry in the sun.
To resist over time (to avoid being blackened due to the procedure of cleaning and washing frequently), these jewels must be made of quartz and silver.
Quartz jewelry can be in different forms: earrings, rings, pendants, bracelets, amulets, ankle bracelets, chains of different sizes, brooches, tiaras, etc. Other important issues related to such jewelry:
The rings are said to increase the quartz emission, and when there is an energy drop they can be used very easily. The ring can be worn on either finger on both hands, can be moved from one finger to the other.
Amulets in quartz have magical powers, they are said to protect against all negative energies.
The quartz brooch can help activate the solar plexus chakra.
Bracelets that have quartz crystals can have a calming effect and strengthen the heart chakra.
The quartz necklace has a beneficial effect on the heart, increasing the communicating capacity of the person wearing it.
The pink quartz is called the stone of the heart or the rock of unconditional love. It is a crystal that has been associated with the heart chakra.
It is said that it can create positive and harmonious relationships, whether it is family or romantic love.
Its color may vary (maybe a lighter or darker pink, pinkish or pink-red) depending on manganese, titanium and iron impurities in its composition.
Pink Quartz – Benefits and Healing Properties:
It can be worn as a talisman because it attracts love.
It also has a good effect on the entire body, it can combat physical, nervous, and mental exhaustion.
Pink quartz is recommended for sleep disorders. It can be worn on the skin for the day because it offers a state of harmony, but also at night to have a quiet night's sleep.
During the night you can put under the pillow you are sleeping or can be held in your hand until you fall asleep.
Helps combat insomnia and nightmares.
It brings warmth to the relationships between people.
Promotes forgiveness, mercy, tolerance, love, and kindness.
Balances emotions, anxiety, stress, nervousness, depression.
Restore confidence and harmony.
It increases self-esteem, confidence, and courage.
Regulates blood circulation and heart rate.
Combats sexual dysfunction improves fertility.
It has a good effect on the skin, improves its appearance.
It can help treat adrenal gland problems.
Its vibrations reach to the cells and bring a state of joy, harmony, longevity.
The pink quartz is recommended for people born under the zodiac Taurus, Leo, Libra.
Pink quartz drops or small pink crystals are recommended to be worn at the neck or in the bag.
Such crystals are for jewelry, especially because they are very beautiful and have the advantage of stimulating the heart chakra.
Crystals that fight dizziness
For the treatment of dizziness, 4 crystals are recommended: malachite, smoky quartz, magnetite, Kunzite.
These are placed under the soles, or you can wear a crystal to your wrist like a bracelet.
Also, crystals that treat dizziness can be kept on the palm, their effect is just as good.
This stone is of green color with spots and strips of different shapes, or of a dark green, sometimes even black.
It can be translucent or opaque, contains basic copper carbonate and has special therapeutic properties.
It has been used since ancient times since the time of the Pharaohs (as crown decoration). It is said about malachite that:
It has a good effect on different mental or spiritual cleansing treatments.
Helps in making good decisions.
It increases the power of concentration, perception, imagination.
It has a soothing effect, it induces a well-being, but also emotionally.
It's a good remedy for radiation.
Only used for external use, applied to the skin. It can take negative energies and eliminate them.
It has a purifying effect on other stones.
The malachite powder is toxic and even poisonous.
It should not be purified in salt because it has little hardness and can be scratched.
It can be destroyed by excessive heat, acid and soap.
Malachite is a recommended stone for people born under zodiacal sign Capricorn, Aquarius, Taurus, Cancer, Virgo, Scorpio.
Smoky quartz is indicated for the treatment of dizziness
This quartz is brown-gray-brown, with dark, dark tones. It has very good effects on the body.
It is a powerful and effective stone against stress.
It relieves anxiety, nerves and brings a state of emotional silence.
Increases concentration. It offers a quiet, calm and patient state.
It has the ability to emit a healthy, healthy energy.
Eliminates negative thoughts, depressive states, despondency.
It gives a good mood.
Combat the tendency of suicide, the mental depression of some people.
It brings love to the heart, to the heart chakra.
It has the ability to help eliminate metabolic toxins in the body.
It has a relaxing effect, it combats stress, soothes pains and cramps, increases the resistance of the nervous system.
Keep on your feet or knees or in your hands.
When buying a smoky quartz you have to be careful that it is natural. Many quartz quarks are forged, they are made by artificial irradiation.
If you notice that they have an unnatural aspect, which is obvious, do not be fooled because it is not what you should.
Such artificially irradiated quartz is not as good as a natural quartz, it has been traumatized and should be thoroughly purified before it is used.
Lodestone is a good remedy against dizziness
Lodestone is found on sandy beaches, it has the black color and a brilliant appearance with small opaque areas.
The effects of this stones are:
Improves the inner state.
It helps us get rid of riding thoughts.
It favors telepathy and meditation.
It can calm and soften negative emotions.
It brings us extra energy.
It is held at the base of the spine or on the back in the neck.
Healing Crystals help with sleep disorders
Insomnia can be a real problem for people, especially if they persist.
Because of it, people fail to rest during the night and are always tired at work.
There are cases when it is necessary to seek help from a physician (when insomnia is caused by physical or psychological factors).
Sometimes, however, sleep problems arise due to negative thoughts, disharmony, and mental conflicts.
Such therapy with crystals or healing stones is very easy to use and is effective in treating insomnia and sleep problems.
Put the crystal or stone under the sleeping pillow, it must have the tip facing outwards. Putting six crystals around the mattress brings a well-being, sleep will be more restful.
A crystal is placed above the head, one under the feet, two on the ankles and two on the shoulders.
What are the benefits of healing stones:
They have a positive effect on people suffering from physical illnesses.
They have a relaxing, soothing effect.
The vibration of stones heals disorder and disharmony created at the physical and mental levels.
Induce sleep sensation.
The main stones with effects on dreams or having a bearing on sleep are:
Amethyst – Recommended in cases of anxiety, headaches, mental illness, hypertension, insomnia and other sleep disorders. Amethyst prevents and fights restless sleep.
Topaz – Has a good effect on the inner condition, improves sleep.
Pink quartz – Can fight negative vibrations so sleep will be soothing.
Citrine – It has a good effect on the nervous system and the stomach, combats the states of weakness and lack of confidence (which can sometimes cause unrest, negative thoughts and insomnia).
Alexandrite – May intensify dream perception and imagination.
Rock Crystals – With their help, you can remember your dreams when you wake up in the morning.
Moldavita – Encourages dreams and memories.
Dioptase – You can have intense dreams.
Black Tourmaline – Improves sleep.
Ruby – With this stone you become calm, clear, you have quiet sleep.
Sea Crystals – Dead Sea Salt
Many people wonder why Dead Sea salt is so good for the beauty of the skin?
Because it has a wide variety of active elements and beneficial properties for health:
It has many minerals and trace elements, such as potassium, magnesium, phosphorus, calcium, bromine, iron, etc.
It's 10 times salty than regular salt.
It has 3 times higher sodium concentration.
It contains 30 times more magnesium than classical salt.
It has 36 times more calcium.
It has calming, remineralizing, anti-inflammatory, decongestant, purifying, disinfecting, antifungal and relaxing properties.
Dead Sea Salt has a good effect on the skin:
Helps in the treatment of eczema, regulates sebum secretion, attenuates pigmentation.
It can relieve the symptoms of psoriasis.
It is a good remedy for skin diseases (atopic dermatitis), heals scratches, irritations, inflammation, soothes itching.
Attenuates cellulite.
Softens the skin, helps remove dead cells from its surface.
Moisturizes and improves skin appearance (elasticity and tonus).
Regenerates skin, connective tissue.
The Dead Sea Salt Bath is done as follows: dissolve 1 kg of salt in warm water, then place in bath water; the bathing water temperature should be 37-38 ° C; stays in the water for 20 minutes, the effect is very relaxing.
The benefits of this treatment:
Cleans effectively and activates skin functions.
Helps in the treatment of rheumatism.
Strengthens the immune system.
Combats psychosomatic disorders.
It has a refreshing effect on the body.
Eliminates fatigue and stress.
Relaxes body and mind, gives a pleasant feeling, a sense of comfort.
History of healing crystals
The first historical references to the use of healing crystals come from ancient Sumerians that included crystals in magical formulas.
Egyptians from antiquity used turquoise, emerald or quartz for protection and health, but also for driving evil spirits.
Also, the ancient Greeks lifted the crystals on an extremely high pedestal, attributing miraculous properties.
In fact, the word crystal comes from the Greek "ice".
It is said that the quartz stone was actually a water that froze so loudly and deeply that no one will ever melt it.
In ancient China, jade was the cornerstone. It was used to protect against kidney disease, but also as a protective amulet for the great emperors.
The Mayans, as well as other American Indians, used crystals for both diagnostic and curative purposes.
In the old villages of that geographic area, large quartz crystals were used to visualize space and time.
If you know how to choose the right crystal, if you follow the rules of purification, and if you "listen" to the voice of the stone, positive energies and vibrations will affect the body and the mind.
---
The information provided in this article is not designed as a substitute for the diagnosis, treatment or advice of a medical practitioner. The information comes as complementary options to conventional medicine (complementary = it can work with). In no way should the information be considered as "medical practice".
The site assumes no responsibility for the use of this material.
References: