The Akashic Records: What Are They & Do They Actually Exist?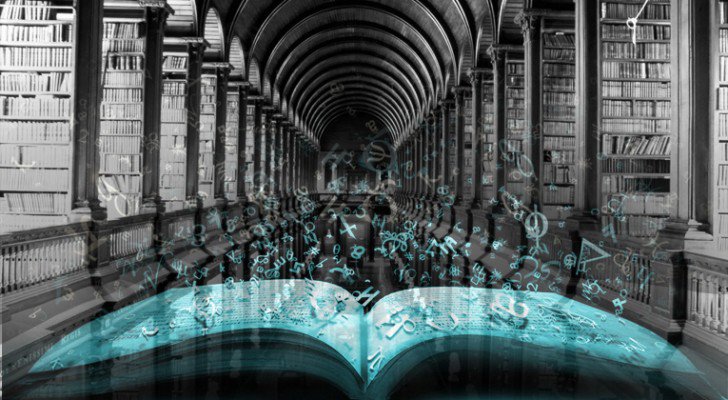 "All perceptible matter comes from a primary substance, or tenuity beyond conception, filling all space, the Akasha or luminiferous ether, which is acted upon by the life giving Prana or creative force, calling into existence, in never ending cycles, all things and phenomena."– Nikola Tesla, Man's Greatest Achievement, 1907
Depending on the philosophy or religion cited, "Akasha" generally has the same core meaning.  It's Sanskrit (primary sacred language of Hinduism) for "aether," in both the elemental and metaphysical sense. The existence of this 'substance,' for lack of a better term, has been postulated by scientists and philosophers from ancient cultures, traditions, and faiths which date back thousands of years. The theme has been present from Eastern mysticism/philosophy all the way into the West and esoteric philosophy.
Keep in mind we are talking about Akasha here and not the Akashic Records.
"And they allowed Apollonius to ask questions; and he asked them of what they thought the cosmos was composed; but they replied; "Of elements." "Are there then four?" he asked. "Not four,"said Larchas,  "but five." "And how can there be a fifth," said Apollonius, "alongside of water and air and earth and fire?" "There is the ether," replied the other, "which we must regard as the stuff of which gods are made; for just as all mortal creatures inhale the wire, so do immortal and divine natures inhale the ether." "Am I," said Appollonius, "to regard the universe as a living creature?" "Yes," said the other. – The Life of Apollonius of Tyana, Philostratus, 220AD (source)
It's basically the basis of all things in the material world, and in various philosophies it's considered to be the invisible driving force behind the creation of matter. According to many it's the source of energy for material manifestation. This is intriguing, because quantum physics has been showing that human thoughts, intentions, emotions and more could have some sort of direct effect on our physical material world.  Modern day scientific theories do not recognize the real existence of Akasha, but the fact that quantum physics has shown us that space is not empty is certainly lending more credibility to this ancient concept, in my opinion.
"The aakaash is not destructible, it is the primordial absolute substratum that creates cosmic matter and hence the properties of aakaash are not found in the material properties that are in a sense relative. The aakaash is the eternally existent, superfluid reality, for which creation and destruction are inapplicable….Our eyes are blind to the reality of spirit, scientific experiments cannot detect it directly, since our experiments can detect only the material properties which are not the attributes of Akasha." – (Idham thadhakshare parame vyoman. Parame vyoman) – Paramahamsa Tewari, Engineer, Physicist, and Inventor, "Spiritual Foundations," www.tewari.org
The Akashic Records
What are the Akashic Records? According to various scholars in the realm of theosophy (esoteric philosophy), the Akashic Records are a kind of database which contain a record of the soul's journey. According to Alice A. Bailey, an author of more than two dozen books on theosophical subjects:
The akashic record is like an immense photographic film, registering all the desires and earth experiences of our planet. Those who perceive it will see pictured thereon: The life experiences of every human being since time began, the reactions to experience of the entire animal kingdom, the aggregation of the thought-forms of a karmic nature (based on desire) of every human unit throughout time. Herein lies the great deception of the records. Only a trained occultist can distinguish between actual experience and those astral pictures created by imagination and keen desire.
— From Light of the Soul, "The Yoga Sutras of Patanjali – Book 3," multiple sources on  Google
According to the late Edgar Cayce, the Akashic Records can be seen as the universe's supercomputer, a central storage facility of all information for every individual who has ever lived throughout the cosmos. Apart from recording the events that occur in your life, they record every act, deed, word, thought, feeling, emotion, intent, and motive. Apparently, the records contain the entire history of every soul since the dawn of creation. (source)
They are records kept of a soul from the time it leaves its point of origin.
"The Edgar Cayce readings suggest that each of us writes the story of our lives through our thoughts, our deeds, and our interactions with the rest of creation. This information has an effect upon us in the here and now. In fact, the Akashic Records have such an impact upon our lives and the potentials and probabilities we draw toward us that any exploration of them cannot help but provide us with insights into the nature of ourselves and our relationship to the universe. There is much more to our lives, our histories, and our individual influence upon our tomorrows than we have perhaps dared to imagine. "(source)
Charles Webster Leadbeater, an influential member of the Theosophical Society and an author on occult subjects, has made similar claims, stating that the records hold the history of Atlantis and various other civilizations, including Lumeria.
H.P. Blavatsky (1831-1891), a Russian immigrant, mystic, and founder of the Theosophical Society, writes that the Akasha is "one of the cosmic principles and is a plastic matter, creative in its physical nature, immutable in its higher principles. It is the quintessence of all possible forms of energy, material, psychic, or spiritual; and contains within itself the germs of universal creation, which sprout forth under the impulse of the Divine Spirit." (source)
Philosopher, educator, and founder of the Anthroposophical Society, Rudolf Steiner believed that humans (and himself) have the ability to perceive information beyond the material world. Please keep in mind that this isn't a 'pseudoscientific' idea; for a selected list of downloadable peer-reviewed journal articles reporting studies of psychic phenomena, mostly published in the 21st century, you can click HERE.
Steiner writes:
Man can penetrate to the eternal origins of the things which vanish with time. A man broadens his power of cognition in this way if he is no longer limited to external evidence where knowledge of the past is concerned. Then he can see in events what is not perceptible to the senses, that part which time cannot destroy. He penetrates from transitory to non-transitory history. It is a fact that this history is written in other characters than is ordinary history. In gnosis and in theosophy it is called the "Akasha Chronicle." . . . The one who has acquired the ability to perceive in the spiritual world comes to know past events in their eternal character. They do not stand before him like the dead testimony of history, but appear in full life. In a certain sense, what has happened takes place before him. (source)
Are The Akashic Records Real?
With the information above, I just wanted to provide a very basic and brief description of the Akashic Records. I still have a lot of research to do to further my understanding, but the essential idea has always been pretty clear to me.
So, is there any 'proof" for the existence of the Akashic Records? Well, we are limited by modern day understandings of what qualifies as proof. Anything that cannot be perceived by our physical senses, or something that is (for most) impossible to perceive, it's hard to validate its existence. The truth is, there is really no way to 'prove,' in the material way that we currently define proof, the existence of the Akashic Records, because it cannot be seen, touched, heard, or otherwise measured. But this doesn't mean we can't theorize, and as Albert Einstein once said, "everything you can imagine is real."
"The day science begins to study non-physical phenomena, it will make more progress in one decade than in all the previous centuries of its existence." – Nikola Tesla
The same can be said for consciousness, or factors that we commonly associate with consciousness; thoughts, feelings, emotions, perception, and more are directly correlated with our physical material world, and this is backed by science. This is most demostrated by the quantum double slit experiment, and the parapsychological studies that are linked in this article above. (source) You can read more about thishere.
As for the nature of consciousness itself, that's a topic for another article.
So, we do know that just because something can't be seen, touched, heard, or measured, does not mean it can't still have a direct effect on our physical material world. And we do know that (some) ancient philosophies and esoteric teachings have been validated by modern day science. As far as proving the existence of the Akashic Records, it doesn't seem to be possible.
Again, one great argument for its existence is the fact that it is an ancient concept, and occult (occult means the quest for truth, unfortunately this word carries a negative connotation) authors have been writing about for years. We've seen other concepts, like the atom, or the energy that exists all around us, or near death experiences (NDE's) and out of body experiences, written about in ancient times, as well as studied by modern day science, with some promising results. Ancient peoples may not have understood the 'science' behind the phenomena they observed, at least in the way way understand science, but their theories often prove to be correct nevertheless. Perhaps they had better methods for gaining wisdom? There are countless examples where ancient societies are concidered much more 'advanced' than us, but we live in a different time.
I personally do believe that there is some sort of 'database' out there that we are all connected to, and everything about us (physical and non physical) can be found there. But I cannot say it exists for certain, nor can I provide any proof for its existence. All I can say is that in my heart I believe it to be true. I would also like to include that I do not feel that these "records" are used for judgement in any way.
"The nature of energy is to be understood. The properties of space have to be intuitively derived from the available scientific data. We have to pick out a single elementary material particle to construct the material universe and to establish the unity of the material worlds. We need to know the attributes of the single Substance, the nonmaterial Akasha to establish the Unity behind the diverse scientific and spiritual phenomena. We need to realize the agency of Consciousness, the principle of life and death, and the intelligence of the Universe. We can certainly know these phenomena through a scientific approach but the science that shall answer the above questions shall not be the current science. It shall be a new science inclusive of a spiritual base. And that shall set the stage for a merger of science and spirituality." — Paramahamsa Tewari, Engineer, Physicist, and Inventor, "Spiritual Foundations," www.tewari.org
Meditation As A Glance Beyond Near Death Experience
In the first study of its type, Dr. William Van Gordon, from the University's Centre for Psychological Research, followed 10 advanced Buddhist meditators from eight different nations over a three-year period. He compared meditation-induced NDEs to other regular meditation practices and evaluated their defining characteristics to make sure they met the standards of a conventional NDE.
Approximately four percent of adults in Western states report having an NDE when they are close to dying or in the interval between clinical death and resuscitation. Though individual, cultural and religious elements influence the language people use to explain and translate their NDEs, consensual scientific view indicates that there is little variation in the elements of NDEs.
These generally involve an out-of-body experience, a loss of awareness of space and time, communicating with light beings, meeting loved ones and looking back over their own lives. NDEs can often be transformational, prompting improved levels of intuition, changes in lifestyle and a better comprehension of the self.
The research demonstrated that some advanced Buddhist meditation practitioners can harness these experiences at will, fostering insight into the psychology of death-related processes as well as the nature of self and reality more generally.
Unlike regular NDEs, participants were consciously aware of experiencing the meditation-induced NDE and retained control over its duration and content. Assessment was however a range of methods such as restarting a battery of psychometric scales within one day of participants finishing their meditation.
Consequently, they also completed psychometric evaluations for a normal meditation practice which didn't induce an NDE or involve any kind of contemplation on departure or death-related processes, as well as one which involved reflecting on death but did not induce an NDE.
Participants reported that throughout the meditation-induced NDE they visited non-worldly lands, experienced what occurs during and after passing, and undergone a state of presence called 'emptiness'. Compared to regular forms of meditation, the meditation-induced NDE led to a five-fold increase in mystical experiences and a four-fold increase in feelings of non-attachment. Findings also demonstrated that the profundity of the meditation-induced NDE increased across the three-year study period, suggesting that the experience can be learned and perfected over time.
Unlike regular NDEs, participants were consciously aware of experiencing the meditation-induced NDE and retained volitional control over its content and duration.
Dr. Van Gordon, himself an experienced meditation practitioner, was the principal investigator for the study. The research was carried out in collaboration with the Awake to Wisdom Centre for Meditation and Mindfulness Research in Italy, the Psychology Division of Lincoln's Bishop Grosseteste University, the Miguel Servet University Hospital in Spain and Nottingham Trent University's Psychology Department.
Dr. Van Gordon said:"The practice of using meditation to gain a better understanding of death is longstanding, particularly in Buddhism where ancient texts exist that aim to help spiritual practitioners prepare , or gain insight into, the processes of dying.
"This study appears to confirm the existence of these meditation-induced NDEs, which have never been observed or investigated under research conditions before.
"A key implication is that the present study shows it would be feasible — and ethical — for future research to recruit advanced meditators to assess real-time changes in a person's neurological activity during an NDE. To date, the health risks and ethical challenges associated with conducting such a study in those experiencing a regular NDE have made this impossible."
Scientists Have Discovered The Brain Region Involved in Spiritual Experiences
Whether we think of ourselves as religious or not, lots of people experience moments in life that can be considered spiritual – where we feel a greater sense of meaningfulness, serenity, or connection with the world around us.
Now, scientists think they've pinpointed where those transcendental moments are processed in the human brain, identifying a region in the parietal cortex that appears to be involved in experiences that go beyond our ordinary state of being.
"Spiritual experiences are robust states that may have profound impacts on people's lives," says one of the researchers, neuroscientist Marc Potenza from Yale University.
"Understanding the neural bases of spiritual experiences may help us better understand their roles in resilience and recovery from mental health and addictive disorders."
To ascertain where these moments of spiritual insight take place inside people's heads, Potenza's team interviewed 27 healthy young people, inviting them to help develop a personalised 'imagery script' in which they recalled a spiritual episode from earlier in their lives.
"We would like you to describe a situation in which you felt a strong connection with a higher power or a spiritual presence," the participants were instructed.
"Spiritual states are those that through a felt-sense connect you to something bigger than oneself, a oneness, or strong force which may be experienced as an energy, force, higher power, G-d, deity or transcendent figure or consciousness."
In a separate session one week later, the same volunteers underwent fMRI brain scans recording their neural activity as they listened to a neutral female voice reading a script of the spiritual experience they had recounted.
The idea was to make them recall the personal moments where they felt a transcendent experience of something bigger than themselves, while imaging their brain activity to see where and how that spirituality registered itself cognitively.
"Across cultures and throughout history, human beings have reported a variety of spiritual experiences and the concomitant perceived sense of union that transcends one's ordinary sense of self," the team explain in their paper.
"Nevertheless, little is known about the underlying neural mechanisms of spiritual experiences, particularly when examined across different traditions and practices."
The results showed that when the spiritual experiences were recalled, participants exhibited similarly reduced patterns of activity in the left inferior parietal lobe (IPL), which is involved in awareness of self and others, as well as reduced activity in the medial thalamus and caudate, regions associated with sensory and emotional processing.
"Taken together, the present finding suggests that spiritual experiences may involve a perceived encounter with a spacious 'presence' or entity external to oneself," the researchers write.
"This interpretation is consistent with a strong feeling of connection or surrender to a deity or other revered figure, as often reported in religious and spiritual literature."
It's important to note one of the chief limitations with this particular research.
Specifically, the team are basing their findings on a study of only 27 participants, all of whom were young, English-speaking people recruited from New Haven, Connecticut.
Of course, their experiences of spirituality can't be said to be representative of everybody else's – which is something the team acknowledges and says should be extended upon in subsequent studies, by incorporating people from a more diverse set of backgrounds.
But to the extent that this study offers us new insights into how feelings of spirituality occur inside the brain – and the attendant calmness and sensations of connectedness that go along with it – it could be a great launching point for future research into the neurological mechanisms of mental health.
By improving "our empirical understanding of how spiritual experiences are mediated by the brain," the researchers write, we will be able to help "facilitate the judicious integration of spirituality into treatment and prevention in areas of mental health conditions".
The findings are reported in Cerebral Cortex.
Transcending the Hegelian Dialectic and Duality Reality
Rosanne Lindsay, ND, Guest
Waking Times
In our ego-driven, divide-and-conquer world, we live in a duality reality. This reality reflects a matrix of opposites: introvert/extrovert, beginning/end, living/dead, mind/matter, wave/particle, self/other, material/spiritual, on/off, right/left. This is merely a separation of the mind that always wants to compare. We are both and neither. Humanity is a part of Nature and Nature is a continuum. In Nature, there is no separation, no opposition, no self and other, no conflict, and no destruction, unless destruction is balanced with creation. Just as Nature is self-sustaining and self-healing, so are we.
The hierarchical, dual systems in which we find ourselves, from prisons to politics, are grounded in duality, promoting separation over unity, creating leaders and followers. The system is served well by the Hegelian Dialectic.
The Hegelian Dialectic originated with George Hegel, a nineteenth century school teacher, who argued that human nature is a series of conflicts and resolutions that eventually elevate humankind to a unified spiritual state. The process is based in three easy steps: Problem-Reaction-Solution. Create a problem. Foment a reaction (of anger or sympathy). Provide a solution.
Two hundred years later, whatever Hegel's good intentions, the goal to achieve unity from conflict-resolution has remained unproven and unachievable. Under duality reality, economic chaos has produced increased taxation. Shortages of oil and food have reinforced monopolies. The threat of pandemics has led to vaccine mandates. The threat of terrorism has resulted in restrictions on individual freedoms. Conflict has only bred more conflict.
The obvious truth that refutes Hegel's idea is that unity is not uniformity. Unity follows no leaders and leads no followers. Unity does not restrict, limit, or conform through education or through more regulations and mandates. Unity fails where players must choose to align with a tribe and plug into the implicit biases of tribal programming. The tribe – wearing the suits of political parties or the robes of religious sects – reinforces the divisions and the information that we already believe and want to hear.
Hegel's goal for unity can never work because in duality reality we naturally choose competition over compassion. In our system of choosing sides we lose our individuality. We hope for peace and wonder why nothing ever changes. Those who believe they are on the side of peace accuse others of being on the side of war. Each group fights with weapons of words, never able to find peace, unity, or common ground because the very foundation of the system keeps people divided.
Duality Matrix
Each side feels threatened by the other in a struggle over control. The duality matrix creates winners and losers. The media reinforces the infighting that keeps both sides distracted while an imbalance of power is maintained – the few controlling the many. The many are promised protection and security against all their fears. However, no guarantees are granted. As a consequence, the many are left feeling vulnerable and powerless, embracing their servitude and begging for greater protections at the expense of their freedoms.
As a nation, we experience the fear of vulnerability every time we are faced with the consequences of an unexpected natural, or man-made disaster. We have become dependent on the guise of security in the form of the National Weather Service and the Federal Emergency Management Agency (FEMA), so much so, that when the information is incorrect and the system fails, we are left helpless, not knowing how to forage for food, build shelter, or fend for ourselves as our ancestors did. We are a technically advanced nation without a community and without a connection to the land on which we live.
We believe that in giving our allegiance to the State and Federal government that we are protected. However, the State, including local law enforcement has no duty to protect us. The Supreme Court revealed this truth in 1856 in South v. Maryland when it ruled, "Local law-enforcement had no duty to protect individuals but only a general duty to enforce the laws. The Supreme Court uses the Constitution to protect the State in its ruling in Bowers v. Devito:
"there is no constitutional right to be protected by the state against being murdered by criminals or madmen. The Constitution is a charter of negative liberties; it tells the state to let the people alone; it does not require the federal government or the state to provide services, even so elementary a service as maintaining law and order."
In exchange for votes to uphold a dual system, people receive a false sense of security. However, our inherent rights do not come from the government, The Constitution, or The Bill of Rights, or any paper document. These are merely symbols. Inherent rights and freedoms are not dictated by regulations and statutes but by common sense and morals, as long as no harm or loss is caused. Inherent rights are higher, transcendent rights that are "unalienable." These rights are God-given under the laws of nature, and can neither be granted nor withdrawn. As Thomas Jefferson wrote in the Declaration of Independence:
We hold these truths to be self-evident, that all men are created equal, that they are endowed by their Creator with certain unalienable rights, that among these are life, liberty, and the pursuit of happiness.
The Tenth Amendment to the United States Constitution reads in part:
The powers not delegated to the United States by the Constitution, nor prohibited by it to the States, are reserved to the States respectively, or to the people.
New Hampshire is the only state in the country to have an express, written right of revolution in the state constitution. The only concern is the non-negotiable prohibition against violence of any sort in the enforcement or manifestation of this right.
Text of Article 10: Right of Revolution:

Government being instituted for the common benefit, protection, and security, of the whole community, and not for the private interest or emolument of any one man, family, or class of men; therefore, whenever the ends of government are perverted, and public liberty manifestly endangered, and all other means of redress are ineffectual, the people may, and of right ought to reform the old, or establish a new government. The doctrine of nonresistance against arbitrary power, and oppression, is absurd, slavish, and destructive of the good and happiness of mankind.
Transcend Duality Reality
The division of opposites will continue to play out in reality until we recognize that all war and peace, introvert and extrovert, light and dark exists within us. To attack another is to attack one's very nature. To judge another is to judge one's self. In peaceful resistance, we can either opt out or withdraw consent from any system that would subvert unity and cooperation. Just saying NO can be a powerful stance.
Transcending duality reality comes down to creating new rules under Natural Law, that does away with the hierarchical systems of authority. It also requires real choice. Choosing not to participate in a system that doesn't serve the greatest good is making an energy statement as powerful as choosing to participate. Choice determines outcome. Withdrawing consent is not apathy but the opposite of apathy. Being vulnerable is not the problem, but fear is. F.E.A.R. is False Evidence Appearing Real. Fear is merely a construct of the mind, but it serves to hold humanity in shackles. The power to transcend conflict, and come together, is found in choosing kindness as our tribe.
Are we ready?
About the Author
A portion of this blog is excerpted from the book Nature of Healing, Heal The Body, Heal the Planet by Rosanne Lindsay. Rosanne  is a Naturopath in the State of Wisconsin and healer with the Turtle Island Provider Network. Consult with her via Skype to create a health plan that increases vitality at natureofhealing.org. Rosanne is also President of the National Health Freedom Coalition, co-founder of Wisconsin For Vaccine Choice  and author of the book The Nature of Healing, Heal the Body, Heal the Planet. Find her on Facebook at Rosanne Lindsay and Natureofhealing, where this article first appeared.