The 1987 Ilkley Moor Alien Photograph
The cold and dreary moorland in England known as Ilkley Moor is a place in which you don't want to get stuck after the sun goes down. When a freezing chill begins to sink low to the ground and the surrounding darkness is met with an encroaching menacing fog. A place where hazard-friendly trails snake through acres of wet, isolated land and where strange lights have been reported. A place where in the winter of 1987 a former police officer encountered a strange creature standing up ahead on a trial path. Startled by the humanoid being, Philip Spencer managed to snap a single photograph of the creature. What follows is the story of the unsolved mystery of the Ilkley Moor Alien photograph.
 The Sighting
Philip Spencer is a pseudonym for the former police officer who early one December morning decided to hike across the moor to visit his In-laws. Having heard stories of strange lights that have been spotted near the Ilkley Moor, Spencer took with him his camera to capture them on film. He had also taken with him a compass to help him navigate through the early morning fog. 
Coming upon a small hill he noticed something odd moving just up the trail ahead of him. As Spencer looked on, he realized that the mysterious figure looked humanoid. He raised his camera, pointed and clicked.
Just then the being raised its arm, as if waving him away, and then began to move down the trail. Disappearing out of Spencer's sight. Curious, the former police officer started to make his way up the narrow path in chase of the mystery creature.
Just as he reached was reaching the top of the trail he stopped in his tracks. In the close distance, a large dome topped craft lifted up from the moor and rose out of sight into the morning sky. He did not take a second photograph, Shocked at what he had just seen, Spencer quickly made his way to the nearest village.
Lost Time
About half hour after the sighting, Spencer made it to the village. Along the way he had noticed that his compass was broken. It pointed south instead of north, which was the complete opposite of where Spencer was. Thinking nothing of it, he continued into the village only to stop again when he glanced at his wrist watch. It was an hour behind of what he knew the time should have been.
A whirlwind of worried thoughts swirled through Spencer's head as he began to question his sanity. What had he seen out in the lonely moorland that morning and what happened to the missing time?
The photograph
When Spencer developed the photograph he was shocked to see that he had captured exactly what he claimed to have encountered out in the moor. A short human-like creature with a bulbous head and long, thin arms.
Spencer contacted Peter Hough, a well known UFO researcher, and told him of his experience that December morning. Immediately upon examining the print, Hough thought of it as intriguing enough to be studied. He sent the photograph to the Kodak laboratories in Hemel, Hempstead for further analysis. Of which the only conclusive result was that whatever the creature or object is, it is definitely in the original photograph. Meaning it was not proven to be a superimposed image.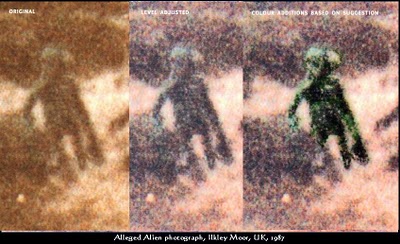 Hough examined the compass next. He did not find anything out of the ordinary about it so he decided to have the compass checked for radiation at a local University. The results came back negative. As far as everyone was concerned, there was nothing wrong with the compass.

The above photograph shows UFO researcher Arthur Tomlinson standing in the exact spot where the 'creature' stood.
The Nightmares & Hypnosis
Shortly after the sighting, Spencer began to tell Hough about strange "starry dreams" that he was experiencing. Hough, being familiar with abduction cases and missing time, suggested to Spencer that he go under hypnosis. A session was scheduled on March 16th, 1988 with Dr. Jim Singleton and UFO researcher Arthur Tomlinson.
What follows is part of the transcripts and commentary (in parenthesis) from Peter Hough from the session that night:
JS– I want you to cast your mind back to the 1st December last year when you set off across the moor. I want you to clear your mind back to that and I want you to re-experience that. I want you to tell me what you experienced.

Spencer– I'm walking along the moor, oh! its quite windy. There is a lot of clouds. Walking up towards some trees.

I see this little something, can't tell, but he's green it's moving up towards me.

Oh! I'm stuck I can't move and the creature still coming towards me.
I'm stuck and everything gone fuzzy.
I'm, I'm floating along in the air I want to get down!

I still can't get down and I don't like it.
I'm going round this corner and this green thing is in front of me.

Oh God! I want to get down! (long pause) (breathing faster)
There's a there is a big silver saucer thing there's a door in it.

And I don't want to go in there. (worried sound in his voice) (sigh) Everything gone black now. (pause).

JS– you say everything gone black?

Spencer– Mmm! I can't see anything like I'm asleep, can't hear anything.

(short pause) There's a bright light now.
Can't see where it's coming from?
I'm in a funny sort of room I can hear this voice saying don't be afraid.

I don't feel afraid anymore.
I can still see this green thing but I'm not afraid anymore of it.

I'm being put on a table.
I can move now if I want to, but I don't feel frightened any more and there's a beam like a pole it's above me it's moving up toward me.

It's got a light in it like a fluorescent tube. It's coming up from my feet I can hear that voice again saying "we don't mean to harm you and don't be afraid.

" Makes me feel warm as it moves up me it's coming up over my stomach towards my head.

Close my eyes I don't want to look at it in case it hurts my eyes.

It's gone! (pause) there is something my nose feels funny (shows movement of nose) that's gone as well, I'm standing up now I don't know how I got stood up?

I can see a door there is one of these green creatures motioning for me to come with him.

Don't really want to go with him. I'd rather stay here I don't feel afraid in here (pause).

JS– Can you tell me what's happening now?

Spencer– I'm walking towards a door there is still a bright light there is light all around want to know where its coming from its just bright all around.

Walking down a corridor there is a window.
Oh! God!(sounds shocked)is that real? (deep sigh) (pause) (sounds afraid) don't want to be up here want to be down there?

I can hear that voice again saying you've got nothing to fear.
Its pretty though didn't realize it looked so pretty.

(What Jon was looking at through the window was the earth seen from high in space just like the Apollo astronauts saw.
I've gone past the window now I'm walking down a corridor. (long pause)

JS– What's happening now?

Spencer– Come to the end of the corridor.
There's a hole opened in it so I can walk through. I'm in a big room-a big round room, I'm on a raised platform against the wall.

My camera and compass are trying to get away from me.
Going towards the ball.

It's difficult to pull them back down again, and this balls moved round with strange its got some blocks on it he says we cant stay in here to long he wants us to go out again the holes closed in the wall its gone strange he says I've got nothing to fear but Id still like to go home (pause) its got such big hands.

JS– What's happening now?

Spencer– Going down a corridor again.
Its very bright still I wish I knew where the light was coming from.

And there is another door, going through a door it's an empty room two of those green creatures have come with me.

There's a picture ,it's starting to move on the wall wonder how they get the pictures?

JS– Can you tell me what's happening at this point?

Spencer– I'm looking at the pictures on the wall. (long pause)

JS– Pictures on the wall?

Spencer– Mmmm. Creatures seem concerned at the damage that its doing.

Picture changing now there's another picture, another film he's asking me a question he says do you understand?

I said yes. It's time to go.
Everything gone black.
I'm walking up the moor again,
I'm walking near some trees.
Some movement – I can see something.

A green creature. I've shouted to it.
It's turned round. I don't know what it is.

I'll photograph it it's turned around now.
It's moving quick want to know what it is.

I'm running after it, it's gone round a corner, I can't see it now.

There's … There is a saucer (laughingly), big silver saucer! It's disappeared? I'm walking on down gone past the trees.

JS– What's happening now?

Spencer– I'm going home. It's ten o'clock on the town hall clock.
Can't really understand it was only eight o'clock.

JS– You mentioned some green creatures. Would you try to describe them to me?

Spencer– It's quite small.
He's got big pointed ears, it's got big eyes.

They're quite dark, he hasn't got a nose he's only got a little mouth.

And his hands are enormous.
And his arms are long.
He's got funny feet.

JS– Funny feet?

Spencer– They're like a V shape like two big toes. Must be difficult to walk like that.

He shuffles rather than walks.
I don't feel afraid of him although he looks odd.

JS– You mentioned big hands? Can you say anymore about the hands?

Spencer– It's got three big fingers, like sausages. Big sausages.
They're just very big.
Bigger than my hands.

JS– About how tall would you say these creatures are?

Spencer– It's about four foot. Comes to the lump on my stomach.
He's about as high as – just a bit bigger than my stomach is.

JS– Okay. Now I wonder if I can ask you another question? you mentioned a film?

Spencer– There were two films.

JS– Two films?

Spencer– One was lots of scenes of destruction like on the news.
Can see lots of waste going into the river, and people like Ethiopians who are starving.
It's not very good, it's not very nice.

JS– Want to say anything more about that film?

Spencer– It's much of the same thing, only different.

JS– What about the other film then? Do you want to tell me about it?

Spencer– I'm not supposed to.

JS– I'll leave that up to you entirely, do you want to say anything about that?

Spencer– I'm not supposed to tell anyone about the other film, it's not for them to know.

JS– Is there any thing more?

Spencer– No.
Real or Hoax?
We're left with the assumption that what Mr. Spencer experienced in 1987 was a typical case of abduction. The missing time, magnetic disturbances and reoccurring nightmares all seem to be indicative of that. Combined with Mr. Spencer's eerie account and his claim of photographic evidence of what he saw that day, it's a perfect recipe for an alien abduction case.
However just because a laboratory from Kodak determines that the original photograph does not show signs of superimposing or any other photo manipulation it does not mean that it's proof positive of the existence of alien creatures on our planet. For all we know Mr. Spencer might have been a crafty man with a lot of spare time, hoping to pull one over on the world.
Sources:
http://www.theironskeptic.com/articles/moor/moor.htm
http://ufos.about.com/od/aliensalienabduction/p/ilkleymoor.htm
http://www.ufocasebook.com/ilkleymoor.html
http://www.abovetopsecret.com/forum/thread1021286/pg1
US special forces engaged in combat with aliens during the Vietnam war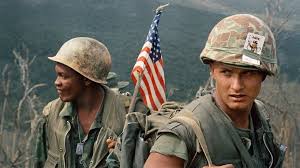 This incident happened in early 1972 during the Vietnam War. A US Special Forces group was secretly delivered at night and parachuted in an area on the Cambodia-North Vietnamese border.
The operation was vital: to destroy a facility in North Vietnam, which, as it was possible to establish by American intelligence, was secretly overhearing top secret conversations of the US Army in South Vietnam.
The SWAT team set up camp for the night, preparing to assault the North Vietnamese team at dawn. In the early morning, the commandos quietly crept up to the Vietnamese base, but what they saw there shocked and frightened them.
As the team got closer to the location of the North Vietnamese unit, they suddenly discovered that there was a large spherical ship that stood on three sturdy metal supports.
The ship suddenly began to hum, causing instant sickness, dizziness, and disorientation in the US military.
The group leader was about to issue a command to retreat when a group of strange looking humanoid creatures appeared.
Not believing what they saw, the special forces group was even more frightened by what these creatures were doing (according to the description of the soldiers, taking into account modern data based on numerous contacts, it can be assumed that they were "gray"): the aliens got out of a large pile various parts of human bodies and placed them in large containers – arms, legs, torso, heads; this terrible list went on and on.
Some were the remains of white people, others were black (US Army soldiers), and others looked like Vietnamese (Vietnamese soldiers from the base).
What they saw sobered and angered the special forces and the commander gave the order to open fire – the bullets hit the bodies of the creatures, but they did not do any harm, except for one who was killed by a shot in the head.
Several commandos were killed, and others were seriously injured by the effects of unknown weapons. Then the aliens quickly retreated into the ship and he quickly rushed into the sky,
Soon, another CIA team appeared on the scene, as one of the survivors said they were all given some kind of mind-altering drugs to try to make them forget about this incredible fight. And it worked, at least for a while.
However, in the late 1980s, two members of the special forces team who took part in that battle began to have nightmarish memories of the events of April 1972, which prompted one of them to contact many other special forces who were found and who were still alive.
Two had already died, three were not found at all, but the rest were able to meet in August 1988 and decided that this story should be told.
They turned to researcher and ufologist Leonard Stringfield and he published their story in his 1991 book.
The story is told in Stringfield's UFO Crash Retrievals: The Inner Sanctum. 
UK UFO case to be kept secret until 2072
The UK Department of Defense has blocked the planned release of a dossier detailing the famous UFO incident.
Back in August 1990, two tourists walking in the Scottish Highlands near Calvine, Pitlochry, witnessed a strange rhombic object hovering over the nearby landscape.
They managed to take pictures of the UFO before it flew away at significant speed.
Eager to share what they saw, the couple contacted the Scottish Daily Record and shared both their story and the photos they took.
Then the journalists shared the pictures with the UK Department of Defense.
It turned out that the tourists weren't the only ones who saw the object – the pilot of the RAF Harrier jet also witnessed the phenomenon – again near Calvine – after being forced to investigate this UFO.
Military intelligence officers sent these images to JARIC, which is the Joint Air Intelligence and Reconnaissance Center.
It is the UK's military center of excellence when it comes to image analysis. These intelligence officers concluded that these photographs were real and that no one had the slightest idea what they were.
Thirty years later, the dossier of the Ministry of Defense, including photographs, was scheduled for declassification and publication, which is typical of such documents.
However, the release has now been postponed for another 50 years for unknown reasons.
According to the 30-year rule, the file was supposed to be released on January 1, 2021, but if the ministry gets it, it won't be released until January 1, 2072 – an 82-year closure.
"By the time the world gets to see the file, the two witnesses will be dead. It is crazy. What are the authorities trying to hide?"
A complaint lodged under the Freedom of Information Act about the National Archives withholding the documents is now under investigation by the UK information watchdog, the Information Commissioner's Office.
The National Archives refused to comment further. The MOD refused to comment at all.
What are the authorities trying to hide?
FBI decrypted documents confirm that there are giant aliens
The topic of aliens has always attracted attention. Recently, foreign media disclosed that a declassified document released by the Federal Bureau of Investigation (FBI) once again confirmed the existence of UFOs and aliens.
FBI Declassified Document: Describes UFO and Aliens
The British "Daily Star" reported that earlier this year, the FBI released the decrypted documents in 1947. The 70-page decrypted report contained a "Memorandum 6751". The person who wrote the report was an anonymous university professor.
"Memorandum 6751″ mentioned that there were flying saucers, unidentified creatures, and " giant aliens resembling humans ".
The report stated that these aliens are like humans, "but larger in size. They are not from any planet known to people, but from the etheric." "Ether" is a term used in ancient Greece, generally referring to the atmosphere or sky.
There is also a description of the flying saucer in the decryption report, which refers to the fact that most of the flying saucers are loaded with alien creatures. The flying saucers have powerful radiation, are very fast, and have powerful attack capabilities.
"These flying saucers have a kind of radiant energy or light that can easily disintegrate any spacecraft that launches an attack. They can re-enter (earth) from the ether at will, or they can simply disappear from our sight without leaving a trace."
The report states, "If one of these (flying saucers) is attacked, the attacking aircraft will almost certainly be destroyed. As far as the general public is concerned, this may lead to proximity panic and international suspicion."
Tesla is a " Venusian "
In recent years, due to the expiration of the confidentiality period, the FBI has published many decrypted documents on its official website, including one about the famous inventor Nicholas. Tesla (Nikola Tesla) declassified documents, caused a public heat. The document mentioned that Tesla came from "Venus" and was an "alien".
The decrypted document is called "Nikola Tesla Part03 of03". It is the third document about Nikola Tesla decrypted by the FBI. It has 64 pages of content, some of which are blacked out and cannot be distinguished.
The remaining content that is not blacked out contains the following passage: "The people of the universe have contacted Nikola Tesla many times and told the FBI that Tesla was from Venus. Tesla was brought to the earth in 1856 to a Yugoslav couple to raise."
The publication of this document shocked the world. Faced with a wave of discussions and doubts from netizens, the FBI did not make any response or explanation, which is even more curious.
F-18 fighters chase UFO
"The Wall Street Journal" recently reported that the non-profit organization "National UFO Reporting Center" data shows that so far this year, UFO sightings have increased by 51% over the same period last year. The center has received approximately 5,000 sightings reported.
On September 8, the United States retired Lieutenant Colonel David. David Fravor accepted the Massachusetts Institute of Technology scientist Rex. In a live webcast interview with Lex Fridman, he talked about the bizarre experience of driving an F-18 fighter jet to chase UFOs 16 years ago.
On November 14, 2004, a UFO was found in the waters of San Diego, California, and Frevo piloted an F-18 fighter to investigate. Both he and the pilot of the other fighter saw a white Tic Tac mint-shaped flying object.
Subsequently, the pilot Chad Underwood flew an F-18 fighter jet, caught UFO on the radar, and successfully filmed UFO video with an infrared camera.
In April this year, the Pentagon released three videos of UFOs, one of which was taken by Underwood during this operation.
12 U.S. soldiers live on alien planets
Former Minister of Defense of Canada Paul. Paul T. Hellyer once disclosed that there are aliens living on the earth and working for the US government. Many US presidents have also admitted the existence of aliens on different occasions.
In addition, some U.S. military personnel disclosed that a top-secret exchange between the U.S. military and aliens was named "Operation Zeta," and an alien envoy came to the United States. In July 1965, 12 American soldiers secretly boarded an alien spacecraft to the planet Zeta.
Of these 12 people, 4 never returned to Earth. Of these 4 people, 2 died, 2 chose to stay on Zeta, and the remaining 8 returned to Earth 13 years later.