The 1897 Aurora, Texas, UFO Crash & the 'Alien' Buried in the Cemetery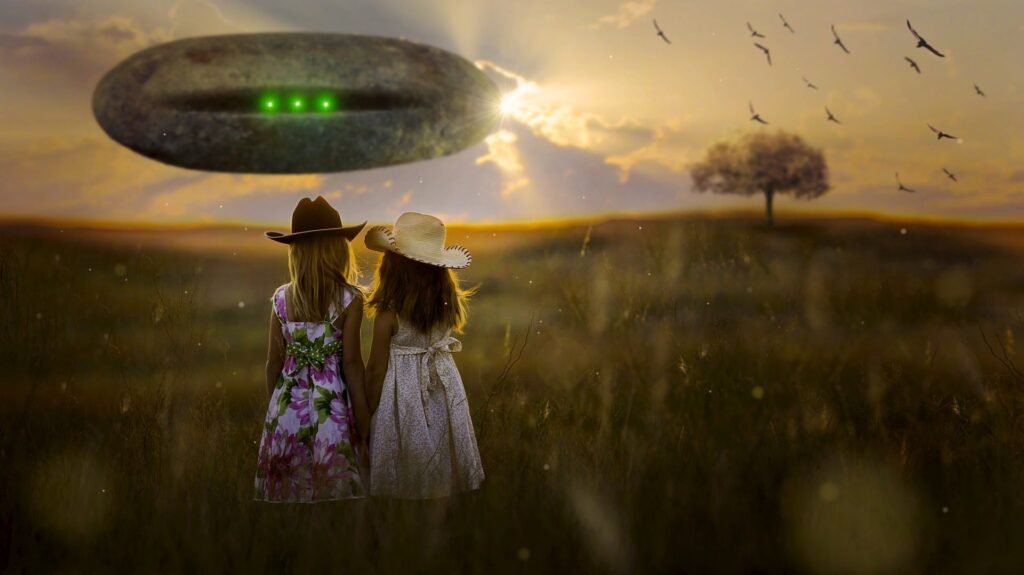 When you hear the phrase "UFO crash," you probably think of Roswell, New Mexico in 1947, but did you know that 50 years earlier, a mysterious airship allegedly crashed in Aurora, Texas? Not only that, but The Dallas Morning News claimed that the airship pilot, who was killed in the crash, was "not an inhabitant of this world." The body of the pilot was buried in the local cemetery. You might dismiss it all as a Texas-size tall tale, but in the 1970s, reporter Jim Marrs managed to track down and interview a living eyewitness to the Aurora airship. Was this little Texas town, located about 20 miles northwest of Dallas, the site of an other-worldly encounter?
Between 1896 and 1897, dozens of reports of strange, cigar-shaped airships were reportedly witnessed across the country. The sightings began in California and headed east. The most dramatic of all these reports appeared in the April 17, 1897 edition of The Dallas Morning News. An article by Aurora resident S. E. Haydon claimed that near dawn two days earlier, an airship crashed into Judge J. S. Proctor's windmill in Aurora.
Photo: Facebook/Eric Shirey
"…the early risers of Aurora were astonished at the sudden appearance of the airship which had been sailing throughout the country," Haydon wrote. "Evidently some of the machinery was out of order, for it was making a speed of only ten or twelve miles an hour and gradually settling toward the earth. It sailed over the public square and when it reached the north part of town collided with Judge Proctor's windmill and went to pieces with a terrific explosion, scattering debris over several acres of ground, wrecking the windmill and water tank and destroying the judge's flower garden." Haydon wrote of the corpse: "…while his remains are badly disfigured enough of the original has been picked up to show that he was not an inhabitant of this world."
Papers written in a strange form of hieroglyphics were discovered on the body. According to Haydon, the ship was "built of an unknown metal, resembling somewhat a mixture of aluminum and silver, and it must have weighed several tons." People from Aurora and the surrounding countryside gathered to view the debris, and a funeral for the dead pilot was held the next day.
The similarities between the Aurora crash and modern UFO cases are difficult to dismiss as mere coincidence. Largely forgotten for decades, the Aurora case came into the public eye in the 1970s. In 1973, reporter Jim Marrs interviewed 83-year-old Charlie C. Stephens, who was at first reluctant to "get involved." After some "neighborly conversation," Marrs finally persuaded Stephens to reveal what he saw as a 10-year-old boy that April morning in 1897. That morning Charlie and his dad were working with cattle when they spotted the cigar-shaped craft passing low overhead with a bright light. They watched it move toward Aurora, then heard an explosion. Fire shone in the northern sky. "I wanted to go immediately and see what happened," Stephens told Marrs, "but my daddy said we had to finish our chores." The following day, Stephens' father rode into town and viewed the airship debris.
Jim Marrs visited the Aurora Cemetery in 1973 and saw what was believed to be the pilot's grave, marked by a "crude rock headstone" that was half-broken. On the remaining half, a design was etched that resembled "one end of a saucer-shaped structure" with small circles that appeared to be portholes. The grave itself wasn't full-size but appeared to belong to either a child or a very small person. Fellow journalist Bill Case had used a metal detector over the grave and believed it contained "at least three large pieces of metal." Later, Case returned to the grave site with his metal detector and discovered that the signal was gone. A metal pipe had been inserted into the ground—someone had apparently removed the metal pieces from the grave.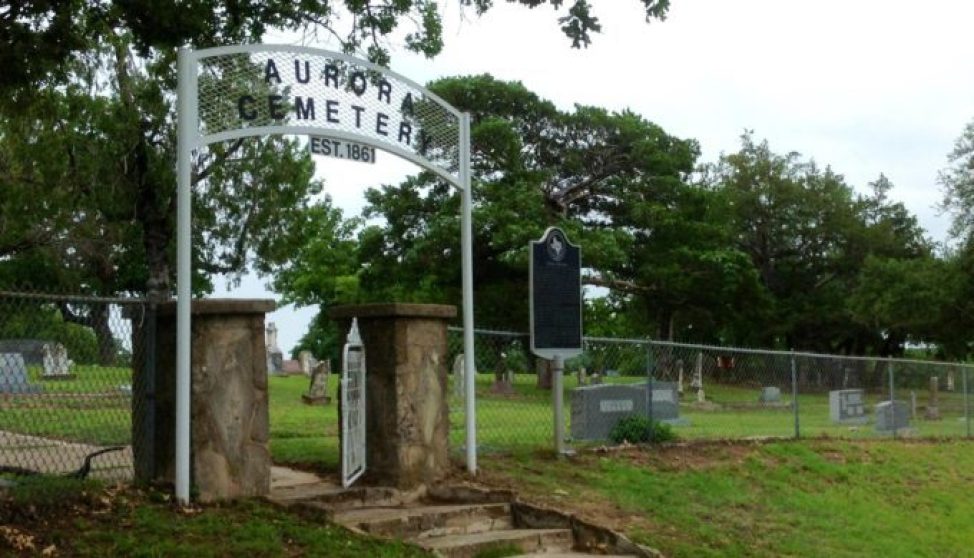 Photo: Facebook/Helmi Flick
In the 1970s, the grave marker was stolen, and the exact location of the pilot's grave was lost. In recent years, Ground-penetrating radar has been used to discover an unmarked grave in the area where the pilot was believed to have been buried. Nonetheless, the Aurora Cemetery Association has been steadfast in its refusal to grant researchers the right to exhume the grave.
Was the pilot of the airship an alien, an interdimensional visitor, a badly-burned human, or just a belated April Fool's prank? In 2004, Michael Busby published his extremely well-researched nonfiction book "Solving the 1897 Airship Mystery." Busby's book proposed that, rather than ETs, humans were behind the great airship sightings of 1897. The book examines theories about a secret society of airship builders, based in California in the 19th century, known as the "Sonora Aero Club." The existence of this aero club only came to light when strange, beautiful drawings of airships were discovered in a Houston antique store in the 1960s. The story of Charles August Albert Dellschau, the artist who drew these airships and who claimed to have been a member of the aero club, is a fascinating tale in itself.
Whether you believe the Aurora airship was a tall tale or a compelling case of a real-life UFO crash, one thing is for sure: the Lone Star State is the home of legends that are larger than life.
Source texashillcountry.com
UFO expert warns against trying to contact ET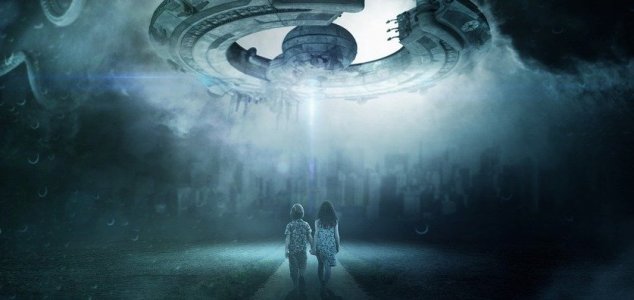 Image Credit: PD – Comfreak / Pixabay
Should we really be trying to make contact ?
Former CIA operative Darrel Sims maintains that attempting to contact intelligent aliens is a very bad idea.
Sims, who has spent 38 years researching the alien abduction phenomenon, claims to have had his first encounter with the unknown when an extraterrestrial entity appeared in his bedroom and tried to manipulate his thoughts when he was a mere four years old.
He described how the alien had tried to alter his perception to make him think that it was only a clown.
Nowadays, Sims remains adamant that these alleged extraterrestrial visitors are anything but benign. In his view, they are manipulative beings who victimize humans in various different ways.
For this reason, he argues, attempting to make contact with ET would be a mistake.
"It's an uninformed position for [SETI etc.] to get in contact with whoever's out there," he said. "Some people have done that and died as a result. Some people have been injured."
The event to which he refers allegedly occurred in 1994 when a movie and television production crew who attempted to contact aliens by shining lights at a known UFO hotspot mysteriously disappeared.
It is unclear however who these individuals actually were or whether there is any merit to the story.
You can view a full interview with Sims in the video below.
Source: IB Times
Navy source reveals that UFO sightings were 'daily occurrence' across multiple squadrons in 2014-15
© NORTHROP GRUMMAN
Tyler Rogoway
The War Zone
The E-2D Hawkeye is one of the most capable aerial surveillance platforms ever created.
One of the biggest questions surrounding the most recent known spate of UFO encounters with U.S. Navy pilots – those that occurred off the southeastern seaboard of the United States between 2014 and early 2015 – pertains to how persistent they actually were. We know Super Hornet aircrews from Strike Fighter Squadron 11 (VFA-11), the Red Rippers, detected unknown objects multiple times on radar and one aircrew even had a close encounter visually with one of them, but what about the rest of the many Hornet squadrons based at Naval Air Station Oceana, not to mention the E-2 Hawkeye squadrons from nearby NAS Norfolk? We have the answer to this question and it is remarkable.
A source with knowledge of the events has made it clear to The War Zone that presence of the mysterious objects in the restricted training airspace off America's east coast was so pervasive that it was largely common knowledge among local flying units. They noted that the majority of the Super Hornet squadrons equipped with AN/APG-79 Active Electronically Scanned Array (AESA) radars – you can read all about this technology and how it was key in detecting these objects in our exclusive piece on the subject – at the time were having the same experiences, as well as the crews flying the new E-2D Hawkeye with its incredibly powerful AN/APY-9 radar suite. It literally became such a common and near everyday occurrence that Naval Aviators and Naval Flight Officers from the base would talk about it informally with regularity.
But that doesn't mean formal action wasn't taken. Beyond filing an official safety report after one of the jets almost hit one of the unidentified objects – described eerily as a translucent sphere with a cube structure suspended inside of it – Notices To Airman (NOTAMs) were posted regarding the dangers potentially posed by unknown aerial vehicles flying in the same military operating areas that aircraft from NAS Oceana frequented for training. This action was taken by the base's command leadership as they couldn't figure out how else to address the bizarre issue and its perceived threat to their aircrews' safety.
We have since filed Freedom Of Information Act (FOIA) requests for copies of these NOTAMs, as well as documents regarding how the decision to file the NOTAMs was made at the command level.
Another burning question surrounding these events pertains to whether or not additional visual encounters occurred beyond the one near miss with the Super Hornet and the 'cube inside an orb' object. Our source tells us that there were many more, and yes, they all resulted in the exact same description of the object. So, we are talking about a uniform set of very strange looking objects here that were spotted on radar, by infrared targeting pods, and by the naked eye, frequently over 2014 and the first part of 2015 above the waters off America's southeastern coastline.
As we noted in our last piece on the subject, these encounters dropped off to the point they were described as fleeting and inconclusive at best once VFA-11 and its carrier air wing went on cruise to the Middle East in early Spring of 2015. In addition, we know that the carrier strike group and its aircraft were equipped with key new sensor fusion technologies for that deployment, a fact that is eerily similar to the circumstances surrounding the now famous 'Tic Tac' incident nearly a decade earlier. All of which makes these objects' presence during the time leading up to that deployment that much more curious.
Yet at the same time, the fact that the volume of these recent encounters seems much greater and spread over a much larger period of time versus the infamous incident in 2004 is puzzling. And none of this even addresses the very peculiar physical appearance of these objects, but we have another report on that subject that will be filed in the very near future.
Still, at least we now have a much better sense of how widespread these encounters were and the cultural impact that they had on the Navy's east coast master fighter jet base. This also underscores just how taboo this topic was to military aviators. The fact that these types of events could have been so pervasive, yet kept so hushed-up outside of Navy tactical aircraft aircrew circles, is telling in itself and provides good evidence as to why the Navy had to officially change is procedures for its personnel reporting such strange incidents.
All this comes as Congress is taking a high-interest in the subject as of late, with multiple briefings being given to key lawmakers with the military's top witnesses.
Whatever the case may be, we are definitely entering into uncharted territory when it comes to this long shunned and abused topic. What exactly that will mean when it comes to actually getting to the truth of the matter remains to be understood.
This video shows one of the encounters seen of the east coast in this time period:
Navy pilot Lt. Ryan Graves makes the shocking claim that multiple unidentified crafts appeared in the Middle East over the Arabian Gulf, while the carrier strike group was launching air strikes in Syria. Clip from #Unidentified: Inside America's #UFO Investigation. #TTSA #AATIP pic.twitter.com/tE0cQVMVPZ

— Alejandro Rojas (@alejandrotrojas) 30 May 2019
Massive Group of Seekers Pledge to Storm Area 51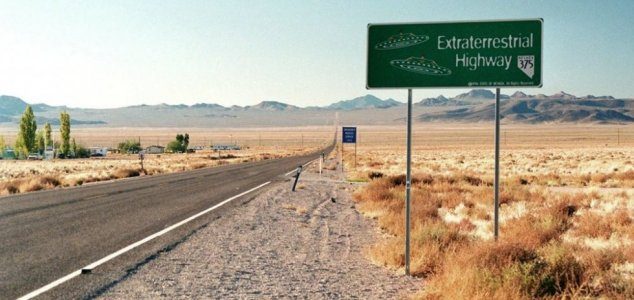 Area 51 is the most famous base in the world. its place in popular culture is more than accepted and has been the scene of all kinds of stories, movies, and any kind of work you can imagine.
Located in the Nevada desert, USA, Area 51 is officially the "Nevada Testing and Training Camp", but many people believe it is much more: it is the place where the US Army gathers tests and executes related experiments. with the paranormal.
For their part, the US military did not even admit the existence of such a base, even though it was well known that there was something there.
Not in vain the base was built on an airfield used during the Second World War, so it's not as if there had never been anything there. But the secrecy about what was done at the base was absolute, and that stoked the flames of the conspirators.
In 2013, the US government officially recognized the existence of Area 51 as a secret investigation base; where they test the most advanced weapons and aircraft of the time. We can not forget that most sightings of ships, strange lights and sounds from another world coincided with the cold war.
In Area 51 is where the military tested spy planes such as the U-2, whose existence and capabilities could not be filtered to the Soviets under any circumstances; hence the choice of a base in a remote place, difficult to access and so heavily guarded.
This explanation is not enough for those who expected something more, of course, and now seek to discover once and for all "the truth." To do this, they have created a group of Facebook called "Storm Area 51", "Assault Area 51", in which they seek volunteers for a massive invasion of the base.
A large number of social media users have reportedly committed to rushing in to the facility at the same time.
The questionable venture, which is scheduled for September 20th at 3am, will see attendees meet up at the Area 51 Alien Center in Amargosa Valley, Nevada before moving on to the base itself en masse.
Entitled 'Storm Area 51, They Can't Stop All of Us', the ill-advised plan, which aims to find evidence of aliens at the base, was first posted up on Facebook by the user 'SmyleeKun'.
As of writing there are 185,000 people signed up to attend and a further 220,000 who have registered their interest, however it is unclear how many of them will actually turn up on the day.
Given that Area 51 is well known for its armed security patrols, it is difficult to imagine what would happen if even a small fraction of those signed up actually did attempt to storm the base.
It is also highly unlikely that the stunt would yield any useful information about the facility.
Suffice to say, rushing headlong through the gates of Area 51 is really not a good idea.
The idea is simple: if enough people sign up, the security of the place will not be able to stop them all and someone will get inside. It is a very crazy plan and it could end very badly; Although its purpose is already public, Area 51 remains a military base and therefore has important security measures and soldiers without fear of firing if they suspect a terrorist attack.
The worrying thing is that the page is half joking and half seriously. It has been created by a page that usually posts "memes" and streams video games on Twitch, and not by a fan of the paranormal.
The plan is that there is no plan, it is assumed that those who sign up for the event will have to go to the location at dawn on September 20 and run to the base.
Although it is evident that it is a joke, the fear is that there are people who take it seriously; and with 200,000 people targeted, and another 200,000 interested in the event, there are likely to be some.
The page does not say anywhere that it is "humor", and the event has been cataloged as a "Cause", as if it were a protest. If by chance you pass through Nevada next September, we do not recommend that you go near the area … just in case.