The 10 Weirdest Animal Discoveries of 2012
As the year comes to an end, it's time to look back at the grossest, oddest and simply most fascinating animals to make the headlines in 2012. There were zombie worms and penis fish, not to mention turtles with a strange way of getting rid of urine. Read on for 2012's most bizarre.
1. A 'tulip' with a digestive system
An ancient fossil found in Canada looks like a field of tulips frozen in stone. In fact, these plantlike creatures are animals unlike any seen before.
Siphusauctum gregarium, a 500-million-year-old filter feeder, was the length of a dinner knife with a bulbous "head" containing a feeding system and a bizarre gut. Instead of filtering water past its feeders externally, S. gregarium appears to have pumped water through its tuliplike head, capturing any food particles that passed through, study researcher Lorna O'Brien of the Royal Ontario Museum in Canada told LiveScience. Scientists aren't sure where this unusual creature fits into the evolutionary tree.
2. A sea predator that makes T. rex look weak
Moving on to other ancient marine wildlife, here's a sea creature much scarier than an animal that looks like a flower. "Predator X," a giant marine reptile that was the top predator of the seas 150 million years ago, finally got its scientific name this year.
Pliosaurus funkei, as it is now properly known, was 40 feet (12 meters) long with a 6.5-foot (2 m)-long skull.
"They had teeth that would have made a T. rex whimper," study researcher Patrick Druckenmiller, a paleontologist at the University of Alaska Museum, told LiveScience.
3. Cannibal lemurs roam the night
You don't have to be 40-feet long to be scary. This year, researchers studying the adorable gray mouse lemur (Microcebus murinus) in Madagascar came across a grisly scene: a male of the species feasting on the flesh of a dead female.
Although other primates (including humans) have been known to practice cannibalism, scientists had never before seen a gray mouse lemur so much as eat another mammal, according to ScienceNow, which reported the creepy meal. Scientists documented the case in the American Journal of Primatology.
4. A millipede with far too many legs
File this under "Things You Don't Want to Step on With Bare Feet:" A white millipede that manages to cram 750 wiggly legs onto its 0.4- to 1.2-inch (1- to 3-centimeter)-long body.
Illacme plenipes is the world-record holder for "leggiest creature." It's found, bizarrely, in only a 1.7 square mile (4.5 square kilometer) area in northern California — doubly odd, because the creature's closest living relative calls South Africa home. The millipedes may have spread out across the globe when most of the land on Earth was part of one supercontinent, Pangaea. When the supercontinent broke apart 200 million years ago, the relatives could have been separated, explaining the long-lost connection. [Image Gallery: The Leggiest Millipede]
5. A teeny-tiny creature trapped in an ancient cocoon
Bad luck for a trapped ancient animal, good luck for modern scientists: Some 200 million years ago, a leech secreted a slimy cocoon under water or on a wet leaf, and a tiny animal the width of just a few human hairs attached itself to the new cocoon.
This bizarre little creature clung on with its springlike tail, becoming rapidly trapped and engulfed by the cocoon. The unusual circumstances resulted in something almost unheard of: the complete preservation of a soft-bodied animal with no hard bones to fossilize.
Scientists say the microscopic creature looks like it might come from the genus Vorticella. Its secret talent is coiling and uncoiling its springy stalk at a speed of 3.1 inches (8 centimeters) per second, the equivalent of a human getting across three football fields in that amount of time.
6. 8 tentacled snakes born
How's this for a bundle of joy? This October, eight snakes with tentacles were born at the Smithsonian's National Zoo.
It was not a Halloween prank. Zoo staff had been trying to breed the rare aquatic snake Erpeton tentaculatus for four years before success. These bizarre Southeast Asian serpents are the only snakes with two little tentacles on their snouts. These tentacles act like whiskers to help the snakes sense vibrations from swimming fish.
7. A new fish with a penis on its head
Speaking of fish, this one has an … odd anatomy. Researchers in Vietnam's Mekong Delta reported the discovery of a fish with a penis on its head this August.
Yep, a penis. And it's not just any penis — the organ includes a jagged hook for grabbing females during sex. (The female fish's genitals are located on her throat.)
The species is named Phallostethus cuulong and is one of few fish that fertilizes eggs inside the female's body rather than outside. The nasty-looking hook appendage seems to have evolved to ensure the male's sperm get to the right place. [7 Sexy Facts About Sperm]
8. A beautiful, meat-eating sponge
It looks like a harp or a delicate candelabra, but beware to any crustacean that gets too close: The so-called "harp sponge" will snare and slowly digest you before you know it.
This truly bizarre creature had never been observed by human eyes before 2000, when a team from the Monterey Bay Research Aquarium Institute in California took a remotely operated submersible into 2-mile (3.5-km)-deep waters off the central California coast. They later captured two specimens of the animal, which is scientifically called Chondrocladia lyra, and took 10 more video observations, reporting their analysis of the new species in October in the journal Invertebrate Biology.
The sponges feed by clinging to muddy sediment on the ocean floor and letting ocean currents wash hapless tiny crustaceans into their harplike limbs. The candelabralike branches of the limbs may help maximize how many shrimplike critters these carnivorous sponges catch.
9. Zombie worms use acid to eat bones, have weird sex life
If you need even more proof of the horrors of the deep, consider the zombie worm, which feeds off the bones of whales and other scavenged sea creatures … despite not having a mouth. This July, researchers at the Society for Experimental Biology's annual meeting announced that they'd figured out how this mouthless creature eats bone. It excretes acid.
The acids allow the worms to break down and absorb the bone, the researchers explained. But that's just the tip of the weirdness iceberg for these amazingly adapted worms. The females grow about an inch (3 cm) long, but males never grow larger than 1/20th of an inch (1 millimeter). They seem to live in the gelatinous tubes covering the females, serving no purpose but to fertilize her eggs.
10. Turtles pee from their mouths
A sharp-snouted turtle found in China often submerges its head in puddles on dry land, a mystery given that these animals breathe air. Now, scientists say they've figured out why: The Chinese soft-shelled turtle (Pelodiscus sinensis) can essentially pee from its mouth.
The turtles excrete urea, the main component of urine, through the gills in their mouths, a talent previously seen only in fish, the scientists reported in October in the Journal of Experimental Biology. This may be an adaption to the turtles' salty environment. Because they can't get enough freshwater to wash urea out through their urine, they transport it through their gills and then rinse their urea-filled mouths out with saltwater. And you thought flossing was bad.
First-Ever Pig-Monkey Chimeras Born In Chinese Lab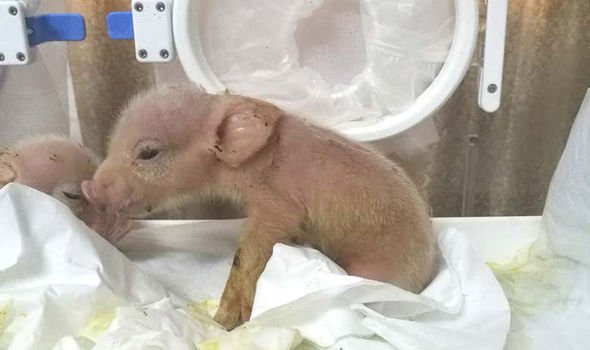 "The findings could pave the way toward overcoming the obstacles in the re-engineering of heterogeneous organs and achieve the ultimate goal of human organ reconstruction in a large animal."
Sometimes when you read "noble cause" statements like that one in scientific papers about research that border on, crosses over or flat-out erases the line of ethics, you can almost hear their eyes winking and their fingers straining to stay crossed from across the ocean. That seems to be the case with most recent stories out of China where scientists have already genetically-edited human embryos, with the twins being born last year and, as far as we know, are still alive. Unfortunately, that may not be the case with the researcher who did the embryo editing – he disappeared for a time and is said to be under constant surveillance. Now, a new report announces that other Chinese researchers have edited pig embryos and, unlike in previous experiments, the embryos were not destroyed and pig-monkey chimeras have been born. How soon before they're creating pig-human chimeras?
"We believe this work will facilitate future developments in xenogeneic organogenesis, bringing us one step closer to producing tissue-specific functional cells and organs in a large animal model through interspecies blastocyst complementation."
In China, "one step closer" seems to mean "we may be already doing it (wink-wink)." In a paper published in the journal Protein & Cell and reviewed by New Scientist, co-author Tang Hai, a researcher at the State Key Laboratory of Stem Cell and Reproductive Biology, confirms these are the first full-term pig-monkey chimeras. (In a chimera, each cell is from a separate parent while hybrids cells have combined genetics from both.)
The team modified monkey cells to make them fluorescent, then took embryonic stem cells and injected them into over 4000 pig embryos which were then injected into sows. Ten piglets were born and two were confirmed to be chimeras, with multiple tissues – heart, liver, spleen, lung and skin – partly made of monkey cells. The two piglets died within a week, but so did all of the piglets born alive, which leads Hai to believe the problem had to do with the in-vitro fertilization, not the fact that they were chimeras.
"Interspecies chimerism still has a long way to go before clinical application is possible."
Does it? This experiment created living pig-monkey chimeras. An experiment in Japan in August 2019 created human-rat chimeras, but the embryos were destroyed early in the process. The same was said to have happened with a human-monkey chimera in China. The latest experiment allowed the embryos to live – albeit without human cells being involved. How long before a human-monkey chimera arrives?
"What happens if the stem cells escape and form human neurons in the brain of the animal? Would it have consciousness? And what happens if these stem cells turn into sperm cells?"
he asks. Núñez assures that Izpisuá's research team has created mechanisms "so that if human cells migrate to the brain, they will self-destruct."
Doctor Ángel Raya, the director of the Barcelona Regenerative Medicine Center, asked that question of Estrella Núñez, who worked on the human-monkey experiment and was told they had created mechanisms "so that if human cells migrate to the brain, they will self-destruct."
When the shortage of human organs for transplants becomes acute, what decision will those with money make? Past experience tells us that in these situations, the first thing to "self-destruct" is ethics.
Do you hear the wink-winking?
Source: Mysterious Universe
Amateur Astronomer records a mysterious explosion on the Moon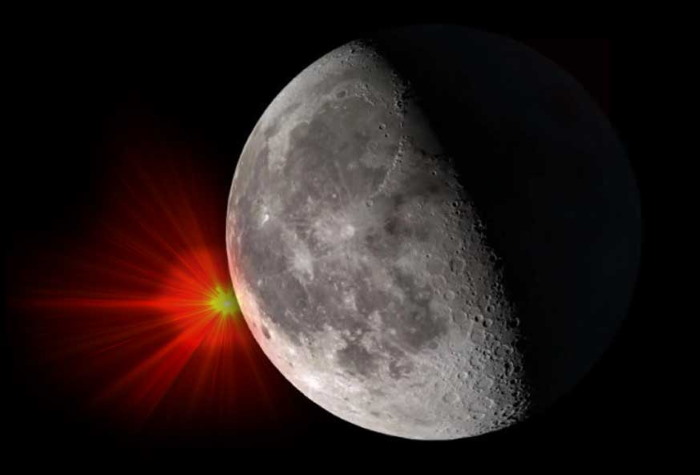 On December 1, 2019, Peter Lawrence of Thornton, an English astronomer, recorded a strange red flash on the moon, as if it were an explosion. What caused the red flash?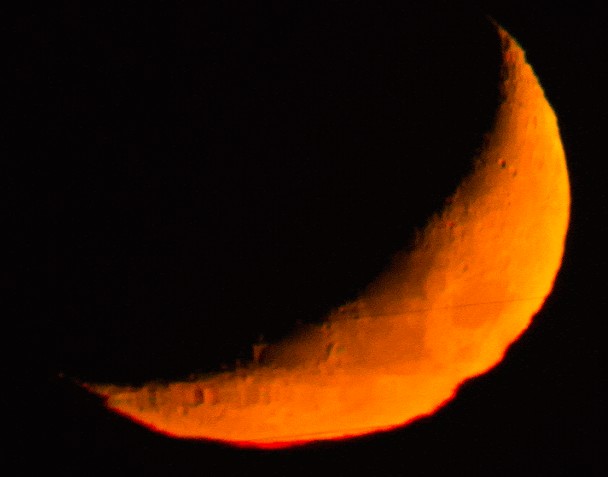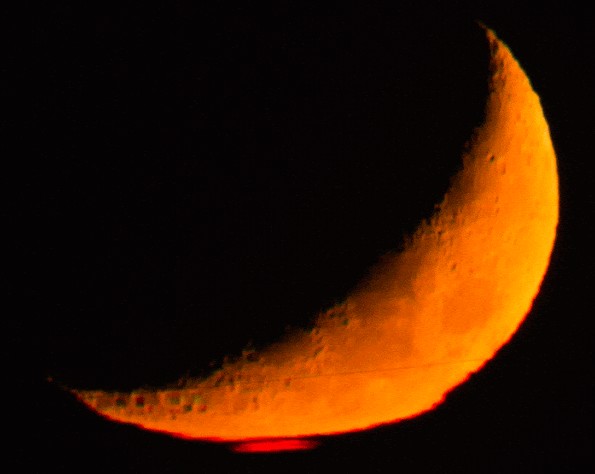 Something exploded on the moon or was it a lunar wave, a hologram or perhaps a glitch in the matrix or something else?
According to atmospheric optics expert Les Cowley "The technical name of this event is a 'Ducted Mock-mirage Red Flash.' As the Moon set, it dipped into a strong temperature inversion layer with warm air above cooler air – light rays bend when they cross the layers, in this case strongly enough that 'ducting' occurs — that is, the rays bounce up and down, trapped in an optical duct", reports spaceweather.
How many technical scientific explanations are thought in an instance, to try to give a justification or a plausible answer to an unknown phenomenon. Many researchers are convinced that the Moon is protected by a holographic shield, while others say that the Moon is an artificial object inhabited by extraterrestrial civilizations that use the satellite as a center of control and surveillance of the earth's humanity.
Lawrence created a short clip of the strange red flash.
NASA has found new evidence that our Sun is not an ordinary star
THE NASA Parker Solar Probe made the closest flight ever to the sun in August 2018, collecting vast amounts of data using cutting-edge scientific instruments at a distance of 24 million kilometers – a mission that also set the highest speed record ever achieved by a man made object. 
About two years ago, NASA launched the Parker space probe toward the Sun, which finally reached the distance closest to our star and transmitted the first results of its observations of the luminary. It turned out that the strangeness in the behavior of the magnetic field of the Sun, including its ultrafast turns, lasting only a few seconds, does not end there. How can our seemingly well-studied star surprise us?
Scientists are beginning to spread what they have learned from the collected data. Four new articles published in the Nature magazine reveal new discoveries that may rewrite the way we understand the way stars are born, evolve and die. They can also help us find new ways to protect astronauts from harsh space conditions while traveling long distances through the Solar System.
Why is the corona of the sun hotter than its surface?
According to the portal newsweek.com, the first results of the mission were published in four scientific articles of the journal Nature. Despite the fact that the Sun is a key factor in the existence of life on Earth, there are huge gaps in our understanding of the whole multitude of phenomena occurring in its vicinity. So, it is known that the corona – the outermost part of the atmosphere – is much hotter than the surface of the Sun, reaching about a million degrees Celsius compared to 5500 degrees. The reason for this phenomenon is still unknown to scientists. At the same time, our star also produces the so-called solar wind, which constantly bombards Earth's magnetic field. However, how exactly and why does it arise?
In order to help specialists understand such difficult issues, the Parker probe was designed, which came closer to the Sun than any other artificial object in the history of mankind. During his last three flights, scheduled for 2024 and 2025, it will approach the surface of the Sun at a distance of 6 million kilometers. Currently, the solar probe rotates at an approximate distance of about 24 million kilometers from our star at its closest point from the star.
The first studies of the space probe were aimed at studying the solar corona and its magnetic fields. It is known that it is the corona that produces the electrons of the solar wind, which are noticeably accelerated, leaving the place of its appearance.
Stuart Bale, principal researcher of the instrument cluster on board the probe at the University of California, Berkeley, said:
The complexity was mind-boggling when we began to examine the data. Now, I got used to it. But when I show colleagues for the first time, they are impressed.
The most surprising finding that the teams made was that the magnetic fields emanating from our star seemed to unexpectedly spin back and forth, causing local disturbances – what scientists called 'switchbacks' – which might even make them point back to the sun a few times.
The cause of this is still a mystery to scientists, but they can enable us to understand how energy flows away from the sun and throughout the solar system.
Justin Kasper, principal investigator at the University of Michigan, said in announcement:
Waves have been seen in the solar wind since the beginning of the space age, and we assumed that closer to the sun the waves would get stronger, but we did not expect to see them organize themselves at these structured and coherent peaks of speed.
Using new observations, the team found that while a "fast" solar wind, whose speed can reach 900 kilometers per second, comes from large holes in the corona at the North and South poles of the Sun, a "slow" solar wind comes from smaller holes in that part of the corona, which is located near the equator. It is known that the fastest recorded solar winds moved at a speed of 1.8 million kilometers per hour.
A team from NASA has also proven that the solar wind revolves around the Sun 10 to 20 times faster than standard models predicted. Such impressive speeds can be associated with unexpected changes in the magnetic field of a star. Researchers have discovered that magnetic fields can be traced down to coronal holes, sometimes suddenly turning as much as 180 degrees in just a few seconds.
Nicola Fox, director of the Heliophysics Division at NASA headquarters, said in the statement:
The sun is the only star we can look at close. Getting source data is already revolutionizing our understanding of our own star and stars throughout the universe. Our small spaceship is facing brutal conditions to send home surprising and exciting revelations.
Currently, the Parker solar probe continues to revolve around our star, getting a little closer with each circle. Activity on the sun increases and decreases during the 11-year cycle, which is currently in the "solar minimum", characterized by fewer sunspots than usual. In the coming years, the activity of the Sun will increase until it reaches the so-called "solar maximum", which will occur at the end of the mission of the Parker probe in 2024.