That Leak on The ISS Was Made by a Person. Here's What We Know So Far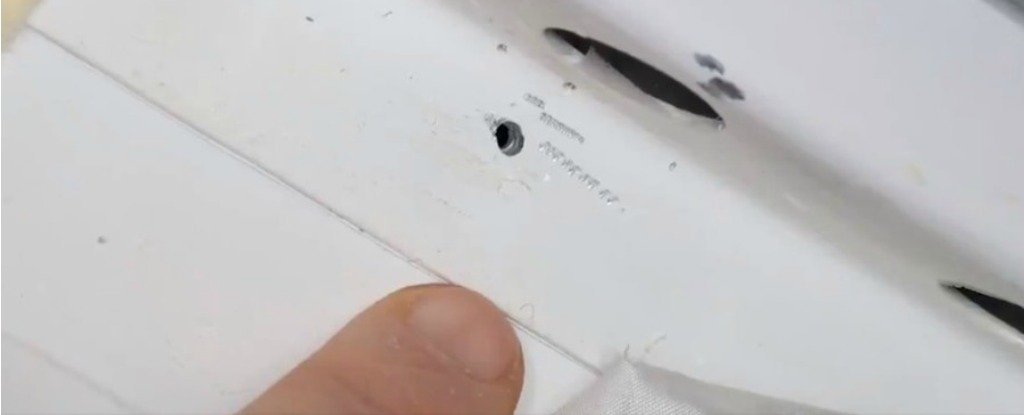 Last week astronauts on board the International Space Station (ISS) awoke to a worrying message from flight control.
Hidden somewhere on board the ISS was a tiny pressure leak that was slowly allowing air to seep out of the spacecraft and into the abyss.
The six astronauts on board were not in any imminent danger, although locating the leak was their top priority for the day. The US crew hunkered down in the Russian segment and sealed off all the compartments one by one.
A two millimetre hole was at last discovered in the Russian segment itself. And while that hole may not seem very big, if nothing had been done to fix it, it would have deprived the ISS of air in just 18 days.
The hole was immediately sealed over with a special type of tape to buy the astronauts some time for a permanent solution.
Meanwhile, a special commission was set up by the Russian State Space Corporation Roscosmos to investigate the cause of the rupture. What they found was unexpected.
At first it seemed likely that the tiny hole had come from a micrometeoroid impact – one of the many bullets of debris that whizz around in space.
The theory was even supported by former astronaut Scott Kelly, who explained that this sort of thing happens all the time.
"We've dodged a lot of bullets over the past 20 years," he tweeted.
This leak seems to have resulted from a micrometeoroid impact. We've dodged a lot of bullets over the past 20 years. There's a lot of space junk up there, a serious issue which needs to be addressed. Great job by the #ISS crew! https://t.co/5IfjnimyPz

— Scott Kelly (@StationCDRKelly) August 31, 2018
But as the inquiry progressed, the hole began to look more and more like it came not from the outside, but from the inside.
"We are considering all the theories," said Dmitry Rogozin, head of Roscosmos, according to the Russian news agency Tass.
"The one about a meteorite impact has been rejected because the spaceship's hull was evidently impacted from inside".
Then, things began to get shadier. A photo, released by NASA and then mysteriously deleted, reveals what looks strangely like a drill hole.
"It was done by a human hand – there are traces of a drill sliding along the surface," confirmed Rogozin.
ISS Leak summary:

First thought was MMOD strike.

Then NASA released pics. Lots of people: "Hmmm, doesn't look like MMOD". NASA deleted the photos.

Top Russian news site RIA NOVOSTI reported – via sources but apparently confirmed by Mr. Rogozin – it was a drill hole. pic.twitter.com/520kHK0TMc

— Chris B – NSF (@NASASpaceflight) September 3, 2018
Rogozin assured the media and the public that the Russian space agency was doing everything it could to find the culprit.
"It is a matter of honour for Energia Rocket and Space Corporation to find the one responsible for that, to find out whether it was an accidental defect or a deliberate spoilage and where it was done – either on Earth or in space," he said, referring to the Russian manufacturer of the space craft.
Right now, the leading theory comes from an unnamed source at Energia, which told the Russian news agency RIA Novosti that "[t]he hole was made on the ground" and that "[t]he person responsible for the act of negligence has been identified".
Another anonymous source confirmed that the hole was accidentally drilled by a worker at Energia, who decided to hide their mistake with a seal and decorative fabric instead of reporting it.
For two months, the gamble paid off. Their patchy solution even managed to pass the spacecraft's pressurisation tests before it was launched into space to meet up with the ISS. But then, the seal began to leak.
"[Once in orbit], the glue dried and was squeezed out, opening the hole," the second source told RIA Novosti.
Repairing the hole has been neither simple nor straightforward, and the problem may have even caused a few cracks between Moscow and Houston.
It appears that the Russian space agency wanted to immediately and permanently seal the breach with a special glue, adding insulation and medical gauze on top.
But NASA astronaut Andrew Feustel, who is currently in charge of the 56th ISS mission, was uncomfortable with the plan. In audio from the event, Feustel asks flight control in Houston if the proposed glue has any expanding properties to it.
"Andrew, right now, we are not completely sure all the properties that that sealant that Moscow is talking about. We're discussing with them right now," flight control replies.
Not satisfied with the answer, Feustel can be heard requesting 24 hours of extra time so that the procedure can be tested on Earth.
"I would really like to see a test of that, somehow, on the ground before we do a test up here and see if it's going to work," Feustel says.
"We sort of feel like we've got one shot at it and if we screw it up, then the implications are one of these vehicles is going home, or that vehicle is going home, sooner than later".
But without another option on the table, Moscow insisted on their plan. After just an hour or so, the decision was made to go ahead with their proposed solution. A second patch was added the next day, and pressure in the ISS now appears to be stable.
Rogozin told reporters that they were looking into whether the hole was made because of negligence, or if it was made deliberately.
"Now it is essential to see the reason, to learn the name of the one responsible for that," he said.
"And we will find out, without fail".
There has been no further statement from Roscocosmos about the latest allegations that a worker at Energia is responsible.
Astronauts may hibernate on trips to Mars
Astronauts traveling to Mars in the near future may have to hibernate, according to a European Space Agency (ESA) scientist.
In interview with The Telegraph, Professor Mark McCaughrean, senior science consultant to the ESA Board of Science, revealed that hibernation could reduce the need for large amounts of food during the seven-month trip to Mars.
He explained:
The idea is that you sleep while traveling and use much less consumables.

Sleep is not the same as hibernation, because if you hibernate, it lowers your body temperature and reduces everything else, oxygen, and so on.
Placing astronauts in this state can also prevent fights between astronauts during the tiring journey, according to Professor McCaughrean.
He added:
If you have 100 people within a few hundred cubic meters for seven, nine months, you will have 20 people at the end, because they will do the Hunger Games. They will kill themselves.
While the idea of ​​hibernating astronauts may seem absurd, ESA is already conducting experiments on animals.
Professor McCaughrean said:
We are now experimenting with artificial hibernation to numb someone for seven months and not worry about food. We are talking about how we would do that. You do this with animal testing and we have programs to analyze how it would happen.
However, there are several obstacles to be overcome before these tests can be performed on humans.
He even said:
We are nowhere near that, because there are all ethical questions about how you would do it.
(Source)
NASA will search for fossils on Mars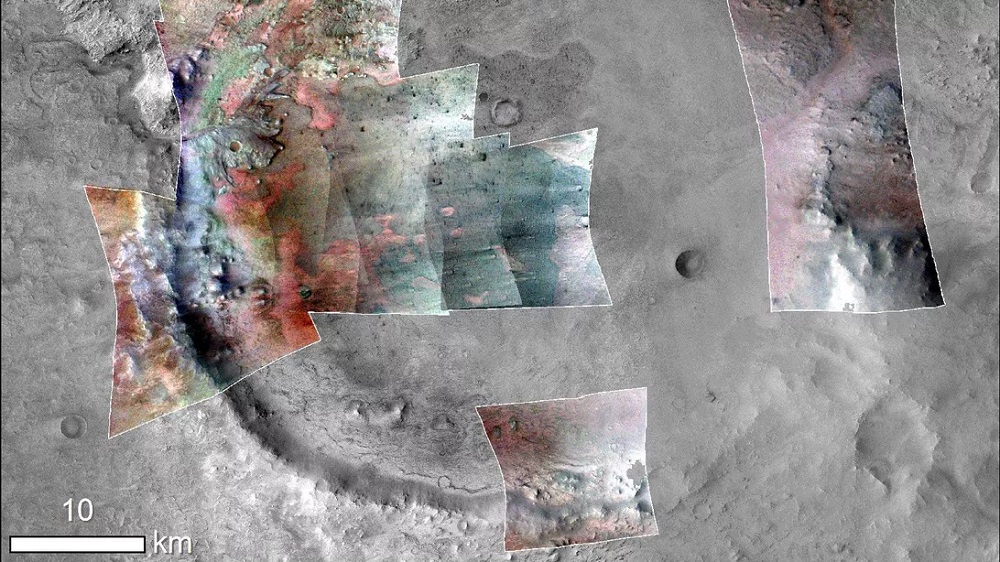 The Mars 2020 spacecraft will investigate an intriguing type of mineral deposit known to produce fossils on Earth.
And when you think of fossils, you probably imagine T. rex skulls and sauropod femurs. NASA's Mars 2020 spacecraft will be searching for fossils on Mars, but not those fossils.
NASA highlighted a new study in the magazine Icarus this week pointing out some fascinating formations around the inner edge of the Jezero Crater, the spacecraft's planned landing site. The agency compares these concentrated carbonate mineral deposits to a tub ring around what was once a lake 3.5 billion years ago.
NASA informed:
On Earth, carbonates help form structures that are tough enough to survive in fossil form for billions of years, including seashells, corals, and some stromatolites – rocks formed on this planet by ancient microbial life along ancient shorelines, where sunlight and water were abundant.
NASA does not expect to find sea shells, but the spacecraft will closely examine the stromatolites. Scientists would be thrilled to discover signs of past microbial life on the currently inhospitable planet. The Jeep's investigation of carbonate deposits may also tell us more about how Mars made the transition from an aqueous to an arid place.
The probe jeep Mars 2020 is developing at NASA with a planned release mid-next year. If it stays on schedule, the spacecraft will reach the crater in February 2021.
Scientists do not know whether carbonates formed in the ancient lake or could have been deposited previously. We will have to wait to find out more. It will be a milestone worth waiting for.
Site of NASA's Mars 2020 Mission Could Contain Fossilized Signs of Life
The landing site selected for NASA's upcoming Mars 2020 rover could well be one of the best chances we have of discovering whether the Red Planet was once home to life and whether it could be again.
The 28-mile (45km) wide Jezero crater was selected as the landing site for the new rover in late 2018, and has been found to contain vast deposits of hydrated silica and minerals called carbonates, according to a newly published study.
Once the site of a lake more than 3.5 billion years ago, scientists now believe that Jezero, thanks to its carbonate supplies, will likely contain structures that can survive for billions of years, such as shells, coral and certain types of rock formed by microbial life.
Deltas here on Earth are known to be hubs for preserved biomarkers and signs of life, and the presence of the hydrated silica suggests Mars is likely to be even better in this regard.
"Using a technique we developed that helps us find rare, hard-to-detect mineral phases in data taken from orbiting spacecraft, we found two outcrops of hydrated silica within Jezero crater," said the study's lead author, Jesse Tarnas, a PhD student at Brown University in Rhode Island, US.
We know from Earth that this mineral phase is exceptional at preserving microfossils and other biosignatures, so that makes these outcrops exciting targets for the rover to explore.
The intel about the site, and the surrounding delta, replete with mineral deposits, was provided by data from the Compact Reconnaissance Imaging Spectrometer for Mars (CRISM) instrument that flies aboard NASA's Mars Reconnaissance Orbiter.
"The material that forms the bottom layer of a delta is sometimes the most productive in terms of preserving biosignatures," explained Jack Mustard, professor at Brown and study co-author.
"So if you can find that bottomset layer, and that layer has a lot of silica in it, that's a double bonus," he added.
The rover will land on Mars on February 18, 2021 when it will begin taking rock core samples that will be deposited in metal tubes on the Martian surface, waiting to be shipped back to Earth for analysis during a later mission.