Terminally ill man to undergo head transplant
By Will Stewart In Moscow and Nick Fagge In London For Mailonline
A man with a fatal medical condition has spoken exclusively to MailOnline about how he is set to become the first person to undergo a head transplant and hopes it could be as soon as next year.
Valery Spiridonov says he is ready to put his trust in controversial surgeon Dr Sergio Canavero who claims he can cut off his head and attach it to a healthy body.
Mr Spiridonov, 30, a computer scientist from Russia, said: 'My decision is final and I do not plan to change my mind.'
As a lifelong sufferer of the rare genetic Werdnig-Hoffman muscle wasting disease, he says he wants the chance of a new body before he dies.
Hope: Valery Spiridonov wants to be the first person to undergo a head transplant so he can have a shot at having a healthy body having suffered from the Werdnig-Hoffman muscle wasting disease
Dnger: Mr Spiridonov said: 'I don't do this because I don't have a life but I think that science is developed by those who are ready to take risks and devote themselves to it'
Controversial: Surgeon Dr Sergio Canavero claims all the necessary techniques already exist to transplant a head onto a donor body, despite widespread scepticism
'Am I afraid? Yes, of course I am. But it is not just very scary, but also very interesting,' said Mr Spiridonov from his home in Vladimir, a city 120 miles east of Moscow.
'But you have to understand that I don't really have many choices', he said. 'If I don't try this chance my fate will be very sad. With every year my state is getting worse.'
Dr Canavero and Mr Spiridonov have talked via Skype though they have not met yet and the doctor has not reviewed his medical records.
The Italian told CNN he has received many email and letters from people seeking the procedure but he insists the first patients will be people suffering from a muscle wasting disease.
Dr Canavero has named the procedure HEAVEN, which is an acronym for head anastomosis venture. Anastomosis involves the surgical connecting of two parts.
He insists all the necessary techniques already exist to transplant a head onto a donor body.
The first monkey head transplant was performed 45 years ago and a basic operation on a mouse was carried out in China recently.
But critics say Dr Canavero's plans are 'pure fantasy'. The Italian has been compared to the fictional gothic-horror character Dr Frankenstein.
And Arthur Caplan, the director of medical ethics at New York University's Langone Medical Centre, has described Dr Canavero as 'nuts'.
Dr Hunt Batjer, president elect of the American Association for Neurological Surgeons, told CNN: 'I would not wish this on anyone. I would not allow anyone to do it to me as there are a lot of things worse than death.'
The cost of the 36-hour operation, which could only be performed in the one of the world's most advanced operating theatres, has been estimated at £7.5million.
The new body would come from a transplant donor who is brain dead but otherwise healthy.
History: In 1970 Dr Robert White transplanted the head of one monkey onto the body of another, as shown in this diagram. If Mr Spiridonov's head were to be successfully transplanted his jugular vein and spinal cords would have to be similarly fused with those of his new donor body
Both donor and patient would have their head severed from their spinal cord at the same time, using an ultra-sharp blade to give a clean cut.
The patient's head would then be placed onto the donor's body and attached using what Canavero calls his 'magic ingredient' – a glue-like substance called polyethylene glycol – to fuse the two ends of the spinal cord together.
The muscles and blood supply would be stitched up, before the patient is put into a coma for four weeks to stop them from moving while the head and body heal together.
When they wake the patient should be able to move, feel their face and even speak with the same voice. Powerful immunosuppressant drugs should stop the new body from being rejected.
Critics say Dr Canavero has simplified the difficulties involved in reattaching a spinal cord.
The Italian doctor has also so far failed to secure funding for the staff of 150 doctors and nurses he believes are required to complete the procedure.
 I would not wish this on anyone. I would not allow anyone to do it to me as there are a lot of things worse than death.
However, the Italian is confident he can successfully transplant a head on to another body.
And if successful, his pioneering procedure could give new hope to thousands of paralysed and disabled people.
Mr Spiridonov was diagnosed with the rare muscle-wasting condition, Werdnig-Hoffman disease, at the age of one. Tragically the disease progresses every day.
He told MailOnline: 'I can hardly control my body now. I need help every day, every minute. I am now 30 years old, although people rarely live to more than 20 with this disease.'
He continued: 'My muscles stopped any development in childhood. Because of this, they do not grow and the skeleton gets deformed. The back muscles cannot support the skeleton.'
With his condition worsening each day, Mr Spiridonov is desperate for the technique to work. He told MailOnline: 'If you want something to be done, you need to participate in it.
'I do understand the risks of such surgery. They are multiple. We can't even imagine what exactly can go wrong. I'm afraid that I wouldn't live long enough to see it happen to someone else.'
He said his family fully support his decision to be the first human to undergo such surgery.
Mr Spiridonov added: 'What's more, there's already a lot of effort invested in this idea and that's why it's too late to back out.
'I came up with this idea quite some time ago. I read many scientific articles on this topic.
Planning: Mr Spiridonov has been talking through and planning the operation with Dr Canavero for two years
Mr Spiridonov says 'If you want something to be done, you need to participate in it'
'The idea to transplant not only organs but the head has been studied for a long time even by Russian specialists. But an actual transplantation of the human head was never conducted.'
Mr Spiridonov contacted the controversial doctor, who is based at the University of Turin in Italy, after reading about his ambitious medical claims.
He said: 'I contacted Professor Canavero two years ago after reading about his works. I offered myself to him to make this operation possible. We have never met and we just communicate via emails.
'For the last two years we've been talking this idea through and planning the operation.
'He's a very experienced neurosurgeon and has conducted many serious operations. Of course he has never done anything like this and we have to think carefully through all the possible risks.'
The Russian has compared the pioneering procedure to the space race of the post-war years.
He said: 'In the end it is like with astronauts. Before the first man we sent into space, 300 different scenarios of something going wrong were thought through but when he actually did it, it was the 301st scenario that happened.'
Mr Spiridonov denies his pledge to be a guinea pig is a stunt, and insists he goes into it with his eyes open.
'If I want this kind of surgery to happen, I shouldn't put the responsibility onto someone else but should try it on myself.
'My family fully supports me. They also understand all the risks and even if they think that it's too dangerous, they still support me in my decision.'
Despite his severe disabilities Mr Spiridonov has lead a full life, graduating from university with a degree in computer science.
SPINE 'GLUED' BACK TOGETHER
It is already 40 years since the first monkey head transplant and since then an operation on a mouse has been carried out in China.
But Dr Canavero claims all the necessary techniques already exist to carry out a full human head transplant.
He believes he just needs to put the relevant techniques together to carry out the first successful operation.
The new body would come from a normal transplant donor, who is declared brain dead.
Both the donor and the patient would have their head severed from their spinal cord at the same time, using an ultra-sharp blade to give a clean cut.
The patient's head would then be moved on to the donor's body and attached using a 'glue' called polyethylene glycol to fuse the two ends of the spinal cord together.
The muscles and blood supply would be stitched up, before the patient is put into a coma for four weeks to stop them moving while the head and body heal together.
During that time the patient would be given small electric shocks to stimulate their spinal cord and strengthen the connections between their head and new body.
As the patient is brought out of their medically-induced coma, it is hoped they would be able to move, feel their face, and even speak with the same voice.
Powerful immunosuppressant drugs would be prescribed to stop the new body from being rejected.
In addition, the patient would require intensive psychological support. 
'I lost my father in a car crash 16 years ago,' he told MailOnline. 'He was a military man, a lieutenant colonel. So I had to start supporting the family at an early age.
'My mother is a child psychologist in a rehabilitation centre for children who got into difficult situations.
'I graduated from the Faculty of Information Technologies of Vladimir State University. I have a very active social life and I'm the head of a committee that deals with social policies for families and youth.'
He added: 'I don't do this because I don't have a life but I think that science is developed by those who are ready to take risks and devote themselves to it.'
Mr Spiridonov has never discussed the possibility of failure with Dr Canavero.
He told MailOnline: 'It was about me just offering myself as ready to undergo it. Of course, the professor considers the chances to succeed are quite high otherwise he wouldn't try it.'
He says there is no ethical difference between transplanting a head on to a healthy body and replacing a damaged organ with a healthy one, which is now considered routine.
Donors could include victims of road traffic accidents or even prisoners sentenced to death, he says.
He told MailOnline: 'I consider it to be as ethical as the transplant of the heart or kidneys. At some point of time this was considered to be unethical as well.
'There was much talk about where the human soul is located, and if it's ethical to do the heart transplants, but now doctors do it and save people's lives.
'I think it's the normal way of technology to evolve. It would be strange to stop at this point when the neurosurgery is ready to take the next step.
'The bodies used for transplant could be those of people whose brain was damaged, let's say in a car crash or motorbike accident, or who are sentenced to capital punishment.
'But, of course, in future humanity should learn how to grow healthy bodies for the transplants so there will be no shortage of organs and bodies.'
Mr Spiridonov says he understands that the Italian surgeon can only go ahead when he is satisfied that medical science is sufficiently advanced.
But the Russian he believes this moment is very close, possibly next year, 2016.
He told MailOnline: 'We haven't agreed on a particular date of the surgery with Dr Canavero,
Dr Canavero said his new body swap technique could help paralysed people such as Christopher Reeve
'It's an ongoing process and a lot depends on the success of the studies that are underway now.
'There will be a conference of neurosurgery in Annapolis in the US this summer. The professor will be reporting on his studies there.
'He would like me to be present. I would like to attend if I can find the means to fly there. We will see what the next step is after that.'
Matter-of-factly, he adds: 'For now we are thinking about transplanting my head in 2016.'
The Russian even jokes about what might happen if the surgery goes wrong.
He told MailOnline: 'Maybe I would try to move my leg but instead my body will produce a litre of adrenaline. But I am willing to take the risks and try.'
In 1970 Dr Robert White transplanted the head of one monkey onto the body of another at the Case Western Reserve University School of Medicine.
The monkey died after eight days because the body rejected the head. The monkey was unable to breathe on its own. The animal could not move because the spinal cord were not connected.
Dr Batjer says White's research does not provide evidence that a human head transplant can work.
He told CNN: 'It's a 45-year-old reference in a primate and there is no evidence that the spinal cord was anastomosed functionally.'
Dr Sergio Canavero could not be reached for comment.
Source: Mail Online
Japan has developed an inflatable scooter that weighs practically nothing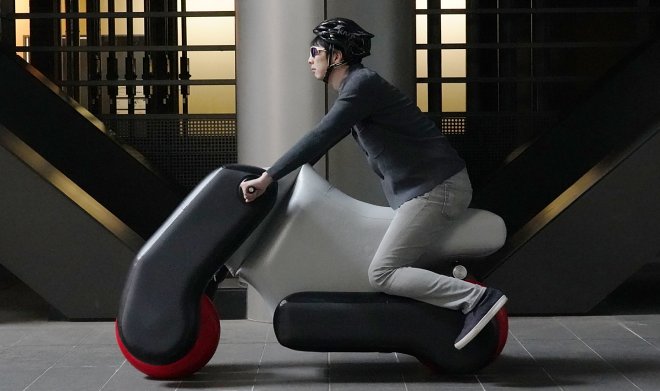 The University of Tokyo engineers have developed the Poimo inflatable electric scooter, which is created individually for each owner. It is enough to send your photo to the manufacturers – and a personal optimized model will be assembled for you.
The scooter is designed with a special program for the body size of a particular user and his specific fit. Moreover, each owner is free to make any changes to this model. If he makes any changes to the drawing, the program will automatically redesign the electric bike to maintain its strength, stability and controllability. When the model is finished and approved, it is handed over to the manufacturer.
The scooter consists of seven separate inflatable sections that are constructed from durable fabric and sewn with straight stitch. It remains to add electronic components – in particular, a brushless motor and a lithium-ion battery.
The finished electric scooter weighs about 9 kg and can travel at speeds up to 6 km / h (that is, slightly faster than a pedestrian). It can work for an hour on one charge.
This is how the current version of Poimo looks like in action:
Excerpts from Elon Musk's speech at the Martian Society convention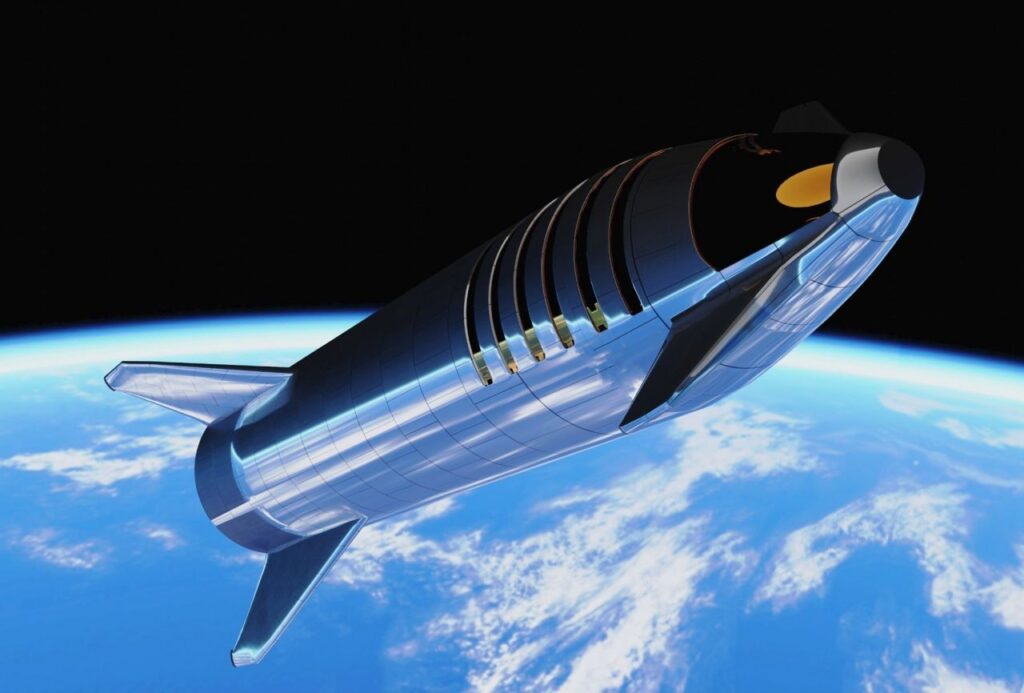 Elon Musk's comments with questions relayed from the Mars Society Membership by Dr. Robert Zubrin, James L. Burk, and Carie Fay. Following Elon's 30 min time, Dr. Zubrin took additional questions. This special event was part of the 2020 Mars Society Virtual Convention from October 14-18, 2020.
About Starship Test Schedule:
– entering orbit – with a probability of 80% -90% will take place in 2021
– the probability of the return of the ship and the 1st stage in this flight is 50%
– test of refueling in orbit – 2022
– Starship lunar version – 2022 or 2023
– Starship flight to Mars – around 2024
The goal of the Starship is to build a self-sufficient settlement on Mars as quickly as possible. Musk does not rule out the possibility that this will not be achieved during his lifetime. According to his rough estimates, to create a self-sufficient city, it will be necessary to deliver 1 million tons of cargo, which corresponds to 4-5 million tons in a low Earth orbit. Modern single-use launch vehicles are capable of removing less than 1% of this value.

"Disposable launch vehicles are completely stupid. They are a waste of time. I think people need to stop wasting time on this. If you try to sell a disposable plane, you will be thrown out of the office. If you try to sell a disposable car, you will also be thrown out of the office. "
A series of questions and answers followed:

What is the best landing site on Mars?
– I'm not sure about that. But I can name the criteria. The first of these is latitude: most likely it will be in the northern hemisphere, far enough to the north to have water ice, but to still have enough sunlight.It also needs to be low to get the most benefit from atmospheric braking.
How do you prioritize mission priorities: research, infrastructure construction, and science?
– The first will be the construction of a fuel plant.

A question from a teenager who wants to become an engineer and robot maker with a dream to work at SpaceX: what is the most important education in order to become an engineer?
– There are many varieties of this profession: you can be an aerospace engineer, in the field of electronics, software, or a chemical engineer involved in creating safe production of fuels. I think physics is a good foundation for critical thinking.
Boring Company was originally conceived as a tunnel manufacturing firm on Mars?
– No. It was originally something of a joke. I thought tunnels were a good solution to reduce the traffic problem in cities and improve the quality of life by turning parking lots into green parks. To do this, you need to go to 3d [get away from the "flat" infrastructure – approx. per.]. I think tunnels are good for Mars too. But there you need a lot lighter equipment: you don't care about mass on Earth, but you will have to take care of it a lot when going to Mars.
At Boring Company, have you learned a lot of technology that might come in handy on Mars?
– I think, yes.
Do you have any tips for young people who love Mars but don't know how to participate in its settlement?
– I think any strong advocate of the need to conquer Mars matters. People often don't even think about it. I often talk to people who don't even know about it. Therefore, I consider it important for humanity and consciousness in general to bring a discussion about this to society. Talking about it with friends and acquaintances – I think this is what we should do. In my estimate, we will spend less than 1% of our efforts on Mars exploration, exactly less than healthcare, perhaps even less than cosmetics – this will be enough to make life multi-planetary. But this requires people to start talking about it 100 times more often. I think this is what really matters. [the entire cosmonautics of the world is $ 424 billion a year, while cosmetics is $ 532 billion, and tobacco production is $ 849 billion – approx. per.]
What's the coolest part about Starship development?
– I think the coolest detail is the ability to work with a great group of engineers and come up with interesting solutions. I think the best thing is the opportunity to work with smart and creative people who come up with solutions that were not available before. This is a great reward.

What do you focus on when hiring, especially with regard to engineers?
"We're looking for signs of exceptional ability. Or at the very least, striving to do exceptional things at SpaceX.
Are you planning to make a Mars-Earth communication system like Starlink?
– Yes, I think we will use a laser, probably launched into orbit, to avoid atmospheric diffraction. Thus, it will be a laser beam going from the orbit of the Earth to the orbit of Mars. And also relay satellites in solar orbit, since the laser beam cannot be sent through the Sun [when it is between Mars and Earth – approx. per.].
Can Starship be used for other destinations like Venus and other planets?
– Starship will be able to travel to any target in the solar system that has a solid surface when fuel depots appear. It is not the kind of transport that will take us to other stars, but when we become a multi-planetary species, we will create a demand for innovation in space travel that will ultimately lead us to interstellar travel.
Cern Scientists Plan an Impressive Experiment – They Will Come Into A Parallel Universe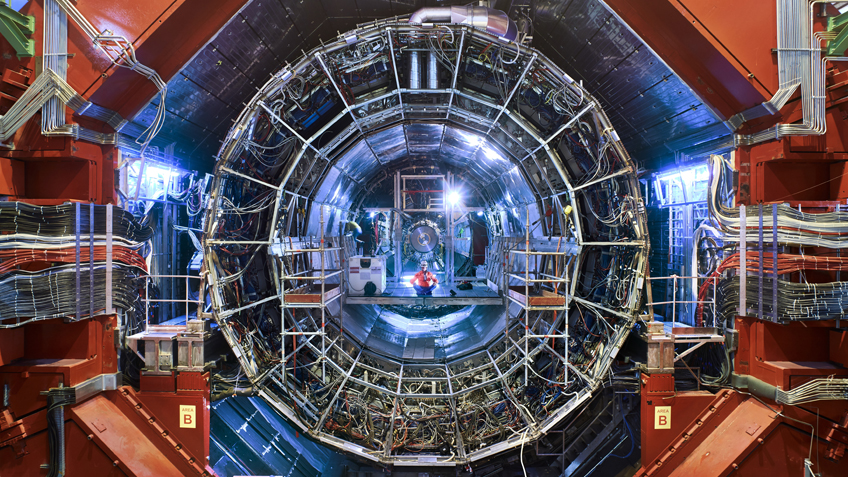 Cern scientists are once again preparing to impress the entire planet and become the focus of discussions with the new experiment they are planning.
An experiment that, if it brings the fascinating result that scientists have in mind, will change the way we think about the world , will take place in the next few days at the Large Hadron Collider, the European nuclear center, Geneva CERN Research.
The astonishingly LHC complex, the largest, most energetic elemental accelerator in the world, will be "fired" for the first time to its highest energy levels, in an effort to detect – or even create – tiny black holes.
If it succeeds, then, a completely new universe will be revealed – rewriting not only the books of physics, but also the books of philosophy!
It is possible, however, that gravity from our universe will "leak" into this parallel universe, as LHC scientists say.
From the Higgs boson to dark matter and the parallel universe
According to the British Express, the experiment is sure to "trigger" the critics, who are worried about the LHC, many of whom warn that the elementary particle accelerator will mark the end of our universe, creating a of the black hole.
Nevertheless, Geneva has remained … intact since 2008, when the LHC began its spectacular "work".
The first scientists at the Large Hadron Collider proved the existence of the Higgs boson – a key building block of the universe – and the LHC appears to be on track to locate "dark matter" – a previously undetectable force now considered that it constitutes the majority of matter in the universe, being, in fact, the reason why the latter is constantly expanding and moving away.
So next week's experiment is considered to change the game.
The truth is out there
Mir Faizal, one of three heads of the three natural groups behind the experiment, said:
"Like many parallel sheets, which are two-dimensional objects (width and length) can exist in a third dimension (height) , so parallel universes can also exist in higher dimensions. We anticipate that gravity can leak into extra dimensions, and if that happens, then tiny black holes can be produced in the LHC.

Normally, when people think of the multiverse, they think of the interpretation of quantum mechanics by many worlds, where every possibility is realized. This cannot be tested and so it is a philosophy and not a science. We do not mean this with parallel universes. What we mean is real universes, in extra dimensions. The truth is out there."