Ten Top Futurist Predictions For 2013 And Beyond
With no further ado, THE FUTURIST Magazine releases its top ten forecasts for 2013 and beyond.
1. Neuroscientists may soon be able to predict what you'll do before you do it.
The intention to do something, such as grasp a cup, produces blood flow to specific areas of the brain, so studying blood-flow patterns through neuroimaging could give researchers a better idea of what people have in mind. One potential application is improved prosthetic devices that respond to signals from the brain more like actual limbs do, according to researchers at the University of Western Ontario. World Trends & Forecasts, Jan-Feb 2012, p. 10
2. Future cars will become producers of power rather than merely consumers.
A scheme envisioned at the Technology University of Delft would use fuel cells of parked electric vehicles to convert biogas or hydrogen into more electricity. And the owners would be paid for the energy their vehicles produce. Tomorrow in Brief, Mar-Apr 2012, p. 2
3. An aquaponic recycling system in every kitchen?
Future "farmers" may consist of householders recycling their food waste in their own aquariums. An aquaponic system being developed by SUNY ecological engineers would use leftover foods to feed a tank of tilapia or other fish, and then the fish waste would be used for growing vegetables. The goal is to reduce food waste and lower the cost of raising fish. Tomorrow in Brief, Nov-Dec 2011, p. 2
4. The economy may become increasingly jobless, but there will be plenty of Work
Many recently lost jobs may never come back. Rather than worry about unemployment, however, tomorrow's workers will focus on developing a variety of skills that could keep them working productively and continuously, whether they have jobs or not. It'll be about finding out what other people need done, and doing it, suggests financial advisor James H. Lee. "Hard at Work in the Jobless Future," Mar-Apr 2012, pp. 32-33
5. The next space age will launch after 2020, driven by competition and "adventure capitalists."
While the U.S. space shuttle program is put to rest, entrepreneurs like Paul Allen, Elon Musk, Richard Branson, and Jeff Bezos are planning commercial launches to access low-Earth orbit and to ferry passengers to transcontinental destinations within hours. Challenges include perfecting new technologies, developing global operations, building new infrastructure, and gaining regulatory approval. "The New Age of Space Business," Sep-Oct 2012, p. 17.
6. The "cloud" will become more intelligent, not just a place to store data.
Cloud intelligence will evolve into becoming an active resource in our daily lives, providing analysis and contextual advice. Virtual agents could, for example, design your family's weekly menu based on everyone's health profiles, fitness goals, and taste preferences, predict futurist consultants Chris Carbone and Kristin Nauth. "From Smart House to Networked Home," July-Aug 2012, p. 30
7. Corporate reputations will be even more important to maintain, due to the transparency that will come with augmented reality.
In a "Rateocracy" as envisioned by management consultant Robert Moran, organizations' reputations are quantified, and data could be included in geographically based information systems. You might choose one restaurant over another when your mobile augmented-reality app flashes warnings about health-department citations or poor customer reviews. "'Rateocracy' and Corporate Reputation," World Trends & Forecasts, May-June 2012, p. 12
8. Robots will become gentler caregivers in the next 10 years.
Lifting and transferring frail patients may be easier for robots than for human caregivers, but their strong arms typically lack sensitivity. Japanese researchers are improving the functionality of the RIBA II (Robot for Interactive Body Assistance), lining its arms and chest with sensors so it can lift its patients more gently. Tomorrow in Brief, Nov-Dec 2011, p. 2
9. We'll harness noise vibrations and other "junk" energy from the environment to power our gadgets.
Researchers at Georgia Tech are developing techniques for converting ambient microwave energy into DC power, which could be used for small devices like wireless sensors. And University of Buffalo physicist Surajit Sen is studying ways to use vibrations produced on roads and airport runways as energy sources. World Trends & Forecasts, Nov-Dec 2011, p. 9
10. A handheld "breathalyzer" will offer early detection of infections microbes and even chemical attacks.
The Single Breath Disease Diagnostics Breathalyzer under development at Stony Brook University would use sensor chips coated with nanowires to detect chemical compounds that may indicate the presence of diseases or infectious microbes. In the future, a handheld device could let you detect a range of risks, from lung cancer to anthrax exposure. Tomorrow in Brief, Sep-Oct 2012, p. 2
All of these forecasts plus dozens more were included in Outlook 2013, which scanned the best writing and research from THE FUTURIST magazine over the course of the previous year.
The dinosaurs probably looked very different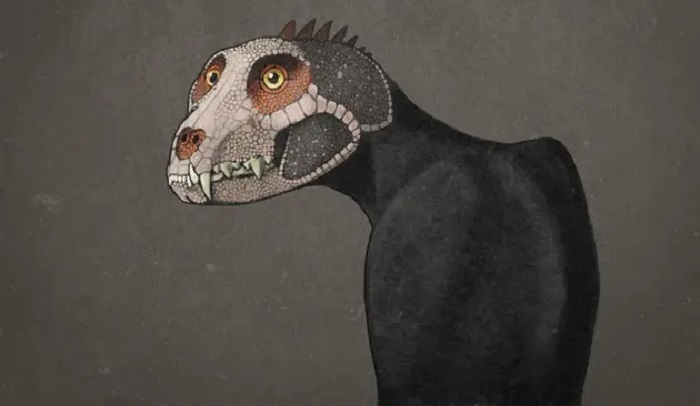 For many years, many artists and films have "recreated" dinosaurs based on their discovered skeletons.
Very little is known about dinosaurs. In particular, there is no practical information on what kind of skin they actually had, whether fully or partially covered with feathers, flakes or fur, what color they were.
In addition, based on fragmented skeletal bone findings, it is very difficult to understand how these animals actually moved and what was the percentage of their body fat.
Therefore, over the past decades, there have been cases where the tail parts are confused with the horns of the head. And a dinosaur, moving mainly on two hind legs, was described as walking on four limbs, etc.
The pictures below are examples of reconstructions of the appearance of the Megalosaurus, from an earlier to a later stage.
Because of all this, Turkish paleo-artist Cevdet Mehmet Kosemen decides to fantasize about "what will the look of modern animals look like if they are recreated mainly by their skeletons, as the dinosaur images are recreated".
The drawings turn out to be quite daunting, and according to one commenter – "nightmarish".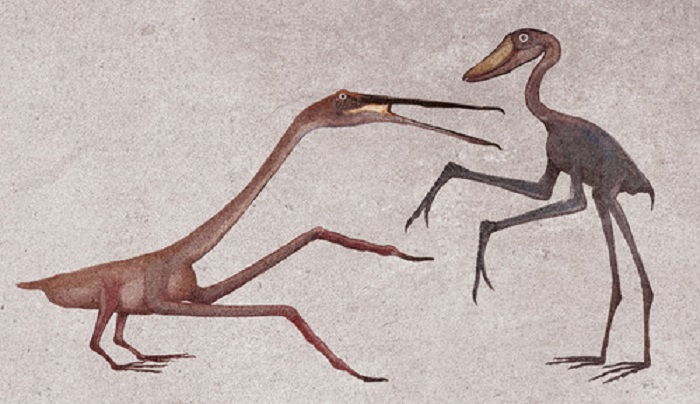 According to Kosemen, contemporary reconstructions of dinosaur appearance, especially in Hollywood films, are created by skeletons being simply "lined" with skin, without taking into account subcutaneous muscles, fat and other soft tissues.
For the first time, Kosemen's idea of ​​doing something similar came to light when he saw an X-ray of a crocodile on which his skeleton was clearly visible. In fact, this crocodile was quite large, but if it had been designed exactly according to the skeleton, it would have been a completely different reptile.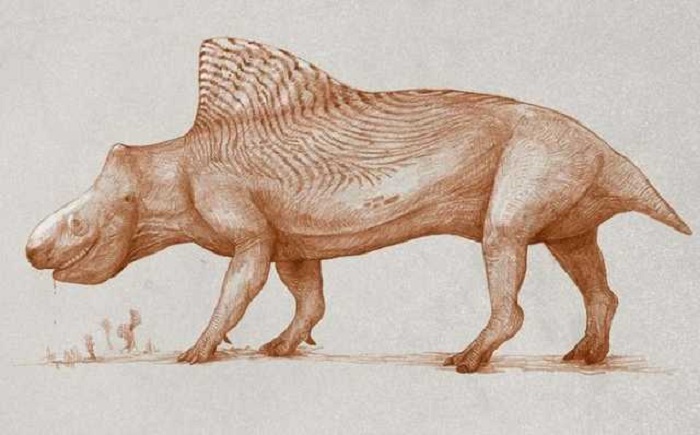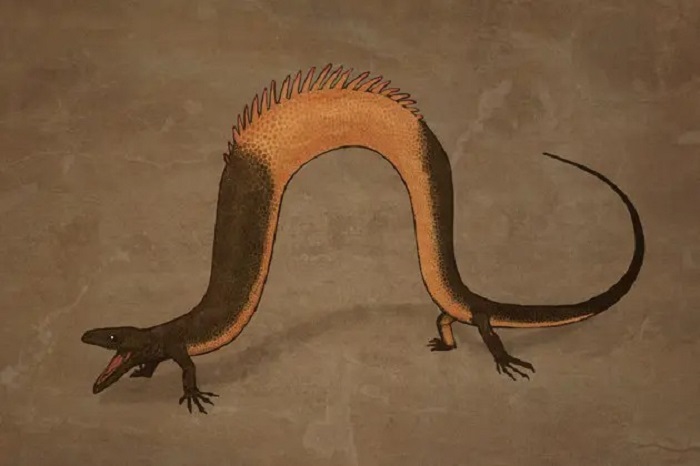 Kosemen believes that bare teeth in the jaws of dinosaurs are the most common mistake of artists. In many predatory reptiles, the teeth are mostly covered and rarely seen.
Some cases illustrate how far a joke can go. If it was a joke, of course.
On the night of July 8, 1953, three American students, Edward Waters, Thomas Wilson, and Arnold Payne, were traveling by car on Highway 78 west of Atlanta. Suddenly, Waters saw someone on the road and was forced to stop abruptly.
The three boys had an incredible sight. Two short humanoid creatures stood in the way, and beside them lay a third being. At first glance, it was dead and wounded, as if hit by a car.
When the two living monkey-like humanoids saw the humans, they rushed to the red alien ship, which immediately flew out and disappeared into the night sky.
Shortly thereafter, the boys met Officer Sherley Brown. They told him what they saw, and when the officer went to the designated location, he found the dead body of a strange creature and a black burned circle of asphalt, apparently left behind by an alien ship.
This story immediately makes a lot of noise in the media and remains current for a few days. The three students were the center of attention of the journalists and gave many interviews.
The body of the strange little creature was transferred to a hospital. There, one of the doctors said that "it is definitely not from Earth". Then the US Air Force became interested in the case.
Then, the body of the being was taken and given to Dr. Hermann Jones of Emory University and Professor Marion Hines. Soon, they announce the following:
"We cannot explain the lack of fur, but for all other reasons, we consider this creature to be a monkey and its characteristics are closest to that of rhesus monkeys."
When these words appear in the media, the three students immediately acknowledge the fraud, and that this body is indeed a rhesus monkey.
It turns out that while playing cards, Waters bets $ 10 that he will make his photo appear in the newspapers in the coming days. Then he and two of his friends came up with a plan for how to do it.
They bought rhesus monkeys from a local pet store. To keep the seller silent, they paid him a generous amount. Then they killed the innocent animal, shaved his body with a razor, cut off his tail, and "artistically" laid him on the road to a certain place. Nearby, using a striking machine, they made the "alien ship trace".
The court fines Waters $ 40, but then there are many calls from offended citizens who demand more, higher fines.
The reaction of the locals was so violent that Waters soon had to leave Atlanta and move to another city.
Many conspiracy theories have emerged for this story. In fact, in those days many people claimed to have seen strange lights and UFOs in the area. It was said that the three students were forced to "admit" that it was their "joke".
Conspiracy theorists point to the rapid disappearance of the Waters, the main eyewitness. They think he may not have been hiding from angry citizens, but he was abducted by the FBI because he was a major eyewitness.
[ad_2
Mysterious Ray of Light causes panic in Edmonton, Canada
On Wednesday evening 27 November 2019, the citizens of Edmonton (Alberta, Canada) were amazed by the presence of a gigantic ray of light that seemed to be projected by a huge sphere of light that was located near the oil refinery.
This mysterious ray of light caused panic among the people to attack the switchboards of the fire brigade and the police. According to local media, the strange phenomenon was seen for the first time around 7:00 pm and remained visible for hours.
As often as it happens with such events, many people have published photos of the mysterious pillar of light on social networks and have speculated about its origin. And among the most popular theories was that the lightning was evidence of an alien invasion.
Welp, it's been a good run but it looks like the Apocalypse is nigh.
.
.
.
.
.
(Yes, I know it's the flare at the @EPCOR Gold Bar plant but it looks damn spooky) #yeg #yegwx pic.twitter.com/EXl8dLvwdS

— ❄️ Laurie ❄️ (@MakingLaurie) 27 November 2019
However, the most skeptical, expressed concern that the strange light came from a disaster of some kind and continued to report it to the fire department, which offered an alternative explanation via Twitter for what people saw in the sky.
light pillars! Looks to be a refinery throwing up some light that's refracting off the ice crystals in the air to create that bright spire. #yegwx https://t.co/6Gy8D5299h

— Josh Classen (@joshclassenCTV) 27 November 2019
According to the official version, the ray of light was neither of extraterrestrial nor demonic origin and had a much less sinister explanation. The fire brigade then wrote on Twitter that: "it was established that it could be a controlled fire at the Imperial Oil refinery in Strathcona, which will continue for the next 48 hours".
According to CBC News, it would have been a type of incineration used to safely burn additional gases that cannot be used. Strathcona is an oil refinery located just outside Edmonton. The refinery fire was to last 48 hours in total and could be seen west of Parkland County. Although some citizens of Edmonton thought it was an extraterrestrial activity, others knew exactly what was happening when they saw bright light in the sky.
But this explanation did not prevent some conspiracy theorists from insuring that it had nothing to do with the Strathcona refinery, since as a general rule any unusual activity in its facilities was communicated in advance. For what they believe the Canadian authorities are trying to hide what has happened, that the light beam is of extraterrestrial origin, be it a sort of signal or the landing of an alien ship.