Tattoo and body transformation fan wants to carve the number 666 on his head
A big fan of body transformation, whose tattoos are stuffed from head to toe, decided to go further and carve a rather large number six on his skull.
Victor Hugo Peralta Rodriguez, 50, asked his friend to cut a piece of skin on his head to leave permanent scars, and he plans to continue and add the missing numbers next to it, eventually form the legendary "number of the beast" – 666.
Victor, who is from Uruguay, is covered with hundreds of tattoos that have been stuffed on his body by a master from more than 80 countries.
Even his eyeballs and genitals are filled with ink.
He also has piercings and other modifications like star-shaped implants in his forehead.
Now the circus artist underwent another transformation – "scarification", which consisted of removing a piece of tissue to create engraving on the skin.
He carved a number on his body in the Gothic style, it is the first of three, but in general he wants to form the number 666 on his head.
This number in the book "The Revelation of John the Theologian" is called "the number of the beast" and is usually associated with the antichrist or the devil.
Victor, now living in Argentina, insists that this has absolutely no religious significance for him, he just likes to troll the faithful.
"Just the number six doesn't matter to me," he says. – I do three sixes because I hate religious people, in general what they do does not interest me – I do it because I reject the church."This was done by a colleague and friend of mine here in Buenos Aires at my local Querubin Tattoo studio." "It took about an hour of work to create one of the sixes, and due to the schedule it could not be completed in one session." "There will be a second and final session shortly to complete the work."
Victor said that this operation was performed under local anesthesia, but he still felt some pain during the removal of tissues.
"I've already had seven scars and it is likely there will be others."
Victor has been tattooing for 26 years and is also involved in a circus where he hangs from metal hooks that pierce his skin.
"I was attracted to colorful art from a very young age," he explained his love for ink. – At the age of 13 I got my first tattoo, it was the word "fu .." on the fingers of my left hand, I made it myself. " "Since then, I have never stopped getting tattoos, and today, at 50, I have 95% of my body tattooed, including my tongue and genitals."
Victor also has a number of other body modifications, including 11 subcutaneous implants, metal teeth, a cut and tattooed tongue, various scarring and ear tunnels.
Once he even pierced his scrotum, but now he only wears piercings in his nose, ears and nipples.
"I don't have a lot of piercings right now," he says. "A long time ago I had about 40 on my face, but my favorite was the septum."
The man also admitted that his most painful tattoo was a tattoo on the end of his penis, but even that cannot be compared with the agony of staining his tongue.
"It was very annoying and painful, it was even difficult to breathe for several hours," he recalls.
As for what his family and friends think about all this, Victor said:
"They are used to seeing me like that. They have seen my transformation and are encouraging it. ""There are many people who disagree with this way of life and criticize me for not understanding the tastes of others.""But I don't pay attention to them. I am unique, I do not want to be like anyone, these are my ideas and projects carried out by friends. ""Today I am a beautiful monster."
What do you think of such a bold body transformation? Let us know your thoughts on this in the comments below!
Source: The Sun
Vampire from the Australian state of Victoria: A rare disease doomed a little boy to live in the dark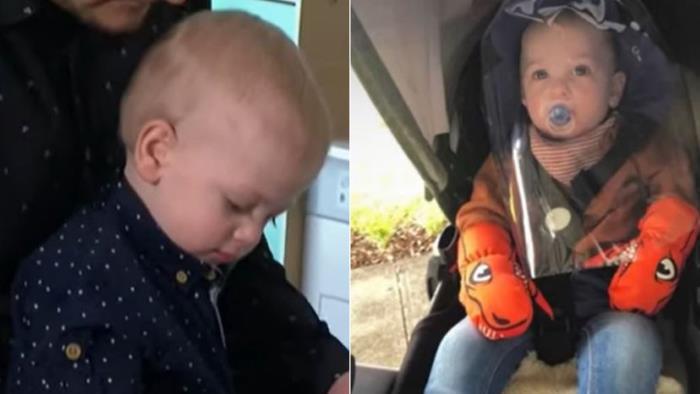 A little boy from the Australian state of Victoria is doomed to live in the dark due to his skin's increased sensitivity to ultraviolet radiation. This is reported by the NZ Herald.
George Maddern, who is now 18 months old, was born with a rare condition – pigmented xeroderma. Because of this, the boy is allergic to sunlight.
These people are killed by the rays of the sun. They hide from the light and go outside after sunset
Every day, the child and his parents face many problems. For Maddern to play in the house, all the shutters must be closed and the windows must be tightly curtained. To go outside, he must be wrapped in blankets and put on gloves, since no part of his skin should be exposed to the sun.
The disease increases the chance of skin cancer by 10 thousand times, and there is a 25 percent chance that sunlight can affect the boy's vision, hearing and nervous system. Xeroderma is incurable.
"This diagnosis means that George cannot play outside, walk up to UV-protected windows, and even attend any events if halogen lamps are used in the room where they are held," the child's uncle explained.
The boy has already been hospitalized with severe burns to his face after spending a short time in the sun without protection.
The family wants to build a special gazebo that will serve as a playground for the child, large enough to accommodate a trampoline, basketball hoops and slides. Also, the boy's parents plan to tint the windows of the house and the car, install sensors that measure the level of ultraviolet radiation and buy clothes with UV protection.
To date, crowdfunding has raised over 63,000 Australian dollars.
"Alien Challenge" continues: Another mysterious monolith found in Romania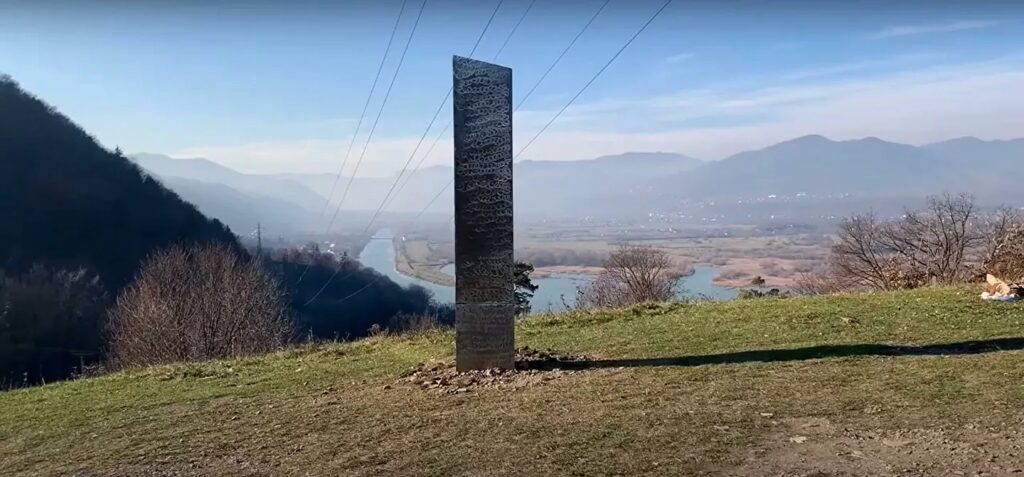 Another mysterious monolith, the appearance of which previously puzzled the authorities of the American state of Utah, this time discovered in the east of Romania, writes the Daily Mail newspaper.
Last week, it was reported that Utah Public Safety officials had found a structure of shiny metal about twice as tall in the desert. After a few days, the monolith disappeared. According to the local land administration bureau, "an illegally installed structure called a" monolith "was removed <…> by an unknown party."
The Romanian monolith was erected on a hill near the town of Piatra Neamt, a few meters from the ruins of the Dacian fortress of Petrodava. It was discovered on November 26th.
Roxana Josanu, a spokeswoman for the Culture and Historical Heritage Department of Neamt County, said the authorities were studying the "strange emergence" of a monolith about four meters high.
"Before anything can be installed here, the permission of our organization is required, which must be approved by the Ministry of Culture," she added.
The monolith in Romania, unlike the construction in Utah, is not a rectangle, but a rectangular trapezoid with a beveled top. Besides, its surface is covered with "patterns".
Earlier, the media noted that the find in the Utah desert is similar to the alien obelisk from the Stanley Kubrick movie "A Space Odyssey 2001", except for the fact that it is not black, but silver. It was assumed that we are talking about an art object.
Hitler's secret bunker with photographs and coins discovered in Argentina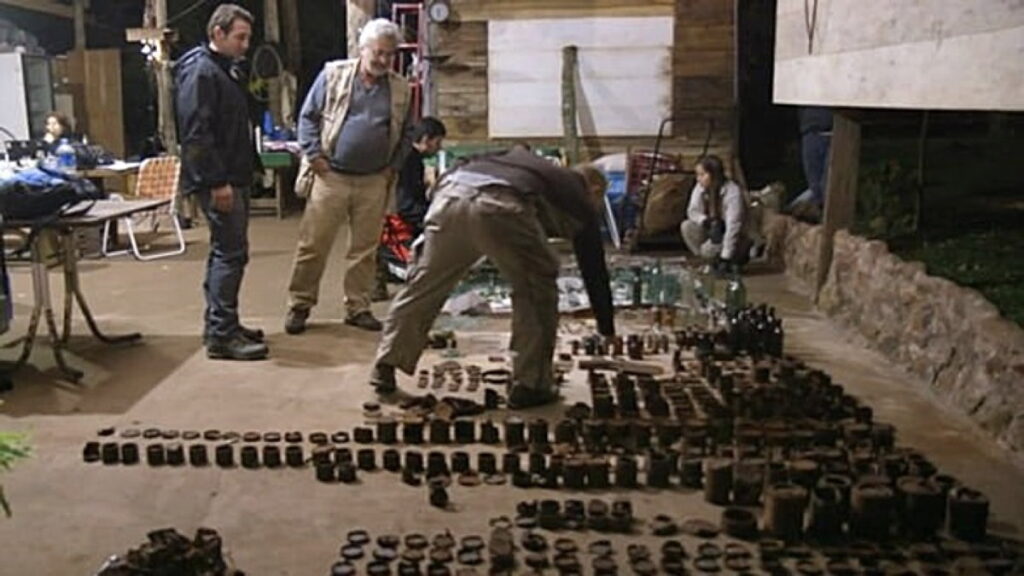 Secret hideouts that were supposedly intended for Adolf Hitler have been discovered 600 miles north of Buenos Aires, Express reports.
It is alleged that even the Fuehrer of Nazi Germany after the end of the war in 1945 could have lived in the found refuge.
Former U.S. Special Forces soldier Tim Kennedy and CIA veteran Bob Baer told Express that Hitler's likely hideout is 600 miles north of Buenos Aires. There are legends among the locals about why three buildings were built in a remote region of Argentina.
It is reported that archaeologists found during excavations a common photo of the leader of the Nazi Reich Hitler and his Italian colleague Benito Mussolini. Also, archaeologists allegedly found a box with gold coins minted in Germany in 1940, as well as a photograph of a child in Nazi uniform.
According to declassified FBI documents, the Nazi dictator planned to hide in an Argentine bunker in case of defeat, but did not manage to leave Germany – the Soviet army captured Berlin, and Hitler himself committed suicide. Hitler's corpse was found burnt on the ruins of the Reich Chancellery in May 1945. The FBI studied the theory that a double died in Berlin and Hitler took refuge in Argentina. However, a dental study published in 2018 refutes this theory and confirms the death of the dictator in Berlin.
Today, any artifacts associated with Adolf Hitler acquire immense commercial value. Hitler's telegram to Field Marshal Ferdinand Schörner , written a few days before his suicide, was put up for sale at an auction in the United States. The owners planned to bail out up to $ 80 thousand for it.
The corner yellow house, in which Hitler was born and spent his childhood, will finally come into full ownership of the state. The Austrian edition of The Local names the amount of the transaction: for an empty house in Branau am Inn, the owner will receive 810 thousand euros. The Gerlinde Pommer family owned the yellow corner house in the town of Braunau am Inn on the German border for almost a century, either selling it or buying it back. The building is unremarkable, except that it was there that on April 20, 1880, Clara Hitler, the wife and part-time niece of Alois Hitler, gave birth to her first son, Adolf.