Tai Chi | Ancient Art of Being One with Mind, Body and Soul
Tai Chi old art uses light moves that reduce the stress of a demanding lifestyle and improve overall health. Tai Chi is a Chinese martial art based on a series of exercises involving gentle and balanced body movements.
Currently practiced by over 4 million people, Tai Chi enjoys much attention in the scientific literature due to the health benefits it demonstrates regardless of age and physical condition – from young adults to children and the elderly.
Research shows that regular Tai Chi practice can improve a wide variety of medical conditions.
Tai Chi is a practice for both mind and body, with a rather confusing history that has its origins in China 700 years ago.
The legend says Tai Chi was created by Chan Sang-Feng after witnessing the struggle between a crane and a snake, embodying their movements in a fighting style that combines the benefits of both.
For centuries, the art of Tai Chi has been kept secret and transmitted from generation to generation. The progress of the initiates was slow and the masters demanded huge payments or services in return for learning these powerful martial arts.
The wider spread occurred with the invention of firearms, with the martial arts starting to lose ground. The future of martial arts seemed less fortunate, but a big change occurred when they turned out to focus on the benefits to health, inner balance or discipline, and self-control.
Tai Chi is extremely popular in China, where it is massaged daily, often early in the morning in parks and other open spaces. Slow and gentle movements are combined with breathing exercises and a variety of cognitive components, including awareness and visualization.
Since Tai Chi requires very methodical and low impact movements, it is a good practice for the elderly as well as those recovering from illness and accidents.
There are different styles of Tai Chi such as Wu Hao, Sun, and Yang. To perform Tai Chi exercises you must choose one of these forms and learn different types of specific moves and positions.
Tai Chi practice has been transmitted to us today through three great traditions:
Chen family style: with combinations of slow and explosive techniques;
The Yang family style, derived from Chen style in the 19th century, with a flowing and uniform rhythm;
The Wu family style, derived from both of these styles, characterized by subtle movements of the wrists.
In addition, there are two less known styles:
Sun, created by Sun Lu-Tang, which combines elements of Hsing i (Xingyi) and Pa Kua (Bagua) with the Tai Chi sequence, and Hao style derived from Chen's style 19th century, characterized by subtle and complicated circular movements.
There is also the Wudang style created in Hong Kong by a master named Cheng Tinhung, a former Wu school disciple, who did not claim to teach any Tai Chi Chuan style.
Tai Chi offers a number of physical and mental benefits, moderate cardiovascular training, stimulates the immune system, reduces spine degeneration, improves posture, balance, and coordination, reducing the risk of stroke associated with aging.
In addition, any person can practice Tai Chi because it involves some of the mild forms of exercise.
Tai Chi involves the focus of the practitioner to live in the present and to remove the thoughts that might distract him.
In terms of scientifically proven health benefits, there are few practices that equate Tai Chi.
Here are some of these:
Improvements in physical condition, muscle strengthening, better coordination, flexibility and recovery capacity.
Pain and reduced rigidity and increased mobility for those suffering from arthritis
Improving the quality of sleep, mood, and quality of life in general.
Improving the immune system
Reduced risk of falls and fractures, especially in the elderly
Tai Chi Chuan (tàijíquán, t'ai chi ch'üan) is one of the most effective domestic martial arts, practiced both as a defense technique and for beneficial effects on health and longevity.
It is a martial art that has appeared in China for 3-400 years ago. In direct translation, it would mean the Box of Supreme Perfections or the Box of Supreme Harmony; another option is the Taiji Symbol Box.
Has documented for the first time three centuries ago as a martial art praised in the Chen family, a family of small noblemen in the village of Chenjiagou, Henan Province, the first style of Tai Chi being Chen style.
Yang Lu Chan learns the Chen style of the Chen family and then goes on to Tai Chi martial art in Beijing, where he will also teach Imperial Guards, being Tai Chi's only master of martial arts instructor at the Imperial Guard enlist only the best fighters in China). But it will not teach Chen style, but its own style, including elements from other martial arts schools, thus fondling the Yang style.
From the Yang style, the two Wu styles are then born, and then Sun Lu Tang will combine Xing Yi with Tai chi chuan, setting up the Sun style.
These are the 5 bigger Tai Chi styles in the order of appearance: Chen, Yang, Wu, Wu, Sun. In order of spreading or popularity, the most practiced is Yang, then Chen, Wu, Wu, and Sun. Besides these 5 styles, there are many smaller styles, as well as several sub-styles or schools in the same style.
Presently Tai Chi Chuan has spread throughout the world, and the variety of forms of practice differs according to the goal: increasing the natural force, creating a superior state of relaxation and intuitive response to the outside world, acquiring combat skills and bringing the practitioner in a superior state of focus, discipline, balance and harmony with the Universe.
The benefits of Tai Chi Chuan (taijiquan) practice are manifested both physically and psychologically. There is virtually no being structure that is not influenced by Tai Chi Chuan practice.
The results are manifested primarily at the physical level. The body becomes harmonious, well proportioned. It also regulates the activity of internal organs and in particular hormonal secretions.
The balanced combination of the two states – concentration and relaxation, during the Tai Chi Chuan exercise, benefit fully from the central nervous system. Thus, exercising the mind and body at the same time stimulates the cerebral cortex by excitement of certain regions and the protective inhibition of other regions.
This allows the brain to "rest" and frees the cerebral cortex from the ongoing, pathological excitation, which is the cause of certain nerve diseases. This explains why Tai Chi Chuan contributes to the amelioration and even healing of nerve and mental illnesses.
Stretching, spiraling, rhythmic relaxation of the muscles ensures correct blood circulation in all muscle groups, joints and internal organs
Another effect of practicing Tai Chi Chuan is the normalization of cholesterol levels in the blood and, implicitly, blood pressure and the decrease in incidence of arteriosclerosis.
Breathing from the practice of Tai Chi Chuan is natural, abdominal, coordinated with movements, becoming prolonged, slow, deep, continuous and relaxed.
This type of breathing involves the use of diaphragm muscle and abdominal muscles, favoring the most efficient use of the lungs as well as increasing lung capacity.
The use of the lungs to their full capacity benefits pulmonary ventilation and, of course, the metabolism of oxygen and carbon dioxide exchange.
In addition, the increase in lung capacity increases the elasticity of the lung tissue as well as all the muscles involved in breathing, the strengthening and enlargement of the chest, thus preventing the occurrence of a disease associated with aging, such as stiffening and ossification of the chest.
One of the main factors involved in improving the cardiovascular system is deep abdominal breathing during exercise.
Tai Chi Chuan practice also works in strengthening the immune system. It has been noticed that in general, Tai Chi Chuan practitioners suffer in a much lower proportion of colds, flu and autoimmune diseases.
The correct practice of Tai Chi Chuan allows the elimination of both physical (muscular) tensions and psycho-emotional tensions. Physical suits gained through daily exercise are reflected on the psychic level.
Tai Chi Chuan harmoniously combines the Qigong movement, being considered a dynamic form of Qigong. The strong structure of the necessary body is gained through practices such as the Iron Shirt.
The balance that allows the practitioner to master his emotions during practice (as in a struggle) is acquired through Taoist meditations such as the inner Suras and The 6 Healing Sounds, and the flexibility required for the free execution of movements is achieved through the exercises of Tao Yin.
Taijiquan is a martial art from the family of internal fighting styles (Nei Jia Quan) originating in China.
The name comes from the principle of Tai Ji (the great harmony between Yin and Yang).
The well-known symbol of the dance between Yin and Yang is called the "Taiji symbol". Therefore, Tai Ji Quan means "the box of great harmony" or "the box of supreme perfection".
The correct pronunciation differs according to the Chinese dialect in which it is pronounced, namely "tai ji ciuen", "tai dji" or "tai ti", but in any case not "tai." Being an internal style means that it uses energy and relaxation, not physical strength.
This style of fighting appeared within the Chen family. The most popular styles are Yang and Chen.
Yang style was developed by Yang Lu Chan, who learned the art of working for the Chen family but could not become the official follower of the tradition and had to create his own style.
He was also invited to surrender to the Chinese Imperial Court, a testament to his combat effectiveness.
In most schools in the world, Taiji or Tai Chi means a health exercise where the practitioner uses the movement, breathing and vertical position of the column to energize it and make the energy flow better through the body.
Also, for many practitioners, Taiji practice means only a series of slow movements performed by yourself.
For those who still know the old Tai Chi style as martial art, the sequence of movements is not learned from the beginning, it is just a way to train yourself when you are alone. Taijiquan as martial art means:
basic techniques on the spot;
displacements;
more complex techniques and special blows (such as a shoulder blow);
Ground floor applications – each movement has at least 5 or 6 applications in combat;
Tui Shou or pushing your hands – also different as execution what is done in health styles or competition;
the 108 sequence called Taolu;
a breathing technique that I do not know yet;
energy emission techniques that have been demonstrated to me and felt on my own skin, but I have not had the opportunity to teach them.
Wu Tao Kung Fu style was created by Master Hoang Nam in 1962 and represents a synthesis of various martial arts styles he had studied. Following the tradition of the Masters, they do not teach this style to their most advanced and worthy students.
Master Hoang Nam has started practicing martial arts since the age of six.
Hoang Nam was born in Vietnam in a simple people's family. Uncle Hoang Minh was a Sino-Vietnamese boxing master, and he was the one who initiated the little Nam in the martial arts at the age of six.
A few years later, an early vocation is to beat at the gate of Grand Master Wong Tse who teaches Shaolin Quan in one of the most prestigious schools in the country.
Transformed, the young boy does not give up and, for 3 years, returns regularly to the Grand Master. In the end, the latter succumbs to such a tenacity, and decides to submit him to a sample requiring him to sit for 2 hours a day for 6 months, the rest of the day devoted to household chores.
 Despite his small stature even after the local criteria, Hoang Nam will be worthy of the reputation of Master Wong Tse's school until 5 years later he will be allowed to descend from the mountain, the last test that will make him face the best disciples.
 At 19, Hoang Nam is knowledgeable, recommended by his master, he is studying under the guidance of other classmates such as Phoe Yang of TaijiQuan or Truong Thanh who conveys Vo-Co Truyen, the traditional Vo.
But in 1945 he will know the discipline that will make him known for the first time in Europe – karate. For his war in the country, Japanese officials occupied his family home. He begins to train in martial arts of "war" – karate, kendo, aikido, iaido and bo-jutsu.
They will initiate it in the discipline that marks the aggressive ideology of the conquerors, who were looking for nothing but efficacy. This context of war will leave some traces in the Wutao style.
At the end of the war he attended the first martial arts competitions and has notable results in 1948 at the Saigon Martial Arts Championship. Unfortunately, a new dark conflict ravages Vietnam, shakes society and destroys families.
At the insistence of his neighbors he leaves the country and chooses France as the country of refuge. He arrived in Paris in 1950, where the only known style was Judo.
He will teach in 1953 to a circle of close friends Kungfu TiêuLâm, under the name of "Full Physical Practice."
Not long ago, in 1957, he was part of the technical committee of the "Karate and Free Boxing Federation", which he presides over with another pioneer, Judo expert, Me Henry Plée.
In the same year, she opens the first official school, which is part of the first generation of European Karate. Along with Karate, Master Hoang Nam also shares his other knowledge: Aikido, Kendo, Iaido and Taiji Quan.
Tai Chi has been described as a "moving meditation" – thanks to a vast literature illustrating its all-encompassing benefits, many now call this practice a "moving medicine."
Tai Chi can be taught at home or on the Internet, but attending a course with an experienced instructor guarantees you a correct and safe exercise.
Mantra Chanting: The Healing Power Of Sound
A mantra is a word or a phrase that can be repeated over and over again allowing the vibration of the sound and its meaning to sink into our subconscious. The use of mantras goes back to ancient times. Mantras have existed for thousands of years tracing back to the Vedic period in India as well as in Japan, China, and other countries across the world.
Why Sanskrit for mantras?
Mantras are typically chanted in Sanskrit. The Sanskrit word mantra is derived from the root of man which means "to think," and tra from trai which means "to protect or to free from bondage" or "to free from the mind."
Sanskrit is a language that has been constructed at the deep levels of consciousness typically available to advanced practitioners of yoga and meditation. The sounds are specially constructed to penetrate the analytical mind and affect our nervous system very directly. In this sense, they are a short cut, and are like spiritual pharmaceuticals that enter into our soul with palpable physiological effects. It is this capability that gives mantras the very specific therapeutic and spiritual properties that are missing in our everyday language. At the very least, they offer us a means to rise above the conditionings of mental patterns in order to view life and consciousness from a different perspective, one that offers healing and enlightenment.
Buddhist mantras on prayer wheels
Benefits of reciting mantra
Chanting is not just about religion and spirituality; rather it's a combination of sound, breath and rhythm that helps you to channelise your energy. The mantras have both psychological and physiological effects on your body.
1 – Improves immunity
Chanting certain mantras puts pressure on tongue, vocal chords, lips, palate and other connecting points in the body. The vibration from the mantra stimulates a gland called hypothalamus. It is responsible for the regulation of many body functions including immunity system and some happy hormones. The happier you are the stronger your immunity.
2 – Calms the mind
The certain vibrating sounds of the mantras help in stimulating the hormones that calms the mind and relaxes your body. It also helps you to concentrate and thereby works as a tranquiliser for your mind.
3 – Balances chakras (Vedic mantras)
Chanting mantras helps to stimulate the body chakras, also known as the energy centres of the body. Imagine a chakra as an instrument, and the mantra as a tuning fork – strike the tuning fork, and the instrument will come into vibrational resonance with it, clearing out any energies that do not share the same resonance.
4 – Increases concentration
One of the best ways to focus is by reciting spiritual mantras.
5 – Regulates heart beat
Chanting mantra has been found to cause stabilization of the brain through rhythm and vibration which is said to lead to harmonization of our systems including heartbeat and breathing.
6 – Relieves stress
If you find yourself stressed at work or overwhelmed in a situation, you can turn to your mantras to help you through.
7 – Fights depression
Depression can feel like a miserable cloud that covers all the light in your life.  It can be the heaviest weight to bear and the hopelessness that grips you can make it seem like nothing will help.  Mantras can help and do help.  All you have to do is listen and allow the energy of the mantra to penetrate your being.
8 – Improves skin condition
The vibrations also fuel the vital points on your face that helps to improve the blood circulation and get rid of toxins. The breathing pattern of chanting helps to oxygenate your skin, making it look younger and glowing.
Why do we recite mantras 108 times?
The standard repetition of a mantra is 108 times. Repeating a mantra 108 times early in the morning and at night for a total of 40 days is known to create a very noticeable shift in your life. Continuing on to 120 days is said to create a major shift.
In Vedic culture, the Mathematicians saw the number 108 as the wholeness of existence. A scientific example is that the Sun is 108 times the diameter of the Earth, and the distance from Earth to the Sun is 108 times the diameter of the Sun.
By chanting a mantra 108 times, we are aligning ourselves with the will of the Universe and its creative energy.
Relating to the human body, there are 108 nadis, or main energy lines that are emitted from the Heart Chakra.
By harmonizing our personal vibration with the natural vibration of the Universe, we can create desired outcomes. By chanting a mantra 108 times, we are aligning ourselves with the will of the Universe and its creative energy.
Tumi Bhaja Re Mana mantra
This is a Sanskrit mantra of love, devotion, and great beauty. Reciting the names of the Divine can be done outwardly or inwardly, without or with words, and will ultimately lead the heart to open to the Supreme Consciousness.
The Philosophy of the All-Father
"He who cannot howl, will not find his pack." ~Charles Simic
In a world bloated with inert, impotent and domesticated father's, the All-father stands head-and-shoulders above. He is a masculine Gaia-force. He is Shiva animated by Shakti. He's not a boyfriend. He's not a tamed poodle at the feet of Codependence. He's a liberated wolf aware of how everything is connected to everything else through interdependence. He's a self-overcoming, provident man, free to live with purpose, on purpose, despite outdated cultural platitudes and parochial values regarding what fatherhood "should" be.
If, as Goethe said, "there are only two lasting bequests we can hope to give our children. One of these is roots, the other, wings," then a mother (and perhaps a typical father) gives the child roots, whereas an All-father gives the child wings.
Above all, an All-father is painfully authentic, uncomfortably vulnerable and full of tough love. He has reconditioned the culturally conditioned ideal that a father must be domesticated, invulnerable, and full of violence to be a "good father." He all at once nixes the outdated notion that "father" and "provider" are automatically synonymous.
He redefines the values of fatherhood for himself, openminded and imaginative, transforming such cliché misnomers as "breadwinner" and "wage-earner" into giver and protector. He is a shield, a guide, and a gift-giver, not a cog in a clockwork, a monkey in a machine, or a slave in a sweatshop. He is Hunter and Gatherer, Lover and Warrior (self-defense). As Aubrey Marcus said, "A wild man is a protector. A father. A warrior for all that is good… He is a force. He is a cause for an effect. He is a mission." So it goes also for the All-father.
Cosmic fatherhood first, biological fatherhood second:
"For thousands hacking at the branches there is one striking the root." ~Henry David Thoreau
Hold your cognitive dissonance in check for a second and here me out. Just because biological fatherhood comes second for an All-father, doesn't make it less. It just makes it secondary. After all, biological fatherhood is still chief among all other things except cosmic fatherhood.
Cosmic fatherhood first, biological fatherhood second is a "Force of Nature first, person second" philosophy applied to fatherhood. Biological fatherhood is subsumed by cosmic fatherhood, just as personage is subsumed by being a Force of Nature.
Best of all, focusing on being a cosmic father first and a biological father second prevents an All-father from falling into cultural traps or being tripped up by outdated psychological hang-ups regarding fatherhood. He is free to think big-picture, using "Over Eyes" to see how everything is connected. He is free to be creative, open and vulnerable regarding fatherhood, rather than lackluster, rigid, and invulnerable. He is free to use his powers for the protection and teaching of the whole. In short: he is free to be a shamanic father to his children.
Most of all, he is free to be imperfect, understanding that true authenticity requires honesty regarding one's faults and foibles. The All-father allows himself to be a gloriously inglorious, perfectly imperfect, independently interdependent father. He just tries his best and teaches his best and lets the chips fall where they may. As Sue Atkins said, "There is no such thing as a perfect parent. So just be a real one."  The All-father is as real as it gets.
Student first, teacher second:
"Keep me away from the wisdom which does not cry, the philosophy which does not laugh, and the greatness which does not bow before children." ~Khalil Gibran
The All-father teaches that we are all students just as we are all teachers; life is what we teach, and life is what we learn.
As a student first, he learns from his children. He's open to what they have to teach him. In this way he steps into a deeper and fuller fatherhood, embodied by a strength that is not cut off from empathy and softness, but is rooted in body-centered becoming. He is not armored and invulnerable against what his children are teaching him, rather he is highly sensitive and alive to the balance and deep connection building between them.
The All-father teaches through Nature (moderation/cooperation) first, and Pain (discipline/self-improvement) second. He teaches resilience through eco-conscious awareness, building upon what Mother Nature has to teach, deciphering her "language older than words" and then translating it for his children. In this way, he co-learns/teaches the Universal Laws which dictate the difference between what's healthy and what's not. Nature and the Human Soul by Bill Plotkin is a good primer for this.
The All-father helps his children use Pain as a guide, resolving issues of dissatisfaction, disconnection, and self-doubt by teaching them how to face their fears, their shame, and their unresolved wounds, thus bringing their head, heart, and guts (mind-body-soul) into full-blooded alignment. He teaches how to distinguish between anger and aggression through meditative martial arts, and between thought and feeling through mindfulness meditation and self-interrogation. He teaches the importance of neither rejecting nor succumbing to the "Dark Side" of power but reconciling and learning from it instead. He teaches how to bring the shadow out of the dark.
Most of all, he teaches his children courage and heroism and how to have the heart to persist regardless of fear. He teaches compassion and nonviolence, but he also teaches non-passivity and self-defense. He teaches his children how to be responsible with their own power. He teaches his sons how to go from overpowering to empowering others. He teaches his daughters how to teach men to respect her power as life-bringer.
Captain Fantastic and the bridge to the Übermensch (Overman):
"I teach you the Overman. Man is something that should be overcome. What have you done to overcome him?" ~Nietzsche
The All-father does not seek to condition young minds into fixed and outdated ways of viewing reality, instead he is intent upon teaching young minds how to recondition their own minds into perceiving reality in flexible and updated ways, piggybacking off the following Aristotelean wisdom: "It is the mark of an educated mind to be able to entertain a thought without accepting it." In short: he does not teach his children what to think but how to think.
He does not seek to raise last-generation men and women, he seeks to raise next-generation men and women. In this sense, he is willing to be a bridge to the Overman. Hoping that his children will become the Overhumans that will finally be able to cross over. If not, at least he has paved the way for them so that they may pave the way toward furthering the progressive evolution of the species.
The All-father teaches a yearning for greatness and a longing for vastness. He strategically plants seeds of heroism into the soft loam of youth in the hopes that they will grow into courage and resilience. But he understands that resilience will only get one so far, so he goes beyond teaching resilience and imparts methods of antifragility. As explained by Nassim Nicholas Taleb, "Antifragility is beyond resilience or robustness. The resilient resists shocks and stays the same; the antifragile gets better."
The All-father wants to be surpassed by his children so that he and the human species, as a whole, may learn what they have to teach. As such, he does not cling to his mastery but proactively recycles his own mastery in order to be a healthy-minded example for his children. In this sense, he teaches how to stand on the shoulders of giants without getting stuck on any particular shoulder. He teaches self-interrogation and the ability to question to the nth degree.
At the end of the day, there are very few examples of All-fathers in our culture. The closest I've come across is the movie Captain Fantastic. Although this movie goes a little extreme with the off-grid sustainable lifestyle, it strikes at the heart of what it means to be a father rising above traditional and cultural fatherhood clichés.
Like the All-father, Captain Fantastic is set upon raising intelligent, eco-conscious, open-minded individuals who are confident and courageous enough to question things regardless of authority (even his own) in order to co-create with them alongside Truth, rather than attempting to pigeonhole Truth into some outdated ideal.
About the Author
Gary 'Z' McGee, a former Navy Intelligence Specialist turned philosopher, is the author of Birthday Suit of God and The Looking Glass Man. His works are inspired by the great philosophers of the ages and his wide awake view of the modern world.
Power Of 3: Guiding Principal Of Universe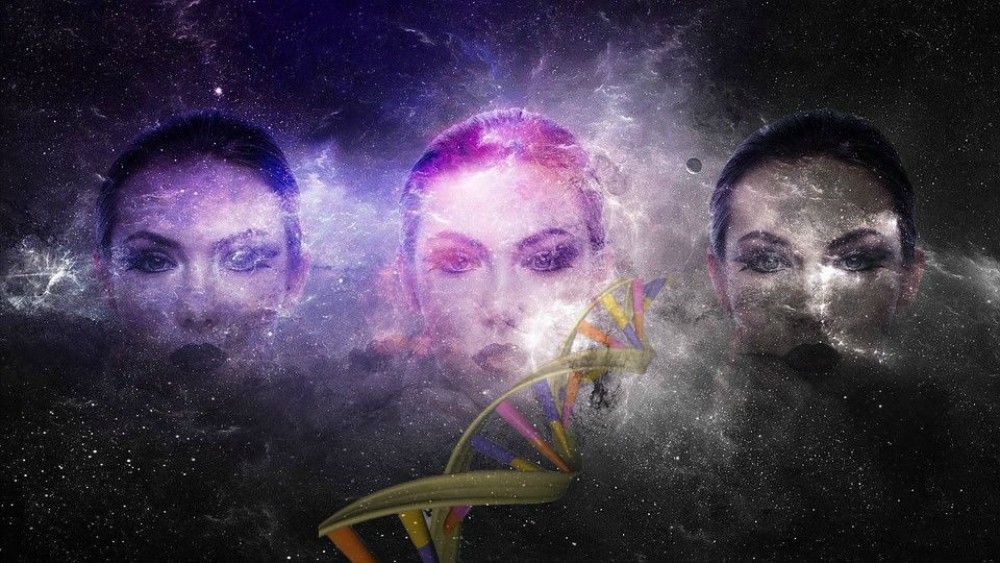 Significance and meaning of number three has been fascinating mankind for thousands of years, and can still be found today in art, architecture, science, literature, and religion.
 What is it about this number that continues to baffle scientific world? Could this recurring motif contain a profound message?
 People of ancient Egypt  believed the design and idea of the three pyramids of Giza came from the Gods. Various cultures across the world worshipped divine beings that ruled as all-knowing triads. Famous scientist Isaac Newton searched for the secrets of the universe in an ancient tablet that spoke of the power of the number three. Even the language of our DNA is written in a pattern of threes.
Is it possible that the combination of all the trios and trinities embedded throughout the mythical and religious world suggest that the power of three might somehow connect humanity with divine energy or superior mind?
Three in Religion
Hinduism
In the Hindu religion, the concept of the cosmos is personified by a triad of deities, namely the Trimurti. The Trimurti or triad is also referred to as Brahma-Vishnu-Maheshwara, which stands for Brahma the creator, Vishnu the preserver, and Shiva the destroyer. The three represent the aspects of human existence: birth, life and death. Although there are many depictions of the Trumurti, often they have three heads branching from one neck, each gazing in a different direction.
 Buddhism 
Amitabha, Avalokiteśvara and Vajrapani form the divine trio of Sukhāvatī.
 Christianity
The Christian doctrine of the Trinity (Latin: Trinitas, lit. 'triad', from trinus, "threefold") holds that God is three consubstantial persons or hypostases—the Father, the Son (Jesus Christ), and the Holy Spirit—as "one God in three Divine Persons".
Three in Science
The DNA Code
All living organisms are dependent on three types of very large molecules for essentially all of their biological functions. These molecules are DNA, RNA, and proteins, and are classified as biological macromolecules. Without DNA, RNA, and proteins, no known forms of life could exist. The simple summary is that DNA makes RNA, and then RNA makes proteins.
The structure of the DNA consists in a series of three molecule combinations known as triplets
In 1966 scientists announced the greatest breakthrough in of science. they successfully deciphered the Genetic Code. After years of research, scientists discovered that the structure of the DNA consists in a series of three molecule combinations known as triplets. The genetic code consists of three-letter 'words' called codons formed from a sequence of three nucleotides (e.g. ACT, CAG, TTT). This makes the number three very important as you can say that it represents the key to our existence, the key to understanding the complex DNA language.
Three in Architecture 
The pyramids of Giza
 There is a theory that  three pyramids of Giza are a perfect reproduction of the 3 stars of Orion's belt. Its central claim is that there is a correlation between the location of the three largest pyramids of the Giza pyramid complex and Orion's Belt of the constellation Orion, and that this correlation was intended as such by the builders of the pyramids. The stars of Orion were associated with Osiris, the god of rebirth and afterlife, by the ancient Egyptians.
Three pyramids of Giza
Depending on the version of the theory, additional pyramids can be included to complete the picture of the Orion constellation, and the Nile river can be included to match with the Milky Way galaxy.
Three in Literature
Rule of Three
 The rule of three is a writing principle that suggests that a trio of events or characters is more humorous, satisfying, or effective than other numbers in execution of the story and engaging the reader. The reader or audience of this form of text is also thereby more likely to remember the information conveyed. This is because having three entities combines both brevity and rhythm with having the smallest amount of information to create a pattern. It makes the author or speaker appear knowledgeable while being both simple and catchy.
Slogans, film titles and a variety of other things have been structured in threes, a tradition that grew out of oral storytelling. Examples include the 'Three Little Pigs', 'Three Billy Goats Gruff', and the 'Three Musketeers'. Similarly, adjectives are often grouped in threes to emphasize an idea.
Three Musketeers. Illustration
The Latin phrase "omne trium perfectum" (everything that comes in threes is perfect, or, every set of three is complete) conveys the same idea as the rule of three.
Divine Comedy
The number 3 is everywhere in Dante Alighieri's Divine Comedy. It is composed of 3 canticas: Inferno (Hell), Purgutorio (Purgatory) and Paradisco (Heaven) (33 cantos).
For one thing, the poem itself is structured according to the rhyme scheme terza rima, which uses stanzas of three lines that employ interlocking rhymes (aba bcb cdc, etc.). Additionally, there are nine circles of Hell (three multiplied by three), Satan has three faces, and three beasts (a lion, a leopard, and a wolf) threaten Dante at the beginning of the Inferno.
Three in Art 
Rule of Thirds
 There are a number of powerful visual areas within a basic rectangle that artists can use to enhance their compositions. 
Rule of thirds applied on Mädchen am Strand.
 The rule of thirds is a "rule of thumb" or guideline which applies to the process of composing visual images such as designs, films, paintings, and photographs. The guideline proposes that an image should be imagined as divided into nine equal parts by two equally spaced horizontal lines and two equally spaced vertical lines, and that important compositional elements should be placed along these lines or their intersections.
Proponents of the technique claim that aligning a subject with these points creates more tension, energy and interest in the composition than simply centering the subject.