Suspected Brain Tumor Turns Out to be a Pork Tapeworm Living in Woman's Head
A woman who thought she had a brain tumor was "relieved" to discover the lump was in fact a parasitic worm.
Rachel Palma knew something was up when she started acting out of character. She would forgot words, and tried to call her dead relatives, ABC 7 reported. The 42-year-old from Middletown, New York, also suffered "horrific nightmares," hallucinations and couldn't sleep, she told Today. When she tried to use her right hand, she would suddenly drop things.
"My episodes were getting more and more bizarre," Palma told Today of her symptoms which emerged in early 2018. "There were days that I didn't know where I was."
After a few trips to the emergency room, doctors performed an MRI scan on Palma which showed there was a marble-sized lesion on the left hemisphere of her brain, which is the dominant side in most right-handed people and controls language and speech.
Palma told Today she and her husband were "both in shock" by the diagnosis.
"I never really allowed myself to think that it was cancer," she said.
In the fall of 2018, surgeons operated on Palma, but were surprised to find what they thought would be a soft tumor was in fact a firm ball. It resembled a quail egg, Mount Sinai Hospital neurosurgeon Dr. Raj Shrivastava told Today.
When they cut it open, they found a baby tapeworm inside.
Dr. Jonathan Rasouli, chief neurosurgery resident at the Icahn School of Medicine at Mount Sinai, New York City, told ABC 7: "We were, like, overjoyed. We were, like, cheering and clapping. We were so happy…When we got in there and saw that it was a tapeworm, we were like, 'YES!' We were so happy!"
Rasouli told Today: "It was one of those rare situations where you see a parasite and you're like, wow this is great!"
Palma's diagnosis changed from a malignant brain tumor to neurocysticercosis: which occurs when the pork tapeworm infects the central nervous system. According to the World Health Organization, the condition is spread when an individual eats under-cooked pork, or other infected foods; drink water containing tapeworm eggs; or because of poor hygiene. Neurocysticercosis is the most common cause of epilepsy in the developing world.
Some people might not need treatment, while others can take medication, or will require surgery to remove the worm.
KASHMIRA GANDER
Newsweek
The New iPhone Design Is Horrifying People With an Obscure Phobia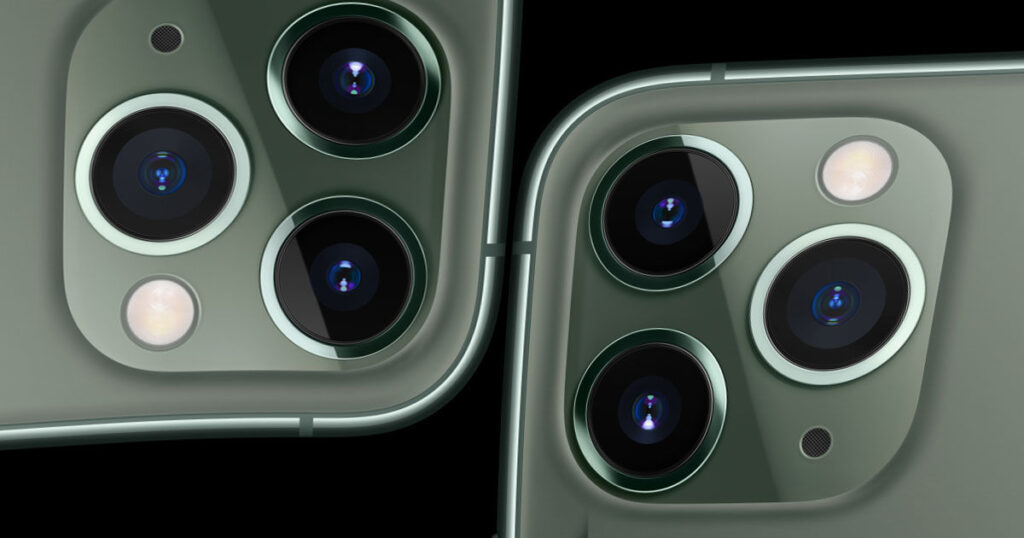 Disturbing Design
On Tuesday, Apple unveiled the iPhone 11 Pro, which is loaded with new camera features like a background-eliminating portrait mode for headshots, a front-facing lens that can take slow-motion video — which Apple really hopes you'll call "slofies" — and three separate lenses that take wide-angle shots.
But Apple is already facing backlash against the camera's design. People are tweeting about how the three lenses are setting off their trypophobia — an aversion to patterns of tightly-packed holes — that's leaving them disgusted or horrified when they look at the new handset.
3 cameras on the new iPhone actually triggers my trypophobia. I can't have people walking around me with those cameras every day 🥺🤢

— hot pumpkin princess eva gutowski (@lifeaseva) September 10, 2019
Opt Out
Some are even complaining that the off-putting lenses will lead them to skip over the new iPhone and hold onto their older models.
There's no chance that I will have new phone envy about this iPhone 11. It's hideous and triggers my tryptophobia. I'm good with my XR

— Kris Black (@Kristeyyy) September 10, 2019
Others say they're opting out entirely.
so I can cross getting the new iPhone off my list… little trypophobia things

— hayley 🦁 (@delucamer_) September 10, 2019
Feels Bad
As it stands, trypophobia is not an officially-recognized medical condition, but that doesn't mean that people aren't feeling repulsed.
This #iPhone11 got my trypophobia actin up like a muhfucka.

Y'all can keep this 3 eyed demon phone.

I'm good. pic.twitter.com/83tqZtSPOR

— juice wayne (@visecs) September 10, 2019
For some, the new iPhone is the first thing to trigger any sort of trypophobia, truly a monumental accomplishment for Apple.
The IPhone 11 triggers the trypophobia I don't have

— Isabella (@helloimisabella) September 10, 2019
Dark Energy ruled-out? Breakthrough experiment challenges 'fifth force' of the Universe
DARK ENERGY is the most elusive and ubiquitous energy in the Universe. But the little knowledge scientists possess about dark energy is at risk, after a new experiment suggests dark energy is not the "fifth fundamental force".
Dark energy is the name given to an almost-entirely unknown force causing the Universe to expand at an ever-accelerating rate. Some describe dark energy as a "fifth" force acting on matter. The is beyond the four already known: gravitational, electromagnetic, and the strong and weak nuclear forces.
This fifth force may be "screened" or "hidden" for large objects like planets or objects on Earth, making it difficult to detect.
The theory suggest dark energy may work in the opposite way of gravitational forces, meaning it became stronger when operating in the vast vacuum of space away from other objects.
Now, researchers tested the possibility dark energy is acting at the atomic level – and found no trace of it.
This result could rule-out popular dark energy theories that modify the theory of gravity, leaving fewer places to search for the fifth force.
Professor Ed Copeland, of the University of Nottingham, said: "This experiment, connecting atomic physics and cosmology, has allowed us to rule out a wide class of models that have been proposed to explain the nature of dark energy, and will enable us to constrain many more dark energy models."
The experiment, performed at Imperial College London, tested a dark energy theory proposing the fifth force is comparatively weaker when there is more matter – the opposite of how gravity behaves.
Therefore, experiments using two large weights would mean the force becomes too weak to measure.
The researchers instead tested a larger weight with an incredibly small weight – a single atom – where the force should have been observed if it exists.
Scientists used an atom interferometer to test whether there were any extra forces that could be the fifth force acting on an atom.
A marble-sized sphere of metal was inserted into a vacuum chamber and atoms were allowed to free-fall inside the chamber.
Source www.express.co.uk
Advanced Brain Waves Detected in Lab-Grown Human Mini-Brains
Human mini-brains – known by those who don't want to attract negative attention as 'cerebral organoids' (a great name for a band) — have been grown in Petri dishes by researchers for a number of years under the noble cause of helping people with neurological diseases and always with the stated understanding that these mini-brains were not capable of actually thinking. Oops. According to a new study just released, these human mini-brains can now produce brain waves that are indiscernible from some newborn humans. Uh-oh.
"If you'd asked me five years ago whether we could get organoids to generate sophisticated brain waves, I would have said no. But what we got is unprecedented. No one has ever seen this level of complexity in cerebral organoids, which is why we were so surprised."
Biologist Alysson Muotri of the University of California, San Diego, led the research and co-authored the paper published in the journal Cell Stem Cell and summarized in various scientific publications, including STAT and Nature. He is also the co-founder and part owner of Tismoo, a Brazil-based company attempting to create brain organoids from the cells of people with rare neurological disorders and then test experimental therapies on them. Muotri and his team have focused on keeping the mini-brains alive, fed and healthy for several years so that the cells can mature just as they would in a human skull.
"What we have in a dish is following the trajectory of human brain development."
How far along the trajectory have the cerebral organoids in the dish followed? The latest batch generated several types of brain waves that were detected by electrodes, including gamma waves, alpha waves, and delta waves. Of course, it's one thing to detect waves. It's another to measure how close they are to human brain waves. For that, the team turned to an artificial intelligence system trained on the EEGs recorded from 39 premature infants born after 24 to 38 weeks of gestation. The AI thought the brain waves in the human mini-brains matched those in human babies at comparable stages of development. These activities were spontaneous and self-generated, just like in prenatal fetuses.
It's a good thing they're not being exposed to external stimuli that they can learn from … right?
You're so naive. Last month, mini-brains were sent to the International Space Station to test how they handle microgravity. Are they being readied to be sent on long-duration space flights where they develop as they travel? Muotri and his team are getting ready to grow the mini-brains larger than the current pea size by supplying them with more nutrients and oxygen and surrounding them with human blood vessels. At some point, Muotri believes they will face the inevitable development – consciousness. He seems so certain that he's hosting a conference in October of biologists and philosophers to discuss how to prove or disprove the presence of consciousness in a human mini-brain.
"As a scientist, I want to get closer and closer to the human brain. I want to do that because I see the good in it. I can help people with neurological conditions by giving them better treatments and better quality of life. But it's up to us to decide where the limit is."
How close is he? Will the meeting draw the line at a place he's already passed? Will other countries recognize and respect these limits? We can't even agree on when this occurs in actual human babies. Shouldn't we figure that out first?
Or are we too late?
Consider this food for YOUR brain.
Source: Mysterious Universe