Supernatural Experiences; Reptilian Shapeshifters in Grass Valley
HPI Reptilianologists headed to Grass Valley to investigate some out of the ordinary claims.A woman says that she witnessed her neighbor morph from a human being to a reptilian. Note: This later became her boyfriend and not her neighbor, the story changed. Now that his identity was exposed, he informed his reptilian colleagues. It so happens his colleagues live in the same neighborhood.
The client discovered she lives in a community of Reptilians. The Reptilians now dress in black and in the middle of the night, they gas her room, placing the client into a sleeping slumber. They remove something from her body on a nightly basis. She even has a photograph of an incision on her back. She discovered a strange gas pipeline that goes into her bedroom. It will be the mission of the HPI Reptilianologists to discover what exactly this pipeline is. We will conduct surveillance on the home and the property to see if there are strange men in black creeping around her home.
In The Biggest Secret (1999), Icke introduced the idea of the "Reptoid Hypothesis." He identifies the Brotherhood as originating from reptilians from the constellation Draco, who walk on two legs and appear human, and who live in tunnels and caverns inside the earth. They are the same race of gods known as the Anunnaki in the Babylonian creation myth, Enûma Eliš. Tyson Lewis of Montclair State University and Richard Kahn of the University of North Dakota write that Icke has taken his "ancient astronaut" narrative from the Israeli-American writer, Zecharia Sitchin. Icke's idea of "inner-earth reptilians" is also not new, though Barkun writes that Icke has done more than most to expand it.
Sitchin writes that the reptilians came to Earth for its precious metals. Icke argues that the Anunnaki came specifically for "monoatomic gold," a mineral he says can increase the carrying capacity of the nervous system ten thousand fold. After ingesting it, the Anunnaki are able to process vast amounts of information, speed up trans-dimensional travel, and shapeshift from reptilian to human form. They use human fear, guilt, and aggression as energy in a similar way, part of the reason they organize human conflict. The more negative emotion we emit, the more the reptilians absorb:
Thus we have the encouragement of wars, human genocide, the mass slaughter of animals, sexual perversions which create highly charged negative energy, and black magic ritual and sacrifice which takes place on a scale that will stagger those who have not studied the subject.
he Anunnaki have crossbred with human beings, the breeding lines carefully chosen for political reasons. He believes they are the Watchers, the fallen angels, or "Grigori," who mated with human women in the Biblical apocrypha. Their first reptilian-human hybrid, possibly Adam, was created 200,000–300,000 years ago. There was a second breeding program around 30,000 years ago, and a third 7,000 years ago. It is the half-bloods of the third breeding program who today control the world, more Anunnaki than human. They have an extremely powerful, hypnotic stare, the origin of the phrase to "give someone the evil eye," and their hybrid DNA allows them to shapeshift when they consume human blood. In Children of the Matrix, he expanded his description of those in charge, adding that the Anunnaki also bred with another extraterrestrial race called the "Nordics," on account of their blond hair and blue eyes, to produce a race of human slave masters, the Aryans. The Aryans retain many reptilian traits, including cold-blooded attitudes, a desire for top-down control, and an obsession with ritual, lending them a tendency toward fascistic militarism, rationalism, and racism.
Lewis and Kahn write that the Nordic hypothesis means Icke is mirroring standard claims by the far right that the Aryan bloodline has ruled the Earth throughout history; for Icke, Sumerian Kings and Egyptian pharoahs have all been Aryan reptilian humanoids, as have 43 American presidents and the Queen Mother, who he writes was "seriously reptilian." All have taken part in Satanic rituals, paedophilia, kidnapping of children, drug parties and murder, needed to satisfy their reptilian blood lust, which allows them to retain their temporary human form.
THE INVESTIGATION
It was a long drive to Grass Valley and in my mind, I kept pondering…"are there really alien reptilian shapeshifters living in a community in Grass Valley, can my client really be telling the truth?" I got up there early and surveyed the landscape and property. What I did discover is that this one street has the best neighborhood watch ever. As I drove my car up and down this street, it seemed like every person that lived on this street was looking out their window or stepping out on their porch to see who I was. I felt like I was in the back swamps of Louisiana again. A similar thing happened in Louisiana, I had to drive down some muddy dirt roads looking for a house to pick up my date, a Cajun girl. Every neighbor stepped out to see who the guy in the Camaro was. One big Cajun came up to me and said: "You ain't from here boy, you stepping in the wrong area, you can get yourself hung! Strangers disappear in these swamps!" I drove off quickly and said to myself, oh crap, what did I get myself into? Finally I found the house and picked up my Cajun girl date named Mimi. I found out she lived in a big two story house with her mother, father, grandmother, 3 cousins, 2 uncles, 6 brothers and 1 sister. Her 6 brothers were all huge. One of the brothers looked at me and said: "Where you taking Mimi boy?" I said "dancing". The brother said: "You in Coon-Ass territory boy, you make sure you bring her back by 11pm." I looked at my watch, it was 9pm. That sure isn't much dancing. I knew I wasn't going to get anywhere, so I decided not to take her out and decided to have a couple of beers with her brothers. After drinking those two beers, I went back to the base. I didn't get lucky that night.
So will I on this night get lucky? A different kind of lucky. Will I discover what David Icke has been talking about all along? My team starts showing up. I call the client, for a while there she is not answering and I had another dilemma, I couldn't find her house. Finally she answers and she tells me we cannot go to her house and that she will meet us at Condon Park.
We follow the client to Condon Park and she briefs us about everything that is going on in her community. She tells us that it is her boyfriend that she saw shapeshift into a reptilian. Her boyfriend is home and that we cannot conduct surveillance on her property.
Well, this is a new one for me. I didn't know that her boyfriend was also a reptilian. If we can't conduct our surveillance on her property, how
can we do our jobs? The client blamed me for not getting all of the details and I know I told her exactly what was needed, what will happen during the investigation and how the investigation will be conducted. But, I thought, why argue with her, I need to maintain my professionalism. I feel bad, because I have people who drove all the way from Stockton, Martinez for this investigation and now it looked like there would be no investigation.
During the briefing, the client was telling us that she does not want to be debunked and then before I knew it, she accused 3 of my investigators of being reptilian spies. Okay, this is getting too much, it was time for Plan B. I convinced the client to take us to the Holbrook Hotel. I did an investigation at the Holbrook and I know that this place is haunted. So on this night we investigated: Mount St. Mary's Academy; Saint Patrick's Catholic Church; Old St. Patrick's Cemetery – 1853-1908; all located at South Church Street and Chapel Street. At the cemetery we captured 3 EVPs, one EVP whistle by Stephanie Belson and 3 other EVPs, one sounding like a small child. Many orb anomalies were captured by our camera. I saw orb action and a bit of mist in my infrared night scope binoculars – in real time. After the cemetery we dropped off the client at her home, so she could do readings. Did I tell you she also does readings? Well, if I didn't, she does. After dropping off the client we investigated the Holbrook Hotel. There was a bachelorette party going on and it was too noisy for EVPs, but we captured some orb anomalies in our photographs. I checked out the Nevada Club, which has a reputation of being haunted and it was more noisy there than the Holbrook, so finally we decided to go back to the cemetery. The activity ceased and before I knew it we gathered in a group and discussed this weird night.
We concluded that since the client sees all kinds of traffic going up and down her street at all hours of the night, there may be something else sinister going on. Maybe a meth lab or maybe one of the neighbors is growing marijuana? I was ready to go back to my undercover narcotics days again and see what was exactly going on in this neighborhood watch friendly community. Bring back my old narc days, bring back Porkchops (code name when I was with DST (Drug Suppression Team) CID (Criminal Investigation Division).
Instead of hunting reptilians, we found ourselves hunting ghosts again….sigh.
CONCLUSION:
This is an example of an investigation that went bad. When I saw that there was not going to be an investigation, I pondered the thought: "What would Josh Gates do?" I must admit, the client does seem terrified, but I think it has to do with something more on a personal level and I feel there may be something sinister going on, but it's not Reptilians. If she is seeing a lot of traffic on her street at all hours of the night, it's because of drugs and not
Reptilians that are looking to feast on human blood. Instead of monster hunting, I found myself ghost hunting. Monsters are a rarity and I get an adrenalin rush from hunting monsters, damn ghosts are a dime a dozen.
Paul Dale Roberts, HPI Esoteric Detective
Haunted and Paranormal Investigations (HPI International)
http://hegelianismparanormalintelligence.com/
https://www.facebook.com/#!/groups/HPIinternational/
Repeated Mothman sightings in Chicago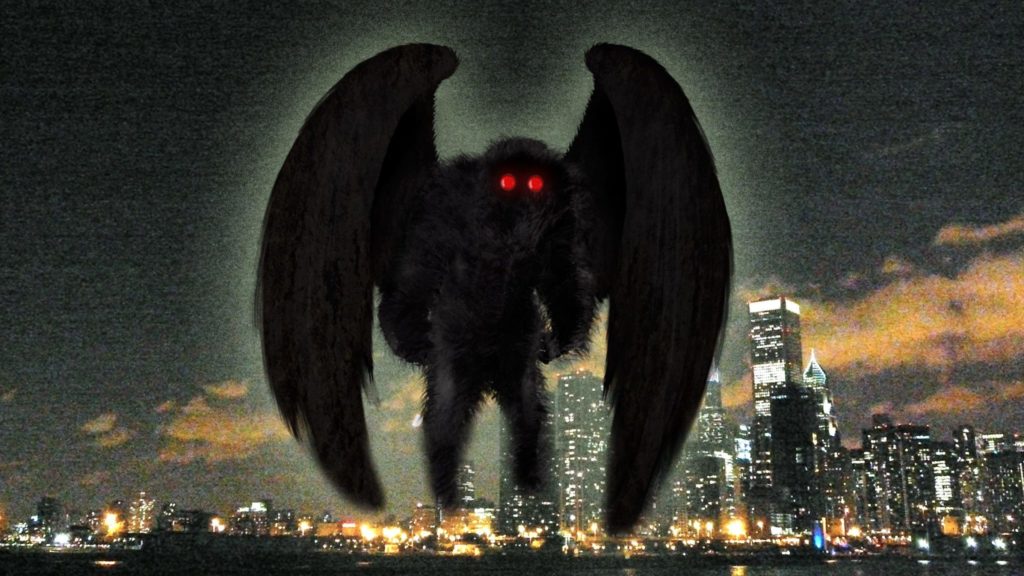 It was a normal summer night for John Amitrano, working a Friday shift as security for Chicago's popular Logan Square hangout The Owl – but when we went outside, he saw something odd. "I saw a plane flying, but also something moving really awkwardly under it," he told VICE. "It didn't look like a bat so much as what illustrations of pterodactyls look like, with the slenderness of its head and its wing shape. I know what birds and what bats look like. This thing didn't have any feathers or fur, and it didn't fly like anything I've ever seen."
Amitrano added that the thing he saw – which, according to him, had muscular legs, a jutting tailbone, and a human-like shape – flew in a "strange swooping motion, undulating up and down." After it flew away, he retrieved his phone from charging in the bar and texted his girlfriend and close friends what had happened. "I remember thinking, This was the worst time in the world to have my phone charging," he laughed.
What Amitrano saw that night was one of 55 reported Chicago-area sightings of a flying humanoid in 2017. Accounts have varied from "a large, black, bat-like being with glowing red eyes" to "a big owl" or something that resembled a "Gothic gargoyle" or a "Mothman." Most eyewitnesses spotted the being in-flight, but some particularly disturbing reports detailed it dropping onto hoods of cars, peering in through windows, and swooping down at bystanders. The alleged "Mothman" has captured the attention of the city, from local media articles and rap songs to Halloween costumes and countless speculative Facebook groups.
Amitrano later remembered seeing something on Facebook about the sightings, and as he read more about it he contacted Lon Strickler, a self-described Fortean researcher who's been compiling all of the Chicago sightings on his website Phantoms and Monsters. Strickler – whose book Mothman Dynasty: Chicago's Winged Humanoids was released last month – has been investigating paranormal sightings since the late 1970s and claims to have seen both a "Mothman" and Bigfoot. Since the rash of sightings started in February, he's been painstakingly interviewing witnesses and documenting their accounts.
According to Strickler, these Chicago sightings are unlike anything he's seen in his decades investigating alleged flying humanoid sightings: "This group of sightings is historical in cryptozoology terms. For one, it's happening in an urban area for the most part and that there are so many sightings in one period." He added that he believes there are at least three flying humanoids around Chicago due to the varied locations, the concentration of sightings in certain neighborhoods, and the small differences in the eyewitness testimonies.
The main reference point Strickler uses for explaining this phenomenon was the wave of reported "Mothman" sightings in Point Pleasant, West Virginia. From 1966 to 1967, there were several reports of a large, man-like bird with glowing red eyes; local folklore later tied the monster to a bad omen connected with a tragic bridge collapse in 1967. The sightings were popularized by John Keel's 1975 novel The Mothman Prophecies, which was later adapted into a 2002 film starring Richard Gere and Laura Linney – and since 2002, the town has commemorated the "Mothman" sightings with an annual festival.
Strickler doesn't believe that what Chicagoans have been seeing are harbingers of bad things to come: "These beings are less aggressive than the one in Point Pleasant, for the most part. I believe overall there was only one being in the Point Pleasant-area that was seen during that period." While he's not sure why Chicagoans are seeing what they're seeing, he theorized, "I think they're flesh and blood beings that aren't of this world."
Dr. David A. Gallo is a psychologist from the University of Chicago whose research deals with memory – specifically, how people "actively (and sometimes inaccurately) reconstruct the past," studying why people believe or are skeptics of paranormal psychic phenomena. A fan of The Mothman Prophecies, he offered his own explanations for what's happening in Chicago: "It's a selective sample. When people are choosing to report sightings, the basis of data upon which your paranormal researchers are collecting is all self-report," he said over a phone call. "He's not sampling random people and asking if they saw the Mothman – he's just counting the number of people that voluntarily came forward to report a sighting."
According to Gallo, the people more likely to visit a paranormal-centric website like Strickler's might also be more inclined to believe in, and therefore witness the existence of, a "Mothman." "Ideas about the supernatural can be culturally transmitted and socially transmitted. When incidences of UFOs are reported in the media or represented in popular culture, more sightings happen. I've heard it called The Will Smith Effect." But Strickler doesn't buy that explanation: "We have had very few cranks from what I can tell, which I think is pretty unusual. If the media would have picked up on it more than it has, I think that we would have had more fraudulent sightings."
"So many things could be different factors for why there's such a big uptick in the sighting," Gallo stated, adding that he doesn't deny these witnesses saw something out of the ordinary. "There's a phenomenon where there's basically some real witnessed experience, but if there are holes or gaps in that original experience, sometimes the mind is unable to fill in the gaps." Because of this, Gallo warned, "if something is suggested to them subsequently as a plausible scenario – like a Mothman or whatever – that person might be inclined to fill in the gaps with that."
While Gallo's theories for why people have been seeing this flying humanoid might help soothe the nerves of Chicagoans afraid to look up at the sky, Amitrano still believes he saw something that night: "The reason I said something in the first place is that nobody wants to say anything because they don't want to be perceived as a crackpot or a crazy person. That doesn't mean that those things don't happen."
Did Russians Conducted An Experiment Similar To That of 'Philadelphia Experiment?
The Philadelphia experiment is a designation for a classified military experiment that was supposed to take place at the naval base in Philadelphia, Pennsylvania, in 1943. It is one of the most famous military experiments, but many speculations are still underway here, and there are plenty of ambiguities. That is why he is interested in so many mystery hunters and there are many conspiracy theories in circulation. The experiment has never been officially confirmed by the US government, and is still surrounded by a series of secrets. So I warn beforehand that it is not necessarily the truth and that.
The experiment has never been officially confirmed by the US government, and is still surrounded by a series of secrets. So I warn beforehand that it is not necessarily the truth and that the whole event should be taken with reserve and distance. The aim of the experiment was to hide or 'invade' the USS Eldridge destroyer so that it was hidden not only from the enemy radars but also from the sight of a regular observer. This would give the US a tremendous military advantage in the war. The experiment should include world-renowned scientists such as Nikola Tesla and Albert Einstein.
The first unsuccessful experiments of this kind were to take place between 1933 and 1940. The project was based on Einstein's theory of relativity and the use of a combination of gravitational and magnetic fields. The field would merge into one unitary field, which would then change the geometric properties of the space. Even according to official records, Einstein was employed as an adviser in the navy in 1943-1944. According to scientists, huge electric generators bend the light around the object, making it invisible.
Intruders and incubi: The waking nightmare of sleep paralysis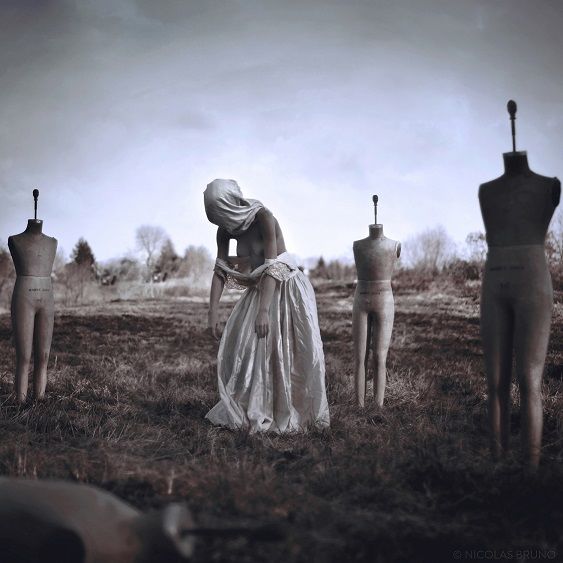 Brian Barrett Motherboard
© Nicolas Bruno
Once, when I was 17, I woke up in the dark and couldn't move.
I could hear, at least. That's why I was awake to begin with: someone was banging on the front door in the middle of the night, insistent, sharp, angry.
I could see, too. My eyes were open to the ceiling above me. My head, though, was locked into position by some invisible vise. I tried to yell, to warn my parents about the angry intruder outside, and the irrevocable harm I was convinced he would do. I couldn't yell. The knocks got louder.
No matter how insistently I begged my body to jump out of bed and find a place to hide, it remained a slab. Something terrible was about to happen to me, to my family. The door was going to give way. The outsider was going to come in. I was going to face whatever—whoever?—came after completely immobilized and alone.
It was the most afraid I've ever been in my life. What I realized, looking back later, was that it still would have been even if it weren't for those knocks on the door, and my certainty that something awful would follow. My deepest fear came from the realization that my body, in that moment, had become completely dissociated from anything I recognized as myself. It was a car sinking to the bottom of a lake, my mind its captive passenger, waiting to drown.
I don't remember how long it lasted, but eventually it wore off. I quickly found out that the person on the porch was my older brother, home at an unexpected hour on an unexpected visit from college. It took me a few more years to figure out that the other part, the immobility, the sense of self reduced to flickering consciousness, even the deepness of the fear I felt, had a name. It was sleep paralysis.
At least, that's what we call it now. Dr. S.A. Kinnier Wilson coined the term in a 1928 edition of the medical journal Brain. His description then should feel familiar to anyone who has experienced sleep paralysis today: a man dreamed of a murderer, then carried that dream over to a conscious state. The patient in question "lay thus, flat on the floor, motionless but suffering acute mental stress."
That's not to say that sleep paralysis is a relatively new human experience. A Dutch physician named Isbrand van Diemerbroeck published several case histories that accurately describe sleep paralysis in 1664, one of which, titled "Of the Night-Mare," may as well have been penned by Mary Shelley.
"In the night time, when she was composing her self to sleep, sometimes she believed the devil lay upon her and held her down, sometimes that she was choaked by a great dog or thief lying upon her breast, so that she could hardly speak or breath, and when she endeavored to throw off the burthen, she was not able to stir her member,"van Diemerbroeck wrote, suggesting moderate exercise and plenty of juice as a possible remedy to the invisible nighttime demon attacks. [17th century sics implied throughout.]
Even that landmark medical documentation isn't remotely the first reported instance. Go back further still, and you'll find references to sleep paralysis in medieval Persia and Ancient Greece and even more ancient (400 BCE) China. There's probably a cave drawing somewhere that depicts a red-eyed saber-toothed tiger sitting atop a paralyzed Neanderthal's chest. Sleep paralysis is as ageless and as universal as fear itself.
It's not quite as simple as simply being afraid, though. It's a complex confluence of physiological and psychological occurrences that force you to experience your deepest nightmares with eyes wide open.
Take a normal night of sleep, assuming you still have those once in awhile. Your body cycles through five sleep stages, the last of which is REM, which you probably remember from your high school biology class as being your brain's lights-out, shut-it-down, dream-time state.
Which is great! Dreaming is wonderful, especially if you ever wondered what it might feel like to fly down Rodeo Drive with a soft serve twist cone in one hand and a chainsaw in the other. Dreaming, though, can also be dangerous, because your big dumb body doesn't necessarily know that your brain is just playing pretend. Given the opportunity, your body will act out those dreams, which can lead to a whole other terrifying condition called REM sleep behavior disorder (RBD).
You've heard of sleepwalking, which can technically be a type of RBD, depending on whether it occurs during the REM stage of sleep. Many RBD episodes are much more involved than just puttering down the hall, however. Think of it like this: juggling with tennis balls and juggling with flaming swords are both technically types of juggling, but you'd never confuse the two.
Comedian and storyteller Mike Birbiglia turned his experiences with RBD into a very entertaining show, book, and film called Sleepwalk with Me. Well, entertaining but also terrifying; at one point in his mid-20s, Birbiglia threw himself out of a closed, second-story La Quinta motel window. At the time, in his dream, he was trying to escape an incoming guided missile.
The reason more people don't experience RBD is that the brain also has a safety valve. "During dreaming… bursts of neural activity called PGO waves spread through the cortex, producing the imagery we experience during dreams," explained James Allan Cheyne, sleep paralysis expert and professor emeritus at the University of Waterloo. "Simultaneously, activation spreads down the spinal column causing spinal interneurons to suppress signals that normally would produce muscle movement."
Your body, in other words, paralyzes itself during REM sleep to keep you from throwing yourself down a stairwell when you dream about laying out for touchdown pass to win the state championship.
Sleep paralysis, then, is what happens when you wake up before that effect has had a chance to wear off. Your body has frozen to keep you from acting out your dreams. But also, haha, good joke, you're still dreaming.
"You have aspects of REM sleep that are going on when you have waking, conscious awareness," said Brian Sharpless, assistant professor of psychology at Washington State University and author of a recent book about sleep paralysis. "First, you're paralyzed, and second, you are having dreams, but unlike normal dreaming these two things are happening while you're awake and able to look around the room."
Not just any dreams, though. Sharpless estimates that while a little less than a third of our normal dreams could be considered nightmares, 80 to 90 percent of dreams experienced during sleep paralysis qualify. "You can kind of imagine why," he said. "If you're lying on your back and can't move, that's scary enough. And if you're having hallucinations that are scary as well, that's a bad mix."
My own sleep paralysis, then, was fairly textbook. The banging on the door vaulted me into consciousness but not out of REM, leaving me frozen in a liminal hell of the mind, waiting for a bad man with an axe to bust down my door. Actually, I got off easy.
As it turns out, sleep paralysis nightmares can be divided into three tidy categories, two of which—the Intruder and the Incubus—would make for decent Paranormal Activity sequels. The third is "vestibular and motor," a less-fun name for a more-fun condition.
Cheyne cautions that these categories are broad, and the experiences the describe can vary greatly. On the other hand, he also is one of three authors of a landmark 1999 scientific paper, published in Consciousness and Cognition, that helped define them.
Vestibular and motor incidents—Cheyne calls it "Unusual Bodily Experiences" in his 1999 paper—are relatively harmless, potentially even enjoyable. "It's fancy term for feeling like your body is being moved without its volition," Sharpless explains. "You could feel like you're floating, or levitating, or your arm is being lifted." Not so bad, right? Your standard Sigourney-Weaver-in-Ghostbusters scenario.
The other two, Cheyne says, have no such upside potential.
"For Intruder experiences, the main sensation is the sensed presence—a feeling of something in the room," he recently explained over email. "That something may then also be seen, heard, or physically felt. It may move around the room, approach the bed, and sometimes climb onto the bed."
Scary! But remember, at this point you also can't move. As far as you know, you may never be able to move again, even if you somehow survive being horribly violated by the shadow monster in your periphery. Screaming would at least be cathartic, but you can't scream, and you can't breathe all that well, so all that's left is to wait.
I was fortunate in that my Intruder scenario involved an actual (friendly!) person. That gave quicker closure, presumably, than some hallucinatory demon-dog lurker might have. I was fortunate, also, that I didn't draw an Incubus instead:
"The Incubus experiences often continue this sequence by climbing on top of the 'sleeper,' Cheyne continues, "perhaps smothering, and even assaulting them physically and sexually." This is how your brain works. This is van Diemerbroeck's devil.
© Nicolas Bruno
Beginning in February of 1995, reports began to circulate throughout Zanzibar of a spirit that assaulted men and women in the dark of night. Its name was Popobawa, which means "winged bat," because that was the form it was said to take most often, though it was just as often invisible.
As social anthropologist Martin Walsh detailed in 2009, Popobawa attacks spread quickly throughout the country, jumping from person to person, house to house, and village to village, eventually constituting a full-blown paranormal pandemic.
The bat demon was said to sodomize its victims. The response was violent. At one point, residents of Zanzibar City murdered a suspected Popobawa who unsurprisingly turned out to be a human, one who had visited the capital in search of mental health treatment. The terrors, both spiritual and corporeal, continued. Then, three months after they began, the Popobawa incidents stopped.
An entire nation plagued by a sex-starved bat demon would laughable as a SyFy channel script. As reality, it seems impossible. That it led to mobs and murder, more so.
It happened, though. And again, to a lesser degree, in 2007 ("Sex attacks blamed on bat demon" read the restrained BBC headline that time). How?
"A typical [Popobawa] assault involved somebody waking up in the night to find themselves being attacked by an amorphous or shape-shifting intruder, which was most frequently described as 'pressing' or 'crushing' their chest and ribs, and of suffocating them until they had difficulty in breathing and passed out," Walsh wrote. "In general all of the victims experienced extreme terror, and were often frozen speechless when they were assaulted."
An intruder. An incubus. The inability to move. The loss of respiratory control. The Popobawa, Walsh concludes, was no demon. It was textbook sleep paralysis, at a massive scale.
Zanzibar's example is extreme, but far from isolated. Every culture has its bogeyman. Every century has ghost sightings. Everyone has heard things go bump in the night.
"We believe that sleep paralysis is a good, naturalistic explanation for a lot of paranormal beliefs," said Sharpless. "Alien abductions that occur at night; visits by ghosts and demons; more recently, shadow people. If you look at people's first-hand descriptions of these events, they map really well on to sleep paralysis."
"Different cultures have come up with unique names for sleep paralysis that are descriptive of various common experiences in how it manifests," explains Kevin Morton, who five years ago founded a site dedicated to better understanding sleep disorders as part of an undergraduate project at Stanford University. "In Japan it's been known as 'Kanashibari' (retaliating spirit), in Thailand 'Phi um' (enveloping ghost), or the 'Hauka'I po' (night marchers) in Hawaii."
In the same way that we might ascribe a happy coincidence to a guardian angel or God, we paint sleep paralysis with the brushstrokes of our deepest terrors.
Sleep paralysis being blamed on ghosts, spirits, and demons transcends cultures, but you can count on Japan to give it the perfect anime treatment.
Estimates vary as to how many people will experience sleep paralysis at least once in their lifetime. Sharpless pegs it at 8 percent of the general population, with students (28 percent) and psychiatric patients (32 percent) even higher. Sharpless thinks that spike may be attributable to those groups having disrupted sleep patterns to begin with, making sleep paralysis more likely. Cheyne notes that incidence rates are higher still "in societies with an active tradition of haunting night spirits."
Despite the prevalence of sleep paralysis, especially among certain groups, there's been no large intervention trials to determine an effective treatment for it. In a 2014 paper, Dr. Sharpless and co-author Jessica Lynn Grom outlined a few preemptive methods (e.g., changing sleep positions and patterns), as well as techniques to help mitigate the impact mid-episode. Among the most effective of those? Simply trying to calm yourself down in the moment, if you can manage it. Focus on trying to move your extremities. Don't worry about the demon on your chest.
That's more easily accomplished if you're aware that you're experiencing sleep paralysis, or even of what sleep paralysis is. It's a condition that's been largely (apologies) in the dark, in part because it's not an easy thing to talk about. I didn't tell anyone about my experience for years, and even then it was only after I had found out what it was. Until then, I was too worried that it signaled something deeply wrong with my body or mind or both.
"Sleep paralysis has quite a large awareness bias associated with it," says Morton, whose site has received hundreds of submissions from people who have lived it, and a magnitude more visitors looking for answers. "It is such a crazy experience–waking up with your body paralyzed, often hallucinating frightening dream imagery, occasionally of a sexual nature–that those who experience it often don't talk about it with others, usually out of fear that they will be seen as crazy or possessed, or just otherwise stigmatized if they bring it up."
Morton is optimistic about the internet's power as a great normalizer; all it takes is a quick search of symptoms to find out that you're neither possessed nor insane. Sleep paralysis also seems to be having a larger cultural moment beyond the web, if a phenomenon as old as consciousness itself can be said to have moments.
That's a brief clip from The Nightmare, a documentary from Rodney Ascher, which brings brings to life people's real descriptions of sleep paralysis events. Ascher, who previously directed the critically lauded Room 237, pursued the topic after experiencing it himself. Devil in the Room, a short film released in 2014, takes a similar approach, while photographer Nicolas Bruno has a series of photographs depicting the horrors he has experienced in his years of sleep paralysis.
Most dreams stop when they want to, not when you tell them. A modicum of awareness, though, helps with what comes after. Even if you can't beat sleep paralysis, you can cope with its reverberations.
There's comfort in knowing that the demon on your chest actually resides in your mind. Or at least, that yours isn't the only mind with demons.