Supernatural Experiences; Reptilian Shapeshifters in Grass Valley
HPI Reptilianologists headed to Grass Valley to investigate some out of the ordinary claims.A woman says that she witnessed her neighbor morph from a human being to a reptilian. Note: This later became her boyfriend and not her neighbor, the story changed. Now that his identity was exposed, he informed his reptilian colleagues. It so happens his colleagues live in the same neighborhood.
The client discovered she lives in a community of Reptilians. The Reptilians now dress in black and in the middle of the night, they gas her room, placing the client into a sleeping slumber. They remove something from her body on a nightly basis. She even has a photograph of an incision on her back. She discovered a strange gas pipeline that goes into her bedroom. It will be the mission of the HPI Reptilianologists to discover what exactly this pipeline is. We will conduct surveillance on the home and the property to see if there are strange men in black creeping around her home.
In The Biggest Secret (1999), Icke introduced the idea of the "Reptoid Hypothesis." He identifies the Brotherhood as originating from reptilians from the constellation Draco, who walk on two legs and appear human, and who live in tunnels and caverns inside the earth. They are the same race of gods known as the Anunnaki in the Babylonian creation myth, Enûma Eliš. Tyson Lewis of Montclair State University and Richard Kahn of the University of North Dakota write that Icke has taken his "ancient astronaut" narrative from the Israeli-American writer, Zecharia Sitchin. Icke's idea of "inner-earth reptilians" is also not new, though Barkun writes that Icke has done more than most to expand it.
Sitchin writes that the reptilians came to Earth for its precious metals. Icke argues that the Anunnaki came specifically for "monoatomic gold," a mineral he says can increase the carrying capacity of the nervous system ten thousand fold. After ingesting it, the Anunnaki are able to process vast amounts of information, speed up trans-dimensional travel, and shapeshift from reptilian to human form. They use human fear, guilt, and aggression as energy in a similar way, part of the reason they organize human conflict. The more negative emotion we emit, the more the reptilians absorb:
Thus we have the encouragement of wars, human genocide, the mass slaughter of animals, sexual perversions which create highly charged negative energy, and black magic ritual and sacrifice which takes place on a scale that will stagger those who have not studied the subject.
he Anunnaki have crossbred with human beings, the breeding lines carefully chosen for political reasons. He believes they are the Watchers, the fallen angels, or "Grigori," who mated with human women in the Biblical apocrypha. Their first reptilian-human hybrid, possibly Adam, was created 200,000–300,000 years ago. There was a second breeding program around 30,000 years ago, and a third 7,000 years ago. It is the half-bloods of the third breeding program who today control the world, more Anunnaki than human. They have an extremely powerful, hypnotic stare, the origin of the phrase to "give someone the evil eye," and their hybrid DNA allows them to shapeshift when they consume human blood. In Children of the Matrix, he expanded his description of those in charge, adding that the Anunnaki also bred with another extraterrestrial race called the "Nordics," on account of their blond hair and blue eyes, to produce a race of human slave masters, the Aryans. The Aryans retain many reptilian traits, including cold-blooded attitudes, a desire for top-down control, and an obsession with ritual, lending them a tendency toward fascistic militarism, rationalism, and racism.
Lewis and Kahn write that the Nordic hypothesis means Icke is mirroring standard claims by the far right that the Aryan bloodline has ruled the Earth throughout history; for Icke, Sumerian Kings and Egyptian pharoahs have all been Aryan reptilian humanoids, as have 43 American presidents and the Queen Mother, who he writes was "seriously reptilian." All have taken part in Satanic rituals, paedophilia, kidnapping of children, drug parties and murder, needed to satisfy their reptilian blood lust, which allows them to retain their temporary human form.
THE INVESTIGATION
It was a long drive to Grass Valley and in my mind, I kept pondering…"are there really alien reptilian shapeshifters living in a community in Grass Valley, can my client really be telling the truth?" I got up there early and surveyed the landscape and property. What I did discover is that this one street has the best neighborhood watch ever. As I drove my car up and down this street, it seemed like every person that lived on this street was looking out their window or stepping out on their porch to see who I was. I felt like I was in the back swamps of Louisiana again. A similar thing happened in Louisiana, I had to drive down some muddy dirt roads looking for a house to pick up my date, a Cajun girl. Every neighbor stepped out to see who the guy in the Camaro was. One big Cajun came up to me and said: "You ain't from here boy, you stepping in the wrong area, you can get yourself hung! Strangers disappear in these swamps!" I drove off quickly and said to myself, oh crap, what did I get myself into? Finally I found the house and picked up my Cajun girl date named Mimi. I found out she lived in a big two story house with her mother, father, grandmother, 3 cousins, 2 uncles, 6 brothers and 1 sister. Her 6 brothers were all huge. One of the brothers looked at me and said: "Where you taking Mimi boy?" I said "dancing". The brother said: "You in Coon-Ass territory boy, you make sure you bring her back by 11pm." I looked at my watch, it was 9pm. That sure isn't much dancing. I knew I wasn't going to get anywhere, so I decided not to take her out and decided to have a couple of beers with her brothers. After drinking those two beers, I went back to the base. I didn't get lucky that night.
So will I on this night get lucky? A different kind of lucky. Will I discover what David Icke has been talking about all along? My team starts showing up. I call the client, for a while there she is not answering and I had another dilemma, I couldn't find her house. Finally she answers and she tells me we cannot go to her house and that she will meet us at Condon Park.
We follow the client to Condon Park and she briefs us about everything that is going on in her community. She tells us that it is her boyfriend that she saw shapeshift into a reptilian. Her boyfriend is home and that we cannot conduct surveillance on her property.
Well, this is a new one for me. I didn't know that her boyfriend was also a reptilian. If we can't conduct our surveillance on her property, how
can we do our jobs? The client blamed me for not getting all of the details and I know I told her exactly what was needed, what will happen during the investigation and how the investigation will be conducted. But, I thought, why argue with her, I need to maintain my professionalism. I feel bad, because I have people who drove all the way from Stockton, Martinez for this investigation and now it looked like there would be no investigation.
During the briefing, the client was telling us that she does not want to be debunked and then before I knew it, she accused 3 of my investigators of being reptilian spies. Okay, this is getting too much, it was time for Plan B. I convinced the client to take us to the Holbrook Hotel. I did an investigation at the Holbrook and I know that this place is haunted. So on this night we investigated: Mount St. Mary's Academy; Saint Patrick's Catholic Church; Old St. Patrick's Cemetery – 1853-1908; all located at South Church Street and Chapel Street. At the cemetery we captured 3 EVPs, one EVP whistle by Stephanie Belson and 3 other EVPs, one sounding like a small child. Many orb anomalies were captured by our camera. I saw orb action and a bit of mist in my infrared night scope binoculars – in real time. After the cemetery we dropped off the client at her home, so she could do readings. Did I tell you she also does readings? Well, if I didn't, she does. After dropping off the client we investigated the Holbrook Hotel. There was a bachelorette party going on and it was too noisy for EVPs, but we captured some orb anomalies in our photographs. I checked out the Nevada Club, which has a reputation of being haunted and it was more noisy there than the Holbrook, so finally we decided to go back to the cemetery. The activity ceased and before I knew it we gathered in a group and discussed this weird night.
We concluded that since the client sees all kinds of traffic going up and down her street at all hours of the night, there may be something else sinister going on. Maybe a meth lab or maybe one of the neighbors is growing marijuana? I was ready to go back to my undercover narcotics days again and see what was exactly going on in this neighborhood watch friendly community. Bring back my old narc days, bring back Porkchops (code name when I was with DST (Drug Suppression Team) CID (Criminal Investigation Division).
Instead of hunting reptilians, we found ourselves hunting ghosts again….sigh.
CONCLUSION:
This is an example of an investigation that went bad. When I saw that there was not going to be an investigation, I pondered the thought: "What would Josh Gates do?" I must admit, the client does seem terrified, but I think it has to do with something more on a personal level and I feel there may be something sinister going on, but it's not Reptilians. If she is seeing a lot of traffic on her street at all hours of the night, it's because of drugs and not
Reptilians that are looking to feast on human blood. Instead of monster hunting, I found myself ghost hunting. Monsters are a rarity and I get an adrenalin rush from hunting monsters, damn ghosts are a dime a dozen.
Paul Dale Roberts, HPI Esoteric Detective
Haunted and Paranormal Investigations (HPI International)
http://hegelianismparanormalintelligence.com/
https://www.facebook.com/#!/groups/HPIinternational/
William Friedkin revisits old haunts with new documentary on famous exorcist, Father Amorth
Maureen Dowd
The New York Times
William Friedkin, director of "The Exorcist" has created a new documentary called "The Devil and Father Amorth".
When you've got a demonic child in Washington splattering dark stinking bile, croaking gibberish, spewing vulgar personal attacks, lying to sow confusion, whining about the unfairness of the attempts of righteous men to compel the diabolical behavior and head-spinning outbursts to stop, who do you call?
The demon-buster himself, of course, William Friedkin, the director of The Exorcist.
Before Donald Trump became president, the most frightening thing that happened in the capital was The Exorcist, which brags on its DVD cover that it's "the scariest film of all time."
It could well be, if the measure is moviegoers putting down their popcorn in unison when Linda Blair gushes green vomit.
"That was oatmeal – the pea soup was just for coloring," the 82-year-old Friedkin tells me, as we have lunch at 1789 in Georgetown, a restaurant opposite the steep concrete steps where Jason Miller's tortured Father Karras fell to his death in a violent struggle with the demon.
Friedkin offers an eerie connection to the Trump White House, noting that he edited the film at 666 Fifth Avenue, the accursed Manhattan building with the Number of the Beast at the center of Jared Kushner's money problems.
The book and screenplay were written by William Peter Blatty, inspired by a news story he heard about in a religious class: the 1949 case of a 14-year-old boy in a Maryland suburb of Washington. Objects appeared to move around on their own in the boy's bedroom and he was violent and speaking Latin phrases. The boy, a Lutheran who grew up to be an engineer at NASA, underwent an exorcism, first with a priest from Georgetown University and then with priests in St. Louis.
After studying up on the case, Friedkin has decided it was "jive."
"It just doesn't hold water," he says, eating asparagus soup that looks enough like what came out of Linda Blair's mouth to make me a little queasy.
Friedkin's career peaked in the early '70s with two blockbusters, The French Connection and The Exorcist. Eventually he felt so out of touch with a Hollywood possessed by comic books and Sci-Fi's that he began directing operas.
Now he has returned to the subject that haunts him with a documentary called The Devil and Father Amorth, opening this month.
Friedkin used a hand-held camera to film an interview with Father Amorth, the chief Vatican exorcist, who worried that "Satan rules the world" and was in the Vatican. He died in 2016 at 91.
The director, who had never seen an exorcism, also talked the priest into letting him film the exorcism of an Italian architect named Christina with whom he had done the ancient ritual many times.
"It was harrowing," Friedkin says. "These five strong guys are holding her down. They're sweating. Father Amorth told me that during one of the exorcisms, she accused him of his sins and they were real."
Friedkin took this footage to neurosurgeons and psychiatrists, and one psychiatrist challenged it, saying Christina did not show "the classic symptoms" of possession, such as her head turning 360 degrees and her body levitating.
"I said, 'Doctor, we made that up,'" Friedkin recalls dryly. "Blatty invented what we think of as possession and exorcism today, and I had to find a way to film it. Father Amorth never encountered stuff like that, but he encountered other extraordinary occurrences and personality changes and voice changes. But there was no levitation or head spinning."
The filmmaker says that for his documentary he did nothing to amplify the guttural growl of Christina, which evokes the terrifying voice used by Mercedes McCambridge, which was dubbed in for Blair's in the possession scenes.
"When she breathed into the mic, you'd hear five or six sounds come out at once, like John Coltrane playing the sax," he says. "When I first called her, she said, 'I'm in A.A. I had a serious drinking problem. I am a lapsed Catholic, but I still have strong ties to the church. So in order to do what you want, I'm going to have to start drinking Jack Daniel's again and smoking cigarettes and eating raw eggs.' And she wanted to have her own two priests with her at all times."
Friedkin is chockablock with such tales.
He says the first of his four wives, Jeanne Moreau, installed a lifelong love of Proust in him by reading it aloud.
Happily married to Sherry Lansing for 26 years, Friedkin says, he wasn't really "Hollywood's most combustible director," as The Telegraph once called him.
"I don't drink," he says. "I've never done drugs. I've never tried grass. But I think Miles Davis is a reason to live." He does cop to slapping a couple of people to get the sad and angry performances he wanted, noting that another word for director is "manipulator."
He did not want Gene Hackman to play the iconic New York police detective Popeye Doyle in The French Connection.
He gave the role to Jimmy Breslin instead. "He had exactly the look I had in mind, a Black Irishman," Friedkin says. "The first day, he was great, great, great. The second day, he forgot what he did on the first day. The third day, he didn't show up. Comes Friday, he shows up and says, 'Hey, isn't there a car chase in this movie?' I said, 'Yeah.' He said, 'You know, I promised my mother on her deathbed I wouldn't drive, so I don't know how to drive.' I said, 'You're fired.'"
He gave Hackman the part, and they sparred so much during filming that at the end, he told a producer: "I may get away with this thing, but if I had to do 'The Gene Hackman Story,' I wouldn't hire this guy." He acknowledges now that Hackman is one of the greatest American film actors.
After lunch, Friedkin makes me descend the Stairway to Hell, the 75 steps in the movie's climactic scene that I had avoided my whole life. I saw The Exorcist on my 21st birthday and was so unnerved, I went to bed and missed my own party.
Standing on the steps, Friedkin channels the demon, growling, "Your mother still rots in hell, Karras, you faithless slime." Tourists taking selfies on the stairs look around, startled.
And even all these years later, I still want to crawl under the covers.
Does this 1917 photo prove time travel is possible?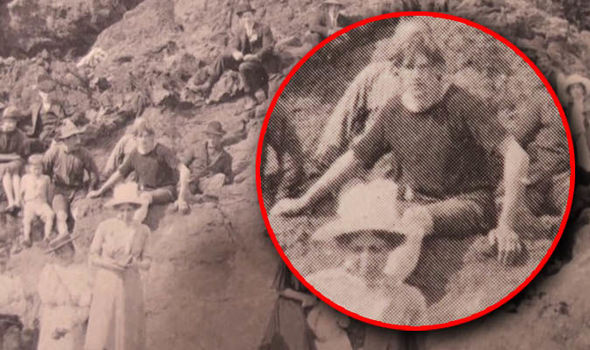 A BIZARRE photo of what appears to be a time traveller in 1917 has resurfaced online after scores of disbelievers have finally found a piece of 'evidence' which made them question the laws of physics.
The photo taken more than 100 years ago in Canada, portrays a group of men, women and children sitting on the side of a hill of some sorts.
But eagle-eyed observers have noticed the photo stands out for a very particular reason – what appears to be a man straight out of the 20th century.
The photo was discovered in Lester Ray Peterson's 1974 book 'The Great Cape Scott Story' – a tale of the Canadian region's history.
What has fascinated those who came across this photo is how out of place the 'surfer man', as some have called him, appears to be.
He is wearing a very baggy t-shirt and shorts, sporting a modern windswept haircut and is clearly at odds with everyone else around him.
Looking closer at the people around, the man to his left appears to be utterly stunned by his presence.
Further to the right a woman also appears to be pointing her hand at the supposed time traveller, leading many to speculate the man was out of place and out of his time.
In fact, it almost looks as though he jumped right into the scene as the photo was taken.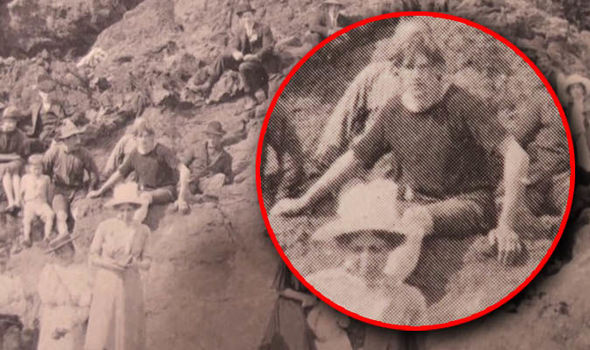 YouTuber Jamie D. Grant found himself gobsmacked when he picked up the book and came across the mysterious photograph.
In a YouTube video titled 'Time Travel proof found. Truth or Illusion?', he says: "Notice the group, their clothes, their hats. Even how they sit poised for a photo.
"Now look closer. His head uncovered, his hair, his shorts. The man on the left stares in disbelief.
"Has a mysterious traveller proved the impossible and journey through time? What do you think?"
The 'surfer man' has joined the ranks of the so-called 'time travelling hipster' who appeared in a 1940s photograph with a fashion sense seemingly decades ahead of those around him.
But as some have pointed out, 'surfer man' may appear to stick out like a sore thumb from the rest of the crowd, but his clothing could have very well been in vogue.
One person commenting on the book on GoodReads.com, referenced a Post Gazette article, saying: "In the comments to the article, someone mentioned that t-shirts were around then and that they made it into the common lexicon soon after that date – it appeared in the Merriam-Webster Dictionary in the 1920s.
"This Article says they were worn by US Navy sailors as early as 1913.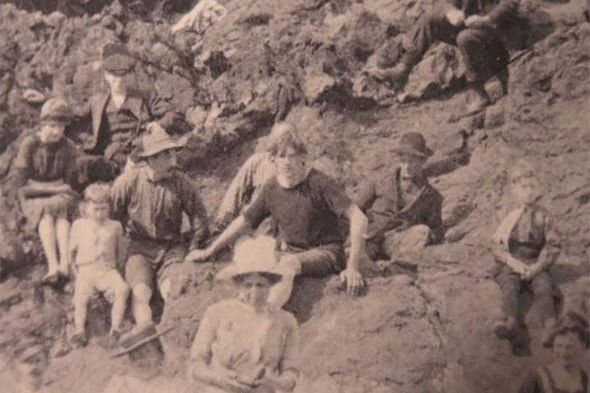 "Considering that other guys in the picture are also wearing shorts, I'm going to say that he's not a time traveler.
"Other than Bill and Ted, what time travellers would think that a t-shirt and shorts would be the best thing to wear when time-traveling into the past anyway?"
In either scenario, physicists all agree that it is impossible to travel back in time by our current understanding of the universe and its laws.
According to Professor William Hiscock, of Montana State University, we can move forward due to the the time-dilation effect of Special Relativity. Moving backwards however is a dead end.
The expert said: "Time travel into the past, which is what people usually mean by time travel, is a much more uncertain proposition.
"There are many solutions to Einstein's equations of General Relativity that allow a person to follow a timeline that would result in her (or him) encountering herself – or her grandmother – at an earlier time.
"The problem is deciding whether these solutions represent situations that could occur in the real universe, or whether they are mere mathematical oddities incompatible with known physics."
The professor underlined that no experiment or observation in the universe has ever indicated such time travel occurs.
Source: https://www.express.co.uk/
Philadelphia Experiment – The Real Story Here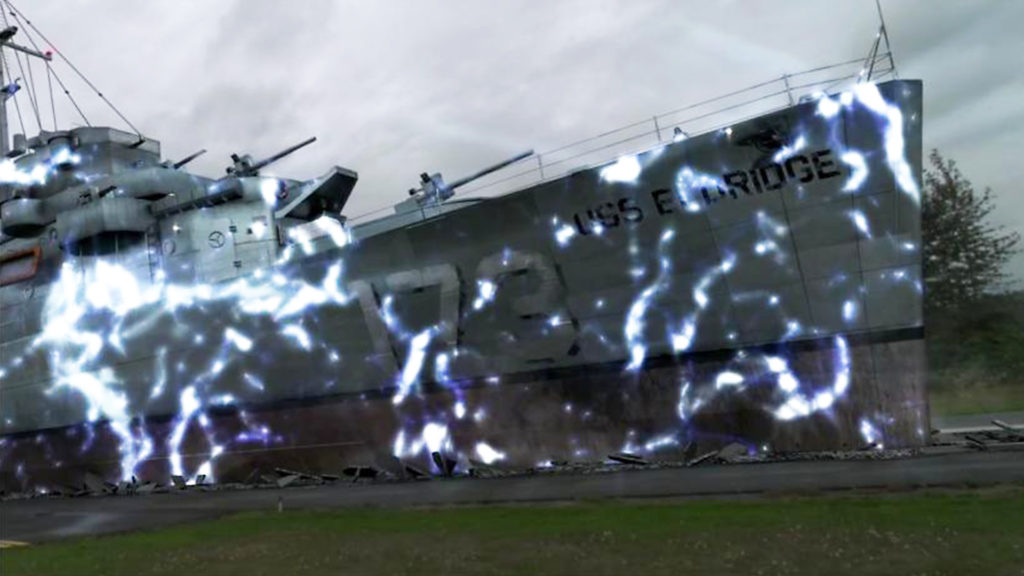 The Philadelphia Experiment is an event during 1943 in which the United States Navy purportedly teleported a Navy destroyer escort, the USS Eldridge, from Philadelphia to Norfolk. They also made it invisible – as in, to the naked eye. Most people believe the incident was either a hoax or the ravings of a lunatic, however, some still believe that it may have really occurred and that there is a large conspiracy to cover it up. What is interesting is that the tale of the Philadelphia Experiment has made it into the annals of American legend. So, what's the real story?
VIDEO is at the end of the article.
The story of the Philadelphia Experiment begins in October of 1943 in Norfolk, Virginia, though the story did not turn up until more than ten years later. Purportedly, some men aboard the SS Andrew Furuseth saw a ship spontaneously appear in the water in Norfolk on October 28. The story goes that it came from Philadelphia, Pennsylvania. The destroyer had first disappeared and then it instantaneously teleported to Norfolk. The disappearance and the teleportation were apparently two different functions of the experiment. In other words, the disappearance was not the result of the teleportation, but rather came before it.
Once the USS Eldridge reached Norfolk, it was clear something went wrong. Some of the men had disappeared during the trip. Others had gone mad. Some kept becoming invisible and then regaining their forms. Others still had become fused — yes, fused — with the ship in various ways. Perhaps that is why no U.S. ships currently have invisibility cloaks and teleportation devices. It could also be that the story is completely false.
The story of the Philadelphia Experiment comes from a man named Carl Allen or "Carlos Allende," his pseudonym. Carlos wrote a detailed description of the event, along with claims he was a witness aboard the SS Andrew Furuseth when the USS Eldridge arrived in Norfolk, Virginia. He sent the description to the U.S. Navy's Office of Naval Research. The public got hold of the story and it took off, despite the many unlikely events described in the letter.
Carlos Allende wrote that the Philadelphia Experiment was made possible by Einstein's "unified field theory." Einstein supposedly told Carlos all about it himself. This is not direct proof that the story is mere myth, but it does lend a bit to the crazy factor of the claims. Firstly, it is common for such myths to borrow from the genius and fame of great scientists. Oftentimes, it is easy to refute these myths because the works of great men are typically followed closely. There is no evidence that Einstein ever met Carlos Allende and there is no evidence that his work resulted in a disastrous teleportation.
The USS Eldridge, like most other Navy ships, especially in war times, had a thorough log of where it had been in October of 1943 and the months around it. These logs are currently public information. According to them, the ship was nowhere near Philadelphia in October 1943. The SS Andrew Furuseth was also not in Norfolk at any time the Eldridge was present. Furthermore, William S. Dodge, the man in command of the boat at the time of the Philadelphia Experiment, later said that neither he nor any of his crew saw anything strange in Norfolk, Virginia.
The Office of Naval Research conducted an investigation. They did not find any evidence that the U.S. Navy was conducting experiments in teleportation. Of course, rendering ships invisible or stealthy is always an interest, but that pertains to radar, not to the human eye. As far as the U.S. Navy is concerned, no such technology exists.
In 1994, Jacques Vallee wrote an article about the Philadelphia Experiment. He had written about it before and, at that time, had requested that anyone who might have more information contact him. Someone did. Edward Dudgeon had served as an electrician in the Navy between 1942-1945 on the USS Engstrom. He said the Engstrom was in Philadelphia during the summer of 1943. The nature of his job allowed him access to the classified nature of the equipment aboard his ship and the USS Eldridge.
Far from being teleportation engines designed by Einstein (or aliens), the devices enabled the ships to scramble their magnetic signature using a technique called degaussing. The ship were wrapped in large cables and zapped with high-voltage charges. A degaussed ship wouldn't be invisible to radar, but would be undetectable by the U-boats' magnetic torpedoes.
Video: