Witnesses in the vicinity of a Southern Illinois town claim to have witnessed a bizarre ritual taking place in a field at 12:30 AM October 12, 2012. The town is of mixed European settlement, and has a bit of age to it – old even for the long-settled Mississippi valley. It is marked by houses built in the old and simpler – more organic, perhaps – municipal plan of the late 1880s through early 1900s. This is the sort of place troubled by less intense matters, or at least it appears to be upon cursory examination. But it is a sinister place by night, the old cemetery in particular. This is a place of curiosities and quaint ghost stories. A red lady is supposed to walk the upper stair of an insurance office that was once a small hotel. Lincoln is said to have visited the place. So too, Alexis d' Tocqueville. It is a place with a former Governor's residence, and it sports a significant university. It is also said to be haunted by escaped slaves who did not quite make it to freedom. In the vicinity, a massacre is said to have been carried out by American settlers against the indigenous inhabitants.
It has also been plagued since the late 1960s – so say locals and resident law enforcement professionals – by devil worship.
The Vicar is not one to put much store in tales of Satan-worship. All too often, these are the product of fevered fundamentalist imaginations, mistaking the weird late night romps of college kids for more significant rituals. Worse yet, it is not uncommon for the uneducated and uninitiated to conclude that a pagan ceremony is targeted upon contacting the Devil. Ignorance is bliss, except when it leads to witch hunts and bigoted agendas.
The ritual in question is however a disturbing one. If true, the event is said to have been connected to harvest and drought; the witnesses perhaps strayed too close for comfort. Kathy (a Nurse) and Maya (a CNA) are mother and daughter, and they reported to the Vicar that they had gone out in search of their dog Sasha, who frequently escapes from their yard to romp in nearby fields. These same fields have been ravaged by the country's most significant drought in 56 years (the mystical 11) and it perhaps should come as no surprise that a community so closely tied to farming for so long might harbor remnants of a harvest-centered cult. Rumors of this sort of thing run deep in the American consciousness, thought we rarely concern ourselves with such things in an age where most people think food comes from big-box grocery and retail outlets.
Careful research will lead the curious to the conclusion that produce actually grows in the ground, and it has to be carefully tended before considerable labor goes into harvest and transport. Farmers make up a tiny percentage of America's workforce these days, and the labor working those farms is often neither legal nor English-speaking. But the rhythm and rhyme of the wheeling seasons goes on apace.  We are no less bound to the land than were our distant ancestors.
The mother and daughter duo report that they discovered Sasha had squeezed out through the broken gate of their back yard sometime after 11:00 PM. This was not an odd occurrence, certainly, so they grabbed flashlights and set off in the direction she usually went.
"She usually runs off across Route 4," Kathy told our investigator, "so we just worry about her getting hit. But that late at night, there isn't much traffic."
"Across Route 4" in this case means that the dog goes from a quiet subdivision to a series of corn fields backed by dense stands of trees. This is typical Southern Illinois country, and those readers who have traveled the region will understand that by night, this can be scary territory. Kathy and Maya are used to chasing their dog under these circumstances, however.
The two women proceeded into the fields, where they soon found they could hear Sasha barking. These sounds led them about a mile into the corn field, near the edge of a stand of trees. The dog seemed to have continued into the woods, probably following the scent of other dogs or small game. "She's an English Setter – a hunting dog," Kathy said. "My ex-husband trained her."
The two women led our investigator into the trees for perhaps 500 yards to the point where a group of large, expensive homes are situated along what the women describe as a "private road".
"It's not really private, though," Maya stated. "It's more that nobody comes down here except the people who live back here. We don't really know these people. I think [redacted] the one lawyer with the office on Main Street owns one of the houses."
What drew the women into the area on the night of the 12th was the fact that a large bonfire could be seen burning in another, more secluded stand of trees to the east of the "private" neighborhood. Sasha was nowhere to be found by this point, and they could no longer hear her barking. But the women were motivated by something else.
Kathy told our investigator that they thought they could see people around the fire, and they wondered if someone – perhaps the rich folks living in the vicinity – were having a bonfire party. They concluded that Sasha may have been drawn to the people, and they could probably get away with a bit of trespassing if they were searching for the dog. They decide to walk the additional mile or so to the next clump of woods.
"That was not a bonfire party," the older woman informed our investigator. Both women are of a scientific mindset, the result in part of their professional training. Kathy has been a nurse at a local hospital for more than 11 years; before that she worked in medical offices as a receptionist and a CNA. Her daughter is following in her footsteps. "We go to church," Kathy said, "but I don't think either of us ever worry too much about the dark side of spirituality. I don't really buy a lot of the ghostly stuff and exorcisms and demons I really think are just silliness. I still do. But what we saw was a group of people who must feel differently."
The mother and daughter describe a lurid and weird scene, with around a dozen black-robed figures surrounding a fire in the midst of a small clearing in the copse. According to the women, these individuals wore white masks, largely featureless, and had their hoods drawn up. Maya remarked, "It reminded me of Eyes Wide Shut."
The group was apparently engaged in a fairly standard summoning ritual, as one individual brandished a ceremonial dagger and chanted phrases. When asked if they could recall what was said, both women indicated that a lot of it did not sound like English. The phrases that they did catch include, "Spirits of Earth and Sky" and "Dragon of Damuse".
Our investigator asked about pictures, assuming that both women had taken along cellular phones. In response, Kathy stated, "Oh, I thought about it for about ten seconds. But then we looked at each other and we were both like, 'not a good idea'. We pretty much turned and ran the other way."
Maya added, "This town gets weird around Halloween. I didn't think it would get that weird, but either way, I don't want to know any more about it. We both swore we wouldn't even discuss it but my mom ended up bringing it up to Dr. [redacted] at [redacted] University. And then there was that UFO out in Freeburg just the other day. We thought maybe it was connected."
An associate of the Vicar's at the local University made a referral, since biology departments do not accept the validity of occult rituals as a general rule. While the mother and daughter noted the use of the phrase, "Spirits of Earth and Sky," connecting the latter usage to the timely appearance of the UFO – not just in Freeburg, IL, but also seen in Hecker, Milstadt, Mascoutah, and as far south as Pickneyville – a different phrase caught our perhaps more esoterically trained ears. It is this single phrase that makes the whole episode worth investigating and reporting on, since it is unlikely to have been added if the experience was the result of running across weird revels in the night. It is equally unlikely that it would have been thrown into a fabricated account.
"Dragon of Damuse" is likely a misinterpretation of the phrase, "Dragon of Tammuz". The women claimed to have been in the trees, perhaps 30-50 yards from the ritual they briefly witnessed. The Dragon of Tammuz seems to be a reference to kin of the celestial dragon slain in Babylonian myth by Marduk. The serpentine monster, often called Tiamat, is in some occult sources the mother of a whole race of demonic entities. Some of these include harvest or planting oriented creatures and the use of the term Dragon of Tammuz almost clinches the connection. Tammuz was the Babylonian god of the harvest. His "dragon" could well be a simple way of identifying a serpent-like monster that hunts the corn fields – which would be a fair mythic rendering of the Midwest's recently surfaced Corn Demon. The creature described by some migrant witnesses is a serpentine being clearly related to Maya depictions of a similar entity. Investigations and reviews of relevant literature carried out by staff here at the Lamp in August and September yielded an interesting connection between harvest and planting sacrifice ceremonies in hundreds of early cultures, and the tendency even today for murderers to deposit bodies in cornfields and for individuals to go missing in the vicinity of the same. The conclusion: If any phenomenon has ancient roots, it's the notion that farm fields are inhabited, controlled or patrolled by spiritual entities with interesting tastes and appetites, including a need for human sacrifice.
On the heels of this report from Southern Illinois that a strange ritual occurred in the fields, a well-publicized news report was logged by KSDK.com of a mysterious light in the sky:
http://www.ksdk.com/news/local/story.aspx?storyid=344461
The upshot? It was a satellite, of course. These things always are, when they aren't a weather balloon or a secret US Air Force project…
Our dear friends at ATS spotted the same story from a different angle, here:
http://www.abovetopsecret.com/forum/thread893290/pg1
The obvious question is whether or not the ritual these women claim to have witnessed was a legitimate occult summoning. The idea that a group of people in a small Midwestern town might engage in occultism is neither surprising nor particularly scary; interest in this sort of entertainment goes back to ancient times and there is very little that has changed within human beings that we should expect the death of mysticism. If what they saw was a summoning, then it stands to reason that it runs a small percentage chance of being effective, since we have no idea as a species what it really means when our witch-doctors and wizards speak of "summoning a demon" or "contacting spirits". Literature abounds on the matter; it is always possible that the mystical means of summoning contact entities from off-world taken by our ancestors to be spiritual forces or divine beings.
This is a topic we have often visited and revisited here at the Lamp, sometimes to the delight – other times to the dread – of our readership. It remains an important point: In a nearly infinite reality, we cannot rule out possibilities of any kind, no matter how sharply Occam's Razor may cut. It's an uncomfortable, utterly statistical argument that skeptics cannot stand because it cannot be refuted, which makes it all the more potent.
If – and we are almost always dealing with big IFs in this business – the ritual was real, then the next question is obvious: Did the UFO manifest in response? And will a new Corn Demon sighting be forthcoming? Or has the damage already been done by the Corn Demon, and we are merely treading along in the wake of Tammuz's Dragon? This kind of activity may indicate that a group of unknown size and uncertain purpose has been controlling or attempting to control ancient occult forces linked to agriculture. On the surface, that seems absurd. But the power to cause drought is simultaneously profound and well-attested. Francisco Maria Guazzo collected thousands of these stories in the course of his career as a Papal investigator of the Malficarum. And he drew heavily on secondary sources, which often drew on secondary sources of their own. While few serious researchers will take ghost stories from the Middle Ages at face value, the sheer weight of human belief in these phenomena manifests a corpus of proof all its own.
What caused our long drought? What is causing climate change? Understanding meteorologic forces is fine, but the function of Science is not and has never been the establishment of Truth. Rather, Science deals in Fact and the Facts collected are not ever assumed to have instant and perfect linkages to other factors of a query. The whole point of Science is to describe the what and the how of things. Causes and larger questions of why a thing occurs are a separate issue, except for the unimaginative. Knowing how the Sun burns is not the same as knowing why it is where it is and what it thinks about the planets that circle it.
The essence of a materialistic time is the certain and dogmatic article of faith that there exists a division between the animate and inanimate. But this is not the basis of the Occult systems that underpin the magic of rulership. If one accepts the concept that the elites have among their number cadres of Occult practitioners, then it is almost a certainty that these belief systems are survivals and reinterpretations of the pagan mystery cults. As such, they are methods for ruling the remaining 99% of the earth's populace. These methods are both overt and covert; no one can doubt the power of monetary control coupled with the capacity for violence represented by military hardware, soldiers and police forces. But it is the covert mechanisms that rob free peoples of courage and integrity.
Kongzi taught that "Symbols rule the world, not rules and not laws." Mastery of symbols and their power is the core of real magic. Those who master the symbols rule the world, and may even influence the forces we think of as natural and timeless.
At the very least, someone may be trying to summon and control the power of an ancient and potent occult spirit with dominion over our fields and our food supply.
Or some nuts out in the boonies were having a weird good time.
DNA and Genealogy Tests Reveal the Identity of a 19th Century Vampire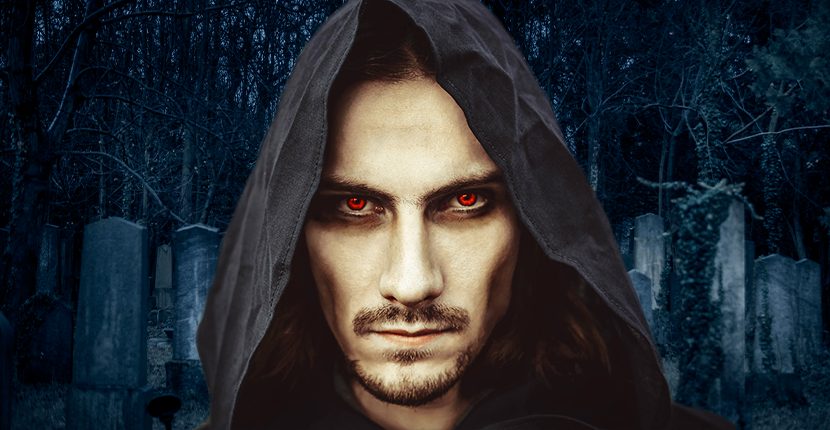 Imagine taking one of those genealogy tests which are so popular these days and finding out you're a descendant of a vampire. You would undoubtedly deny it (or perhaps be proud of it) and seek to prove your point either way with a DNA test … only to find that your DNA matches up to the vampire. If your name is Barber and you have ancestors in New England, you may want to take notes and wear some extra sunblock at the beach this summer because researchers have identified a man buried as a vampire in 19th century Connecticut.
In 1990, an abandoned cemetery was found in Griswold, Connecticut. Researchers determined it to be the private cemetery of the Walton family, which owned and farmed the land from 1690 into at least the 1800s. The remains of 29 individuals were found – men, women and children – and most showed evidence of lives of hard labor. However, one stone-lined grave caught the attention of Paul S. Sledzik and Nicholas Bellantoni, who were doing research for their paper "Bioarcheological and Biocultural Evidence for the New England Vampire Folk Belief," which was eventually published in The American Journal of Physical Anthropology. Why?
"Upon opening the grave, the skull and femora were found in a "skull and crossbones" orientation on top of the ribs and vertabrae, which were also found in disarray. On the coffin lid, an arrangement of tacks spelled the initials "JB-55", presumably the initials and age at death of this individual."
In their study of New England vampire beliefs, Sledzik and Bellantoni found that the descriptions of alleged vampires generally say that the person was wasting away and losing flesh despite leading an active and otherwise normal life. This led to the belief that vampires craved food and ultimately human flesh, which is why relatives of vampires seemed to eventually suffer from the same wasting away. These are also the symptoms of tuberculosis, which was called consumption in those days and ran rampant throughout the unsanitary farms of 18th and 19th century New England. While most cemeteries of that era showed many people suffering from and dying from consumption, only JB-55 had it in the Walton cemetery.
"Several years after the burial, one or more of his family members contracted tuberculosis. They attributed their disease to the fact that J.B. had returned from the dead to "feed" upon them. To stop the progress of their disease, the body of the consumptive J.B. was exhumed so that the heart could be burned. Upon opening the grave, the family saw that the heart had decomposed. With no heart to burn, the bones of the chest were disrupted and the skull femora placed in a "skull and crossbones" position."
According to the paper, the New England way of dealing with suspected vampires was to burn their heart, especially if blood was found in it. In this case, the heart had decomposed, so instead the family rearranged the bones into a skull-and-crossbones formation – the next best thing since decapitation was also a way of keeping a vampire in its grave.
The case of JB-55 intrigued Charla Marshall, a forensic scientist with SNA International in Alexandria, Virginia, who participated in the DNA and geneaology analyses to identify JB-55. In a presentation given recently at the National Museum of Health and Medicine in Silver Spring, Maryland, the findings of Marshall and experts at the Armed Forces Medical Examiner System's DNA laboratory in Dover, Delaware, were revealed.
"When modern tools were used – Y-chromosomal DNA profiling and surname prediction via genealogy data available on the Internet – the experts said they came up with a match for the last name: Barber."
Barber! That made it easy for the forensic experts to check old cemetery and newspaper records. As the Washington Post reports:
"They discovered a newspaper notice mentioning the death there in 1826 of a 12-year-old boy named Nathan Barber, whose father was a John Barber. Researchers had found a grave near JB's containing a coffin with the notation NB 13 similarly tacked on the lid."
SO, JB-55 was not a vampire but a poor farmer and father named John Barber who lost his 12-year-old son and eventually wasted away from tuberculosis, only to be later suspected of vampirically rising from the grave and attacking his own relatives before they dispatched him forever by detaching his skull and rearranging his bones.
All you New England Barbers out there — you don't do things like that anymore, right? RIGHT?
Source: Mysterious Universe
Mary Nohl's Whimsical Sculpture Garden
The Witch's House is a Milwaukee landmark with an eerie legend, but the only magic Mary Nohl was conjuring was her yard full of strange sculptures.
There is a curious old home in the Milwaukee, Wisconsin suburb of Fox Point, a cottage on the shore of Lake Michigan, which has been the source of urban legend for decades. My dad drove me past it when I was a kid. The yard was filled with large concrete sculptures of giant heads and abstract figures. Humans, fish, and other water creatures all made with materials gathered from the beach.
Frightened whispers of countless curious visitors tell a story as chilling as the howling wind that blows in from the lake, the tragic tale of a reclusive old woman whose husband and son drowned in the turbulent waters just offshore from their home. In her grief, they say, the "Witch of Fox Point" constructed the bizarre sculptures to keep watch for her lost loved ones to return.
But Mary Nohl was never married, and had no children. She was an artist who conjured fantastical creations that transformed her home into her masterpiece – which continues to be a thorn in her neighbor's sides to this day.
"Mary cared nothing about conforming, resisted the stereotypical roles for women of her generation," Barbara Manger, author of Mary Nohl: Inside & Out, said in a 2009 interview. "She set her own direction and pursued creating regardless of the views of others."
In that way, maybe Mary really was a witch – a strong, independent woman who lived the life she chose regardless of societal expectations.
And it seems she had a sense of humor about the legend, if the word "boo" formed by beach pebbles on her front step is any indication.
Mary was born to Leo and Emma Nohl in 1914. Leo was an attorney in Milwaukee. The Nohls bought the lot where the house stands now on North Beach Road and built a small prefab cottage as a summer retreat in 1924. It quickly became 10-year-old Mary's favorite place. At the time, the road was little more than a dirt path and wasn't plowed during the winter, so it wasn't an ideal place to live year round.
That changed by the early 1940s, though, and the Nohl's hired an architect to build an addition. There were some delays during construction as World War II caused a shortage in building materials, but the house was eventually completed in 1943. The Nohls sold their Milwaukee home and moved in.
Mary graduated from the Art Institute of Chicago in 1937. She taught art in Baltimore and Milwaukee until 1943, when she decided that making art was more enjoyable. She opened a pottery studio in Milwaukee and moved back in with her parents at the house on North Beach Road, where she would spend the rest of her life.
Mary's parents died in the 1960s, leaving her a sizable inheritance. She didn't have to work anymore, so she began filling the home where she now lived alone with her creations of concrete, scrollsawn wood, driftwood, glass, bone, and other found objects.
The spectacle soon attracted curious visitors, and with them, vandalism. But Mary didn't let that hinder her creativity.
"I was awakened early one Sunday morning to the sound of a crackling fire," she wrote about a particular incident, probably in one of her biannual mimeographed newsletters she sent to friends and family, "and relieved to find that the fire was burning a driftwood figure in the front yard – and not the house. This particular sculpture has been a target for the kids for years – about fifteen feet high and so encrusted with paint and so dried in the sun, that the burning was like a series of explosions. Called the poor, overworked police who sat in three squad cars outside the fence and watched it burn. Sass, Basil and I sat inside and watched from the front window with the aid of a beer. All that was left were two ten-foot pipes anchored in cement, and before the last sparks had drifted off I had plans for my largest cement animal. The two pipes conveniently became the two front legs of a less destructible cement creation."
Mary died in 2001 at the age of 87. She left her home and sculptures to a philanthropic organization called the Kohler Foundation that works in the areas of art preservation, grants, scholarships, and performing arts. Her estate of over $11 million went to the Greater Milwaukee Foundation to oversee the administration of the Mary Nohl Foundation and Mary Nohl Fellowship, providing arts education for children and scholarships for artists.
North Beach Road is a wealthy area, and to Mary's neighbors, her home was an eyesore. They petitioned the city to have it demolished. Instead, the property was granted entries in the Wisconsin Registry of Historic Places and the National Register of Historic Places, and is now protected.
The Kohler Foundation wanted to open it to the public, but a decade-long struggle with residents and zoning laws proved unsuccessful. In 2014, a plan was announced to move the entire house and sculptures to a more accessible site in Sheboygan County, but it has since been cancelled because the art was deemed too fragile to move.
Conservators have cataloged hundreds of individual works of art from inside and outside Mary's home. In her master's thesis on Nohl, Debra L. Brehmer categorized the yard sculptures into four distinct groups: monolithic heads, figures and groupings, mythic animals, and architectural ruins.
Records of Mary's works include descriptions such as, "Man & Fish Conversing," "Tall Horned Figure," "Wall of Faces," "Crowned Heads," and "Mermaids."
"To build these pieces," Brehmer wrote, "Mary first develops a rough idea on paper. She then makes armatures out of metal rods, old pipes, fence wire or tin and fills in the forms with stones she collects by the beach in an old red wagon. She applies concrete in sections, from the ground up, allowing each to dry for two or three days before adding the next. She often combs or trowels a texture into the wet medium and adds subtle decorative flourishes, such as beach stone, marbles or reflector eyes and ornamental bits of pottery or tile."
Among the various exhibitions of Mary's work over the years was the "Greetings and Salutations and Boo" installation at the John Michael Kohler Arts Center in 2017, which included Mary's intricately embellished living room, carefully removed from her home and reconstructed for the exhibit.
That may be the closest most of us will ever get, as the house itself remains a private residence for a caretaker from the Kohler Foundation.
The National Register of Historic Places record calls the Mary Nohl Art Environment "one of Wisconsin's most original and outstanding works of art."
Jin – Real Mythological Creature
The jinn (sometimes spelled djinn) are spiritual beings according to Islamic mythology. Even the Holy Quran mentions them. We in the West know them as genies.
Far from being like the funny cartoon character in Disney's Aladdin, the jinn are considered to be creations of God along with angels and humans. So who exactly are the jinn?
HISTORY AND ORIGINS OF THE JINN
The word jinn itself is Arabic in origin and its root means "hidden or concealed." It refers to a class of spirits below the angelic hierarchy.
These beings were known in ancient Middle Eastern times and often worshiped as benevolent and rewarding gods. Archeologists have even discovered stone carvings and inscriptions giving praise and thanks to them.
According to Islam, God created three categories of beings: angels who were created from light, the jinn who were formed from fire and humans made from earth or clay.
Along with humankind, God also bestowed free will upon the jinn, letting them live and do as they please. Yet they are subject to the same punishments and Day of Judgment as people.
There is even a story about one of the jinn, called Iblis who disobeyed Allah's order to bow down to Adam. As punishment, Iblis was banished from Paradise and known as Shaitan or Satan, the adversary.
Finally the jinn were popularized due to the success of the book One Thousand and One Nights also known as Arabian Nights. Readers were introduced to stories of jinn that coexisted and communicated with humans.
TYPES OF JINN AND HUMAN INTERACTION
Like humans, the jinn also have male and female genders. And just like people, some are benign and some are malevolent, with many falling somewhere in-between.
They may or may not interact with us, just like any other spiritual being. According to some beliefs, each one of us is assigned a personal jinni called a qarin. For those unfortunate souls who have an evil qarin, they are likely to hear whisperings impelling them to do evil.
Although local legends and lore often have their own unique forms of jinn, the major types of jinn include: Ghul, Ifrit, Marid, Nasnas, Shaitan, Shiqq and Silat.
GHUL
The ghul or ghoul is a nocturnal zombie-like shape shifter that often haunts graveyards. It preys on human flesh and is capable of great evil.
According to Arabian lore, the most feared ghul is female, known as a ghula who can appear as a mortal woman and lure men into her clutches, turning them into her prey.
IFRIT
These jinn are cunning and extremely intelligent. Generally evil, they do have the ability to change and can become pious and saintly. The Holy Quran mentions the power that King Solomon had over the ifrit, making them do his bidding.
MARID
The marid are the genies we've come to know and love as wish granting spirits that live in oil lamps and bottles. They are actually considered the most powerful of the jinn.
Blessed with great knowledge and magical powers, they were originally known as sea-spirits and still spend a great deal of time near the water.
NASNAS
Nasnas are a lesser form of jinn with weaker powers. They often appear as human or animal-like hybrids. In the classic One Thousand and One Nights, nasnas appear as a half-bodied humans hopping around on one leg.
SHAITAN
As mentioned before, Shaitan was the name given to Iblis who disobeyed Allah. Shaitan also refers to any malevolent jinni that aligns with demonic forces.
SHIQQ
Like the nasnas, the shiqq are also a lower form of jinn and are only half-formed. They appear as hideous monsters, but have weak powers.
SILAT
Smartest of all the jinn, the silat are expert shape shifters and are the most interested in humans. They love to take on the human form and can do so with ease.
So if a magical stranger either helps you out or brings you trouble, it could be a silat.