Stunning images reveal gigantic ice filled crater on the surface of Mars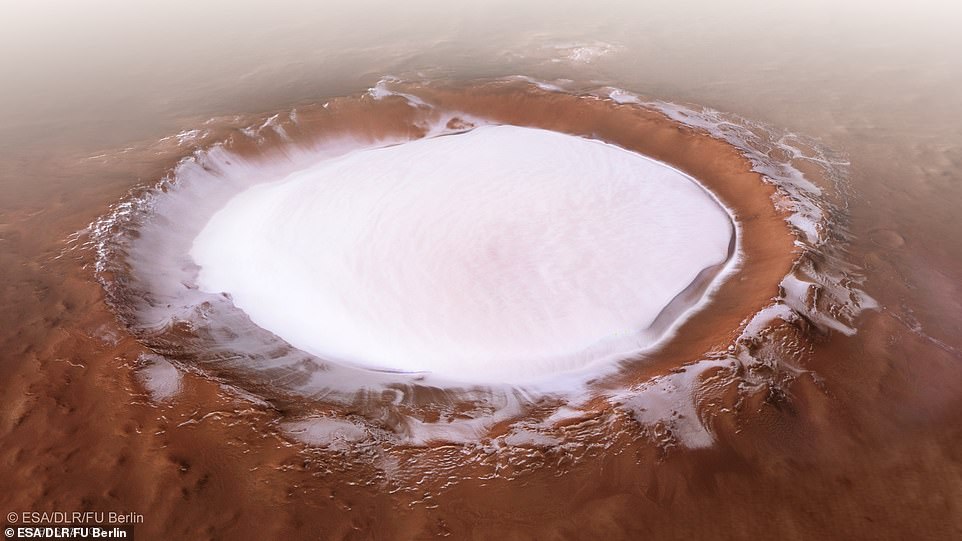 It is a picture perfect Christmas card image from another planet.
The European Space Agency's Mars Express has returned an incredible new series of images showing a giant crater on the red planet.
It shows the Korolev crater, a 50 mile (82 km) wide feature in in the northern lowlands of Mars.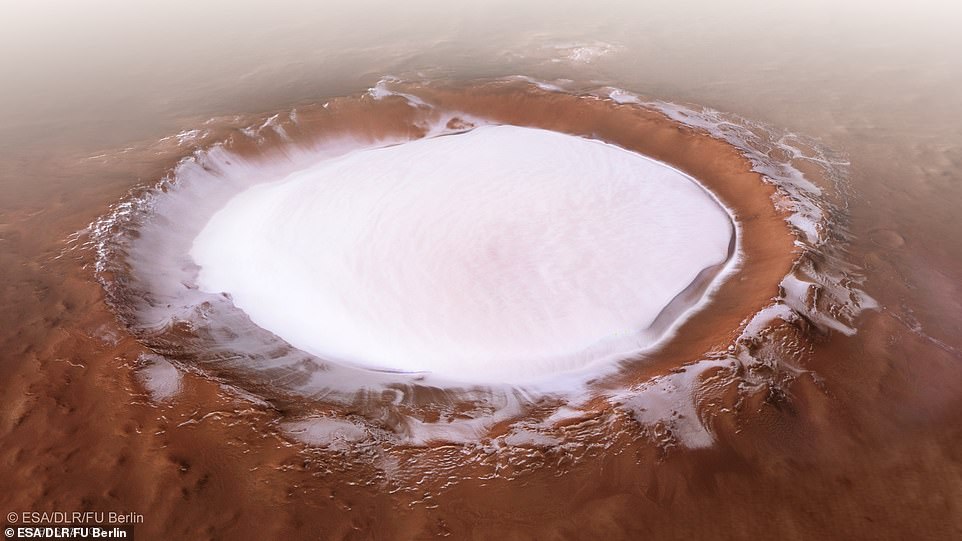 Just south of a large patch of dune-filled terrain that encircles part of the planet's northern polar cap (known
as Olympia Undae), ESA says it is 'an especially well-preserved example
of a martian crater.'
It is filled not by snow but ice, with its center hosting a mound of water ice some 1.8 kilometres thick all year round.
This domed deposit forms a glacier comprising around 528 cubic miles of non-polar ice on Mars.
Smaller amounts of water ice are distributed on and around the crater edge in the form of thin layers of frost.
This ever-icy presence is due to a phenomenon known as a 'cold trap' caused
by the crater's floor lying two kilometres vertically beneath its rim.
The very deepest parts of Korolev crater, those containing ice, act as a
natural cold trap: the air moving over the deposit of ice cools down and
sinks, creating a layer of cold air that sits directly above the ice
itself.
Acting as a shield, this layer helps the ice remain stable and stops it from heating up and disappearing.
Air is a poor conductor of heat, exacerbating this effect and keeping Korolev crater permanently icy.
Taken by the Mars Express High Resolution Stereo Camera (HRSC), this view of Korolev crater comprises five different 'strips' that have been combined to form a single image, with each strip gathered over a different orbit.
Continue Reading: https://www.dailymail.co.uk/
Make the ISS Bathroom Less Disgusting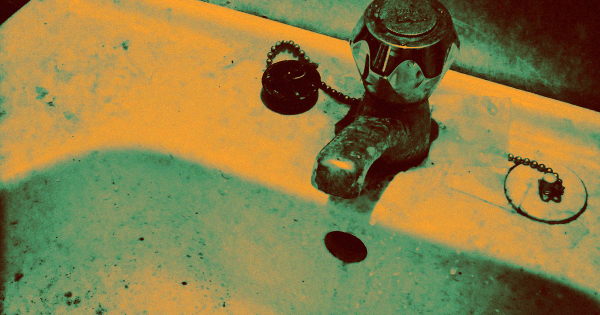 Space Poop
Space may be devoid of life, but us Earthlings are working hard to change that, especially when it comes to the bacteria growing in the International Space Station's bathroom.
The ISS's bathroom isn't the cleanest place in the universe, which is a problem given that space travel can weaken a person's immune system — and that antibiotic-resistant bacteria have already been found on board.
"Spaceflight can turn harmless bacteria into potential pathogens," said Elisabeth Grohmann, a microbiologist at Beuth University of Applied Sciences Berlin, in a press release. "Just as stress hormones leave astronauts vulnerable to infection, the bacteria they carry become hardier — developing thick protective coatings and resistance to antibiotics — and more vigorous, multiplying and metabolizing faster."
No-Stick Surface
To help keep any astronauts who may have forgotten to wash their hands safe, Grohmann and her team developed a new, antimicrobial coating made of silver and ruthenium that they call AGXX, according to research published Wednesday in the journal Frontiers in Microbiology.
To test it out, the scientists put an AGXX coating on the ISS's bathroom door. After six months, they didn't find a bacterial cell on the surface. Some bacteria emerged after a year, but the AGXX coating still hosted 80 percent less bacteria than an uncoated steel door, according to the research.
Get the Elbow Grease
In the same press release, Grohmann blamed the bacterial growth on dust and other things that could have gotten in the way of the AGXX, adding that none of the bacteria that did survive was particularly dangerous.
"With prolonged exposure time a few bacteria escaped the antimicrobial action," Grohmann said. "The antimicrobial test-materials are static surfaces, where dead cells, dust particles and cell debris can accumulate over time and interfere with the direct contact between the antimicrobial surface and the bacteria."
It may not be perfect over long periods of time, but anything that keeps astronauts' space poop where it belongs is a step in the right direction as NASA and other organizations figure out how to travel deeper into space over longer periods of time.
Toyota Reveals 'Self-Driving Electric Moon Car' As Japan Prepares To Land Astronauts On The Moon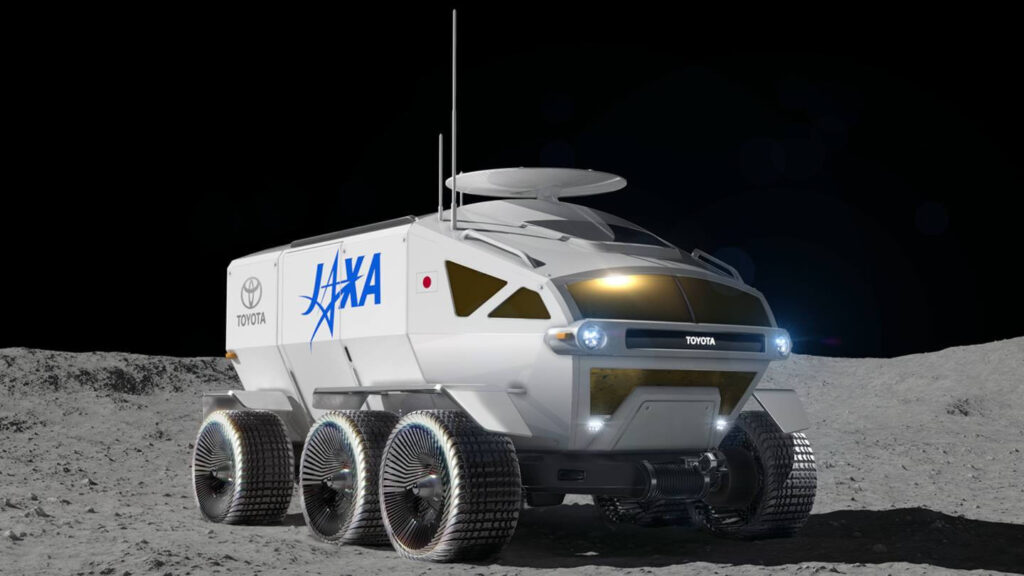 Japan is planning a moon landing for 2029 and wants its astronauts to explore the lunar surface in a vehicle built by Japanese automaker Toyota.
The Japan Aerospace Exploration Agency (JAXA) and Toyota announced Tuesday that it will collaborate on international space exploration, specifically on developing a manned, pressurized rover that uses Toyota's fuel cell vehicle (FCV) technologies.
"Manned, pressurized rovers will be an important element supporting human lunar exploration, which we envision will take place in the 2030s, " said Koichi Wakata, JAXA Vice President. "We aim at launching such a rover into space in 2029."
JAXA, which earlier this month landed its Hayabusa2 probe on the asteroid Ryugu, is hoping the collaboration with Toyota will "give rise to intellectual properties" needed for international space exploration.
An FCV is a type of electric vehicle that, instead of using a battery, uses a fuel cell of oxygen and compressed hydrogen, which react with each other to generate electricity. The zero-emissions technology is already used on Toyota's Mirai vehicle. "Fuel cells, which use clean power-generation methods, emit only water, and, because of their high energy density, they can provide a lot of energy, making them especially ideal for the project being discussed with JAXA," said Shigeki Terashi, Executive Vice President at Toyota. He also mentioned that Toyota's automated driving technologies were part of the project.
Although the amount of fuel that could be taken to the moon would be limited, said JAXA and Toyota, the pressurized rover would have a total lunar-surface cruising range of more than 10,000 km.

However, Toyota's 'space mobility' concept for the pressurized rover being studied by JAXA and Toyota is pretty small. It envisions a 6 meter by 5.3-meter vehicle standing 3.8 meters tall. That's enough room for two people, say JAXA and Toyota, or four in an emergency. Toyota and JAXA also revealed that they have been jointly studying the concept of a manned, pressurized rover since May 2018.
The moon presents some special challenges for any vehicle. Gravity is one-sixth of Earth's, and the lunar surface is pocked by craters, cliffs, and hills. "It is exposed to radiation and temperature conditions that are much harsher than those on Earth, as well as an ultra-high vacuum environment," said Wakata. "For a wide-ranging human exploration of the moon, a pressurized rover that can travel more than 10,000 km in such environments is a necessity." Wakata also stressed the need for a 'Team Japan' approach to space exploration.
That's a message that appears to be finding favor. Japan Airlines-backed startup ispace last month announced that its HAKUTO-R mission will orbit the moon in 2020 ahead of a mission to land on the surface in 2021. An finalist in the ill-fated Google Lunar XPRIZE, ispace plans to map, and eventually recover, water ice on the moon and learn how to use it as a resource. If it can separate lunar water into hydrogen and oxygen, it could provide fuel for Toyota's moon buggy, as well as for a self-sufficient moonbase, and even rockets.
Aside from Japan Airlines, HAKUTO-R's corporate partners include Japanese national daily newspaper Asahi Shimbun and Japan NGK Spark Plug, which wants to test solid-state battery technology on the moon in 2021. Another is Mitsui Sumitomo Insurance, which last month announced a new lunar insurance service. "The availability of lunar exploration insurance will encourage new players to participate in the lunar industry by reducing the risk of entry," said ispace founder Takeshi Hakamada last month. "With the ability to insure our landers and rovers, ispace and its customers will be able to concentrate on realizing our vision without hesitation."
Wishing you clear skies and wide eyes
Source www.forbes.com
There May Be Billions of Undetected 'Rogue Planets' Roaming Our Galaxy
We tend to believe that our solar system with our Sun and the Earth and other planets orbiting around it is the how all planets exist, orbiting their parent star.
However, every so often astronomers get get a glimpse of a whole other scenario – rogue planets, not attached to any star or system, drifting lonely through the galaxy.
"Now it turns out there could be many more of them than anyone ever suspected. A new simulation has revealed that there could be billions of rogue planets in the Milky Way."
nemesis maturity
YouTube