It is a picture perfect Christmas card image from another planet.
The European Space Agency's Mars Express has returned an incredible new series of images showing a giant crater on the red planet.
It shows the Korolev crater, a 50 mile (82 km) wide feature in in the northern lowlands of Mars.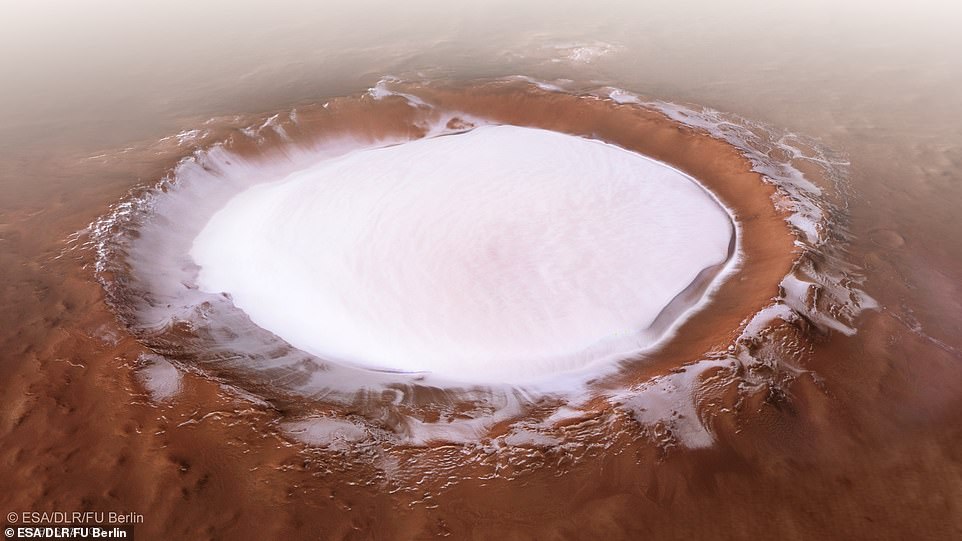 Just south of a large patch of dune-filled terrain that encircles part of the planet's northern polar cap (known
as Olympia Undae), ESA says it is 'an especially well-preserved example
of a martian crater.'
It is filled not by snow but ice, with its center hosting a mound of water ice some 1.8 kilometres thick all year round.
This domed deposit forms a glacier comprising around 528 cubic miles of non-polar ice on Mars.
Smaller amounts of water ice are distributed on and around the crater edge in the form of thin layers of frost.
This ever-icy presence is due to a phenomenon known as a 'cold trap' caused
by the crater's floor lying two kilometres vertically beneath its rim.
The very deepest parts of Korolev crater, those containing ice, act as a
natural cold trap: the air moving over the deposit of ice cools down and
sinks, creating a layer of cold air that sits directly above the ice
itself.
Acting as a shield, this layer helps the ice remain stable and stops it from heating up and disappearing.
Air is a poor conductor of heat, exacerbating this effect and keeping Korolev crater permanently icy.
Taken by the Mars Express High Resolution Stereo Camera (HRSC), this view of Korolev crater comprises five different 'strips' that have been combined to form a single image, with each strip gathered over a different orbit.
Continue Reading: https://www.dailymail.co.uk/