Study Shows Growing Hemp is a Powerful Tool to Fight Bee Population Decline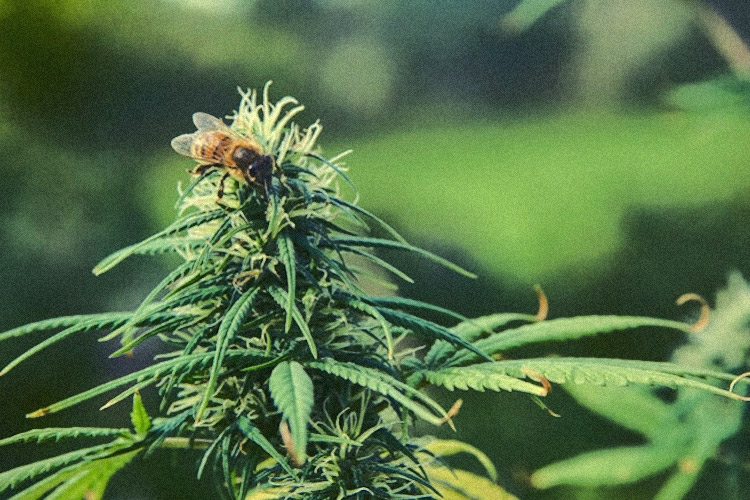 Matt Agorist, TFTP
Waking Times
As the world population of honeybees continues to decline at a dangerous rate, a new study from Colorado State University purports to have found the answer to quell the decline—hemp. The reason hemp is such a boon to the bee population is simple, it is a great source of pollen.
Because the hemp plant provides such a massive amount of pollen, it will provide them with the resources they need to sustain and grow their populations.
As Forbes points out:
According to researchers, most hemp crops flower between July and September, coinciding with a lack of pollen production from other farm crops.
Over 2,000 bees (and 23 different types of bee, including the European honeybee) were collected during the study. The 23 bee types represent 80% of all types in the region.
This discovery points to hemp as a new pollen source for bees and could help sustain their populations.
Bee colonies have been declining in the U.S. due to stressors such as pests, pesticide exposure and poor nutrition from a lack of pollen, according to the Environmental Protection Agency (EPA).
Researchers noted that although "hemp does not produce any nectar, the pollen rich nature of the flowers can make hemp an ecologically valuable crop." However, they also noted that as "cultivation of hemp continues to expand, we expect insect pests on hemp to also become prevalent. Our results documenting bee diversity in flowering hemp provides the impetus for the development of integrated pest management plans that protect pollinators while controlling pests."
As TFTP reported last year, another study showed that mushrooms could have a powerful effect on bees by helping them combat the viruses that have been killing their colonies.
According to the results of this study, which was titled "Extracts of Polypore Mushroom Mycelia Reduces Viruses in Honey Bees," researchers were looking for a way to combat the highly infectious viruses that were wiping out global honey bee populations, and they started looking at mushrooms when they noticed bees were seeking out the fungus:
"BEES HAVE BEEN OBSERVED FORAGING ON MUSHROOM MYCELIUM, SUGGESTING THAT THEY MAY BE DERIVING MEDICINAL OR NUTRITIONAL VALUE FROM FUNGI. FUNGI ARE KNOWN TO PRODUCE A WIDE ARRAY OF CHEMICALS WITH ANTIMICROBIAL ACTIVITY, INCLUDING COMPOUNDS ACTIVE AGAINST BACTERIA, OTHER FUNGI, OR VIRUSES. WE TESTED EXTRACTS FROM THE MYCELIUM OF MULTIPLE POLYPORE FUNGAL SPECIES KNOWN TO HAVE ANTIVIRAL PROPERTIES."
The study found that extracts from amadou and reishi fungi reduced the levels of honey bee Deformed Wing Virus (DWV) and Lake Sinai Virus (LSV) with colonies that were fed Ganoderma resinaceum extract showing "a 79-fold reduction in DWV and a 45,000-fold reduction in LSV compared to control colonies," which brought researchers to the conclusion that "honey bees may gain health benefits from fungi and their antimicrobial compounds."
Paul Stamets, lead author of the study and founder of Fungi Perfecti, a business focused on promoting the cultivation of mushrooms, told ABC News that he worked with researchers from Washington State University and the U.S. Department of Agriculture on the study.
"This is a natural product and [it's showing] tremendous results in reducing the viruses of bees," Stamets said, noting that the mushrooms are "the first antivirals to reduce viruses in bees."
Published by Nature Scientific Reports, the results of the study noted that over the last decade, while the demand for honey bees has increased, the annual colony losses have continued to increase, usually by more than 30 percent each year.
Researchers began paying attention to the natural habits of the bees, which led them to study why the bees were foraging directly on mushrooms. According to the study:
"HONEY BEES HAVE BEEN OBSERVED FORAGING DIRECTLY ON MYCELIUM GROWING IN OUTDOOR BEDS, LEADING TO SPECULATION THAT THEY MAY BE PROCURING A NUTRITIONAL OR MEDICINAL GAIN. THIS BEHAVIOR MAY REPRESENT A NOVEL FACET OF SOCIAL IMMUNITY, GIVEN THAT A GROWING BODY OF EVIDENCE INDICATES THAT HONEY BEES SELF-MEDICATE USING PLANT-DERIVED SUBSTANCES. IN THIS STUDY, WE EVALUATED EXTRACTS DERIVED FROM THE MYCELIA OF SEVERAL POLYPORE MUSHROOM SPECIES FOR ACTIVITY AGAINST TWO MAJOR HONEY BEE VIRUSES IN VIVO IN BOTH LABORATORY AND FIELD STUDIES. IN BOTH CASES, REDUCTIONS IN DWV AND LSV TITERS OCCURRED IN BEES THAT WERE FED MYCELIAL EXTRACTS IN SUCROSE SYRUP."
Stamets also told ABC News that he was initially invited to submit his mushroom extract samples to the Department of Defense's "Project BioShield" following the 9/11 attacks when the government warned of a possible "biological attack" and the extracts he provided were found to be "extraordinarily active."
The power of mushrooms is now having the same effect on fragile honey bees, and the study found that the extracts could almost double the lifespan of caged bees while simultaneously working to reduces their viral count.
One of the most incredible things about this study is that the researchers took the time to pay attention to the elements in nature that honey bees were attracted to, and they found that the bees were instinctively foraging for a substance that helped to protect them.
The study is also yet another "win" for magic mushrooms, and as The Free Thought Project has reported over the years, there is no shortage of wonders that come from mushrooms, which include treatment for depression, opioid addiction, PTSD, and mental illness—just to name a few.
About the Author
Matt Agorist is an honorably discharged veteran of the USMC and former intelligence operator directly tasked by the NSA. This prior experience gives him unique insight into the world of government corruption and the American police state. Agorist has been an independent journalist for over a decade and has been featured on mainstream networks around the world. Agorist is also the Editor at Large at the Free Thought Project. Follow @MattAgorist on Twitter, Steemit, and now on Minds.
**This article (Study Shows Growing Hemp is a Powerful Tool to Fight Bee Population Decline) was originally featured at The Free Thought Project and is re-posted here with permission.**
One Of The Largest Dog Meat Markets In South Korea Has Shut Down
After many years of controversy, Gupo Livestock Market in South Korea has finally agreed to stop selling dog meat. Gupo Market has been one of the largest dog meat markets in the country, which has made it a regular target for animal rights activists. The market was home to 19 different dog meat distributors, all of whom agreed to close their shops by July 11.
The dog meat sellers will be compensated by the government to the tune of 3.1 million won each month, which converts into about $2,700. Each of the sellers will receive the payments until December 2020. These payments are a part of a government plan to peacefully persuade the dog meat sellers to open up other businesses.
In a joint statement among four of the largest animal rights groups in the country, activists called the closure of the market a "big step forward."
"We wholeheartedly welcome and support the district office's effort to end the trade of dog meat in Korea. It is a big step forward, but Korea still has many such markets, including Chilseong Market in Daegu … We will continue to work with everyone to end the practice of eating dog meat," the statement read, according to Korea Times.
It is estimated that anywhere between 1 and 2 million dogs are raised on farms across South Korea for the sole purpose of providing meat. Across Asia as a whole, roughly 30 million dogs are killed and eaten each year, many of them stray dogs or stolen pets.
The farmers and dog meat sellers in this industry are also said to be extremely cruel with the animals. Witnesses say that farmers torture dogs to death in front of the other dogs.
Animal rights activist Nara Kim celebrated the closure of the Gupo Market in a recent statement. Kim said:
"The closure plan is the result of months of hard work between the local authorities and the market vendors, and both sides are to be commended for working towards this goal that will not only bring to an end to Gupo's dog meat era, but will also see the area regenerated with new amenities and businesses for the benefit of the local, modern economy," Kim said. 
Kim also pointed to the changing opinions in the country about dog meat.
"HSI has been working with dog meat farmers in South Korea for nearly four years helping them close their flagging businesses as more people in the county turn away from dog meat, so the closure of Gupo's grimly iconic dog market, which follows the demolition last year of the country's largest dog slaughterhouse complex, is a sign of more compassionate times," Kim said.
A survey by Gallup Korea conducted in June 2018 showed that 70 percent of South Koreans say they will not eat dog meat in the future. Experts say that people in the country are beginning to see these animals more as pets than as food.
On November 21st, 2018, South Korea closed the country's main dog slaughterhouse, known as Taepyeong-dong. Now, the former slaughterhouse will be turned into a community park.
The consumption of dog meat in Asia can be traced all the way back to the times of the Mongol invasions.
Still, despite all these closures, there are roughly 17,000 dog markets remaining in South Korea.
While the practice was incredibly rare in the United States, killing dogs and cats for food was actually still legal until 2018. In December of last year, US President Donald Trump signed the Dog and Cat Meat Prohibition Act, which makes it a federal offense to slaughter, trade, import or export dogs and cats for human consumption. However, Native American tribes are still exempted for religious rituals.
Bear Cub Feels Grass For First Time After Being Rescued From Filthy Basement [Video]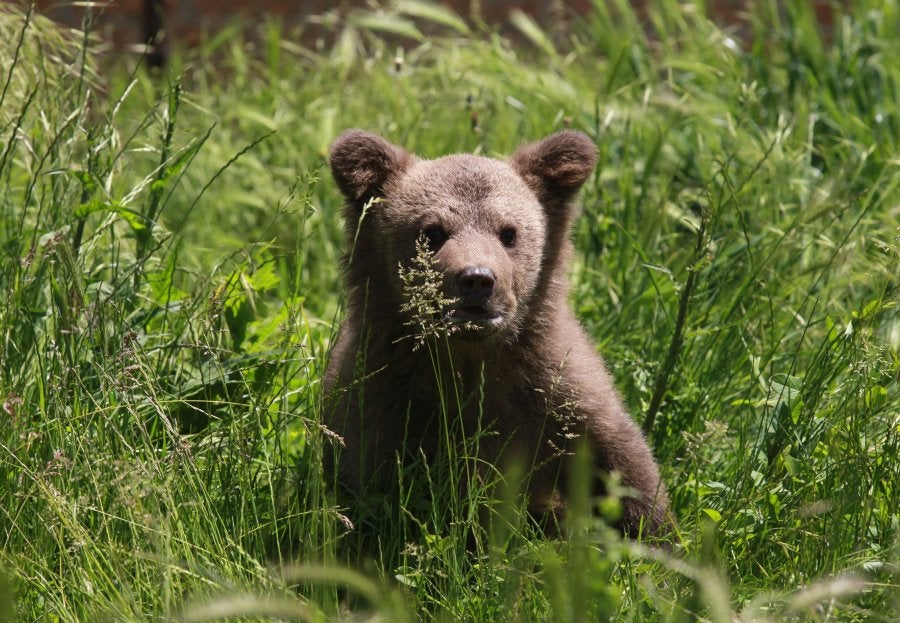 By Mandy Froelich / Truth Theory
An adorable bear cub has a new lease on life, thanks to the animal welfare group Four Paws International and Kosovo authorities. After living in a dark, filthy basement for most of its life, the bear cub now lives at the Bear Sanctuary Prishtina. Recently, he experienced grass for the first time ever. 
As GoodNewsNetwork reports, the cub had been liberated from a dark basement enclosure in Kosovo. Someone had been keeping him as a pet, which is against the law. After the cub was rescued, he was transported to his new home at the bear sanctuary.  The specialized sanctuary is home to other bears who have also been saved from neglectful situations.
Before he was allowed to experience the joys of nature, the bear cub underwent a thorough medical examination. Once he was deemed "healthy," he was transported outside. The video below shows him running through the grass, feeling the sun on his face, and exploring his new home.
Safe haven for the bear cub in Kosovo!

A safe haven last! 🐻The recent tragic story about the bear cub in Kosovo, who was found to be living in terrible conditions in a dark garage, was not only touching for us, but it also moved many of your hearts.🧡Two weeks ago, we got the news we had all been hoping for, and we were finally able to bring him to our Bear Sanctuary Prishtina. Here you can see the emotional moment when the little bear explores his new beautiful enclosure for the first time! 🌳➡️ Please help us to look after this little wild animal in the future!

Gepostet von FOUR PAWS International am Dienstag, 25. Juni 2019
https://www.facebook.com/fourpaws.org/videos/464367954330208/
"We thank Ministry of Environment and Agency for Environment Protection for the trust in our professionalism to continue with the right treatment for the cub," said Afrim Mahmuti, manager of the Bear Sanctuary Prishtina.
For the next six months, Four Paws International will care for the cub until he matures into adolescence. At that point, it will be determined whether or not the bear can be released into the wild. For now, he seems happy simply living at the sanctuary.
Four steps to make your lawn a wildlife haven – from green desert to miniature rainforest
If you could ask British insects about the habitats they prefer, they'd probably tell you that you can't improve on grassland that's rich with wildflowers. For farmers, though, grassland is said to be "improved" if it has been treated with fertiliser and sown with fast growing grasses.
"Unimproved" grasslands are those that have not had their productivity improved for agriculture. They're semi-natural habitats, because if mowing or grazing stopped, they'd quickly turn to scrub and then woodland. These unimproved grasslands are extremely rich in the number of species they can support, sometimes having well over 40 species of flowering plant in a single square metre.
But since World War II, 97% of unimproved grassland habitats have vanished from the UK. This has contributed to the loss of pollinating insects – and the distribution of one third of species has shrunk since 1980.
If you're lucky enough to have a garden, your lawn can be thought of as a small patch of artificial grassland, which will usually have only a few species of turf grass. Most suburbs and villages still have around a quarter to a third of their area covered by grass.
Unfortunately, lawns are largely featureless and offer little refuge for small creatures like bugs and other invertebrates. Regular mowing also prevents plants from flowering and producing seeds, which is why carefully maintained lawns are mostly barren.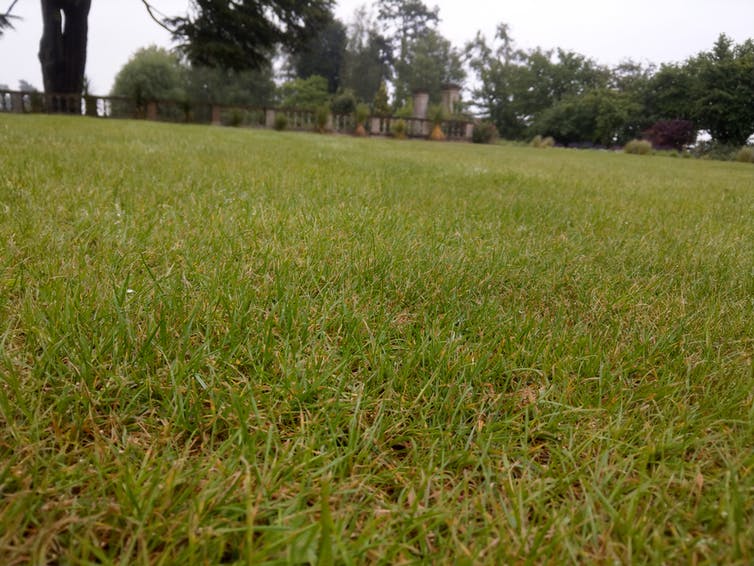 But lawns can be made into important wildlife habitat by changing how they're managed. This is an idea that's gaining traction – campaigns such as "Say No to the Mow" have made an "unkempt" garden more socially acceptable. For anyone wanting to create a wildlife lawn in their garden, there are four important steps to follow.
1. Cut higher
The first step is simple. By raising the height that the mower blade cuts the grass to its highest setting – usually about 4 cm off the ground – you can provide more variety in the lawn's structure and more refuge for other plant and invertebrate species.
2. Include mowing gaps
By mowing less often you can allow plants time to flower and provide a food source for bees and other pollinators. Leaving gaps between mowing in spring gives time for species like the cowslip to flower – a plant which has declined markedly in the UK but which butterflies like the Duke of Burgundy depend on for laying their eggs.
Summer gaps can allow species like cat's ear and fox-and-cubs time to flower, providing an important source of food for species of leafcutter bee. Deciding how long to wait between mowing isn't an exact science, but can be judged by seeing whether or not the plants in your lawn have had a chance to flower.
3. No fertilisers or herbicides
"Weed and feeds" are used on lawns in a one-bottle mix of herbicide – used to kill non-grass species that we'd usually consider weeds – and fertiliser, to add nutrients to the soil. Herbicides reduce biodiversity by killing other species, but it may surprise you to learn that fertilisers are no friend to biodiversity either.
When gardening or farming, usually the more fertility in the soil the better, because this promotes greater productivity. In other words, more grass, greener grass, more flowers and larger flowers. The selective actions of the gardener or farmer to promote the target species, whether prized rose or crop, means that only the target species benefits.
Without this selectivity, more fertility in your lawn only favours the one or two turf species that are best able to take up nutrients and outcompete other species. So, more fertility means fewer plant species, despite the more luxuriant green colour.
4. Remove the clippings
Removing the grass clippings after you've mowed the lawn also reduces the fertility in your lawn, preventing it from becoming dominated by one or two competitive turf species. Removing and composting grass clippings will gradually remove nutrients from the soil, lowering the fertility with each cut.
Beyond these four steps for improving the value of your lawn to wildlife, there are other things that can be done by the more committed gardener. Leaving small areas of the lawn deliberately uncut – such as strips at the sides or patches in the corners – can help small wildflower meadows to form. Cutting these at the end of summer will prevent them overgrowing into rank grassland with few species.
Wildlife value can also be added by spreading some locally-sourced wildflower seed on your lawn. If you're gathering seeds from elsewhere, make sure to ask permission and don't take too much.
Enjoying your wildflower lawn
Wildflower lawns can have a variety of other surprising benefits, not least helping to slow global warming. Some studies have shown that lawns are actually sources of carbon dioxide due to the amount of energy needed to power the mower and manufacture "weed and feeds". Reducing how often you mow, not applying "weed and feeds" and even using a manual lawn mower can change your lawn from a carbon source to a carbon sink.
Having taller vegetation in your lawn shades the ground, thereby reducing evaporation from the soil and reducing the need for sprinklers and hosepipes. Less mowing means less work to do and more time for you to enjoy watching the bees gathering nectar and pollen from your wildflower lawn.
Wildflower lawns, with spikes of colourful flowers and attendant bees, at least to my eyes, are far prettier than a carpet of grass, whether it's stripy or not. Grass – especially when not in flower – is the most aesthetically boring part of a grassland. The species that have traditionally been disregarded as "weeds" are far more interesting.