Study Reveals Six Galaxies Undergoing Sudden, Dramatic Transitions
Galaxies come in a wide variety of shapes, sizes and brightnesses, ranging from humdrum ordinary galaxies to luminous active galaxies. While an ordinary galaxy is visible mainly because of the light from its stars, an active galaxy shines brightest at its center, or nucleus, where a supermassive black hole emits a steady blast of bright light as it voraciously consumes nearby gas and dust.
Sitting somewhere on the spectrum between ordinary and active galaxies is another class, known as low-ionization nuclear emission-line region (LINER) galaxies. While LINERs are relatively common, accounting for roughly one-third of all nearby galaxies, astronomers have fiercely debated the main source of light emission from LINERs. Some argue that weakly active galactic nuclei are responsible, while others maintain that star-forming regions outside the galactic nucleus produce the most light.
A team of astronomers observed six mild-mannered LINER galaxies suddenly and surprisingly transforming into ravenous quasars–home to the brightest of all active galactic nuclei. The team reported their observations, which could help demystify the nature of both LINERs and quasars while answering some burning questions about galactic evolution, in the Astrophysical Journal on September 18, 2019. Based on their analysis, the researchers suggest they have discovered an entirely new type of black hole activity at the centers of these six LINER galaxies.
"For one of the six objects, we first thought we had observed a tidal disruption event, which happens when a star passes too close to a supermassive black hole and gets shredded," said Sara Frederick, a graduate student in the University of Maryland Department of Astronomy and the lead author of the research paper. "But we later found it was a previously dormant black hole undergoing a transition that astronomers call a 'changing look,' resulting in a bright quasar. Observing six of these transitions, all in relatively quiet LINER galaxies, suggests that we've identified a totally new class of active galactic nucleus."
All six of the surprising transitions were observed during the first nine months of the Zwicky Transient Facility (ZTF), an automated sky survey project based at Caltech's Palomar Observatory near San Diego, California, which began observations in March 2018. UMD is a partner in the ZTF effort, facilitated by the Joint Space-Science Institute (JSI), a partnership between UMD and NASA's Goddard Space Flight Center.
Changing look transitions have been documented in other galaxies–most commonly in a class of active galaxies known as Seyfert galaxies. By definition, Seyfert galaxies all have a bright, active galactic nucleus, but Type 1 and Type 2 Seyfert galaxies differ in the amount of light they emit at specific wavelengths. According to Frederick, many astronomers suspect that the difference results from the angle at which astronomers view the galaxies.
Type 1 Seyfert galaxies are thought to face Earth head-on, giving an unobstructed view of their nuclei, while Type 2 Seyfert galaxies are tilted at an oblique angle, such that their nuclei are partially obscured by a donut-shaped ring of dense, dusty gas clouds. Thus, changing look transitions between these two classes present a puzzle for astronomers, since a galaxy's orientation towards Earth is not expected to change.
Frederick and her colleagues' new observations may call these assumptions into question.
"We started out trying to understand changing look transformations in Seyfert galaxies. But instead, we found a whole new class of active galactic nucleus capable of transforming a wimpy galaxy to a luminous quasar," said Suvi Gezari, an associate professor of astronomy at UMD, a co-director of JSI and a co-author of the research paper. "Theory suggests that a quasar should take thousands of years to turn on, but these observations suggest that it can happen very quickly. It tells us that the theory is all wrong. We thought that Seyfert transformation was the major puzzle. But now we have a bigger issue to solve."
Frederick and her colleagues want to understand how a previously quiet galaxy with a calm nucleus can suddenly transition to a bright beacon of galactic radiation. To learn more, they performed follow-up observations on the objects with the Discovery Channel Telescope, which is operated by the Lowell Observatory in partnership with UMD, Boston University, the University of Toledo and Northern Arizona University. These observations helped to clarify aspects of the transitions, including how the rapidly transforming galactic nuclei interacted with their host galaxies.
"Our findings confirm that LINERs can, in fact, host active supermassive black holes at their centers," Frederick said. "But these six transitions were so sudden and dramatic, it tells us that there is something altogether different going on in these galaxies. We want to know how such massive amounts of gas and dust can suddenly start falling into a black hole. Because we caught these transitions in the act, it opens up a lot of opportunities to compare what the nuclei looked like before and after the transformation."
Unlike most quasars, which light up the surrounding clouds of gas and dust far beyond the galactic nucleus, the researchers found that only the gas and dust closest to the nucleus had been turned on. Frederick, Gezari and their collaborators suspect that this activity gradually spreads from the galactic nucleus–and may provide the opportunity to map the development of a newborn quasar.
"It's surprising that any galaxy can change its look on human time scales. These changes are taking place much more quickly than we can explain with current quasar theory," Frederick said. "It will take some work to understand what can disrupt a galaxy's accretion structure and cause these changes on such short order. The forces at play must be very extreme and very dramatic."
In addition to Frederick and Gezari, UMD-affiliated co-authors of the research paper include Adjunct Associate Professor of Astronomy Bradley Cenko, former Neil Gehrels Prize Postdoctoral Fellow Erin Kara and astronomy graduate student Charlotte Ward.
More information: Sara Frederick et al, A New Class of Changing-look LINERs, The Astrophysical Journal (2019). DOI: 10.3847/1538-4357/ab3a38
Eureka Alert
Headline Image: © (Left; infrared & visible light imagery): ESA/Hubble, NASA and S. Smartt (Queen's University Belfast); (Right; artist's concept): NASA/JPL-Caltech
KOI-5Ab, the curious planet that orbits in a system of three suns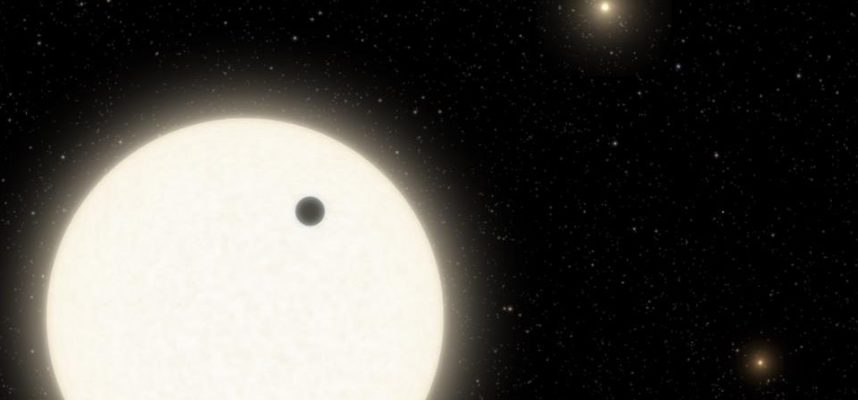 To us, the Sun alone seems perfectly normal, but our solar system is actually a strange exception.
Most stars in the Milky Way galaxy have at least one companion star. In a system 1,800 light-years away, astronomers have finally confirmed the existence of a gas giant planet orbiting stars in a triple star system.
Called KOI-5, the system is located in the constellation Cygnus, and the exoplanet was confirmed ten years after it was first detected by the Kepler space telescope.
In fact, the planet – now known as KOI-5Ab – was discovered by Kepler when it began operations back in 2009.
"KOI-5Ab was dropped because it was difficult and we had thousands of other candidates," astronomer David Siardi of NASA's Exoplanet Science Institute said.
"There were lighter dives than the KOI-5Ab, and every day we learned something new from Kepler, so the KOI-5 was almost forgotten."
Exoplanet hunters tend to avoid the complexities of multi-star systems; of the more than 4,300 exoplanets confirmed to date, less than 10 percent are multi-star systems, although such systems dominate the galaxy. As a result, little is known about the properties of exoplanets in multi-star systems compared to those orbiting a lone star.
After Kepler's discovery, Chardy and other astronomers used ground-based telescopes such as the Palomar Observatory, Keck Observatory, and the Gemini North Telescope to study the system. By 2014, they had identified two companion stars, KOI-5B and KOI-5C.
Scientists were able to establish that the planet KOI-5Ab, is a gas giant that is about half the mass of Saturn and 7 times the size of Earth, and is in a very close five-day orbit around KOI-5A. KOI-5A and KOI-5B, both of roughly the same mass as the Sun, form a relatively close binary system with an orbital period of about 30 years.
A third star, KOI-5C, orbits the binary system at a much greater distance, with a period of about 400 years – slightly longer than Pluto's 248-year orbit.
"By studying this system in more detail, perhaps we can understand how planets are created in the universe."
The discovery was announced at the 237th meeting of the American Astronomical Society.
Why the universe does not fit into science
Science can be compared to an artist painting what he has never seen, or to a writer describing other people's travels: objects that he has never seen, places where he has never been. Sometimes such scientific "arts" turn out to be beautiful and interesting, but most of them will forever remain only theories, because they are beyond human capabilities.
In fact, science has the right only to speculate: how our universe appeared, how old it is, how many stars and other objects it contains.
Universe model
How many stars are there in the sky?
With an unarmed eye, a person can see about nine thousand stars in the sky in one cloudless and moonless night. And armed with binoculars or a telescope, much more – up to several million. However, this is much less than their true number in the universe. Indeed, only in our one galaxy (the Milky Way) there are about 400 billion stars. The exact amount, of course, is not known to science. And the visible universe contains about 170 billion galaxies.
It is worth clarifying that scientists can see the universe 46 billion light years deep in all directions. And the visible (observable) universe includes the space accessible to our eyes from the moment of the Big Explosion. In other words, only this (accessible to human perception) space science refers to our universe. Science does not consider everything that follows.
It is believed that there are supposedly a ceptillion (10 to 24 degrees) stars in our universe. These are theoretical calculations based on the approximate size and age of the universe. The origin of the universe is explained by the Big Bang theory. This is why the universe is constantly expanding and the more time passes, the more complex the universe and its components become.
It is not entirely correct to consider and perceive this scientific theory "head-on". Scientists always claim that that explosion was not exactly an explosion, and the point that exploded was not the only one. After all, it was everywhere, because space did not exist then. And in general – everything happened quite differently from what is described in the Big Bang theory, but all other descriptions of the origin of the universe are even more incredible and inaccurate.
Separate but interconnected
That which is beyond the reach of human perception is usually discarded by science, or recognized as non-existent. Recognizing one thing, science does not want to recognize the existence of the other, although everything in our world is interconnected and is not able to exist separately – by itself.
Each object of the universe is a part of it much more than an independent, separate object.
Any person, like any material object of our world, consists of components: organs, cells, molecules, atoms. And each of its constituent parts can represent the whole world. Separate, and at the same time connected with all the others.
However, science, as a rule, perceives all the components of the universe – people, animals, plants, objects, the Earth, the Sun, other planets and stars – as separate subjects, thereby limiting itself.
Even what is considered the visible universe, one of the atoms of which could be called our solar system, is not subject to the boundaries of human perception. But perhaps the atom is an exaggeration, and our solar system is not even an atom, but one of its elements!
How, being so far from the truth, can one reason about something with the degree of probability with which science tries to reason about the origin of the universe?
An unexplained wobble shifts the poles of Mars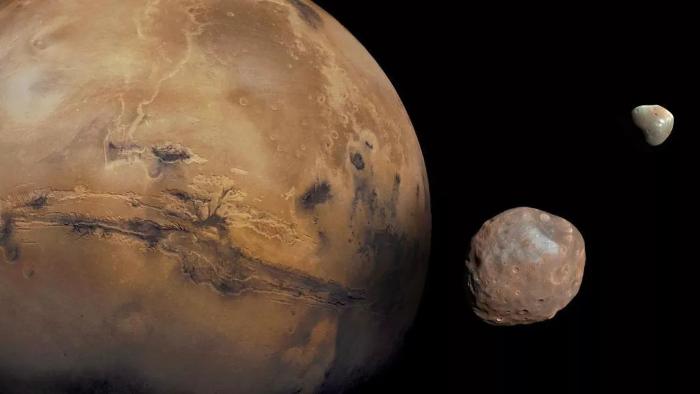 The red planet sways from side to side like a whirligig when it loses speed. The new study allowed scientists to notice that the poles of Mars deviate slightly from the axis of rotation of the planet. On average, they move 10 cm from the center with a period of 200 days.
Such changes are called the Chandler Oscillations  – after the American astronomer Seth Chandler, who discovered them in 1891. Previously, they were only seen on Earth. It is known that the displacement of the poles of rotation of our planet occurs with a period of 433 days, while the amplitude reaches 15 meters. There is no exact answer why this is happening. It is believed that the fluctuations are influenced by processes in the ocean and the Earth's atmosphere.
Chandler's wobbles on Mars are equally perplexing. The authors of the study discovered them by comparing data from 18 years of studying the planet. The information was obtained thanks to three spacecraft that orbit the Red Planet: Mars Odyssey, Mars Reconnaissance Orbiter and Mars Global Surveyor. 
Since Mars has no oceans, it is likely that the Red Planet's wobbly rotation is due to changes in atmospheric pressure. This is the first explanation that researchers have shared. In the future, there should be new details about the fluctuations that have so interested the scientific community.