Strange Angel Hair Phenomenon
When most people hear the phase "angel hair", they immediately think of the classic pasta dish, but for the avid UFO enthusiast, it takes on an entirely different meaning.
The strange material known as "angel hair"–a light, cobweb-like substance that reportedly sometimes falls from the sky during UFO sightings–has been considered to be somewhat of a fringe element of Fortean phenomena, but this doesn't mean that occurrences of angel hair have been rare; in fact, since 1947, there have been well over 200 documented cases of this gossamer-like substance being found in direct connection with UFO sightings.
So what exactly is angel hair? It has been generally described as being fibrous and silk-like, with a remarkable consistency that on one hand can be strong and resilient, but then in an instant can dissipate into the air like fog or smoke.
Some ufologists believe that angel hair is left behind as some sort of "exhaust" from alien spacecraft, similar to carbon emissions that are produced by an automobile. Scores of eyewitness reports describe unidentified flying objects including cigar-shaped aircraft, disks and silver spheres emitting this bizarre substance, particularly after moments of rapid acceleration or complex aerial maneuvers.
The substance will slowly drop to the ground, often landing on fences, wires or trees in the area, many times covering large areas at a time. In fact, there have been several reports of angel hair covering power lines for miles on end, or blanketing several square miles of land at a time.
One report from October of 1957 describes how an area of New Mexico was draped in strands of angel hair that reached up to 50 feet in length apiece, and covered a total area of roughly 110 miles. This bizarre phenomenon is often classified as being a close encounter of the second kind, since the substance typically makes some type of physical contact with the environment.
According to a vast number of reports, one of the most interesting properties of angel hair is its ability to demonstrate sublimation, which is the ability of the substance to change directly from a solid to a gas, essentially bypassing the liquid stage altogether.
It has been described in various instances as both fine and coarse, having a consistency similar to cotton, but it often dissipates as it is being physically handled. The most commonly reported color for angel hair is white, but it has also been observed in other instances as being silver, gray, black, and even translucent.
There seems to be no one particular cause for the phenomenon, but there is an inextricable link between UFO sightings and angel hair, with roughly 57% of all angel hair cases being tied to UFO reports in some way. In addition, eyewitness accounts representing virtually every corner of the globe generally agree on both the look and the consistency of this odd substance.
There have been several cases where angel hair was not only recovered from alleged UFO sighting areas, but it has also been examined in scientific laboratories. The substance has been examined by professionals from a wide range of disciplines, with the general consensus being about the same: Nobody is quite sure what this stuff is made of.
Prominent biologists, chemists, fiber technicians, toxicologists, engineers, and so forth have all sought to gain insight into the composition of this strange substance, but to little avail. Common elements such as boron, magnesium, silicon, potassium, and calcium have been discovered in samples of angel hair, with the most notable element being boron due to its noted usage in nuclear technology.
Boron is commonly utilized as a buffer that shields and controls nuclear reactions, a fact that has prompted many researchers to speculate that angel hair may be the by-product of some type of nuclear-powered propulsion system.
Some skeptics have claimed that angel hair is nothing more than the webbing produced by ballooning spiders, which are known for producing large blankets of silk webs that are often pulled aloft by the wind.
Interestingly enough, all of the samples of angel hair that have been studied in laboratories have lacked a primary ingredient that is necessary for spiders to manufacture their webbing: Protein.
The "ballooning spider theory" also does not account for the fact that angel hair often sublimates on contact, which is almost the complete opposite of what happens when physical contact with a spider's web occurs.
While the phenomenon of angel hair definitely leaves quite a bit of room for speculation, its correlation to UFO sightings cannot be easily dismissed. In light of all that is still not known about this unique substance, it would be beneficial for more members of the UFO and scientific community to devote more time and resources towards conducting serious research of this mysterious phenomenon.
Tesla autopilot sensor recorded "ghost" in an empty cemetery
A Tesla electric car with an activated autopilot function recorded an invisible person who allegedly moved around the cemetery. Social network users jokingly noted in the comments that, most likely, this is some new function from Elon Musk, which allows you to see ghosts.
In the United States, a Tesla electric car with an activated autopilot function recorded an invisible person who allegedly moved through a cemetery.
The corresponding video was posted by Twitter user Ovidiu Maciuc.
The recording shows how a silhouette of a man appears on the monitor of an electric car, moving around the cemetery. After that, the driver raises the camera and starts filming the graveyard through the windshield, but there are no people there.
After some time, the "ghost" went in the opposite direction from Tesla and disappeared from the on-board computer screen.
Social network users jokingly noted in the comments that, most likely, this is some new function from Elon Musk, which allows you to see ghosts.
For many though, if you take into account the comments, the video seemed rather creepy. Some even tried to guess what the navigation system actually showed.
Some users thought the system could recognize ghosts. Others refuted this version and said that the reason for all this is an insufficiently accurate sensor, which was used for the equipment of the Tesla car.
Earlier it became known that Tesla electric cars in the near future may receive a new function with which they can talk with pedestrians. For this, American cars will be equipped with special external speakers.
In addition, Tesla cars in the future will receive the option to change the horn and sound of movement at low speeds to warn pedestrians. According to Elon Musk, among the sounds of movement there will be the sound of the clatter of a horse's hooves, and as a whistle – the bleating of a goat.
Mysterious energy source melts Tel Aviv sidewalks, leading to the evacuation of several buildings in Israel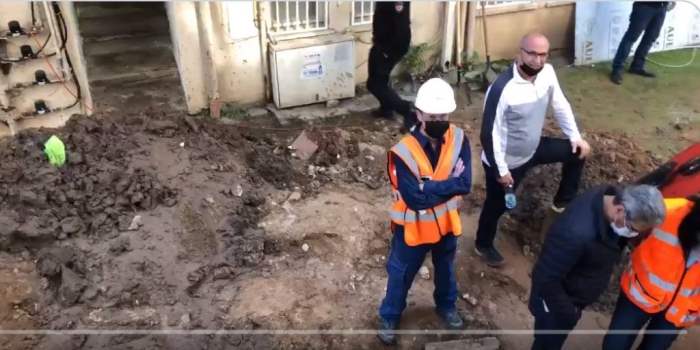 About two weeks ago, Tel Aviv residents noticed that the concrete surface outside their homes was heating up and steam was coming out of the ground. Tests showed that steam that reached 60 ° C (140 ° F) was water based.
The witness explains: "I was afraid that there was a power line in the area and asked a worker to dig out the ground with a shovel. Steam suddenly came out. I imagined it was probably a geyser. It seemed to me that this was a geological incident – also because there were no problems with electricity in the building. "
Although the experts did not find any hazardous substances or any risk to the stability of buildings at the site, residents as well as kindergartens in the area were evacuated.
Officials described the heat source as "trapped energy" of unknown origin.
Work continues, steam is still rising and the ground is still hot. It is currently unclear what is causing the warming. Note the hole dug in the area. The area is still blocked.
Mysterious origins
City officials said they will "continue to monitor the temperature of the earth, which is expected to cool down for a long time, and will continue to investigate the causes of the unusual event."
Israel Electric Corporation has not found a connection between heat and power in the area.
The Israel Geological Survey confirmed the rise in temperature after testing ground and water temperature levels, but said it has not yet found an explanation.
Despite their best efforts, municipal officials, the fire department, Israel Electric Corporation and the Ministry of the Environment have yet to find a source of heat.
Meanwhile, the Tel Aviv municipality has informed dozens of evacuees that they can return to their homes. However, residents are not going to return until they receive a detailed account of the source of the mysterious event.
"They evacuated us because they were concerned about our safety, and now they are urging us to return without any convincing explanation. How can you be sure that there is no more danger? "
The night sky in southern Taiwan shows a weird red moon alarming netizens: 2021 disaster year omen?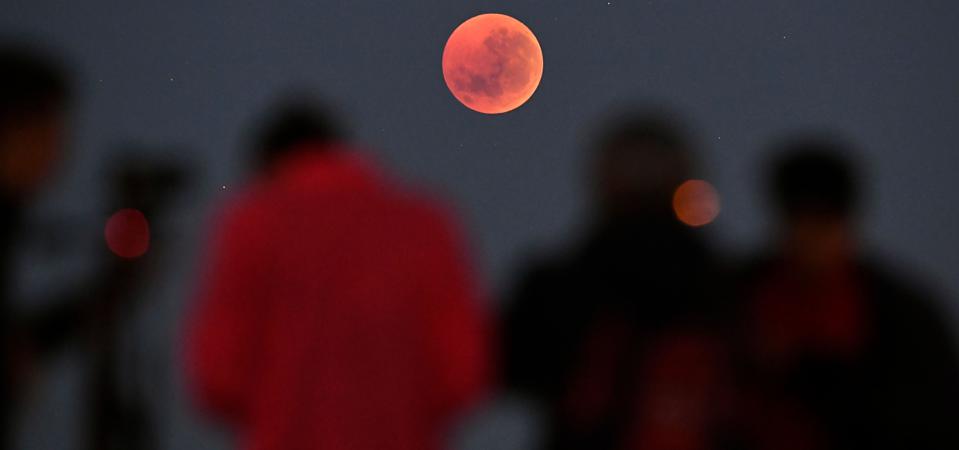 Some people in Chiayi, Taiwan took pictures of a large dark red moon hanging in the night sky on the first night of 2021 and uploaded them to Facebook. There are also people in Tainan who have photographed the rare "red moon". The weird scene has aroused heated discussions among netizens. Some people worry that an earthquake may occur, while others suspect that this is a precursor to the year of disaster in 2021?
Yesterday, on January 1 at about 8:00 in the evening, Chiayi residents shared a photo of "2021's first red moon" on Facebook. As you can see in the photo, the weather was quite good at that time. There was a clear big round moon in the night sky, but it was a dark red moon, which was very different from the usual moon.
Later, people in Kaohsiung and Tainan also posted photos of the red moon they had taken.
The weird and rare "big red moon" immediately attracted the attention of netizens. Some people think that such a sight is caused by air pollution, and some people think that the red moon is "extremely beautiful", but many people worry about whether it is a harbinger before the disaster ?
"Hope is not a harbinger of disaster~", "A harbinger of disaster in 2021???", "It looked uneasy", "After seeing the red moon, I hope everyone will be safe".
Some netizens worry that this is a pre- earthquake omen.
"Remember the red moon before the 921 earthquake (omen)", "earthquake precursors", "I feel that there will be an earthquake again recently", and "It seems that 2021 will be another year of bloody disaster."
The British clairvoyant Craig Hamilton-Parker published his prediction for 2021 on YouTube in December last year, stating that, as far as the world is concerned, 2021 will be a year full of social unrest, armed conflict and political changes. There will be difficult times right now until 2025.
He also predicted that the biggest worry is climate and earthquakes. A tsunami will occur near Japan. Large earthquakes will occur in the Himalayas, Iran and the Americas. There will also be problems such as floods, dams bursting, and huge icebergs obstructing shipping. Until 2025, the severity of environmental problems will gradually increase.