The Story of the Woman Who Claimed She Visited Mars & Spoke to Aliens in 1894
A study published by PubMed concludes:
"The results suggest that certain mediums can anomalously receive accurate information about deceased individuals. The study design effectively eliminates conventional mechanisms as well as telepathy as explanations for the information reception, but the results cannot distinguish among alternative paranormal hypotheses, such as survival of consciousness (the continued existence, separate from the body, of an individual's consciousness or personality after physical death) and super-psi (or super-ESP; retrieval of information via a psychic channel or quantum field)."
You can read the full study here.
That's right, over decades, and even over thousands of years, intellectuals have been interested in those who claim, or are seen by others, to have "supernormal" type of abilities which cannot really be explained by our current knowledge of science.
That being said, just because we can't explain it, doesn't mean it's not real, and studies like the ones above have shown, multiple times, that there are people on the planet who can do some extraordinary things that completely defy belief, logic and reason.
This is often why we see such a harsh response to it, because it contradicts and conflicts with most people's idea of what can and can't be achieved.
It's something that's been claimed to be done for thousands of years. Be it through Oracles of the past, Yogi's with superhuman abilities that are described in ancient Eastern texts, or modern-day mediums, it seems something is going on here, which is evident by the amount of research put into it and how many "intellectuals" and "scholars" continue to study it and vouch for its validity.
There is usually, however, a response that this type of thing is a result of complete delusion.
You can find links to a few more studies on the subject here.
The Woman Who Visited Mars
Helene Smith was a 19th century French medium. She is noted for popularizing the concept of automatic writing, that is, writing down information while in a trance like state, doing so in a type of unconscious manner.
In the 50's and 60's, all the way up to the present day, the field of ufology is filled with supposed off-world contactee's, who usually receive their information in similar ways. These people were quite popular and received a lot of serious attention many decades ago, and some of what they said sharply correlates with what's been happening today.
In 1954, an ordinary citizen by the name of George King was also one of many who was/had been contacted by extraterrestrial intelligence, this one was from Mars as well, and supposedly part of an alliance of  several intelligences from other planets.
Now, if you think this is impossible given what we know about those planets, well, it turns out we don't know as much as we thought we did. For example, Mars is not the dry arid planet we once thought it to be. NASA scientists recently held a press conference revealing some astonishing facts about extraterrestrial life on Mars.
He also made some comments about how these extraterrestrial alliances were concerned about our nuclear weapons. Decades later, we have documents and confirmed testimony from high ranking intelligence people, and actual events that have occurred at military bases.
To see an interview with him and read more about his story, follow this link.
If you want to learn about UFO/Extraterrestrial encounters over Nuclear Missile Facilities, click HERE.
As far as Helene, her contacts name was 'Leopold,' and she become popular when a Professor of Psychology at the University of Geneva, Theodor Flournoy, published a book titled "Des Indes a la planete Mars." The book documented her experiences.
Multiple linguists were also brought in to translate the words that were channeled through her, and they seemed to be a mix of multiple languages, and not the easiest to understand.
She used to write out supposed Martian speech onto paper and then translate it into French when she was in her trance like state.
It featured her paintings of Martian landscapes and documented her "experiences" on Mars, of humanoid type beings and certain social ways of greeting each other, their homes, etc…
Now, if you read the articles linked above about Mars, and what modern day, 'credible,' people have said about what's going on up there, it's interesting to think about to say the least.
Below is one of several drawings Helen made regarding her visions.
Personally, I like to look into topics with skepticism. The more research I've done about Mars, contactee's and channellers, it's not uncommon to find multiple consistencies that come through in the form of channeling and automatic writing.
I'll lave you this quote to give you something to think about:
"Now, how do I feel about secrecy in Government? …Secrecy in government is a evil which is sometimes necessary, but I think it's a good thing that this cover up on Mars is ending and, hopefully at some point we can have a frank conversation not about what happened on Mars 250 million years ago but what is happening right now." – John Brandenburg, deputy manager of the Clementine Mission to the Moon. Spoken at the Secret Space Program conference. You can watch the full lecture here.
These are the characters of the letters and communications that she was translating into French.
Reference: Collective-Evolution.com
Voyager 2 has discovered something amazing: Denser space outside the solar system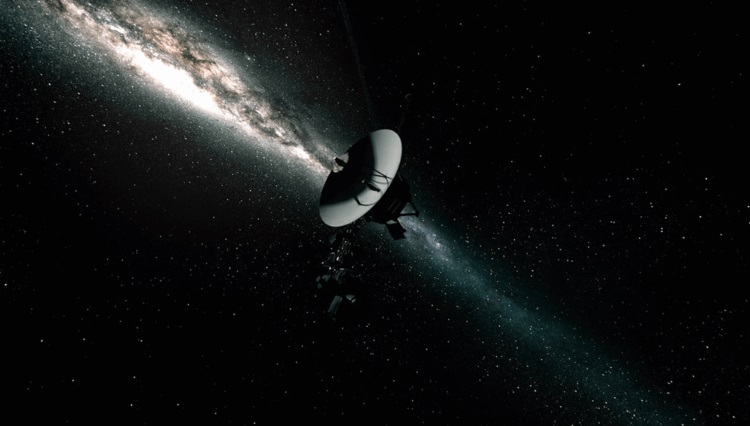 In November 2018, after a 41-year voyage, Voyager 2 crossed the boundary beyond which the Sun's influence ends, and entered interstellar space. But the mission of the little probe is not yet complete – it continues to make amazing discoveries
Perhaps the probes have found some kind of traffic jam at the edge of the solar system. The Voyager flight continues and we will soon find out what it was.
Voyager 2 discovered something amazing: as the distance from the Sun increases, the density of space increases.
Voyager 1, which entered interstellar space in 2012, transmitted similar indicators to Earth. New data have shown that the increase in density may be a feature of the interstellar medium.
The solar system has several boundaries, one of which, called the heliopause, is determined by the solar wind, or rather by its significant weakening. The space inside the heliopause is the heliosphere, and the space outside is the interstellar medium. But the heliosphere is not round. It looks more like an oval, in which the solar system is at the leading edge, and a kind of tail stretches behind it.
Both Voyagers crossed the heliopause at the leading edge, but within 67 degrees heliographic latitude and 43 degrees longitude apart.
Interstellar space is usually considered a vacuum, but this is not entirely true. The density of matter is extremely small, but it still exists. In the solar system, the solar wind has an average density of protons and electrons from 3 to 10 particles per cubic centimeter, but it is lower the further from the Sun.
The average concentration of electrons in the interstellar space of the Milky Way is estimated to be about 0.037 particles per cubic centimeter. And the plasma density in the outer heliosphere reaches approximately 0.002 electrons per cubic centimeter. When the Voyager probes crossed the heliopause, their instruments recorded the electron density of the plasma through plasma oscillations.
Voyager 1 crossed the heliopause on August 25, 2012 at a distance of 121.6 astronomical units from the Earth (121.6 times the distance from Earth to the Sun – about 18.1 billion km). When he first measured plasma oscillations after crossing the heliopause on October 23, 2013 at a distance of 122.6 astronomical units (18.3 billion km), he found a plasma density of 0.055 electrons per cubic centimeter.
After flying another 20 astronomical units (2.9 billion kilometers), Voyager 1 reported an increase in the density of interstellar space to 0.13 electrons per cubic centimeter.
Voyager 2 crossed the heliopause on November 5, 2018 at a distance of 119 astronomical units (17.8 billion kilometers. On January 30, 2019, it measured plasma oscillations at a distance of 119.7 astronomical units (17.9 billion kilometers), finding that the density plasma is 0.039 electrons per cubic centimeter.
In June 2019, Voyager 2's Instruments showed a sharp increase in density to about 0.12 electrons per cubic centimeter at a distance of 124.2 astronomical units (18.5 billion kilometers).
What caused the increase in the density of space? One theory is that the lines of force of the interstellar magnetic field become stronger with distance from the heliopause. This can cause electromagnetic ion cyclotron instability. Voyager 2 did detect an increase in the magnetic field after crossing the heliopause.
Another theory is that the material carried away by the interstellar wind should slow down in the heliopause, forming a kind of plug, as evidenced by the weak ultraviolet glow detected by the New Horizons probe in 2018, caused by the accumulation of neutral hydrogen in the heliopause.
NASA has banned fighting and littering on the moon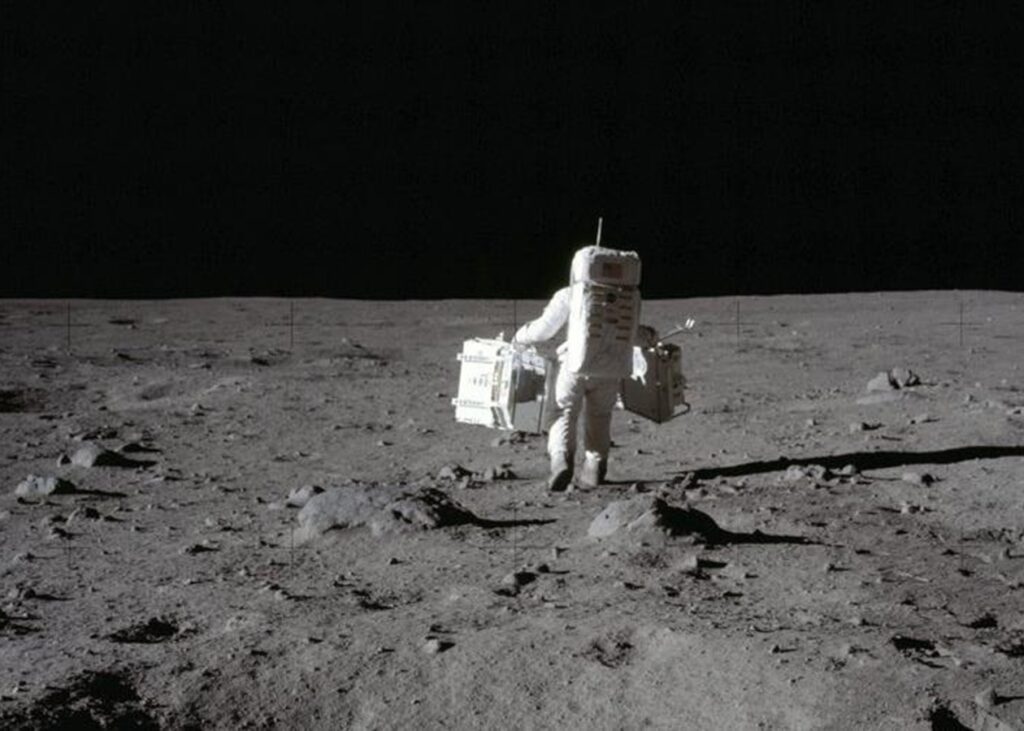 New details of the agreement signed by representatives of a number of countries on the development of the moon and the extraction of minerals within the framework of the Artemis program have appeared. Reported by the National Aeronautics and Space Administration (NASA).
So, astronauts involved in the mission are prohibited from littering and fighting on the territory of a natural satellite of the Earth.
So, we present to you the new rules for being on the Moon:
Everyone comes in peace;
Confidentiality is prohibited, all launched objects must be identified and registered;
All travel participants agree to help each other in case of emergencies;
All received data is transferred to the rest of the participants, and space systems must be universal;
Historic sites must be preserved and all rubbish must be disposed of;
Rovers and spacecraft should not interfere with other participants.
""It is important not only to go to the moon with our astronauts, but also that we bring our values ​​with us," said Mike Gold, acting head of NASA's international and inter-agency relations.
According to him, violators of the above rules will be asked to "just leave" the territory of the moon.
The effect of these principles so far applies to eight signatory countries of the agreement: the USA, Australia, Canada, Italy, Japan, Luxembourg, the United Arab Emirates and the United Kingdom. Countries other than China can join if they wish.
 It should be noted that at the moment NASA is prohibited from signing any bilateral agreements with the PRC leadership.
The first NASA mission to the moon, known as "Artemis 1", is scheduled for 2021 without astronauts, and "Artemis 2" will fly with a crew in 2023.
Methane snow found on the tops of Pluto's equatorial mountains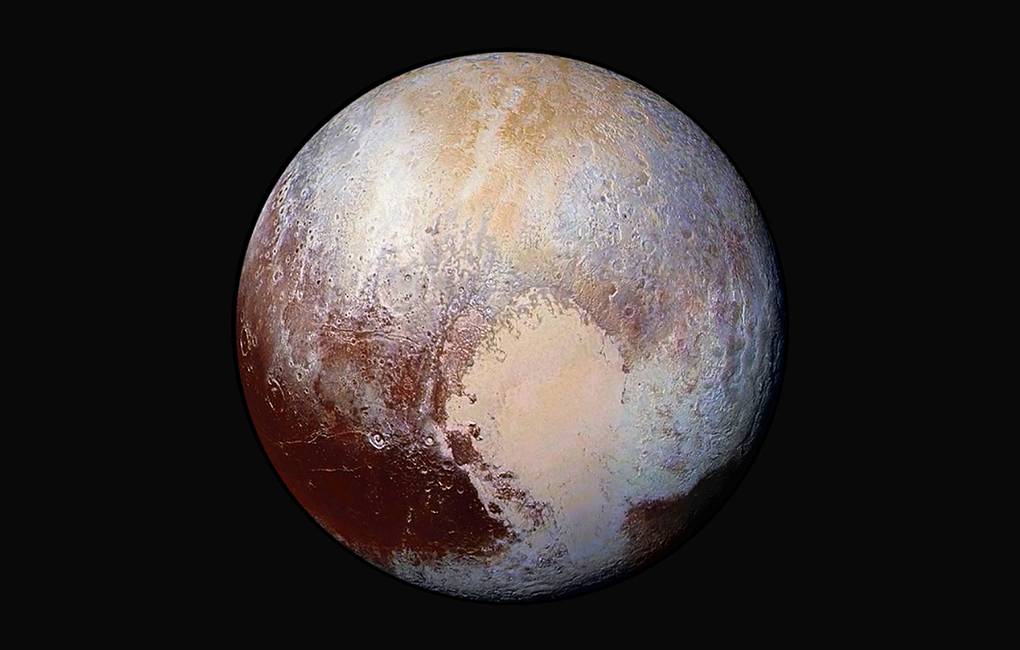 Scientists believe that it arose as a result of the accumulation of large amounts of methane at an altitude of several kilometers above the surface of the planet.
In the images of the Cthulhu region – a dark region in the equatorial regions of Pluto – planetary scientists have found large reserves of methane snow that covers the peaks of local mountains and hills. It formed quite differently from how snow forms on Earth, astronomers write in the scientific journal Nature Communications.
"The white caps on the tops of Pluto's mountains did not arise from the cooling of air currents that rise along the slopes into the upper atmosphere, as it happens on Earth, but from the accumulation of large amounts of methane at an altitude of several kilometers above Pluto's surface. This gas condensed on the mountain tops, "the scientists write.
We owe almost everything we know about Pluto to the New Horizons interplanetary station. It was launched in January 2006, and in mid-July 2015 the station reached the Pluto system. New Horizons flew just 13 thousand km from the dwarf planet, taking many photographs of its surface.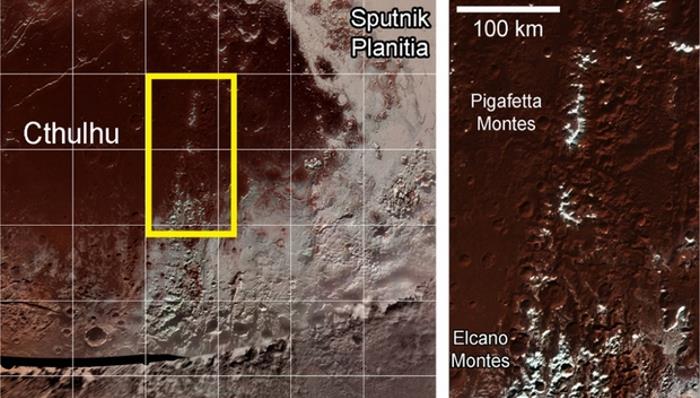 New Horizons data indicated an interesting feature of Pluto – in its depths, a giant subglacial ocean of liquid water can be hidden. It can be a kind of engine of those geological processes, traces of which can be seen on the surface of a dwarf planet. Because of this discovery of New Horizons, many discussions began among planetary scientists. Scientists are trying to understand how such a structure could have arisen, as well as to find out the appearance of Pluto in the distant past.
Members of the New Horizons science team and their colleagues from France, led by planetary scientist from NASA's Ames Research Center (USA) Tanguy Bertrand, have discovered another unusual feature of Pluto. They studied the relief of one of the regions of the dwarf planet – the Cthulhu region. This is what astronomers call a large dark region at Pluto's equator, which is whale-like in shape and is covered in many craters, mountains and hills.
Snow in Pluto's mountains
By analyzing images of these structures taken by the LORRI camera installed on board New Horizons, astronomers have noticed many blank spots on the slopes of the highest mountain peaks. Having studied their composition, scientists have found that they consist mainly of methane.
Initially, planetary scientists assumed that these are deposits of methane ice. However, Bertrand and his colleagues found that the slopes and even the tops of Pluto's equatorial mountains are actually covered not only with ice, but also with exotic methane snow that forms right on their surface.
Planetary scientists came to this conclusion by calculating how methane behaves in Pluto's atmosphere. In doing so, they took into account how the molecules of its gases interact with the sun's rays and other heat sources. It turned out that at the equator of Pluto, at an altitude of 2-3 km from its surface, due to the special nature of the movement of winds, unique conditions have formed, due to which snow is formed from methane vapor.
Unlike Earth, where such deposits are formed as a result of the rise of warm air into the upper atmosphere, on Pluto this process goes in the opposite direction – as a result of contact of the cold surface of the peaks and slopes of mountains with warm air masses from the relatively high layers of the dwarf planet's atmosphere.
Previously, as noted by Bertrand and his colleagues, scientists did not suspect that this was possible. The fact is that they did not take into account that due to the deposition of even a small amount of methane snow and ice, the reflectivity of the peaks and slopes of mountains in the Cthulhu region increases. As a result, their surface temperature drops sharply, and snow forms even faster.
Scientists suggest that another mysterious feature of Pluto's relief could have arisen in a similar way – the so-called Tartarus Ridges, located east of the Sputnik plain. A distinctive feature of this mountainous region is strange peaks that are shaped like skyscrapers or blades. Bertrand and his colleagues suggest that these peaks are also methane ice deposits that grow "from top to bottom."